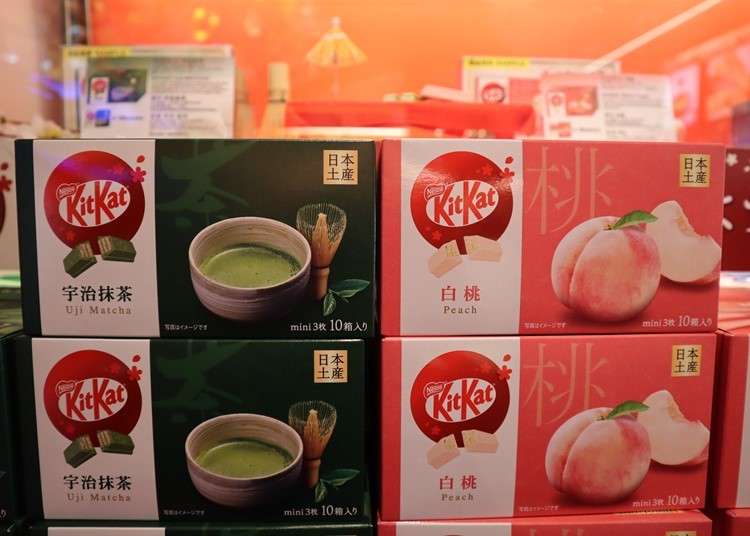 The tax-free stores in Narita Airport's Shopping Zone are your last chance to pick up some great souvenirs from Japan before heading home. Fa-So-La Shops is a must-see shopping area located right beyond passport control, and boasts the most extensive selection of shops in Narita Airport. Not only will you find an array of staple Japanese goods, you'll also discover an impressive amount of limited-edition goods that are only available here.

Here are 10 of the latest recommended limited-edition souvenirs from Narita Airport that you'll want to pick up for your loved ones (or yourself) before hopping on the plane!
Fa-So-La TAX FREE AKIHABARA: Countless Famous Japanese Confections & Other Japanese Goods!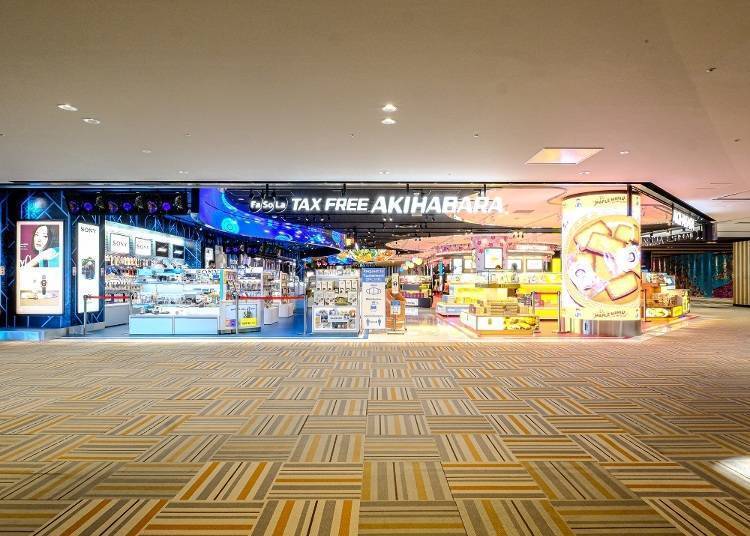 Akihabara is practically synonymous with Japanese culture, and Fa-So-La Tax-Free Akihabara is a treasure trove of diverse made-in-Japan goods, highly recommended by Japan to the rest of the world. From delectable edible treats and cutting-edge electronics to exclusive limited-edition items only found here, we would now like to present you a curated list of 10 must-have souvenirs from Japan that have captured the attention of international visitors from all over the world.

(*Souvenir Selections from Fa-So-La Tax-Free Akihabara (Terminal 2))
1. Sushi Magnet (700 yen)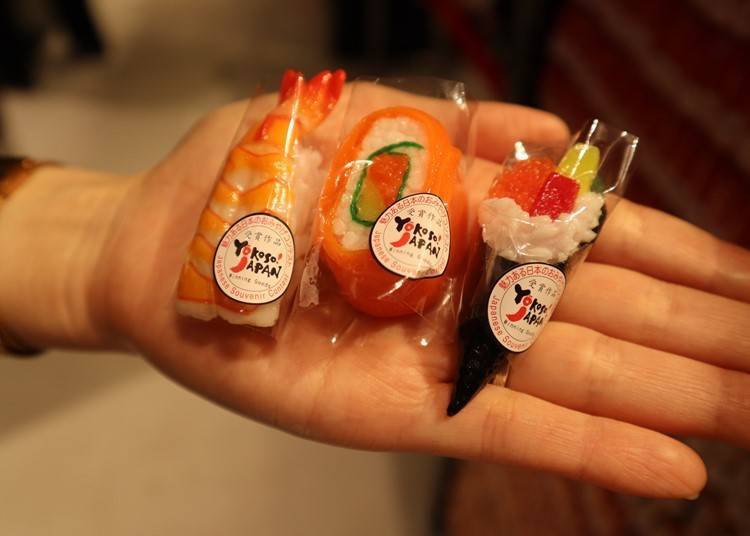 Sushi is one of Japan's most popular dishes, making these sushi magnets some of the most equally popular souvenirs. Japanese food replicas are of such exceptional craftsmanship that they are often likened to works of art. One super popular activity among international tourists is the Food Replica Crafting Experience. These replicas are so realistic, you might even find yourself tempted to take a bite!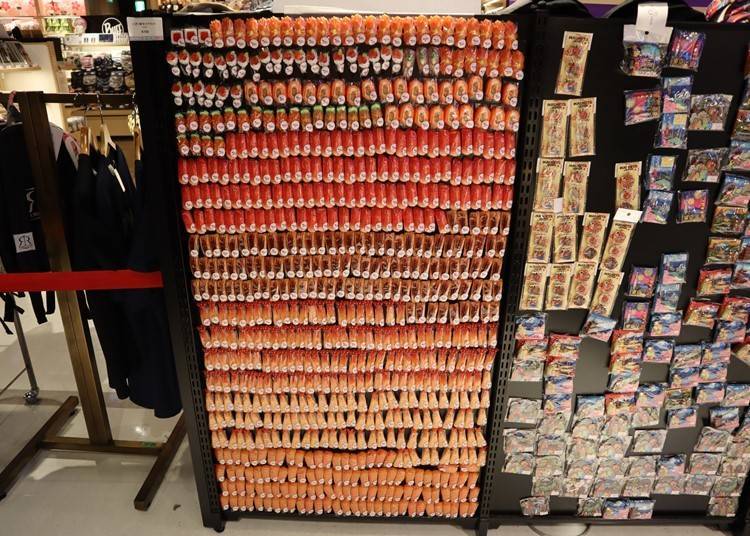 With so many different kinds of foods available, we recommend grabbing as many varieties as you can. They're a wonderful way to remember Japan's delicious dishes long after you've returned home!
2. Pokemon Plushies (2,200 yen & up)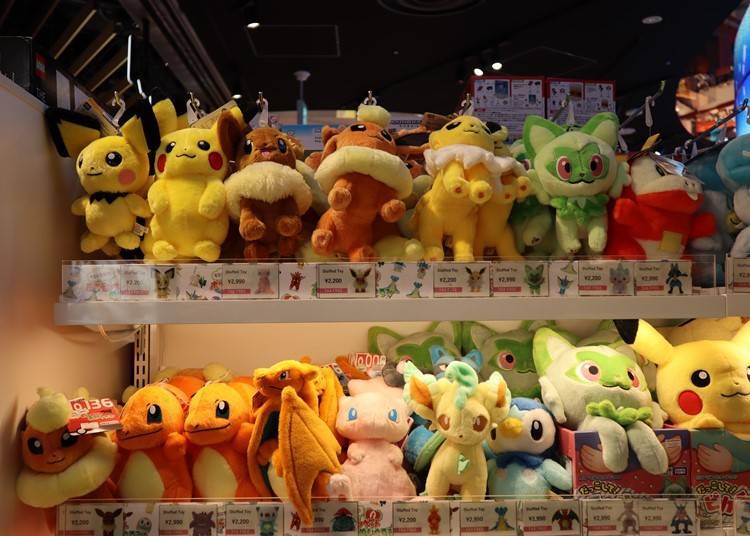 Pokémon are beloved characters from Japan that have gained worldwide recognition, and plush dolls from the series make particularly popular souvenirs amongst overseas travelers. The adorable charm of these characters appeals to people of all ages, regardless of whether they are fans of the series or not. (Prices vary based on character and size).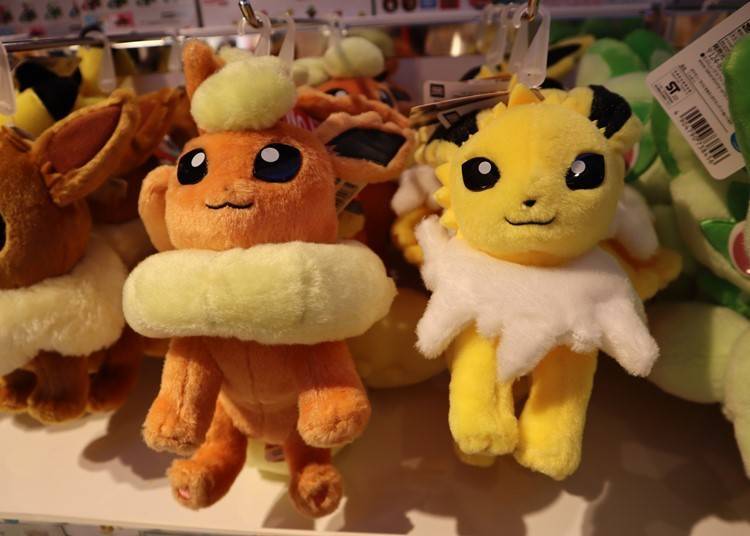 These plush dolls come in a range of sizes, from palm-sized to giant. Despite being inside the airport, the shop's collection is extensive. It is precisely because they are local to Japan that this shop is always this well-stocked, making it an ideal spot to discover all kinds of souvenirs related to Japanese anime and video games.
3. ROYCE' Nama Chocolate Au Lait (800 yen)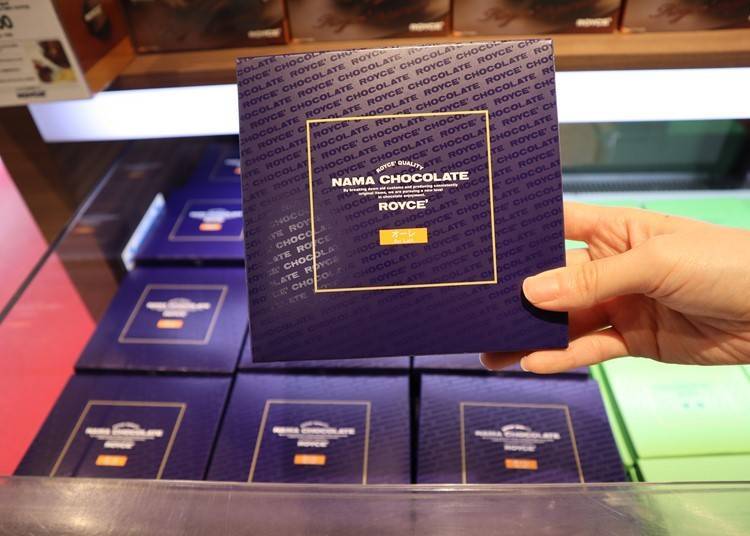 ROYCE', a popular confectioner from Sapporo, Hokkaido, is a popular brand both in Japan and abroad. Among its array of offerings, the Nama Chocolate Au Lait stands out with its milky chocolate and fresh, mild-flavored Hokkaido cream.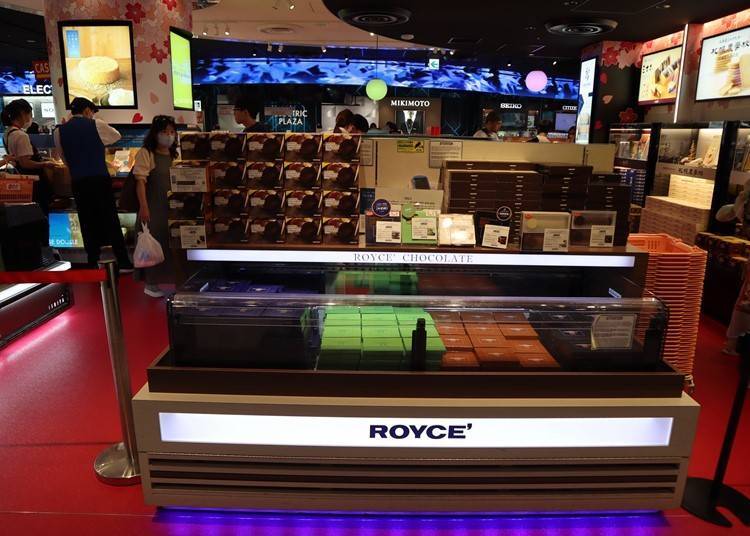 Each box contains a generous 20 pieces, available at a reasonable price. The delicate, velvety texture of this distinctly Japanese chocolate is an experience you won't want to miss out on!
4. Ishiya Shiroi Koibito White (18 pc / 1,320 yen)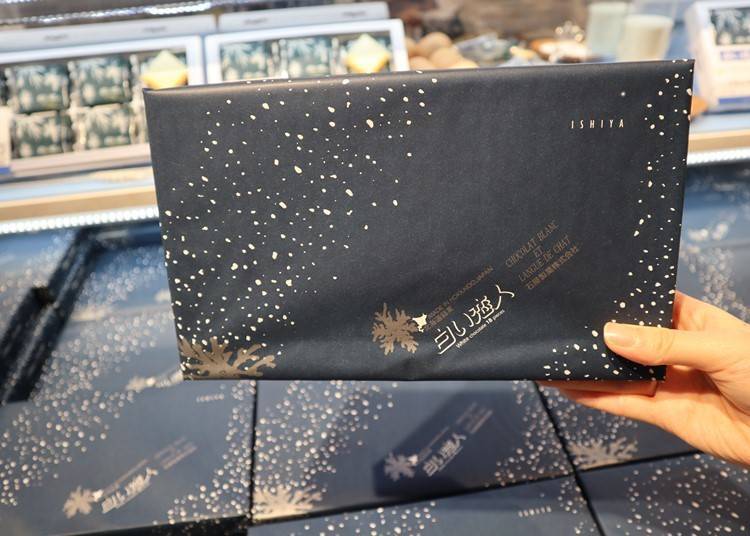 Ishiya's Shiroi Koibito is one of Hokkaido's most well-known confections, making this product one of the top must-buy items amongst those visiting Hokkaido, and it has remained steadfastly so since its release in 1976.
The crisp, fragrant langue de chat cookies are baked to perfection and enveloped in original chocolate, blended exclusively for Shiroi Koibito, resulting in a unique, elegant, and gentle taste. For more than 45 years, Shiroi Koibito has maintained its delicious quality through the meticulous maintenance of the ingredients, dough, and baking temperatures. And since you can find these treats at the airport, you won't even have to worry about traveling all the way to Hokkaido to try them for yourself!
5. Calbee Jaga Pokkuru (973 yen)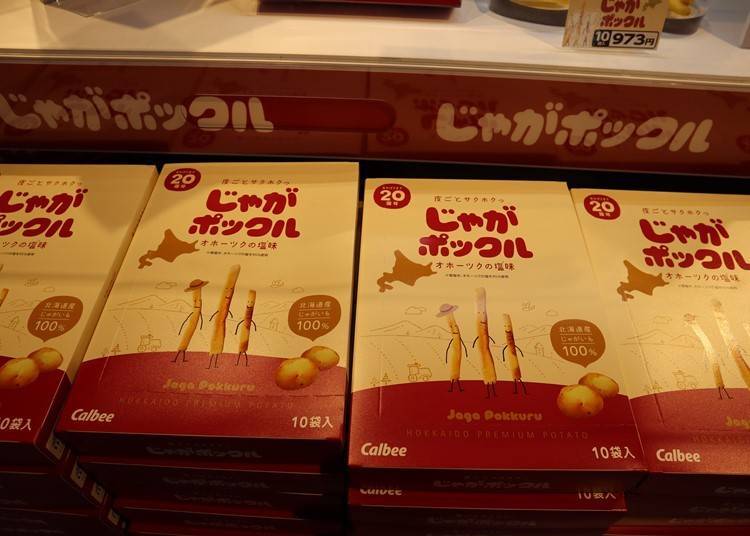 Jaga Pokkuru, another famous Hokkaido confectionary, is a special product exclusive to the region. Crafted from whole Hokkaido potatoes, sliced with their skins still intact, this snack is prepared with a distinctive technique that emphasizes the crispy texture and taste of these Hokkaido spuds. The mild salt seasoning is also sourced from Hokkaido's Lake Saroma. One bite of these is enough to kindle an insatiable craving that's hard to resist!
Inside each box are 10 small packets, making them a convenient choice for sharing with friends. These snacks, made with Japan's distinct technology and ingredients not commonly found abroad, are sure to be warmly received!
6. Tokyo Banana World x Itohkyuemon Matcha Cake (8 pc / 1,300 yen)
The first collaboration between Tokyo Banana World, a famous confectionery brand from Tokyo, and IItohkyuemon, a long-established Kyoto teahouse, has resulted in the creation of this new Matcha Cake, recently released on July 19, 2023, and exclusively available at Narita Airport and the Tokyo Souvenir Shop North in Haneda Airport. Within Narita Airport, this limited-availability treat can only be found at Fa-So-La!
The airy sponge-like dough is carefully kneaded with fragrant Uji matcha tea and filled with two kinds of deliciously smooth cream: Uji matcha tea and milk. It's a Japanese-Western confectionery that perfectly embodies Japan's refined taste and elegance.

Matcha-infused sweets have consistently charmed the international palate, making it even more likely that this Matcha Cake will stand amongst Japan's most popular souvenir sweets in the future.
7. KitKat Mini Uji Green Tea & KitKat Mini White Peach (Airport Exclusives / 1,600 yen each)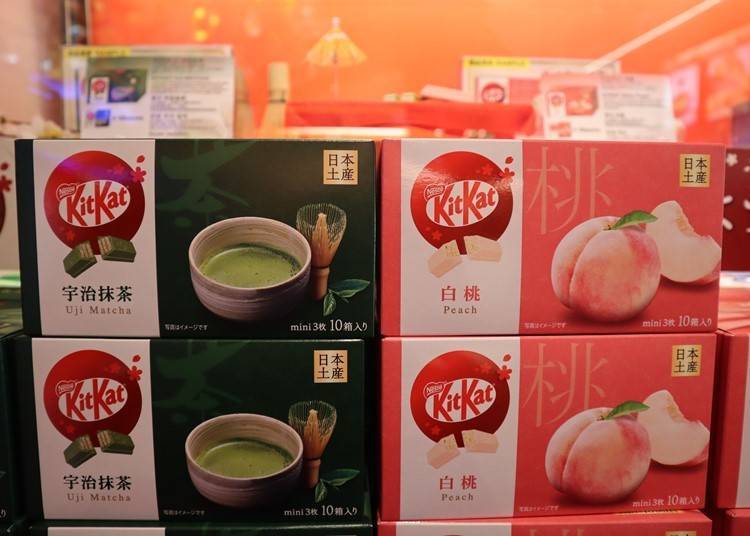 Japanese KitKats hold a special allure for international tourists thanks to their diverse range of locally-inspired and seasonally-infused offerings that highlight the unique qualities of each region.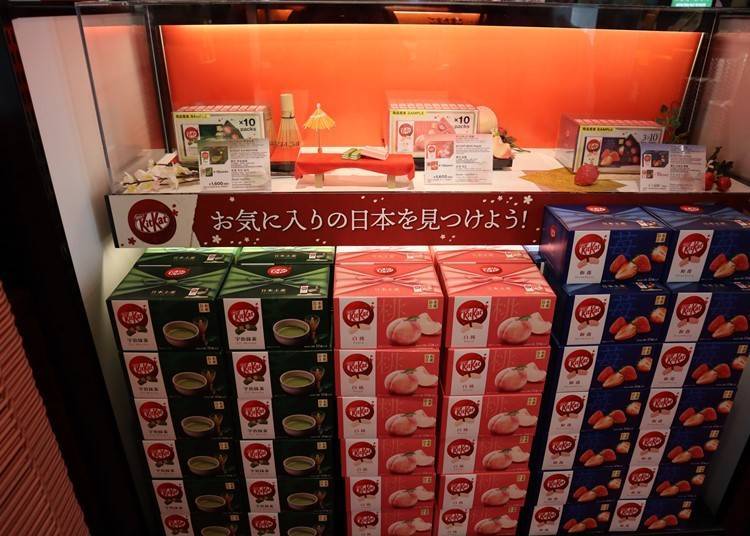 Amongst them, Uji Matcha stands out as one of the most sought-after flavors in the airport for its distinct Japanese taste and exclusive availability within Japan. Carefully-selected Uji matcha tea is blended into the product, giving it a rich, delicious flavor. Even the packaging exudes a sense of Japanese-ness, making it a great souvenir choice that perfectly captures the essence of the country.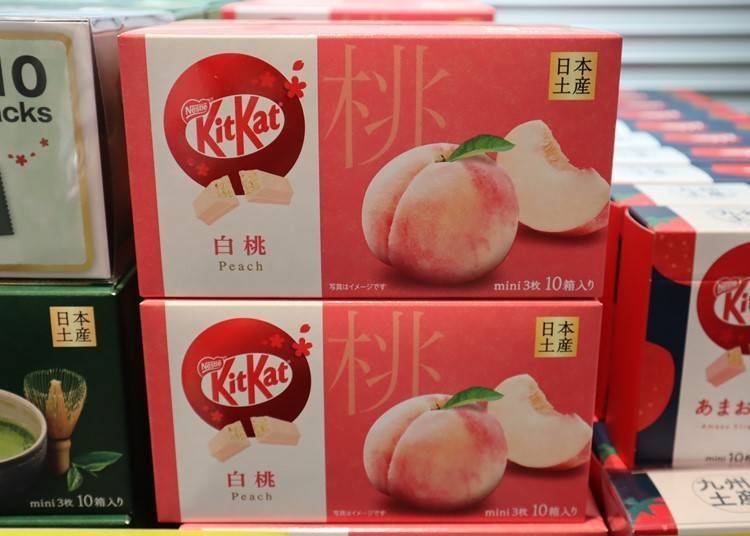 The fruit flavors are also popular, with White Peach amongst the most hot-selling of these varieties. The fragrant wafer is encased in white chocolate and infused with white peach powder, creating a delicious balance between the sumptuous sweetness and tangy tartness of white peaches themselves. This product is also exclusively available at the airport.

*KitKat is a registered trademark of Nestlé Group.
8. Junmai Daiginjo Hakkaisan Yukimuro (Aged 8 Years / 7,000 yen)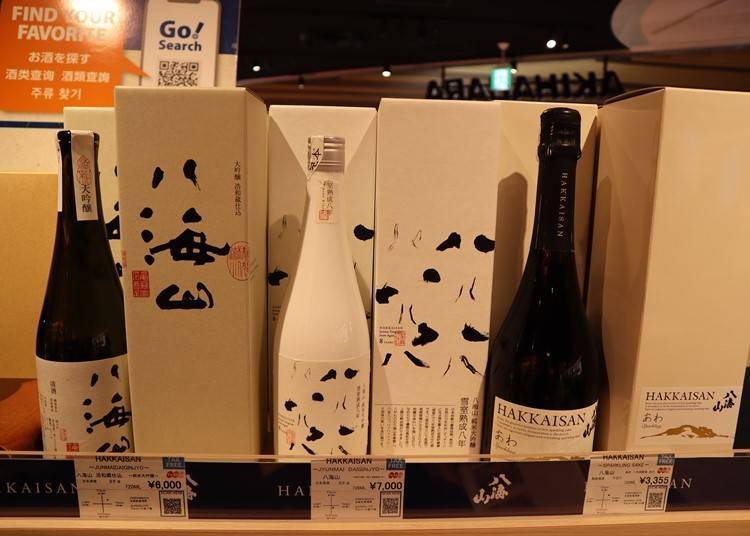 In recent times, sake's popularity has surged internationally, with exports also showing a notable increase. Amongst them, we highly recommend the Junmai Daiginjo Hakkaisan Yukimuro Aged 8 Years. Crafted in Minamiuonuma City, Niigata Prefecture, which is known for having some of the heaviest snowfall in Japan, this sake has been aged for an eight-year span inside the "yukimuro," a low-temperature storage facility powered by nature and a whopping 1,000 tons of snow!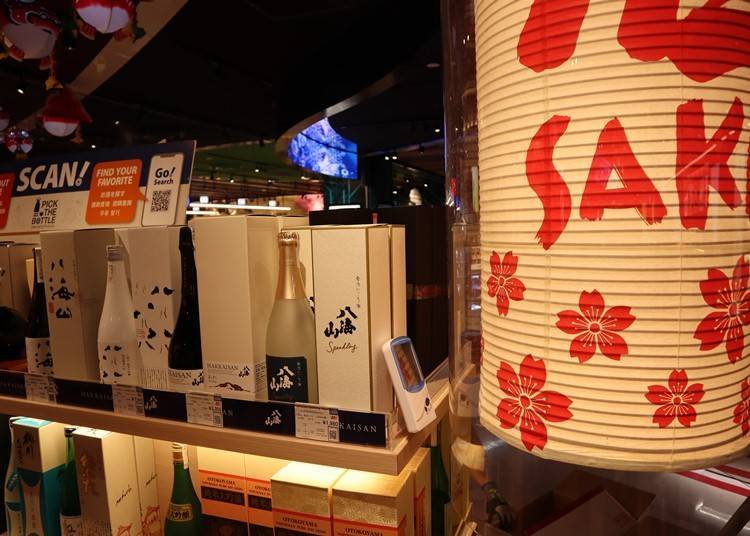 In addition to Hakkaisan's light profile, this premium aged sake boasts a smooth and refined taste, achieved through extended maturation at such low temperatures. This unique process makes it a sake of truly exceptional quality, and a prized souvenir choice to commemorate your trip to Japan.
9. Ippudo Original Set: Ippudo Shiromaru Gen-mi & Akamaru Shin-mi (Fa-So-La Shops Exclusive / 2,300 yen)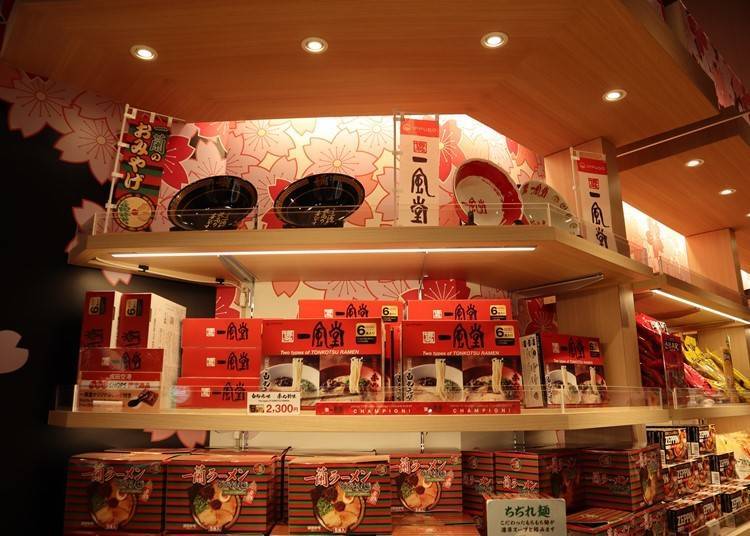 Hakata Ippudo is one of the most famous ramen restaurants in Japan, with branches spanning the globe. Now, this very same Ippudo is offering two new flavors exclusive to Fa-So-La Shops: Shiromaru Gen-mi & Akamaru Shin-mi, a new pair of flavors thoughtfully tailored to the inbound market.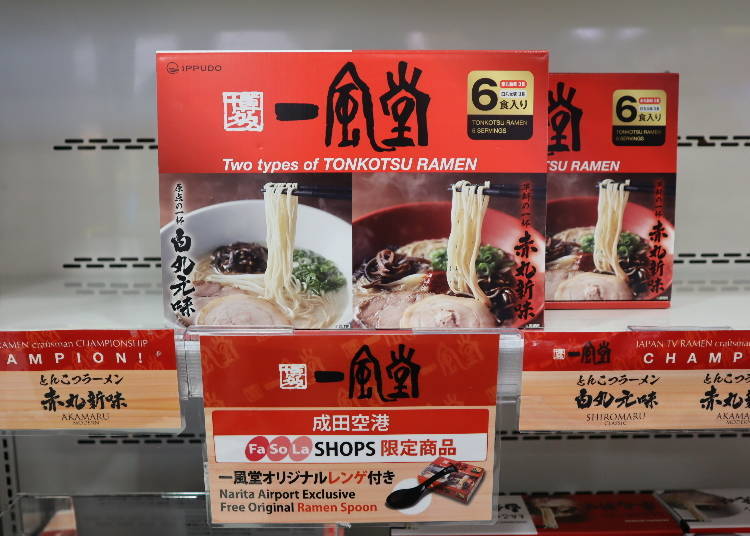 This special set includes six servings of two popular types of tonkotsu ramen: Shiro-Maru and Akamaru, plus an original spoon bearing the Ippudo logo. Ramen is more than just Japan's national dish – it's one of the country's most popular cuisines! Not to mention how wildly popular it has become overseas. So be sure to grab a set, and continue to savor the taste of Japanese ramen even after you've returned home!
10. Stainless Steel Mug Bottle (5,980 yen)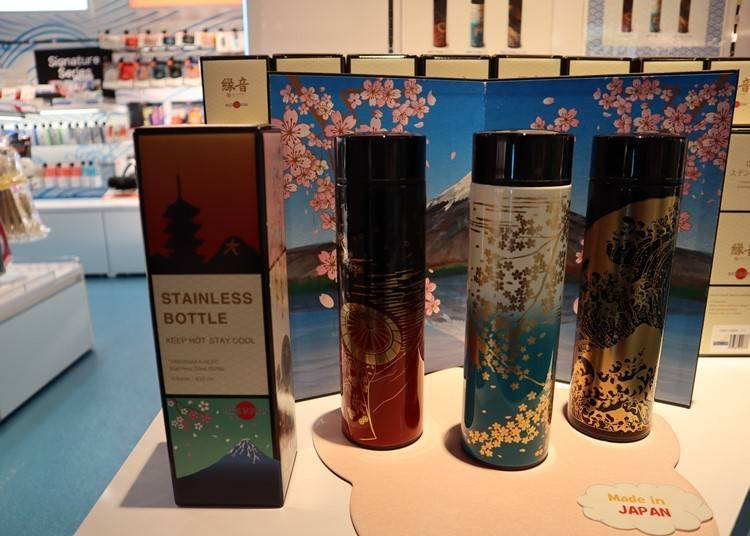 Within the Fa-So-La Shops, which also carry a variety of traditional crafts, these Japanese-patterned mug bottles are particularly popular for their authentic Japanese designs and high functionality. These gorgeous items are individually handcrafted by artisans using the lacquerware techniques of the Yamanaka Onsen district of Kaga City, Ishikawa Prefecture.
Not only do they boast exquisite Japanese-style designs, they also offer great practicality as mugs, featuring a double-layer vacuum structure to effectively maintain the temperature of your drink, whether hot or cold.
Do Some Last-Minute Tax-Free Shopping Before Your Departure at These Shops!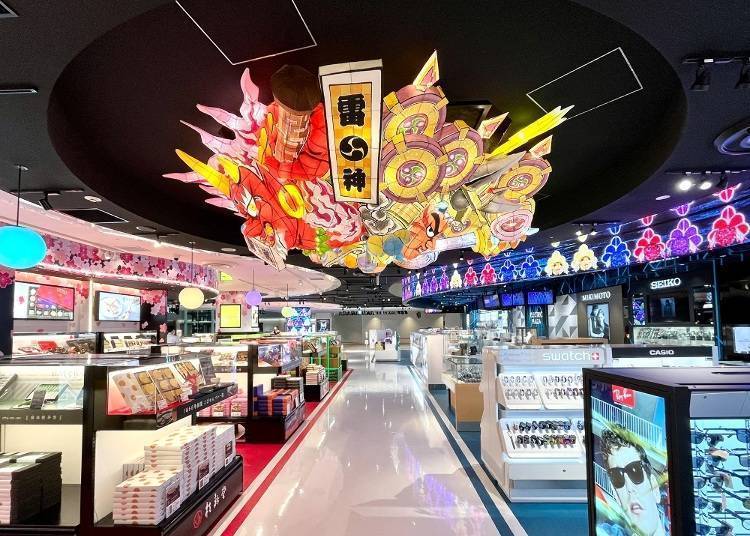 The tax free shops at the airport serve as your final destination to get some shopping done before leaving the country. While catching up on anything you may have missed, you'll also get to explore an array of limited-edition products unique to the airport, many of them exclusive treasures you won't find anywhere else.

So feel free to refer to this article, and delight in a last-minute shopping experience until the moment it's time to catch your flight.

Interview Location: Fa-So-La Tax Free Akihabara

*Information in article as of July 2023. Please see official websites for the latest updates & information.
*Prices noted are the tax-free prices at the Fa-So-La TAX FREE AKIHABARA in Terminal 2.

English translation by: Krys Suzuki
Written by:
*This information is from the time of this article's publication.
*Prices and options mentioned are subject to change.
*Unless stated otherwise, all prices include tax.
Limited time offer: 10% discount coupons available now!