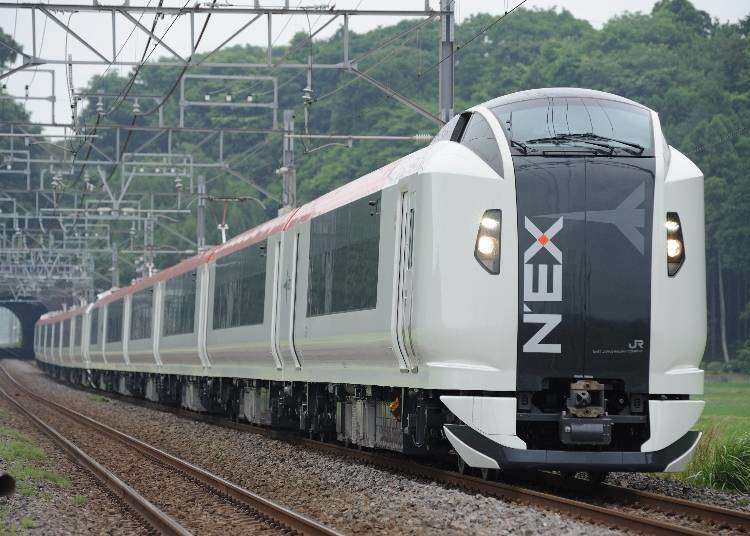 Narita International Airport (NRT), one of Tokyo's two main airports, is actually located a fair distance outside Tokyo's center.

There are a variety of different ways to get from Narita Airport to Tokyo, bus and train being only two of them. This variety can seem a bit overwhelming, especially to first-time visitors to Tokyo and Japan.

Let's take a closer look at Narita Airport's many ways of access to turn confusion into convenience!
How to get from Narita Airport to Tokyo Station?
JR Narita Express by JR East

(Express Train)
Keisei Skyliner

(Express Train)
JR Sobu Line

(Rapid train)
Tokyo Shuttle

(Bus)
Airport Limousine Bus

(Bus)
THE Access Narita

(Bus)
Teigaku Taxi

(Taxi for groups)
1. Express Trains: The Fastest & Most Comfortable Choice To Get From Narita to Tokyo
Leaving Narita International Airport by train is the preferred choice of many a traveler; with the Keisei Electric Railway and JR East, the airport is served by two train stations. Narita International Airport also has two stations, Narita Airport Terminal 1 Station beneath Terminal 1, as well as Narita Airport Terminal 2·3 Station, which can be found beneath Terminal 2. If you happen to arrive at Terminal 3, either a 15-minute walk or a 5-minute bus ride will take you to Terminal 2.
Top: the Keisei Skyliner; Bottom: The Keisei Information Center
If speed is your main concern when transferring from Narita Airport to central Tokyo, your best choices are the Keisei Skyliner or Narita Express by JR East.

The Keisei Skyliner operates up to three trains per hour, taking you from Narita Airport Terminal 2·3 Station to Nippori Station in 36 minutes, and to Ueno Station in 41 minutes for a fare of 2,470 yen. Especially Nippori Station is a convenient hub for transfer, connecting to important lines such as the JR Yamanote Line, JR Keihin Tohoku Line, as well as JR Joban Line. At Ueno Station, travelers have access to the Shinkansen bullet trains to Tohoku, Joetsu, and Hokuriku, as well as Tokyo's lines such as the Tokyo Metro Ginza Line, Hibiya Line, and Oedo Line.

Next to speed and convenience, however, the Skyliner and the Narita Express also offer a wonderfully comfortable experience. The ergonomically designed seats will let you relax in the modern, stylish interior of the train as is glides over the rails and reveals different sceneries of Tokyo and its surroundings. With air conditioning and outlets to charge all kinds of devices, the trains are as modern as it gets on the one hand, while having a hint of Japan's rich history and tradition on the other hand, manifested in traditional plaid patterns adorning the stylish interior. A multi-functional toilet and a washroom can be found in the fifth car.

For international visitors to Japan, the Skyliner E-Ticket Service offers a both reasonably priced and convenient method to get one's hands on a ticket for the convenient train. This service features one-way as well as round-trip tickets sold at a cheaper price than the regular one, and a big recommendation is the combination ticket "Keisei Skyliner & Tokyo Subway Ticket."

This special offer doesn't only include a one-way or round-trip to and from the airport with the Skyliner but also unlimited rides with all four Toei Subway lines and all nine Tokyo Metro lines. The purchasing method is simple: just fill out the form with the desired date, time, and type of ticket and present your booking number at the Skyliner & Keisei Information Center to have the ticket handed out to you. The purchasing website is both accessible with PC and smartphone, so booking a ticket before your trip to Japan certainly is the most stress-free way possible.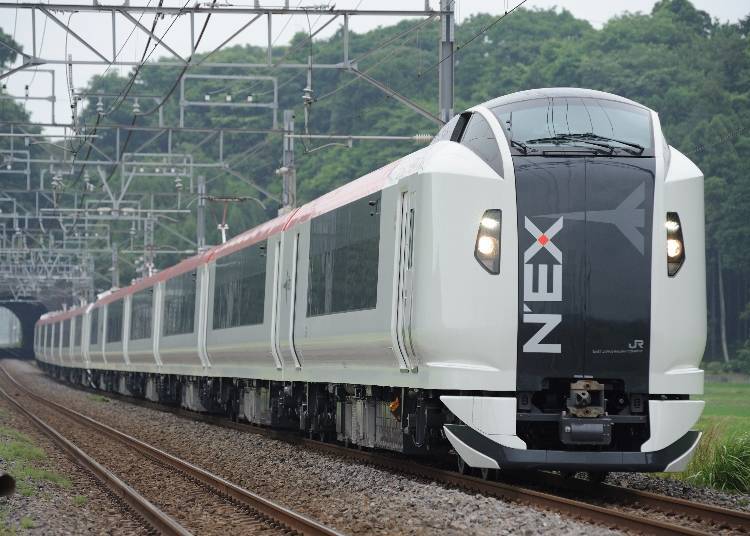 Narita Express (N'EX)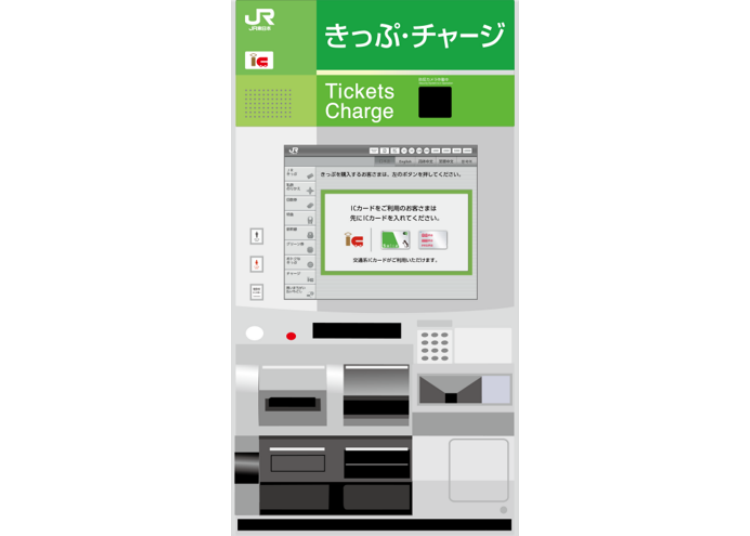 JR East's Ticket Vending Machine
On the other hand, JR East's Narita Express (N'EX) runs approximately every 30 minutes and thus, two times per hour, taking about 53 minutes to Tokyo Station for 3,020 yen one-way. The train also stops at other major hubs in Tokyo, such as Shinagawa, Shibuya, and Shinjuku.

As round-trip tickets, such as the N'EX Tokyo Round Trip Ticket for 4,000 yen, are offered at a discount, it is advisable to go for such an offer. N'EX also serves stations outside of Tokyo, such as Yokohama and Ofuna, and thus is the preferred choice of travelers to Kanagawa Prefecture.

With plaid and wood grain patterns, relaxing in the reclining seats of the Narita Express is especially easy. Pillows are provided on every seat for maximum comfort, and large tables and outlets making the use of laptops and other devices as comfortable and convenient as possible.

Both trains feature security cameras in and around the areas of the luggage storage, emphasizing safety, so there's no need to worry about your suitcases as you enjoy a leisurely train ride.
Direct Access from the Airport to Tokyo's Tourist Hot Spots
Top:Keisei's Access Express ; Bottom:Keisei's limited Express
If you plan to start your Tokyo sightseeing adventure straight after landing, we highly recommend Keisei's Access Express line. It offers fast and direct access to some of Tokyo's most popular sightseeing areas, such as Asakusa, Oshiage, Nihonbashi, and Higashi-Ginza, without the need to pay an extra express fee. The Access Express takes a mere 47 minutes and 1,170 yen to Oshiage Station, the closest station to Tokyo's famous Skytree, while direct transfer to Nihonbashi Station can be done in 59 minutes and for 1,330 yen.

Keisei also offers a very reasonably priced limited express train that takes travelers from Narita airport to Nippori Station in 66 minutes for only 1,030 yen, while the connection to Ueno Station takes 70 minutes for the very same price. This limited express train runs three times per hour, one of the reasons why it is a preferred connection of a lot of people. Transferring to Keisei's Oshiage Line at Aoto Station will also grant you easy access to Oshiage Station.

JR Easts' conventional lines also offer a cheaper alternative to the express lines, granting direct access to Tokyo Station via the directions of Tokyo, Yokosuka, and Zushi. This takes around 1.5 hours and costs a mere 1,350 yen. If the tickets are purchased in advance, Green Car (First Class) can be booked for an extra 980 yen on weekdays and 780 yen on Saturdays, Sundays, and national holidays.


*The listed fees are special ticket prices for free seats, as of January 2017.
2. Inexpensive Express Buses
The express buses Tokyo Shuttle and THE Access Narita have attracted a lot of attention for both frequency of transfer and their very inexpensive rates.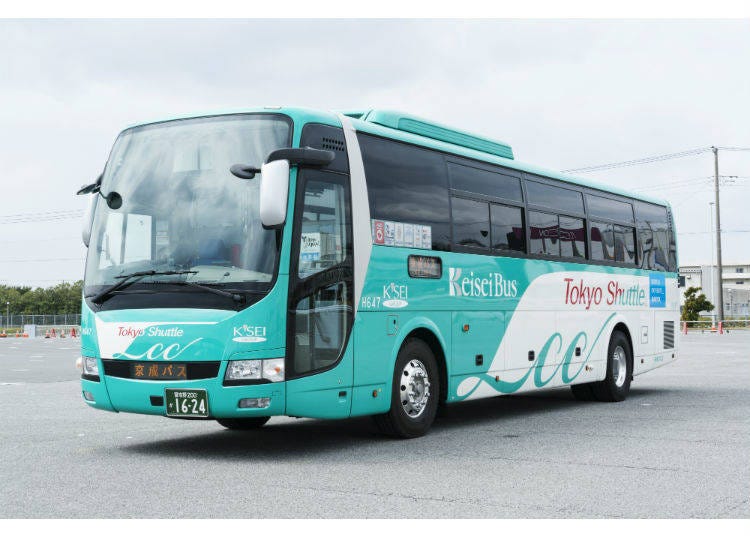 Tokyo Shuttle
The express buses Tokyo Shuttle and THE Access Narita have attracted a lot of attention for both frequency of transfer and their very inexpensive rates. Tokyo Shuttle is operated by a conglomerate of four different companies, including Keisei Bus, Keisei Bus System, and the Narita Airport Transportation Co., Ltd. Running a total of 113 times each day in an interval of 20 minutes during the day, costing 1,000 yen (or 900 yen when booked in advance) from Narita Airport to Tokyo Station and Ginza, or 2,000 yen at night. Reservations can be made in advance either via internet or telephone, while payment can be done at any convenience store and by credit card. Besides, tickets can be directly purchased at the Keisei Bus Ticket Counter at Narita Airport.
Another express bus, THE Access Narita by JR Bus and BE-TRANSSE GROUP, costs the same between Narita Airport and Tokyo and Ginza Station (1,000 yen during the day, 2,000 yen at night). Running 142 times a day, a bus can be taken every 10 to 20 minutes from Narita Airport. THE Access Narita can be used without a ticket as the ride can directly be paid for at the bus stop. However, in case the bus is full, people with a reservation will be prioritized. If you worry about getting a seat, making a reservation from the service's website (accepted up to 1 month prior) is strongly recommended. The ticket can be paid for by credit card.

Please keep in mind that both the Tokyo Shuttle and THE Access Narita only have limited space for luggage at the seats, while one piece of luggage can be stored in the vehicle's storage compartment. Since a bus service is affected by traffic, the time of arrival might also be delayed in case of heavy traffic.
3. The Airport Limousine Bus – Taking You Straight to Your Destination!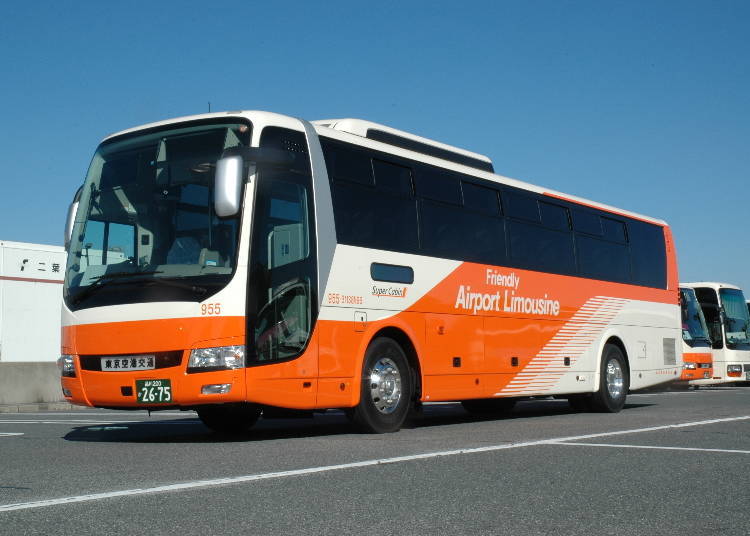 Airport Limousine Bus
Another option is the Airport Limousine Bus, servicing a large amount of stops and thus the best choice for everyone who looks for a direct connection to their accommodation or a specific place.

Among the covered stations and areas are Tokyo Station, Nihonbashi, Ikebukuro, Hibiya, Akasaka, Shibuya and Futagotamagawa, Shinjuku, Asakusa, Kinshichou, and Toyosu, Ginza and Shiodome, Roppongi, Shiba, Ebisu and Shinagawa, Odaiba, Takeshiba, and Ariake, Mejiro, Kudan and Korakuen.

The Airport Limousine Bus stops at major hotels and stations of these areas. The fares for this convenient bus vary between 2,800 yen and 3,100 yen for central Tokyo, with offers and discounts for round-trips available to international visitors. One trip from Narita Airport to Tokyo Station takes between 75 and 125 minutes.

Naturally, the buses are dependent on traffic and thus there might be delays to the schedule but in general, the Airport Limousine Bus service is a very reliable one due to a flexible operation management system. The standard for luggage that can be deposited in the vehicle's storage compartment is up to two pieces of luggage of 50 x 60 x 120 cm or smaller, up to 30 kg. Equipment such as skis, fishing rods, or golf clubs can be safely stored as well.

The Airport Limousine Bus service is a joint operation of Tokyo Keisei Bus, Keihin Kyuko Bus, and more. In addition to comfortable transportation to and from the airport, this service also serves many of Tokyo's and its surrounding's major sightseeing areas, such as Minato Mirai and the Tokyo Disney Resort. Tokyo's surrounding areas are served by express buses; a ticket from Narita Airport to Mount Fuji and Kawaguchiko via Keisei Bus takes around 4 hours and costs 4,400 yen.
4. A Fun, Affordable Airport Taxi for Groups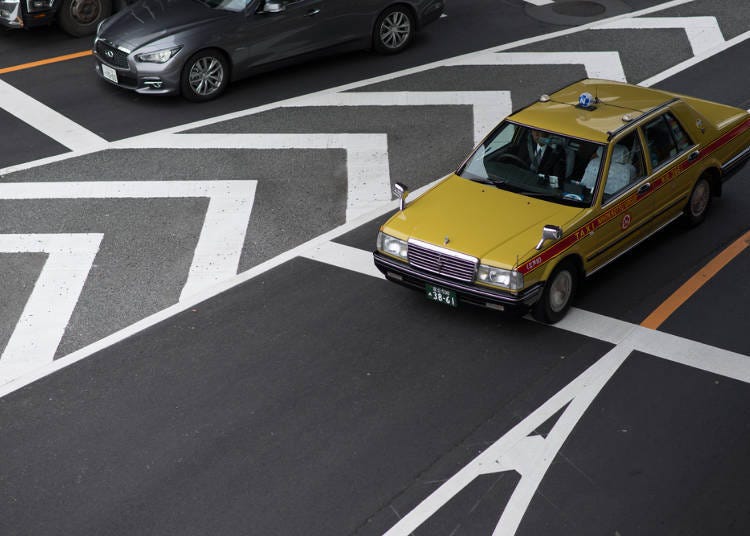 Another comfortable way to get to the heart of Tokyo is Teigaku Taxi, or "fixed rate taxi." The fare is higher than the services of Keikyu Line, Tokyo Monorail, or the Airport Bus, but is it a preferred method of transportation for many especially when public transport options are limited, such as late at night or early in the morning. Various different taxi services offer these fixed rates but the system is basically the same throughout the different companies. Reservations are made via telephone operators with each company, at least 1 hour before the desired time of use.

Certain taxi companies offer operator support in English, making reservations particularly simple and convenient. The fixed rates from Haneda Airport to Chiyoda's Tokyo Station is 5,900 yen, with highway and freeway charge, as well as parking fees at the airport, will be charged separately. An extra charge will also apply if the transfer is between late at night and early morning (10:00 p.m. to 5:00 a.m.). Please keep in mind that should you change the destination while in a pre-set fare taxi, the charge will switch to the general taxi fare system.
Address

Narita Airport, Narita-shi, Chiba, 282-0004
View Map

Nearest Station

Narita Airport Station (JR Narita Line / Keisei Main Line / Narita SKY ACCESS Line)

Photo credit (main image): 501room /Shutterstock.com
*This information is from the time of this article's publication.
*Prices and options mentioned are subject to change.
*Unless stated otherwise, all prices include tax.