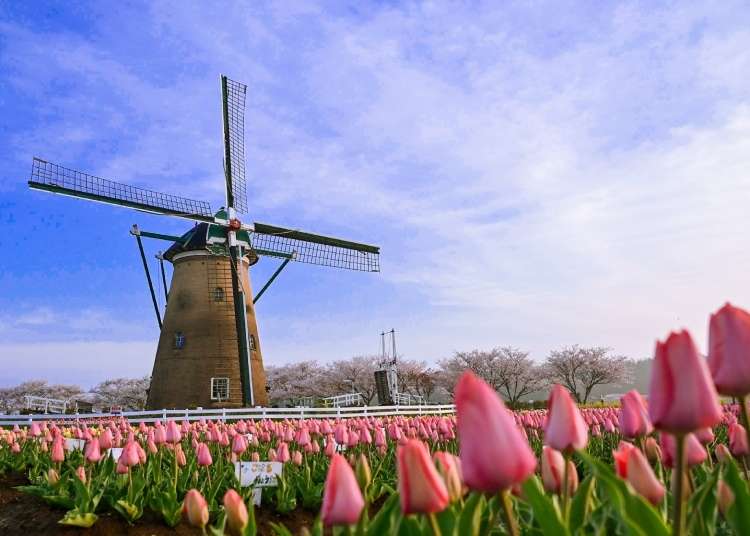 Spring in Japan is time for beautiful flowers. And Japan's annual Sakura Tulip Festa near Tokyo is a can't miss event. Just east of the capital in a Japanese town called Sakura, fields are filled with 720,000 colorful tulips - all circling a giant Dutch-style windmill. It's a breathtaking, Instaworthy spot that'll make you the envy of your friends!
Visit one of Japan's most famous tulip festivals - right near Tokyo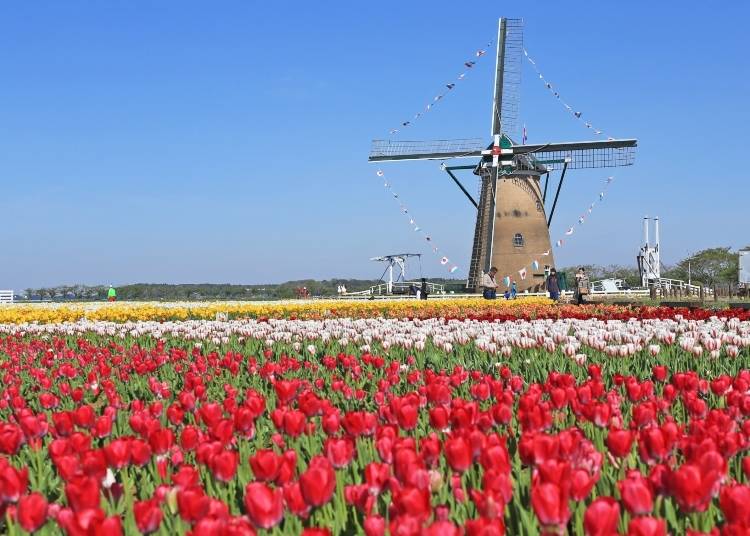 First held in 1989 to commemorate the 380th anniversary of relations with the Netherlands, the Sakura Tulip Festa originally began as the "Holland Tulip Festival."

Over the three decades since, the flower festival expanded in scale and grew to include some 100 different types of tulips - around 720,000 in all. This makes it the largest of its kind in the greater Tokyo area.

While the flowers are a huge draw, there are different events run at the same time. A popular one with kids is the rental of Dutch costumes, where people can dress up in period dress and enjoy snapping photos in front of the giant windmill. Other fun events include a boat tour of the Lake Inba-numa area, street organ concerts, windmill festival, and more!
Taste the season - 'Saranka' Soft Cream!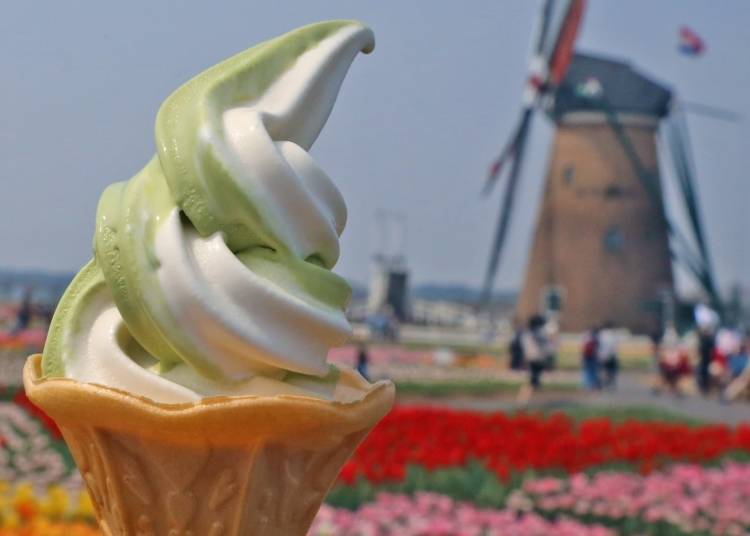 At the Sakura Furusato Square, enjoy a cone filled with a special treat: soft-serve ice cream! Made with milk and tea locally produced in Sakura, it's a popular hit.

Plus, during the Tulip Festa, 'Tulip Sable' cookies will be available for a limited time - along with Miffy Sable cookies and assorted Miffy branded merchandise!
Local Japanese vegetables, products and more!
Across from Sakura Furusato Square, a farmers market - 'Marche Kashima' - will be retailing a variety of local souvenirs, sweets, freshly baked bread, vegetables, and more. You can also enjoy relaxing with a snack in the sunroom - we recommend the 'TKG', steamed rice covered with a fresh egg! It's a very Japanese-style tradition you're sure to enjoy.
Sakura Tulip Festa: A family-friendly Japanese festival for all ages!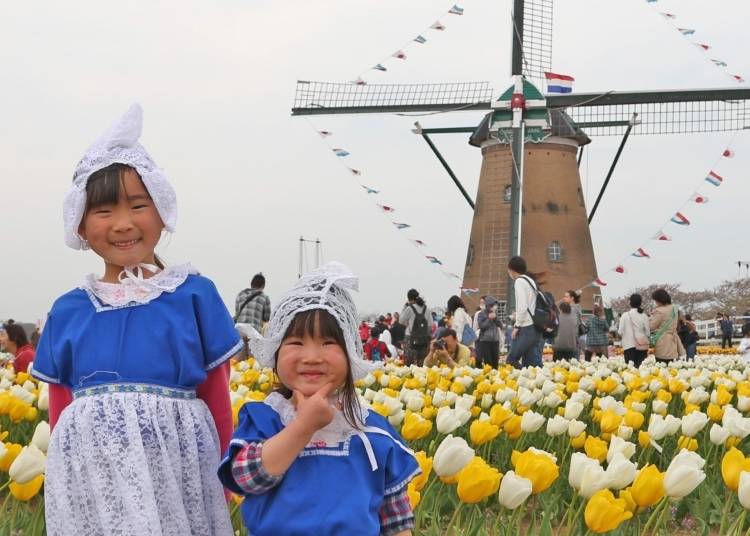 A nursing room will also be available at the very family-friendly festa - peace of mind for folks with babies or small children. Plus at Marche Kashima, a kids' space will be set up, letting kids enjoy playing with each other while the adults relax.

Traditional Dutch-style clothes will be available for rental (mens, womens, kids - 1,000 yen for 45 minutes). It's the perfect way to enjoy the scenery!
Enjoy a cruise around Lake Inba-numa!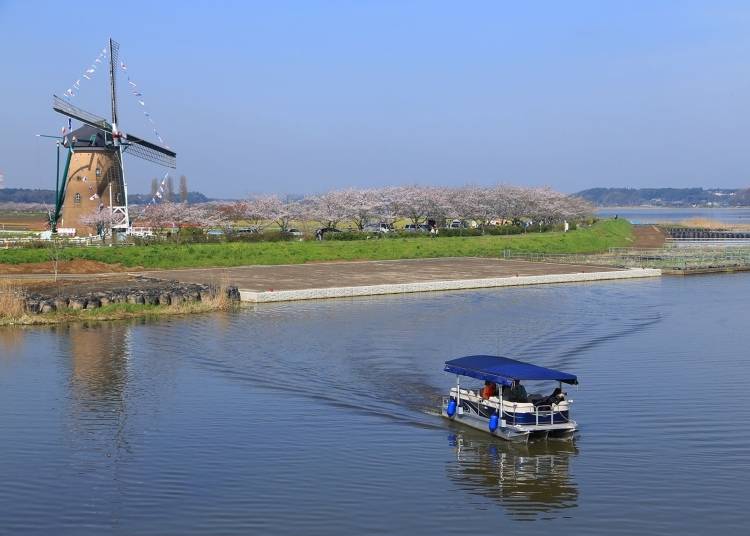 A sightseeing boat tour will be ready to show you around the Lake Inba-numa. Cruises take around 40 minutes.
・Date: March 30, 13; April 6-14, 20, 21
・Time: From 10AM - 3PM (scheduled to operate every 30 minutes)
・Price: Adults 1,000 yen; children 500 yen
*Schedule may change depending on weather
Other activities at Sakura Tulip Festa: Rental Cycles!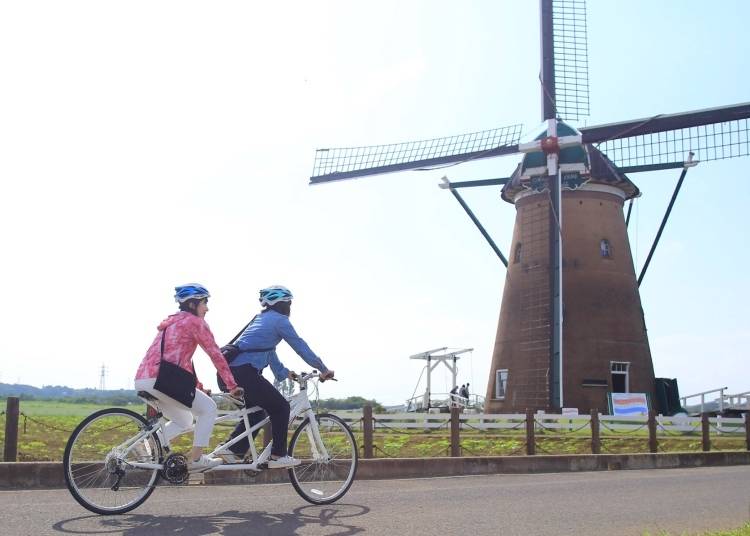 Bicycle rentals will also be available. You can rent a two-seater tandem bike or a rare Dutch bike! It's a perfect way of seeing the sights along the cycling paths around Lake Inba-numa.

・Price: Standard bicycle 500 yen (*1,000 yen for electric assisted bicycle)
・Tandem bicycle: 1,500 yen (2 hours) *Rental at the Sakura Furusato Square
・Dutch bicycle: 1,500 yen (2 hours) *Available only during the event period at Sakura Furusato Square
Also during the Tulip Festa: Enjoy the Windmill Festival!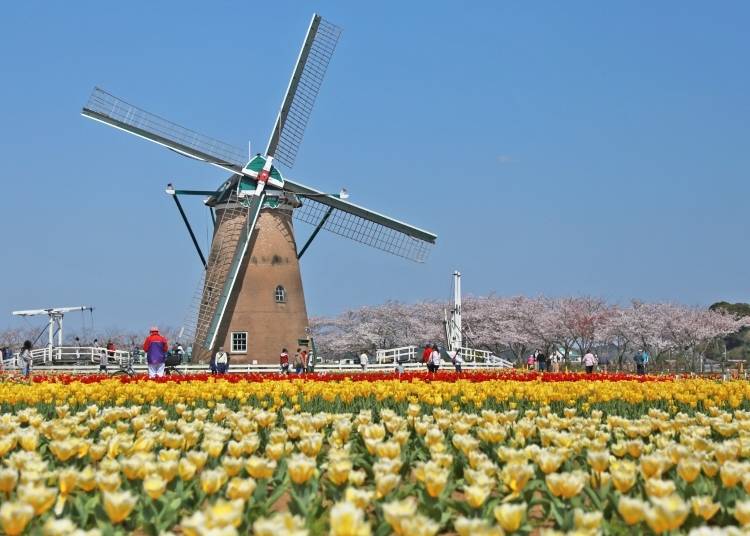 At the Windmill Festival, Dutch-themed goods, clogs, and more will be on sale.
・Date: April 13-14, 10AM - 3PM
・Organized by the Sakura Nichiran Association
Enjoy the 2020 Sakura Tulip Festa at Sakura Furusato Square!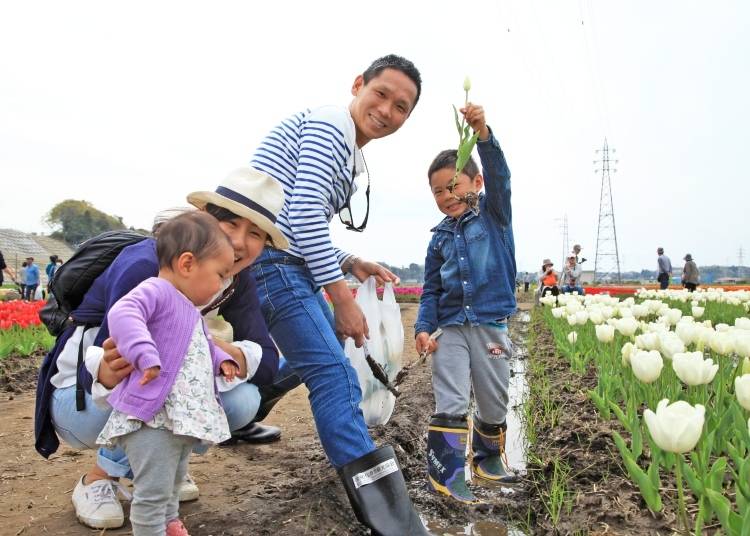 Schedule
・March 30 (Sat) - April 21, 2019
・Time 9AM - 4PM
・Venue: Sakura Furusato Square
・Free entrance

* Congestion on surrounding roads is expected on the weekend (up to 3 hours or more), so please use public transportation.
* As weekdays are relatively free, weekdays are recommended when visiting. Please see the Sakura City Tourism Association's website (http://www.sakurashi-kankou.or.jp/flower/tulip/) for the blooming status and the surrounding congestion status.

・Sakura City homepage Sakura Tulip Festa page
http://www.city.sakura.lg.jp/0000000042.html

Access to the venue
● Shuttle bus
Keisei Sakura Station North Exit Rotary - 'Osamu Furusato Plaza (Tulip venue)'
・From Keisei Sakura Station 9:15 am-3:30 pm
・Arriving from 9:35 am to 5:00 pm
* It is scheduled to operate every 30 minutes at peak
* As an operating expense of the event, I would like cooperation of 200 yen.
* Sakura City community bus (ride fee: 200 yen) also operates from Keisei Sakura Station north exit.

● On foot
Approximately 40 minutes from Keisei Sakura Station, Keisei Usui Station
Address

1626, Kitasuka, Narita-shi, Chiba, 286-0006
View Map

Nearest Station

Kozunomori Station (Keisei Main Line)

*This information is from the time of this article's publication.
*Prices and options mentioned are subject to change.
*Unless stated otherwise, all prices include tax.