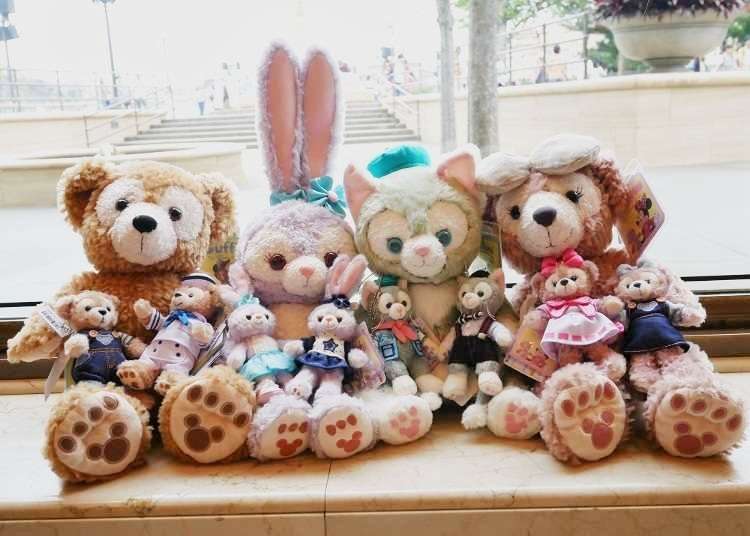 Tokyo Disneyland and DisneySea are must-visit spots not only for Disney fans but for tourists from all over the world. The parks are known for their magical atmosphere, wild and fun rides, and abundance of unique goods! There are so many fancy things on offer throughout the numerous shops, finding the perfect Tokyo Disney souvenir can be surprisingly difficult. To help you navigate the selection, we've hand-picked the 15 absolute must-have goodies of the Tokyo Disney Resort!
Minnie's Mega Cute Ribbon Headband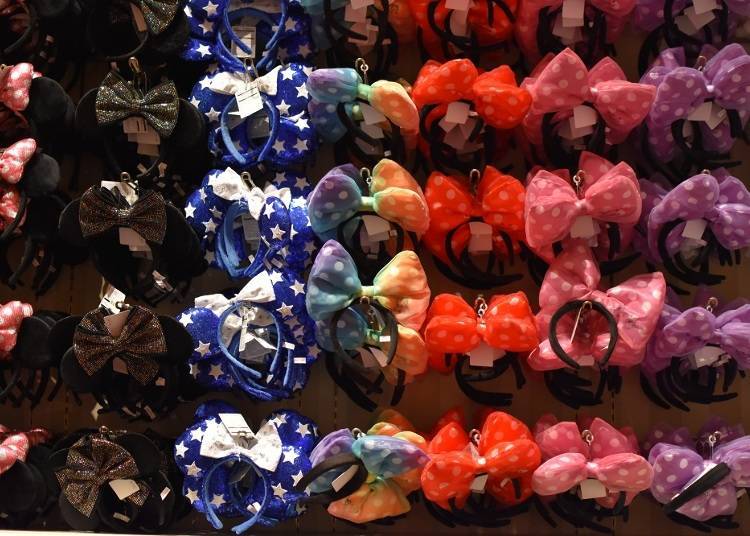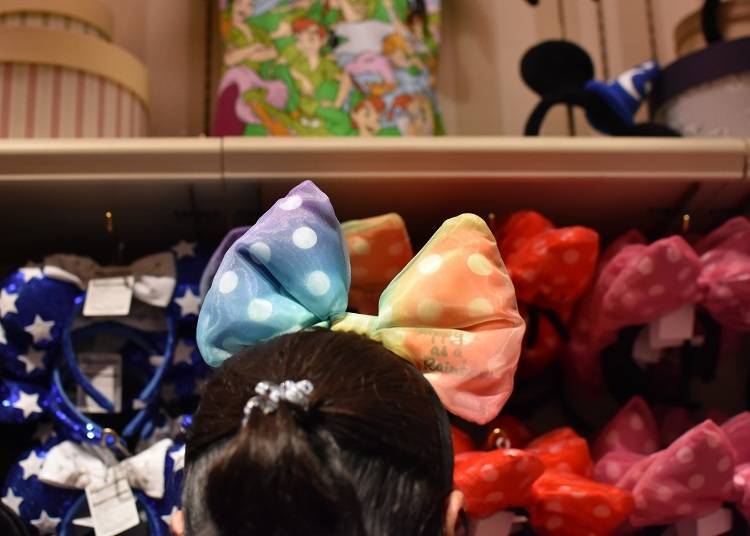 Minnie is especially dear to many Japanese Disney fans. Throughout Japan, you'll come across many girls and women with at least one but usually half a dozen Minnie-centric accessories! While you don't need to go all-out on Minnie fashion, her ribbon is a cute accessory and unique souvenir at the same time. It is available in various colors, sitting on a headband for comfortable wear – about 70% of female visitors to Disney Resort wear the ribbon on their heads, it's a genuine must-have.

Price: 1,400 yen
Tokyo's Fun Disney Character Hats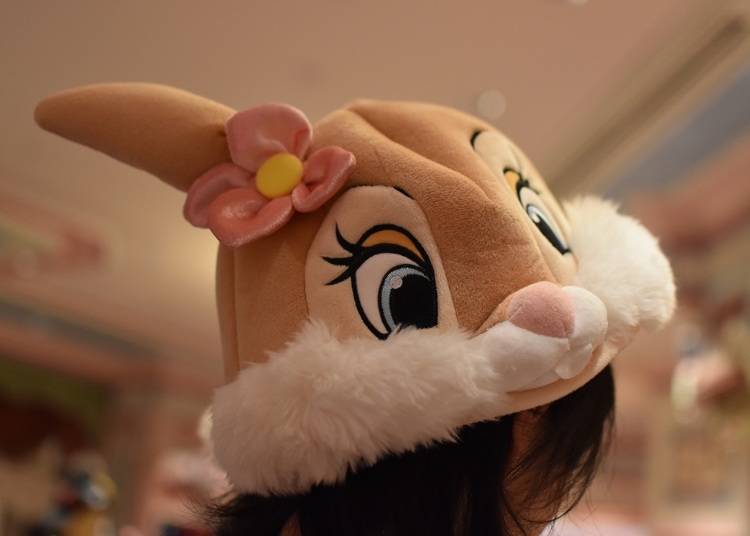 Speaking of things on people's heads – you'll notice another curious characteristic of Tokyo Disney Resort. Everyone seems to wear a hat, cap, or hairband! It's a fun little custom that also makes for a memorable souvenir. Almost every Disney character you can think of has their own hat version, from Bambi to Mrs. Bunny, from Mike Wazowski to Winnie the Pooh. Especially in winter, the cool caps will protect you from the chilling winds that sometimes blow through the coastal theme parks.

Price: varies by product and character
Disney's Plushy Character Pouches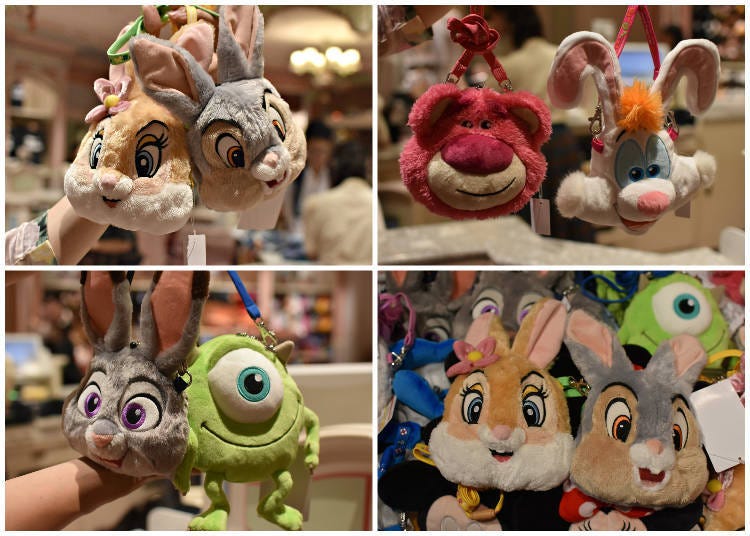 What character hats are to adults, the character pouches are to the little ones (or the little ones at heart). They're fluffy, they're cute and available with almost every Disney character, so go ahead and look for your favorite. The pouches are big enough for change and your passport, and while you're enjoying Disneyland and DinseySea, they're an excellent safe keep for your FastPass. Once at home, the pouch also reliably holds commuter tickets and so on.

Price: 1,800 yen
Disney Character Plushies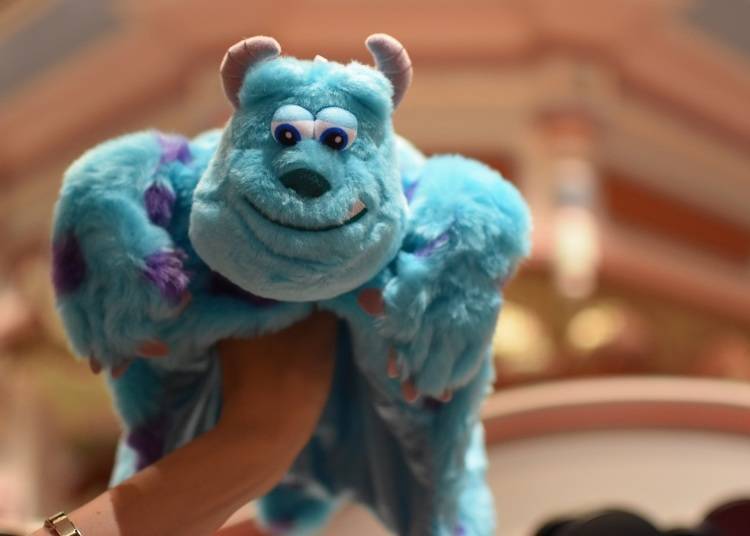 If you want something bigger to cuddle with or need a cute companion to guard your bed or couch while you're gone, opt for one of the numerous Disney character plushies. They come in all kinds of varieties, from especially soft and pillow-shaped to fancy and adorable. If you don't have a favorite character or a hard time deciding, we recommend Sulley from Monsters, Inc. His plushie version is so wonderfully soft and comfy, once you've rested your head on the top screamer, you'll never want to get up again.

Price: varies by product and character
Disney Princess' High Heels Keychains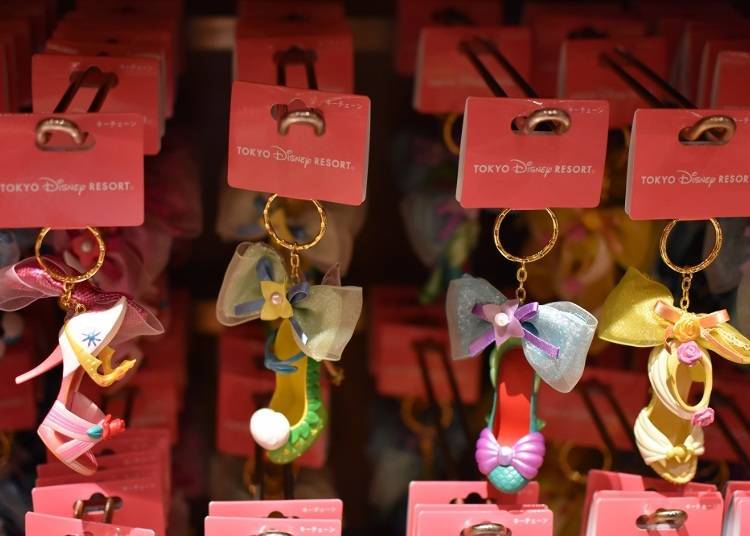 Looking for something more subtle? The Disney Princess' high heels keychains are just the right thing for you! Beautifully made, they represent the characteristics and style of each princess just wonderfully without immediately revealing what they're about. These stylish keychains are the perfect choice for every Disney fan who enjoys a bit of discretion when it comes to their obsession! The high heels are also available as earrings, rings, and necklaces.

Price: 1,000 yen
Color-Customizable Mechanical Pencils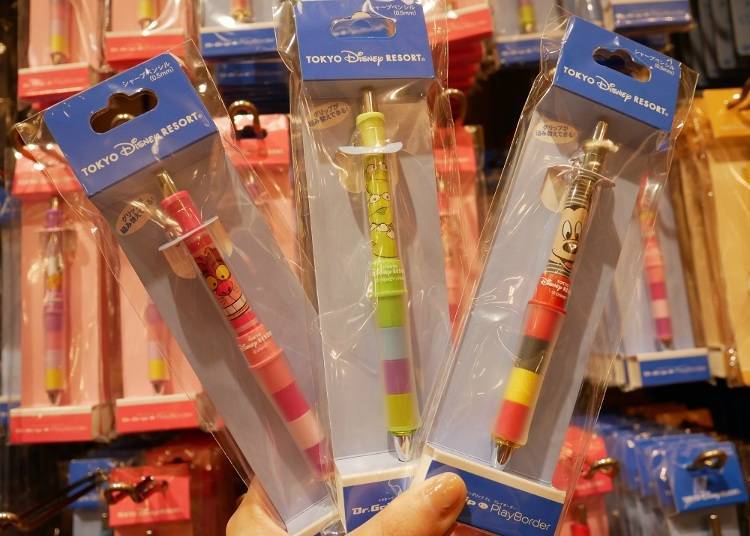 Stationery fans know that Japan has a special obsession with everything related to writing. As such, it comes as no surprise that Tokyo Disney Resort has colorful mechanical pencils among its many goodies that don't just look fancy, they also work really well. Instead of pushing the back of the pen to extend the lead, this mechanical pencil has you shake it – with a quiet flick of the hand, you can continue writing and drawing. To further stimulate your creative cravings, the colorful grip is entirely rearrangeable! The pen comes in 9 different varieties, including characters such as the Cheshire Cat, the Little Green Men, and Mickey.

Price: 850 yen
Classic Character Mugs (With Nose!)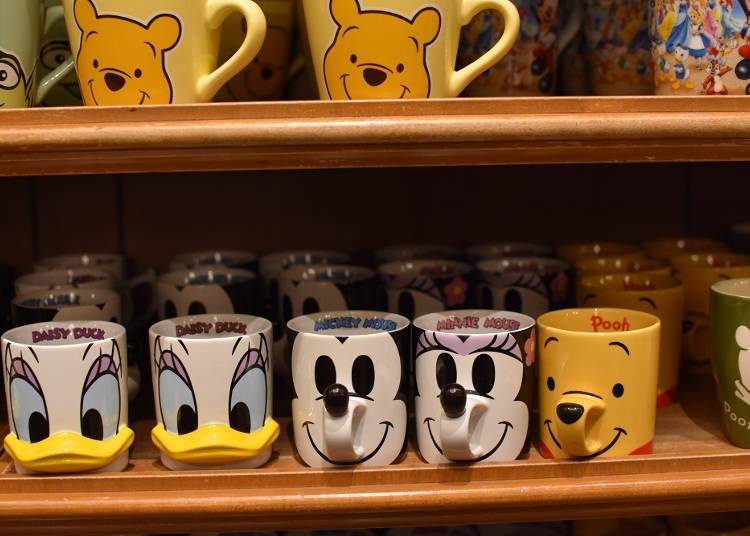 Everyone has a go-to mug to sip coffee or tea out of in the morning (or afternoon, or evening) and, Disney fans, you're about to discover a new favorite! Disney has created 3D character mugs, with the noses of Mickie, Minnie, or Winnie the Poo adorably serving as the handle. This is one of our favorite souvenirs among this selection, as it is both funny and unique. And every morning, as you're sipping on your beverage of choice, you'll be reminded of the magical time you spent at Tokyo Disney Resorts.

Price: 1,100 yen
The High Five Rice Scoops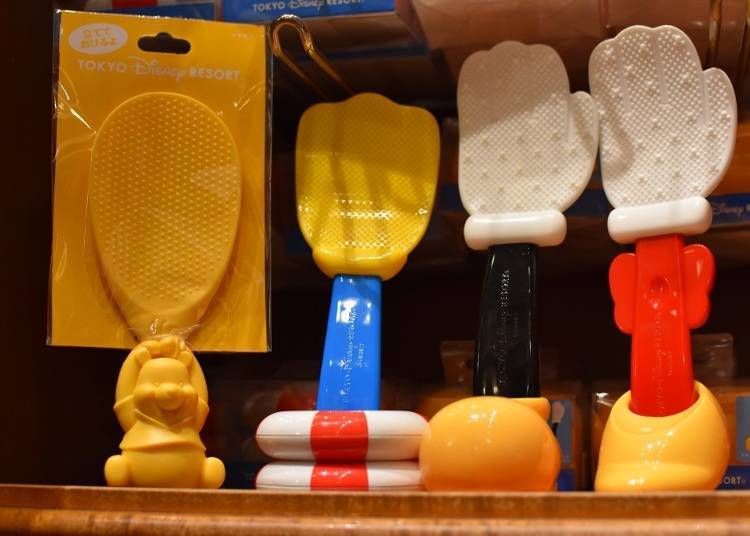 Bring a little fun to your kitchen with these adorable Disney character rice scoops! For the Mickey and Minnie version, the holder of the scoop is the characteristic yellow footwear, while for the Donald Duck scoop, it's a life ring. Winnie the Pooh is just his adorable self, helping you to a big portion of yummy rice.

Price: 500 yen (Minnie, Mickey, and Donald), 800 yen (Winnie the Pooh)
Adorable Disney Character Broom and Dustpan Sets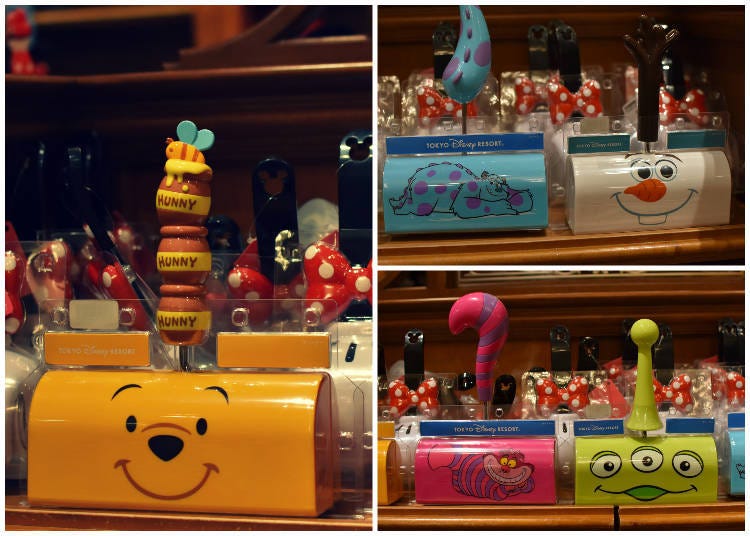 Let's stay with household goods for a moment longer to introduce you to Disney's fun broom and dustpan sets. They're fashioned after various iconic characters, every set comes with a different handle. Grab onto Cheshire Cat's tail or Olaf's twig hand to bring a bit more fun and color into tidying!

Price: 1,500 yen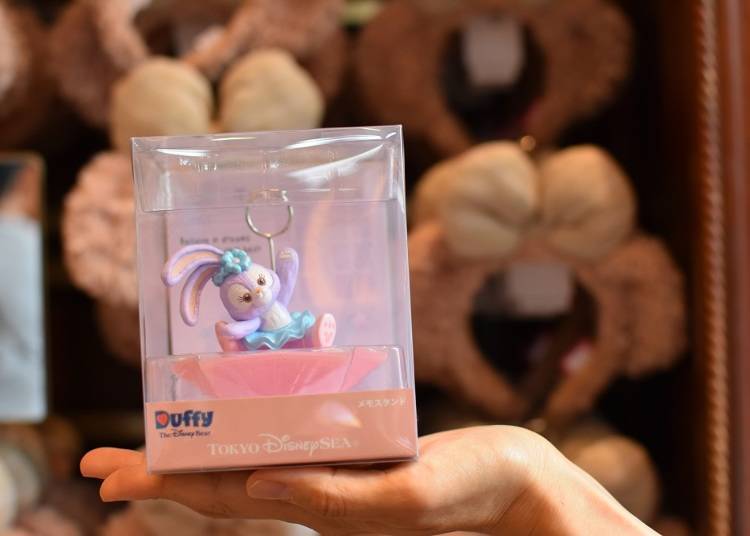 The showcased souvenir recommendations so far are mainly found at Disneyland, so let's take a look at DisneySea's unique selection. Our first choice is the StellaLou memo stand – StellaLou is DisneySea's newest character, a cute rabbit girl who doesn't only dream of becoming a dancer but also practices properly for it! The memo stand is her showing off a split and raising one hand as if she was presenting whatever memo you clip on it with a cute "Ta-dah!"

Price: 1,900 yen
Duffy and Friends Pair Straps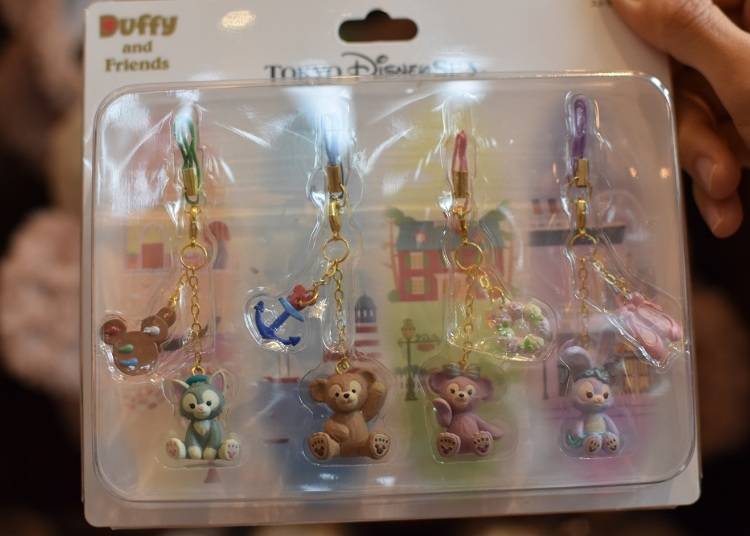 This is the very best souvenir if you're traveling with a group of friends or want to share with your besties at home. The four DisneySea characters – Duffy, ShellieMay, Gelatoni, and StellaLou – decorate four unique straps as elaborately made figurines, available as one set.

Price: 2,600 yen
StellaLou and Duffy Mug Bottle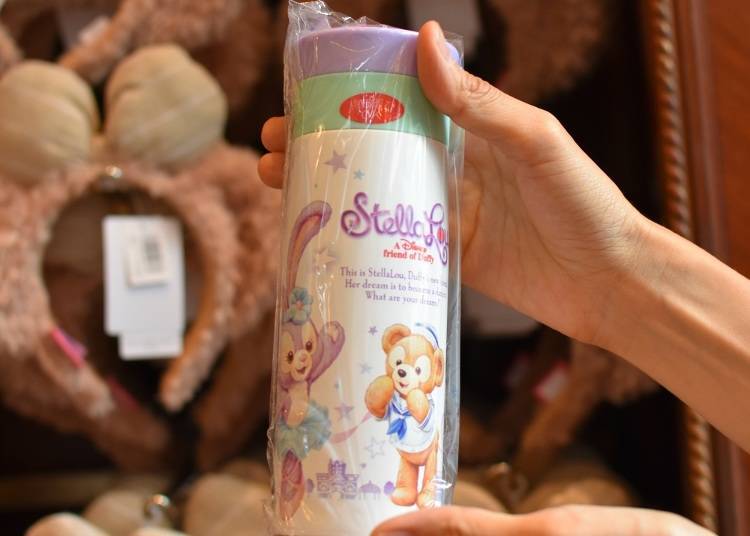 StellaLou is DisneySea's biggest trend right now, so naturally, you'll find an extensive selection of cute goods centered on her. We've especially fallen in love with this mug bottle, adorned by her and Duffy, the original Disney bear. The illustration on the bottle resembles a pastel pencil drawing and is a real eyecatcher. With 390ml, the bottle offers plenty of drink while being surprisingly light. It even promises to keep your drink warm for 6 hours straight – is there a cuter way to enjoy your morning coffee on the go?

Price: 3,200 yen
Duffy and ShellieMay Pouches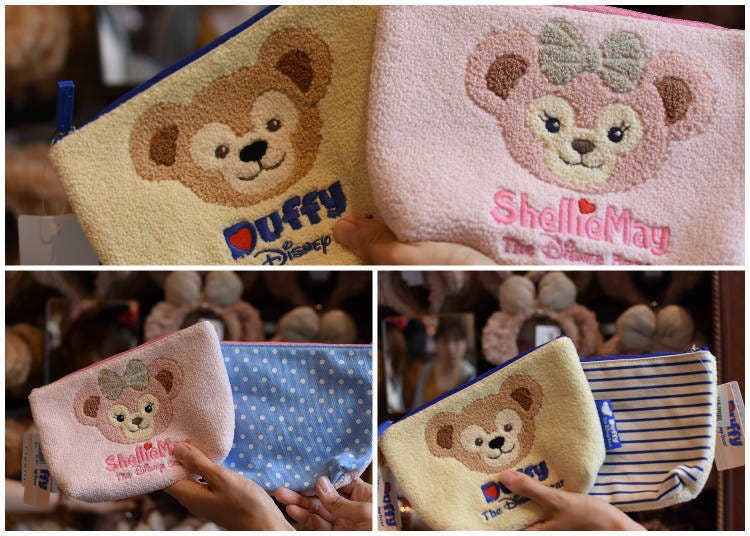 These adorable pouches have a gently fluffy surface and thus are delightful to touch and hold, without being too overwhelmingly plushy. The backside is made of high-grade canvas with a stylish design and with 22cm x 15cm x 4cm in size, they're able to fit plenty of things. They're even able to stand on their own and make a great pouch for pens, erasers, and so on, but also to store your necessary makeup goods for on the go.

Price: 3,200 yen
Duffy and Friends Ball Pens and Hand Cream, Sets of Four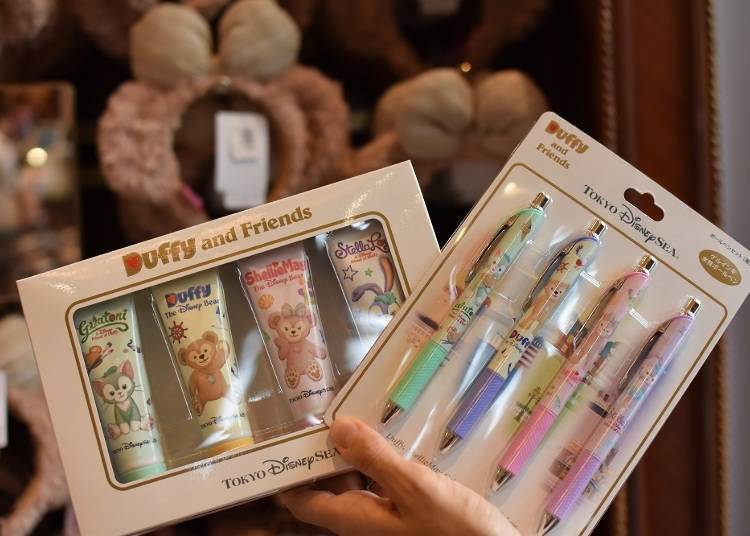 Equally stylish souvenirs are the ballpoint and hand cream sets of four, also from the Duffy and Friends series. Just like the phone straps showcased earlier, these make wonderful souvenirs to be shared with friends and family – but there's absolutely nothing wrong with keeping the full set for yourself. Ballpoint pens and hand cream are, after all, something that you can never have enough of.

Price: 1,200 yen (ball pen set), 2,500 yen (hand cream set)
Duffy and Friends Plushies and Straps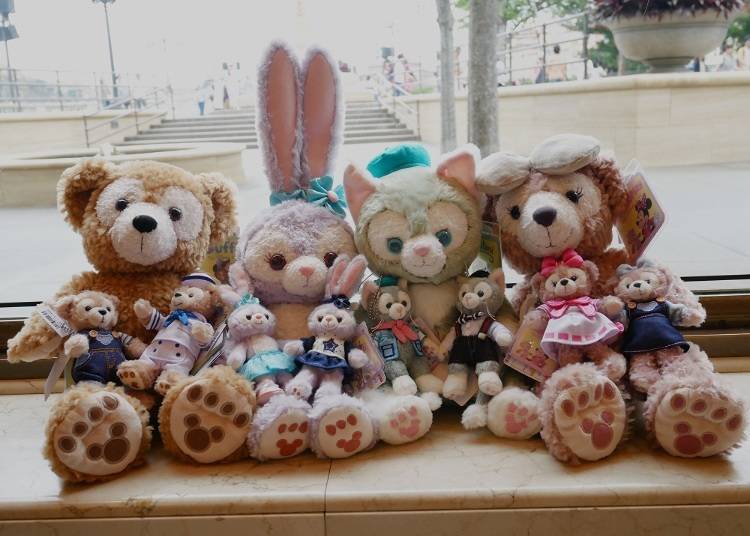 Last but not least: the cute plushie versions of Duffy and his friends! They're not only incredibly well made, ready to be dressed up in various outfits, but also are wonderfully soft and gentle to the touch. If the actual plushie is a bit too much for you, why not opt for the tiny version, ready to adorn any phone or backpack?

Price: varies by character
Tokyo Disney Resort and its Unique Goods
Please keep in mind that the items sold at Tokyo Disney Resort are limited editions and only available on site. They can't be bought at any other shop.

Browsing Disney's atmospheric stores for unique goodies and souvenirs is part of the experience that is so unique to Tokyo Disney Resort. The many shops are open longer than any ride and attraction, so you don't have to worry about carrying around bags full of things while you still want to enjoy the theme park – simply go shopping after the parade!
However, a little bit of planning is required, especially if you're after a specific character. The shops around Pooh's Hunny Hunt, for example, mainly carry Winnie the Pooh goods, including things that you likely won't find elsewhere. If you don't feel like spending your time browsing the numerous shops, check out the Grand Emporium in Disneyland or the Emporio in DisneySea. These large shops unite many of the available goods in the respective park. Happy souvenir hunting!

※All listed prices include tax and may be subject to change. Certain items may be sold out at the time of your visit.
*This information is from the time of this article's publication.
*Prices and options mentioned are subject to change.
*Unless stated otherwise, all prices include tax.