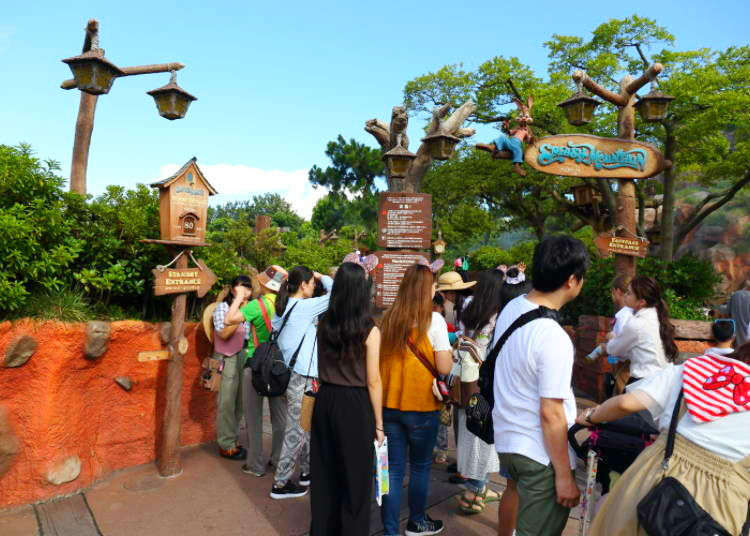 Tokyo Disneyland is one of Japan's most magic spots and never empty. That means that the especially popular attractions always boast long queues, while other rides are secret tips and can be entered with just a few minutes of queueing.

To make the most of your park visit, it's important to know how the "Fastpass Ticket" works to skip the lines! Let's take a look at the five must-ride attractions to absolutely get a Fastpass for, as well as five secret tips that you can enter almost instantly!
What is the Fastpass Ticket (FP)?
The Fastpass Ticket is a system that gives you almost instant access to various attractions in Tokyo Disneyland and DisneySea.

In a nutshell, it lets you reserve a specific time slot for an attraction, granting you access to the Fastpass Entrance with significantly less waiting time.

These tickets are easy to get: simply find the machines in front of the different attractions, place your park ticket under the scanner, and receive a Fastpass for free.

Return to the ride within the time printed on the Fastpass and you are good to go! The parks' maps clearly indicate which attractions are part of this system, so be sure to check.

However, the Fastpass system also comes with certain rules. You need to wait for a specified amount of time before getting another Fastpass, and extremely popular rides such as Disneyland's "Pooh's Hunny Hunt" and DisneySea's "Toy Story Mania!" tend to run out of Fastpass tickets without one hour after the parks open.

Even if you can get your hands on one, it may be for after 8:00 p.m. Likewise, if there's an attraction you want to ride by all means, do plan ahead and get yourself a Fastpass right after entering.
Tokyo Disneyland's Most Popular Rides!
1. Splash Mountain – Cool and Exciting! (Fastpass Available)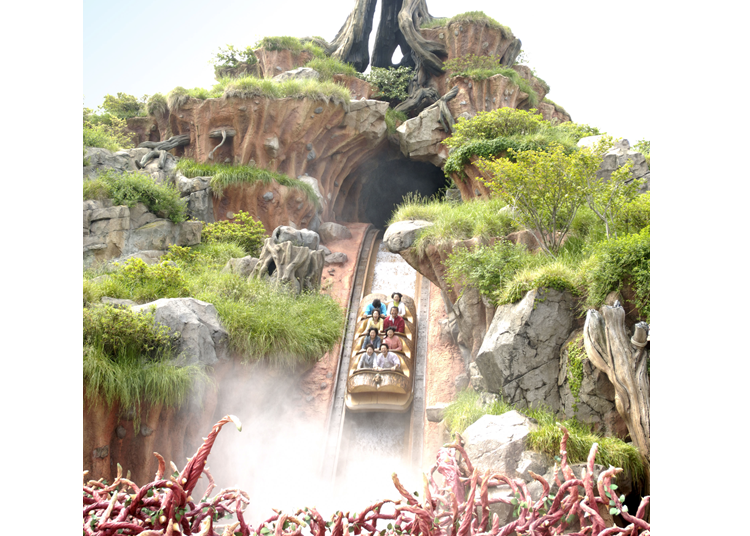 Splash Mountain is one of the three big mountains of Tokyo Disneyland. It's based on "Song of the South," having you float through the colorful world of the Disney movie on a log-like boat.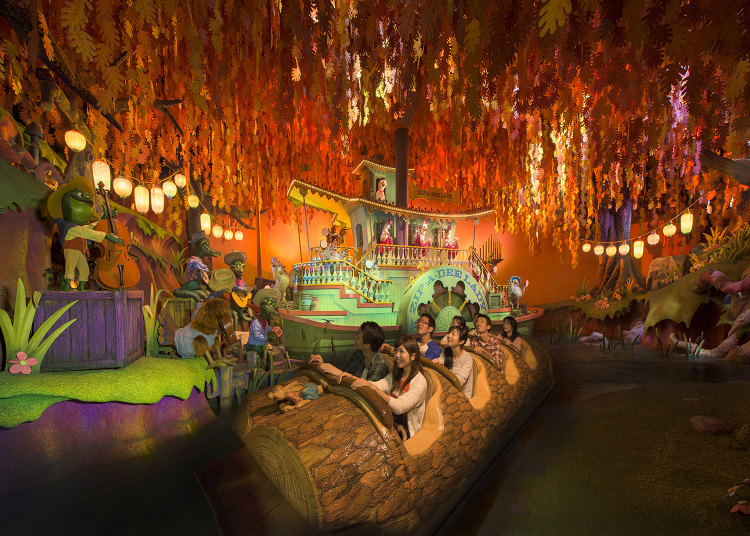 The boat sails along rather leisurely at first, taking you up to a high point from which you can overlook the park. From there, you're entering the mountain and are taken through the world of the movie, authentically recounting the story.

Suddenly, you're surrounded by darkness and while you might expect a drop or steep curve, you're taken up. But just when you think you get another view of the park there's the 16-meter drop right into the water that gives Splash Mountain its name – you will probably get wet!

The speed of the drop is 62km/h, making it the fastest in the entire park. Another reason for Splash Mountain's popularity is the quieter part at the beginning that lets you gaze over all of Tokyo Disneyland and enjoy the colorful story.

This slow part intertwines perfectly with the darkness that hints at the excitement of the following drop. Of course, the splashing water attraction is particularly popular in the hot summer.

The waiting time for Splash Mountain is usually about 50 to 100 minutes. We visited the attraction around 4:00 p.m. and Fastpass distribution had already ended, likely because it was a hot summer day (a weekday in July).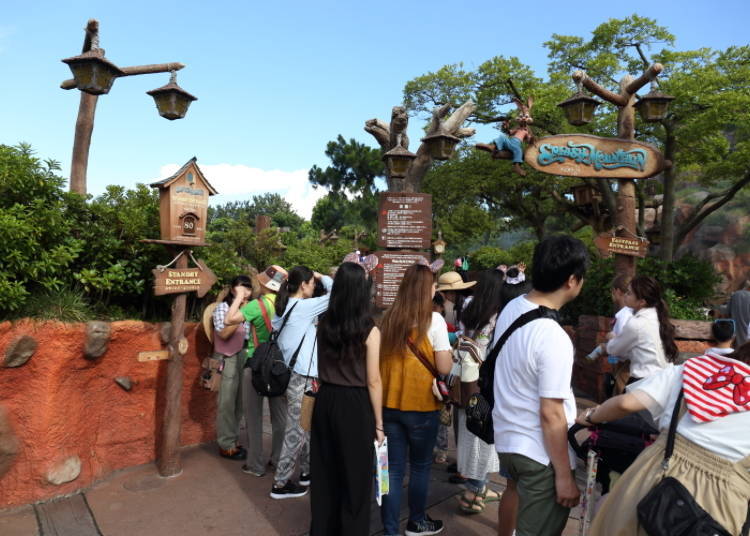 The "standby" queue is in the left and the Fastpass entrance is on the right.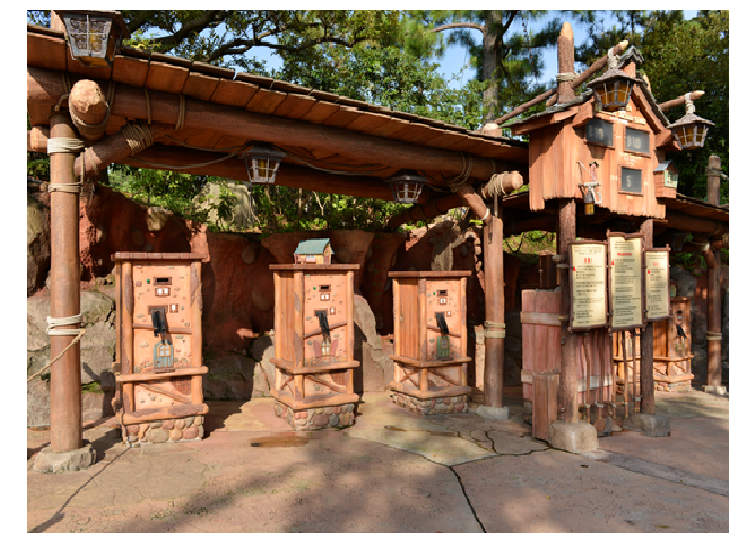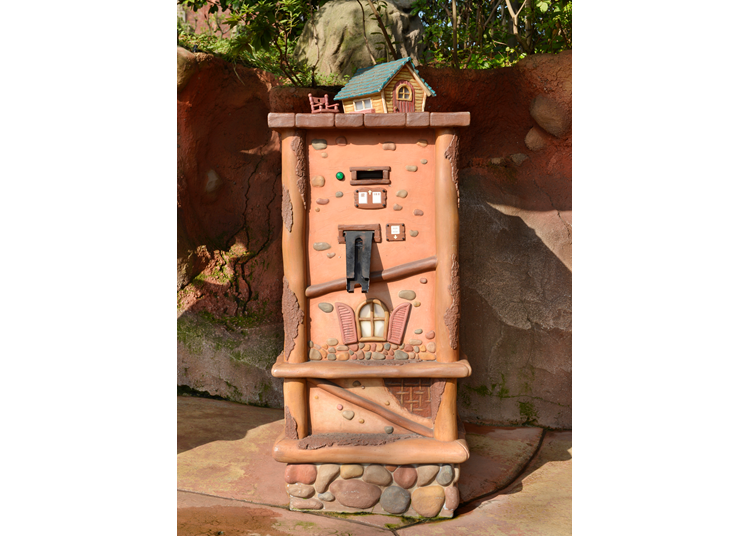 The Fastpass ticket machines
Area: Critter Country
Basic Information:
Duration: ~10 minutes
Capacity: 8 people per boat
Height restriction: must be taller than 90cm

2. Buzz Lightyear's Astro Blaster: Shoot, Shoot, Shoot! (Fastpass Available)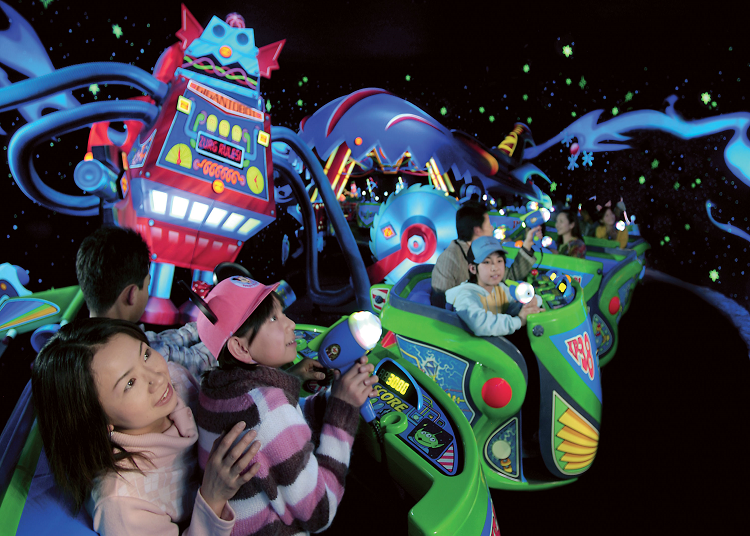 (C) Disney / Pixar
This fun attraction is obviously based on Toy Story, having you fight Evil Emperor Zurg with a ray gun called the Astro Blaster.

It's a conveyor belt-type of ride with a built-in gun. Aim for the Z marks and enjoy the satisfying ringing sound when you hit the target, adding to your score and making the next mark show up. The points of you and your partner are added up at the end.

The trick to getting the highest scores is to work together and actually focus on different targets as they pop up all over throughout the ride.

The secret that makes this attraction so popular is the incredible atmosphere. Relatively dark, it evokes the world of Toy Story extremely well while delivering an exciting sense of speed as you're rolled through it. The ammunition of the gun cannot run out either, so just shooting at the targets and going wild is a wonderfully satisfying feeling!

The ride is very popular, but the cars arrive one after another without interruption and the line moves quite fast, so the waiting time is usually not more than 50 or 60 minutes.

Fastpasses are also often available until 5:00 p.m. On the day of our park visit (a weekday in July), Fastpasses were still left for the 8:00 p.m. to 9:00 p.m. time slot at 5:00 p.m.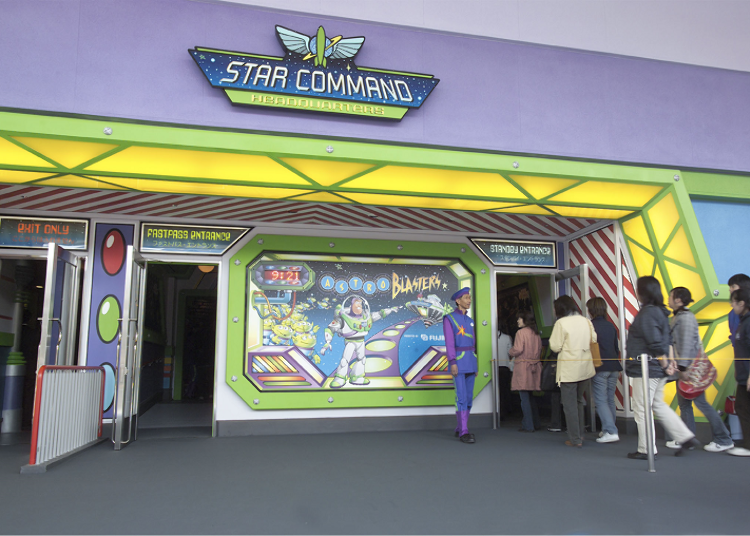 The "standby" queue is in the right and the Fastpass entrance is on the left.
The Fastpass ticket machines (C) Disney / Pixar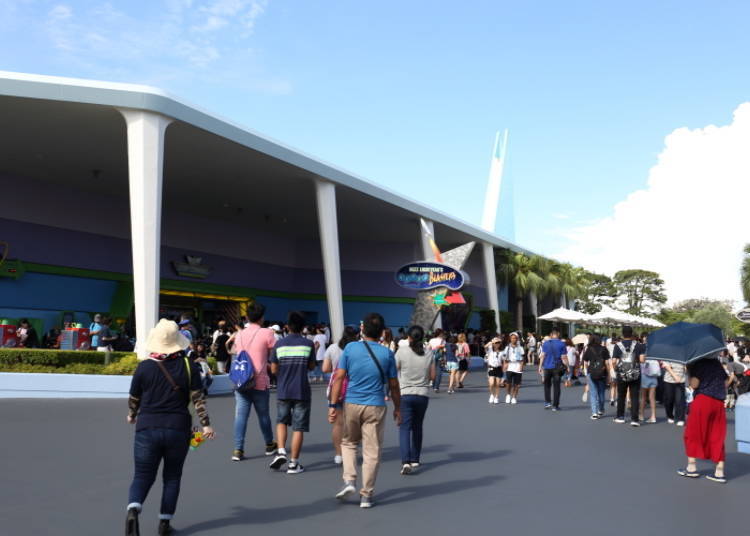 Area: Tomorrowland
Basic Information:
Duration: ~4 minutes
Capacity: 3 people (2 ray guns)
Height restriction: none

3. Space Mountain: Taste the Excitement of a Dark Coaster! (Fastpass Available)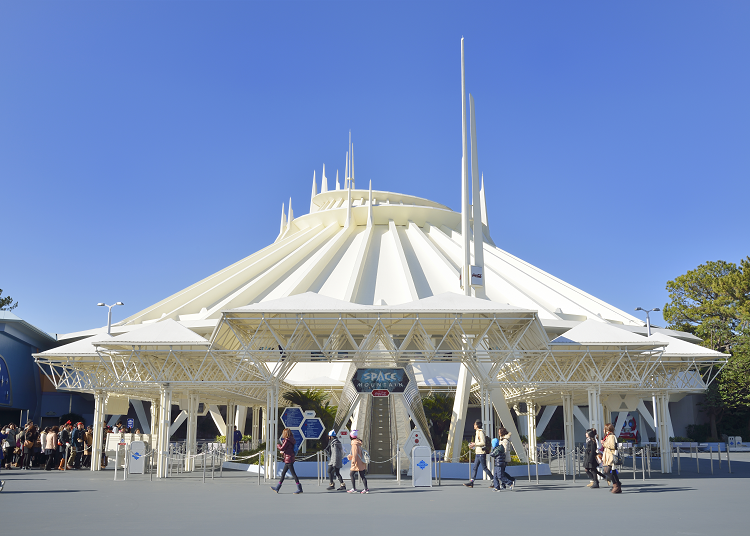 Space Mountain has been incredibly popular since the opening of the park and one of its three great mountains. This ride's story has you board a small rocket and travel through outer space, reproduced in a gigantic dome.

Its main feature is the high speed that it picks up right after the launch, carrying you through a darkness only illuminated by stars and lights. The sharp curves and sudden drops will certainly keep you on edge.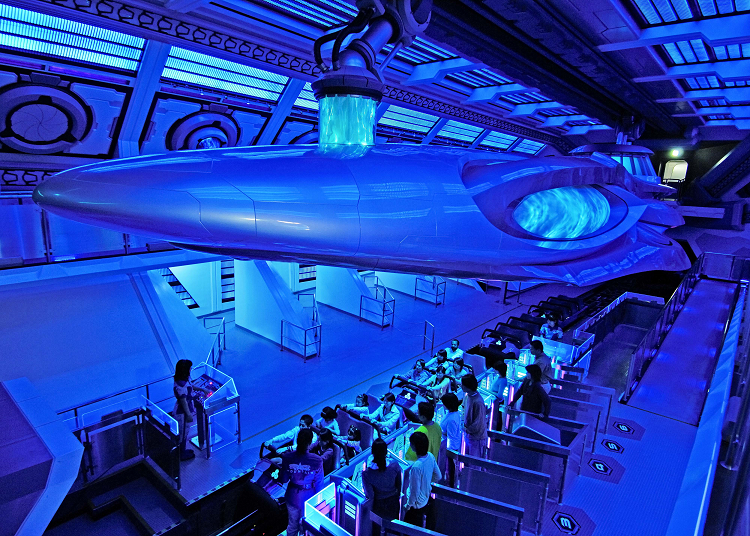 Inside of that darkness, you cannot predict the coaster's course at all, giving an extra edge of thrill to the high speed. It's called one of Tokyo Disneyland's most thrilling rides and many park visitors ride it several times a day.

The usual waiting time for Space Mountain is between 50 and 120 minutes. On the day of our park visit (a weekday in July), Fastpasses were still left for the 7:25 p.m. to 8:25 p.m. time slot at 5:00 p.m.
The "standby" entrance.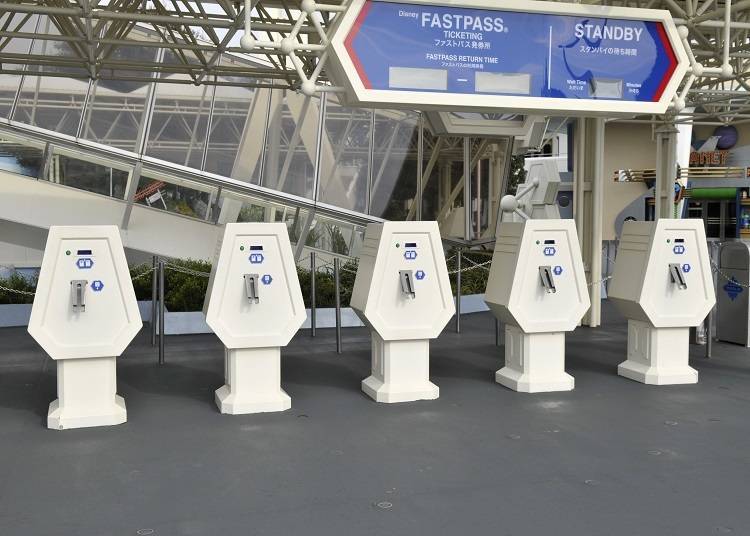 The Fastpass ticket machines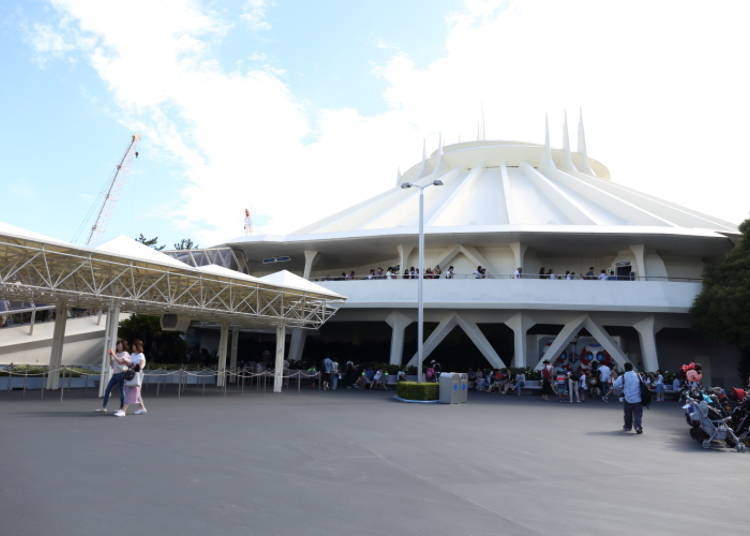 Area: Tomorrowland
Basic Information:
Duration: ~3 minutes
Capacity: 12 people in one rocket
Height restriction: must be taller than 102cm

4. Big Thunder Mountain: The King of Roller Coasters (Fastpass Available)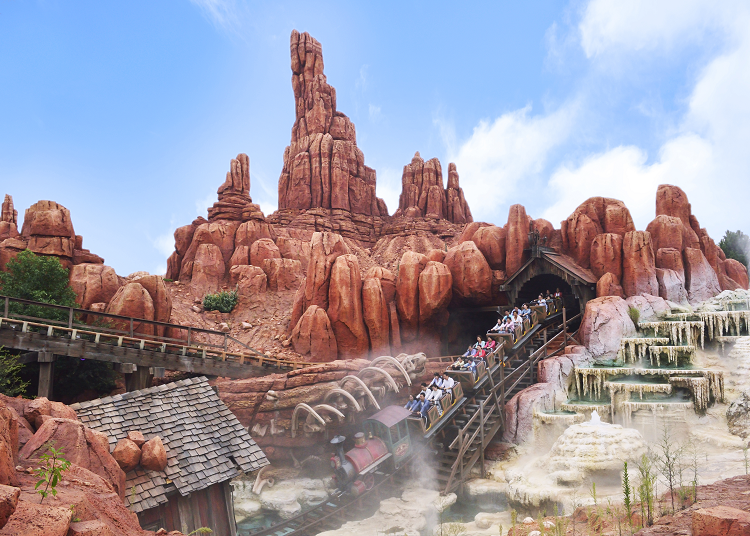 The last one of the three major mountains of Tokyo Disneyland is Big Thunder Mountain, of course. It can be called the most classic out of the three roller coasters, taking you to mid-19th century California and its Gold Rush.

Big Thunder Mountain was once a gold mine that was abandoned, but an unmanned rogue locomotive is still running on its tracks. It takes you up the slope slowly, snaking through the atmospheric mine before picking up speed after a sudden drop. At one point, it even seems like you're about to hit your head!

The many thrills of this ride are sure to make fantastic memories.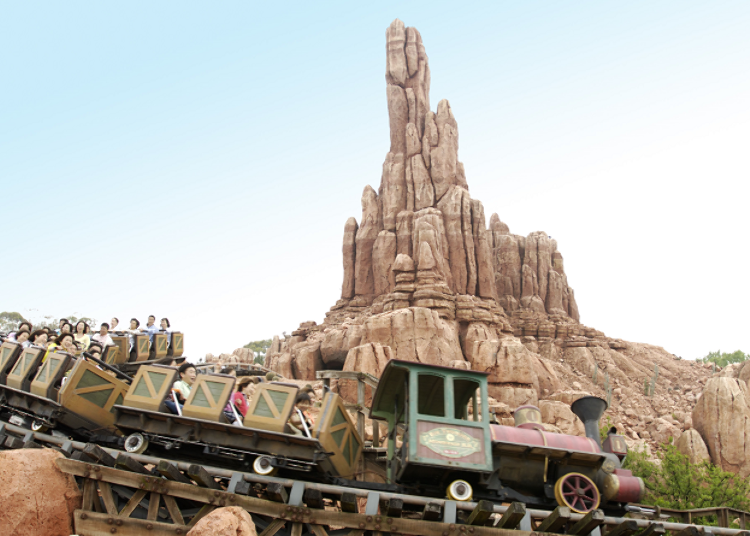 The speed of Big Thunder Mountain is about 40km/h and the ride boasts a nice view. Because it's a ride that even people who are usually not too find of roller coasters can enjoy, it's majorly popular among a broad variety of visitors.

The thrill seekers are warmly encouraged to raise their arms during a steep drop or waving to people in another car – it's a fun way to bond with fellow coaster fans!

The waiting time is usually between 50 minutes to 150 minutes, making it one of the most popular attractions of the park. The Fastpasses tend to be gone within the first three hours of the park's opening.

When we visited Big Thunder Mountain around 5:30 p.m., there were no Fastpasses left at all. However, the regular waiting time was merely 40 minutes, so even if you miss the opportunity to get a Fastpass, the queues aren't horrible.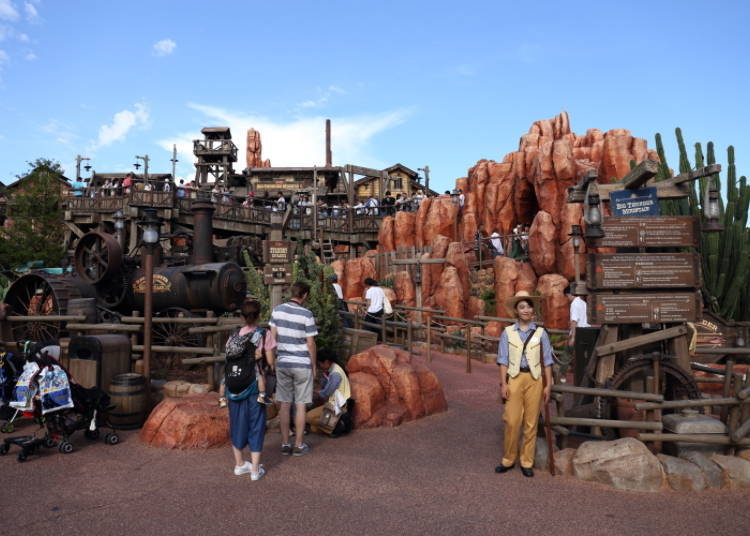 The "standby" entrance.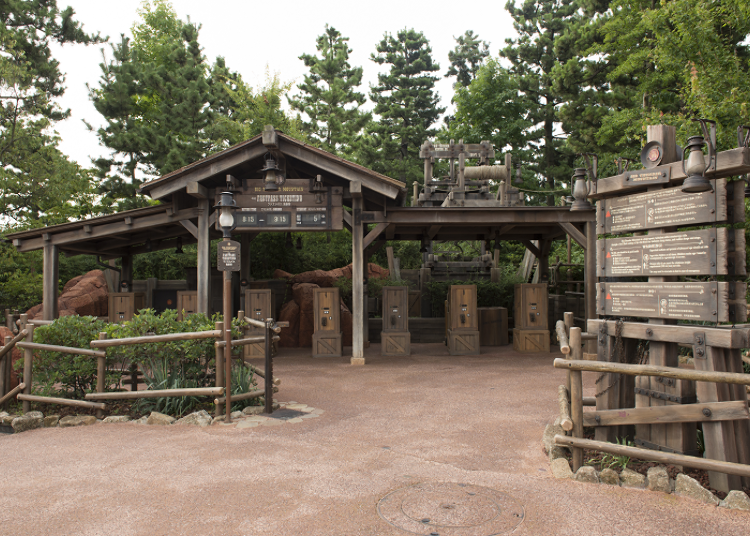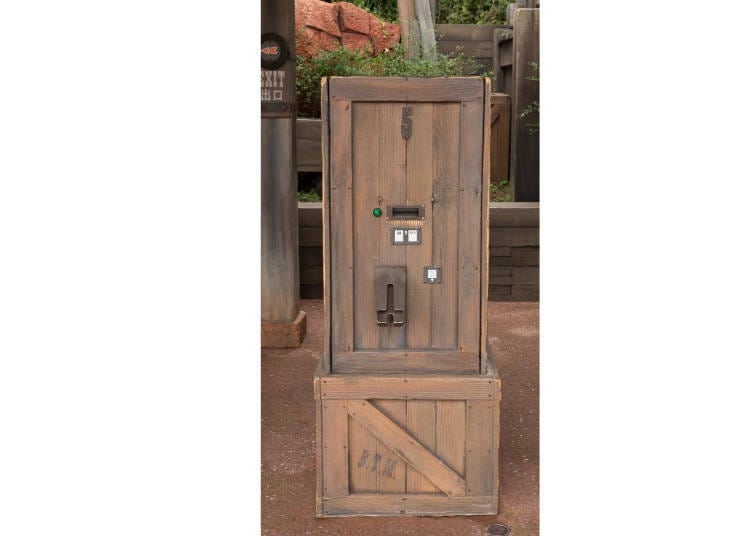 The Fastpass ticket machines.
Area: Westernland
Basic Information:
Duration: ~4 minutes
Capacity: 30 people in one train
Height restriction: must be taller than 102cm

5. Pooh's Hunny Hunt: Visit the World of Winnie Pooh in a Trackless Honey Pot, the Only One of its Kind!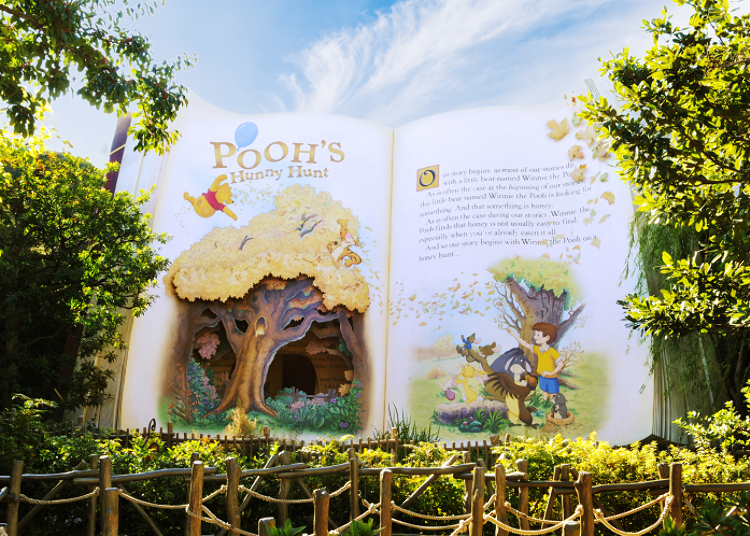 This adorable adventure takes you around the world of Winnie the Pooh, looking for honey while sitting in a giant honeypot yourself. The stage is the lush 100-acres story, faithfully reproducing the home of the beloved bear and showing scenes that Pooh fans are well familiar with.

Pooh himself is flying overhead while his friends try to protect their honey. It's heartwarming rather than thrilling.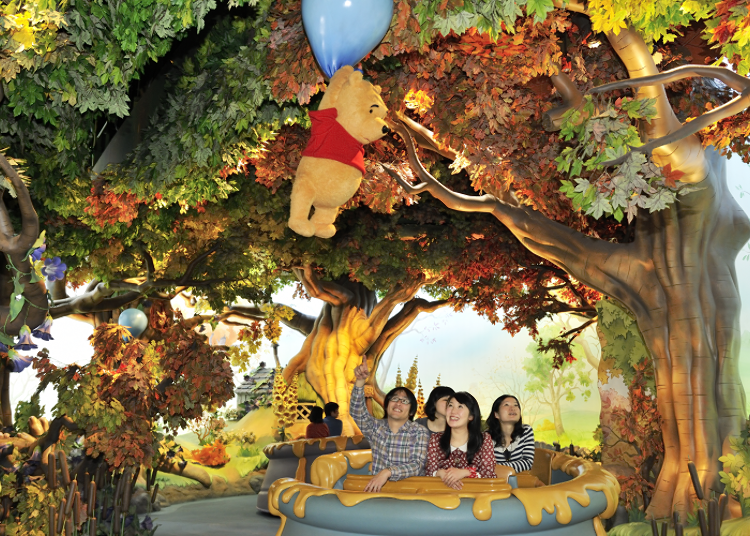 A major factor for the ride's popularity is the ingenious movement of the honeypots. It's a trackless ride, meaning that the movement is pleasantly unpredictable.

Three pots move as a group and every single one of them differently, so no matter how many times you ride, it's always a new experience. This ride can only be found at Tokyo Disneyland, making it a must-see for Disney fans of all ages.

That uniqueness has its downsides, however: when the attraction first opened, 300 minutes of waiting time was the standard.

Now, the situation has calmed down a bit and queueing usually takes between 60 and 90 minutes. The Fastpasses tend to run out around 11:00 a.m., so if you want to see it, we recommend going early.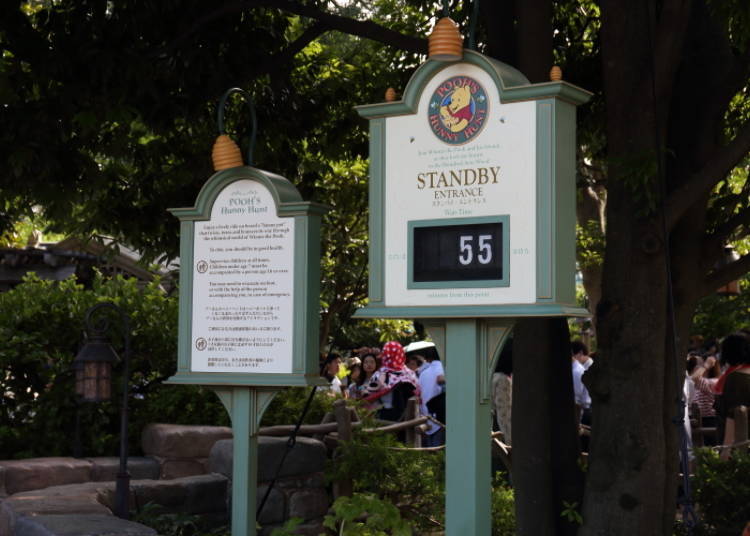 The "standby" entrance.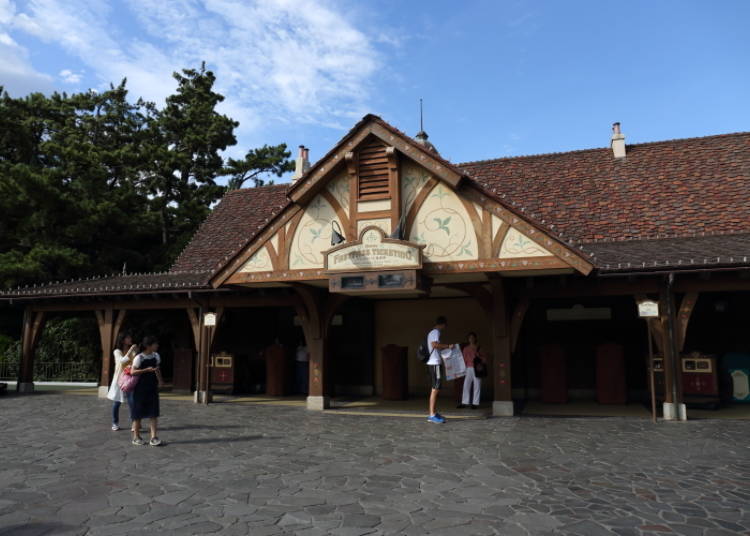 The Fastpass ticket machines.
Area: Westernland
Basic Information:
Duration: ~4 minutes 30 seconds
Capacity: 5 people in one pot
Height restriction: none
Tokyo Disneyland's Secret Spots – No Long Queues!
1. The Enchanted Tiki Room: Stitch Presents Aloha e Komo Mai!: Visit Stitch's Hawaii!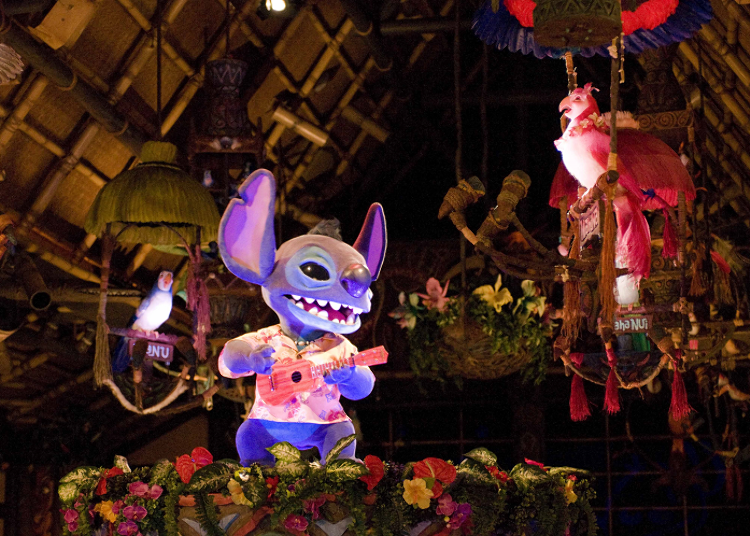 This adorable attraction is all about heartwarming singing and dancing, accompanied by the colorful birds of Hawaii. According to Māori mythology, Tiki is the first man created by the gods and this show is about that story.

Ever since Stitch became a part of it in 2008, it became livelier every year and truly is a fun, enjoyable show for both old and young. Especially Stitch fans cannot miss out on it! People who know about the show love it because the life-sized Stitch dances and sings energetically, just like in the movies! The tropical atmosphere and its Hawaiian music is also a nice break from the busy park.

About 300 people fit inside the theater and the show takes about 10 minutes. Entry is every 15 minutes and you usually don't have to wait longer than that. We managed to get in just before the show started, so we ended up not having to queue at all!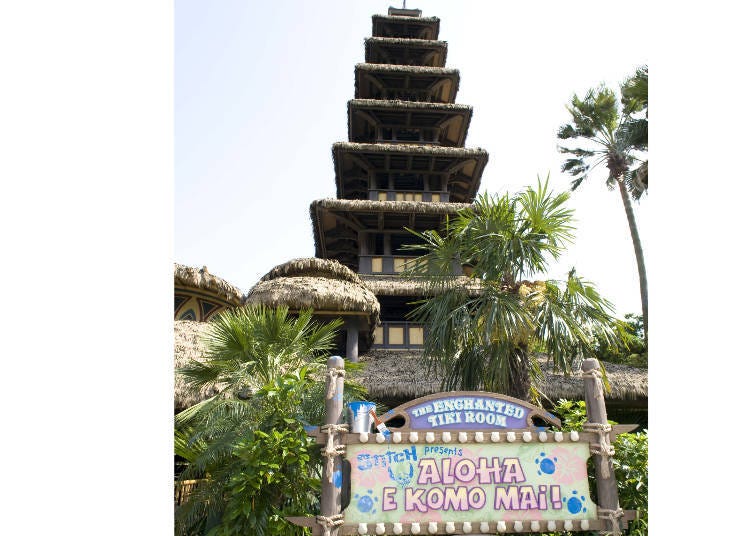 Even the entrance boasts a nice Hawaiian atmosphere.
Area: Adventureland
Basic Information:
Duration: ~10 minutes
Capacity: 318 people
Height restriction: none

2. Country Bear Jamboree: Comedic Bears Play Some Tunes for You!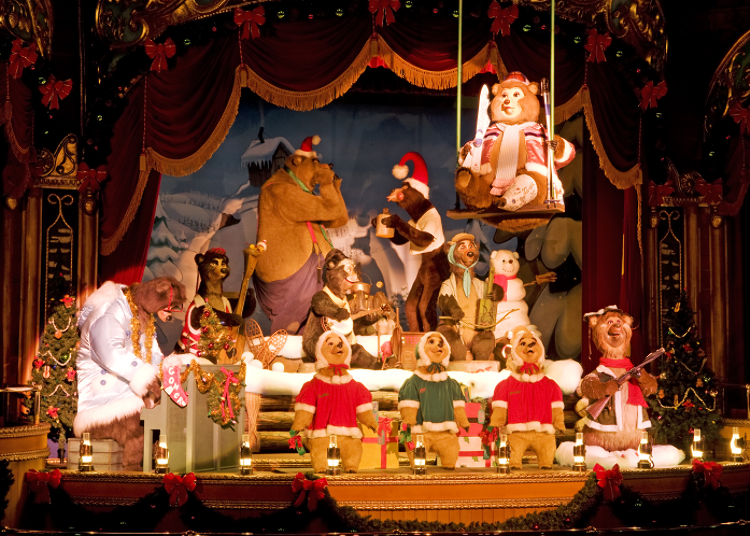 A total of 18 bears are playing a fun Jamboree in true country and western fashion! This is an attraction from the time of Tokyo Disneyland's attraction and the jolly bears and their comedic performance still boast plenty of fans.

There are three different musical programs that change by season, so you can even visit it several times without getting bored. The waiting area showcases the history of the country bears, drawing you into their world even before the actual show.

Its greatest charm is the incredibly life-like bears, singing and playing along realistically. It's a light-hearted show that can be enjoyed by both children and adults, so why don't you stop by?

Entry is every 20 minutes and that is the longest you will ever have to wait. We arrived about 10 minutes before the start of the next show but there were only a few people, guaranteeing us smooth entry.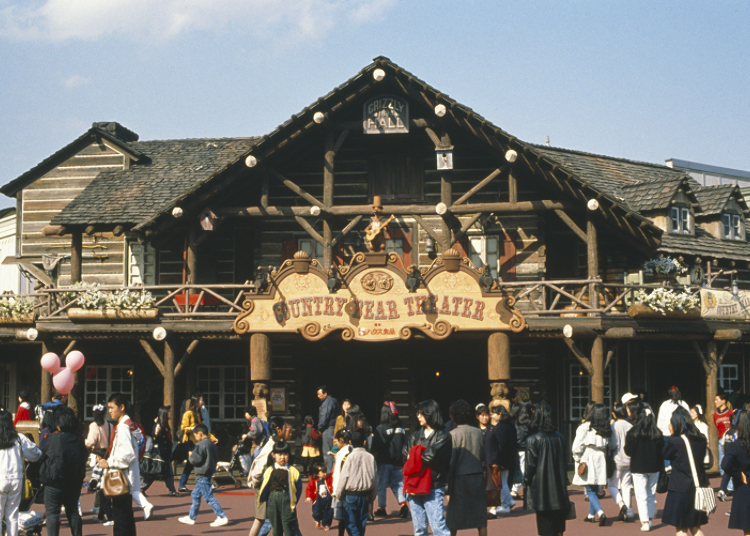 The entrance evokes a wonderfully Western atmosphere.
Area: Westernland
Basic Information:
Duration: 15 to 17 minutes
Capacity: 306 people
Height restriction: none

3. Mark Twain Riverboat: A River Cruise on a Ship of the Frontier Period!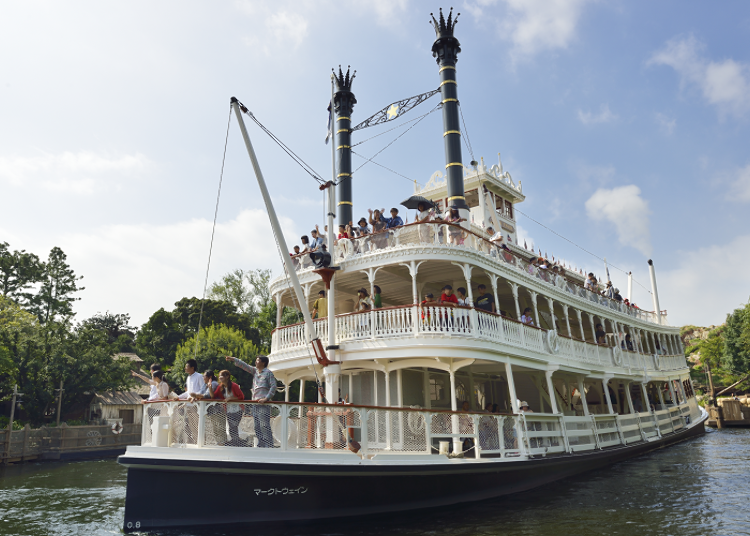 This large steamboat cruises on the Rivers of America in Westernland. It is built after an actual side-wheel steamer that sailed up and down the Mississippi in the 1850s.

Guests can explore the entire boat, from the first to the third floor, but we highly recommend the view from the third floor. It's a leisurely cruise that offers a fantastic perspective on Tokyo Disneyland's stunning Westernland while also staying true to history in every detail.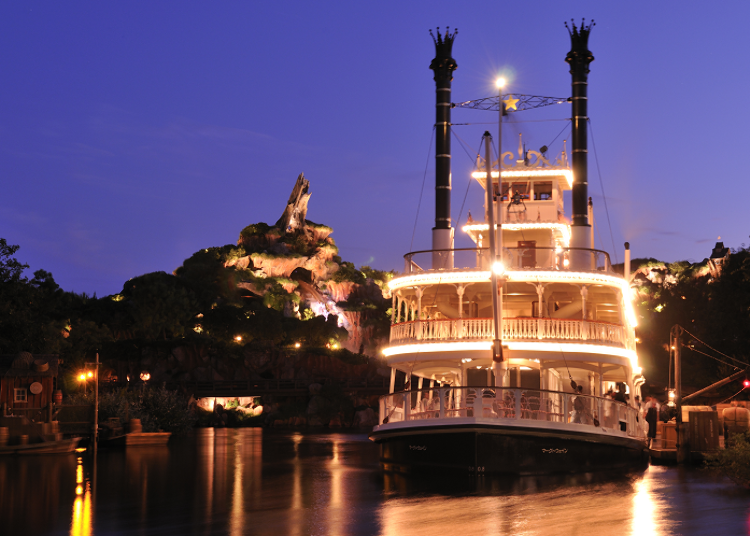 It's a popular secret tip because the ship is just so authentic, evoking a stunning atmosphere of America's western frontier.

Especially recommended is the evening cruise and, depending on the season, its gentle night breeze. With a capacity of 475 people, it's the largest ride in the park.

The ship departs every 20 minutes and since the ship is just so large, you will not have to queue for more than these 20 minutes. We were also able to catch a ride on the beautiful boat just after 10 minutes.
The boarding area.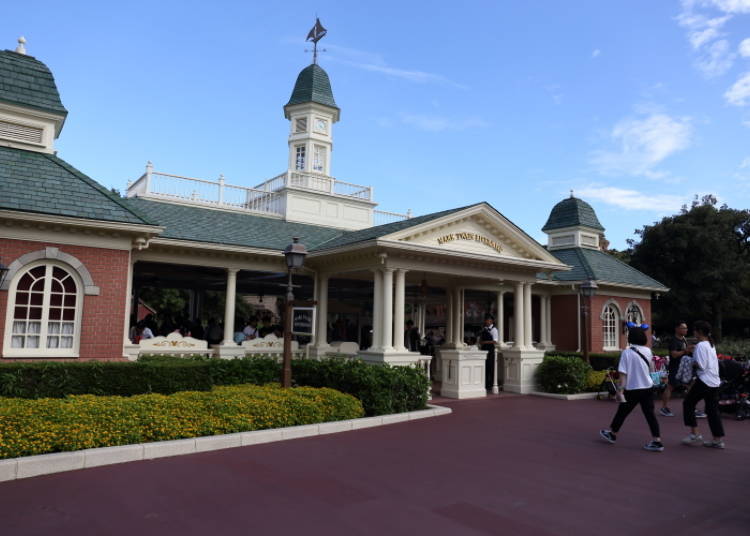 The entrance and waiting area.
Area: Westernland
Basic Information:
Duration: ~12 minutes, changes by seasonal show
Capacity: 475 people
Height restriction: none

4. Mickey's PhilharMagic: An Outstanding Collection of Movie Masterpieces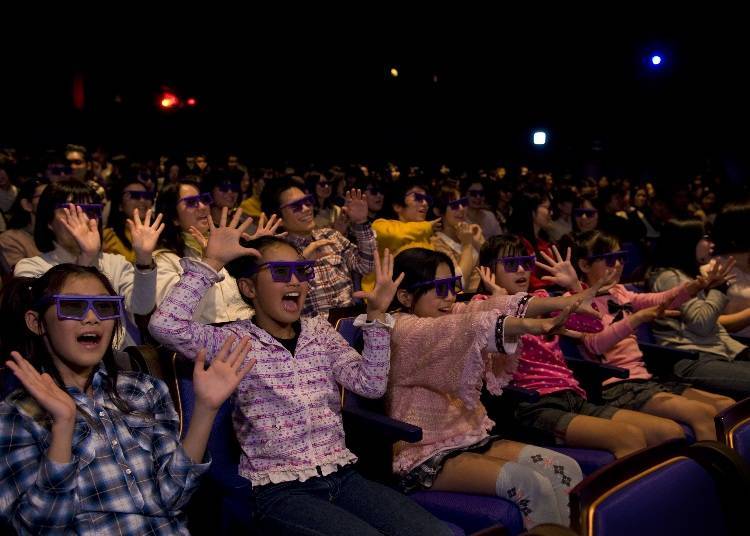 Mickey's PhilharMagic unites the world of classical music with a touch of Disney magic. It's a 3D theater that features both musical masterpieces and scenes from various Disney movies. You'll get 3D glasses at the entrance and the show immediately begins after you take a seat.

The story is about Donald being sucked into various movies and getting tangled up in a beautiful 3D world filled with the iconic music of Disney.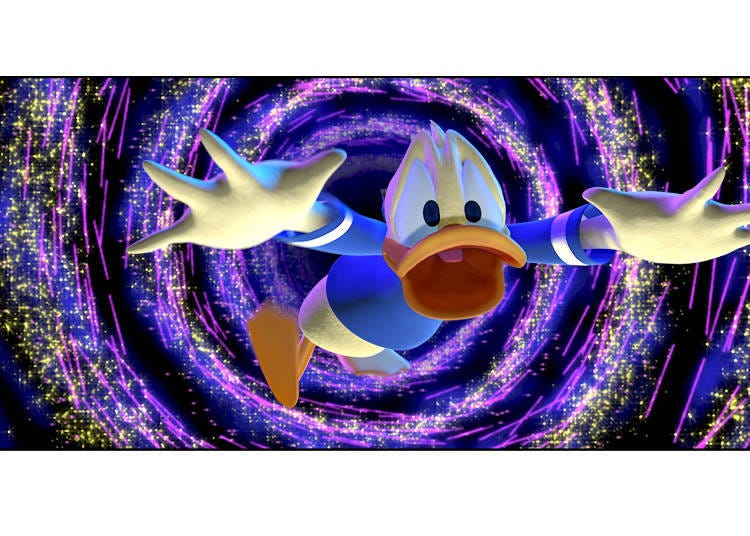 Fans love this show because it lets them dive into one iconic scene and moment after another. Eight songs are played in total, all of them famous and immediately recognizable.

The theater doesn't only utilize 3D, but also wind, water, aroma, and other methods to fully engulf you in the atmosphere.

The show lasts for about 11 minutes and is held every 15 minutes and you usually won't have to wait longer than that. Only when it's crowded or during seasonal peak times such as spring break, plan for about 30 to 45 minutes.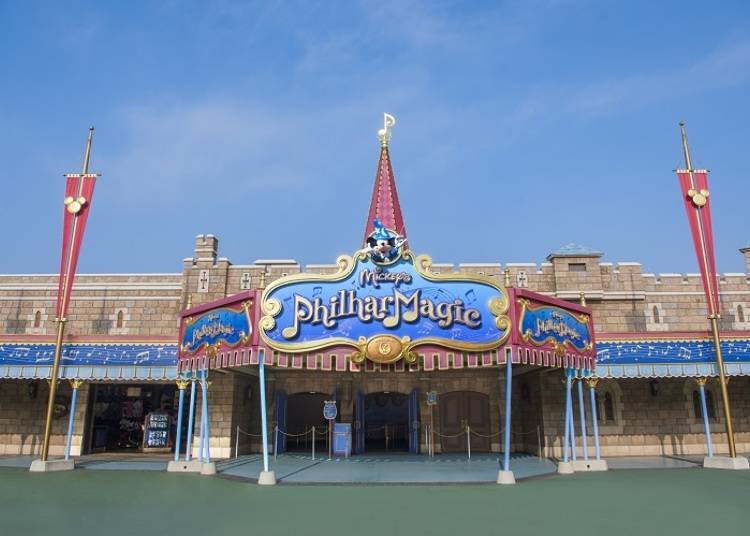 The entrance.
Area: Fantasyland
Basic Information:
Duration: ~15 minutes (~11 minutes of performance time)
Capacity: 454 people
Height restriction: none

Pinocchio's Daring Journey: Experience the Famous Story All Over Again!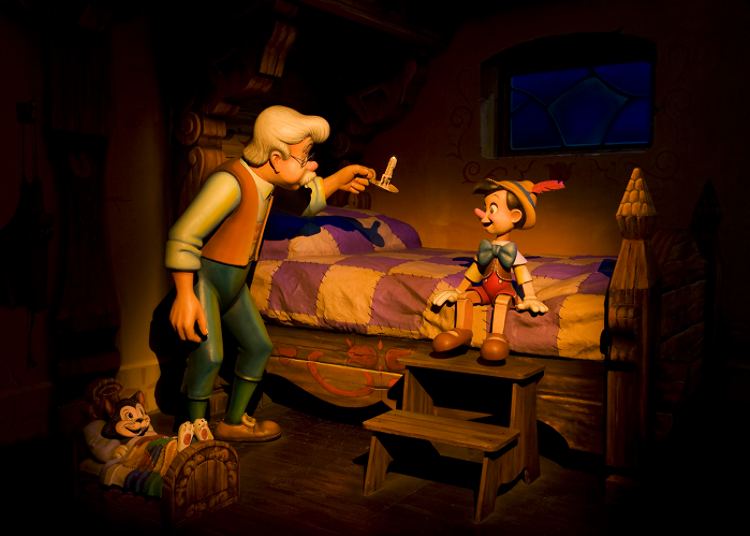 This is a stage show about Pinocchio, one of Disney's most famous classics. It lets you experience the iconic story from a wagon – watch Pinocchio turn into a real boy, a story told with beautifully crafted dolls.

Heartwarming and genuinely beautiful to look at, the show is a favorite of many park regulars. Even the entrance to it is true to the movie, so especially Pinocchio fans will have a marvelous time. People unfamiliar with the story might have a hard time following along, however.

The waiting time is about 10 to 15 minutes on weekdays. We also only waited for about that time, but crowded days can make you queue up to 40 minutes.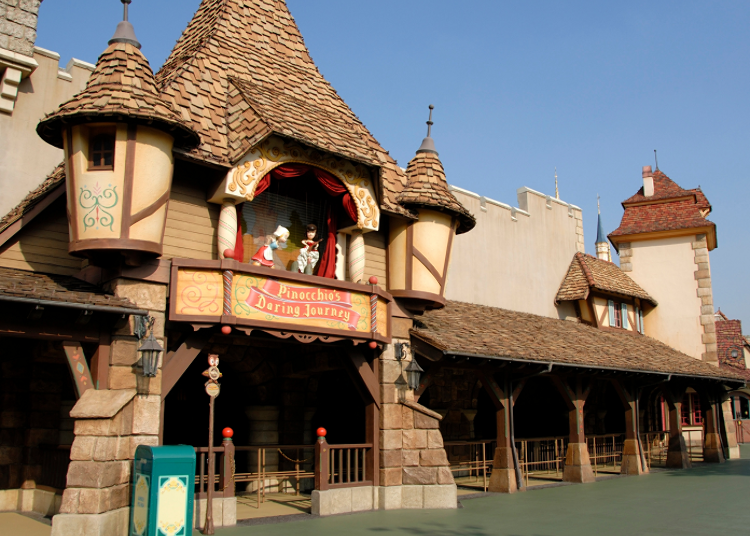 The entrance to the ride.
Area: Fantasyland
Basic Information:
Duration: ~2 minutes
Capacity: 4 people per wagon
Height restriction: none
Address

1-1, Maihama, Urayasu-shi, Chiba, 279-0031
View Map

Nearest Station

Maihama Station (JR Keiyo Line)
4 minutes on foot


Phone Number

0570-00-8632
*This information is from the time of this article's publication.
*Prices and options mentioned are subject to change.
*Unless stated otherwise, all prices include tax.