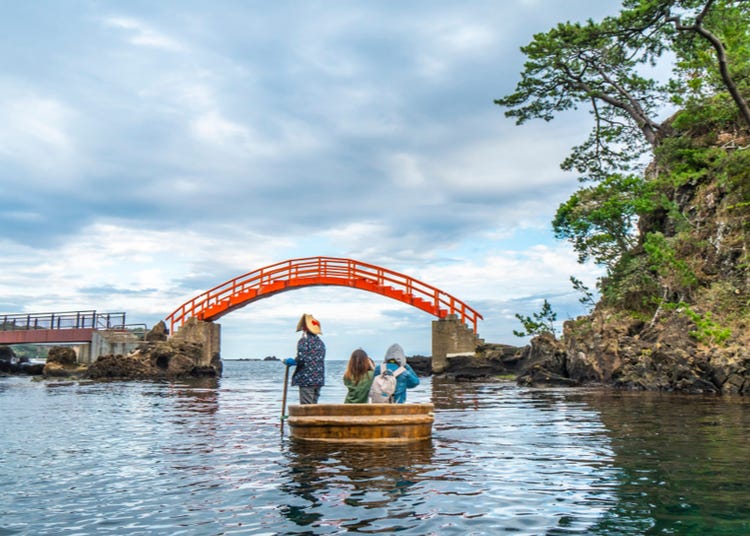 Sado Island (Sadogashima / 佐渡島), one of Japan's largest islands, is located off the coast of Niigata Prefecture. With its unique history, Sado Island was once known as a place of exile.

However, today it is a destination for those off the beaten path, famous not only for its stunning natural scenery but also for being one of the few places in which Japan's traditional culture is preserved.

Here we'll introduce sightseeing spots and experiences that you will not want to miss out on when visiting Sado Island, as well as how to get there.
A microcosm of Japan: What kind of place is Sadogashima?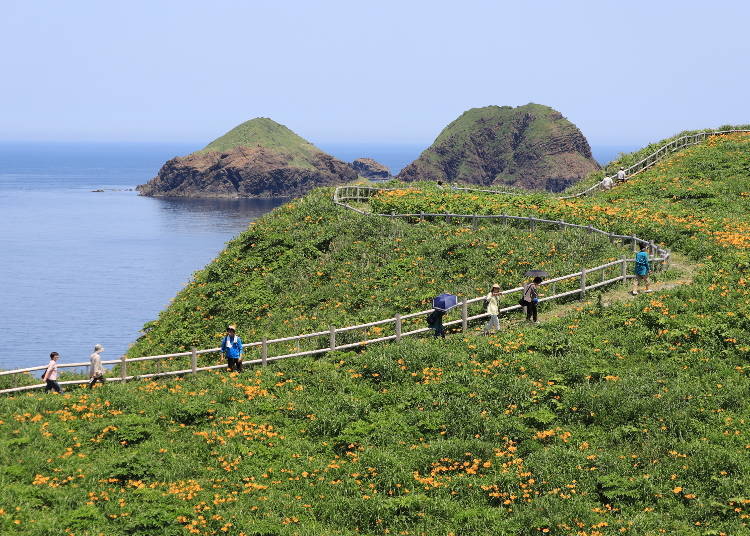 Sado Island, also known as Sadogashima, is the largest island on the side of the Sea of Japan, with a size that is one-and-a-half times that of central Tokyo.

In the surrounding ocean, warm and cold currents intersect, resulting in various types of seafood such as crab, shrimp, squid, amberjack, and tuna being caught, as well as an abundance of products of the sea such as oysters, abalones, turban shells, and seaweed!

Also, as there are mountains and plains on this butterfly-shaped island, it is a treasure trove of delicious rice and fruits, including Okesa persimmons, Le Lectier pears, and apples!

There is more to Sado's uniqueness. As many former emperors, aristocrats, and intellectuals were banished to Sado, the newest aspects of Japanese culture were brought continuously in. After that, Sado Kinzan became increasingly developed, and samurais, merchants, and engineers gathered here, cultivating its unique culture.

In this manner, while being an outlying island, with its mix of aristocratic culture, samurai culture, and commoner culture, Sado is said to be a "microcosm of Japan."

To get to Sadogashima from overseas, after going to Tokyo Station from Narita Airport, it will take about four hours even if you take the Shinkansen. Many tourists travel internationally to Niigata Airport, visiting Sado to experience the culture of an outlying island of Japan.
Getting to Sado Island from Niigata
This is how to get to Sado's Ryōtsu Port from the Port of Niigata. It takes about one hour to get there by jetfoil and about two-and-a-half hours by car ferry. Choose which boat to take based on your preference, budget, and schedule.

■Jetfoil (time required: 1 hour 5 minutes)
A double-decker boat that can carry up to 250 people. All of the seats are reserved, and the craft can streak across the sea's surface at a speed of 80km/h. Recommended for those who want to get there as quickly as possible and those prone to seasickness. Going outside, such as onto the main deck while traveling and loading private automobiles, is not allowed.
・One-way fare: 6,640 yen

■Car ferry (time required: 2.5 hours)
A large ferry that can carry up to 1,500 people. There are suites, special class seats, first-class carpet sets, first-class chair seats, and second-class unreserved seats. In addition, there is a canteen on board. You can freely step out onto the main deck, so you can enjoy your sea trip while feeling the salty sea breeze. It is recommended for those who want to spend the least amount possible, those who want to enjoy the journey, and those who want to load their private automobiles onto the boat.
・Second-class one-way fare: 2,550 yen
・First-class one-way fare: 3,630 yen
・Passenger automobile less than 5m return 34,890 yen (includes driver's second-class fare)

You can check Sado Kisen's website for detailed information about the boats and reservations: https://www.sadokisen.co.jp/

You can tour Sado Island smoothly by using a car to get around. Load your private automobile onto the car ferry or rent a car near Ryōtsu Port.
Top 8 sightseeing spots on Sado Island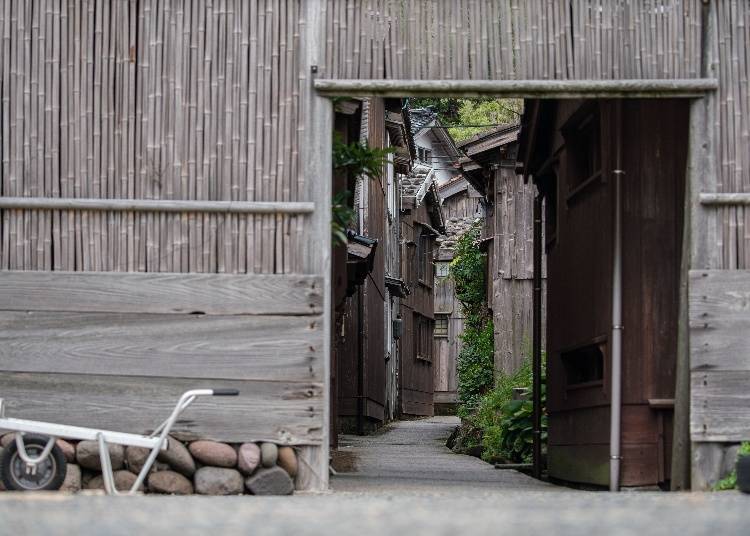 While Sado Island has many sights worth seeing, we will introduce eight sightseeing spots that we highly recommend. While you're moving around the island, the view of fields and the sea will surely calm your heart. So please spend plenty of time touring Sado Island.
1. Sado Island's Tarai Bune Rides: Experience a rare fishing boat!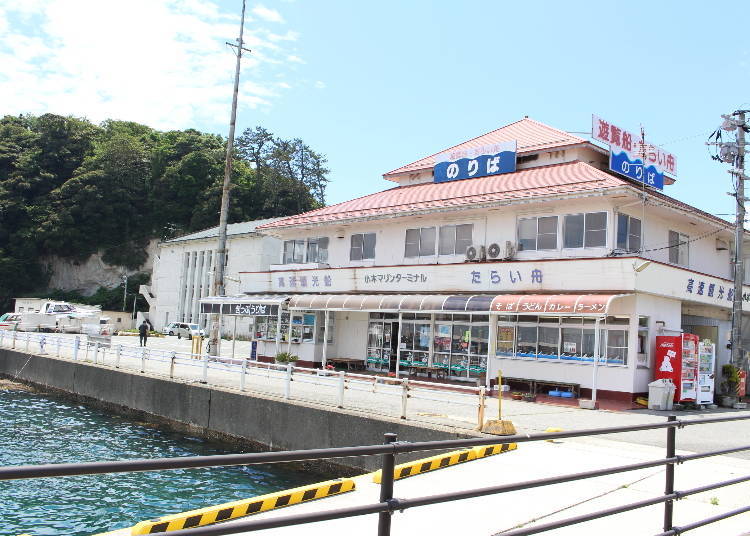 The terrain of Sado Island's Ogi Coast has many reefs. Here, a unique boat, the "Tarai Bune," is used to harvest seaweed, turban shells, and abalone. A "Tarai" is a traditional Japanese tool with a shape resembling a wooden barrel cut in half. It is used by adding hot water to it and washing clothes or taking a bath in it.

At Sado, the round tubs can be freely and easily maneuvered, which resulted in them being used as fishing boats. At Rikiya Kankō Kisen at Ogi Port, you can experience riding on this Tarai Bune.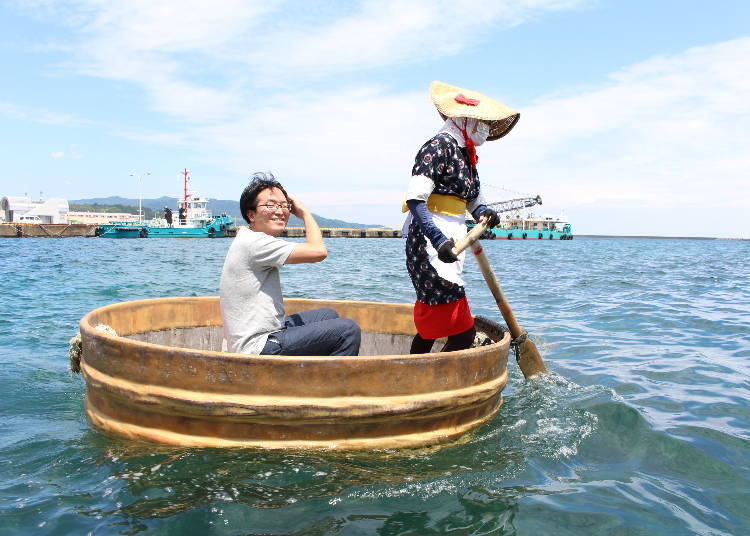 A boatwoman wearing a kimono uses a single oar to move the boat around. Upon riding on the boat, you'll find it is unexpectedly stable and surprisingly easy to maneuver. You can explore the surface of the sea for about ten minutes while learning about the history of the Tarai Bune and the fish that can be caught here.

At this Rikiya Kankō Kisen, other than experiencing riding on a Tarai Bune, you can also ride on a high-speed motorboat. In addition, you can enjoy places of natural beauty such as caves, inlets, and lighthouses, as well as the incredible view of the cobalt blue Ogi Coast while feeling the salty sea breeze!
力屋観光汽船株式会社

Address

184, Ogimachi, Sado-shi, Niigata-ken, 952-0604

Phone Number

0259-86-3153

Business hours: March to late October – 8:20 a.m. to 5:00 p.m., late October to late November – 8:20 a.m. to 4:30 p.m., late November to February – 9:00 a.m. to 4:00 p.m.
Tarai Bune experience fees: 500 yen per adult, 300 yen per child
Opens year round
2. Explore Shukunegi: Where the historical townscape remains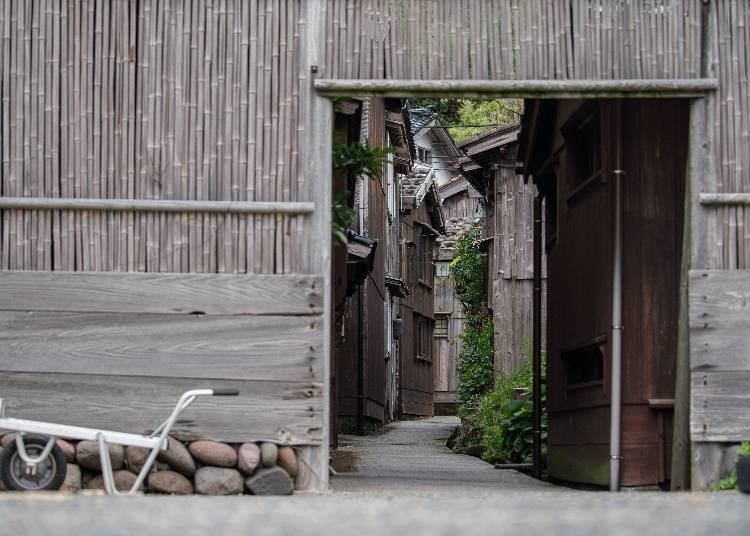 Shukunegi is a settlement near Ogi Port, located on the southern side of Sado Island. Here, some 100 wooden houses crowd together on a narrow strip of land facing the sea.

Shukunegi is characterized by its complicated and narrow alleys and the houses of shipwrights and freight vessel owners from around 1850 still exist. It is the only Group of Traditional Buildings in Niigata Prefecture. You can also take a tour of the extravagant residences that portray the splendor of the time when prosperity was abounding due to commerce along the Kitamaebune, a shipping route from around 200 years ago that went from Osaka to ports in Hokuriku on the Sea of Japan, then later on to Hokkaido.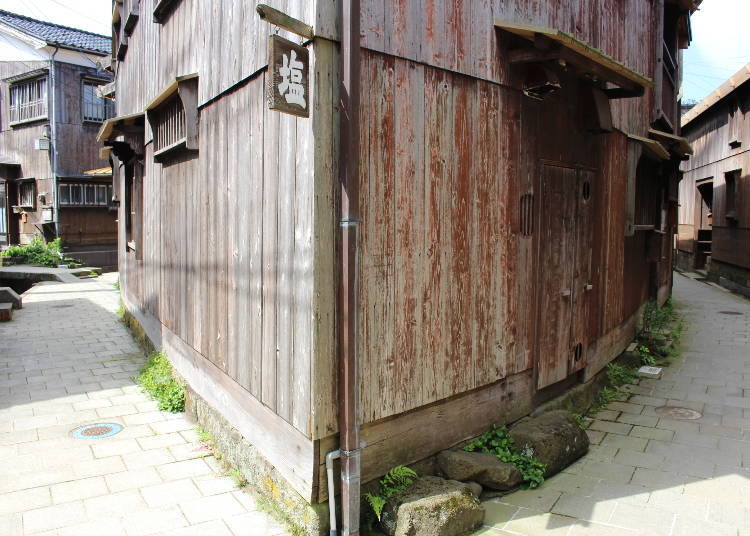 Wildly popular is "Sankakuya," a private house built to fit the triangular plot of land on which it stands. Notice how this land was skillfully used to live comfortably on a narrow plot of land. You can also get a feel of the life that its inhabitant actually led up until 2006. How about exploring Shukunegi, which is wrapped in a nostalgic atmosphere and where cobble paving remains?
宿根木

Address

Shukunegi, Sado Shi, Niigata Ken, 952-0612, Japan

Telephone number: 0259‐86‐3200 (Sado Tourist Office West Sado Branch)
Free to explore. When touring, please be considerate of the residents.
3. Meet the "crested ibis" nurtured by Sado's nature!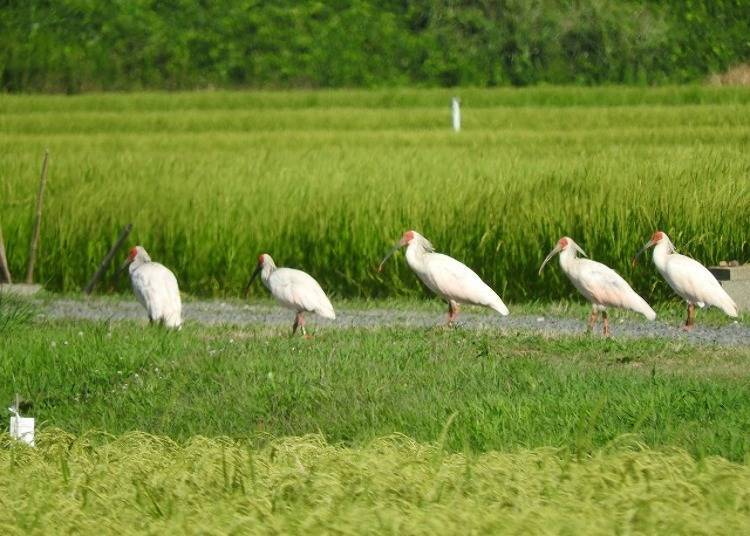 The scientific name of the crested ibis is "Nipponia nippon," and it was a bird that could be seen normally around East Asia.

However, due to hunting and environmental destruction, including the use of pesticides on fields and forestry development, from the middle of the 19th century, their numbers started to drop rapidly, and even in Japan, there were only about 20 of them left in 1960. In 2003, Japanese crested ibises became extinct.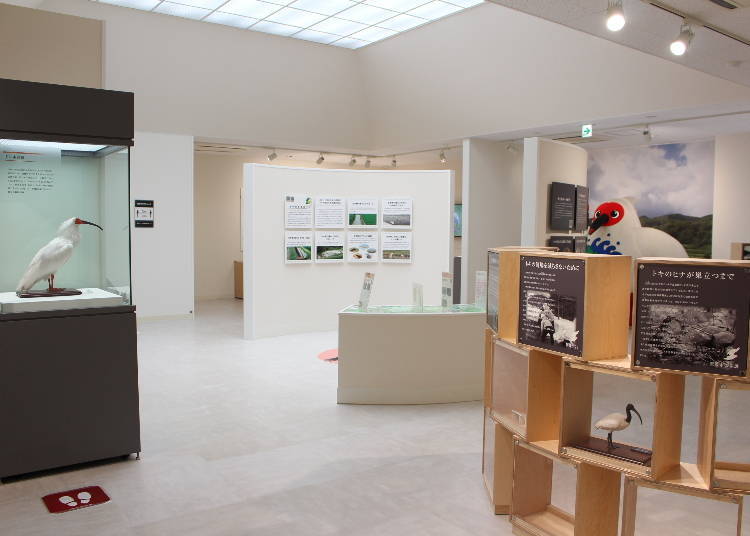 While Japanese crested ibises no longer exist, in 1999, crested ibises from China were successfully bred artificially. Currently, more than 450 crested ibises fly in the sky of Sado, and every year, several dozens of energetic chicks are raised.

A feature of Sado, where living things and islanders coexist. Toki Forest Park is a sightseeing spot where you can learn about the history of crested ibises and Sado's initiatives, as well as see actual crested ibises.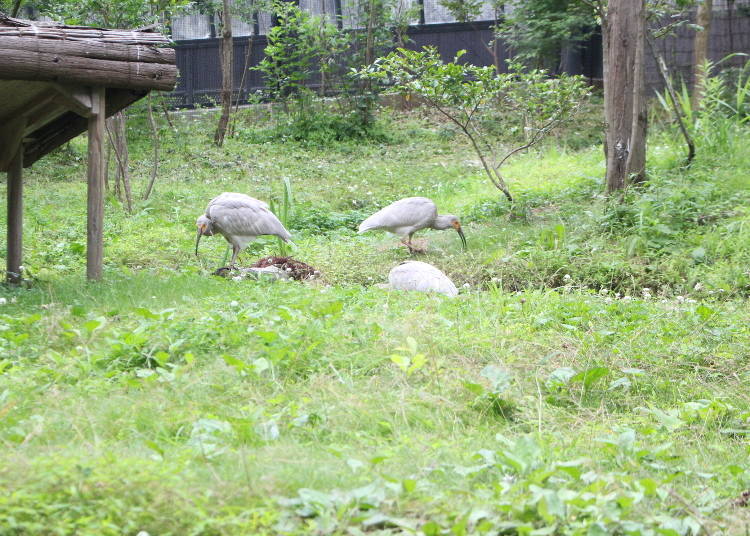 At Toki Forest Park, there are the Toki Materials Exhibition Hall and Toki Rapport Plaza, where you can take a look at the exhibition of materials regarding their protection, proliferation, return to the wild, and so on, as well as observe how crested ibises breed and live up close.

When we visited in June 2020, we met a one-month-old chick. Its body size had already grown to be practically as large as that of its parents. And while the color of its face was still yellow, it seems that its face will become the unique bright red color that characterizes crested ibises as it gets older.

Crested ibises' feathers change color depending on the season. Look forward to seeing what kind of crested ibises you will meet.
Address

383-2, Niibonagaune, Sado-shi, Niigata, 952-0101
View Map

Nearest Station

Niigata Station (Echigo Line / Shin-etsu Line / Hakushin Line / Joetsu Shinkansen)
20 minutes by bus


Phone Number

0259-22-4123
4. Sado History Museum: Real robots speak about the history of the Sado penal colony!
The Sado History Museum is recommended if you want to learn about Sado's history and legends. Sado was established as a penal colony a long time ago, and Imperial Families, aristocrats, and other cultured people were sent there.

In this facility, among them, Emperor Juntoku, Nichiren Shonin, the sect founder of Nichiren, and Zeami, the founder of noh, are reenacted using robots. You can observe their state at the time through speech and dances.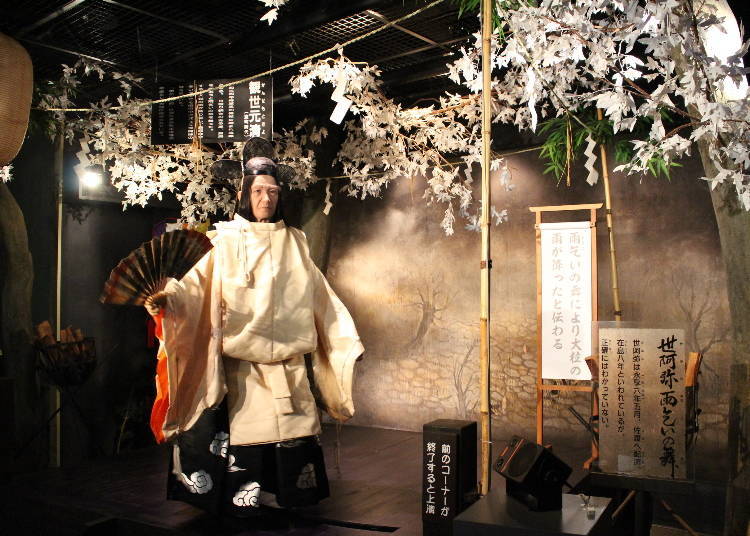 In Sado History Museum, there is also the folk tale corner where robots of older men and women surround a sunken hearth and talk; an exhibition of works by Shōdō Sasaki, an artist who cast wax molds of living national treasures; stalls that sell the popular souvenir manufactured in the museum, Taikoban Senbei, and Sado's handicrafts, Yūzuru; and a restaurant that is famous for its Sado-style kaisen-don (seafood bowls), and so on.

How about going back in time for a short while to experience the rich culture cultivated in Sado from the curious robots? It is a spot that those who love stories can enjoy as well.
佐渡歴史伝説館

Address

655 Mano, Sado, Niigata 952-0313

Phone Number

0259-55-2525

Business hours: April to November – 8:30 a.m. to 5:00 p.m., December to March – 9:00 a.m. to 4:30 p.m.
Fees: 800 yen
Opens year round
5. Sado Kinzan: Experience the 400 years of history at Japan's largest gold mine!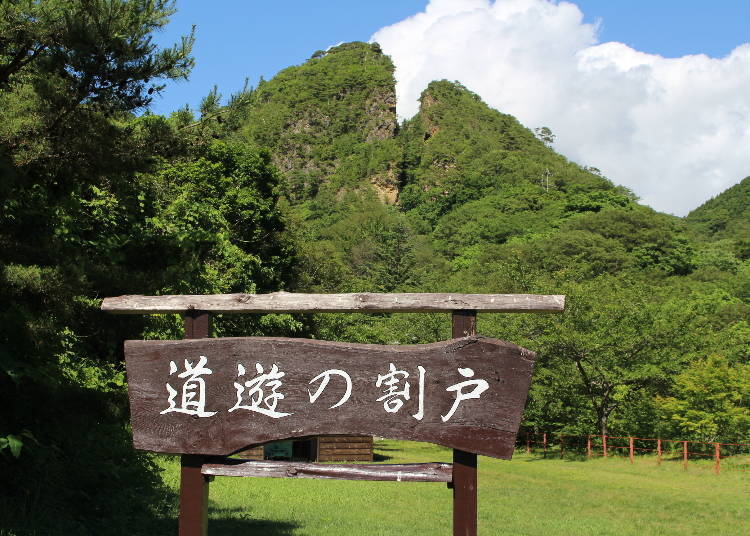 At Sado Kinzan, you can explore and observe up close "Dohyu-no-Warito," the symbol of the Sado mine, tunnels dug by hand in the Edo period, and machines and tunnels made with modern technology.

It was active from the start of the 1600s to 1989, for almost 400 years, and the tunnels that were continuously dug spread out like an ant's nest for a total length of approximately 400km. Apparently, this is about the distance between Sado and Tokyo.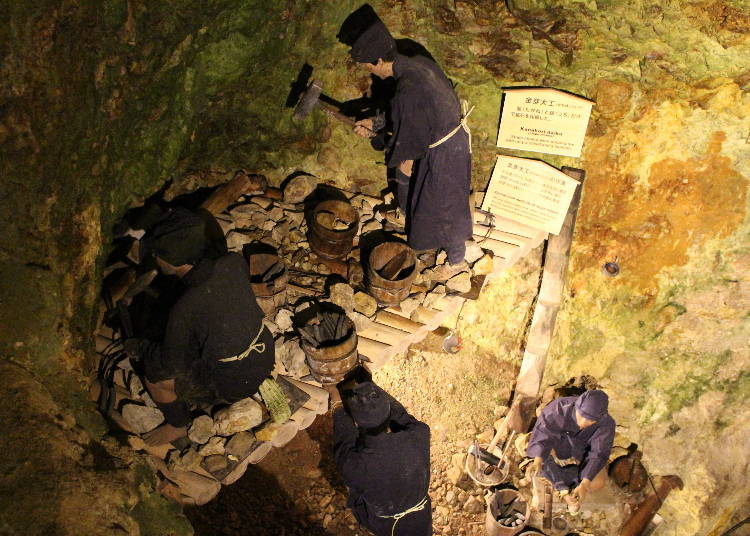 The "Sōdayū Kō, "or "Sōdayū Tunnel Course" lets you walk through the remains of the tunnels dug in the early days of the Edo period.

In these tunnels, the mining depicted in the "Picture Scrolls of Sado Kinzan" is faithfully reproduced. Speaking dolls and signboards explaining the work being enacted allows visitors to get a feel of the toil of the work done by hand at the time.

Here, you can try the "Dōyū Kō," or "Dohyu Tunnel Course," where you can explore the ruined tunnels made with advanced technology and used for 100 years, as well as go all the way to the Warito's base; and the "Adventurer's Tour," in which you can equip boots and a cap light and explore authentic tunnels with a guide.

The museum exhibits and souvenir section also have much to offer, so we recommend setting aside a large amount of time to explore the mine while thinking about its 400 years of history.
Address

Shimoaikawa, Sado-shi, Niigata, 952-1501
View Map

Nearest Station

Niigata Station (Echigo Line / Shin-etsu Line / Hakushin Line / Joetsu Shinkansen)


Phone Number

0259-74-2389
6. Just like the world of Ghibli movies!? A mining facility that tells stories of modernization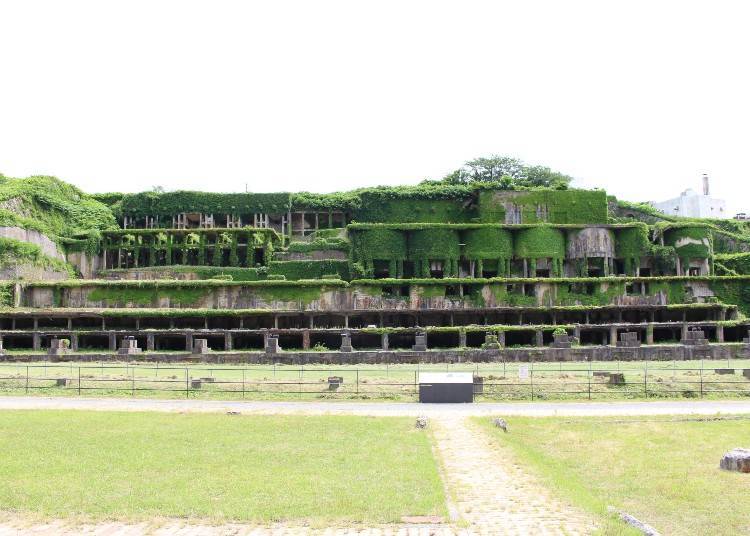 Along with Sadokinzan, we highly recommend dropping by Kitazawa Fuyūsenkōbaato, which translates to "Kitazawa Flotation Plant Ruins"!

With bare concrete and covered in vines, this facility was the first facility in Japan to use a method of extracting minerals called flotation. Apparently, it processed at least 50,000 tons of ore in a month and was of such a scale that it was extolled as the "largest in the East."

Now, only the infrastructure of the building remains, and this dynamic space that is becoming one with nature is open to the public.

Visitors are free to explore it and can also look at the group of mining facilities within the compound. The sight of it being lit up at night, which only takes place for a limited period of time, packs a real punch.
Kitazawa Flotation Plant Ruins

北沢浮遊選鉱場跡

Address

3-2, Aikawa Kitazawamachi, Sado-shi, Niigata-ken, 952-1539

Free to visit anytime
7. Sado Nishimikawa Gold Park: Try your hand at panning in the land of gold dust legends!
At Sado Nishimikawa Gold Park, visitors can experience the actual panning of gold dust on Sado. It works by using a green plate with lines on its side called a pan to shake and remove gravel in water; the relatively heavier gold dust will appear at the bottom. It is an activity that we highly recommend experiencing when visiting Sado.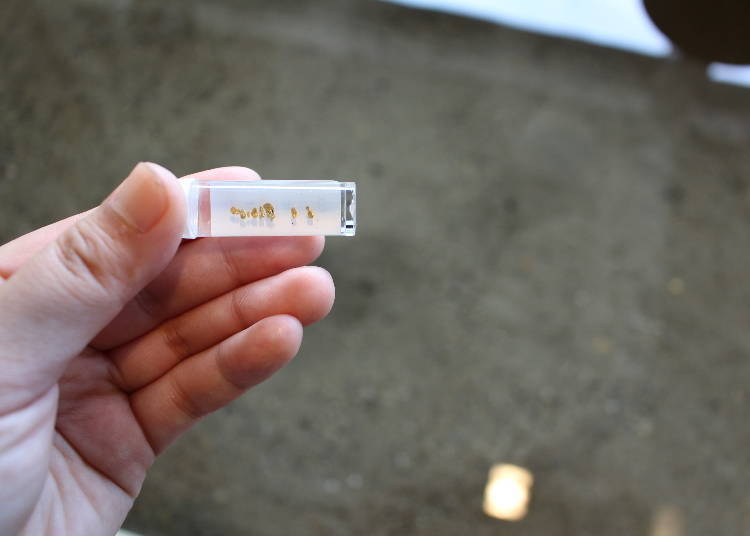 You can place the gold dust that you scooped up into a container and bring it home. According to the staff, the gold dust harvested here is called natural gold. It contains a little bit of various minerals and "has a higher market value than pure gold." So you might harvest more than you can imagine.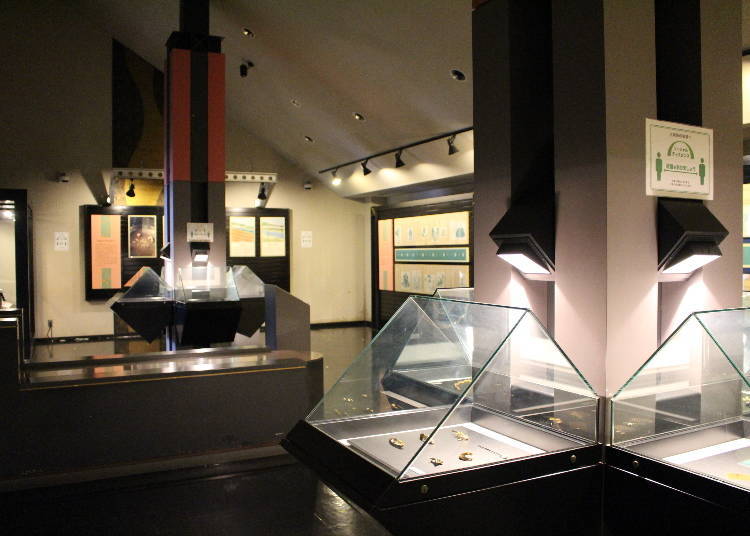 Beside Sado Nishimikawa Gold Park is a shop selling many gold products and a museum that tells you everything you can think about gold. Apparently, gold is soft, and stretching a grain of gold will create a thin string that is 2.8 kilometers in length. So it is a spot where you can enjoy learning trivia about gold dust and gold.
Sado Nishimikawa Gold Park

佐渡西三川ゴールドパーク

Address

835-1, Nishimikawa, Sado-shi, Niigata-ken, 952-0434

Phone Number

0259-58-2021

Business hours: March to April and September to November – 8:30 a.m. to 5:00 p.m., May to August – 8:30 a.m. to 5:30 p.m., December to February – 9:00 a.m. to 4:30 p.m.
Fees: 800 yen
Opens year round
8. Senkakuwan Bay: Be stunned by the panoramic view of the magnificent cliffs!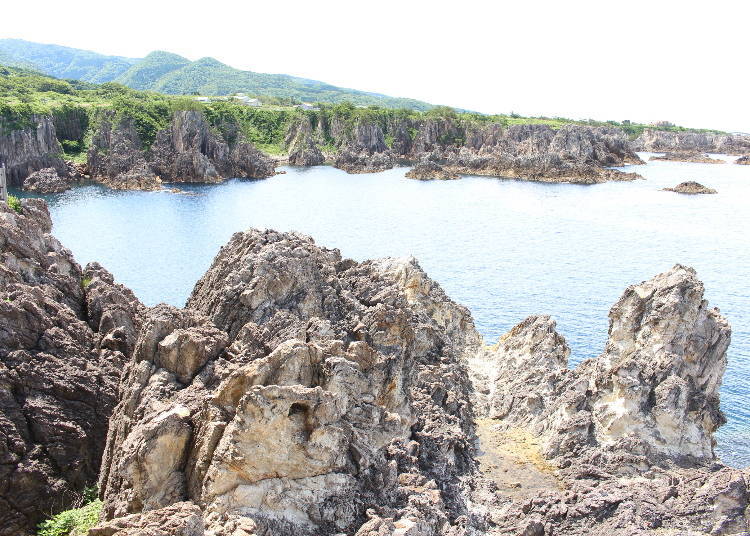 If you want to enjoy Sado's diverse and magnificent coastal landforms, we highly recommend visiting Senkakuwan Bay, which has been designated as a quasi-national park.

Shokakuwan Bay is made up of five bays on a coast spanning three kilometers in the Aikawa district. The fifth one, Ageshima Fjord, can be accessed by crossing a bridge and provides a sweeping view of the area.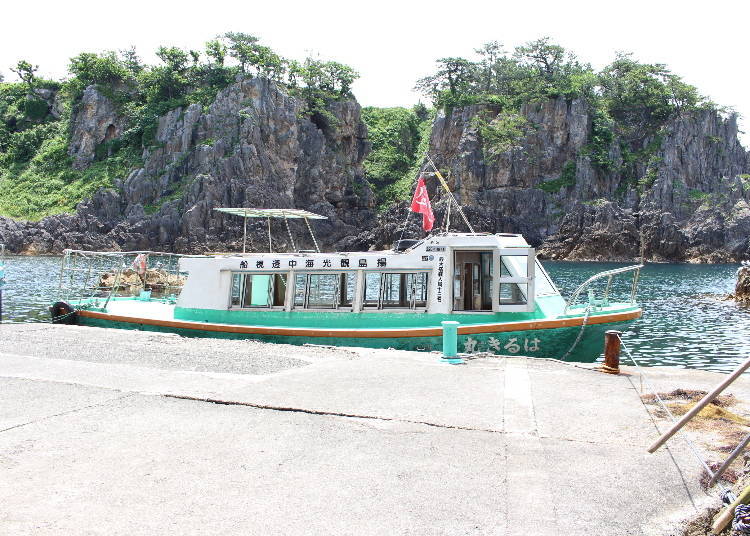 The view of the eroded cliffs is splendid. Here, there is not only the scenery to enjoy, but also a complex facility with an aquarium housing saltwater fish from the coastal waters, a museum, stalls, and a canteen. You can also get on a glass-bottom boat and get a close look at each bay from the surface of the sea.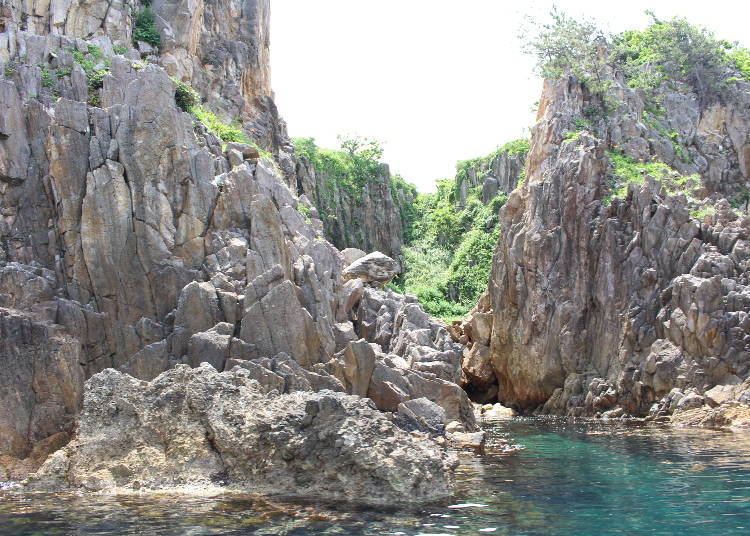 Wildflowers bloom on the impressive cliffs, changing with the seasons, allowing one to experience the richness of Sado. On the boat, the boatman will introduce each bay and explain about the fish that you can see through the window at the bottom of the boat. Feeding the black-tailed gulls and common gulls is also a popular option. Many birds will gather.
尖閣湾揚島遊園

Address

1561, Kitaebisu, Sado Shi, Niigata Ken, 952-2133, Japan

Phone Number

0259-75-2311

Business hours: 8:30 a.m. to 5:30 p.m. (until 4:30 p.m. in winter)
Fee: Entry fee – 550 yen, boat ride fee – 1,100 yen
Opens year round (the glass-bottom boat operates from mid-March to mid-November)
Shokakuwan Ageshima Yūen
Recommended 2-Day Sado Island Itinerary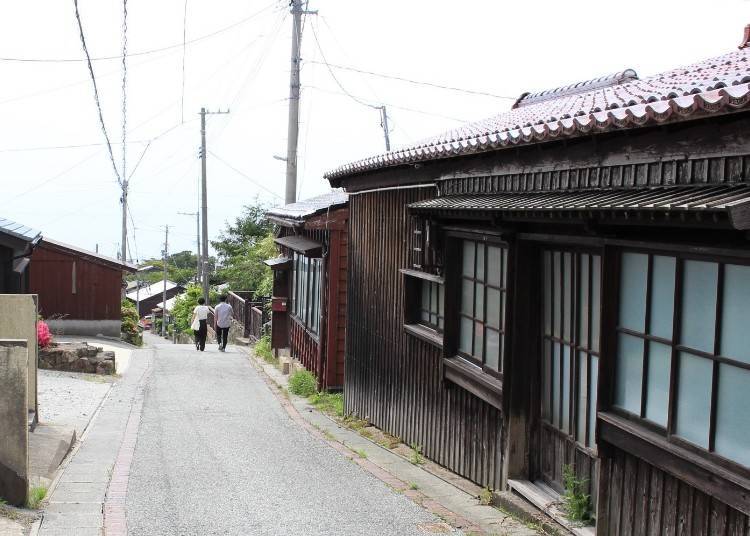 Sado Island, which is in the shape of two islands joined by an open field, can be largely split into four areas, with each area offering plenty to see.

Here is a recommended itinerary for visiting Sado in two days. It is perfect for those traveling to Sado for the first time. Please use it as a reference when planning your trip.

Day 1:
8:30 a.m. Ryōtsu Port – Ride a boat to Sado Island. Rent a car that you reserved near the port and start your first day!

9:40 a.m. Sado Historical Legend Museum – First, learn about the history and legends of Sado. It also has a beautiful Japanese garden.

11:00 a.m. Sado Nishimikawa Gold Park – Experience panning for gold dust

12:00 p.m. Lunchtime

1:30 p.m. Sado Island Taiko Centre – Experience a taiko program by "taiko performing arts ensemble Kodo", which is based in Ogi and internationally active. The duration of the experience is 60 minutes and costs 2,000 yen. Reservations must be made at least two days in advance at http://sadotaiken.jp/.

3:00 p.m. Tarai Bune Rikiya Kanko Kisen – Experience riding a Tarai Bune

3:45 p.m. Shukunegi – Explore a settlement where private wooden houses cluster together. There are a few private houses that are open to the public and can be entered. The goal of the first day!


Day 2
8:30 a.m. The historic remains of Sado Kinzan – Start the second day by thoroughly enjoying a gold mine!

11:00 a.m. Kyomachi-dori – A mining town between the gold mine and the Kitazawa Flotation Plant Ruins. The Sado magistrate's office is located there and many people working at the mine lived here in a crowd. Walk around the town and have lunch here.

12:30 p.m. Kitazawa Flotation Plant Ruins – Dynamic scenery awaits you. You can explore freely.

1:00 p.m. Aikawa Traditional Skills Museum – Try making "Mumyoi ceramics", earthenware unique to Sado! The experience lasts for 60 minutes and costs 1,830 yen (a separate fee required to ship your creation to you), reservation required (phone number: 0259-74-4313)

2:15 p.m. Shokakuwan Ageshima Yuen - Enjoy the coastal landforms that Sado takes pride in.

4:00 p.m. Toki Forest Park – You can observe several types of crested ibises in the park.

5:00 p.m. Ryōtsu Port – Return the car and reach your goal for this trip to Sado.
Enjoy the charm of Sado Island to your heart's content!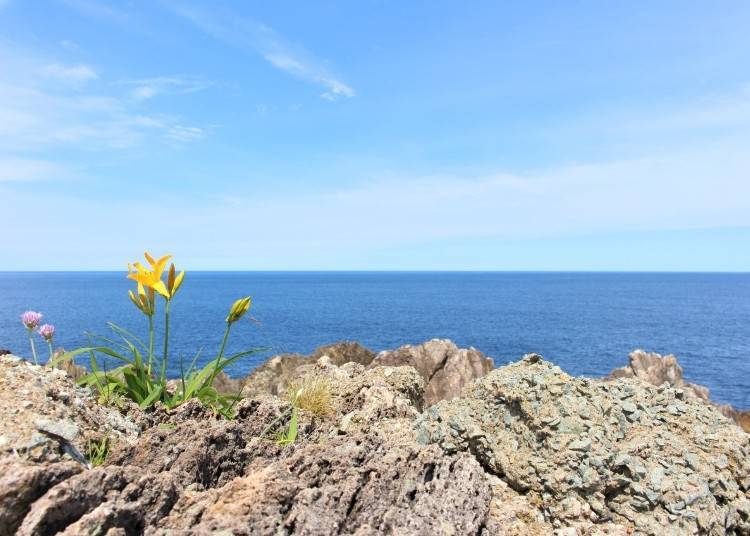 Sado Island has plenty of attractions. It has a scale that you can enjoy with a car by touring the sea, mountains, plains, and again, the sea and mountains while visiting its famous attractions. This is also one of Sado's charms. We also recommend dropping by places that pique your interest and making detours on your trip.

And you will be alright even if you are worried about a language barrier. Sado Island receives many foreign tourists, and there are places with staff that can speak English and places with signs and pamphlets in multiple languages.

There might be many small-scale, privately-run businesses that will converse with gestures. But there are probably many locals who are used to this, so please try asking them if you are unsure of anything. In addition, communicating with the locals might allow you to get a sense of the personality of an island nation that has been accepting foreign cultures for a long time.

When traveling to Sado, please exercise caution regarding COVID-19. Sado has implemented its own unique system and strives to prevent the spread of the disease. Please wear a mask, maintain a distance between yourself and others, wash your hands frequently and thoroughly, and prioritize recuperation if you have a fever or feel unwell.

Please check this video to learn about the "new lifestyle" that is being implemented on Sado to prevent the spread of COVID-19.
Sado Island, where time seems to flow leisurely. This will surely be a trip that you will want to get started with right away to enjoy an extraordinary time and beautiful scenery. Please be careful not to cram too much into your schedule. Spend plenty of time enjoying your trip to Sado.

Due to COVID-19, there might be facilities with shortened opening hours or smaller-scale experiences or exhibitions. Please exercise caution when visiting them.


Text by: Naoko Iwabuchi
The information in this article is current as of July 2020.
*This information is from the time of this article's publication.
*Prices and options mentioned are subject to change.
*Unless stated otherwise, all prices include tax.
Limited time offer: 10% discount coupons available now!