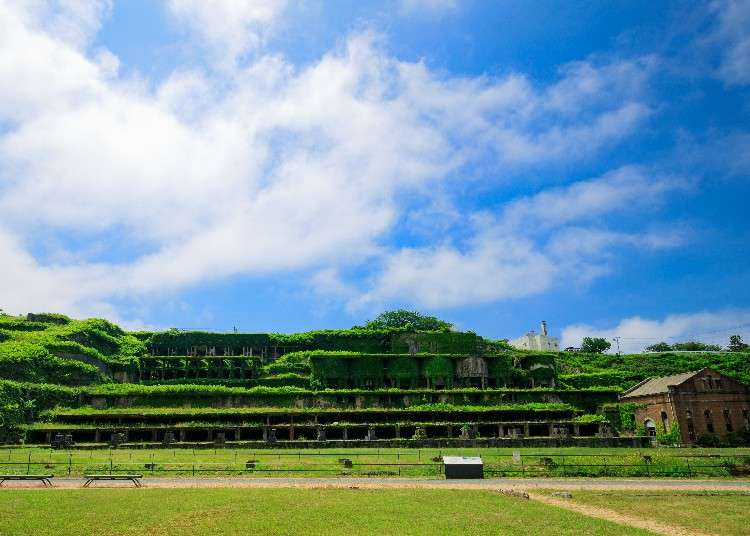 In the Sea of Japan is Sado Island, an island that is part of Niigata Prefecture, and formerly famed as the "Island of Gold."

Sado Kinzan Gold Mine is the largest gold and silver mine in Japan. It was described in world maps of the 18th century as a gold mine, and for 400 hundred years, it has been supporting Japan.

Here, we'll be taking a look around Sado Kinzan Gold Mine and Kitazawa Flotation Plant, and introducing hand-digging and other technology used to start the mine, as well as the modern heritage and advances in mining technology, all on Sado Island.
Sado Kinzan Gold Mine: Japan's largest gold mine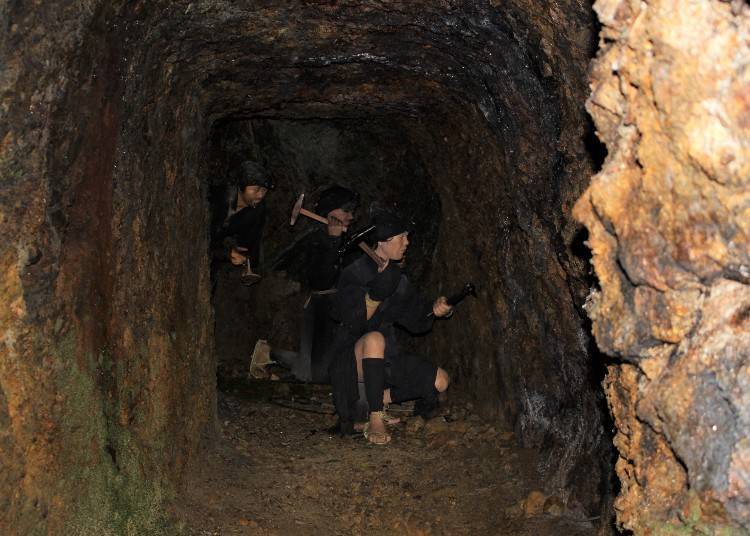 Sado was first recorded during the Heian period in the 11th century, in the "Konjakumonogatarishū," in the line "Sado-no-Kuni ni koso Kin-no-Kaei taru Tokoro," and the island has been mined for its gold since ancient times.

The Aikawa area, where Sado Kinzan Gold Mine is located, was first opened in 1601 by three prospectors, and in 1603, came under the direct control of the Tokugawa Shogunate, supporting the Edo government continuously. After that, as Japan began to modernize, more advanced technology started arriving from the west.

In 1989, the last veins of the natural resource finally dried up, resulting in mining coming to a halt, after almost 400 years of mining.

During that time, 78 tons of gold and 2,330 tons of silver were mined! The drilled gold tunnels are as complicated as those of an ant's nest, and is some 400 kilometers long. The distance is shockingly long, being as long as the distance from Sado to Tokyo four times.

That Sado Kinzan is now known as the "Historic Ruins of Sado Kinzan," and the tunnels and machines with their long histories and the lush nature left all around, have made it a popular tourist attraction.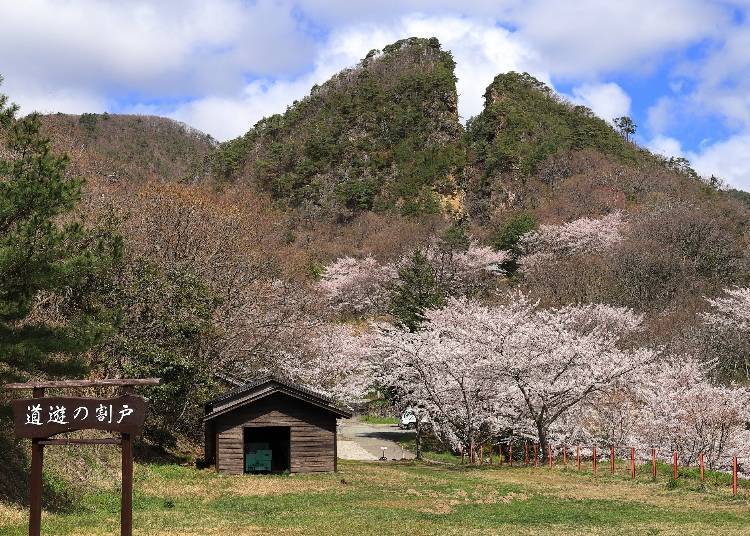 Guests to Sado Kinzan Gold Mine are welcomed at the symbol of the island, "Dohyu-no-Warito." The mountain was split during the Edo period by people digging straight across it, and it remains so to this day. This split mountain is a testament to man's obsession with gold, and you can feel 400 years of change in technology through two courses through the mine, and you can enjoy yourself with a guide bringing you along.

■Sōdayū Kō: Edo Kinzan Picture Scrolls Course
A course that allows you to walk the hand-dug mines for yourself. The ruins of the underground mines are depicted in the "Sado Kinzan Emaki," or the "Sado Kinzan Picture Scrolls," an ancient picture scroll, and you can see faithful reproductions of scenes from the scroll. You can understand the hardships faces by the workers from the realistic depictions.
30 minutes needed, opens year-round, 900 yen for adults.

■Dōyū Kō: Meiji Government Mine Course
You can try walking the tunnels that were opened when mining stops during the Meiji period, and you can see modern looking rail cars and machinery. Besides this, you can see the Dohyu-no-Warito from various angles on this course.
40 minutes needed, opens year-round, 900 yen for adults.

■Yamashi Tour: Prospector's tour with a guide, for advanced trekkers (middle school children and older)
First opened during the Edo period, you can explore the academically important "Ōgiriyamō Yamakō" and "Mumyō Ikō" as prospectors. An advanced level tour where you explore pitch black caves with helmets, lights, and boots, all of which are loaned.
100 minutes needed, open from April to November, 2,400 yen for adults (reservations needed). For groups of two to ten people.

For more information, please see the website for Sado Kinzan:
http://www.sado-kinzan.com/course/

The ruin of Sado Kinzan is about 30 kilometers from Ryōtsu Port, and takes 60 minutes by car.
Though it's a bit of a detour, you can veer off to the Ōsado Skyline for a 90-minute drive. It's recommended that you rent a car from Ryōtsu Port, and admire the beautiful views of Sado while driving.

Besides that, there are two route buses from Ryōtsu Port. The first heads towards Sado Kinzan, and takes 70 minutes. The other heads towards Aikawa, and you can ride it for 60 minutes to "Aikawa" and switch buses for a 10-minute ride to Sado Kinzan. Please check the bus timings and fares on Niigata Kotsu Sado's Home page.
http://www.sado-bus.com/
Time travel 400 years into the mines of Kinzan!
We'll now introduce two of the courses
(1) Sōdayū Kō: Edo Kinzan Picture Scrolls Course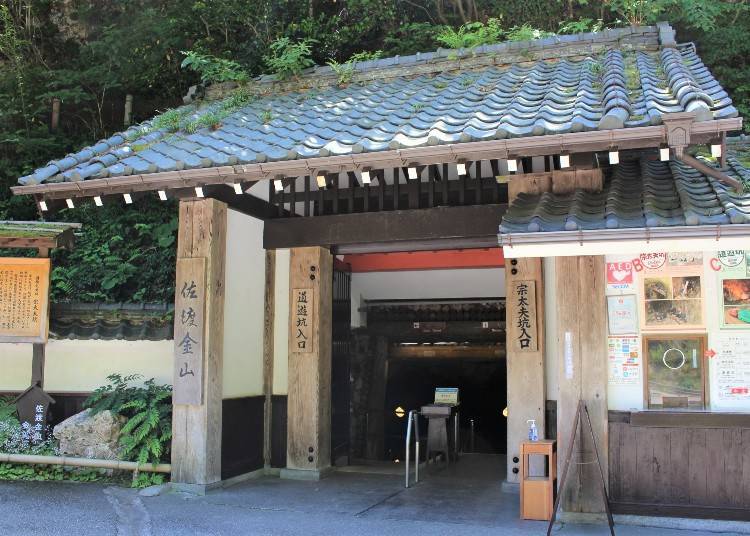 First, let's head to the Sōdayū Kō, the Edo Kinzan Picture Scrolls Course. The entranceway is split into two courses, so let's head to the right. Inside the tunnels, it can drop below 10℃ even in summer, so don't forget to bring warm outerwear!
First, there are information corners along the way, explaining things about gold. From introductions about the coinage used throughout the ages, to the organization and structure at Sado Kinzan Gold Mine, and the work processes and tools used, you can learn about all these and more.

The Sōdayū Kō is named after the yamashi, or prospector, Sōdayū, who managed the mine.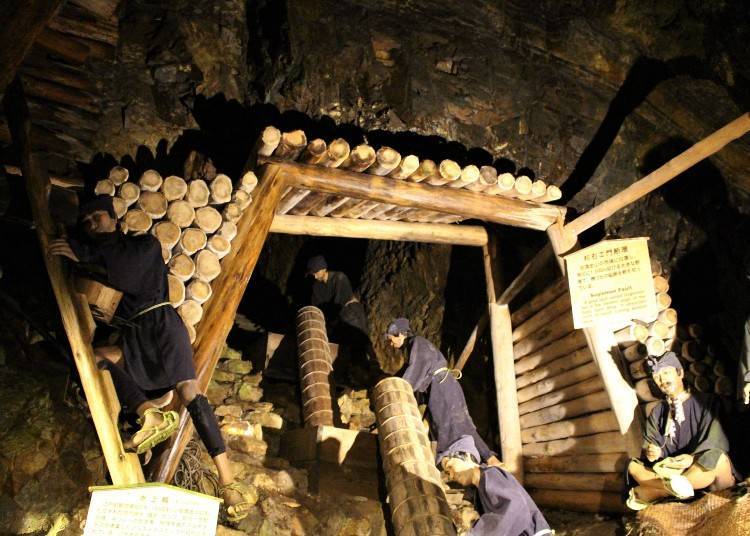 Continuing along the path, you can see the figures of realistic dolls hard at work along the uneven walls! From this point, the Edo period's hand mining tunnel starts. The tunnel takes reference from the Sado Kinzan Picture Scrolls, and reproduces scenes of what it was like to work in the mines during that period.

This shows the use of a Suishōin, a water pump from around 1653 used to pump water out of the mines during mining work.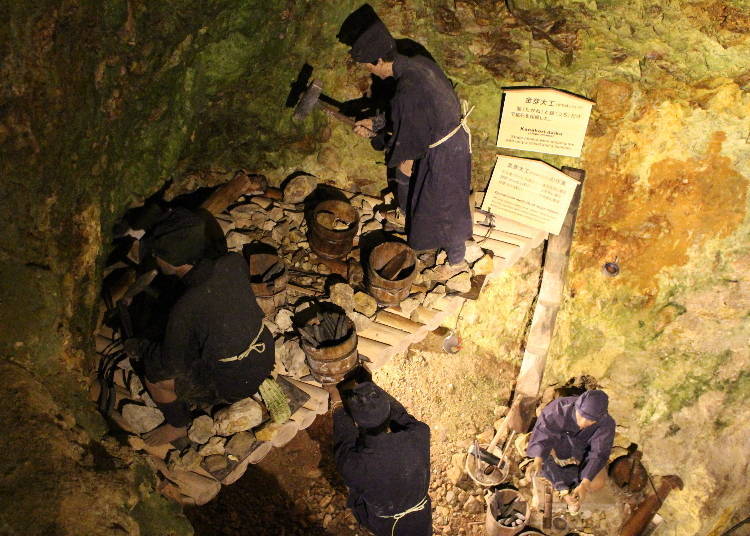 In the past, the rocks were dug and mined using only chisels and mallets. In a mine, there aren't just people who dig out gold veins, but there are people who send in fresh air to prevent suffocation in the mines, people who operate water pumps, and other workers who bring water out of the mine in buckets, with people working different roles in the mines. Incidentally, the wages and treatment of workers differs too.

The tunnel also has various explanation boards and dolls on display throughout. On top of that, you can hear the sounds of mining work and workers saying such lines as "I wanna meet my girl~," and you can see an actual replica of mining work being done right before your eyes.

Though it takes about thirty minutes to finish the course, you can feel the robust spirit of the people from the Edo period, and the hard work needed to earn money, and it's a course where you can satisfy yourself with the various sights around.
(2) Dōyū Kō: Meiji Government Mine Course
Next up, we have the second course. The time is the 1600s and the proceeding 200 years, on the Meiji Government Mine Course, the "Dōyū Kō," where you can experience modern technology!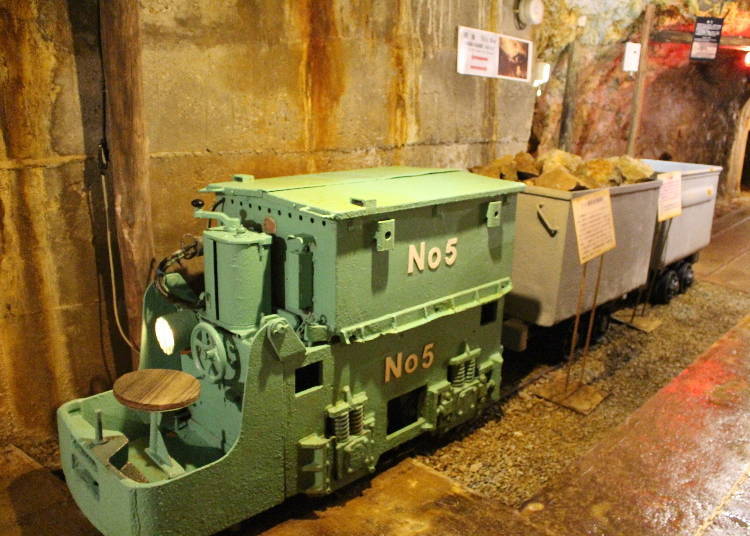 The Dōyū Kō is in the gold mine right under the Dohyu-no-Warito, the split mountain, and was first uncovered in 1899. From 1938, the tunnels had 2-ton battery-powered rail cars running along them, towing cars carrying workers and ore. The rail cars were in operation right until the mine was closed, and are on display now.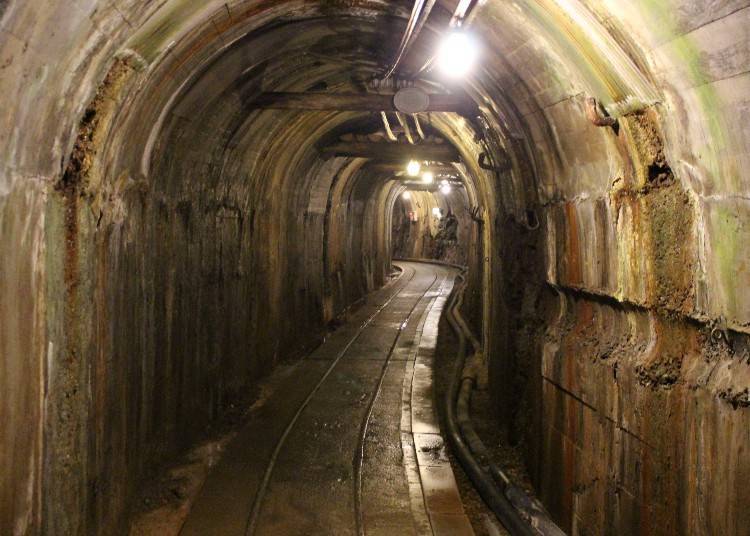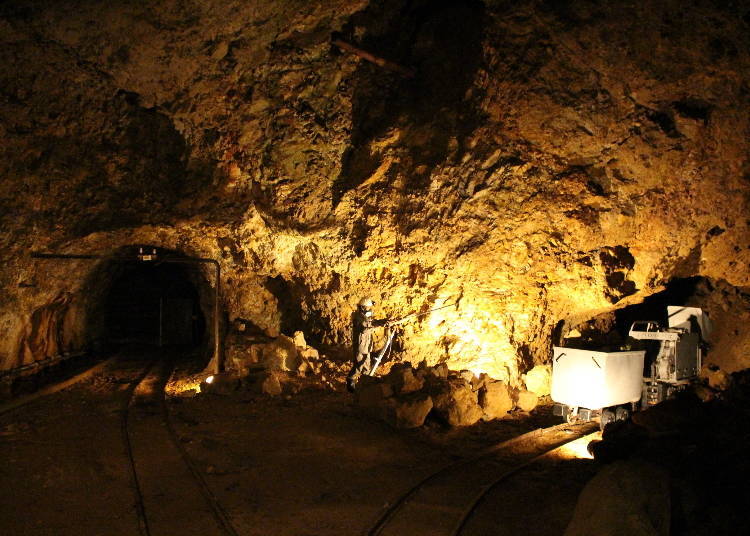 All the way at the very end of the tunnels, lies the largest gold mine ruins in Japan. This area is directly under Dohyu-no-Warito. Right underneath the mountain, the large space and exposed rock faces is overwhelming.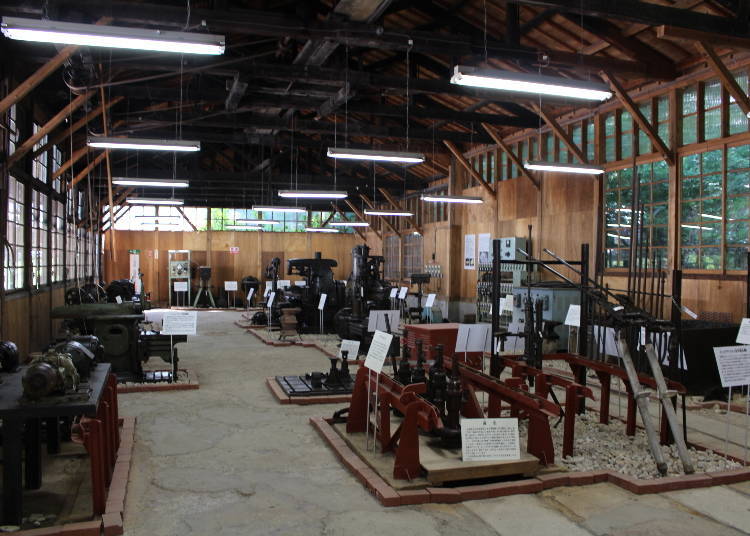 Once you've exited the Dōyū Kō, you can see the annex where machinery used all the way up till the closure of the mine in 1989 is kept. Rail cars and big, black machines used to cut steel beams and steel pipes are lined up. Amongst the machines on display are some that can be used up to today. You can feel just how recently the gold mining has been carried out till.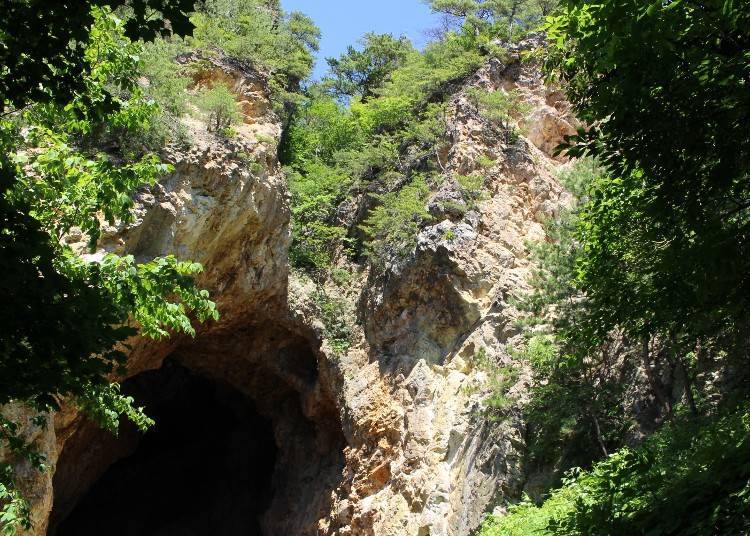 For this course, you can walk all the way to the foot of the Dohyu-no-Warito too!

At the base of the split mountain, a large hole has been opened. This is what's left behind after dynamite was used for blasting the rock for gold. Under this hole is the large cavern we saw earlier.

This view is the symbol of the 400 years of history of Sado Kinzan, from the remains of hand-digging in 1601 when the gold mine was first discovered, to the ruins left behind of more recent times.
In this 40-minute course where you can feel the advancements in technology and machinery since the Edo period, the course finishes at a plaza where you can see Dohyu-no-Warito.

Next up, we'll be taking a look at the exhibition hall in the Sado Kinzan ruins. Regardless of if you picked the Edo Kinzan Picture Scrolls Course or the Meiji Government Mine Course, you'll be able to visit it.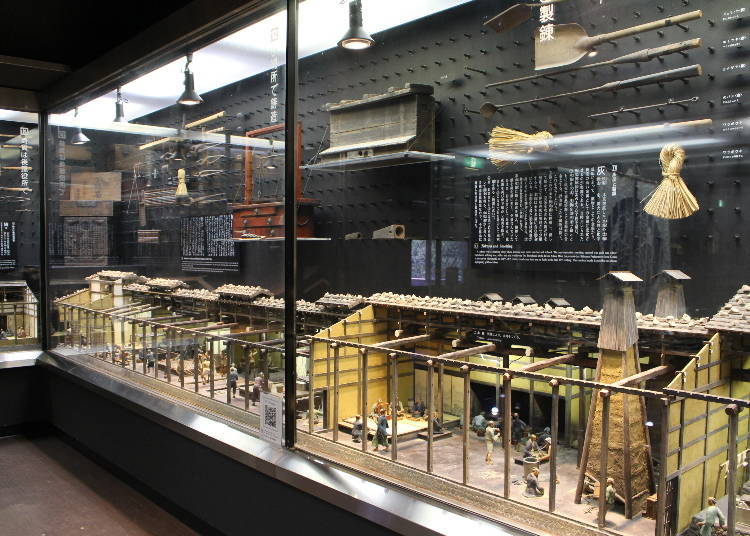 Here, we have a 1/10 scale replica of a village where the gold mine workers lived in, and the processing facilities of gold, with over 500 miniature pieces. You can see what life was like during those times.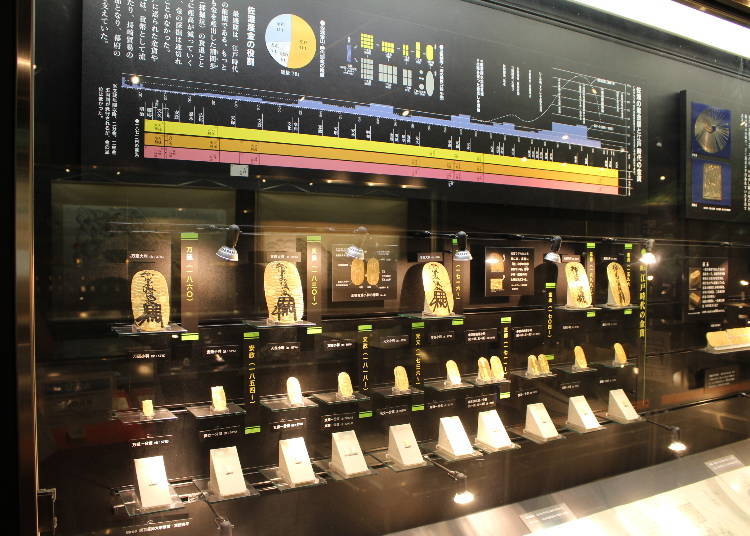 Besides that, tools that were used for mining and gold ingots are also on display. The wide variety of ingots and coins available will leave you surprised.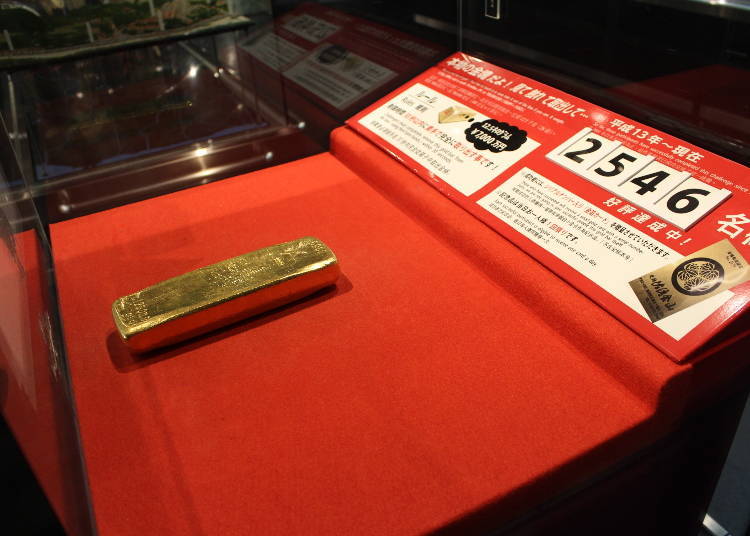 Though it was on hold during our visit due to Covid-19, there was a special activity where you could pull out a 70 million yen rod of pure gold from a transparent box! The rod weighs 12.5kg.

Sticking your arm into a tiny hole to pull it out is an arduous task. Those who succeed at the task will get a gold-plated card with a serial number printed on it. For those looking to test their strength, do pick up the challenge.

Besides that, it is a rare chance to be able to handle a piece of gold, so even if you're unable to pull it out, do give it a shot too. (Plans for the event to be reinstated are still undecided)
Get some gold ice cream and golden souvenirs!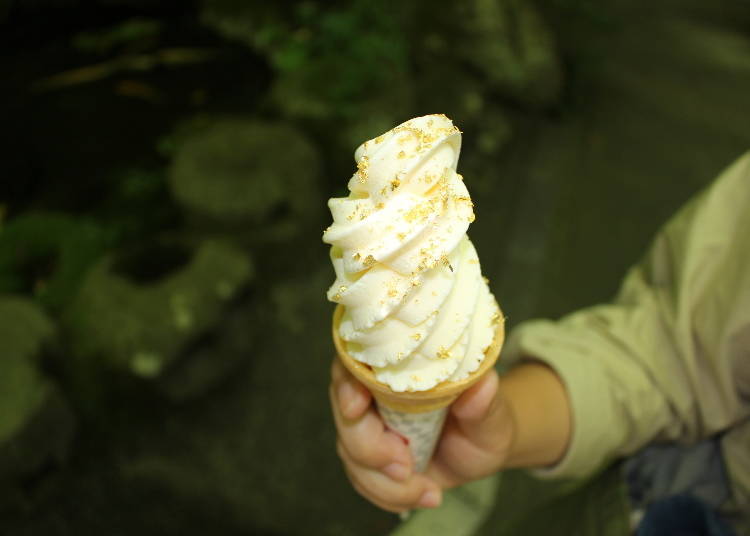 If you're visiting Sado Kinzan Gold Mine, one item you definitely have to try is the gold leaf ice cream, at 350 yen (with tax). The smooth and sweet ice cream is covered in bits of gold leaf.

Now that you understand the pains needed to mine for gold, your enjoyment of the ice cream will be sure to increase as you savor it!
You can satisfy your souvenir needs at the souvenir shop. Most of the products are gold colored! It's a bright and lustrous sales floor. From bath salts to lucky charms and tea, various items are lined up.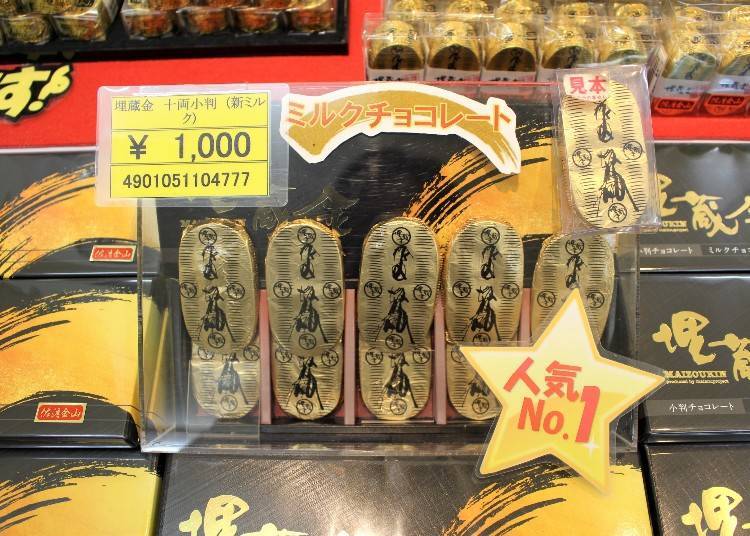 Amongst these, the most popular item is the "Maizōkin Jūryō Koban," or buried treasure coins, at ten pieces for 1,000 yen (with tax). The packaging makes for a perfect gift.

Boxes of three are available at 280 yen (with tax) as well, and a 72-piece version in an actual wooden box can be purchased for 26,000 yen (with tax).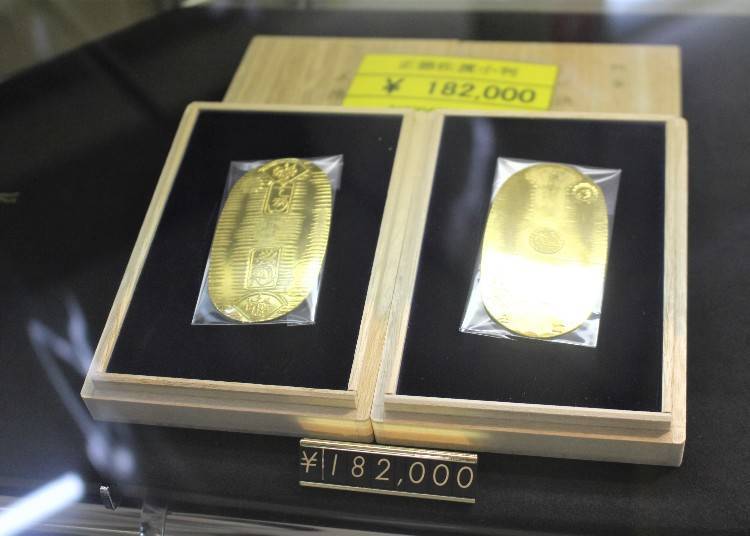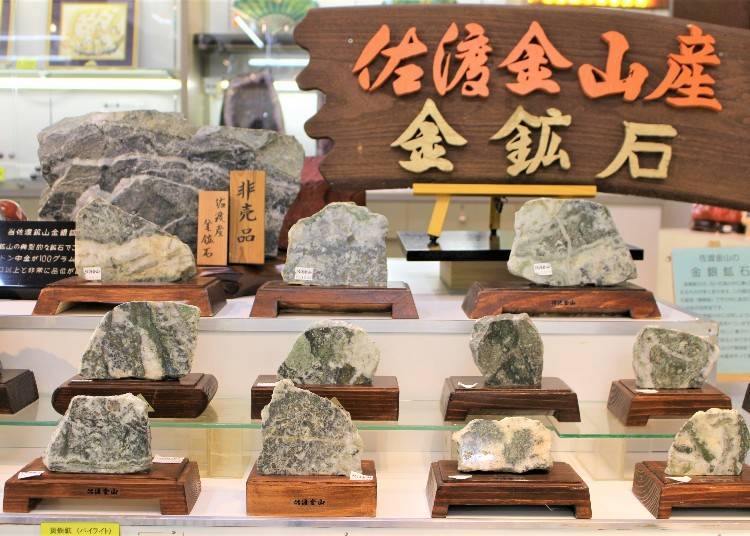 Besides that, rare souvenirs befitting of a gold mine are on sale as well. Shōtoku Sado coins are on sale at 182,000 yen (with tax) each, as well as gold ore from Sado Kinzan itself!

The prices of the gold coins vary with commodity prices, as do the prices of the ores, but they're usually around 10,000 yen.

At the gold products souvenir corner, do find items that will leave you with great memories.
史跡佐渡金山

Address

1305, Shimoaikawa, Sado-shi, Niigata-ken, 952-1501

Phone Number

0259-74-2389

Business hours: April to October – 8:00 a.m. to 5:30 p.m., November to March – 8:30 a.m. to 5:00 p.m.
Fees: Sōdayū Kō – 900 yen, Dōyū Kō – 900 yen, Yamashi tour – 2,400 yen
Opens year round
Is that 'Casetle in the Sky'!? Abandoned Niigata ruins that you absolutely must see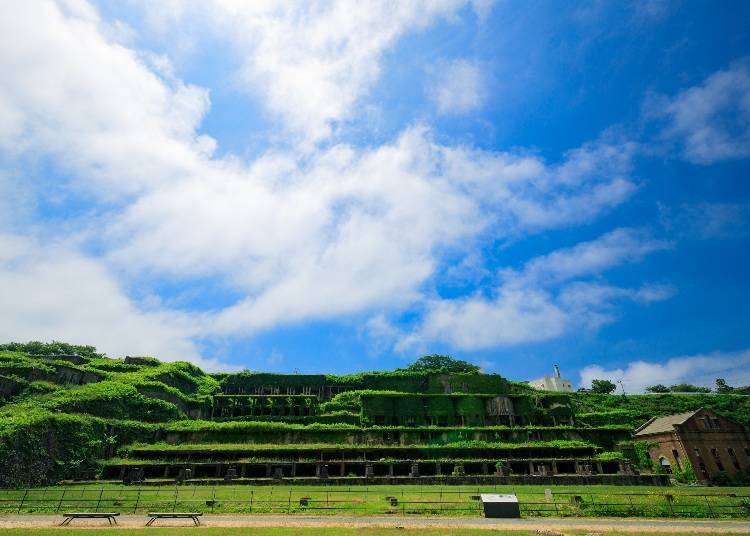 If you're going to the Sado Kinzan ruins, one place you absolutely have to visit is the Kitazawa Fuyūsenkōbaato. It's five minutes away from the gold mine by car, and you can explore it freely.

This is the first site in Japan to make use of the flotation method to separate gold and silver ore. Using this method, over 50 thousand tons of ore can be processed in a month, and the scale is so large that it's touted as the largest in the East.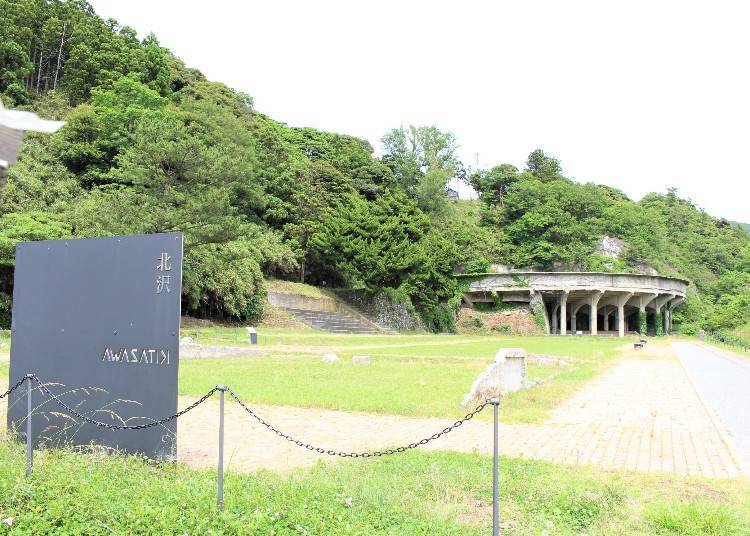 Though the power generators and thickeners, amongst the other modern equipment, were closely guarded and secreted away, after the mine was closed, the equipment had finished serving its purpose. All that's left are the building foundations.

Now, the cracked concrete is teeming with life. The abandoned manmade structures have returned to nature, in a scene straight out of the Studio Ghibli film, "Castle in the Sky." You can enjoy your time here imagining how the equipment and buildings were used during their heyday.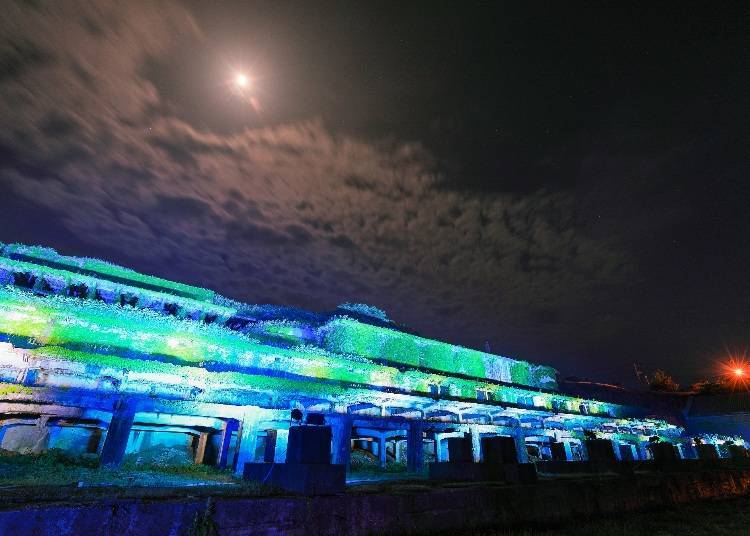 For a limited time, there's a night light-up as well, and you can see the Kitazawa Fuyūsenkōbaato turn into a scene straight out of your fantasies! Seeing it with your own eyes will definitely move you.
Kitazawa Fuyūsenkōbaato (Kitazawa Flotation Plant)

北沢浮遊選鉱場跡

Address

3-2, Aikawa Kitazawamachi, Sado-shi, Niigata-ken, 952-1539

Free to explore
Enjoy time-traveling through 400 years!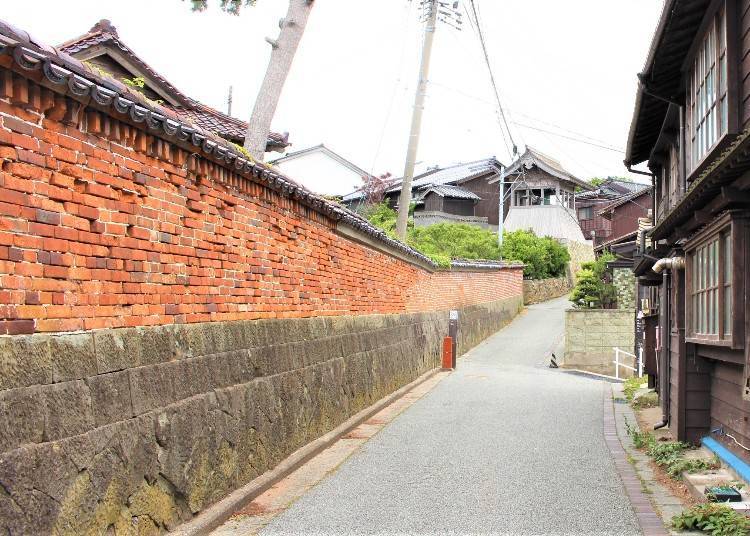 The last place we'll be introducing is Kyōmachi-dōri, located between Sado Kinzan and the Kitazawa Flotation Plant.

From the Edo period until relatively recent times, it's a mining village that many workers in the mine called home. To this day many old stone staircases and traditional Japanese style homes remain, making it perfect for a stroll. As there are cafés and shops around here, there are many places you can make a small detour while taking a walk.

Many of the introductions and explanations that we made this time can be gleaned from the various explanation boards around, which are available in both Japanese and English.

As there are many tourists from other countries, pamphlets in multiple languages are available, and they're all customized to match the facilities and mood of each area, so you'll be sure to have lots of fun! Why not pay a visit to Sado Kinzan, where you can time travel 400 years into the past and experience the lives of workers and people here?

When visiting Sado Kinzan, do be aware of measures in place to prevent the spread of Covid-19. Sado has implemented its own measures, so please adhere to their preventive measures. Everyone should wear masks and practice social distancing, make sure to wash your hands frequently, and rest and recuperate when you have a fever or are feeling unwell.

Please check this video to learn about the "new lifestyle" that is being implemented on Sado to prevent the spread of COVID-19.
Due to COVID-19, there might be facilities with shortened opening hours or smaller-scale experiences or exhibitions. Please exercise caution when visiting them.

Text by: Naoko Iwabuchi
The information in this article is correct as of July 2020.
*This information is from the time of this article's publication.
*Prices and options mentioned are subject to change.
*Unless stated otherwise, all prices include tax.
Limited time offer: 10% discount coupons available now!