Niigata Prefecture, which is right on the Sea of Japan, has some of the freshest and tastiest seafood restaurants and dishes around.

Many of these popular Niigata seafood and sushi restaurants are conveniently located right near JR Niigata Station. Here, we will introduce three of these top shops: a Niigata sushi shop, a seafood bowl shop, and an izakaya.
Niigata Restaurants: So Much Choice Seafood!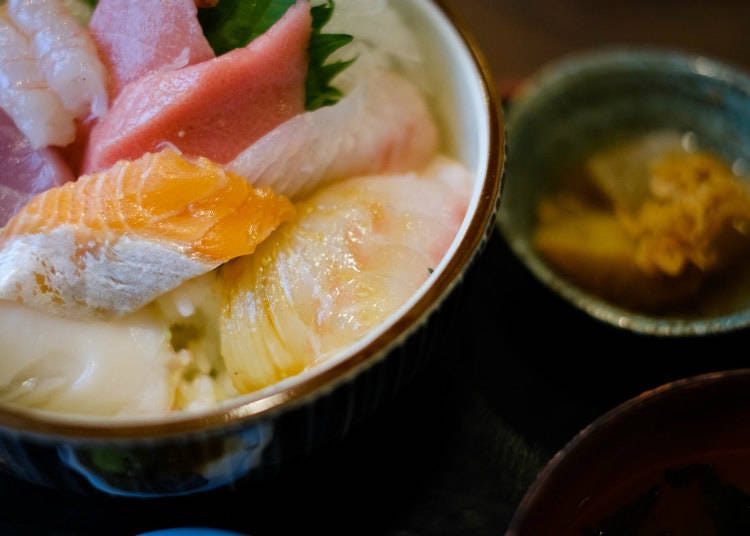 Niigata is a land that faces the sea, and therefore offers a wide variety of fish. Of these, Niigata is best known for salmon, which you can enjoy raw, grilled, or boiled.

Other seasonal fish you can enjoy include red sea bream and flounder in the spring, squid in the summer, mackerel and flounder in autumn, and yellowtail and anglerfish in winter.

These seasonal fish are always served fresh, and many of these shops are easily accessible from Niigata Station. First, let us introduce the sushi shop.
1. Mawaru Sushi: Fresh, Seasonal, and Local Niigata Seafood Restaurant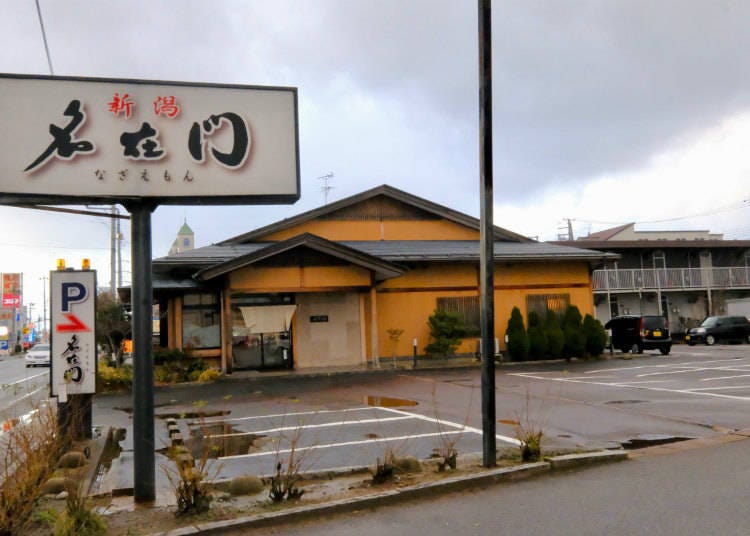 Our first stop is Mawaru Sushi Nazaemon Shichikuyama Honten, which only uses local Niigata rice and fish in their meals. It's 20 minutes away on foot from JR Niigata Station, or 2 minutes by bus from the Shichikuyama Bus Stop.

Nazaemon is committed to using local Niigata seafood only. Most of their products come from fishing ports located in Niigata Prefecture, including Sado and Iwafune. Their rice is also locally grown in Uonuma, Niigata, and is one of Japan's leading rice brands: Koshiibuki Rice.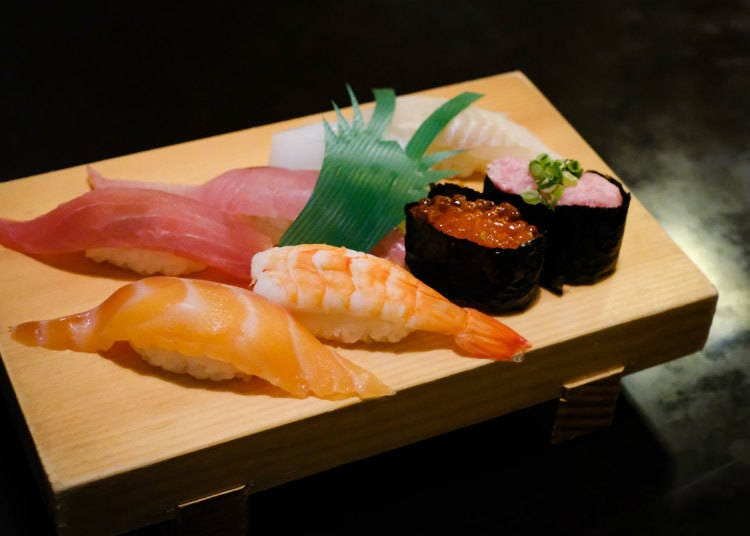 Nazaemon offers four main meal sets using in-season seafood. The shop owner recommended the Sado 8-Piece Set (780 yen, tax not included).

Available ingredients may vary by day, but in general you will get eight kinds of fish: tuna, yellowtail, squid, flounder, salmon, shrimp, ikura (cod roe), and negitoro (minced tuna with onion). The slices of Niigata sushi are fatty and plump, making it a very delicious and enjoyable meal.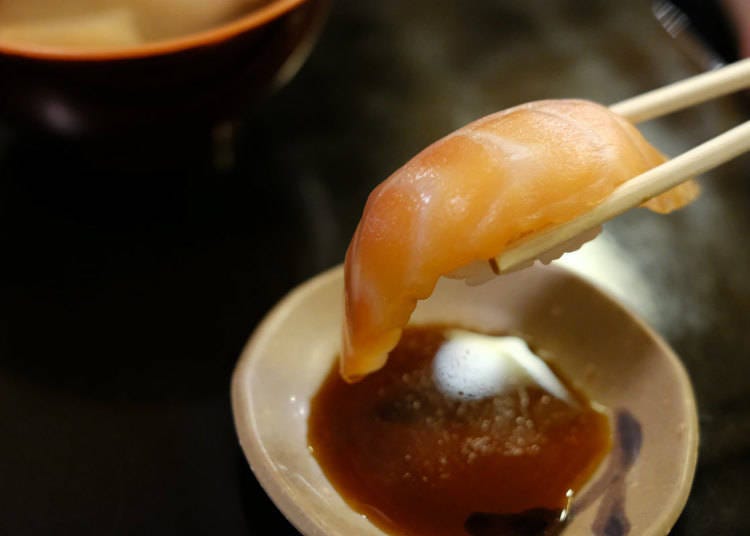 There are many people who don't really know the proper way to eat sushi, even in Japan. So I asked the shop owner. His response was: "Eat it however you like!" He went on to explain, "In general, we eat it by turning it over, and dipping the fish into the soy sauce. But there are many people who eat it by hand as well."

You can order any individual piece of sushi you want to try as well. Just write down the name and number of the item you want on one of the order forms available at your seat, and hand it to the shop staff. This way of ordering items is specific to Japanese sushi restaurants, so give it a go for the "authentic" experience!
廻る寿司 名在門(なざえもん) 紫竹山本店

Address

1-7-5 Shichikuyama, Chuo-ku, Niigata City, Niigata

Phone Number

025-245-8455

Hours: 11:00AM-8:30PM
Holidays: Tuesdays
2. Minato Shokudo: Fresh Niigata Seafood Directly from the Market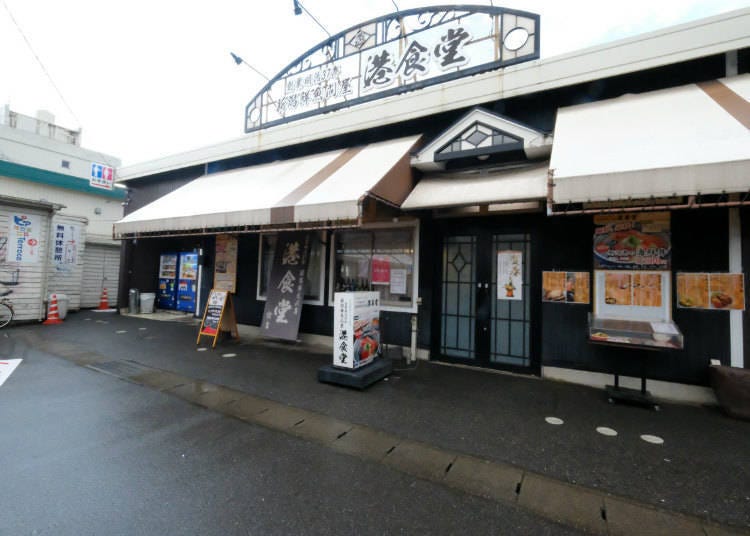 Next, we will introduce Niigata Sengyo Tonya Minato Shokudo, located at the Niigata Pier Bandai Fish Market. It is about 15 minutes by bus from JR Niigata Station.

Their parent organization is wholesaler Niigata Chuo Suisan Market, a great Niigata seafood market, so you can be sure to find delicious and seasonal seafood obtained from fishing ports both inside and outside the prefecture at all time.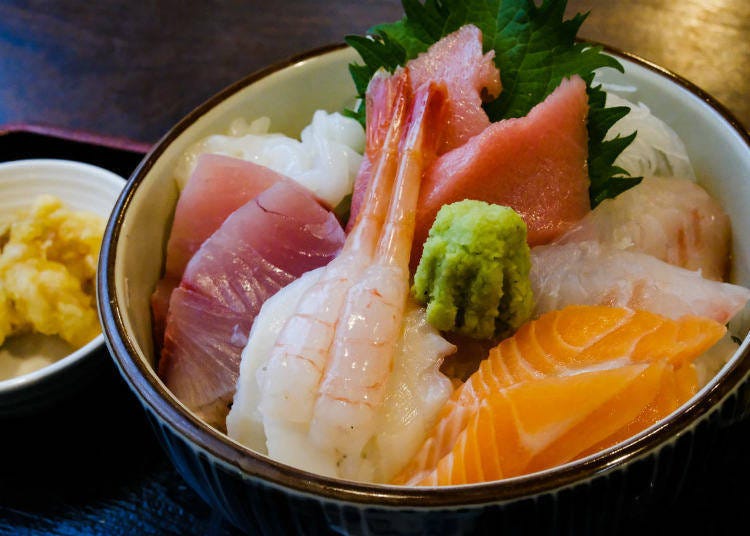 Pictured above is the Seafood Bowl Set (1,200 yen, tax not included), a gorgeously-arranged, indulgent dish of fresh, quality fish! Ingredients may vary by day and availability.

On the day of our visit, tuna, yellowtail, squid, Northern pink shrimp, sea bream, and octopus were on the menu. They purchase the majority of their seafood from fishing ports within Niigata Prefecture.

Each sashimi slice is thickly cut and satisfying, with its own rich, unique taste. The fresh, crisp radish served with it acts as an excellent palate-cleanser.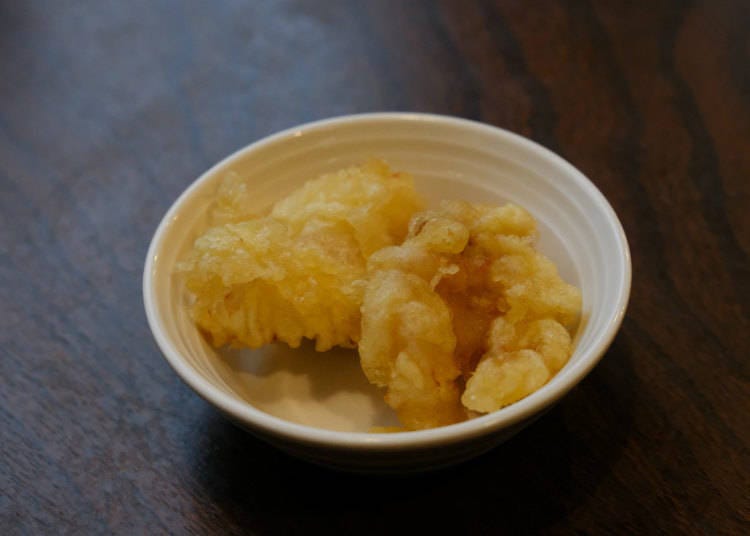 Also notable is the squid tempura served as part of the Seafood Set (480 yen plus tax when ordered separately). Squid is a common catch in Niigata, and is often sold as ichiya-boshi (fish that is salted and dried overnight).

However, it is uncommon to see it prepared as tempura. The shop owner explained that this dish is popular in Kashiwazaki and Joetsu City, where squid tempura is commonly prepared with salt and served with beer. Both cities are located about 2 hours south of Niigata Station by car.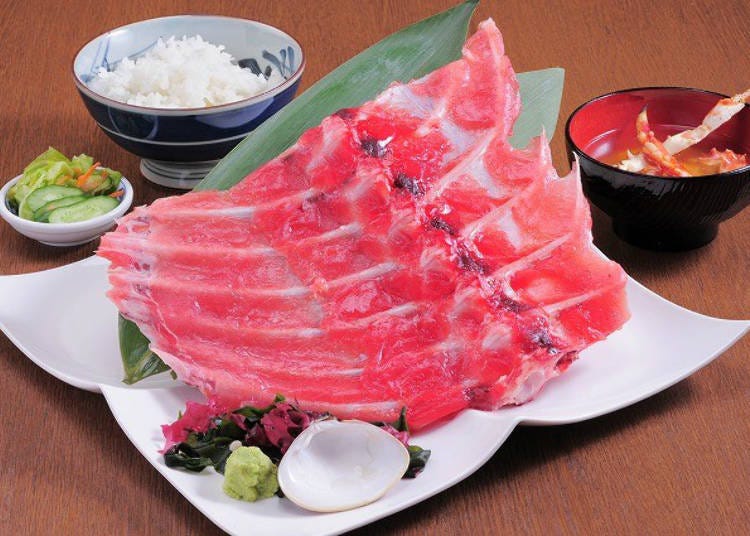 The last dish we'd like to introduce is the Tuna Nakaochi Set (500 yen, tax not included). This item is not commonly sold, and can only be obtained when the entire fish is purchased from the market. It has more fat than regular tuna, and practically melts in your mouth with every bite!

Unfortunately, it is usually sold out each morning by around 10:30 to 11:00AM, and was already gone by the time of our visit. This item is also unavailable when the market is closed. However, if you arrive at the shop early and wait in line, you might be able to get your hands on it.

Many of the menu items are all thanks to Niigata Chuo Suisan Market. You can even enjoy oysters year-round at the neighboring oyster hut, Hatoba no Kakikoya. Souvenirs are also available at the fish market. This is truly the best place for fresh Niigata seafood, whether to eat-in or to take home!
新潟鮮魚問屋 港食堂

Address

2-4 Bandaijima, Chuo-ku, Niigata City, Niigata

Phone Number

025-248-8655

Hours: 11:00AM-9:00PM
Holidays: None
3. Ekimae Gyoko Honten: "Ikizukuri" LIVE Sashimi!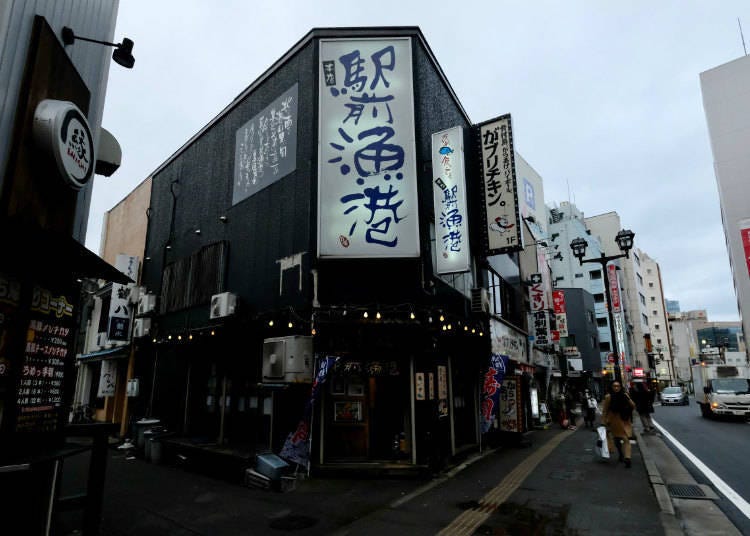 Last but not least is the popular izakaya, Umme Sakanaga Kuite Ekimae Gyoko Honten, (hereafter Ekimae Gyoko Honten), only a 3-minute walk from Niigata Station. The shop owner purchases Niigata seafood ingredients directly from the fishing ports each morning, guaranteeing that meals are always fresh.

Ingredients are natural rather than farmed for more authentic tasting seafood, one of the greatest prides of Niigata.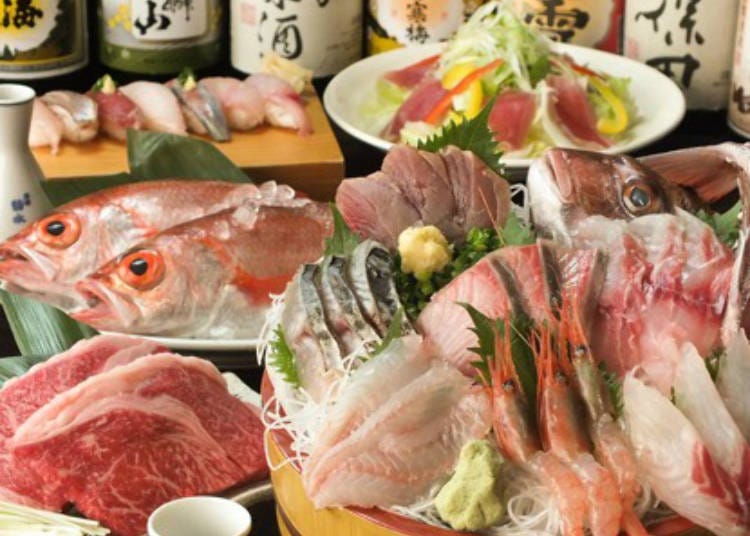 The first thing you'll want to try is their fresh sashimi and Niigata sushi. Every dish is fresh, no matter what you choose. We recommend the Assorted Sashimi Platter, with three kinds of seasonal fish: mackerel, sardine, and yellowtail (1,080 yen, tax not included).

There is even a live fish pen in the shop from which you can select a seasonal fish of your choice, which they will prepare live as "ikizukuri" sashimi.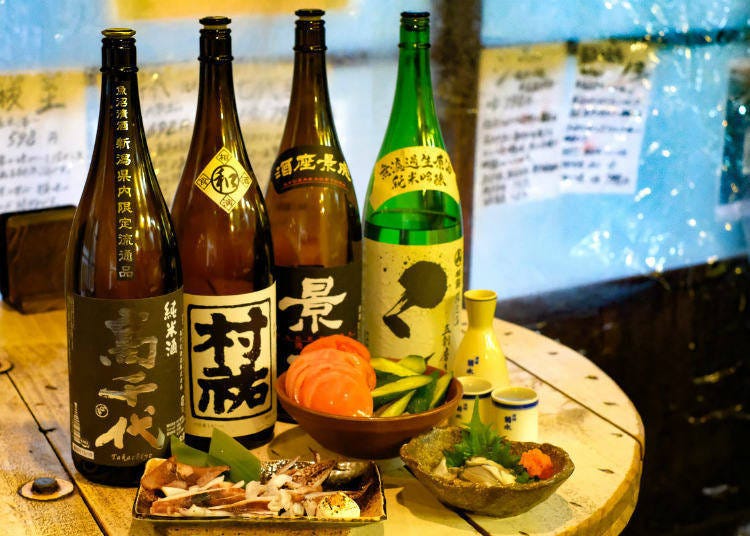 You can enjoy more than just sashimi here. There is a wide variety of dishes, including the above-mentioned ichiya-boshi squid (780 yen plus tax), raw oysters with vinegar (580 yen plus tax), and sea bream ochazuke (780 yen plus tax). All of these go especially well with local Niigata sake. Since you've taken the time to come all the way to a Niigata izakaya, you might as well enjoy yourself fully!

Ekimae Gyoko Honten serves over 20 types of sake, from the classic Tanrei Karakuchi (light and dry) to lesser-known brands. Murayu Kuro Muroku Honsei is a rare sake that is only available at limited shops within the prefecture. It is sweeter than regular sake, and is a good option if you are trying Niigata sake for the first time.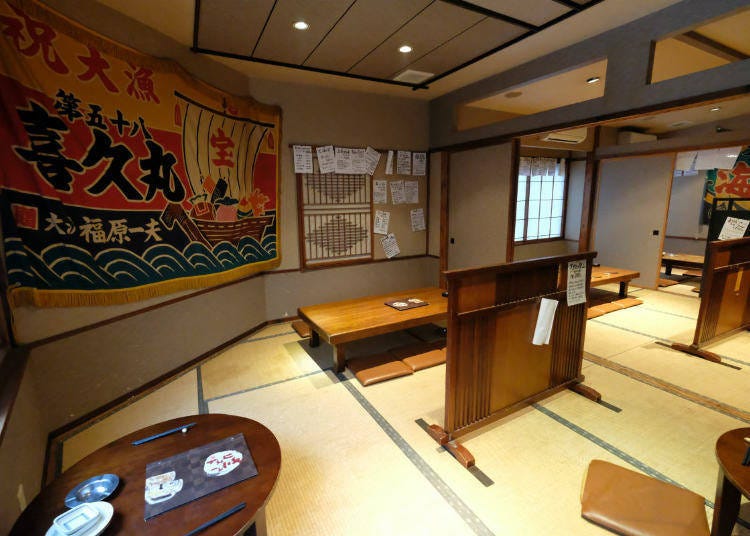 The second floor is a Japanese-style tatami room, always lively and brimming with cheer during business hours. If you're visiting Japan, why not get a taste of the local life with some fresh Niigata seafood at a popular Niigata izakaya?
Umme Sakanaga Kuite Ekimae Gyoko Honten

1-3-29 Benten, Chuo-ku, Niigata City, Niigata

Address

新潟県新潟市中央区弁天1丁目3−29

Phone Number

025-244-8555

Hours: 5:00PM-12:00AM (Food/Drink L.O. 11:30PM)
Holidays: None
Niigata is a treasure trove of delicious and affordable seafood, with a variety of seasonal fish from the Sea of Japan. No matter which dish you try, you will surely fall in love with Niigata seafood restaurants from your very first bite.

Text by: Madoka Hasegawa
Don't Miss These Other Niigata Seafood Restaurants!
These fine Niigata restaurants offer some of the area's finest fare. And you can make reservations online right from the links below!
志津川水産 一家部

Address

Furumachidori, Chuo-ku, Niigata-shi, Niigata 8-1507-2, 951-8063


Nearest Station

Hakusan Station (Echigo Line)


Phone Number

025-229-6325
*This information is from the time of this article's publication.
*Prices and options mentioned are subject to change.
*Unless stated otherwise, all prices include tax.