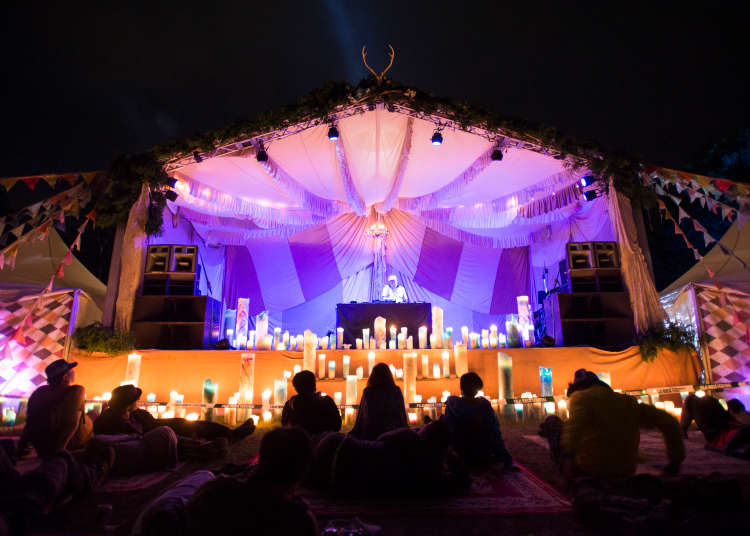 The annual 3-day long Fuji Rock Festival in Niigata Prefecture is Japan's largest music festival. In 2020 was to be held from August 21-23, but has been canceled due to COVID-19.

It started over 20 years ago after creator Masahiro Hidaka was inspired by the international festival in the UK, Glastonbury. Unlike its namesake, Fuji Rock is nowhere near Mt. Fuji.

However, it is a weekend nestled in the lush mountains of Northwestern Japan where preparation should be for rain, sunshine, and whatever weather woes the festival-gods throw your way.
Naturally, as it's in Japan, Fuji Rock is also known as being one of the cleanest music festivals in the world. This is evident in the flushable (yes, flushable and clean!) porta-potties and the colorful Fuji Rock garbage bags volunteers hand out to festival-goers as they enter the grounds.

"Festival-fashion" is always something on the radar, and with Fuji Rock, think: avid-hiker-meets-Woodstock (the mud-sliding hippie part, but not so much nudity). Here are five tips and tricks for you to understand the festival better so you will be best equipped for the fantastic weekend away from Tokyo!
1. Think ahead with lodging and transportation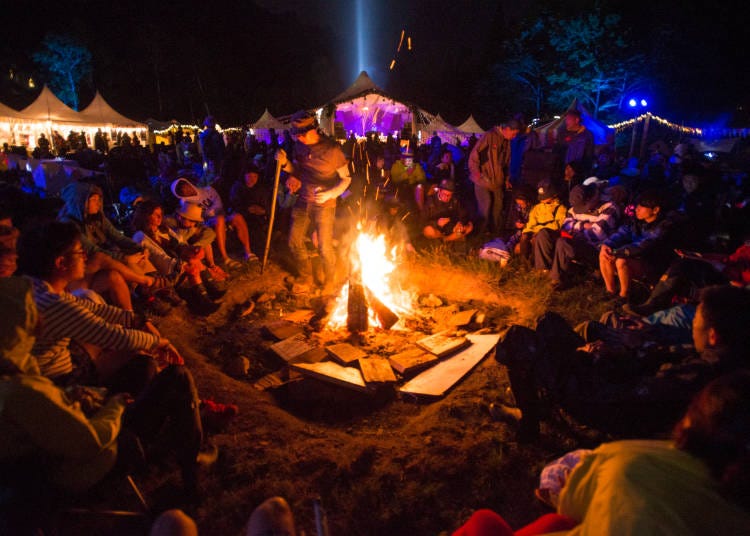 Image (C) Noriteru Ino
Lodging:
You've got a choice between a hotel (such as the Prince Hotel on the grounds), minpaku (traditional Japanese inns/cabins) around the town, or camping. With the first two options, book almost immediately as the dates and lineups are announced nearly 6-months prior to the event. Be aware that room prices peak to double or triple the rates of other times of the year.

Camping:
Naeba Ski Resort, where Fuji Rock is held, has its own campgrounds located quite literally outside the festival gates. Campers receive a special wristband that allows in-and-out privileges for the clearly marked Fuji Rock campgrounds, and camping is not allowed in any other parts. There is also a "Ladies Only" campsite available on-site. Camping is the cheapest option (¥3,000 per person) and it rarely sells out. Even if you are new to the camping game, Fuji Rock staff have your back. There is a "Camping Clinic" available on-site, with outdoor experts to help you set up your tent and get you situated for a comfortable camping experience.

On-site toilets are available for free. Showers and onsen are available for a small fee, but be prepared to wait in a long line unless you go early enough in the morning. Showers and bathhouses for day use are also available at neighboring lodges and minpaku, so take a stroll and look for signs for day-use onsen.

Be prepared to sleep in some rainy weather from time to time and to hear some music in the distance throughout the night. Cars are not allowed where the campgrounds are, but overnight car parking is available elsewhere on grounds. Unlike many Western music festivals where the day-time culture of drinking and partying around the campgrounds is popular, Fuji Rock's campsites are much more reserved merely for sleeping. No cooking equipment is allowed, either, but luckily Fuji Rock has some fantastic food (more on this later).

Trains and Buses:
Though a day-trip from Tokyo is also possible, keep in mind that the last Tokyo-bound train leaves before the final act. Fuji Rock is located north of Tokyo, in Niigata Prefecture. The best way to reach the festival grounds is via Hokuriku shinkansen (bullet train) from Tokyo Station to Echigo-Yuzawa Station, then to take the shuttle bus from there to Naeba Ski Resort, where Fuji Rock is located. The shuttle bus is ¥500 and takes you roundtrip. A ¥6,000 cab ride is also possible, though there's very little chance of catching one coming back from the festival to the station.

Another option would be a bus from Tokyo via a tour package provided by Fuji Rock. See the official Fuji Rock website for more details on tour packages.
2. What to send, pack, and buy there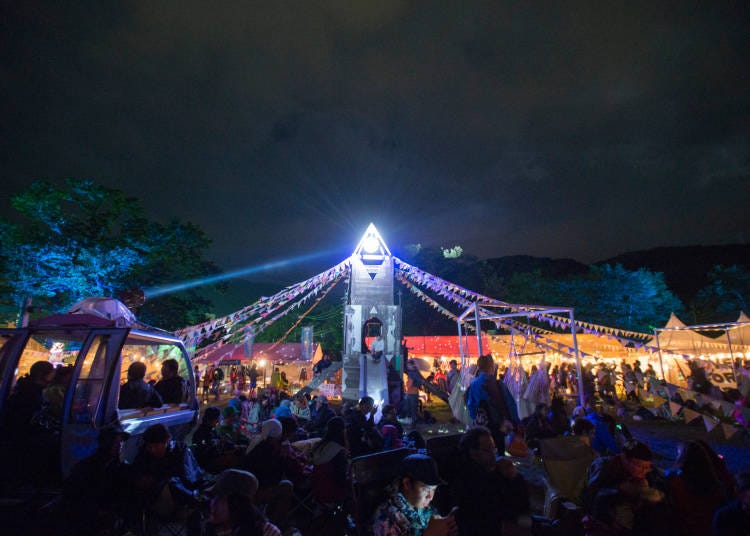 Image (C) Noriteru Ino
Send:
Fuji Rock is unique as you can actually post packages to the festival grounds from a week in advance. If you're camping, this means sending your tents, camping chairs, sleeping bags, or any other essentials you don't have the hands to carry there with you. At the end of the festival, you can post it back home, and it doesn't cost too much!

Pack (including fashion tip):
Typical overnight essentials and clothes with layers. Rain gear and hiker hats are "in" at Fuji Rock. Rain boots and clothes that can get rough are also essential. Don't dress for Coachella - dress in comfortable camping clothes. Add a colorful bandana, hat, or sunglasses for a fashionable flare. Don't forget sunscreen and bug spray!

Buy:
There's a store on festival grounds that sells Fuji Rock and band merchandise, but also camping chairs, ponchos, and towels. Walk a few blocks off the grounds into town and you'll find a few stores scattered around that sell food and drinks, as well as boots and other camping gear. Beware that most things will be sold out by day 2 or 3.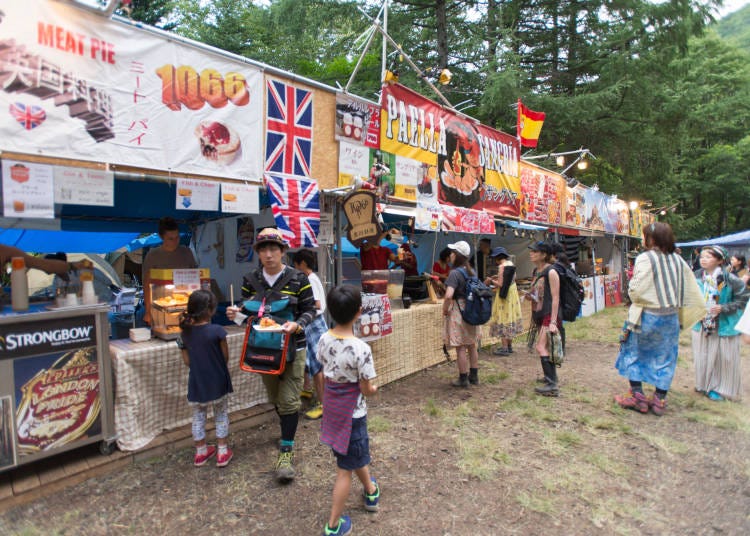 Foodie heaven! Some of the incredible food stalls at Fuji Rock. Image (C) Noriteru Ino.
Though there is camping and lodging, you can't cook for yourself or have food at some of the lodges. However, there are many food stands and ready-to-eat meals available in the town, and more importantly, on festival grounds. Fuji Rock is the mecca for Japanese food stalls and restaurants who travel from all over the country to serve their proud meals over this weekend. There are dozens and dozens of food trucks in different areas all around the festival grounds to choose from. Pizza, fish'N'chips, gapao rice, curry (the famous Heidi's Curry Shop), are some of the veteran favorites. There are many veg-friendly options and organic food as well. You'll go back to Tokyo and drool for the next whole year thinking about some of the meals at Fuji Rock (I, for one do, and can't wait to go back for some of my favorite foods this year).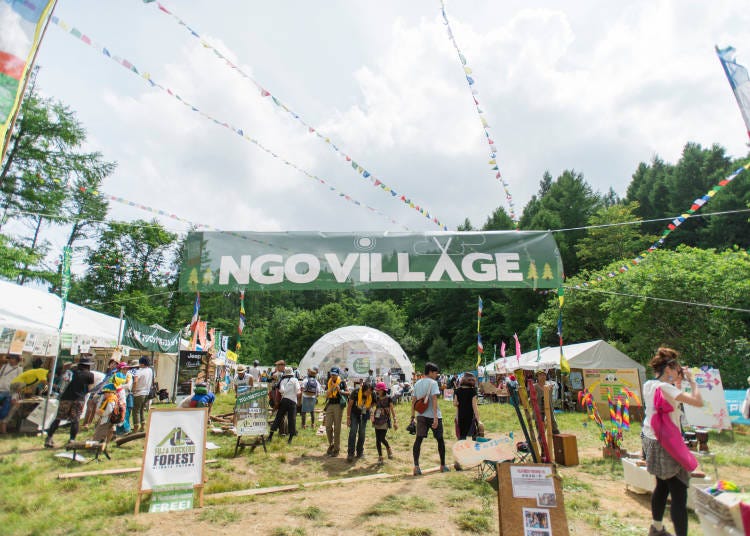 The NGO Village is a particularly attractive spot to find your next supporting cause. Image (C) Noriteru Ino.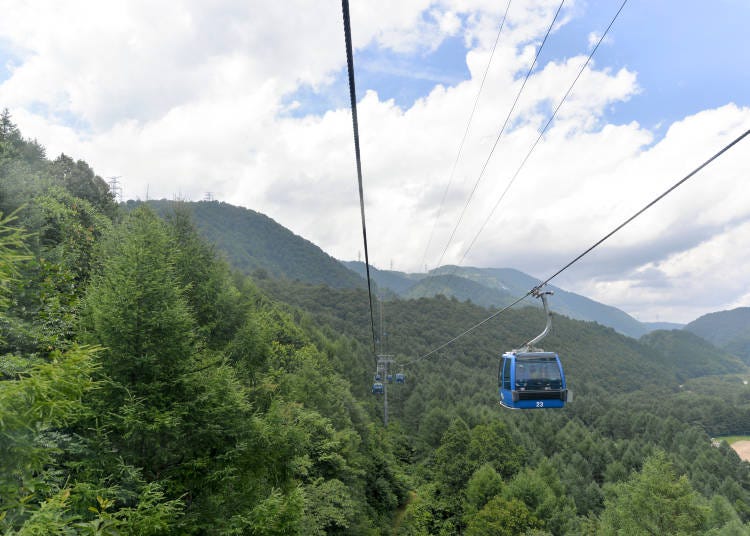 Catch the amazing scenery while riding Dragondola, the world's longest gondola! Image (C) Noriteru Ino.
Fuji Rock is much, much more than just musical acts. Here is a list of some MUST see/dos:

- Ride the world's longest gondola, the Dragondola, up to the mountain top. Be greeted with spectacular views of the festival from sky high, and enjoy the techno DJ tent and its music and dancing during the day. There is also a restaurant up here for those looking to have a proper meal at a table.
- Wade in the river to cool off
- Check out the NPO Village to find your next supporting cause, or shop at some of the handcraft tents
Attend a beautiful Burlesque or circus show at Cafe du Paris or Crystal Palace
- Spend the afterhours (post final act of the night) at the Crystal Palace, a dance hall that goes on all night long with jazz bands and entertainment shows.
- Go to the World's Smallest Nightclub at the Pyramid of Wonder - it fits about 4 people comfortably! On the same grounds, there are also thrilling motorcycle shows, circus acts, a funhouse, secret bars, and mazes. Discover it all for yourself.

For a full list of entertainment sites, visit the official website below.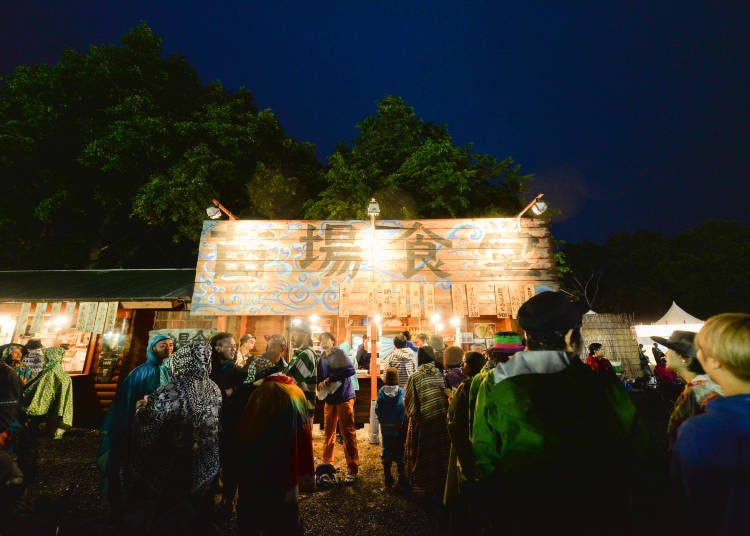 Image (C) Noriteru Ino.
Loads of insider tips, some already mentioned above, but here are more!

- Load up on cash and top off your SUICA or PASMO - Fuji Rock started doing cashless pay in 2017 with the use of train pass cards being used as payment at all food and stall vendors.
- Stock up on snacks and plastic bottle drinks to bring in to the festival! (Just be aware that canned drinks and glass bottles aren't allowed in the festival site.)
- Bring camping chairs with you. These will come in handy when you're tired from walking around all day. They're also excellent for those days when the ground is soaking wet, and it's tougher to sit on the ground. You'll see people carrying around camping chairs with them all day with ease. (Just note that chairs aren't allowed at the Red Marquee tent.)
- Fuji Rock is a very family-friendly event, so bring your kids along! But don't let this turn you off from experiencing a child-less festival, either (as some of us desire).
- A First Aid center, camping assistance, and many other assistance and sponsored tents are available on Fuji Rock grounds. Check their official website for a list of all their facilities.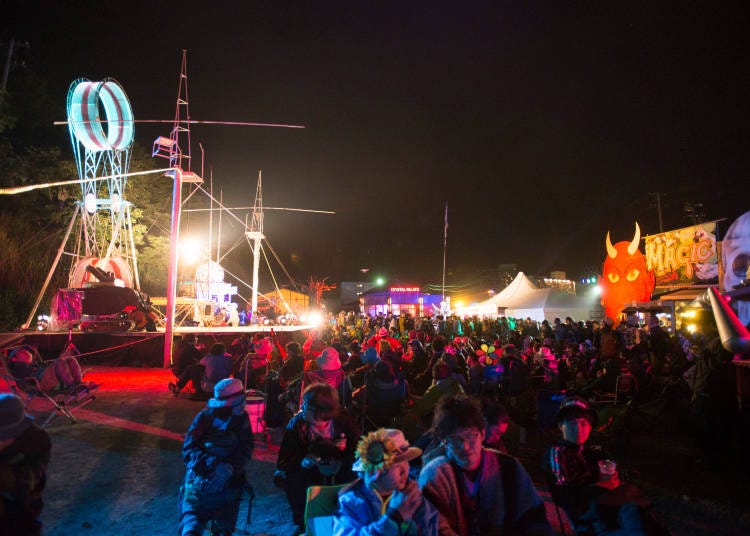 Image (C) Noriteru Ino.
Fuji Rock Festival is an international music festival that sets itself apart from others through its unique cultural lens of Japan. World-renowned rock, pop, hip-hop and electronic artists are showcased from year to year and yet, the audience and the producers of Fuji Rock add a special flare to the festival that you won't be able to experience anywhere else. Japanese music and nature lovers flock to the festival grounds from all over the country, some bringing along their families and all bringing with them the Japanese mannerism.

Aside from the cleanliness and friendliness of the festival, debauchery is rarely ever seen that a safe and respectful weekend can be spent by all. Getting close to the front row is not a hurdle and can be done with ease. While some may see it as "tame," Fuji Rock is anything but a snooze fest. Dancing, singing, and laughing can be seen and heard all throughout the night. The experience is, of course, what you make of it, but a Japanese music festival is one that should be on your bucket list. And what better than the greatest scale of them all?


Main photo: Image (C) Noriteru Ino.
FUJI ROCK FESTIVAL '20 at Naeba Ski Resort in Yuzawa, Niigata Prefecture

FUJI ROCK FESTIVAL '20 @ 新潟県湯沢町苗場スキー場

Address

〒949-6212 新潟県南魚沼郡湯沢町三国 / Mikuni, Yuzawa, Minamiuonuma District, Niigata Prefecture 949-6212

Access: Shuttle bus from JR Echigo Yuzawa Station (500 yen; free return)

Date: Friday, July 26 - Sunday, July 28, 2019

Official Website: http://fujirock-eng.com
(In Japanese: http://www.fujirockfestival.com/)
越後湯沢駅

Address

〒949-6100 新潟県南魚沼郡湯沢町大字湯沢主水2427−1 / 2427-1 Ozawa Yuzawa Mondo, Yuzawa-machi, Minamiuonuma-gun, Niigata 949-6100
Written by: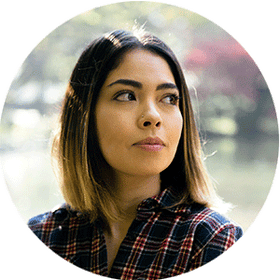 *This information is from the time of this article's publication.
*Prices and options mentioned are subject to change.
*Unless stated otherwise, all prices include tax.