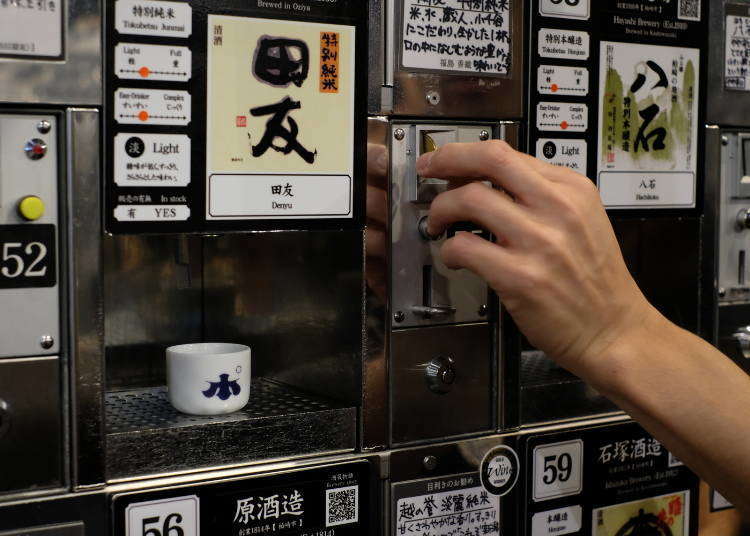 Ponshukan is popular among Japanese sake lovers from near and far. This famous sake shop in Niigata, one of Japan's largest sake brewing regions, is home to a huge array of local brews.

The Echigo Sake Museum Ponshukan at JR Niigata Station gathers the prefecture's offerings in one place. Here we'll take you inside Ponshukan Niigata and share five of the shop's most recommended sake, recommended by a sake master, no less.
Ponshukan Sake Museum: Niigata Sake and Souvenirs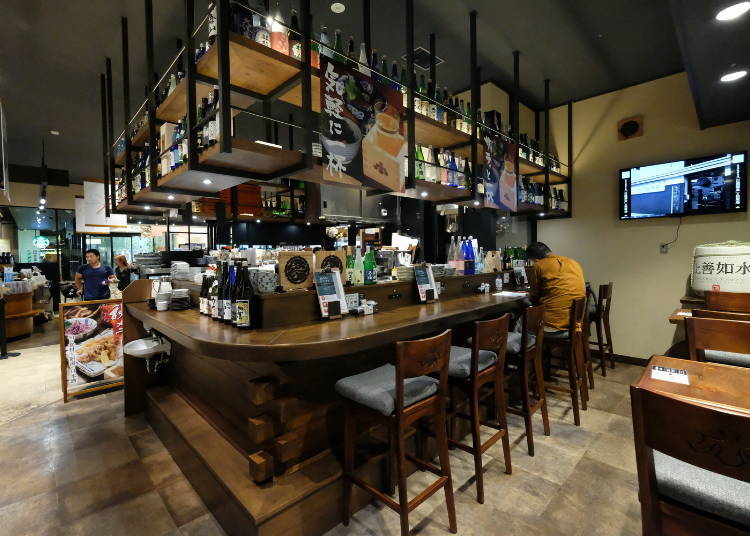 In Japan, there is this huge range of alcohol that the world just doesn't seem to know about. From incredibly elegant sakes to casual weekend beers, we love them all.

But sake ("nihonshu" in Japanese) is Japan's most famous alcohol, so more and more tourists are seeking it out on their Japan travels. But with so many different flavors (sweet, dry, this yeast or that yeast, the list goes on), people are often easily confused...

That's where Ponshukan's guide comes in.

Founded on the concept of "talking about the culture of Echigo Uonuma with food," Ponshukan Niigata Station is a souvenir shop that sells sake, rice crackers, and other rice-based drinks.

Ponshukan Niigata Station has four main sections: the "Sake Bansho" sake tasting area; "Echigo Uonuma Shoten," which sells rice crackers, soy sauce, and miso; the "Bakudan Onigiri House" rice ball shop; and, added in April of 2019, the "Kakuuchi Sake Bar," where you can enjoy sake with a meal.

For sake enthusiasts, the highlight of Ponshukan is the Sake Bansho where you can sample sake from all over Niigata. Brewery recommended varieties are available from dispensers lining the wall, and the number is overwhelming!
Trying the Best Sake at Ponshukan Sake Museum!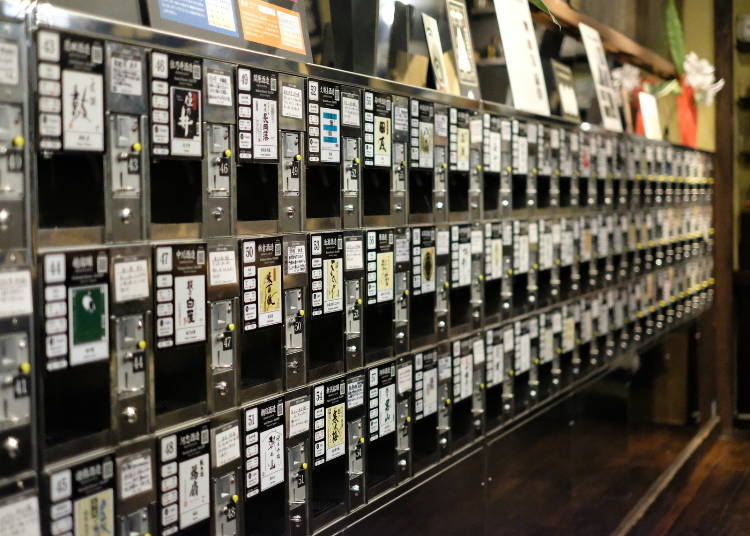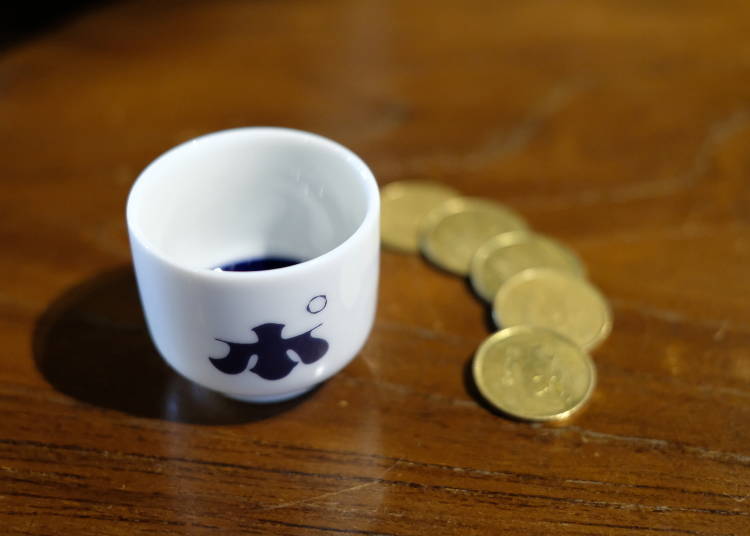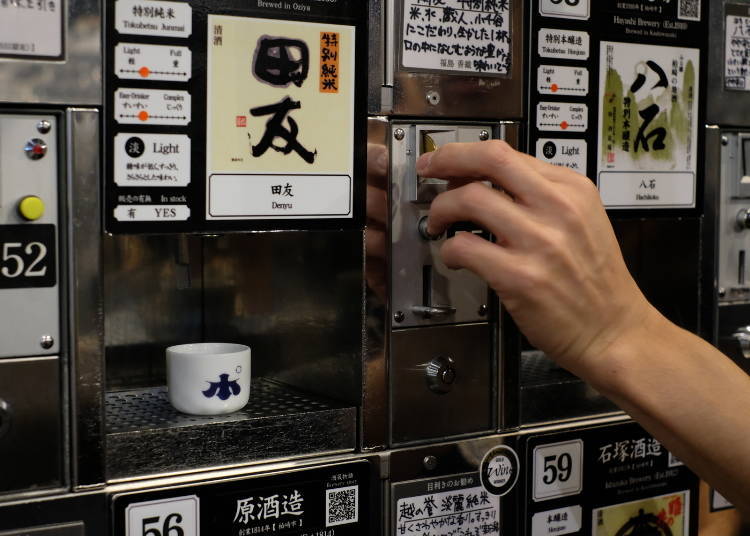 Ponshukan uses a token system for sake tasting. Patrons receive five tokens for 500 yen. The tokens are inserted into the Niigata sake vending machines, which then automatically fill a cup. There are so many choices you may have trouble deciding which five to try!

We turned to the store clerk, Yuji Kobayashi, for recommendations. He is one of the few people who take the exam to become a sakasho (sake master) and we asked him which five types are popular among international tourists.
1. Cowboy Yamahai – Sake for Steak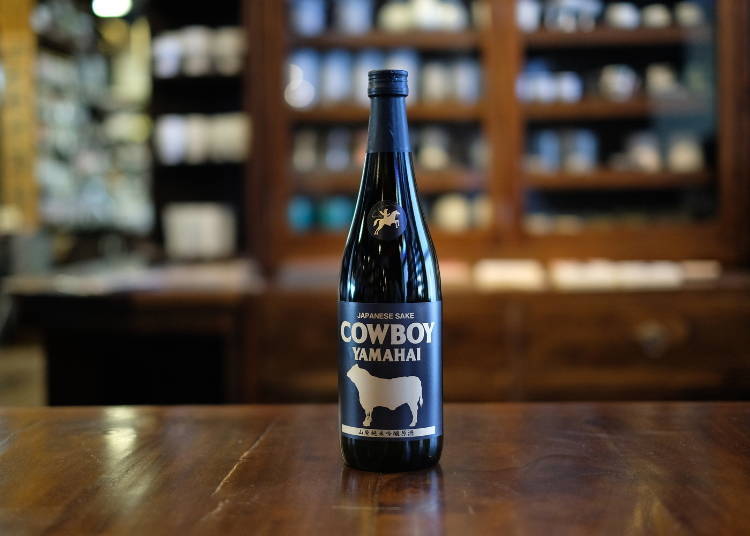 "Cowboy Yamahai" is carefully aged to go well with meat dishes – especially steak – to achieve maker Shiokawa Sake Brewery's goal of sharing Japan's sake culture abroad.

Cowboy Yamahai satisfies with a rich whiskey-like taste and a dry aftertaste. It's recommended on-the-rocks, but the flavor is robust enough that it's still delicious when mixed with soda. This sake is a worthy addition to a home-cooked meal.
2. Ima – Sake for Oysters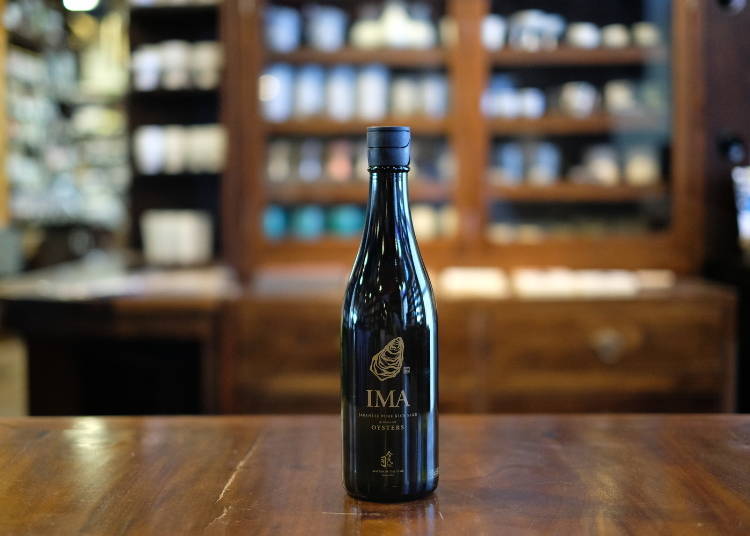 Having celebrated its 250th anniversary in 2017, Imayo Tsukasa Sake Brewery developed its "Ima for Pairing with Oysters" sake over the course of about three of those years. Unlike traditional sake, it has a refreshing apple aroma and a flavor similar to white wine, making it popular with those less familiar with sake, and the aftertaste won't overpower the taste of your meal.

As the name implies, Ima is delicious with oysters, and the drink's mild acidity reduces the oysters' odor and freshens your palate. Give it a try!
3. Sake Brandy Barrel – The Name Says It All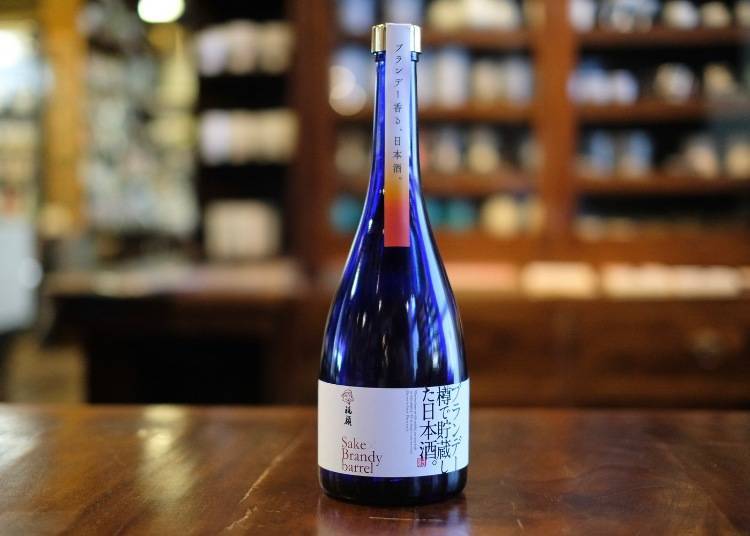 As the name suggests, Fukugao Sake Brewery's "Sake Brandy Barrel" is aged in barrels formerly filled with brandy. The brandy aroma mixes with the sake, creating a rich fragrance like no other. The 19% alcohol content is a little higher than that of typical sake, which is around 15%. Tasting like a combination of brandy and sake, it's a perfect drink for those who like Western liquor.

As this is a "premium sake," a tasting requires three tokens, and it isn't included among the sake dispensers, so you'll have to ask the staff for a sample. Kobayashi-san and his fellow knowledgeable shop assistants love sake, and are happy to make your tasting experience even more enjoyable with good conversation!
4. Kirin Jijoshu – Aged Sake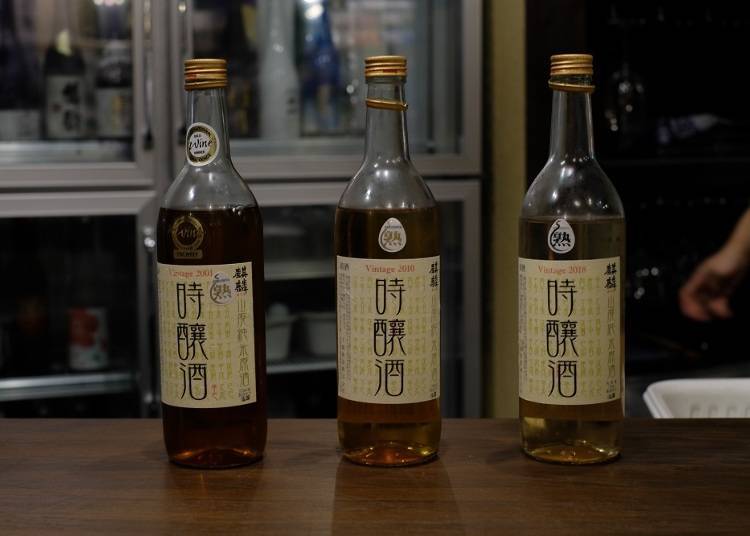 Sake that has been aged for many years is known as "koshu" and its taste changes profoundly with age. Award-winning Kaetsu Sake Brewery in Tsugawa, Agamachi has made a point of producing aged sake, including its "Kirin Jijoshu" label, and of promoting the aged sake sub culture.

Ponshukan offers three vintages of Kirin Jijoshu: 2001, 2010, and 2018, and each premium sample costs five tokens. These rare bottles each have their own unique fragrance and flavor, well worth the price.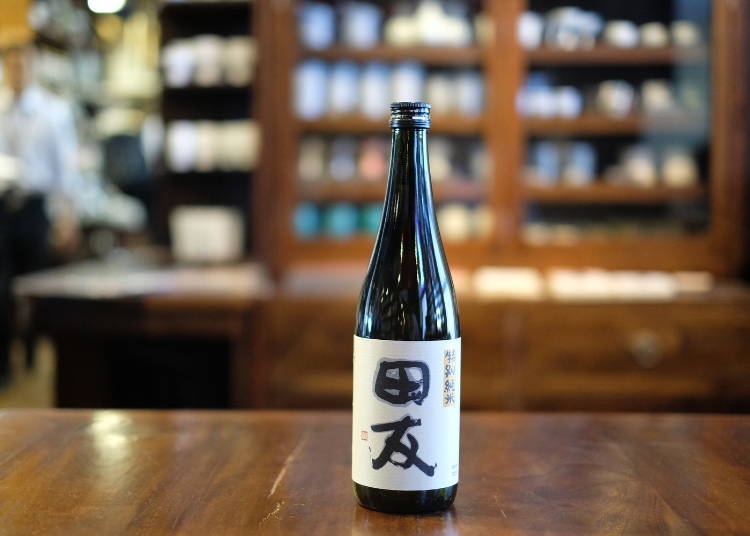 Last but not least, is a "standard" sake that's easy to drink even for novice aficionados. Niigata Prefecture has long excelled at producing refreshing dry sake, and "Denyu" is characterized by its soft aroma and taste. It's a brand that's highly drinkable for those trying sake for the first time.

Denyu is produced by Takanoi Takai Sake Brewery in Ojiya, a city often covered by more than two meters of snow in winter. Made with water from the spring thaw, Denyu has a soft, refreshing taste. What a great sake for remembering your trip to Japan!
Other Areas to Enjoy at Ponshukan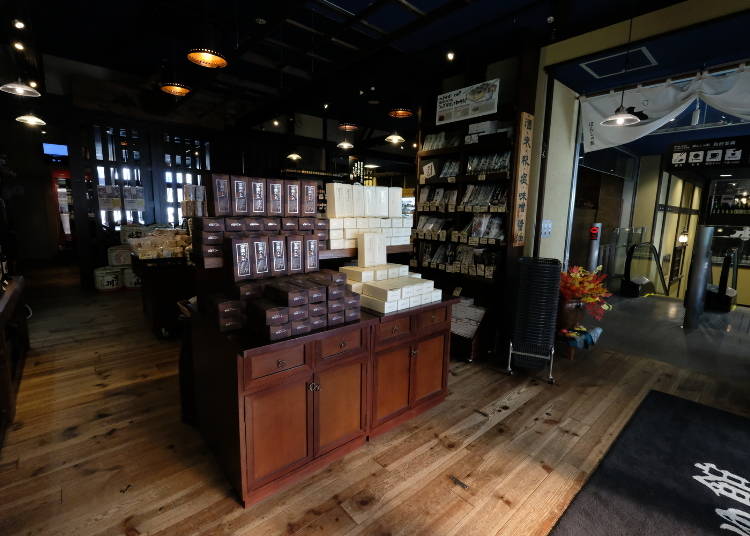 Ponshukan's Niigata souvenirs aren't limited to sake. The Echigo Uonuma Shoten area offers a wide variety of souvenirs, including snacks that go well with sake, sake-based desserts, rice crackers, and other drinks made with rice.

Here you'll also find soy sauce and miso unique to Niigata Prefecture, where fermented foods are widely produced. Even just walking through Echigo Uonuma Shoten is fun, so be sure to check it out.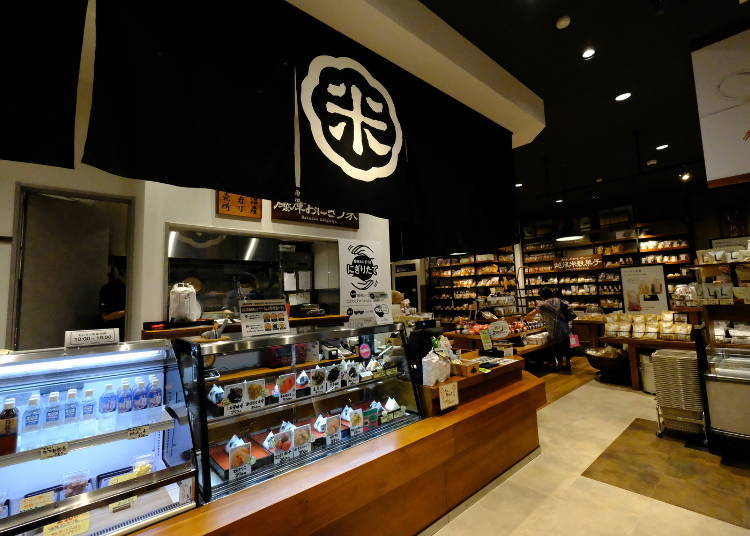 As you exit Ponshukan Niigata Station and turn right, you'll come to the "Ponshukan Complex." To the left of the entrance is the "Bakudan Onigiri (bomb rice ball) House."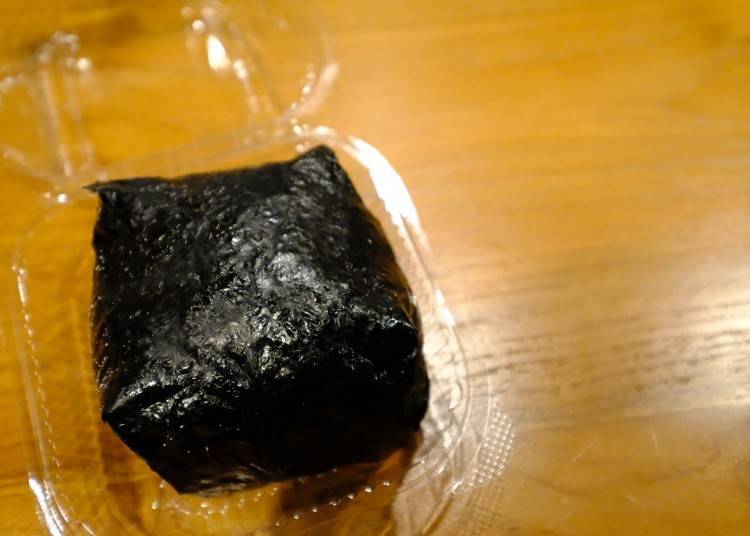 The rice balls are made using locally harvested Koshihikari rice from Minami Uonuma. The rice is cooked in a traditional Hagama rice cooker and then formed into plump rice balls. Ponshukan's huge bakudan onigiri have become something of a specialty and draw many customers. One ball contains as much rice as one bowl of rice and there's no doubt you'll leave with a full stomach!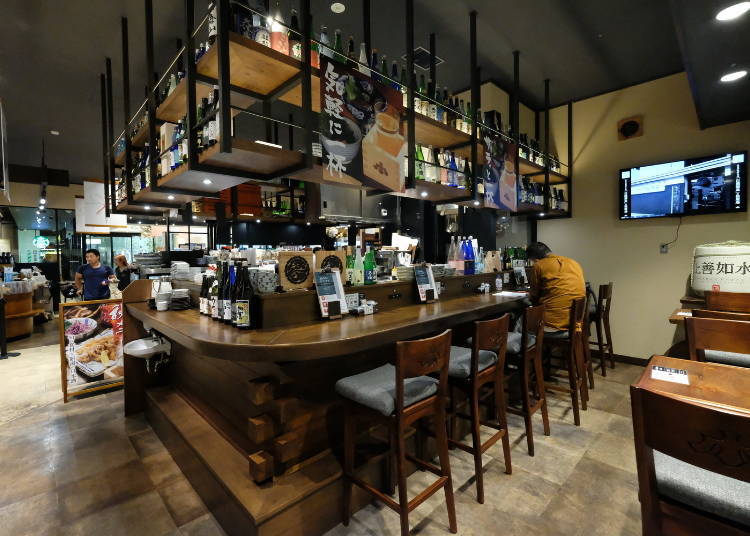 A "kakuuchi" is a Japanese drinking establishment that has a more relaxed atmosphere than a typical izakaya pub, and is a great place for a drink with friends or a date. You can casually enjoy sake with a bit of food and really get a feel Japanese culture firsthand.

Ponshukan's kakuuchi is on the other side of the rice ball house. The recommended sake changes every month, and the available meals change with regularity as well. Customers can take advantage of the counter or table seating to relax with some sake and delicious Japanese cuisine.

Ponshukan is perfect for those new to the world of Japanese sake. There are numerous ways to enjoy it, from the tasting area to the dining options, and with 88 varieties of Niigata sake on tap, you're sure to find your favorite!
Address

3F, 1-96-47, Hanazono, Chuo-ku, Niigata-shi, Niigata, 950-0086
View Map

Nearest Station

Niigata Station (Echigo Line / Shin-etsu Line / Hakushin Line / Joetsu Shinkansen)


Phone Number

025-240-7090
Text by: Madoka Hasegawa
*This information is from the time of this article's publication.
*Prices and options mentioned are subject to change.
*Unless stated otherwise, all prices include tax.
Limited time offer: 10% discount coupons available now!