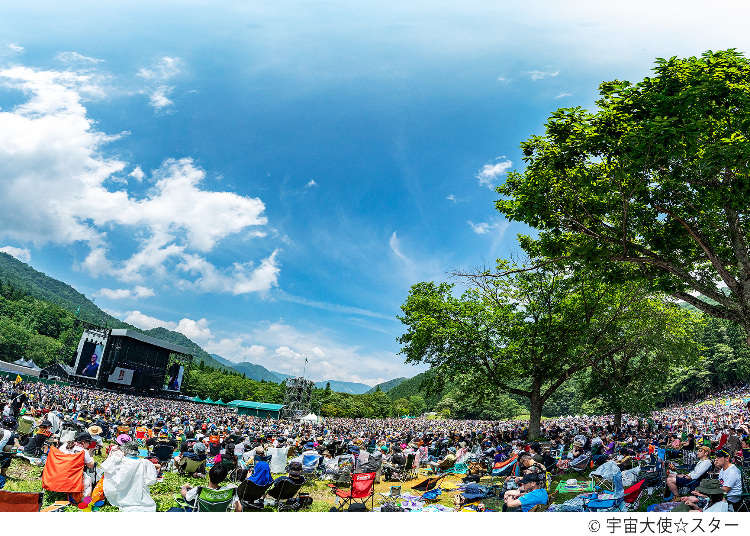 Fuji Rock Festival is one of Japan's largest outdoor music festivals. In the spirit of "symbiosis of nature and music," this music festival attracts more than 100,000 people every year.

To properly enjoy this festival to its fullest, it's best to know everything there is to know, and not only about the performing artists. Reduce your hassle by learning about traffic access, accommodation, ticket purchasing, and more in advance. Today, we'll present a Fuji Rock Strategy Guide to help everyone, veterans, and newcomers alike!

Unfortunately, the Fuji Rock Festival of 2020 has been postponed until 2021 to prevent the spreading of COVID-19. The 2021 dates have already been announced, so, please use this guide as a reference for the 2021 Fuji Rock Festival.

Main image: (c)宇宙大使☆スター
Fuji Rock: One of Japan's premier outdoor music festivals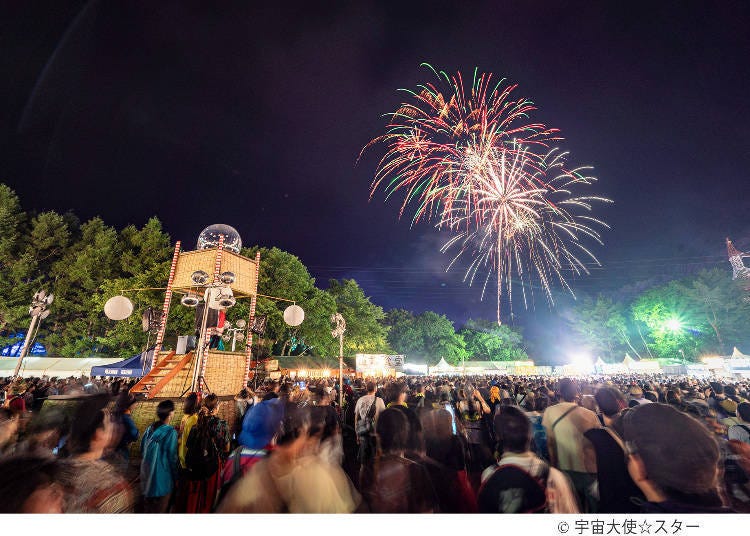 Past Event (©宇宙大使☆スター)
Fuji Rock is an outdoor festival held over 3 days in July or August at the Naeba Ski Resort in Yuzawa, on the southern end of Niigata Prefecture. Started in 1997, this festival was one of the pioneers of Japanese outdoor festivals and is now one of Japan's biggest music events, with over 200 artists from all over the world attending. The memorable first event was held at the base of Mount Fuji, giving the festival its name, Fuji Rock.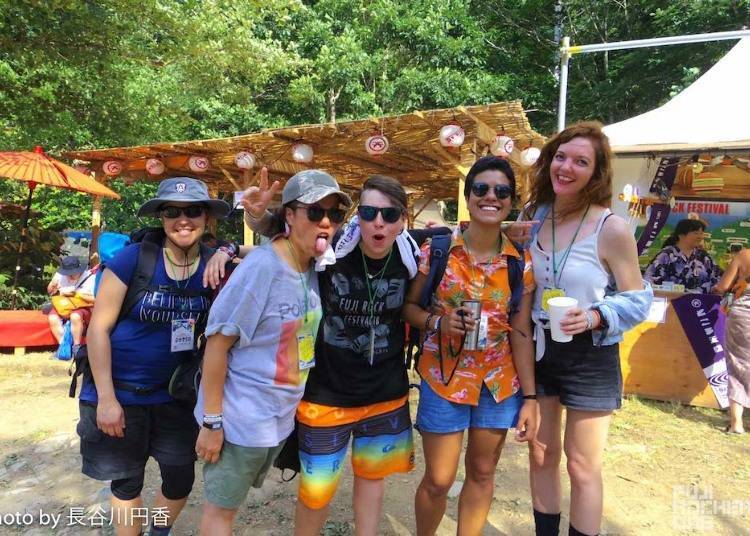 Fuji Rock fans from overseas. Image courtesy of Fuji Rockers.org
The beauty of Fuji Rock is that it's held amid beautiful nature, surrounded by blue sky and green as far as the eye can see, with a clear river flowing in the vicinity.

The venue is also famous for the sheer amount and quality of the food sold, and to maintain a clean environment, rules are in place to reduce littering and to recycle. Even the audience itself is amazing! Fuji Rockers from all over the world come to enjoy the music and this wonderful experience.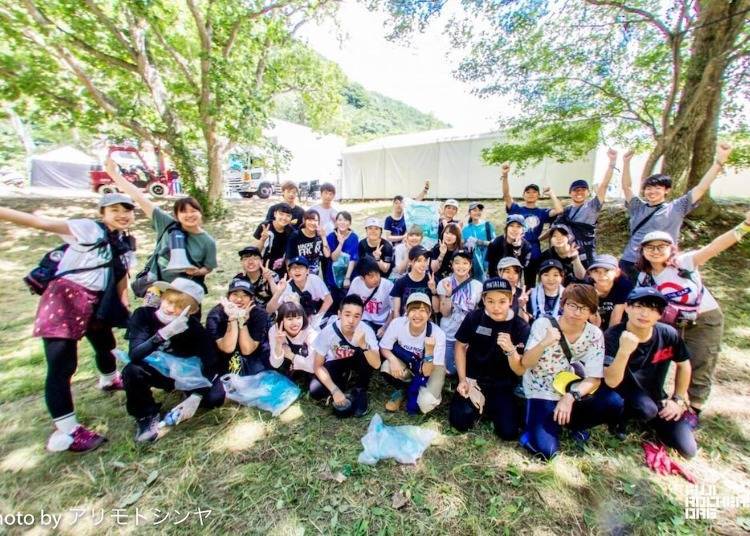 Volunteers picking up trash. Photo courtesy of Fuji Rockers.org
1. How to purchase tickets for Fuji Rock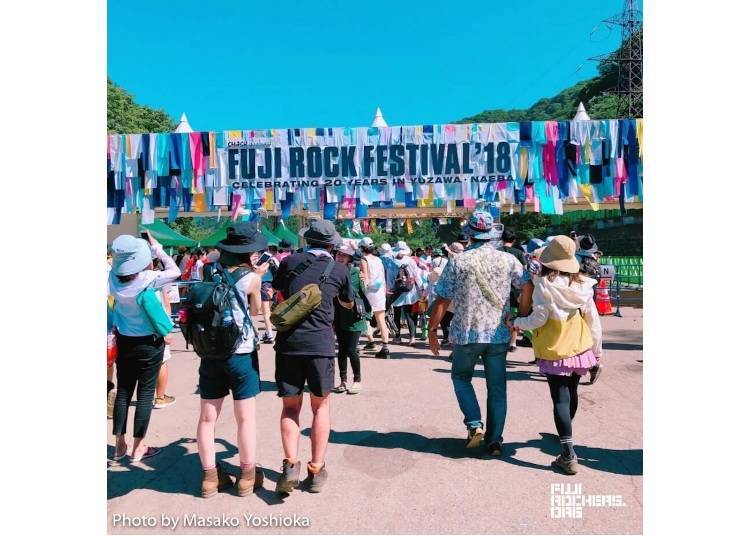 Fuji Rock entrance (2018). Photo courtesy of Fuji Rockers.org
Fuji Rock tickets can be purchased at the official shop "Gan-ban," which also has a magazine by the same name. There you can also see the lineup of artists that will be joining the event. The magazine is also available in English, and the staff at the store can help in multiple languages, so no worries there! We also recommend getting food and drink tickets. Even though same-day tickets can be bought on location, they may run out, so make sure to get tickets ahead of time.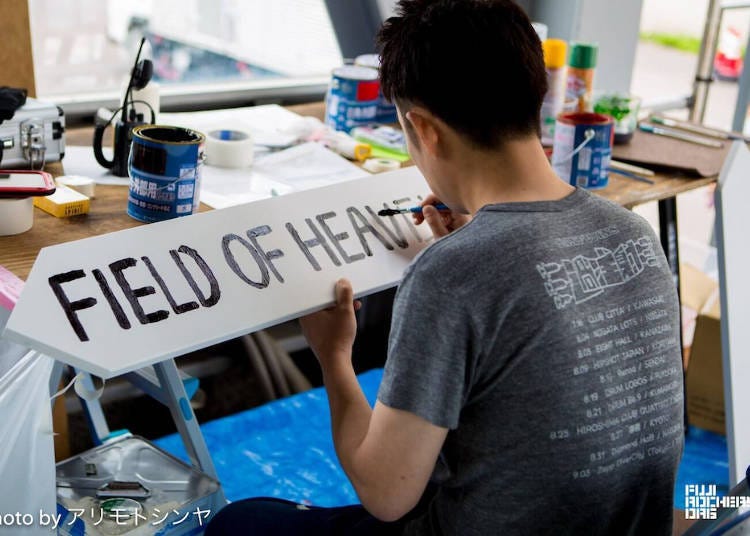 Directions are written in English. Photo courtesy of Fuji Rockers.org
There are 3 types of tickets. 1-day tickets, 2-day tickets, and 3-day tickets. The 1-day ticket is 21,000 yen (including tax) for general sale, but it's cheaper if you buy it on pre-sale, around March.

If you plan to use a campsite or drive to the festival, also make sure to purchase a camping ticket and a parking spot ticket. If you are a resident outside of Japan, you cannot receive your tickets by mail. Still, you can pre-pay for it and pick it up at a convenience store in Japan at your earliest convenience. Present the ticket (PDF) and ID at the entrance, and the staff will exchange it for a wristband.
2. Pack carefully for Fuji Rock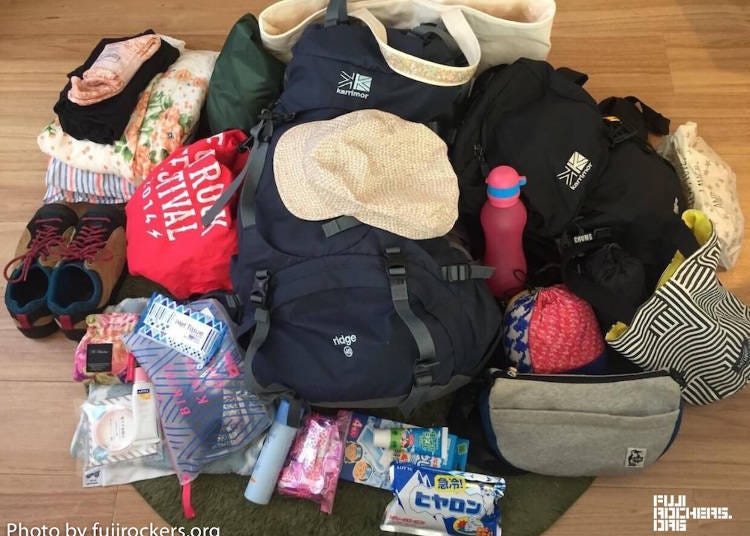 Sample things to bring to Fuji Rock. Photo courtesy of Fuji Rockers.org
Packing isn't the most glamorous part of going to a festival, but it's one of the most important. Knowing what to bring is one of the most critical factors for being able to fully enjoy Fuji Rock!

The festival happens in summer, but the location is Yuzawa, in Niigata, where there is significant variation between day and night temperatures. It's advisable to wear short sleeves during the day, but you will also want to pack for colder temperatures in the evening.

The sun can be intense during the day, so don't forget your sunscreen, hat, and sunglasses. Since you will also be dealing with mosquitoes, bees, gnats, and other insects, be sure to bring insect repellent as well.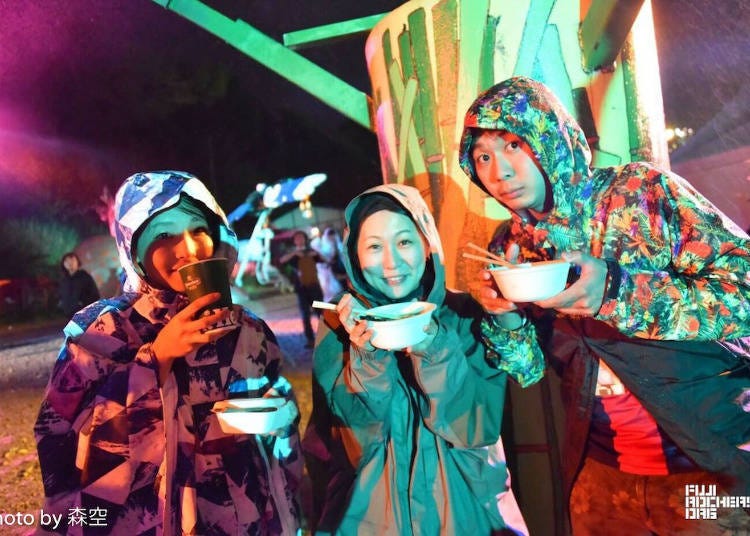 Participants in a poncho. Image courtesy of Fuji Rockers.org
Also, pack for rain, since the festival is held in the mountains. Umbrellas are not allowed in the venue, so make sure to bring rain gear like ponchos and raincoats. Don't neglect your feet, either. Bring comfortable shoes and boots to better protect yourself from the rain.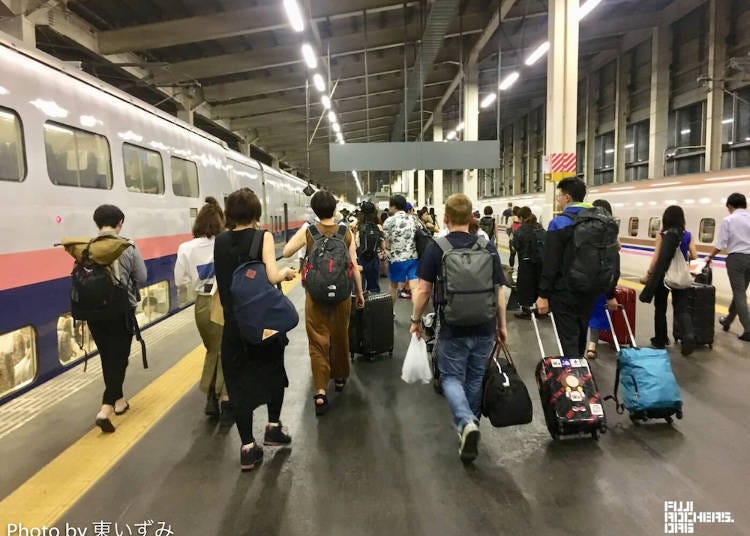 Participants getting off the shinkansen. Image courtesy of Fuji Rockers.org
The main means of transportation to the venue are the shinkansen, buses, and rental cars, but if you are coming from abroad, we recommend using the direct bus available at "Ganban." (Since there is no direct connection from Narita Airport, you will need to travel to the city by train or bus).
*For details, please check the Fuji Rock Festival official website.

a. By bus
The official bus can take you directly to the location from Shinjuku, so it's easy to get there without needing to change trains. You will be at your destination in about 4 and a half hours, and the rates start at 15,900 yen (tax included). The long travel time may be a turn off for many, but you can sleep during the trip, and it's perfect for those who are not in a rush and want to get there hassle-free.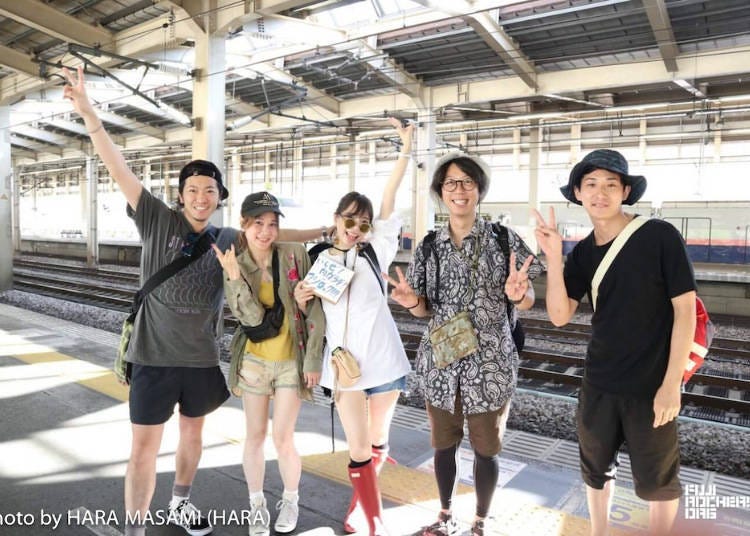 Participants heading to the festival from JR Echigo Yuzawa Station. Image courtesy of Fuji Rockers.org
b. Shinkansen
If you take the shinkansen from JR Tokyo Station, it takes about 1 and a half hours to Echigo Yuzawa station. From there, it takes about 40 minutes by shuttle bus (1,000 yen one-way, including tax). If you want to be more efficient with your time, use the shinkansen.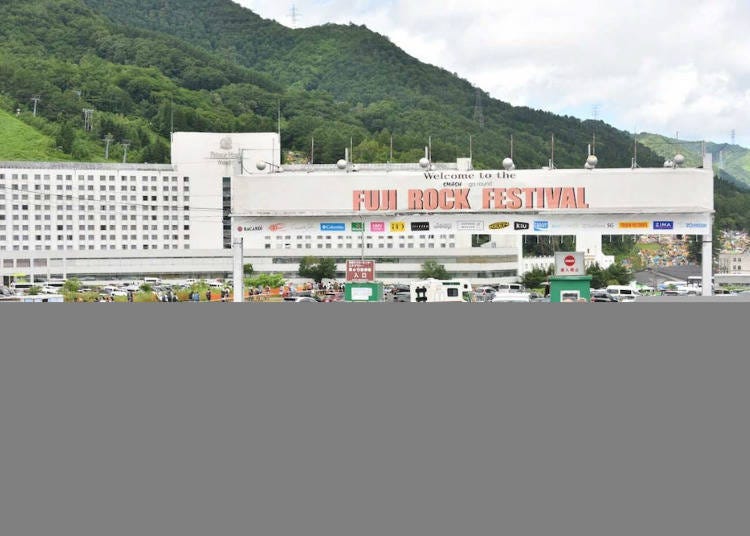 Traffic jam by the festival venue. Image courtesy of Fuji Rockers.org
c. Rental car
If you are with a large group and/or carrying around a lot of luggage, you may want to use a rental car. It's easy to move around, but it takes 3-4 hours from Tokyo, and a special parking pass (4,000 yen, including tax, per day) is also required. When it comes to transportation, plan ahead based on your priorities and funds.
4. Local services and food at Fuji Rock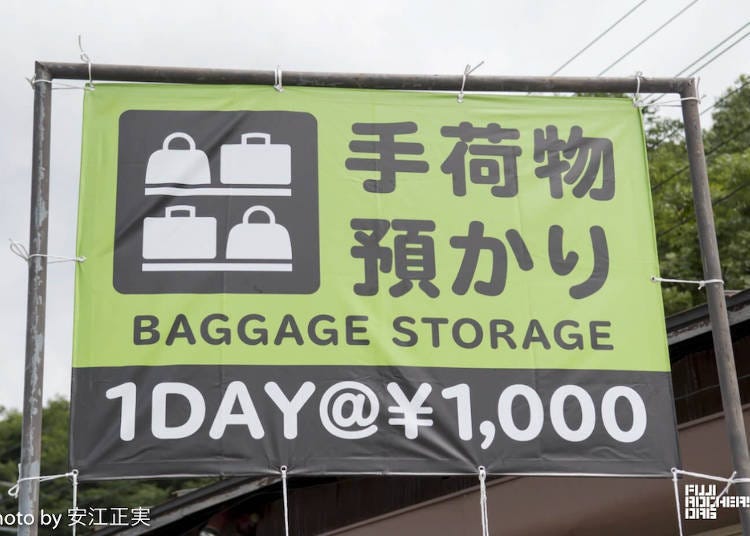 Baggage storage at Fuji Rock. Image courtesy of Fuji Rockers.org
a. Baggage Storage
The festival will be more enjoyable if you prepare beforehand and plan your luggage accordingly. Close to Echigo Yuzawa Station, there are lockers and other facilities where you can store your belongings. Still, we recommend the storage facilities within the festival grounds. They go for 1,000 yen/day (tax included), but you can freely access your luggage at any time and, since it will be close to everything else, they are more convenient.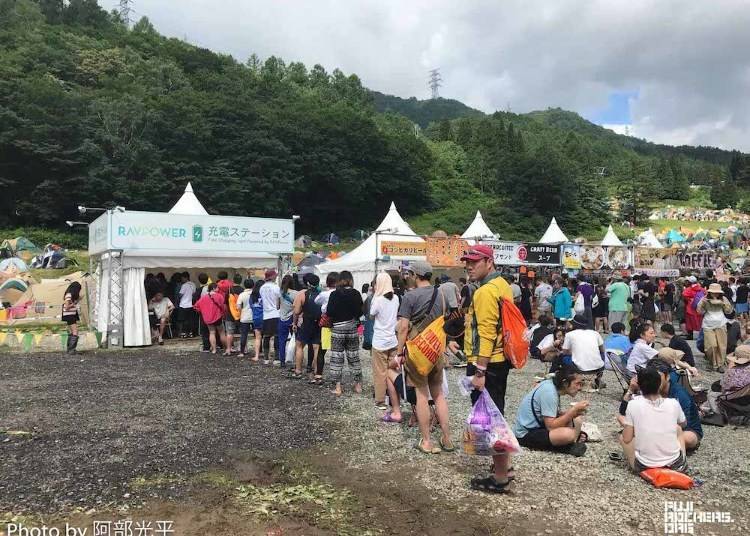 Lining up at the charging station. Image courtesy of Fuji Rockers.org
b. Free charging station
Also, if your phone or other devices run out of battery, don't worry! You won't have to miss out on your snaps for social media. In the camping area, there are free charging stations for everyone to use. With RAVPower's rapid wireless charging, you can charge around 50% of your battery in about 30 minutes.
However, if you don't want to deal with the hassle of having to drop in every time you run out of battery, make sure to have a portable phone charger on hand (very useful when camping).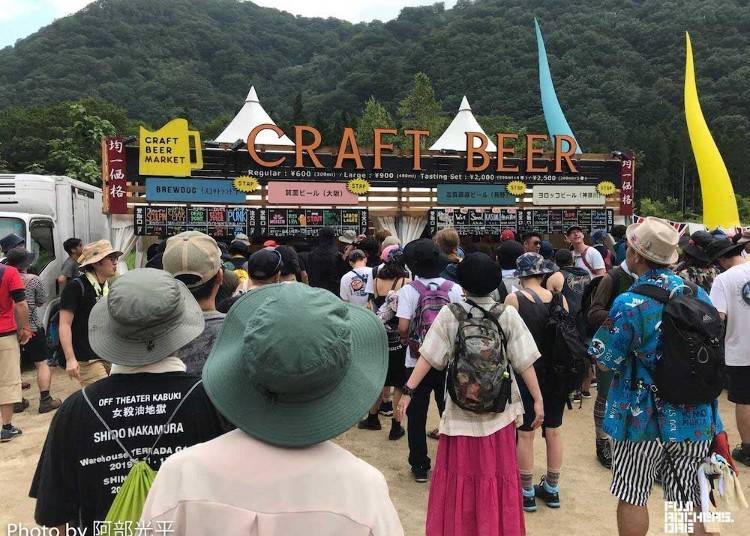 Craft beer stand at Fuji Rock. Image courtesy of Fuji Rockers.org
c. Food and drinks
One of the best parts of Fuji Rock is the "Fest Food," where you can enjoy delicious dishes and drinks. One-hundred stands are serving a variety of food in several areas inside and outside of the festival grounds. It's fun to even just get a beer and walk around to see what else the festival has to offer. You will find sake, as well as other drinks, but be careful not to drink too much alcohol, as it can cause dehydration and lead to heatstroke.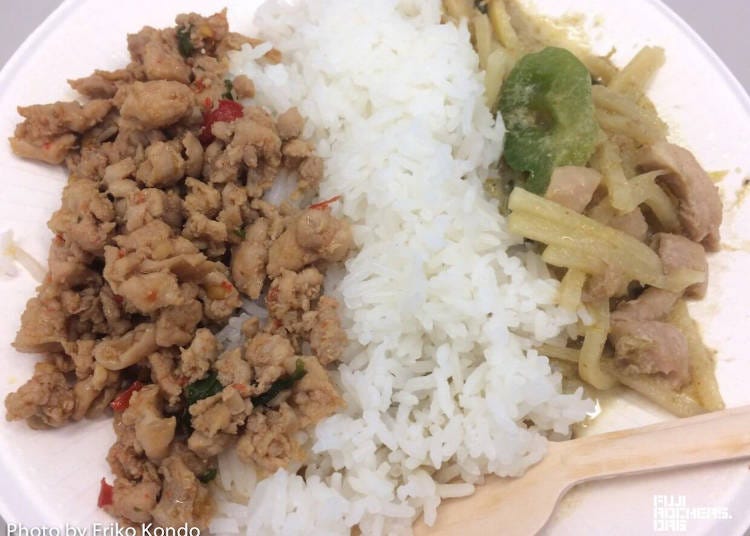 Example of a dish (twin bowl of green curry and gapao rice). Image courtesy of Fuji Rockers.org
The food is an eclectic mix of Japanese and Western flavors, and there are a wide variety of dishes, from traditional ones like ramen and curry, to others that you may have never heard about. Some people enjoy food more than they do music, and here they will be happy, since many restaurants offer amazing eats!

At Fuji Rock, you can bring in your own food and drinks (although cans and glass containers are not allowed). However, since it can get hot during the day, avoid perishable goods like chocolate. If you bring tea or sports drinks, we recommend freezing them, so they can stay cold for longer.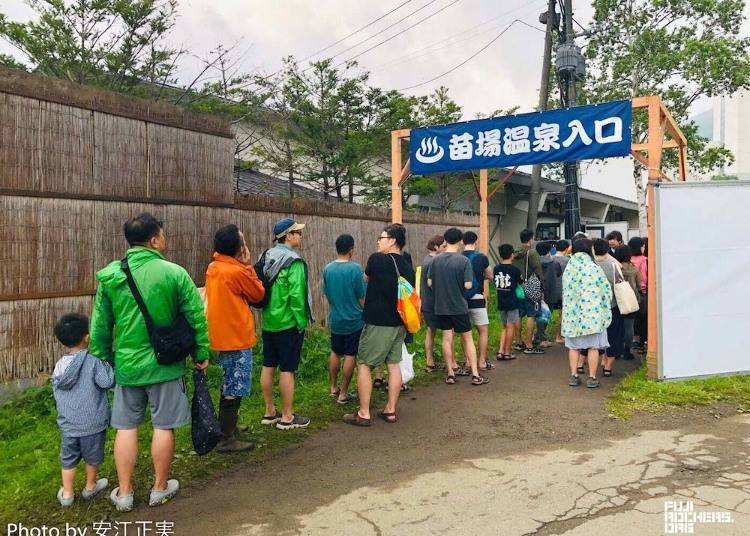 Entrance to Naeba Onsen. Image courtesy of Fuji Rockers.org
d. Naeba Onsen
We also recommend taking a soak in the hot spring after sweating at the festival. Naeba Onsen is within the grounds, and it can be entered with 500 yen, including tax, and it's popular among foreign visitors. However, it's very crowded, so if you mind waiting, you can use the free showers. Plus, there are hot springs at hotels and inns outside the festival, and some of them also accept visitors just for the hot springs during that period, so feel free to check them out.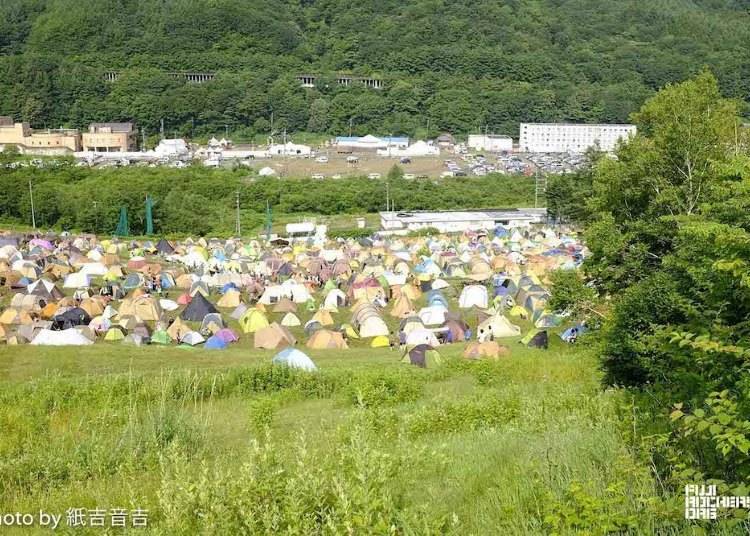 Camping grounds. Image courtesy of Fuji Rockers.org
When it comes to deciding where to stay during such a long festival, it's always better to plan ahead. The best options will be a nearby hotel, or a tent to pitch at the festival's campsite. The surrounding hotels, inns, and guest houses will make for a more comfortable stay. Still, they will be completely booked early on, so if you decide to attend Fuji Rock, start by finding accommodation.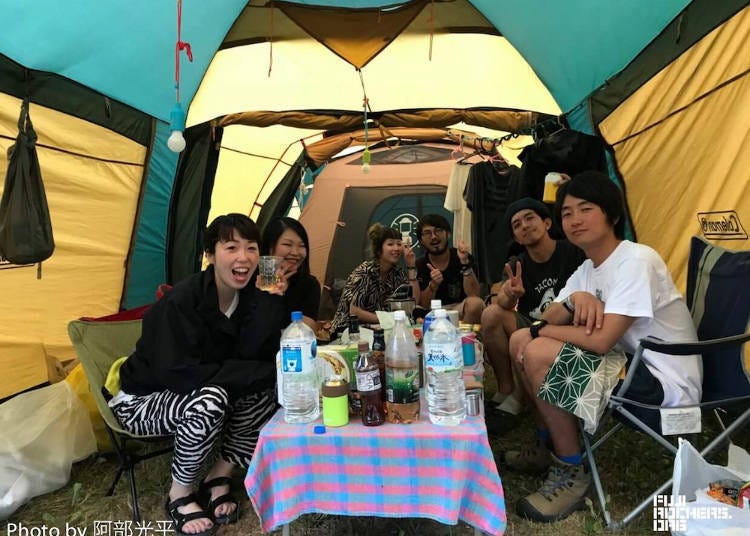 Participants enjoying camping. Image courtesy of Fuji Rockers.org
To use the camp, you need a campsite ticket (4,000 yen/person, including tax). Camping is recommended if you want to spend time with your friends at a lower price, but if you want to secure a spot near where the concert is, be sure you get there early. Keep in mind that there will be no tents of camping equipment available for rent, so bring your own. "Ganban" offers tent rentals ahead of time, but not during the festival days.


Outdoor Festivals always come with some trouble and discomfort. Still, there are many things that you can do to make sure that your experience is as enjoyable as it can be. Many people reading this are probably looking to experience Fuji Rock for the first time. So make sure to also check out the official website, follow proper manners and rules, and enjoy Fuji Rock to the fullest.

For more information on Fuji Rock 2022 and other details, please check the official Fuji Rock Festival website, with support in multiple languages.

Text by: Tsubasa Shimoda

*The above article is based on information from June 2020
フジロックフェスティバル

Address

202 Oaza Mikuni, Yuzawa-machi, Minamiuonuma-gun, Niigata 949-6212, Japan
*This information is from the time of this article's publication.
*Prices and options mentioned are subject to change.
*Unless stated otherwise, all prices include tax.