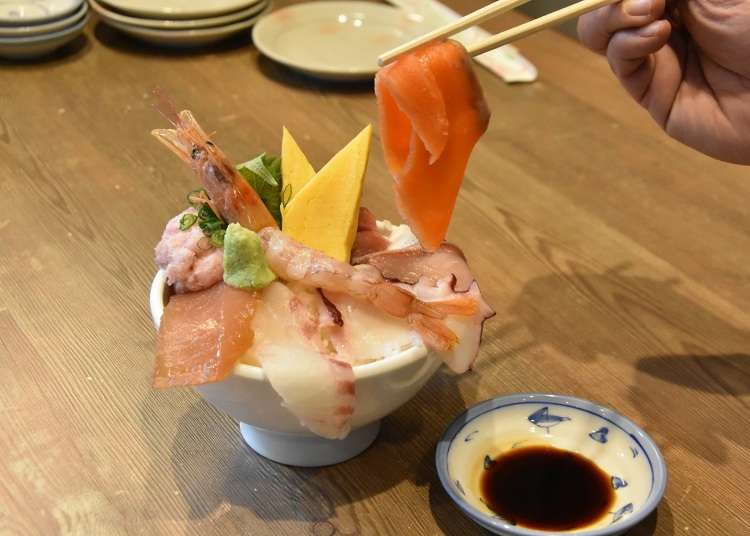 Miyagi Prefecture is home to one of the world's top three fishing spots - the Kinkasan-Sanriku fishing grounds. Not far away is the capital city of Sendai, and as you might imagine, the incredibly fresh and beautiful seafood is a must-try when visiting the area!

A recommended seafood shop near Sendai Station is Osakana Center Ichinoichi. It's usually packed with visitors as it offers top-quality seafood at unbelievably reasonable prices! And of course, many visitors can't help but share it with their socials. Here we will introduce their popular seafood bowl that overflows with toppings.
Osakana Center Ichinoichi: Enjoy a variety-filled seafood bowl right by Sendai Station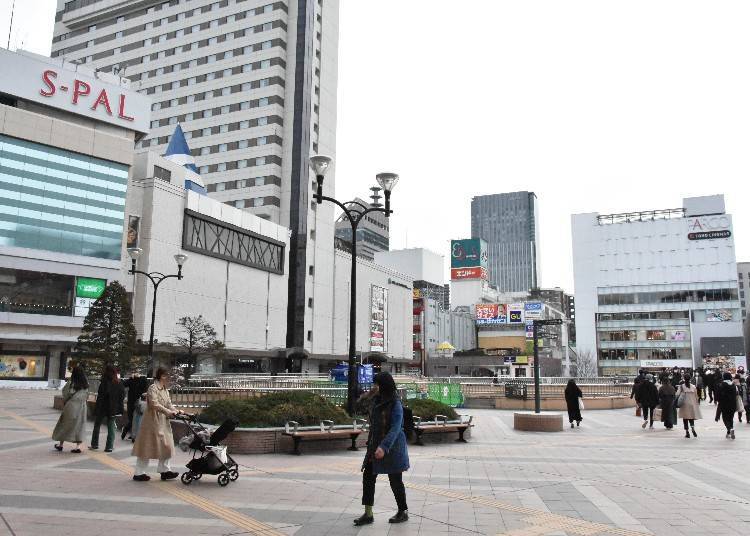 Once you exit Sendai Station's West Exit on the second floor, make your way towards Hotel Metropolitan Sendai on your left. From here, walk down the stairs of the pedestrian deck.
After leaving Sendai Station's West Exit and taking a left at Hotel Metropolitan Sendai, Osakana Center Ichinoichi can be found a mere 140-meter (5-minute) walk straight ahead!

Inside the market, you can find a shop called Aoya which offers a variety of farm products, ready-made dishes, and bento boxes.

Additionally, at the restaurant inside, you can enjoy some drinks with fresh seafood dishes such as sushi and seafood bowls as well as hamayaki - lightly seasoned and broiled seafood!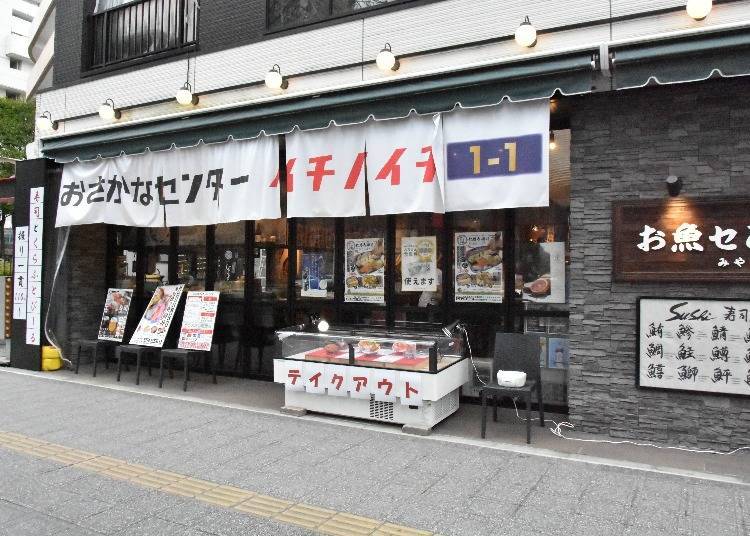 The shop located on the first floor of Aoya.
Since it offers outstandingly fresh seafood at reasonable prices, you'll find a range of customers, from business people to tourists, on any day of the week!

Another feature that adds to the shop's popularity is its easy-going atmosphere reminiscent of an izakaya (casual Japanese pub).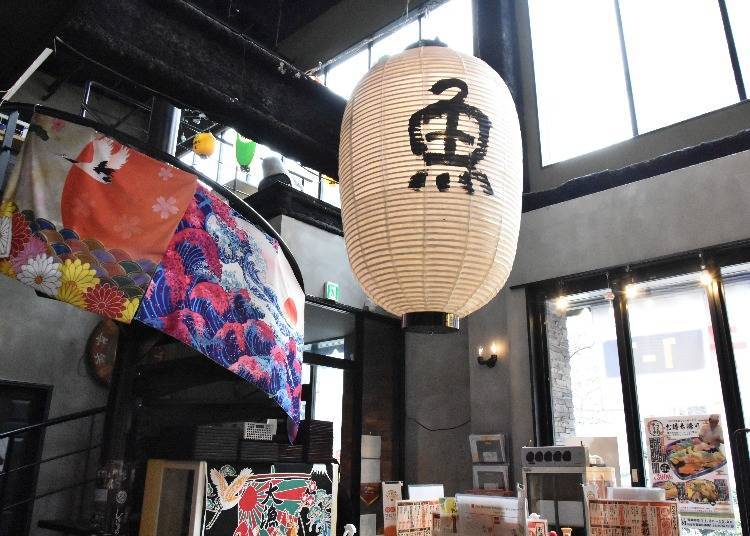 A large lantern greets you.
Once inside, you're greeted by a large lantern with the Japanese kanji character for 'fish (sakana)' painted on it! Also decorating the shop is a fishermen's banner generally used by fishing boats to let ports know of their great catch.

On the shelves, you'll find daruma (red-painted good luck dolls) and Japanese woodblock prints, all lending to a unique, 'only in Japan' atmosphere! With so much to offer, there's no doubt you'll want to snap some photos.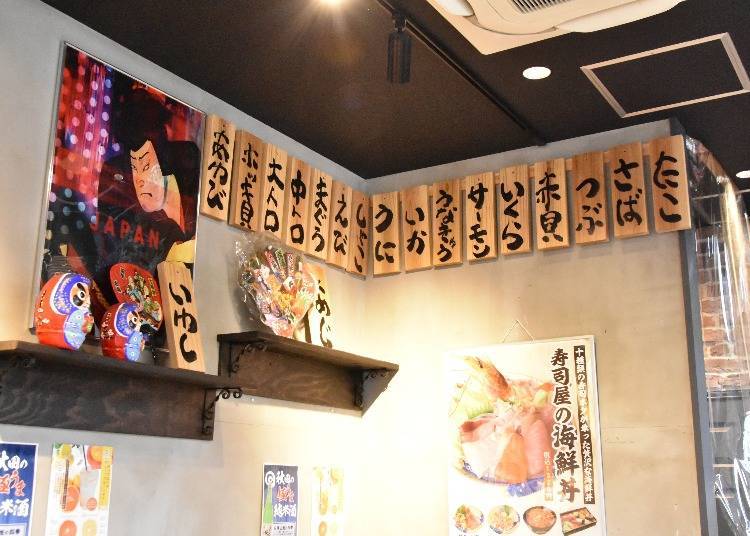 On the shop's walls, there are wooden tags with the names of sushi toppings listed.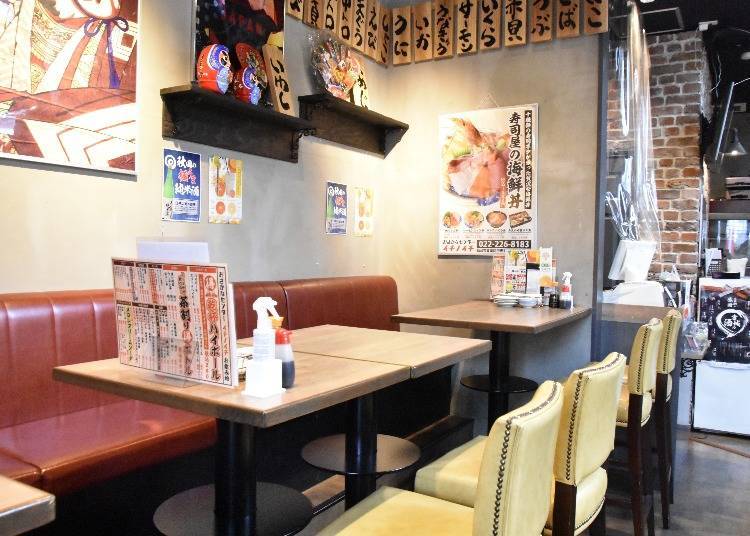 Both the first and second floor offer table seating.
The shop has two floors and a total of 70 seats. Besides the counter stools, where you can comfortably dine alone, the shop offers table seating. Each table has a menu; orders can be made by calling staff over. Although there isn't an English menu, English-speaking staff can assist you any time!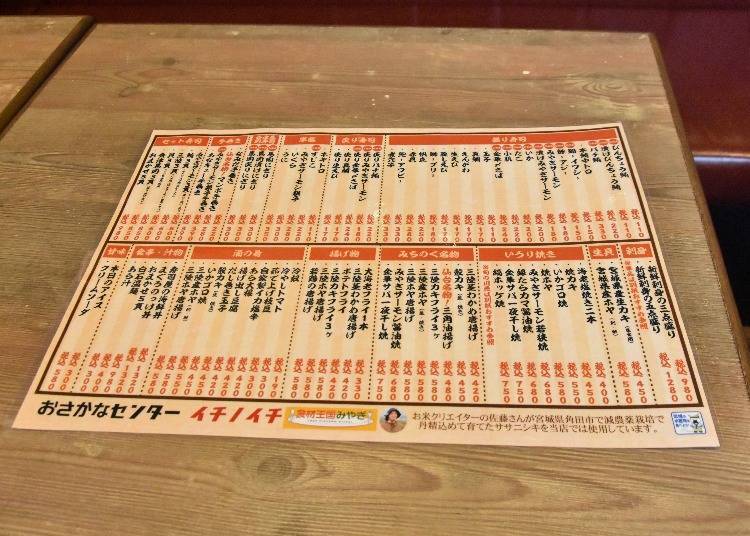 The menu is extensive-with options such as nigiri (salty vinegared-rice topped with seafood), seafood bowls, Japanese fried chicken, and hiyayako-(chilled tofu with various toppings).
Toppings in this visually stunning seafood bowl spill over!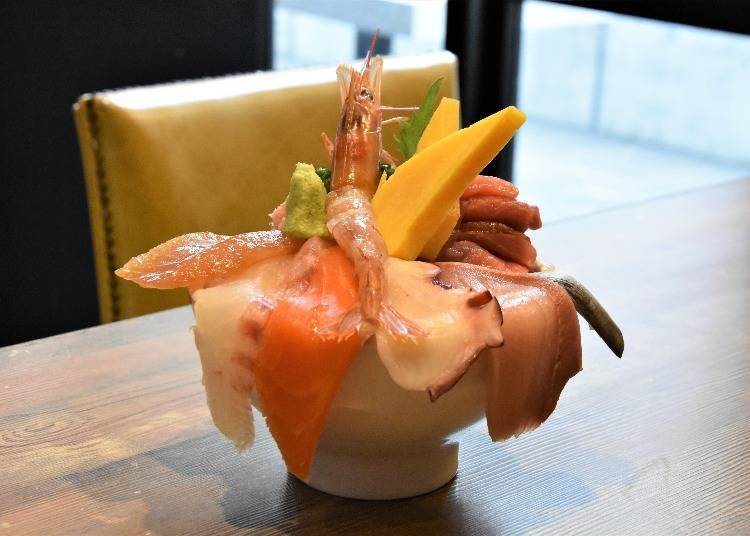 Sushi Shop's Seafood Bowl (1,320 yen, limited numbers of bowls with small side dishes are available during lunch for 950 yen)
We ordered the shop's specialty called the Sushi Shop's Seafood Bowl.

When served, we couldn't hide our surprise as the toppings were practically spilling over! Though said to change depending on the season, this dish offers ten delicious fresh ingredients.

On the day of our visit, we had a bowl filled with tuna, sea bream, salmon, octopus, yellowtail, gizzard shad, whiskered velvet shrimp, minced tuna, chopped tuna chunks, and a rolled omelet.

Everything is undeniably fresh, with most ingredients being directly shipped by fishers at Miyagi Prefecture's famous ports. This includes Ishinomaki City and Onagawa Town.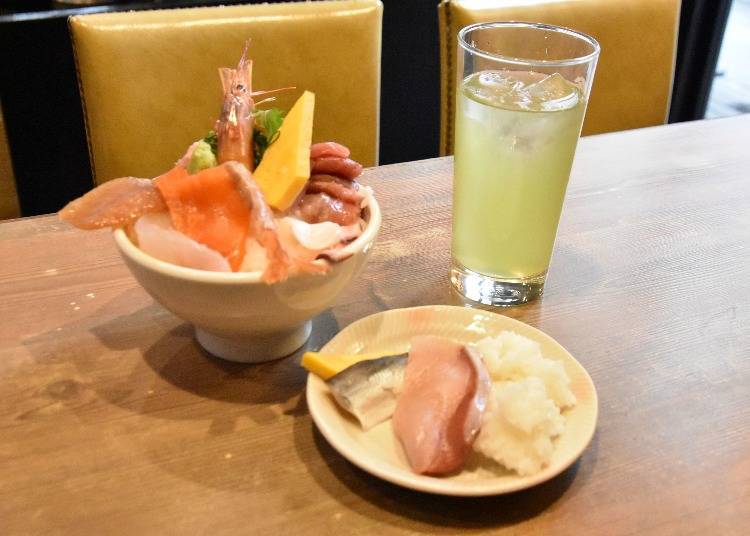 Feel free to ask the staff for extra small plates.
Actually, it's so topping-filled that you'll struggle to reach the rice! According to shop staff, most customers place toppings on a separate plate to enjoy with some wasabi and soy sauce. However, you have the option to enjoy this dish any way you like! Some customers just pour soy sauce over the bowl and dig in!

Upon taking a bite, you'll be astonished at how big each topping is. To make its customers happy, the shop is exceptionally generous in preparing the portion sizes. So much so that even some of the biggest eaters have difficulty finishing everything!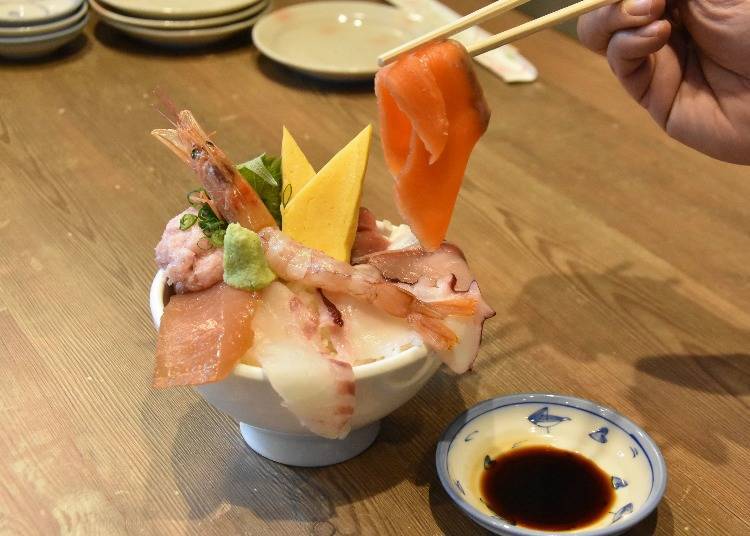 Since wasabi has quite a kick, it's placed separately so that you can adjust how much goes into the soy sauce.
Though all ingredients are of the highest quality, the flavors of Miyagi Salmon, a top salmon brand from Miyagi Prefecture, are absolutely superb!

Due to using techniques called shinkei-jime or ikejime to preserve the freshness of the meat, this salmon has a rich sweetness and melty texture. Generally, it's said to be in season from March until July, but Sendai offers it year-round.
Nigiri topped with large portions of Sanriku seafood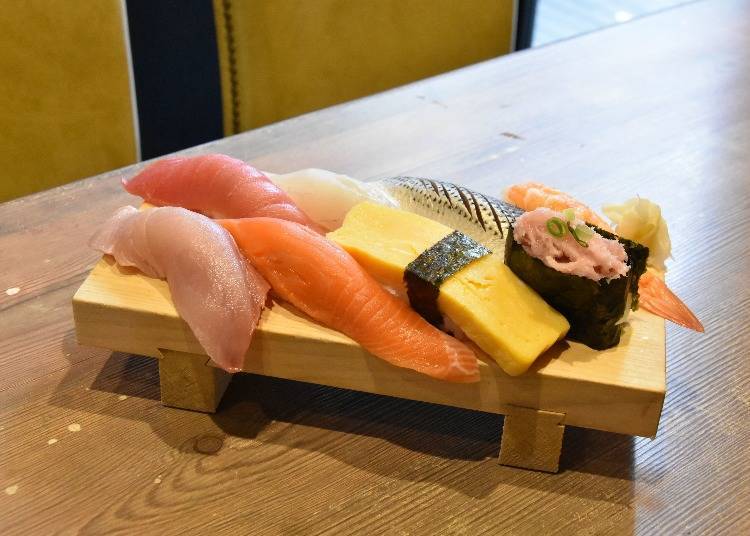 Eight-Piece Chef's Choice Nigiri (1,150 yen, comes with side dishes, only available during lunch hours)
For visitors to Japan who want to enjoy standard nigiri, we recommend the Eight-Piece Chef's Choice Nigiri.

This is a standard sushi platter that offers delicious seafood toppings of the season. Served with small side dishes, it costs a very reasonable 1,150 yen.

Since ingredients are shipped directly from fishers in Ishinomaki and Onagawa, you can expect everything to be incredibly fresh! To add to the enjoyment, the shop is also working on adding hamayaki to its menu. With chefs offering to grill seafood at their customer's tables-this is a dish many are looking forward to.

At Osakana Center Ichinoichi, English-speaking staff are available. Even staff who don't speak English are known for their friendly service! Make sure to stop by when you're in Sendai City.

Health & Safety Measures
Indoor disinfection measures taken - Sanitizer installed - Disinfected after each guest leaves - Ventilation measures in place - Coin trays used - Plastic partitions installed - Staff wear masks, gargle, wash hands regularly, and monitor body temperature - Entry declined to anyone who is feeling unwell - Masks required/temperature check enforced
Osakana Center Ichinoichi

おさかなセンター イチノイチ

Address

1&2F, 1-1-5, Chuo, Aoba-Ku, Sendai, Miyagi 980-0021

Phone Number

022-226-8183

・Hours: 11:30 a.m. - 2:30 p.m. (time for last orders); 5:00 p.m. - 10:30 p.m. (time for last orders)
・Closed: Mondays
Text by: ShoePress

*The information in this article is current as of May 2022. Please check the official website for the latest information.
*This information is from the time of this article's publication.
*Prices and options mentioned are subject to change.
*Unless stated otherwise, all prices include tax.