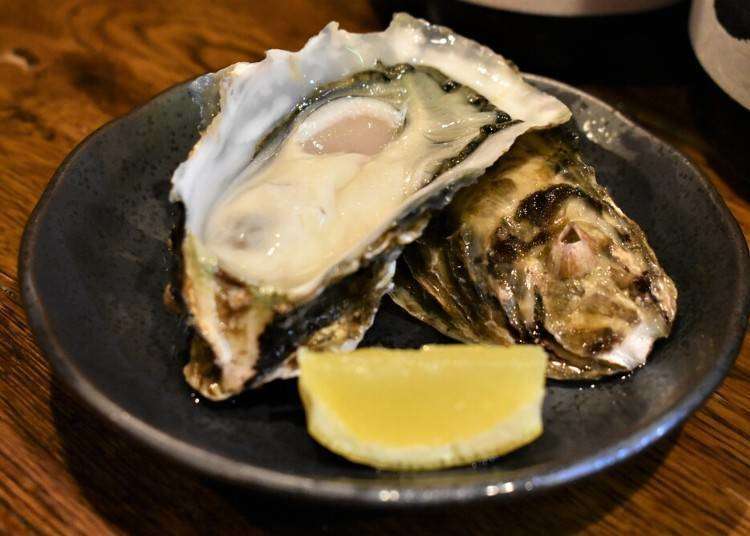 One of the key aspects of travel is visiting the eateries and shops, as the locals do. When visiting Sendai, you can't miss Iroha Yokocho, lined with many small shops and eateries, and bustling with both locals and sightseers on weekend evenings.

This time, we'll be exploring Iroha Yokocho and giving three recommendations that you can light-heartedly enter for a taste of Miyagi Prefecture, which Sendai is in, and other food and drink that is famous throughout the Tohoku area.

From stand-and-eat bars serving Miyagi's famous oysters to restaurants using only the finest produce from Tohoku, you'll be sure to have a great evening in Sendai!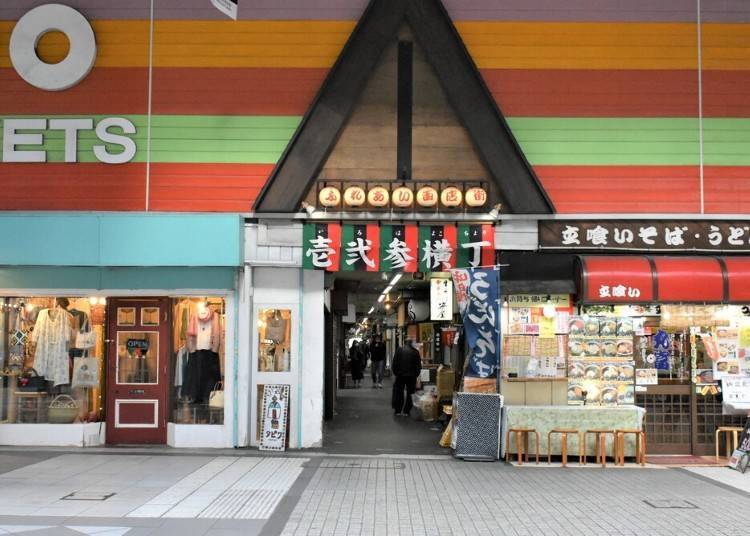 One station away via the Sendai Subway Tōzai line from JR Sendai Station, alight at Aoba-dori Ichibancho Station and you'll walk right into the arcade street, Sun Mall Ichibancho.

In this arcade street are two alleys, Iroha Yokocho and Bunka Yokocho.

Iroha Yokocho, which we will be introducing this time, was created in 1946 at the former site of the Chuō-Kōsetsu market. Now, the area consists of two alleys, with over 100 shops, restaurants and eateries all lined up side-by-side.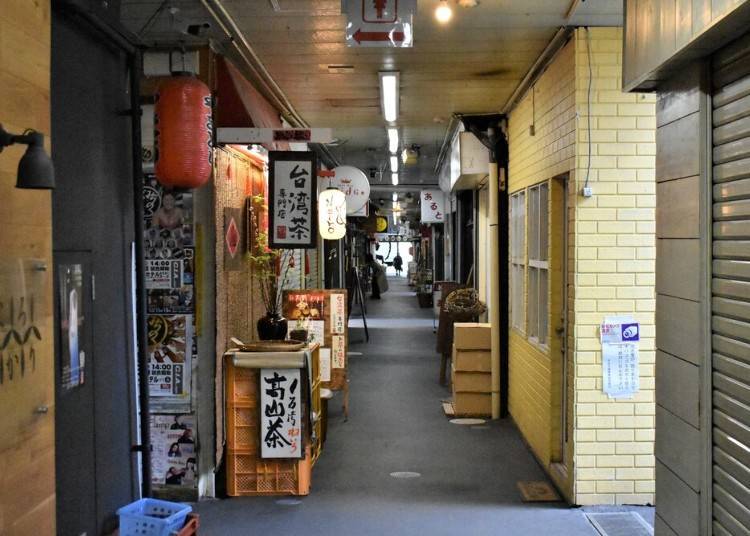 The word "yokocho" has a negative connotation in Japanese, bringing up images of unrest and danger. Still, it's not like that at all here. Once you've set foot inside, you'll find that the shops are cozy and safe places, with many warm and friendly staff.
1. Kakigoya Rocco: Feast on oysters and Japanese sake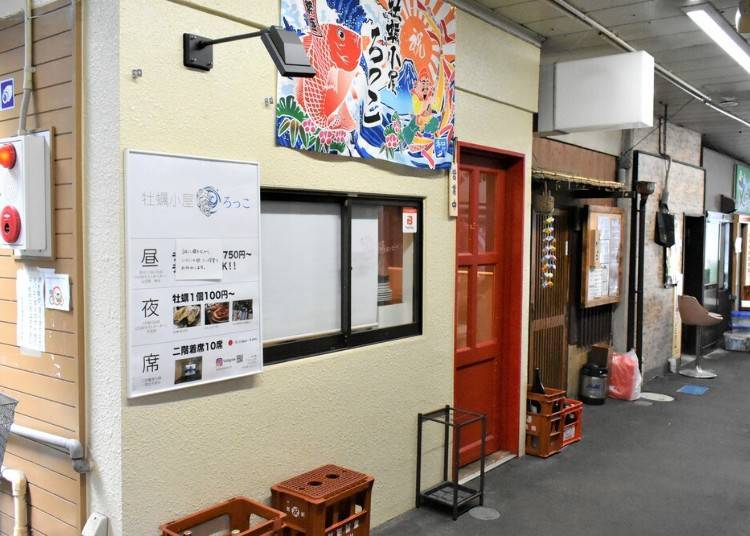 Once you've entered Sun Mall Ichibancho from Aoba-dori, head straight into the deepest block of the first street of Iroha Yokocho, and you'll find on your left side the stand-and-eat bar, Kakigoya rocco. Once you've entered through the bright red door, you'll find the front of the counter lined with fresh oysters! It's an incredible sight that you can't tear your eyes away from.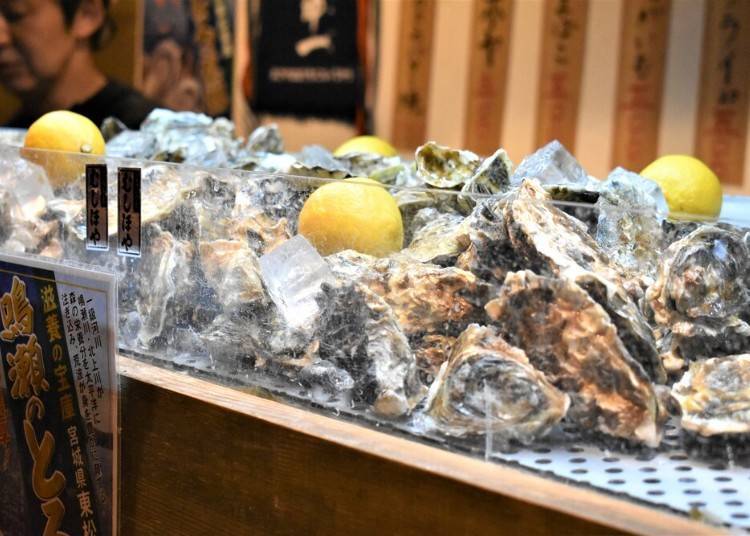 Miyagi Prefecture is the largest producer of oysters in Japan. At Kakigoya Rocco, the restaurant gathers the tastiest Miyagi oysters from different ports and suppliers in Miyagi Prefecture throughout the year, allowing you to taste delicious oysters regardless of the season. And then, there's the surprisingly affordable price tag. Fresh oysters go for just 110 yen each (with tax), allowing you to eat your fill at a reasonable price.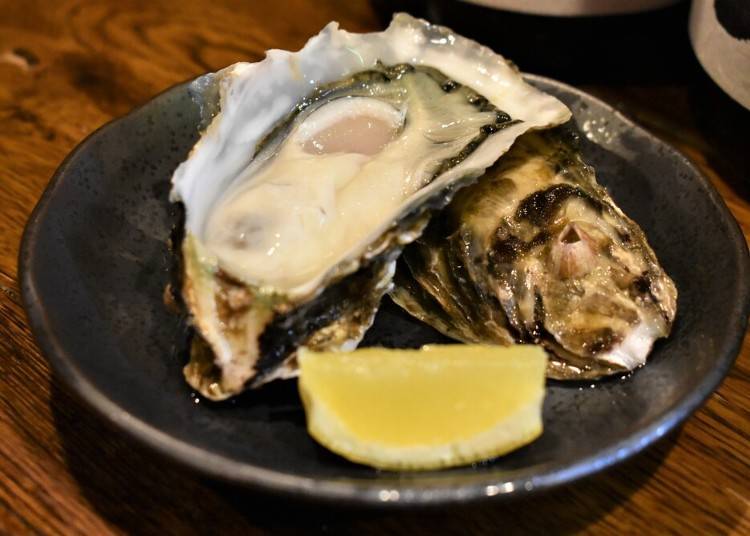 First, we tried the standard raw oysters (110 yen each, with tax). We squeezed some fresh lemon onto the small but flavorful oysters from Higashi-Matsushima, and ate it in one bite. The raw flesh is smooth and velvety and smells irresistibly like the ocean.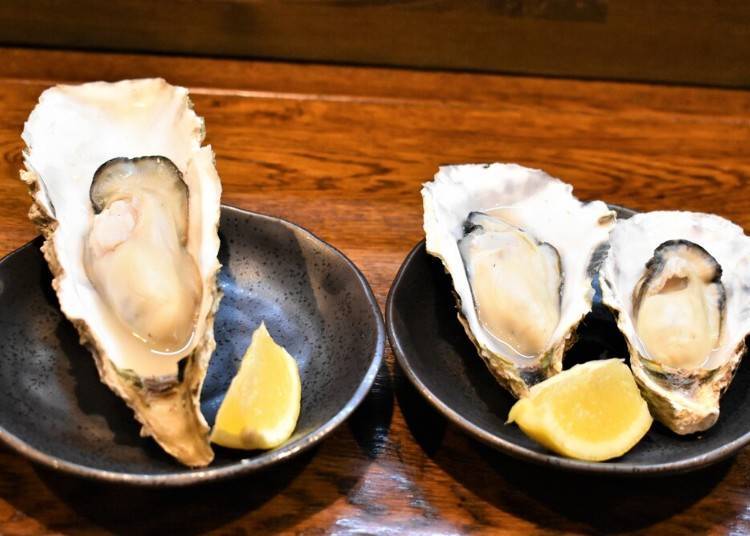 Next, we had some steamed oysters (picture right, 110 yen each, with tax). The flesh is firm after being steamed and allows you to enjoy a different mouthfeel from the raw ones. As we were keen for more hearty offerings, we ordered the "Ogatsu Extra-large Oysters" (picture left, 550 yen each, with tax) as well. It's twice as large as your regular oyster and is more than enough to satisfy your cravings.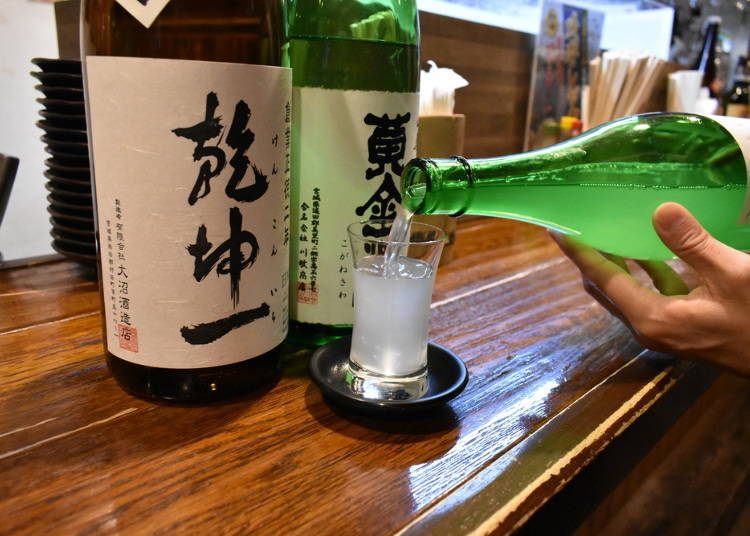 To enjoy your oysters to the fullest, pair it with Japanese sake. The shop offers more than ten varieties of Japanese sake, mainly from the Tohoku region (770 yen per glass, with tax). The sake is available via self-service. Be careful when filling your glass, as there is an additional charge if your glass overflows onto the table!
Our total bill came to about 2,000 yen per person, for five oysters at 110 yen each and two glasses of Japanese sake per cover. The shop uses a one drink, one food system, which requires each drink order to be accompanied by a food item.

As most of the staff are friendly, you can enjoy your food without worry even if you can't speak Japanese. It can get quite crowded on weekends, so it's best to either make a reservation or head down at the opening time.
牡蠣小屋rocco

Address

Iroha Yokocho, 2-3-30, Ichibancho, Sendai-shi, Aoba-u, Miyagi-ken, 980-0811

Phone Number

080-9632-8273

Business hours: 5:00 p.m. to 12:00 a.m. (Last order at 11:00 p.m.)
Open all year round
2. Vacanze: South Italian cuisine using ingredients from Tohoku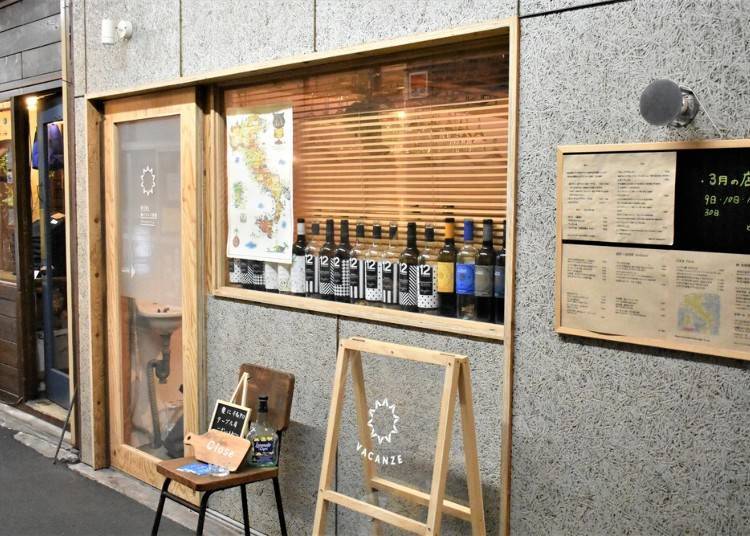 One block before Kakigoya Rocco, is a shopfront lined with wine bottles, signaling where Vacanze, a restaurant serving South Italian fare, is located.

Watanabe Daisuke, the owner of the restaurant, tells us, "Sendai is where the tastiest food and ingredients of Tohoku is gathered. Using the simple cooking style of South Italian cooking, I hope that everyone can taste the fresh and natural taste of the ingredients used." He goes to the market every day to select only the finest ingredients to use in his cooking.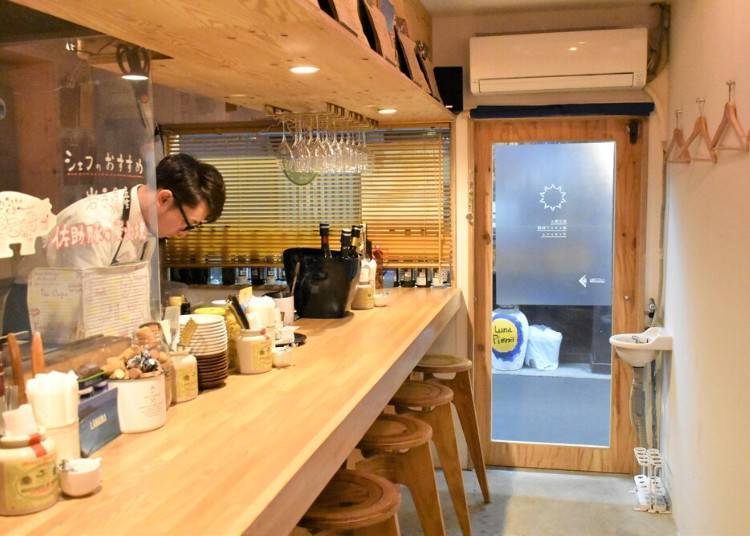 The shop mainly uses wooden furniture and surfaces for a natural atmosphere, with the counter as the centerpiece. With just ten seats available, it's best to make a reservation if you're going down on Friday or Saturday. With about 3,500 yen, you can have two glasses of wine and two dishes.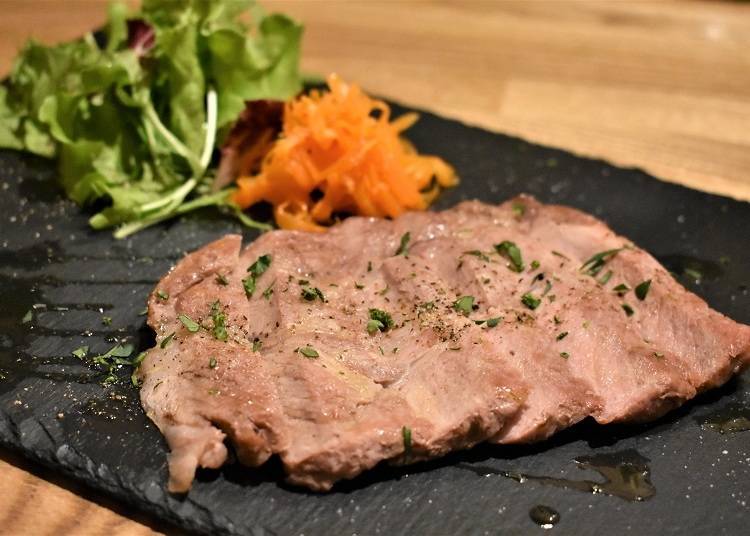 Mr. Watanabe's recommendation is the "Iwate Sumbiyaki Sasuke-buta", a dish of charcoal-grilled Sasuke pork from Iwate Prefecture, for 1,518 yen (with tax). Sasuke pork is a special export of Kuji Farm in Ninohe City in Iwate Prefecture, renowned for its fine meat quality, strong sweetness, and absence of a gamey odor. Mr. Watanabe is absolutely in love with this meat and orders it directly from the farm.

As the Sasuke pork is grilled over charcoal, it is seasoned simply with salt, pepper, and olive oil. The fragrance of the charcoal is complemented by the mildly sweet salt from Sicily, bringing out the flavors of the pork. The dish is topped with Italian parsley, a refreshing flavor that's perfect for the pork.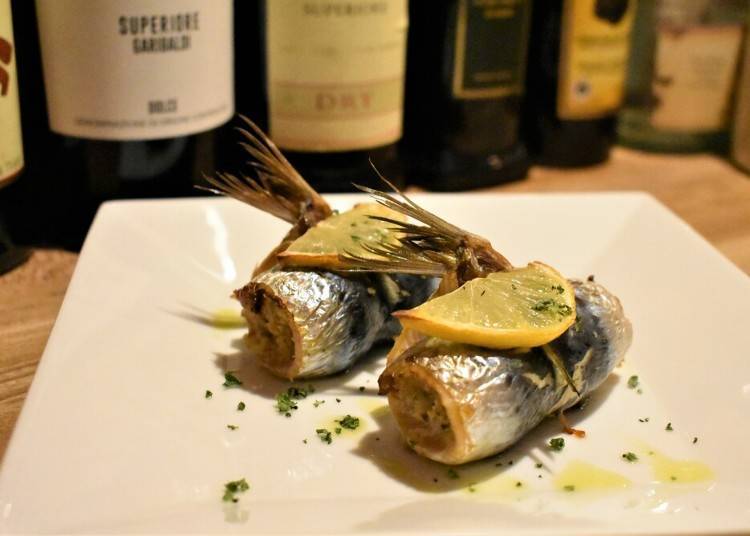 The "Iwashi-no-Beccafico," or Sardine Beccafico, at 748 yen (with tax), is a dish of shredded anchovies and olives, mixed with bread crumbs and wrapped in sardines, then grilled. The outside is crisp, while the inside has a soft and fluffy texture, with the lemon slice on top of the sardines giving this dish an accented flavor.

The sardines used are caught from the ports nearby and are so fresh that you can barely smell the characteristic sharpness of blue-backed fish, making for an easily palatable dish. The dish is lightly salted and goes well with some alcohol.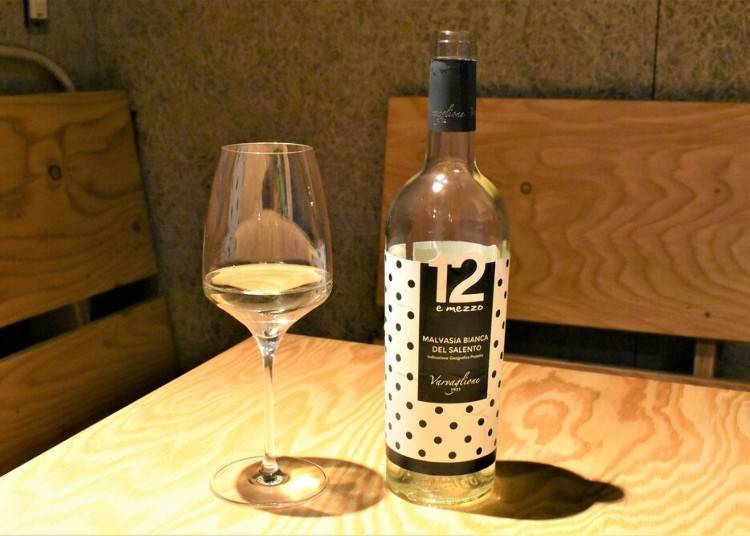 There are typically about 60 varieties of wine in the wine cellar. The wine of the day is a white wine from Puglia, Italy, at 715 yen per glass (with tax). The wine has a distinctively fruity and refreshing flavor, making it a great pairing for both fish and meats.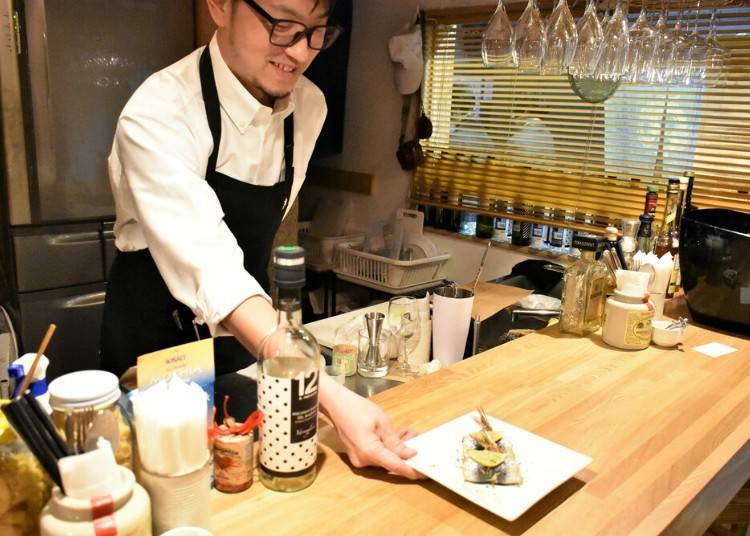 If you would like a wine recommendation for the dishes that you've ordered, do not hesitate to discuss it with Mr. Watanabe, who also holds a sommelier certification. He can speak conversational English too!
Vacanze

Address

Iroha Yokocho, 2-3-30, Ichibancho, Sendai-shi, Aoba-u, Miyagi-ken, 980-0811

Phone Number

022-265-2325

Operating hours: 6:00 p.m. to 12:00 a.m. (last order at 11:00 p.m.), 5:00 p.m. to 11:00 p.m. on Sundays and public holidays (last order at 10:00 p.m.)
Open all year round
3. Sukezō: An izakaya with unique and creative Japanese fare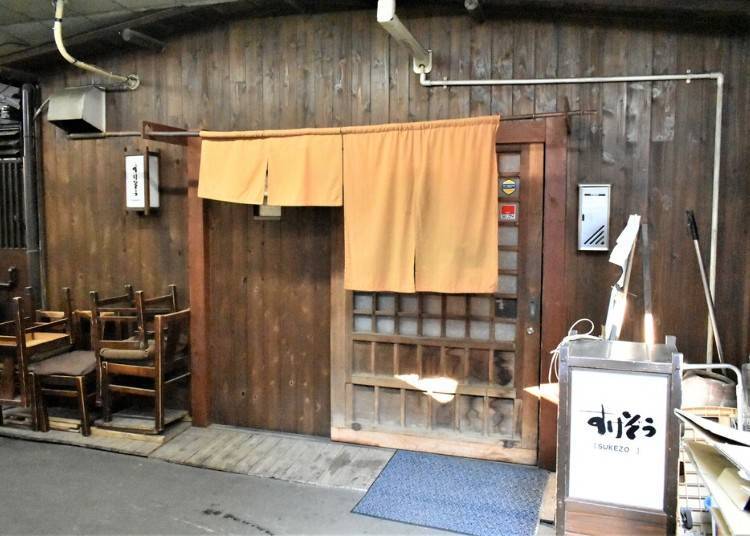 Upon entering Sun Mall Ichibancho from Aoba-dori, head down the second street of Iroha Yokocho, and turn right at the fifth block. The third shop on your left will be the izakaya, or Japanese style diner, Sukezō. First opening its doors in 1988, it is a shop with a long history that has welcomed long-time customers from all throughout Japan.

The owner, Mr. Awano Sukezō, makes the dishes, and his stringent standards when picking ingredients ensures that only the freshest food is used, allowing the natural flavor of the ingredients to take center stage, with an accompaniment of simple flavors and seasonings. The shop has both counter and table seats, and you can enjoy some alcohol while basking in the warm lighting of the shop.

The day's specials and recommendations are plastered on the walls, and it's fun to choose your dishes while listening to the recommendations of other customers and shop staff.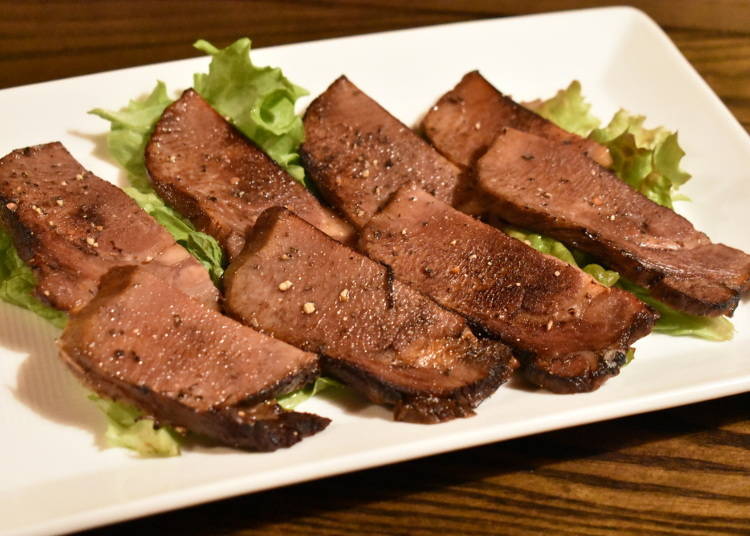 One of the famous gourmet foods of Sendai is beef tongue, also called gyū-Tan. Raw aged beef tongue grilled over charcoal, called "Gyū-Tan Yaki", is the standard way to eat it, but the shop's specialty, "Sukezō Gyū-Tan", boils the beef tongue, before grilling it.

The boiled tongue is marinated in vinegar and soy sauce overnight, allowing the juices and flavors to penetrate deep into the meat. The final product is soft and rich in umami, and is perfect with a beer. Considered a local delicacy, it's popular amongst tourists.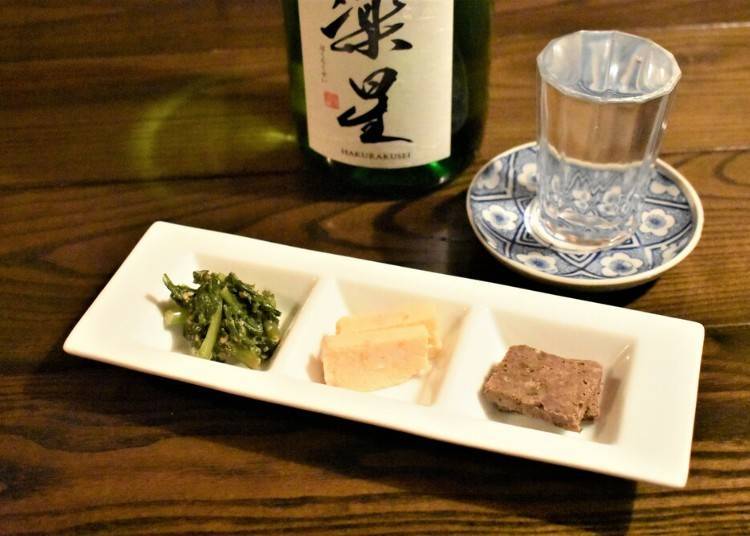 The "Otōshi San-ten-Mori", at 770 yen (with tax) is a taster of three appetizers and is one menu item best enjoyed with some Japanese sake. Using only the finest ingredients, you can taste three unique and elaborate flavors.

On the day we went down, the three dishes in the set were "Shungiku-no-Gomaae", which caresses your taste buds with a marriage of sesame and chrysanthemum flavors; "Ebi-no-Shinjō", which has a light and fluffy texture; and "Gyū-Tan-no-Cheese-Katame", which includes spicy cumin seeds inside. Any of the three would go well with some alcohol, so why not savor each one bite by bite as you accompany it with some Japanese sake?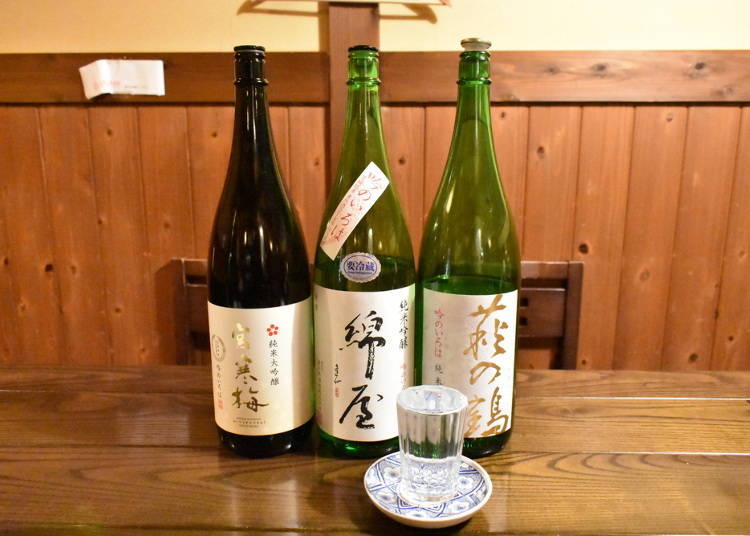 Besides gourmet food, Mr. Awano has his own lineup of Japanese sake. He bought each bottle directly and in-person from sake shops, and has everything from famous sake to rarer and more valuable sake varieties, for a total of over 70 bottles of sake available at any time.

If he can't find the brand he wants, Mr. Awano has hunted his target down across numerous shops as well. Besides this, the wine is managed so that they are consumed as quickly as possible once opened, to ensure that the sake is finished while still in its most delicious state.

Starting from just 660 yen (with tax) per cup, even the rare wines are available at a reasonable price for customers to enjoy, making it a popular place for sake enthusiasts throughout Japan to visit. Mr. Awano's own recommendation is the "Gin-no-Iroha," a rice wine brewed in Miyagi Prefecture. Sukezō has wine from five different breweries, so don't miss the chance to taste and compare them.

Two glasses of Japanese sake and two to three dishes cost about 4,000 yen. As the shop is quite popular, it's better to make a reservation, even on weekdays. Though it can be challenging to communicate at the shop in languages besides Japanese, Mr. Awano and his staff are warm and friendly and will receive you kindly.
すけぞう

Address

Iroha Yokocho, 2-3-28, Ichibancho, Sendai-shi, Aoba-u, Miyagi-ken, 980-0811

Phone Number

022-227-5177

Business hours: 5:30 p.m. to 11:00 p.m.
Open all year round
Besides food and drink, you can have enjoyable exchanges with the shop staff and other fellow customers in Iroha Yokocho. If you're looking for a distinctly local spot, this is the place for you to make some wonderful memories of your trip!

Text by: SHOE PRESs
*This information is from the time of this article's publication.
*Prices and options mentioned are subject to change.
*Unless stated otherwise, all prices include tax.