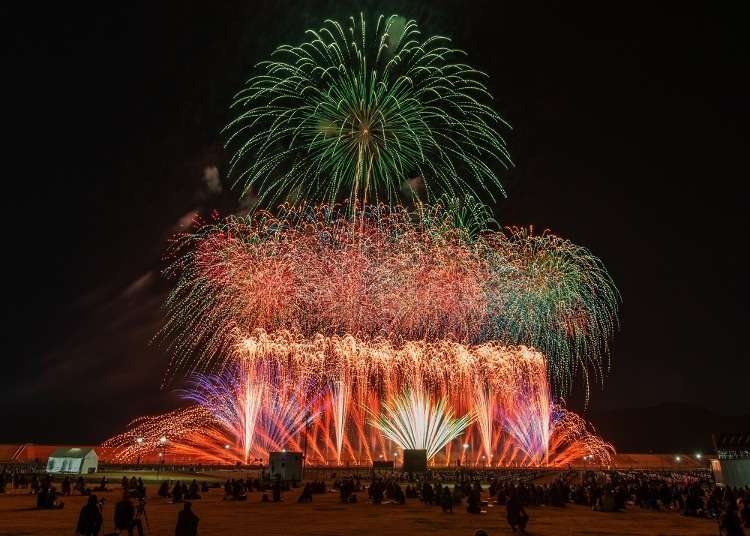 After the rehearsal last year in Iwate Prefecture's Rikuzentakata City, the Sanriku Fireworks Competition will finally be held in 2021!

Adding to the excitement is a new category where pyrotechnicians from a total of 23 fireworks companies throughout Japan will compete to see who has the best skills.

Not limited to fireworks, the event will be further livened by local performances from various groups in the Sanriku area. What's more, at the Sanriku Food Village, you can enjoy a variety of food stalls run by local restaurants.

With the event offering top-tier entertainment in addition to fireworks, we highly recommend you to stop by the city of Rikuzentakata this fall!

Photo Provided By: Sanriku Fireworks Competition Executive Committee
A Fireworks Competition with International Audience Engagement!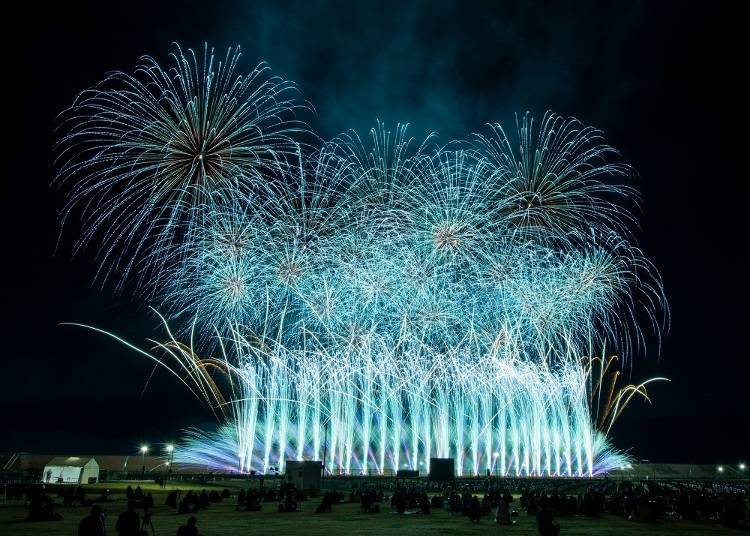 Photo Provided By: Sanriku Fireworks Competition Executive Committee
The rehearsal for the Sanriku Fireworks Competition was held in 2020. With it being a year later, the event has been completely revamped!

A new category has been added where pyrotechnicians from 23 companies throughout Japan test their skills against each other. This category requires all participants to be fairly young as well as up and coming in their field.

Because opportunities for new pyrotechnicians to showcase their ability are so limited, the competition's sponsor hopes it will act as a chance for a lucky few to find future success.

Also, it has been ten years since the Sanriku region was greatly damaged by the Great East Japan earthquake. Although there is some worry that the memory of this disaster will eventually be forgotten, there is a larger feeling of hopefulness that events such as this one will help revitalize the region's economy.

Focusing back on the event, what will sway the result of the competition are votes made by in-person and online audiences. Since the event will be live-streamed on YouTube, people watching from anywhere in the world can easily vote from their phones.

This has caused quite a buzz because, for the first time ever, a fireworks competition is being held where the audience can actively engage.
An Extravagant Finale of Musical Fireworks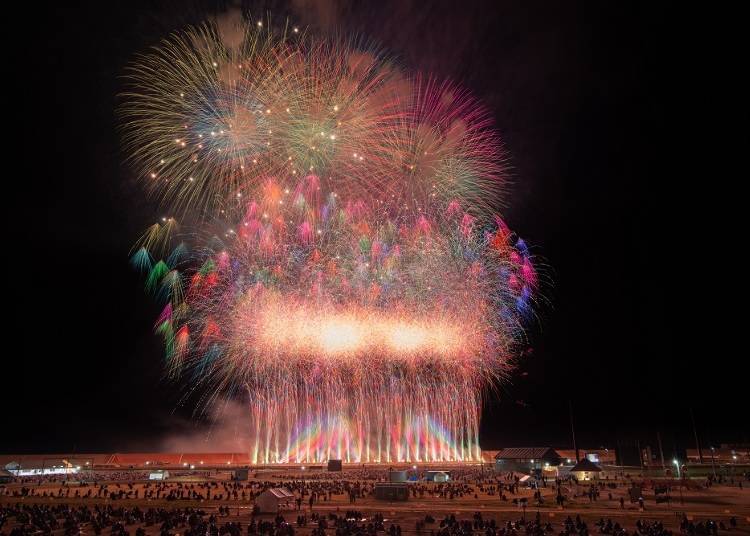 Photo Provided By: Sanriku Fireworks Competition Executive Committee
In continuation of last year's program, this year's competition will be incorporating an extravagant performance in which fireworks explode in time to music. Currently, the 2021 program consists of 14 songs.

This spectacular show of fireworks and music will only be enhanced by the backdrop of Sanriku's vast ocean and romantic night sky. Though the previous program was an hour-long, it has been extended to an hour and a half.

In addition to this, many impactful sanshakudamas - balls of fireworks stretching three meters long, are scheduled to be lifted into the air, guaranteeing an even more enjoyable show than last year. Another great aspect is the range of seating options that have all carefully implemented countermeasures against Covid-19.
Get to the Event Early to Enjoy Food and Entertainment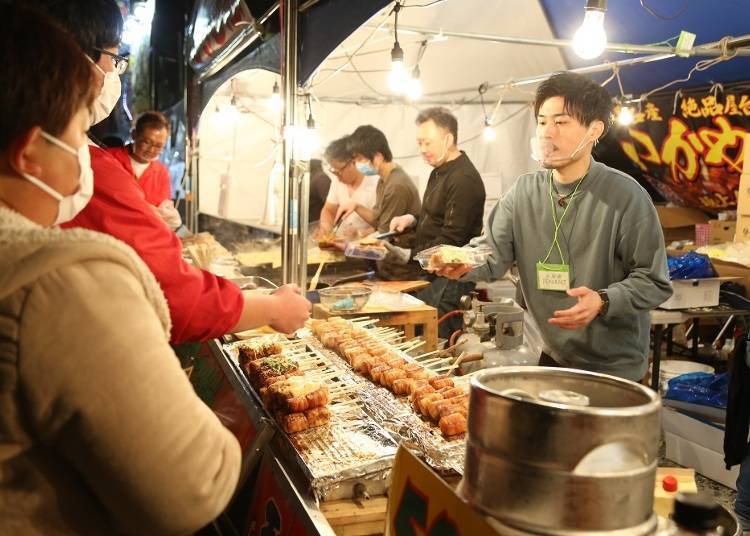 Photo Provided By: Sanriku Fireworks Competition Executive Committee
The Sanriku Fireworks Competition starts at an early 12:00 p.m. and will offer a range of entertaining activities you can enjoy for the whole day. In order not to miss out, we recommend getting to the venue as early as possible.

Held at Takata Matsubara Athletic Park, there will be various folk performances by entertainers from the Sanriku area.

Moreover, at Sanriku Food Village, you can delight in some seasonal dishes provided by local restaurants. During the fall, seasonal ingredients in Sanriku include lots of seafood such as saury, oysters, and salmon.

In addition to this, its also the season where you can get your hands on great quality fruit, rice, and mushrooms. With so much variety, it'll be a treat to see what dishes the food stalls have to offer.
Fireworks Festival with a Ticketing System for All Areas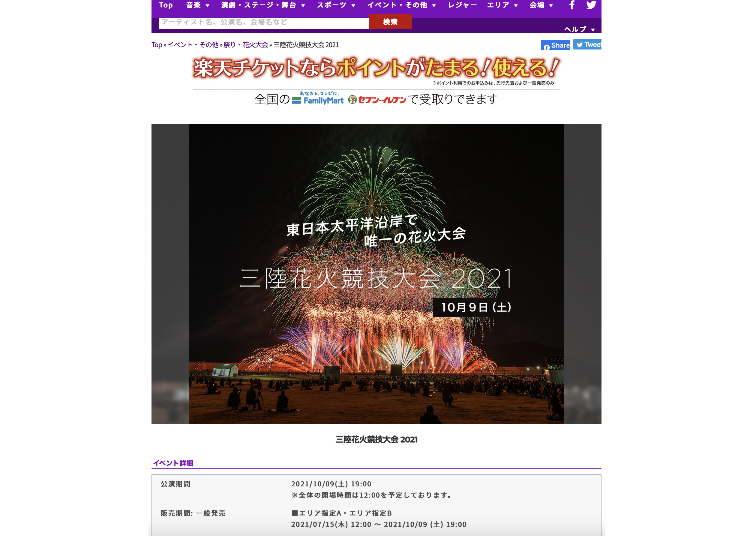 Photo Provided By: Sanriku Fireworks Competition Executive Committee
To attend the event and watch the fireworks, it's required to purchase a ticket. As of now, you can purchase them through the four methods of crowdfunding, Rakuten Ticket, Lawson Ticket, and Ticket PIA (all methods offer guidance in foreign languages).

Another perk is getting several different options for seating. This includes reserved seats; cameraman seats-which are great for taking pictures; excite BOX seats, where you're seated as close to the fireworks as possible; relax BOX seats, where you get your own table; and drive-in seating where you can enjoy the show from the comforts of your car.

Also, there are some other seating options scheduled to be added to the list mentioned above. Because fall in northeastern Japan can get quite chilly, VIP seating will be added-promising to keep you warm and cozy while enjoying the display.

Other options will include campsite seats, where you can enjoy the fireworks in the great outdoors, as well as judges panel seats, which give you an extra special view of the competition.

Following a ticketing system for all areas enables the event to control the number of people attending. This is perfect for those who want to avoid the overcrowded and sometimes uncomfortable seating arrangements regularly associated with firework festivals.
Free Streaming of the Festival on YouTube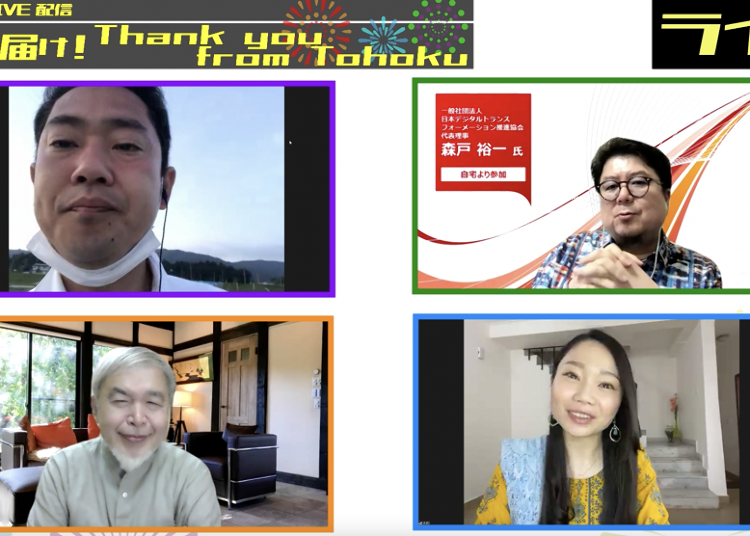 Photo Provided By: Sanriku Fireworks Competition Executive Committee
With the spread of Covid-19, it may not be so easy for foreign guests to attend the event. Consequently, as was done during last year's rehearsal, the 2021 competition will be live-streamed for free on YouTube.

Focusing on the concept and theme of Sanriku bringing joy to the world, the goal is to create something people from all over the globe can watch and enjoy.

The Sanriku Fireworks Competition is striving for an event in which the people attending as well as those watching through the live stream can come together as one. Audiences watching the stream will also be able to vote during the competition.
Buses are Available from the Closest Stations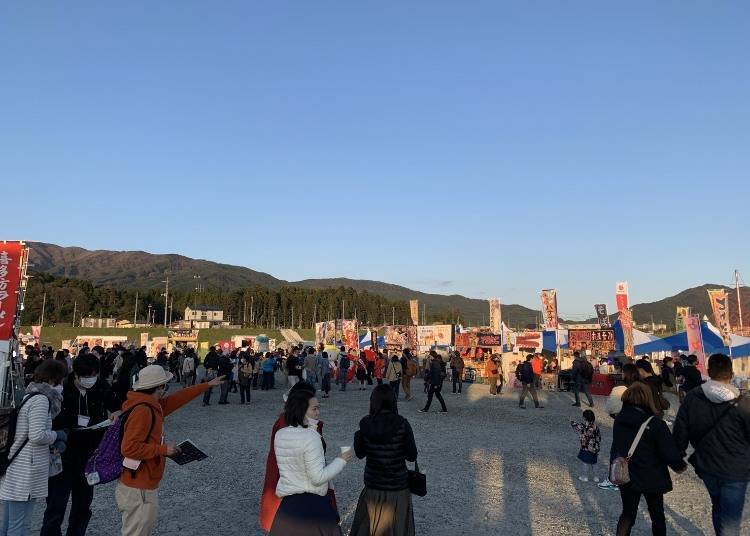 Photo Provided By: Sanriku Fireworks Competition Executive Committee
The festival is expecting many of those who attend to make their way to Rikuzentakata City by car. Because of this, the event is selling general admission tickets that come with a parking ticket. There is more than enough space for parking, but you can also take public transportation if you prefer.

For a day trip, a liner bus or highway bus (separate fee) will take you to the venue from Tohoku-Hokkaido Shinkansen's Morioka Station or Sendai Station. Additionally, travel agencies are currently organizing one-night, two-day tours.

If you're planning to travel all the way to the Sanriku area, you shouldn't miss the opportunity to see what else it has to offer.

There are many things to do in Iwate Prefecture, from enjoying extravagant hot springs, visiting the historical town of Hiraizumi, scenic spots along the Sanriku coastline, and sampling the Three Great Noodles of Morioka, a phrase used to describe Morioka's representative noodle dishes that all have different cultural roots.

With so many places to see and delicious foods to try, it's highly recommended to extend your stay.
Check Social Media for Updates on the Latest Info!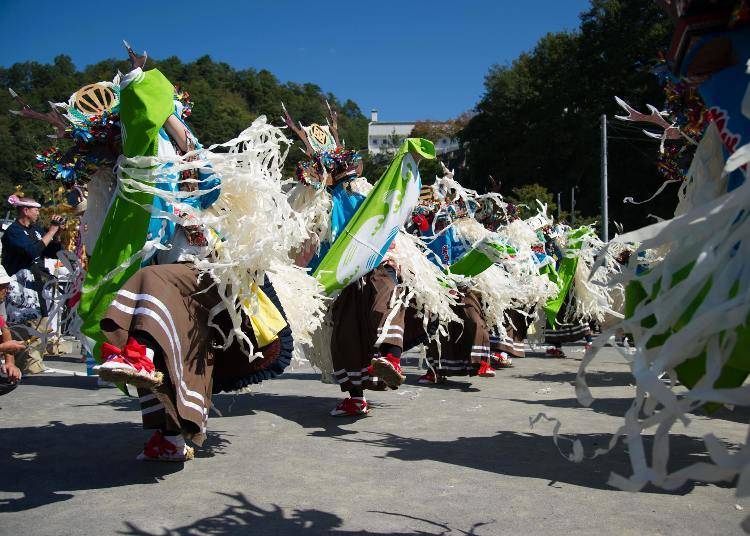 Photo Provided By: Sanriku Fireworks Competition Executive Committee
The Sanriku Fireworks Competition has been making its final preparations for October 9th.

We recommend checking their social media accounts on Twitter and Instagram for the latest updates. These might include notifications for public online meetings or announcements looking for new shops to join the event.

Getting to see the process and progress of the competition preparations allows you to look forward to it even more.

Also, using methods such as crowdfunding to fund the event is an innovative approach no other fireworks festival has taken before.

The fact that the first festival is attempting to revitalize the Sanriku region after the Great East Japan earthquake is greatly significant.

To continue revitalizing the region, the competition hopes that it can be held for at least the next 20 years with an audience from all around the world.

For this to become a reality, the success of the first competition is critical. Contribute by becoming part of an audience that will make the 2021 competition an event you can't forget!

Countermeasures Against Covid-19
Disinfection, sterilization, and cleaning of facilities - Sanitizer installed - Ventilation measures in place - Staff wear masks, gargle, wash hands regularly, and monitor body temperature - Restricted admission, reservation system in place - Entry declined to anyone who is feeling unwell - Masks required/temperature check enforced.
SANRIKU FIREWORKS COMPETITION

三陸花火競技大会

Address

Magarimatsu-116 Takatacho, Rikuzentakata, Iwate 029-2205

Phone Number

050-5526-3851

Hours: 10:00 a.m.~5:00 p.m.(FIREWORKS Bureau)
Text by: SHOE PRESs Magazine
*The information in this article is from September 2021. For updated information, please check the official websites listed.
*This information is from the time of this article's publication.
*Prices and options mentioned are subject to change.
*Unless stated otherwise, all prices include tax.