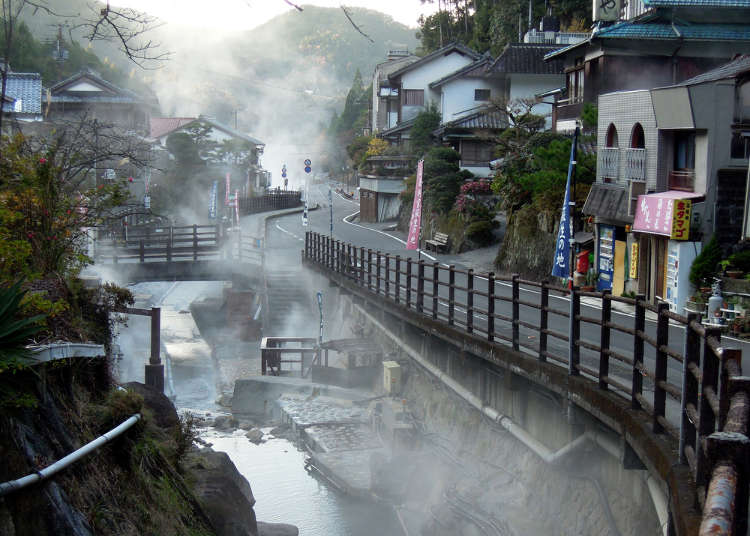 In the village of Kumano Hongu Taisha, one of the three major shrines of Kumano, is a hot spring district called Kumano Hongu Onsen Village. Many travelers past and present come here first to rest up from the long journey and cleanse their bodies before visiting the mountain shrine, and the village is undoubtedly designed to welcome such visitors warmly.

Kumano in Wakayama has been known as the "Land of Rejuvenation" since ancient times. Word has it that those who overcome difficulties while taking the difficult pilgrimage path in Kumano will see rejuvenation after having their souls cleansed.

This seemingly simple place of interest has been receiving more and more attention from foreign tourists in recent years, and our comprehensive guide to the charms and comforting power of Kumano Hongu Onsen Village will explain in detail why that is so!

Main image credit: Kumano Hongu Tourist Association
Getting to Kumano Hongu Onsen Village
The village is located in the eastern edge of Tanabe City, which is a town in southern Wakayama. Simply take a special express train on the JR Lines from Shin-Osaka Station or Kansai International Airport to Kii-Tanabe Station, the gateway station to the area and you'll be all set.

■Shin-Osaka Station on the JR Lines → Kii-Tanabe Station on the JR Lines (special express Kuroshio, about 130 minutes): 5,170 yen (including reserved seat fee on the special express)
■Kansai International Airport Station in the JR Lines → Kii-Tanabe Station on the JR Lines (special express Kuroshio, about 90 minutes): 4,280 yen (including reserved seat fee on the special express)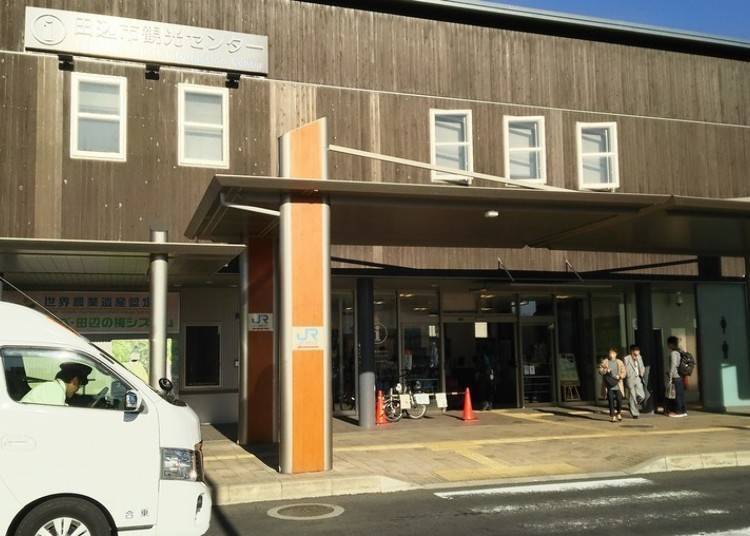 From Kii-Tanabe Station, transfer to a local bus. As soon as you leave the station, you'll see the Tanabe Tourist Information Center on the left (9:00 a.m. – 6:00 p.m., open daily), where English-speaking full-time staff are ready to help you with unfamiliar bus routes and make the rest of your journey more smooth and pleasant.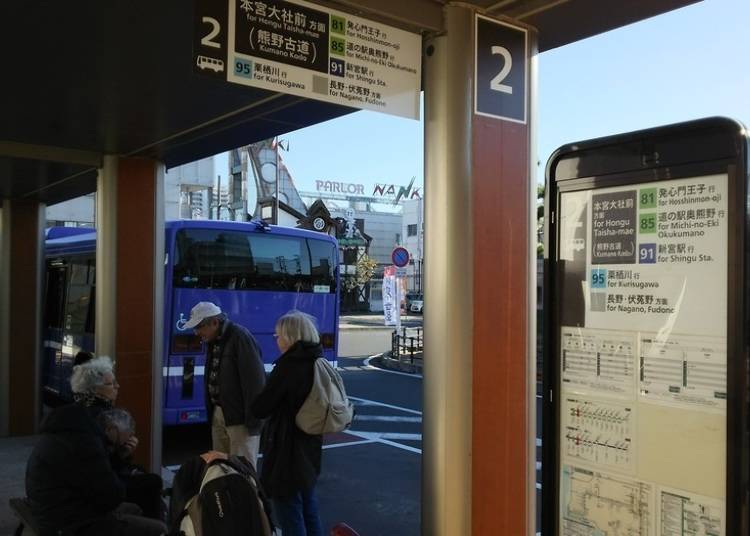 The bus route is called Kumano Hongu Line. Take the bus heading towards Hongu Taisha Mae bus stop and you'll reach in about 120 minutes. There are altogether 7 buses a day running between 6:00 a.m. to 4:00 p.m., operated by either Meiko Bus or Ryujin Bus.

■Kii-Tanabe Station → Wataze Onsen / Kawayu Onsen (1,930 yen each) → Yunomine Onsen (1,980 yen) → Hongu Taisha Mae (2,100 yen)

Note that while Ryujin Bus will stop at all stops, Meiko Bus doesn't pass through Yunomine Onsen or Kawayu Onsen. If you'll be using Meiko Bus, go all the way to Hongu Taisha Mae bus stop and then hop on a return bus to get to those areas.

■Hongu Taisha Mae → Kawayu Onsen / Wataze Onsen / Yunomiya Onsen (310 yen each)

There are no toilets on the bus, so be sure use one before boarding the bus if you have to. Halfway through the journey, at the 60-minutes mark, there will be a 5-minutes toilet break at Nakahechi Bijutsukan Mae bus station.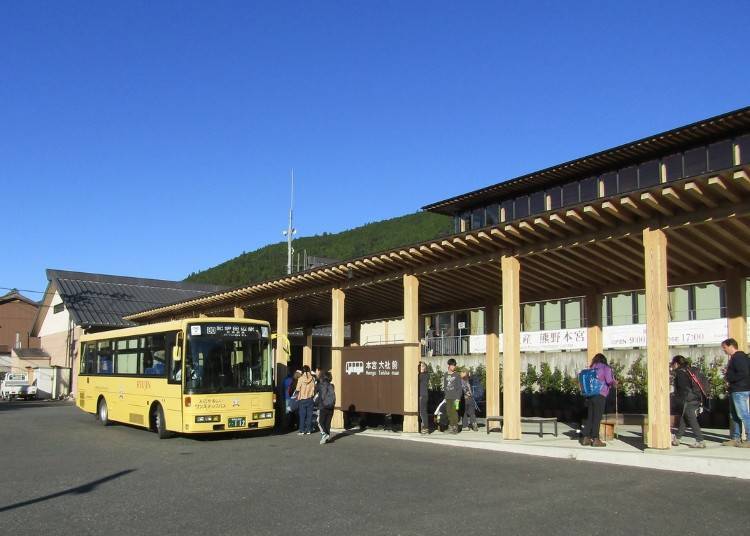 Board the bus from the back door and take a ticket from the dispenser machine on the right. When the bus is approaching your destination, press the disembark button to indicate to the driver that you wish to get off the bus at the next stop.

After the bus comes to a stop, head to the front door and drop your ticket and bus fare into the transparent box beside the driver before disembarking. Only cash is accepted here, so prepare some spare change beforehand to save yourself the hassle of having to dig around for them at the door. There's also a coin changing machine on board that allows you to exchange 1,000 yen notes for coins if need be.

Now let's have a look at the top 3 hot springs in this area!
Three Famous Onsen in Kumano Hongu Onsen Village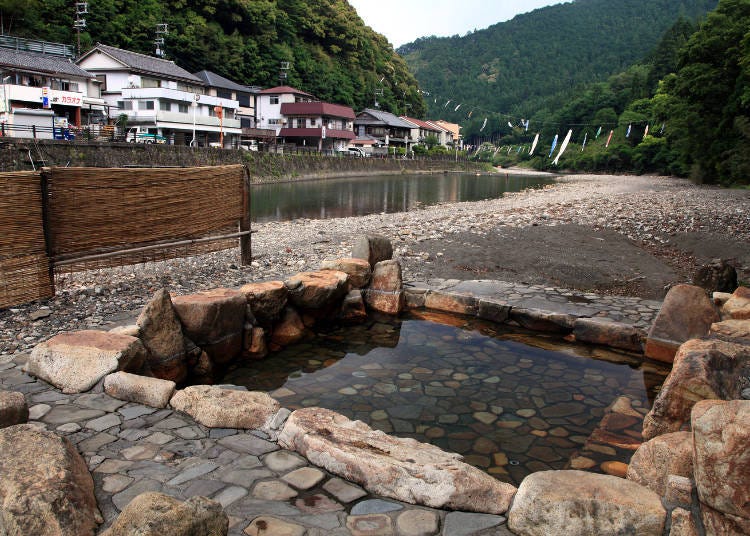 Photo credit: Kumano Hongu Tourist Association
Kumano Hongu Onsen Village encompasses a total of three different hot springs in different sites: Yunomine Onsen, discovered about 1,800 years ago and commonly called Japan's oldest onsen; Kawayu Onsen, a hot spring that wells up when the riverbank is being dug; and Wataze Onsen, a resort that features fun outdoor activities.

Because there are many spectacular sightseeing spots in the vicinity, such as a portion of the Sacred Sites and Pilgrimage Routes in the Kii Mountain Range, a UNESCO World Heritage Site and the territory surrounding Kumano Hongu Taisha, the area has no lack of visitors from all over the world.
1. Yunomine Onsen: 1,800 years of history! Boasting the classic looks of a traditional Japanese hot spring street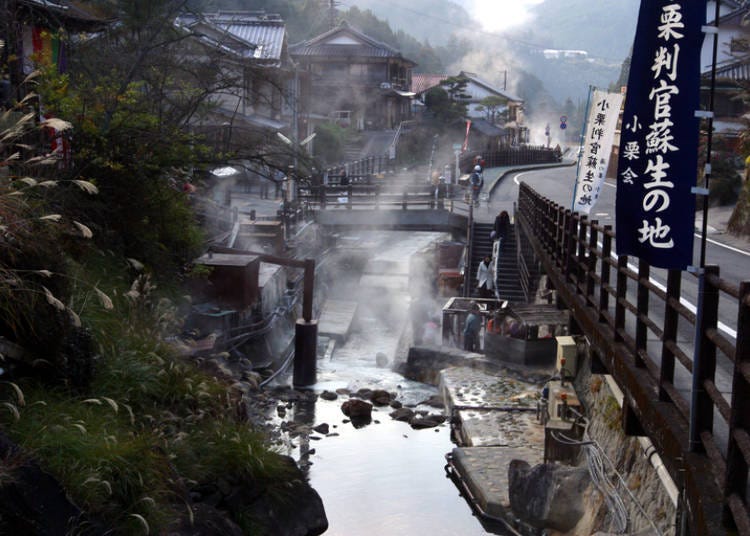 Photo credit: Kumano Hongu Tourist Association
Yunomine Onsen is where Japan's oldest known hot spring was discovered about 1,800 years ago. Rows of hot spring inns can be found on both sides of the Yunotani River, and the hot steam that rises from the water surface creates an exotic atmosphere that is truly like no other. Give your skin a smooth and supple makeover by soaking in the spring waters here!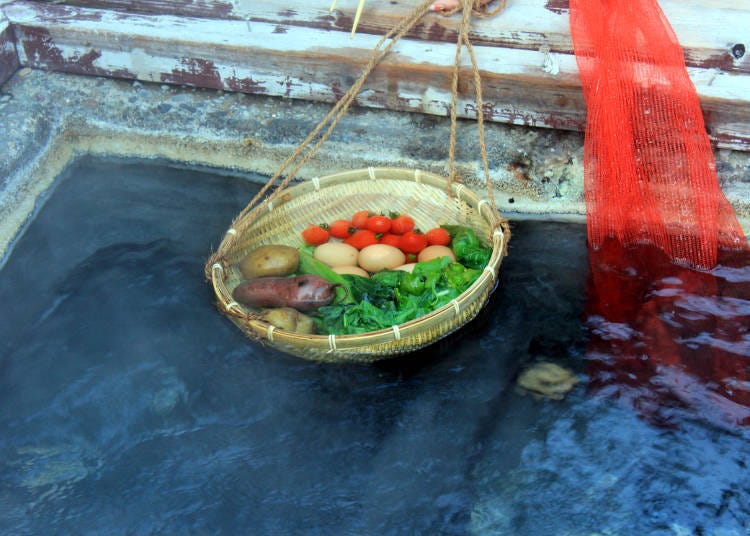 Photo credit: Kumano Hongu Tourist Association
As you go down to the riverbank, you'll find a piece of equipment called a yuzutsu, a basin where you can warm up food using spring water that's about 90 degrees celsius (about 194 degrees Fahrenheit) for free! Buy a netted egg from a nearby shop to put inside the yuzutsu and you'll have a tasty hardboiled egg ready for your relishing in about 10 minutes.

While waiting for the egg to cook, you can drop by Tōkō Temple for a quick visit or take a leisurely stroll down the streets of this hot spring town.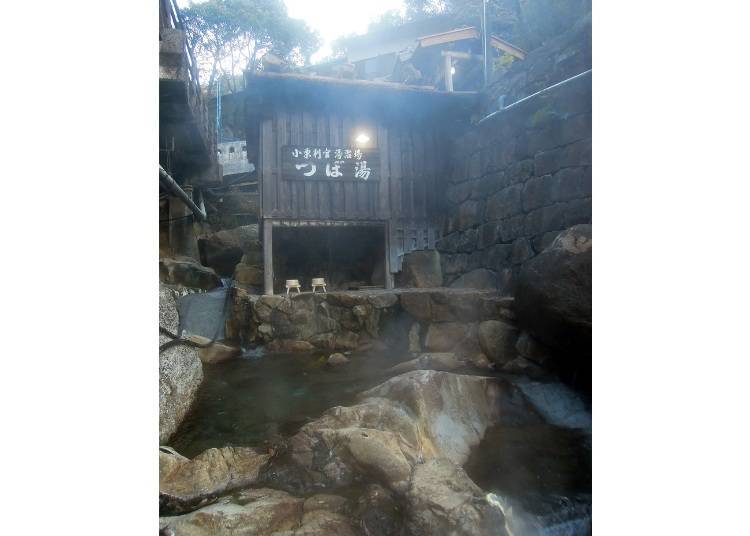 Photo credit: Kumano Hongu Tourist Association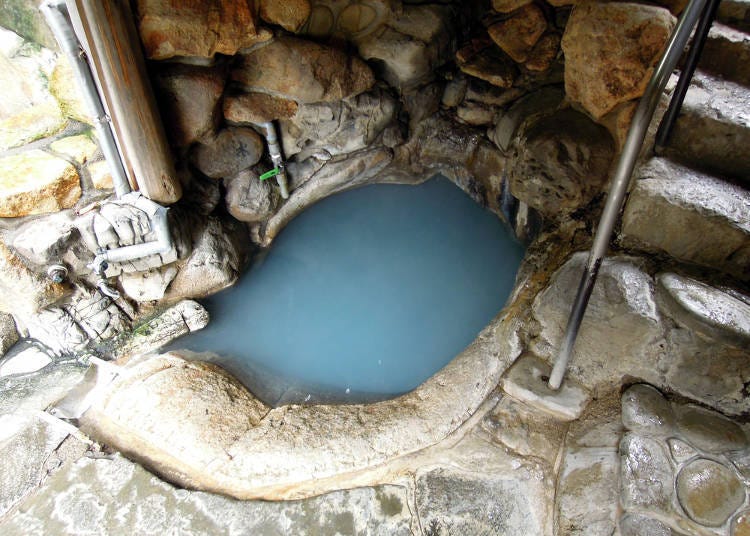 Photo credit: Kumano Hongu Tourist Association
Tsuboyu, a registered World Heritage Site, is another of the area's popular attractions. This rock bath filled with natural spring water that wells up from a valley is still in service even today! Legend has it that Oguri Hangan, a provincial lord from ancient Japan, healed from his near-fatal wounds after bathing in these waters.

Because the spring waters change colors at different times of the day, it has the nickname of "Rainbow Bath." As you soak in this bath of legends, let it rejuvenate your fatigued body and wash any worries away from your heart.

If you like, you can also lodge at the hot spring area, which has four ryokan, or Japanese inns (8 to 22 rooms each inn), nine homestays (4 to 15 rooms each), and one guesthouse (7 rooms). Being able to soak and relax in refreshing spring waters as much as you like in a facility with attached hot springs is starting to sound like an excellent idea!
つぼ湯

Address

Hongucho Yunomine, Tanabe, Wakayama

Hours: 6:00 a.m. – 9:30 p.m.
Price: 780 yen (tax included) *One group can book the place in 30-minute segments (no reservations allowed)
Closed: Open daily
Note: Soap and shampoo usage is not allowed. Do not soak your towel in the bathtub. No restrictions for guests with tattoos.
*You may soak in the public bath before or after soaking in the Tsuboyu Bath.
Tsuboyu Bath
2. Kawayu Onsen: A unique hot spring that quickly transforms from river to hot spring after a quick dig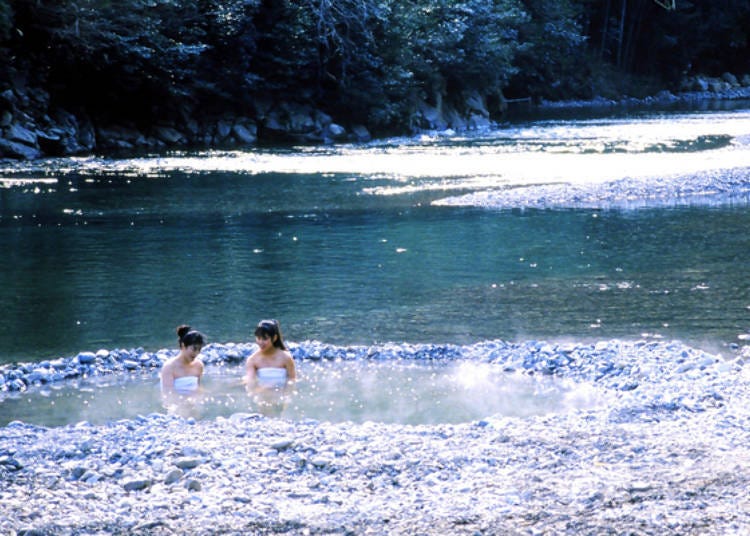 Photo credit: Kumano Hongu Tourist Association
Kawayu Onsen is a hot spring resort that was built along Oto River, one of Kumano River's tributaries. Simply dig along the riverbank and spring water as warm as 70 degrees celsius (about 158 Fahrenheit) will gush out to greet you.

As a result, you can create your very own open-air hot spring by digging down until you can lower your body comfortably into the hollow, which will be naturally filled with hot spring water as you dig!

When the water is too hot, scoop up some water from the nearby river to adjust it to a temperature of your liking. This should keep you warm and toasty from early summer to early autumn, especially on days when you're feeling chilly from too much playing in the water!

If you dip into these warm waters while gazing at the beautiful mountain landscape or starry night sky, it can almost feel like you're in paradise on earth.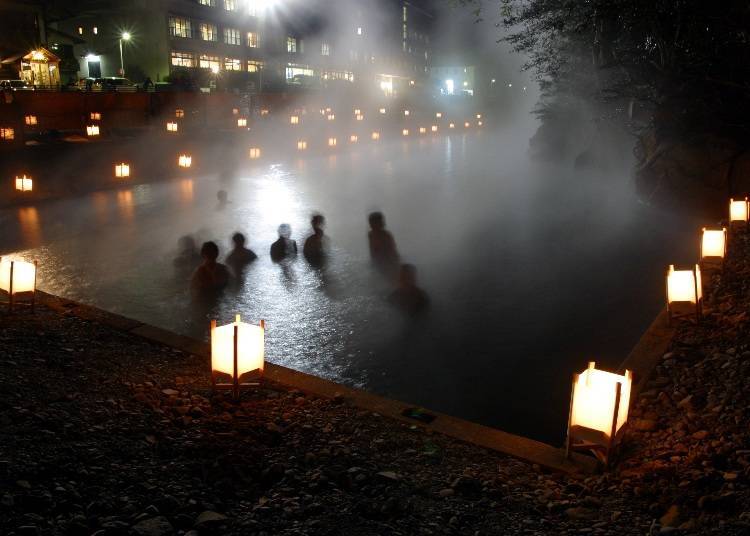 Photo credit: Kumano Hongu Tourist Association
During winter, the river is dammed up and a large open-air hot spring known as Sennin Bath makes its appearance. This winter seasonal event of Kawayu Onsen is a striking sight that becomes further enshrouded in a cloud of fantasy and mystique on Saturday evenings, when the garden lanterns around are lit up for all to admire.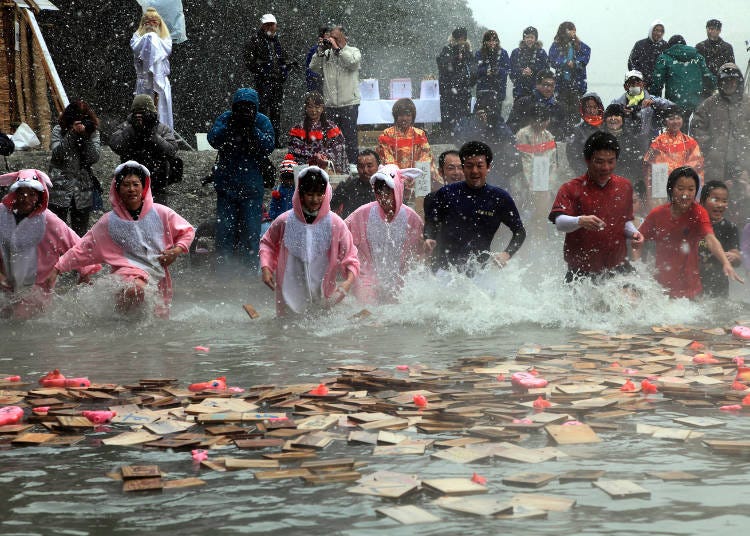 Photo credit: Kumano Hongu Tourist Association
Sennin Bath also holds a karuta tournament every third Sunday of January. Karuta is an indoor Japanese playing cards game. A reciter will read out a poem that is printed on one of the cards laid out on the floor, and a few people will jostle to find the corresponding card first.

The Sennin Bath Karuta Tournament is an intense competition with a unique twist. Firstly, the reciter is dressed in Heian period (794 to 1185 C.E.) garb, and the cards are not laid out on the floor, but set to float on the water surface of Sennin Bath itself.

As the players listen to the voice of the reciter reading out the poems and try to outdo each other by grabbing at the corresponding card as quickly as possible, the splashing waters from the mad dash makes the competition even more exciting than it usually is! You can expect to find the quiet river filled with boisterous sounds and loud laughter on the day of the competition.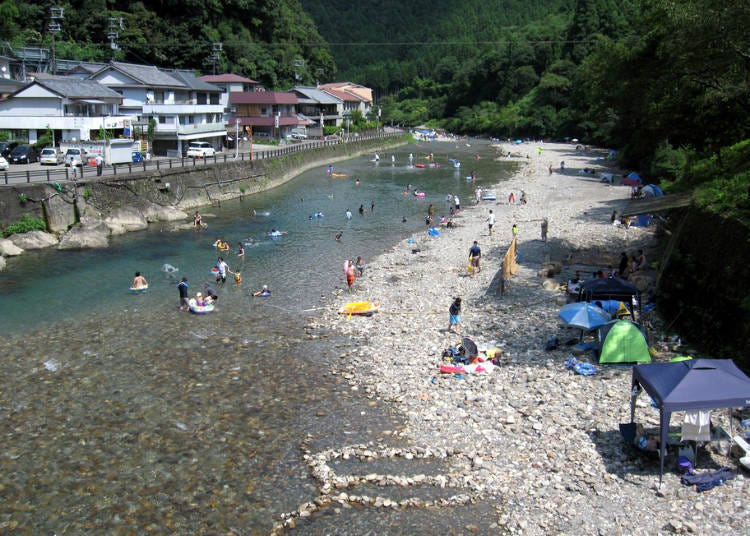 Photo credit: Kumano Hongu Tourist Association
The spring waters of Kawayu Onsen are said to warm up both the body and soul. When your body gets a bit chilly from playing in the sea during summer, come to Kawayu Onsen it get it all nice and warm again!

If you want to stay in the area to fully enjoy everything it has to offer at leisure, you're spoiled for choice! There are three ryokan (each with 29 to 90 rooms), one business hotel (78 rooms), five homestays (each with 3 to 11 rooms), one boarding house (6 rooms), and one rental house in Kawayu Onsen, all practicing the Japanese hospitality the island nation is well-known for.
仙人風呂

Address

Hongucho Kawayu, Tanabe, Wakayama

Hours: December 1, 2019 – End of February, 2020
Price: Free
Closed: Open daily *Depending on weather conditions, the hot spring may be off-limits on some days
Note: Swimsuits, soap, and shampoo are not allowed in the hot spring. There are no restrictions on individuals with tattoos.
3. Wataze Onsen: A very enjoyable outdoor resort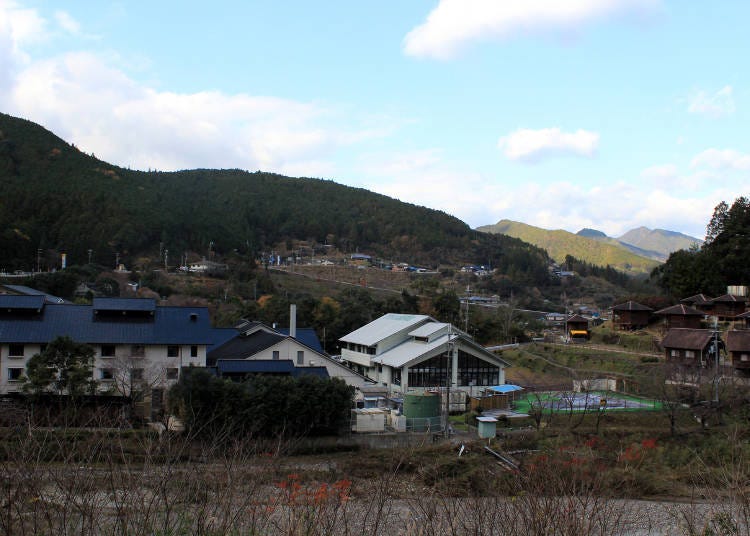 Photo credit: Kumano Hongu Tourist Association
Wataze Onsen is packed with useful facilities like three hotels (5 to 30 rooms each), one guesthouse (3 rooms), 11 cottages in a cluster, a hot spring center, camping grounds, and more, living up to its reputation as an enjoyable outdoor hot spring resort area.

Wataze Village, located along Yomura River, is where you can take part in a full range of outdoor activities. That's not all! It also comes with nine open-air hot springs, including western Japan's largest one (900 yen, tax included)! Soak up all the natural nutrients abundantly available in these hot springs and make rejoice after the long journey there.
Photo credit: Kumano Hongu Tourist Association
Otonashi no Sato is the hot spring center of Wataze Onsen where you can find even more bathing facilities like hot bubble baths and lie-down baths. These baths are indoor-only, but the large variety of family-friendly tubs can be enjoyed by all whether young or old.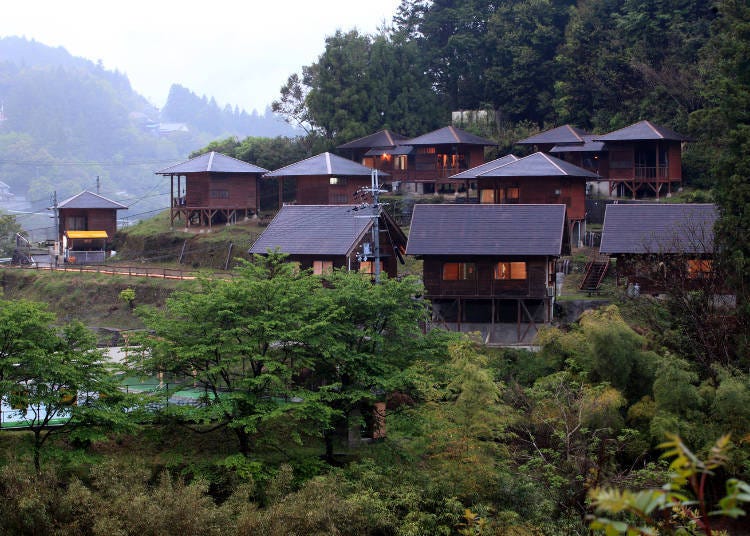 Photo credit: Kumano Hongu Tourist Association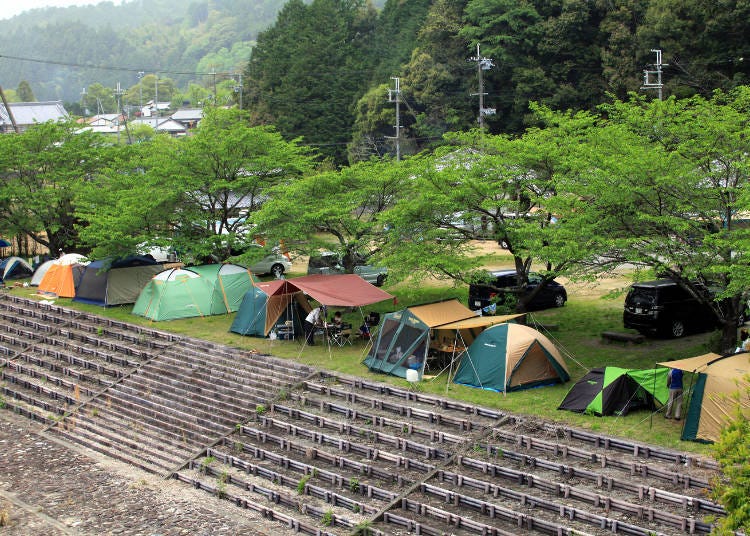 Wataze Onsen's camping grounds. Photo credit: Kumano Hongu Tourist Association
The center is within walking distance from Wataze Onsen's cottages and camping grounds, so that guests can feel free to refresh themselves physically and mentally at any time they like.
Wataze Onsen Center "Otonashi no Sato"

渡瀬温泉センター「おとなしの郷」

Address

Hongucho Wataze, Tanabe, Wakayama

Hours: 1:00 p.m. – 9:00 p.m.
Price: 620 yen (tax included)
Note: Do not soak your towels in the bath. There are no restrictions on individuals with tattoos.
More details on all three hot springs in Kumano Hongu can be found on the official website of Kumano Hongu Tourist Association (English available). Lodgings can also be reserved from the homepage of Kumano Travel.

Kumano Hongu Tourist Association: http://www.hongu.jp/stay/
Kumano Travel (English): https://www.kumano-travel.com/en
When You're in Kumano Hongu Onsen Village, Be Sure to Try Kumano Beef!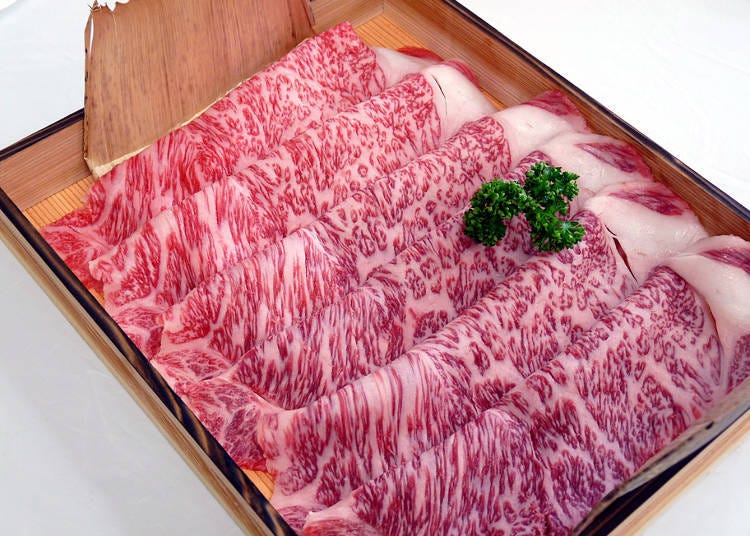 Photo credit: Kumano Hongu Tourist Association
Kumano Beef Hot Spring Shabu Shabu
In terms of tasty food, there's something you absolutely have to try at Kumano Hongu - the Kumano Beef Hot Spring Shabu Shabu (Japanese hotpot)!

The sodium bicarbonate components in the hot spring water enhance the umami taste of Kumano beef, making it even softer to chew than before. Don't be afraid to order this delectable dish at your lodgings, because it really is worth it!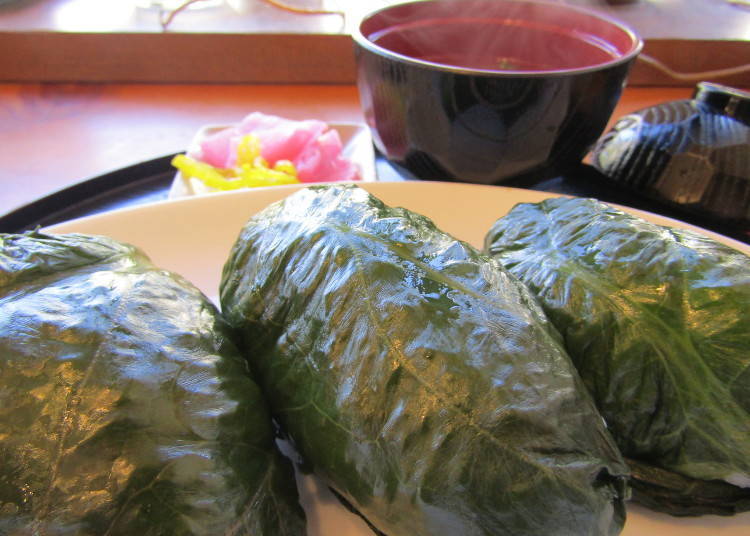 Meharizushi: Lunch of the ancients
Meharizushi refers to a large sushi roll that's wrapped in a big piece of pickled mustard leaf. The sushi inside can be vinegar rice sprinkled with sesame seeds or just some warm rice bought from a cafe. It's designed to taste really good even cold, which makes it a perfect meal to pack for lunch. That was how the ancients did it, at least!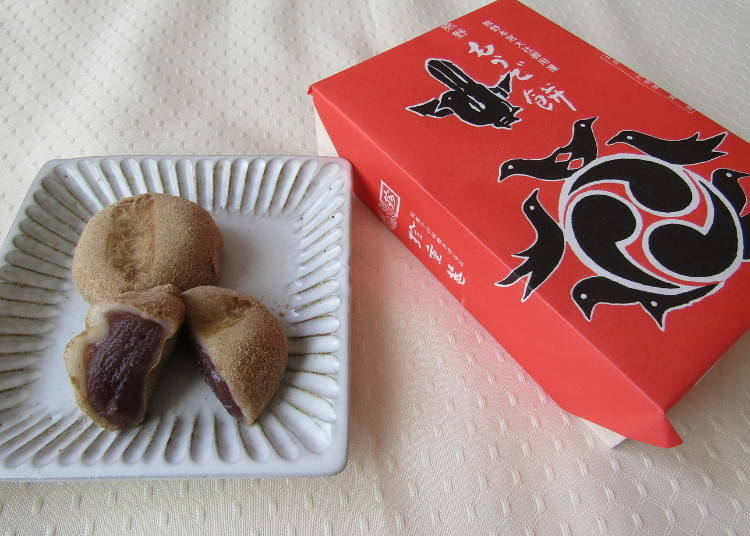 Kumano Moude Mochi: Treats to enliven your spirits when fatigue from all that traveling sets in
This mochi (sticky rice pastry) treat (650 yen per pack of five, tax included) comes with a blessing of good health and is only being sold in the three major shrines of Kumano. The finely strained bean paste used as stuffing is not too sweet and accentuates the fragrance of the brown rice powder used to make the dough.

Just to let you know: The Yatagarasu (three-legged raven) featured on the package of the mochi being sold in Kumano Hongu Taisha is a unique Japanese design that you might want to check out!
Visit Kumano Kodō, Kumano Hongu Taisha, then Oyunohara in that order!
Located right next to Kumano Hot Spring Village is the World Heritage Site, Sacred Sites and Pilgrimage Routes in the Kii Mountain Range (Kumano Kodo). This is the road taken by countless pilgrims from all over Japan as they visit the temples in Kumano.

The ancient path cuts through dense forest and is clad with an air of mystique. We think you might find it a refreshing experience to walk this path while taking into consideration the beliefs of the ancients that moved them to do the same a long time ago. Here are a few example routes you'll be able to complete in about half a day.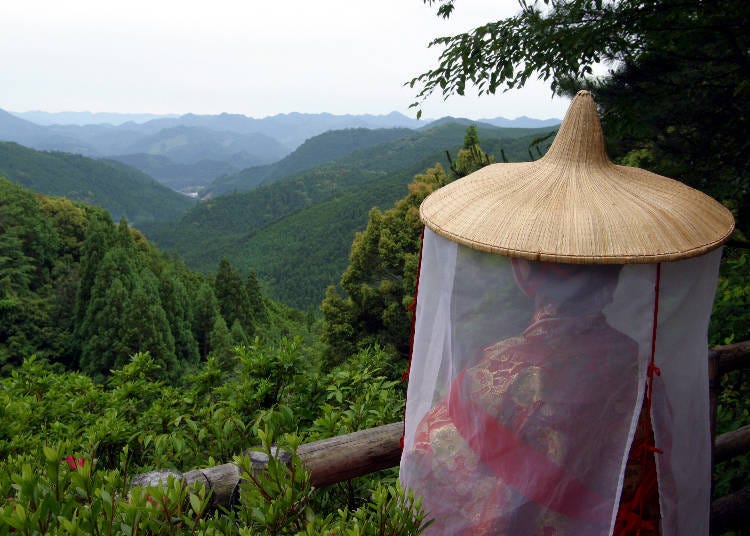 Photo credit: Kumano Hongu Tourist Association
Go, first of all, to Kumano Kodō for a walk. To get there, take a bus from Hongu Taisha Mae (about 15 minutes, 470 yen) and drop off at Hosshinmonoji to make the journey to Kumano Hongu Taisha on foot. The entire pathway is about seven kilometers, or 4.3 miles long (about a 3-hours walk) and has so many wonderful sights in store, you'll hardly feel the fatigue of walking at all.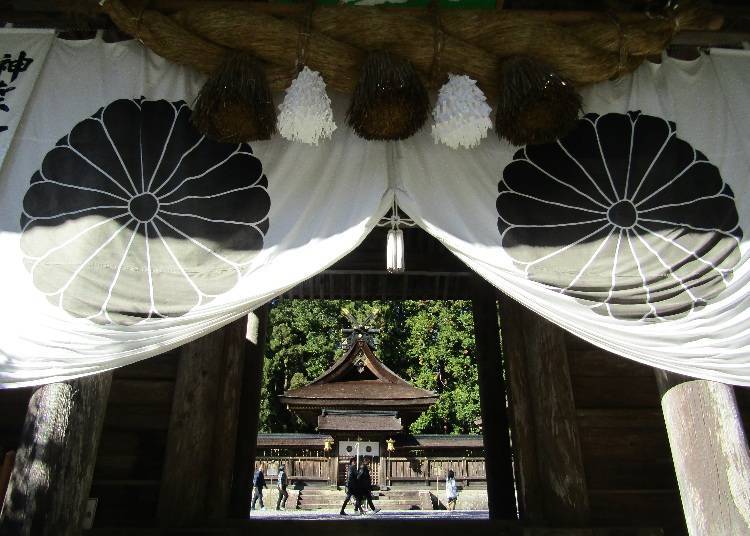 Kumano Hongu Taisha
Wa no Mamori *Designed by Hirohiko Araki (a Japanese comics artist) – the pilgrim paths of Kumano Kodō and Spain's Camino de Santiago
Eventually, you'll arrive at Kumano Hongu Taisha, a grand shrine where the religious still visit nowadays as a sanctuary of spiritual rejuvenation. Many Japanese hold this temple in high regard, and it has a history of being visited by the royal family or royalty since the Heian period, where it was known as the "gate to the Pure Land".

The three-legged raven known as Yatagarasu is said to be a servant of Kumano's gods and is used in the insignia of JFA (Japan Football Association). Offerings designed after the Yatagarasu are actually quite popular as a "Cool Japan" product among young Japanese and foreign visitors!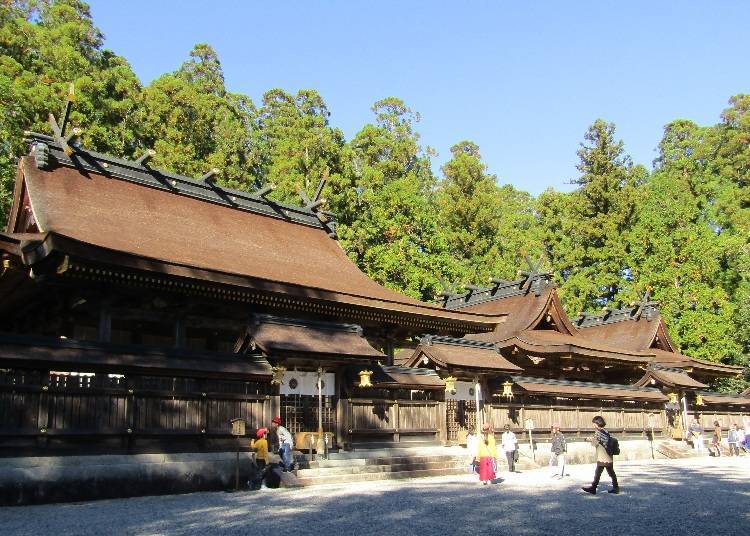 The somber mood of the shrine will erase away all signs of fatigue of the walk you took to get here. There are four buildings on temple grounds, so take your time to visit each one in sequence, starting from the second one from the right, then the building left of it, right of it, and finally, the building on the right. It's considered common courtesy to perform the Shinto bowing and clapping rituals (two bows, two claps, and then one more bow) at each shrine you visit.

This temple was opened in the year 1892, but used to be in Oyunohara before a great flood swept it away in 1889.

In case you're curious and interested in visiting the old site as well, Oyunohara is about a 10-minutes walk from this shrine.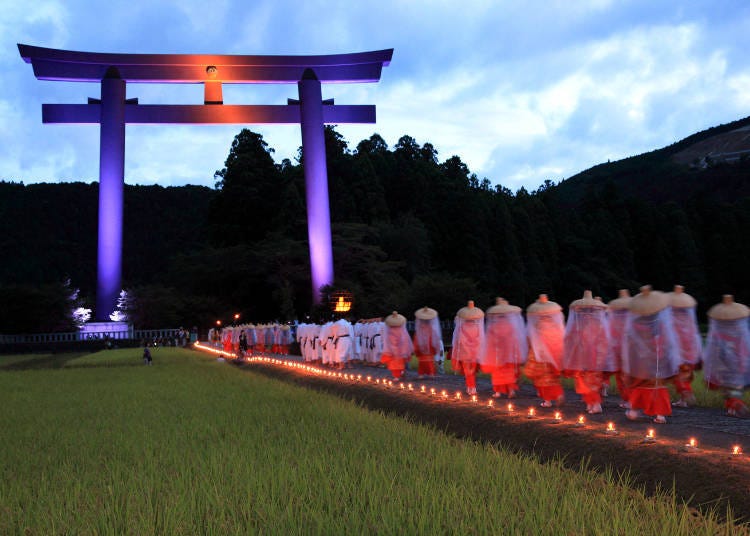 Photo credit: Kumano Hongu Tourist Association
Cross the highway in the direction of Kumano River and you'll see a large torii, or temple gate. The forest behind it is Oyunohara, where the former Kumano Hongu Taisha used to stand. This torii is about 42 meters tall (about 138 feet) - quite an imposing sight up-close! Oyunohara is said to be a place where the gods descend, making it a powerful site of spiritual rejuvenation. These gods are still being enshrined in stone hokora, or miniature shrines all over the area, so don't forget to pay them a visit as well!
Kumano Hongu Tourist Association is staffed by English-speaking employees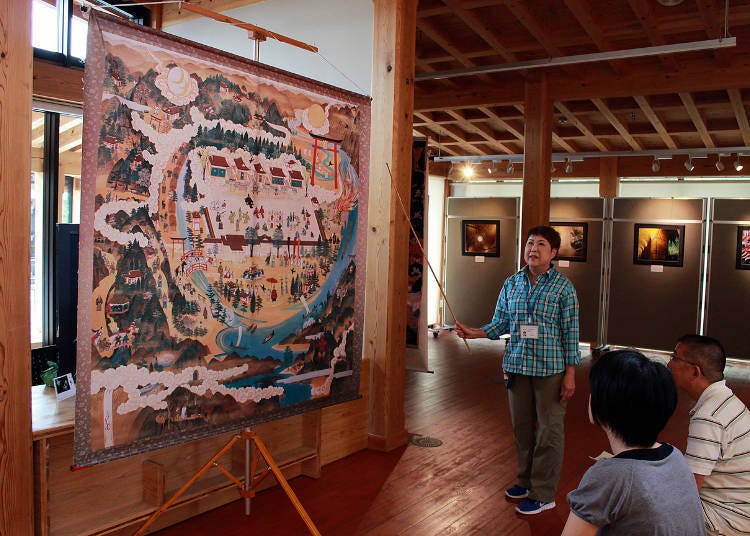 Photo credit: Kumano Hongu Tourist Association
As you make your way to Kumano Hongu Taisha from Oyunohara (on the east side of Hongu Taisha Mae bus stop), you'll pass by Kumano Hongu Heritage Center, a handy information place that introduces the places of interest found in Kumano. The center is also equipped with Kumano-related videos, exhibitions, and pamphlets (English ones too!) for your reference.

In the southern building where Kumano Hongu Tourist Association is located, English-speaking staff on hand will be able to help international visitors with any inquiries they may have.

Whether visiting the Kumano Kodo pilgrimage or looking to enjoy a journey of rejuvenation with plenty of sightseeing and leisurely hot spring soaking, plan your visit to Kumano Hongu today!
Kumano Hongu Tourist Association

熊野本宮観光協会

Address

Kumano Hongu Heritage Center 100-1 Hongucho Hongu, Tanabe, Wakayama 647-1731

Phone Number

0735-42-0735

Hours: 8:30 a.m. – 5:00 p.m.
Closed: Open daily
Text by: WestPlan. English translation by: Huimin Pan.
Book your stay at one of these Kumano Hongu hotels
Address

1406-1, Honguuchokawayu, Tanabe-shi, Wakayama, 647-1717
View Map

Nearest Station

Kiitanabe Station (JR Kisei Line / JR Kinokuni Line)
100 minutes by bus


Phone Number

0735-42-1066
Address

Hongu-cho Shimoyukawa 437, Hongu, Wakayama, 647-1734
View Map

Nearest Station

Shingu Station (JR Kisei Line / JR Kinokuni Line)


Vacancy search, reservation

from

15,700JPY

1room, 2adults

Check with our partner site as the latest rates, rate details, and guest room requirements may vary.
*This information is from the time of this article's publication.
*Prices and options mentioned are subject to change.
*Unless stated otherwise, all prices include tax.