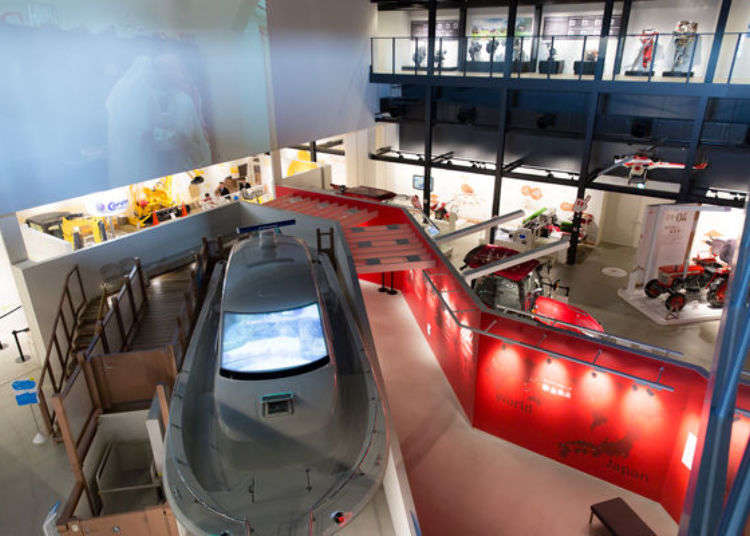 Yanmar is a corporation known around the world for its marine equipment, tractors, and cultivators. Yanmar products are not just seen in agriculture but are used in a variety of other places.

No matter how old you are, whether you're a gearhead, someone who enjoys checking out machinery, or just curious to learn how the Japanese do things differently, Yanmar Museum is a place where you can casually experience Yanmar technology!
The Building Symbolizes the City of Nagahama!
From Hokuriku Main Line Nagahama Station it takes about 10 minutes on foot to reach Yanmar Museum. At the entrance the brand's familiar character mascots, Yanbo and Mabo, greet you.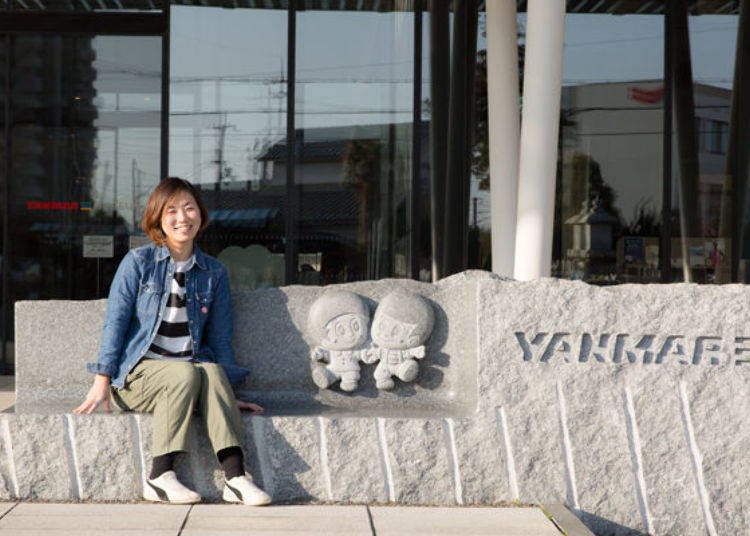 ▲Prefect place for a photo!
This museum was constructed for the Yanmar's centennial. It opened in 2013 in Nagahama City where the founder of Yanmar, Magokichi Yamaoka, was born. The museum has over 100,000 visitors annually.
The roof filled with plants, a shiny water surface, and the shiny black modern building represent the business domain of sea, land and city that Yanamar conducts business in, and it also represent the landscape of Nagahama. It has received the Good Design Award and BCS Award, which is given to excellent buildings.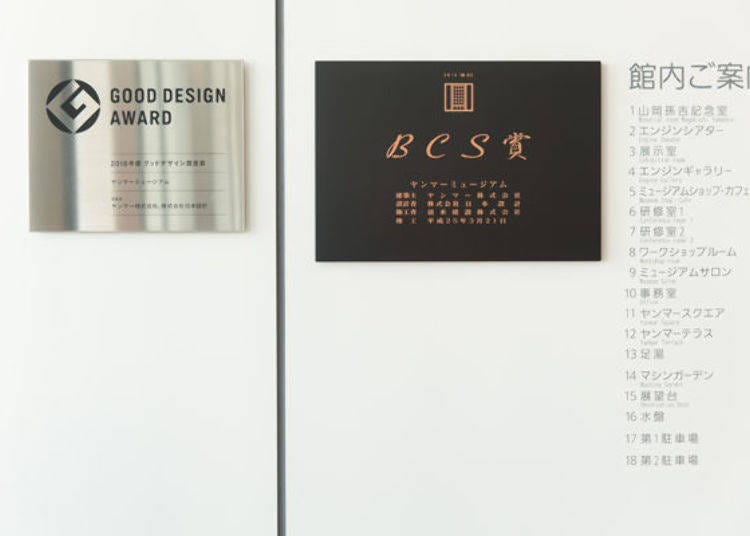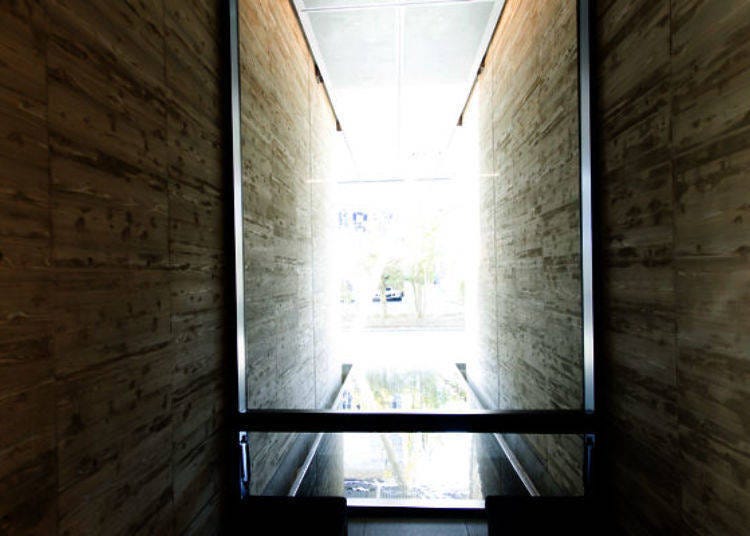 ▲A famous sightseeing spot in Nagahama is the Kurokabe Square. It also incorporated the image of Kurokabe buildings and Lake Biwa Canal that flows into Lake Biwa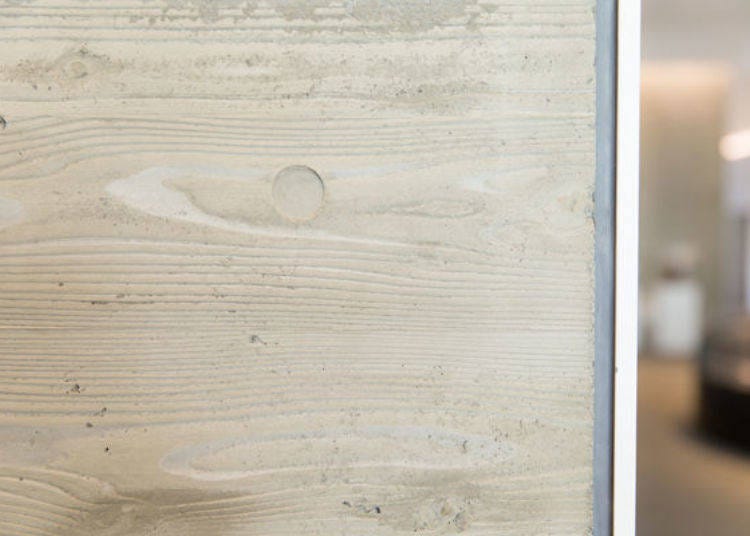 ▲The concrete wall is made to mimic Funaitabei, a traditional wall in Hamanaga that was made with scrap wood from boats
Yanmar's Origin, Diesel Engine
We head in paying the entrance fee (600 yen for high school students and above, 300 yen for elementary to junior high school students, and free for preschool children, all include tax).

The first thing you see at the entrance there is a massive engine. This is the first diesel engine that was developed in the world, by Dr. Rudolf Diesel from Germany. It is an important engine that affected Yanmar's own history.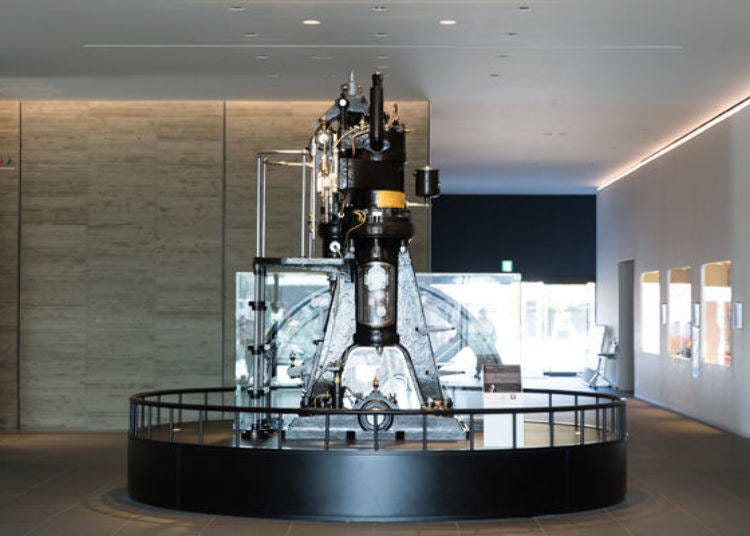 The diesel engine was created in 1892. The revolutionary diesel engine, which uses a piston to inject liquid fuel into heated compressed air to ignite, has merits compared to petroleum engines such as being more fuel efficient and powerful.

The creator of Yanmar, Magokichi Yamaoka, saw this engine in Germany. He then started development in hope to help out farmers, and was the first to miniaturize the engine in the world. It was then applied to various use and lead to the creation of new machines.
Yanmar's Roots: Making Farmers' Lives Easier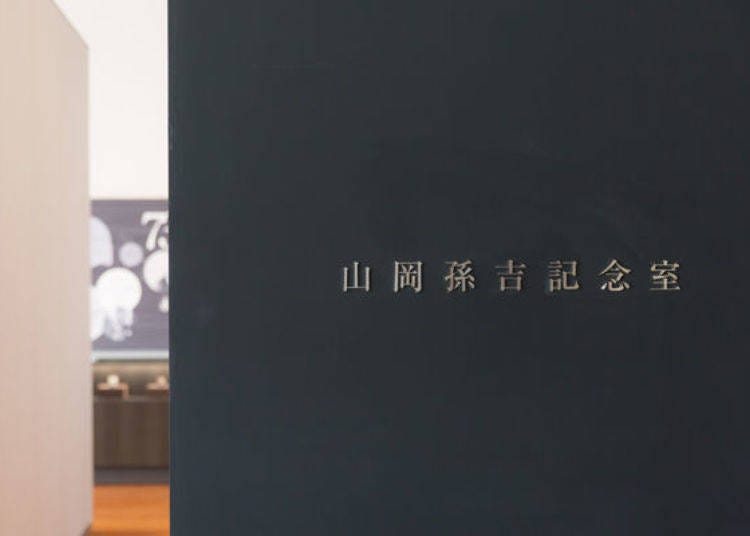 Let's head to Yamaoka Magokichi Memorial Room to learn about Yanmar's foundation and history.

Magokichi Yamaoka's family were poor farmers in Nagahama and he was the 6th of out 10 siblings. At age 16 he went to Osaka and experienced many jobs, during this time he started to repair gas engines. At 19 he founded Yamaoka Gas, and in 1912, at the age of 24, he founded the Yamaoka Hatsudoki Kousakujo. Then at the age of 30, he developed a petroleum engine for farming and trademarked it Yanmar, which is the current business name. He was a remarkable man full of venture spirit!

The origin of the name comes from Oniyanma – the golden-ringed dragonfly - which is a symbol of good harvest.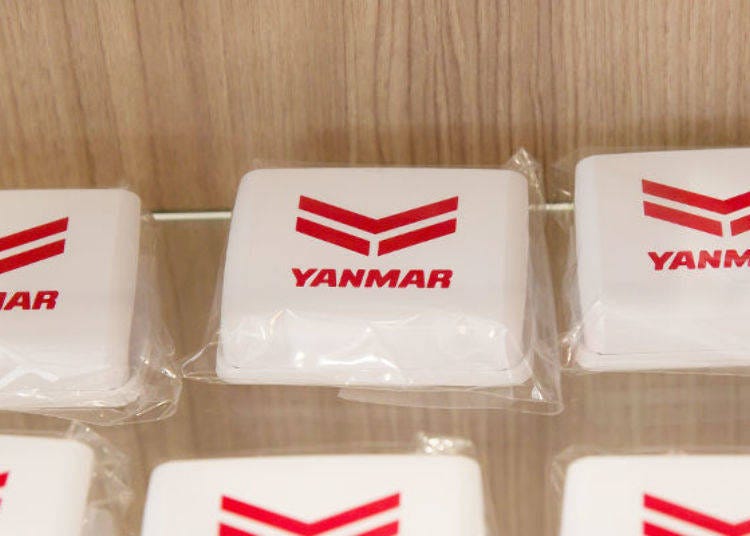 ▲The current brand mark FLYING-Y comes from combining the wings of a dragonfly and Y from Yanmar
Magokichi always thought about making life easier for farmers. However petroleum engines at the time had many fire accidents and he was devastated that the machines he made to help people actually harmed them.

However when Magokichi traveled to Germany when he was 44, he was introduced to the diesel engine and started development of a safe and secure smaller engine.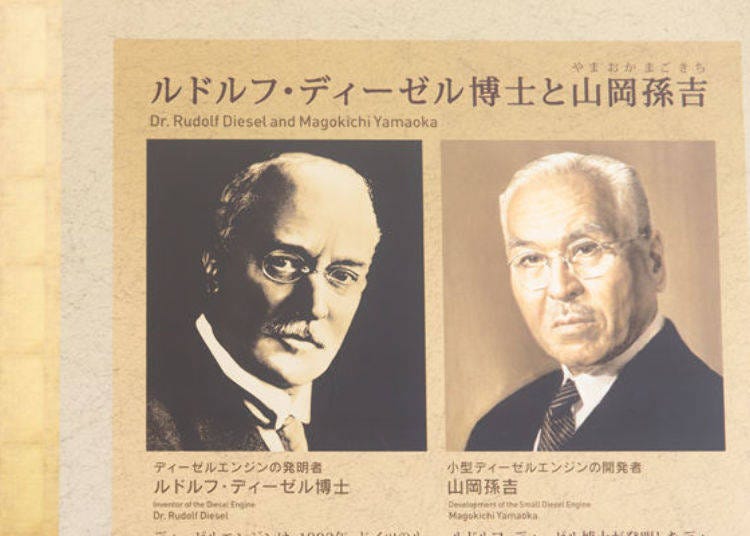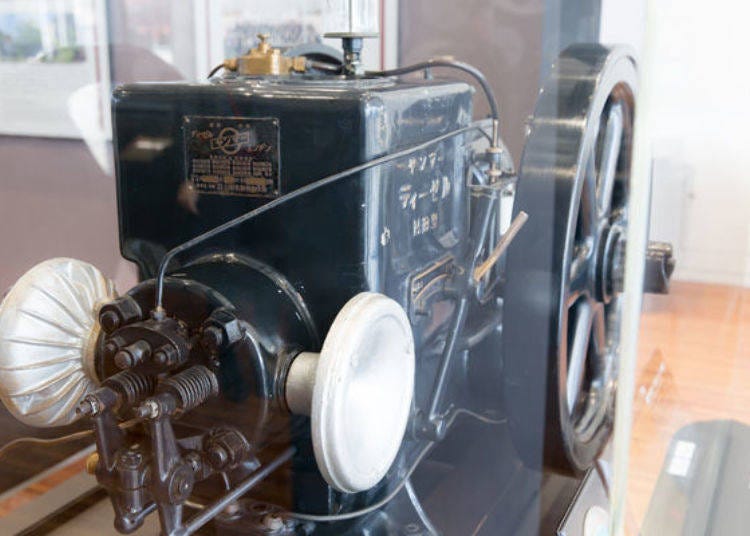 ▲This is the first miniaturized diesel engine in the world. It was created on December 23, 1933; since then this day is considered Diesel Memorial Day in Yanmar.
Farming is Cool! Exciting High-Tech Tractors
After learning about Yanmar's history, let's head to the museum's main area!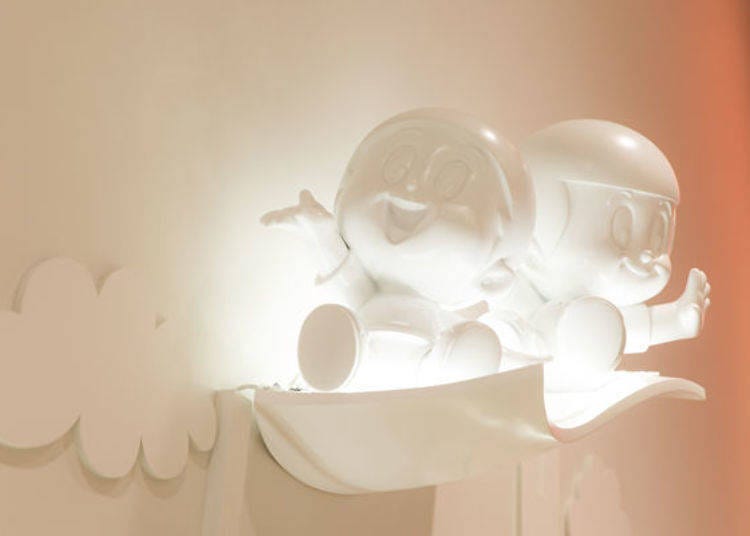 ▲Yanbo and Mabo are all over the place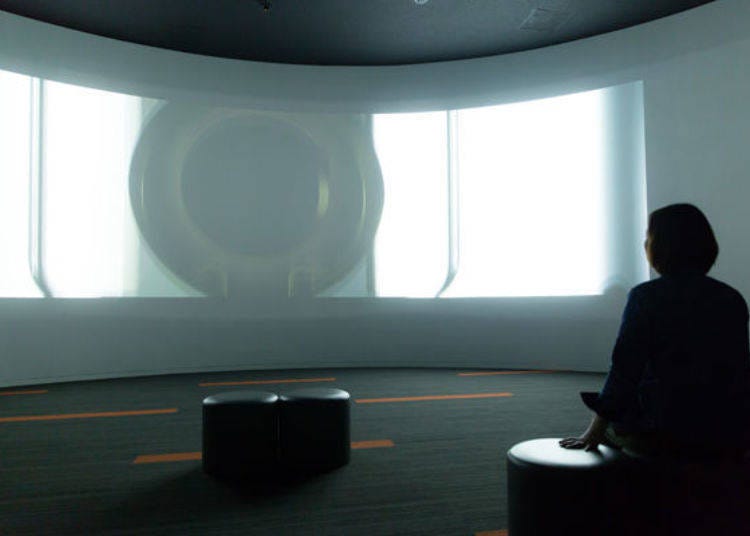 ▲Feel the movement of engine in the theater room with its large 13m screen
After watching the intense image in the theater room, the next area is the Farming Zone. This is the field in which Yanmar is most famous.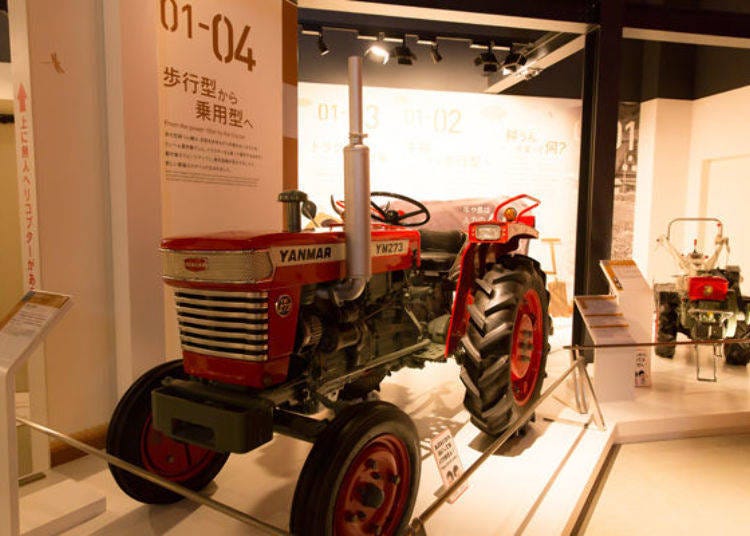 Here you can get on many vehicles such as tractors, cultivators and rice planting machines (no additional fees required). To change the image of "farming is hard and tough," all the machines are stylish. We decided to get on the latest tractor designed by industrial designer Kiyoyuki Okuyama, who made designs for Ferrari.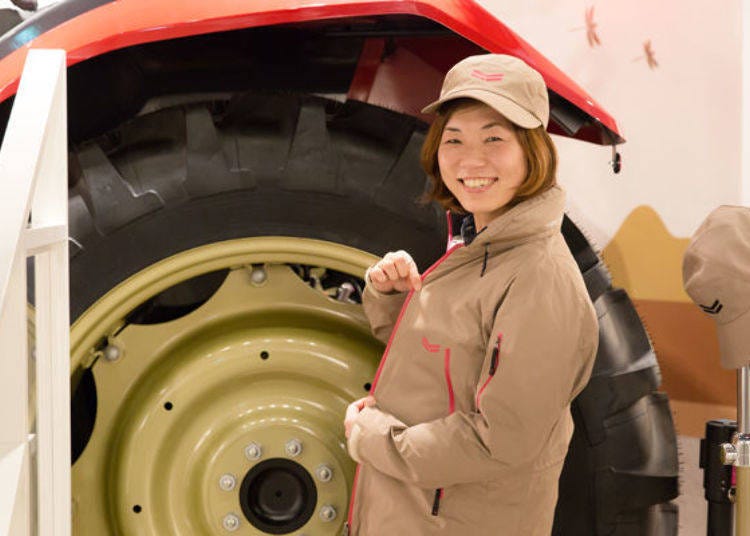 ▲You can also try-on the Premium Agri Wear (Premium Agriculture Wear) by Yanmar, which makes farming fashionable!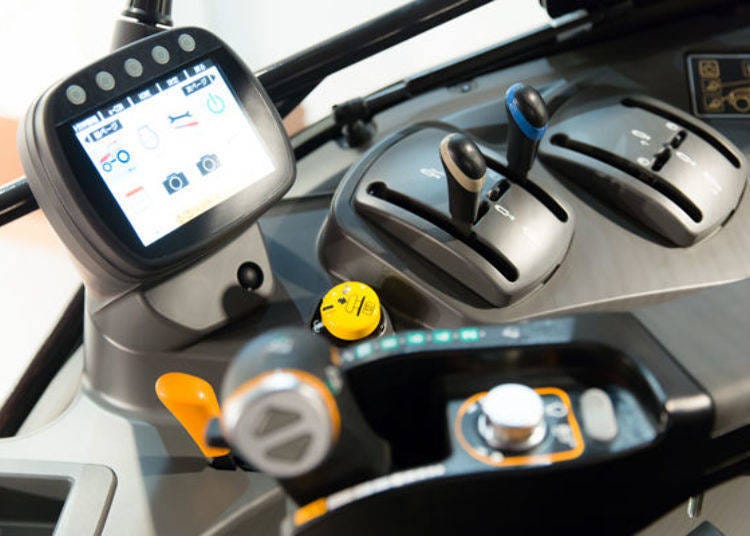 ▲A very high-tech tractor, the inside looks like a cockpit.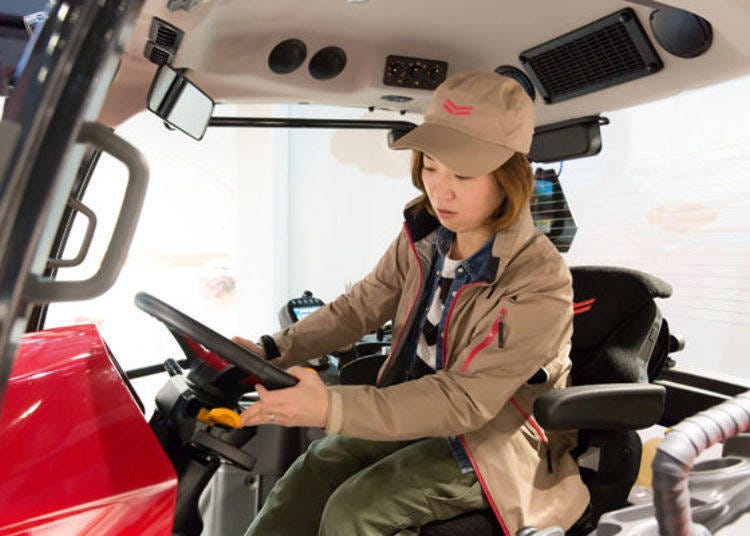 ▲With a well-built cushion the seat is very comfortable.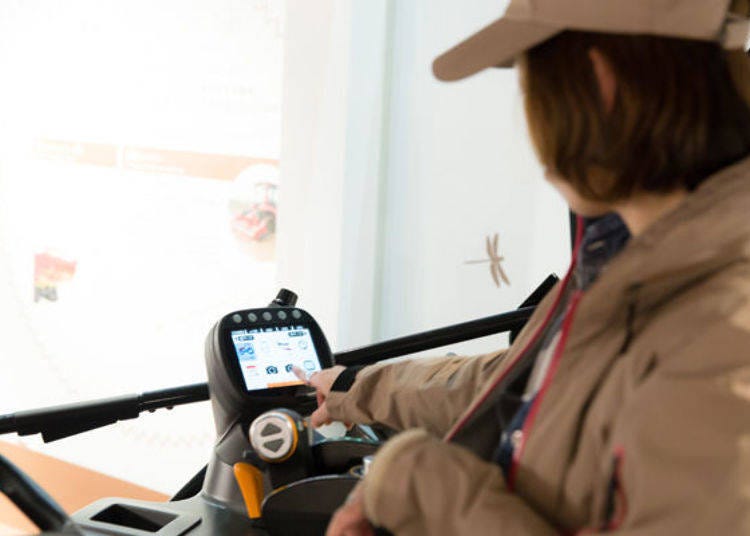 ▲Lights and air conditioning can be easily adjusted by a touch panel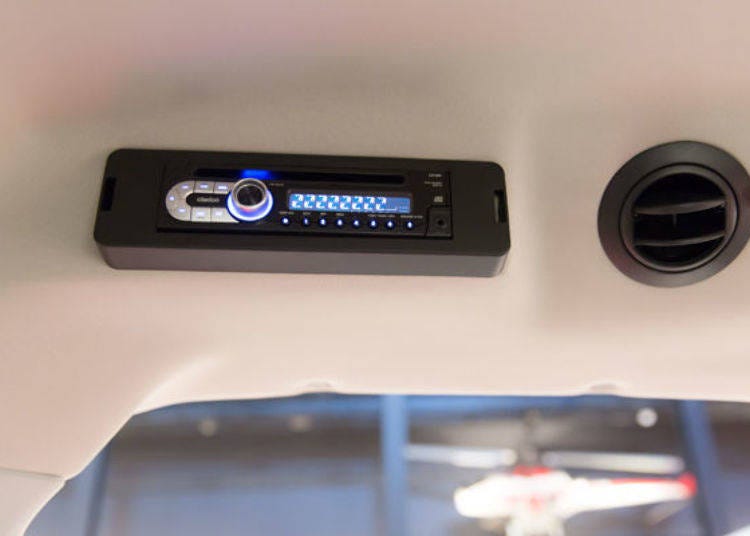 ▲Equipped with air conditioning and audio, it's bound to make farm work go smoothly
It is as comfortable (or maybe even more!) than a passenger car. It is bound to change the image of farming. You can also get on cultivators and rice planting machines.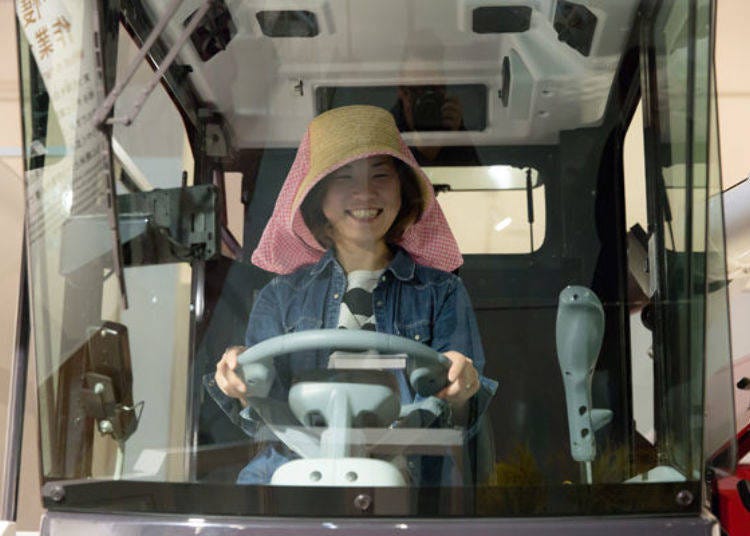 ▲They have small props like straw hats, which gets you in the mood to be a farmer!
Controlling Vehicles that you come Across Town
The next area is the Town Planning Zone. Small construction vehicles tailored for Japan are on display. The vehicles you see at construction sites are also Yanmar's specialty. In order to safely and efficiently work in tight spaces and next to building walls, the machines are made compact.

You can experience operating the mini excavator. Former Yanmar staff will teach you how to control the equipment. Former staff work as volunteers at the museum out of gratitude for the company.
A fun exciting experience for all age groups! As a side note the little boy who operated after me was much better.
Cool Tin Badges that you'll want to collect!
After operating the excavator, we entered the Crafting Zone. Here you can make tin badges with press processing technology.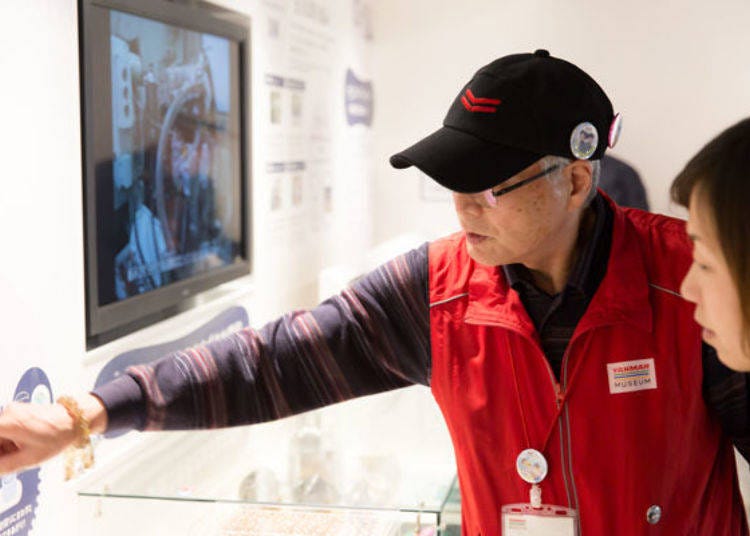 ▲Former Yanmar staff assisting us here too
Select a design of Yanbo and Mabo, known from the company's weather report program, and make your original tin badge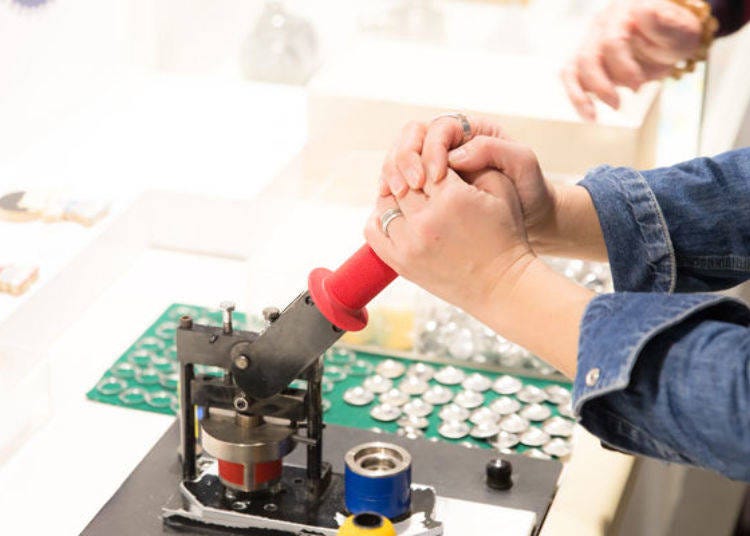 ▲Activate the machine and...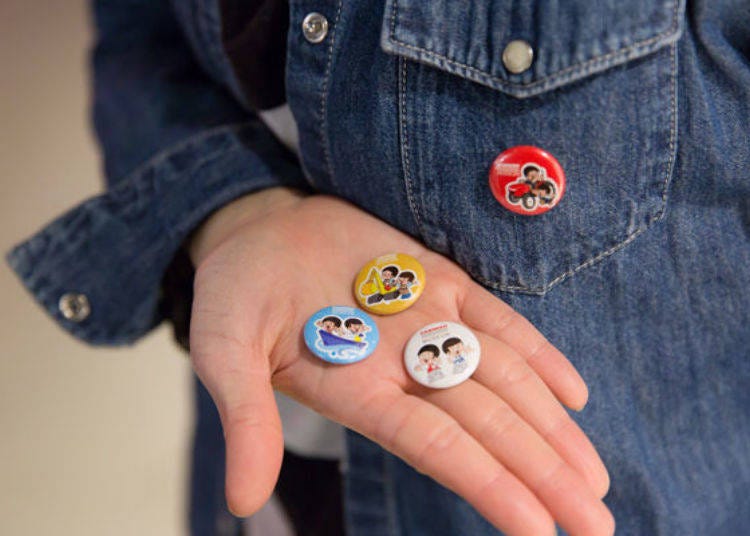 ▲Voila! A cute tin badge ready to go. Each person can make one.
Depending on the season different designs are introduced. These tin badges are only available here.

At the Crafting Zone you can experience the rope work, which is used as a preparation exercise before entering the production line in factories. You can hook the rope in the direction of the arrow in numerical order, and record the time and accuracy.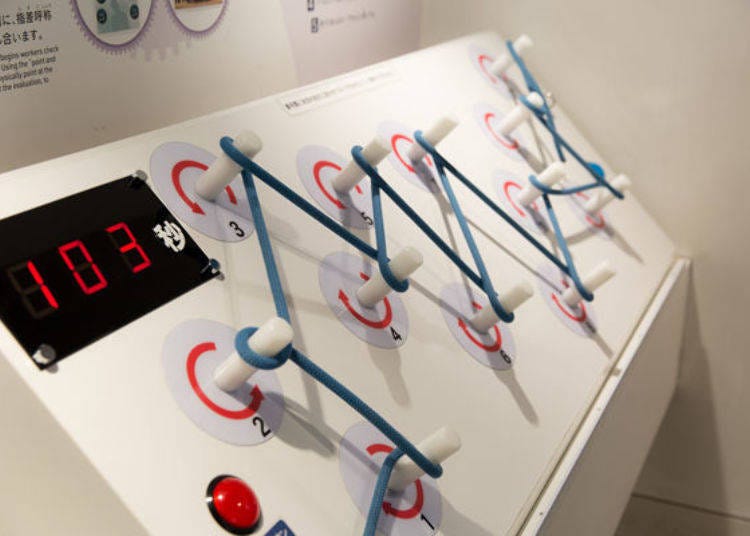 ▲Most new recruits of Yanmar complete this in around 10 seconds! (It is quite hard to get 10 seconds). I wonder if Yanmar will accept me.
Yanmar Technology in Various Places in the Ocean!
Yanmar diesel engines are used in a variety of ships. Next to the Crafting Zone is the Ocean Zone with a large craft about 10 meters long, where you can experience what it's like to drive a boat.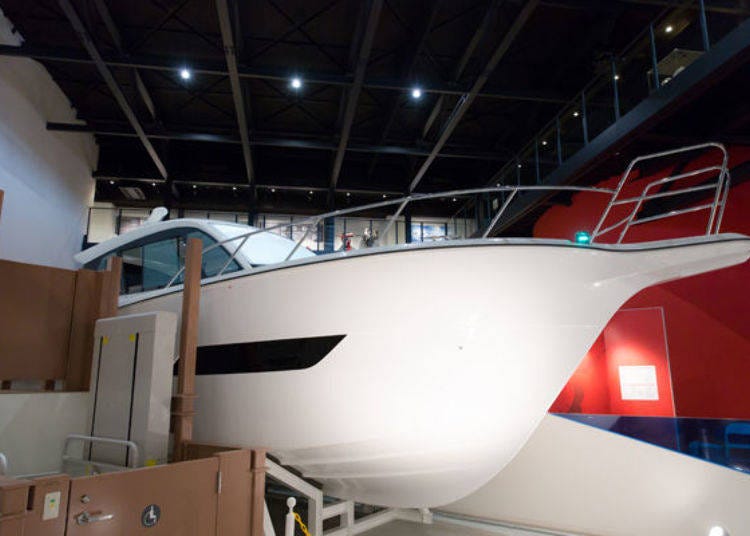 ▲The boat is quite big up close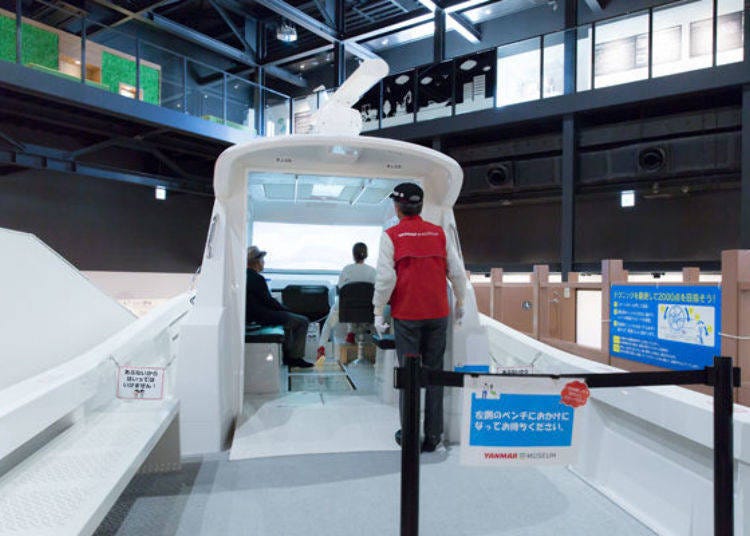 ▲The simulator with a large screen to experience driving the boat is the most popular activity in the museum. All ages can try the simulator
Yanmar technology in places other than boats. You can see where the technology is used by touching the touch panel.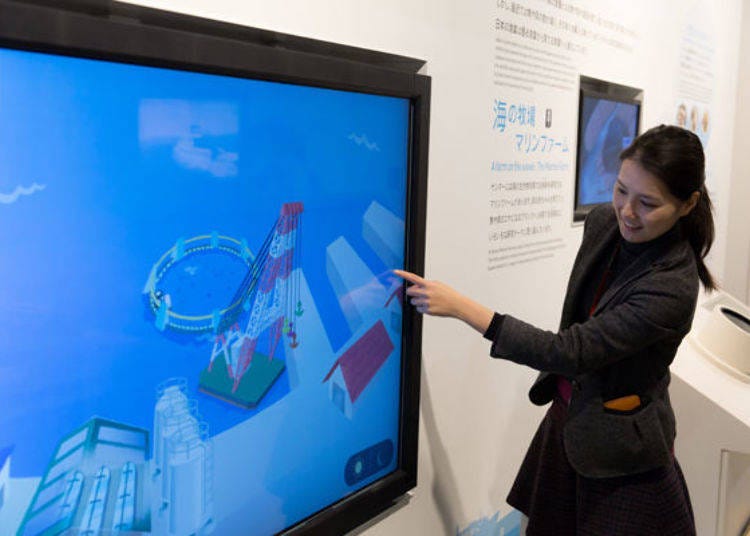 ▲The machine to lay out nets neatly for aquaculture uses Yanmar engines. I didn't know such machine existed!
Energy Zone and Past Engine Gallery
We learned about the three business domains of agriculture, city and ocean, also the energy produced by Yanmar engines is being used without waste.

For example the cogeneration where waste heat from an engine that creates electricity is turned into hot water, and the GHP (Gas Heat Pump) system, an air conditioning unit that uses clean natural gas to run the engine, and emergency lighting. Yanmar engines are used in out of sight places.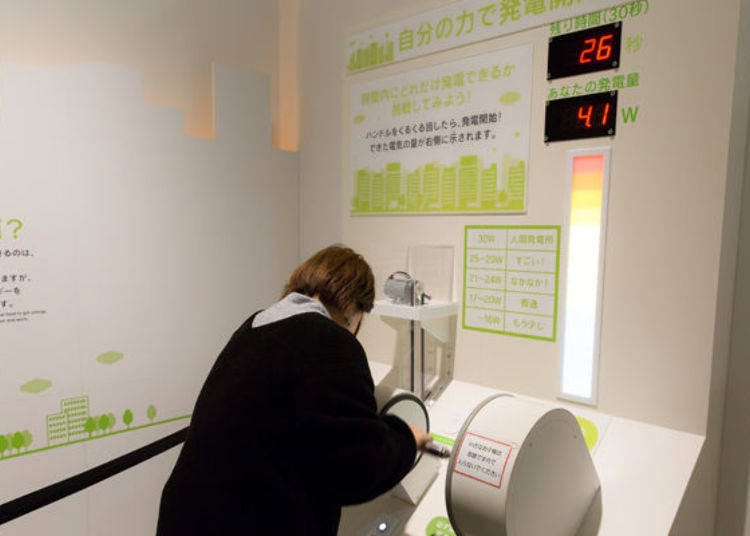 ▲A device to see how much electricity can be produced by hand by turning the handle. Operating this for 30 seconds is tough—it gives you a new found appreciation towards engines!
▲An exhibition of past engine models on the second floor. A section for engine enthusiasts!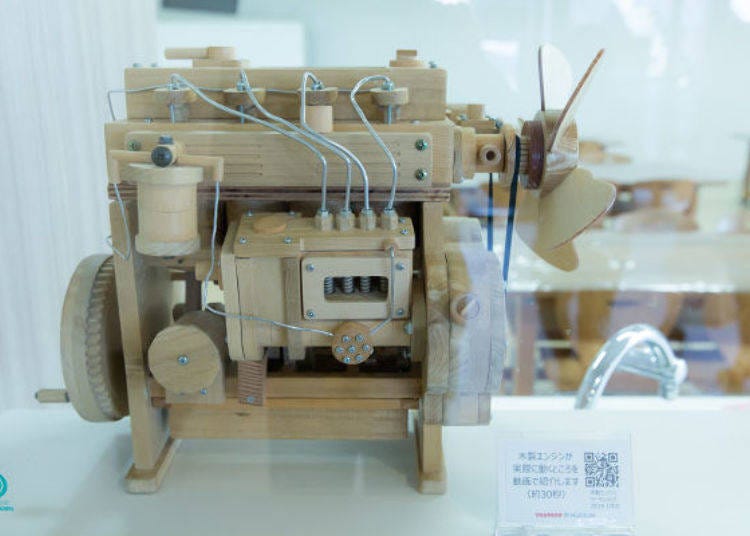 ▲An amazing wooden model of a diesel engine made by a former staff is on display.
The Roof Area: replicating the environment around Lake Biwa
A place that we strongly recommend to visit on a nice day is the roof area. The biotope terrace replicates the vegetation around Lake Biwa and has creatures like Japanese ricefish and pond loach living inside. It also contains nigoro-buna, a round crucian carp that lives only in Lake Biwa. At first there were only 20 Japanese ricefishes, however there are now over 2,000.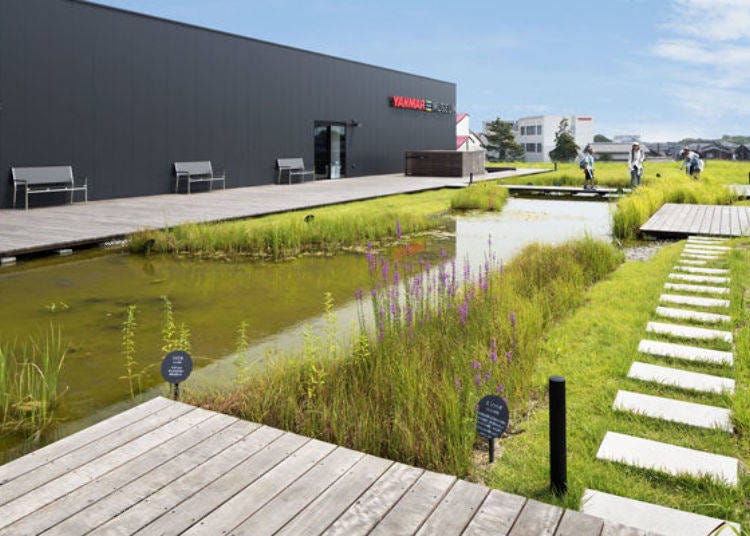 ▲Gathering plants from the nearby area (photo provided by Yanmar Museum)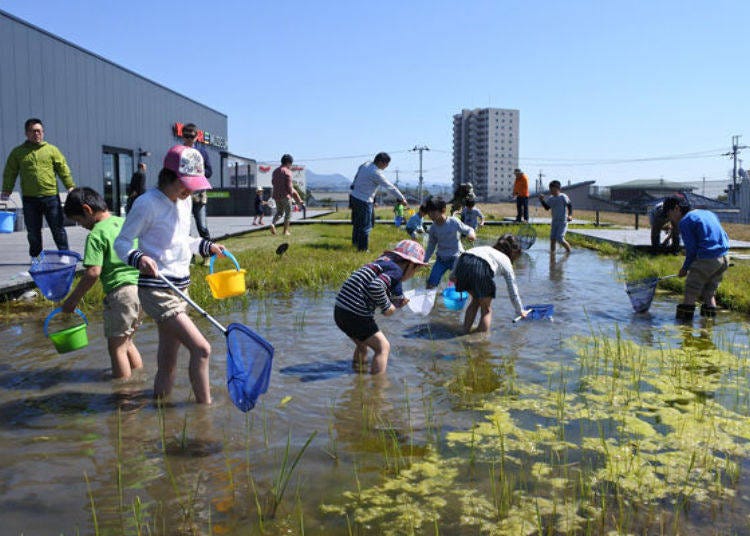 ▲The biotope observation event held throughout the season. An opportunity to enter the pond, where it is usually off limits (photo provided by Yanmar Museum)
The ashiyu (foot bath) at the back of the biotope uses the cogeneration technology for heating by using waste heat of the engine that generate power for the museum. It creates the perfect temperature that isn't too hot or tepid! This technology is used at Showa Station at the South Pole, and at Yanmar one engineer is sent as part of the Japanese Antarctic Research Expedition. If you enter Yanmar you might be able to work at the South Pole!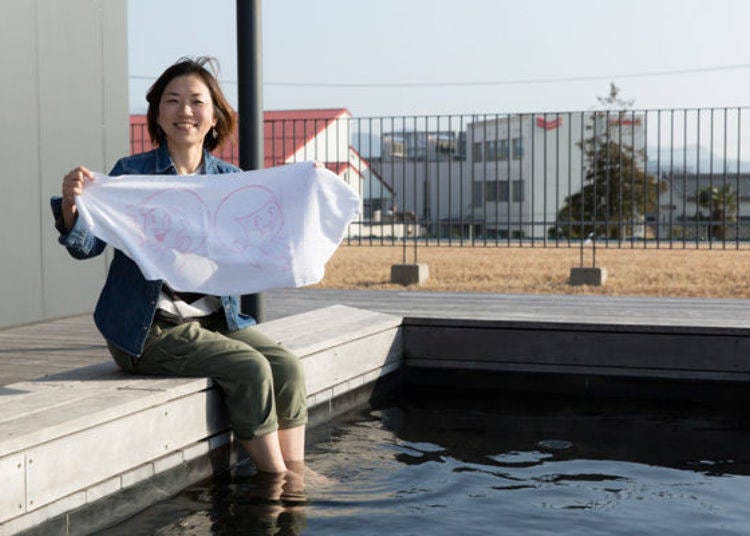 ▲Yanbo Mabo Towel sold at the entrance (200 yen with tax), only available here
Yanmar conducts various workshops on the roof, inside the museum and nearby farm fields. Some workshops you can join that day, for more information make sure to check the official website.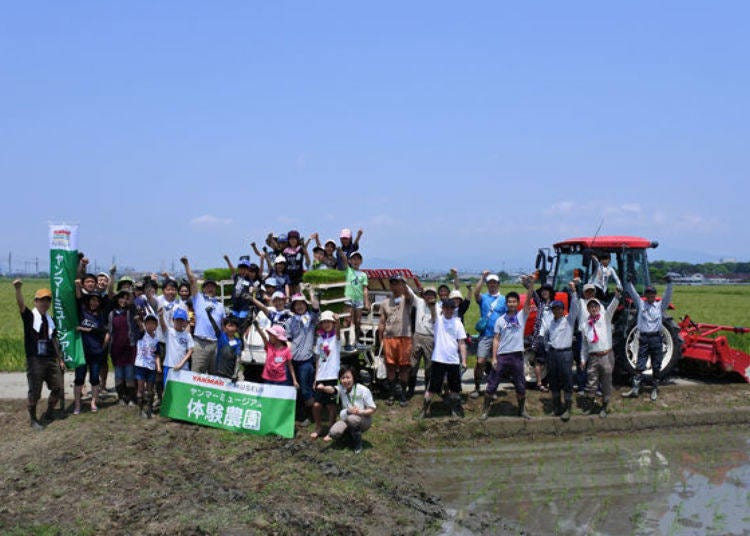 ▲At the rice planting workshop they use Yanmar vehicles (photo provided by Yanmar Museum)
Limited Items at the Museum Shops and Café!
The last place we will go to is the museum shop and café on the first floor next to the entrance.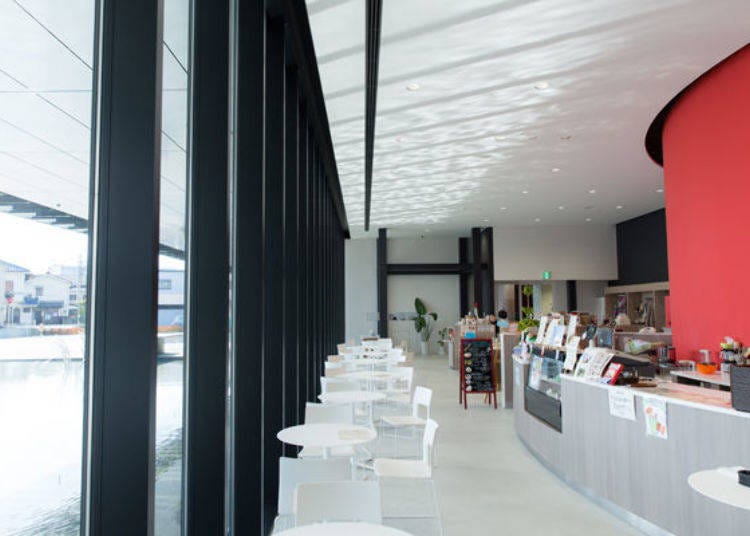 At the café they serve sweets and light meals like the Yanmar Museum Curry. The curry is made using flour from Omi rice that is grown in water from Lake Biwa. We recommend relaxing here after going through the museum.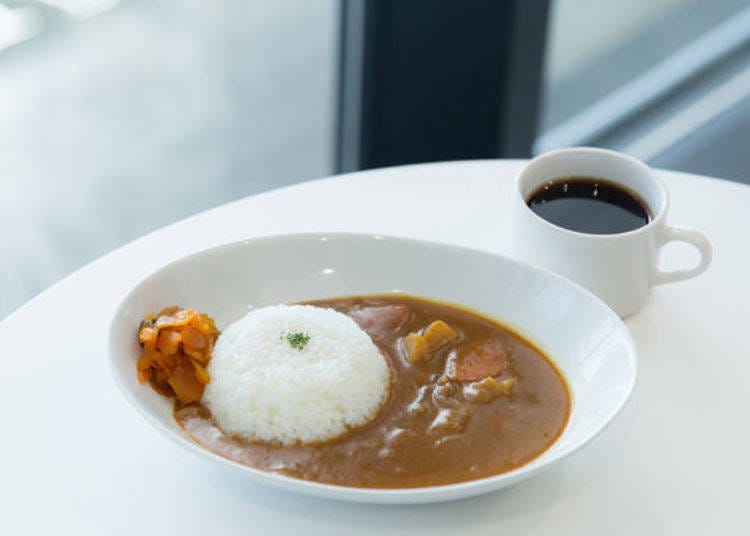 ▲Chunky veggies in the Yanmar Museum curry (750 yen with a mini drink, tax included)
At the shop they have Yanbo and Mabo goods, miniature tractors, Yanmar Agriculture Wear and goods from the Japanese soccer team Cerezo Osaka, which Yanmar sponsors! There are many items that are only available here.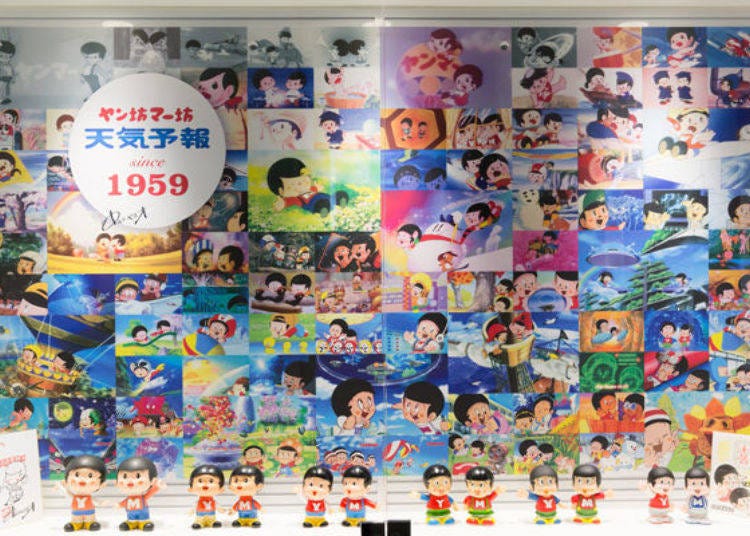 ▲Yanbo Mabo weather report program ended in 2014 (depending on the region it ended at a different time). The loveable characters are cute.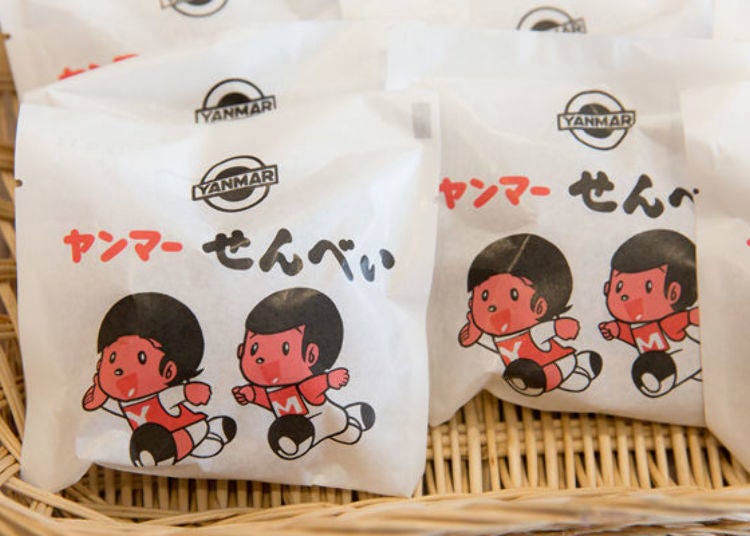 ▲The most popular gift Yanmar Senbei (Japanese rice crackers) (3 per pack 108 yen, tax included)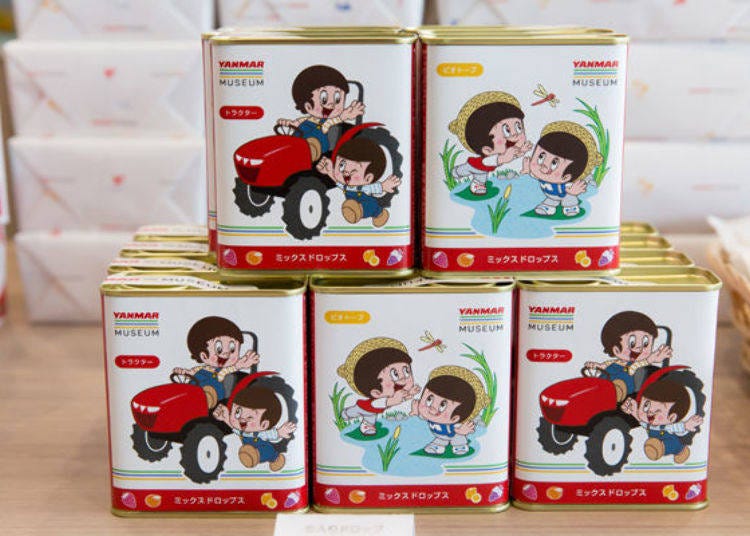 ▲They have various Yanbo Mabo goods such as stationery and mugs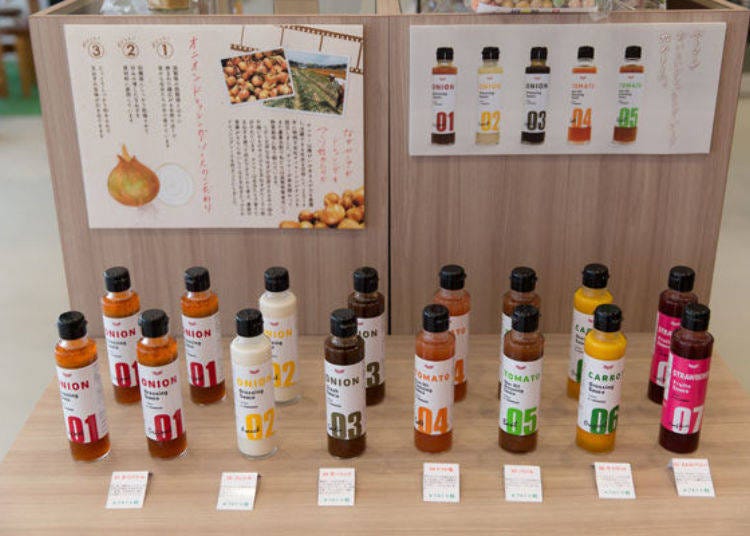 ▲Vegetable dressing made by Yanmar's agricultural business department (800 yen per bottle, tax included)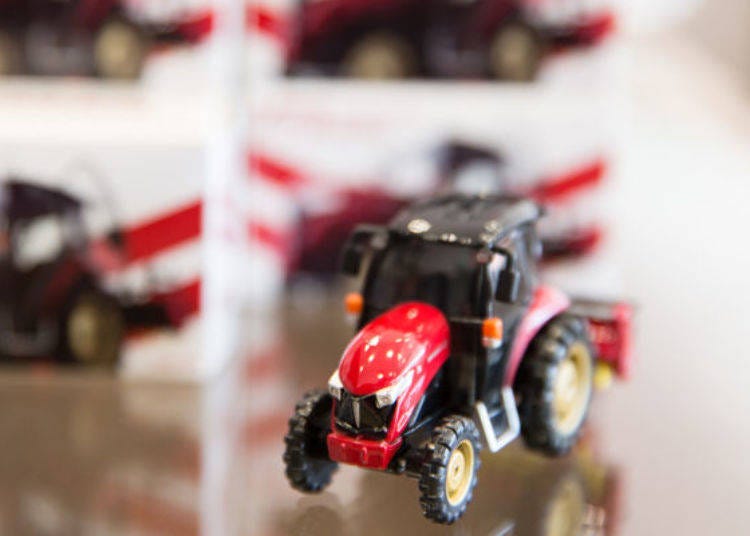 ▲Yanmar tractor YT3 Series Miniature 864 yen (tax included) is a rare product only available here
▲Cerezo Osaka items for soccer fans
Founder Magokichi Yamaoka's motto was "gratitude makes the world a more beautiful place" and with this in mind, on the company's 100th anniversary they created a museum enjoyable for all ages. Visiting the museum was a lot of fun and one could certainly feel the founder's sentiment echoed in each of the exhibits.

Make sure to stop by the fun and exciting Yanmar Museum on your visit to Nagahama!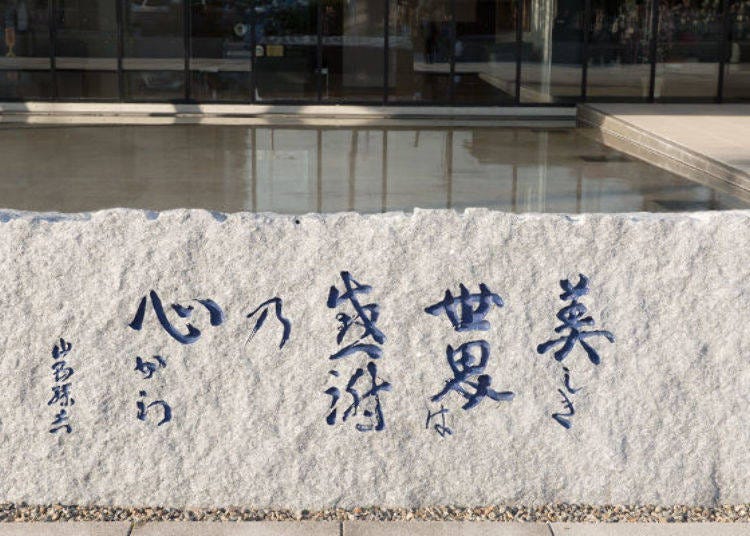 The meaning behind Magokichi Yamaoka's motto is "In life you will be subjected to fortune and misfortune, however if you always remember the feeling of gratitude, a beautiful world will unfold naturally." We would like to conclude our trip with these wonderful words.
ヤンマーミュージアム

Address

6-50 Sanwacho, Nagahama, Shiga Prefecture

Phone Number

0749-62-8887

Hours: 10:00AM – 6:00PM (admission until 5:00PM)
Closed: Monday (Open on holidays and substitute holidays, the next weekday will be closed), New Year's Holiday
*Museum may close or open irregularly. Please check the museum calendar for details
*For a year from September 2018, the museum will be close for renewal
Entrance Fee: High school students and above 600 yen, elementary to junior high school students 300 yen (tax included, free for preschool children)
*This information is from the time of this article's publication.
*Prices and options mentioned are subject to change.
*Unless stated otherwise, all prices include tax.