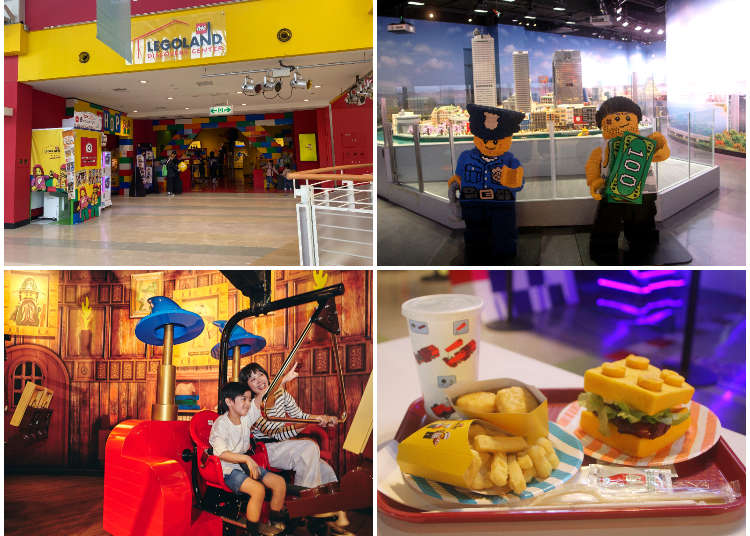 Legoland Discovery Center Osaka is a perfect place to enjoy fun-filled family activities in Osaka. Located in the Tempozan Marketplace, right next to Kaiyukan, one of the largest aquariums in the world, this fun indoor facility is the perfect destination for kids and Lego fans of all ages.

With its spacious play areas and numerous interactive exhibits, Legoland Discovery Center Osaka offers a unique and immersive Lego experience that's sure to create lasting memories. And the best part? It's included in popular tourist packages like the Osaka Amazing Pass and Osaka e-Pass.

Join us as we explore all that Legoland Discovery Center Osaka has to offer!
What is Legoland Discovery Center Osaka?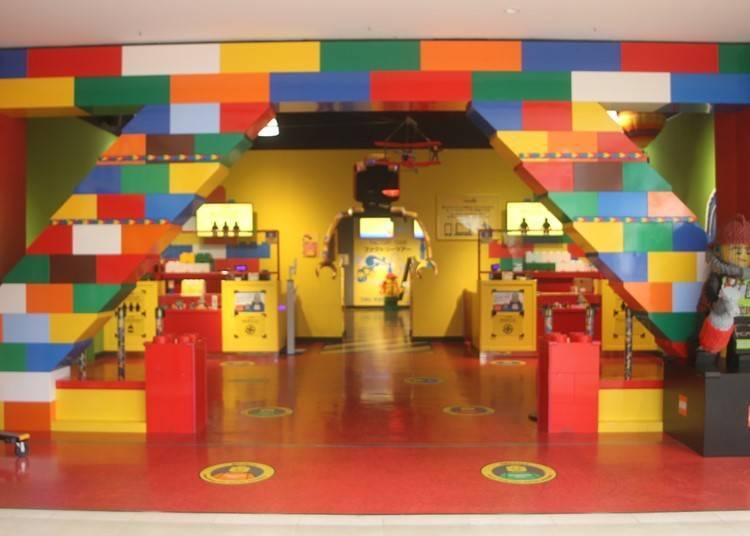 Legoland Discovery Center Osaka is a Lego block-themed entertainment facility located within the Tempozan Marketplace. The facility features a miniature diorama of Osaka's famous landmarks made of more than one million Lego blocks. Visitors can marvel at the incredible detail of the miniature structures and even interact with certain parts of the exhibit.

In addition to the miniature diorama, the facility offers an attraction where visitors can fight off enemies using a laser gun. This interactive experience puts visitors' skills to the test as they navigate through obstacles and battle opponents in a simulated environment.

For younger visitors, Legoland Discovery Center Osaka also features a playground area where they can build their own creations and engage in imaginative play. It's the perfect place for kids to let their creativity run wild and burn off some energy.

And when it's time for a break, visitors can head to the facility's cafeteria, which offers a Lego block-inspired menu with dishes such as the "Lego Burger" and "Lego Fries"! There's also a gift shop lined with limited-edition Lego goods, perfect for picking up a souvenir or two to remember the visit.
Legoland Discovery Center Osaka has the following 11 play zones
Lego Friends Olivia House
Mini Land
Kingdom Quest
Lego Factory
Lego Studios 4D Cinema
Duplo Farm
Lego City Play Zone
Merlin's Apprentice
Lego Racers: Build & Test
Master Builder Academy
The Great Lego Race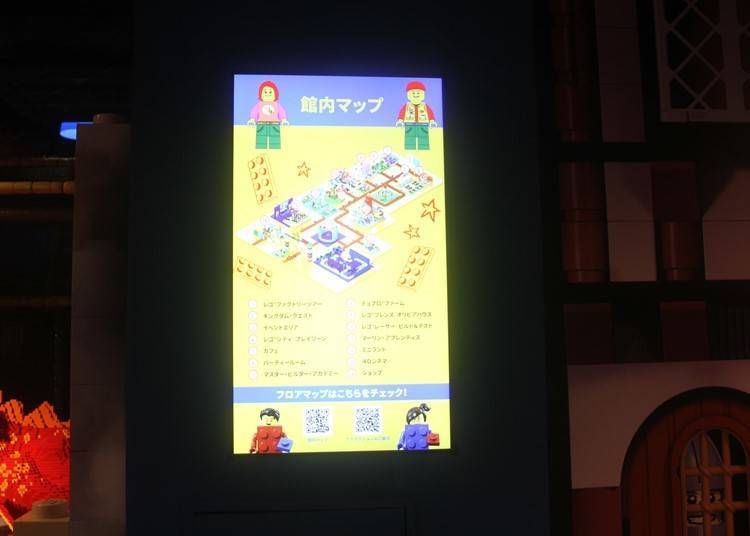 Legoland Discovery Center Osaka doesn't have any floor maps. Instead, you can use your smartphone and scan the QR code on the LCD panel to download a digital map (guidance in foreign languages is available).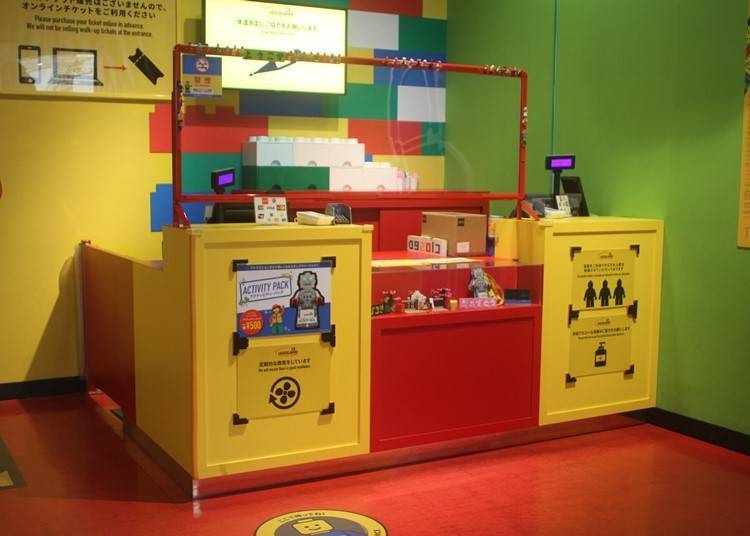 Ticket prices are 2,800 yen for same-day tickets and 2,200 yen for an advanced ticket. Children's admissions cost the same, except for two-year-olds and under who get in for free. Please note that tickets are not sold at the counter, and they must be purchased online prior to arriving at the facility.
Legoland Discovery Center Osaka is also one of the facilities covered by the Osaka Amazing Pass and Osaka e-Pass! Each city pass offers unlimited train and bus rides and free admission to designated sightseeing spots upon presentation.
A "Kaiyukan & Legoland Discovery Center Osaka Set Ticket" is available at the Kaiyukan ticket window next door. Prices are 4,900 yen for adults (ages 16 and up), 3,600 yen for children, and 2,900 yen for toddlers (ages three and up).

In addition, there's the "Santa Maria Cruise Set Ticket" (3,300 yen for adults, 2,700 yen for children), which includes a ticket for a tour of Osaka Bay on the Santa Maria cruiser. If you've already decided what to see, you can save money by purchasing one of these package deals!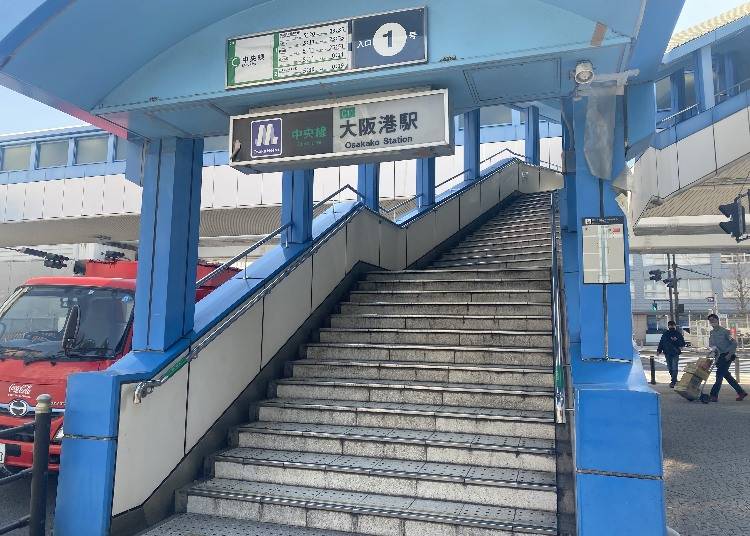 To get to Legoland Discovery Center Osaka from JR Osaka Station, first, take the Osaka Loop Line to Bentencho Station. Then transfer to the Osaka Metro Line and get off at Osakako Station.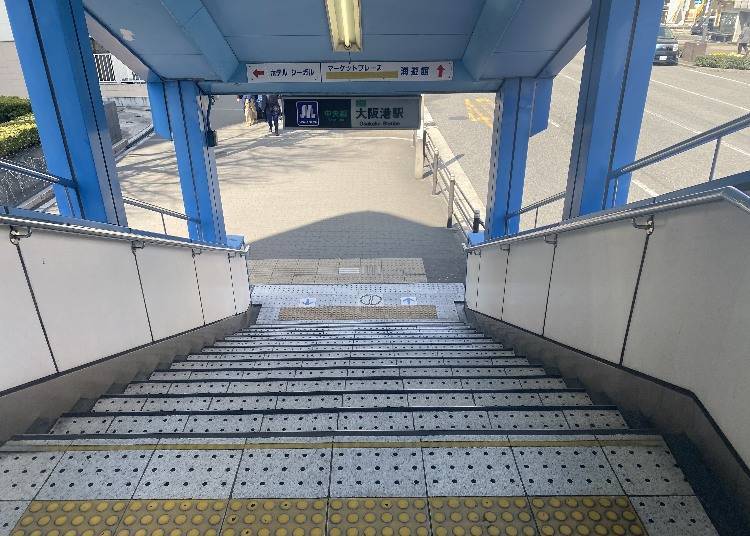 When you leave the ticket gates at Osakako Station, first head to Exit 1.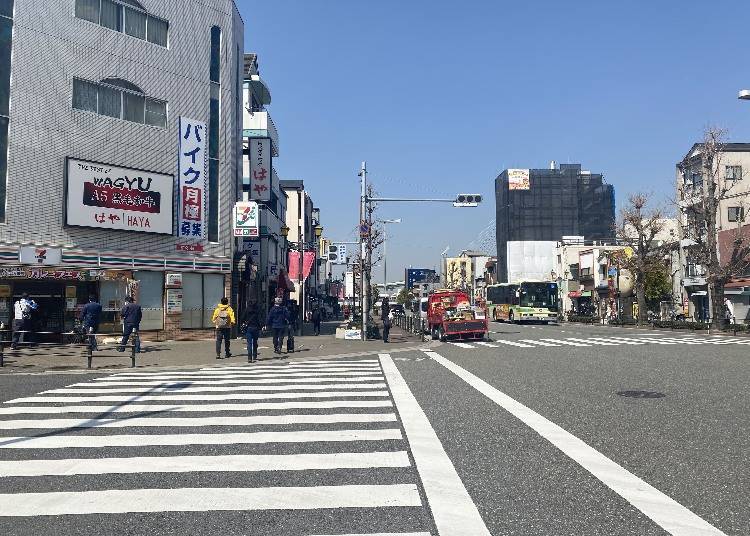 After taking the stairs, continue straight.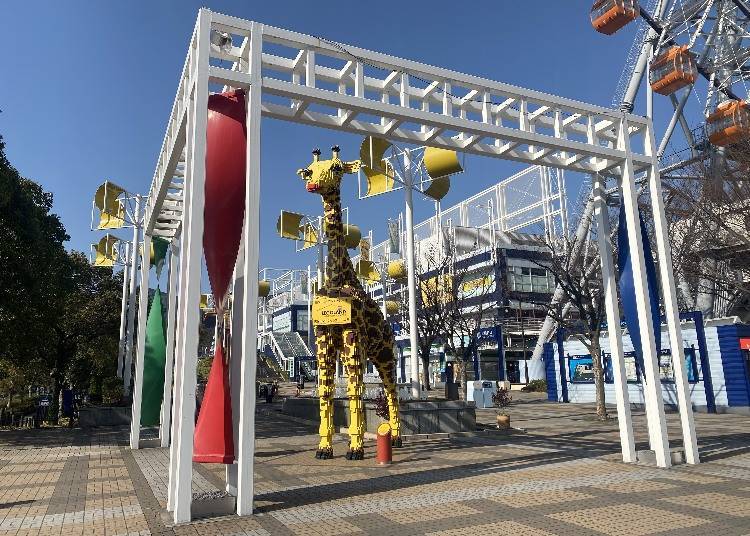 When you see the large Ferris wheel and the Lego-block giraffe, continue further behind the sculpture.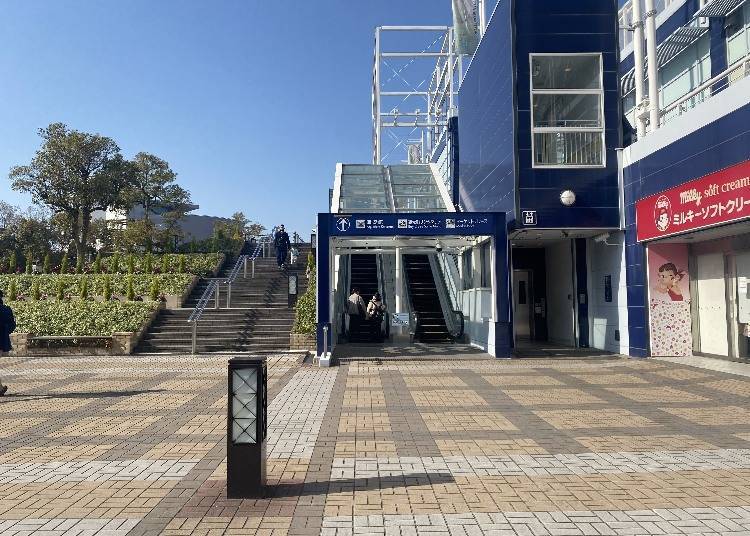 Take the stairs or escalator to the top.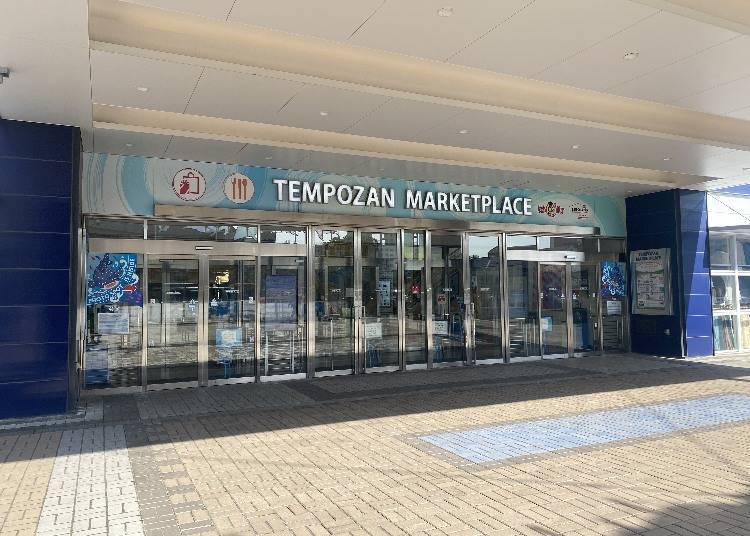 Finally, you'll see the entrance to Tempozan Market Place on the right. Legoland Discovery Center Osaka is located on the third floor of this facility.

While you're in the Tempozan Marketplace, be sure to check out "Naniwa Kuishinbo Yokocho," a food theme park where you can enjoy Osaka's cuisine. The market also has a souvenir store where you can pick up some unique gifts and mementos.

If you're arriving by car, it takes about five minutes from the Tempozan Interchange on the Hanshin Expressway Wangan Line and Osakako Line. There's a parking facility available for a fee, located on the basement floors of both Kaiyukan and Tempozan Marketplace.
Nine Recommended Attractions & Spots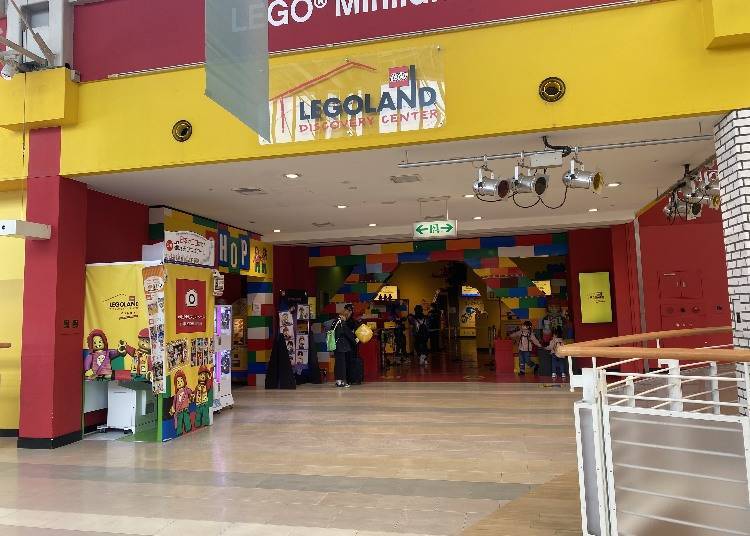 Now we'll introduce some of Legoland Discovery Center Osaka's highlights!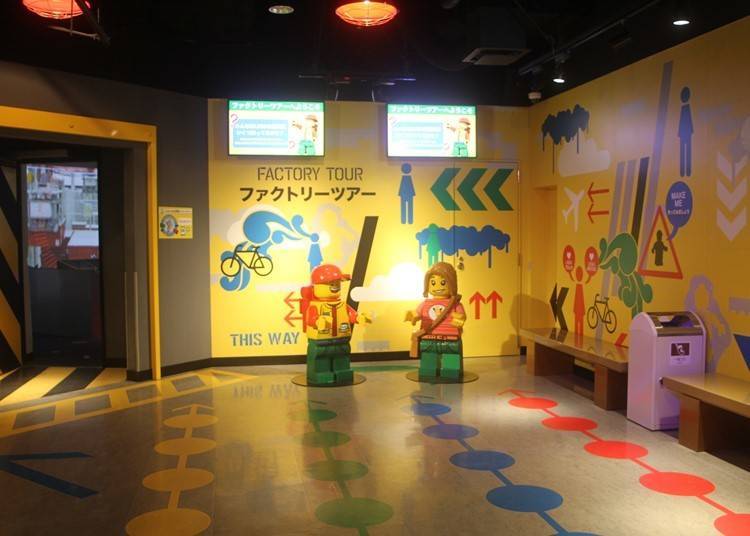 The first stop is a tour of the Lego Factory!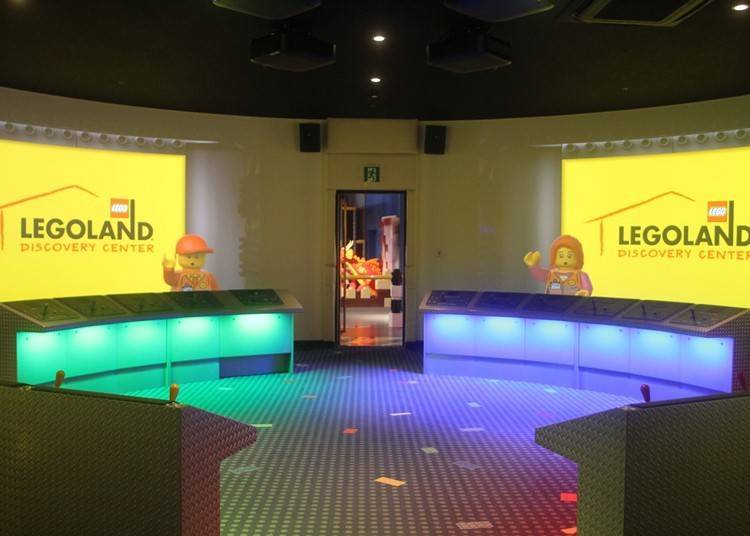 There are four large screens where visitors can enjoy video footage of the Lego block factory. Here you can take a peek at the Lego block-making process, what kind of people work in the factory, and more! It's a rare experience that offers new insight into the world of Legos.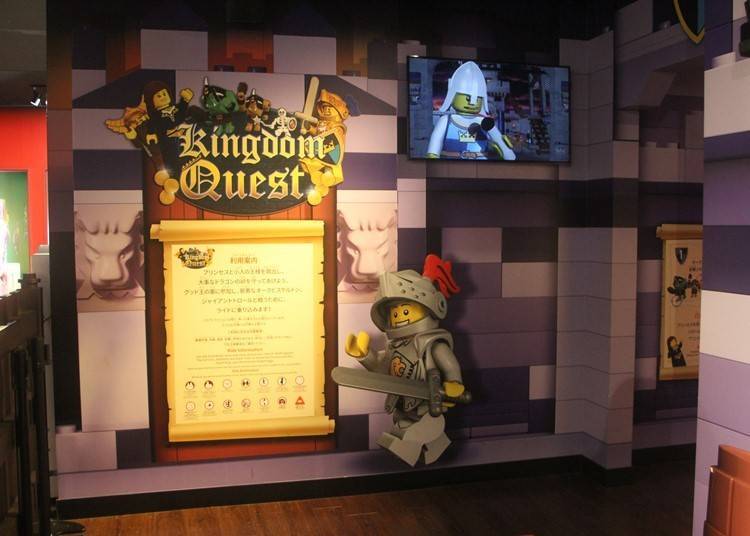 "Kingdom Quest" is an attraction in which your mission is to rescue a princess while using a laser gun to defeat a series of enemies.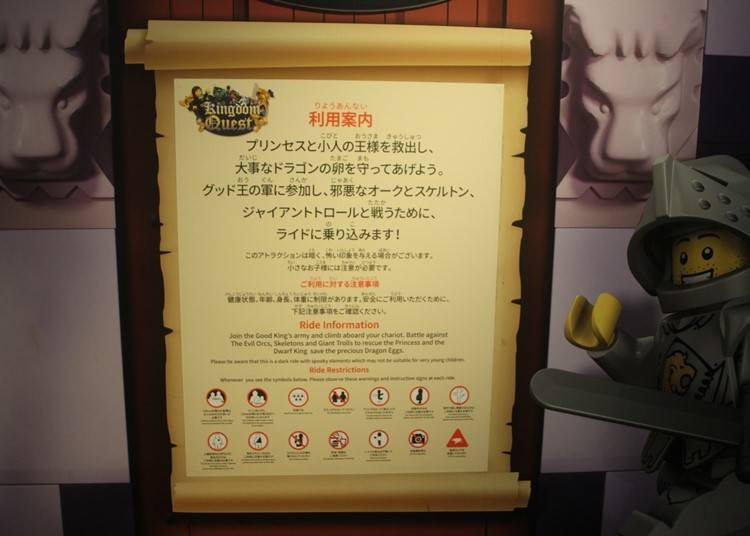 Guides are available in English.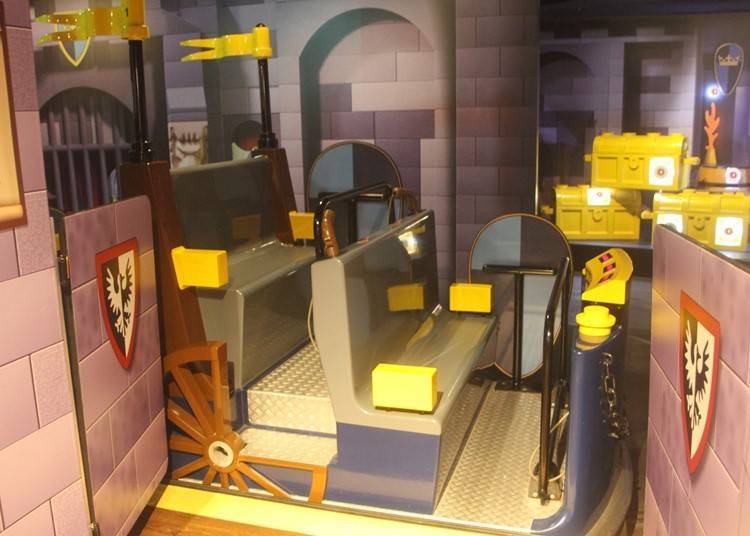 The seats are arranged in two rows and can accommodate up to five passengers (children under 130 cm tall must be accompanied by a parent or guardian). Once the safety bar is securely attached, it's time to start your exciting adventure!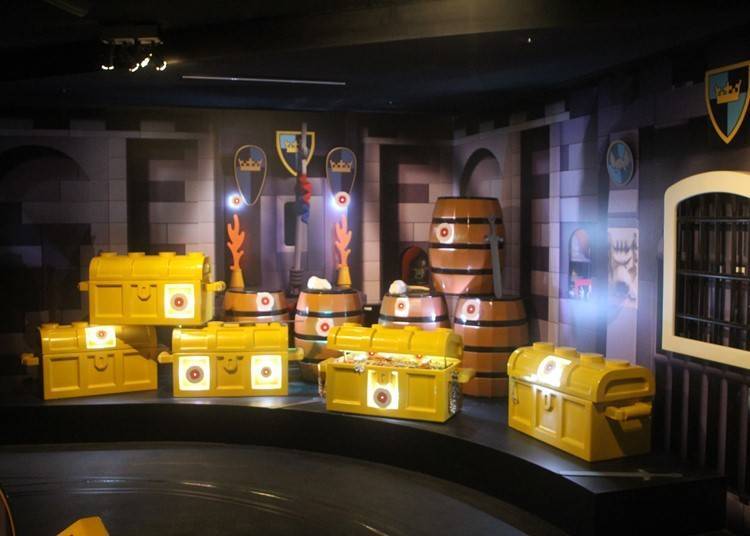 The attraction lasts about four minutes. When you press and hit the button on the laser gun, the number on the LCD panel will increase rapidly. We recommend trying to top high scores with your family!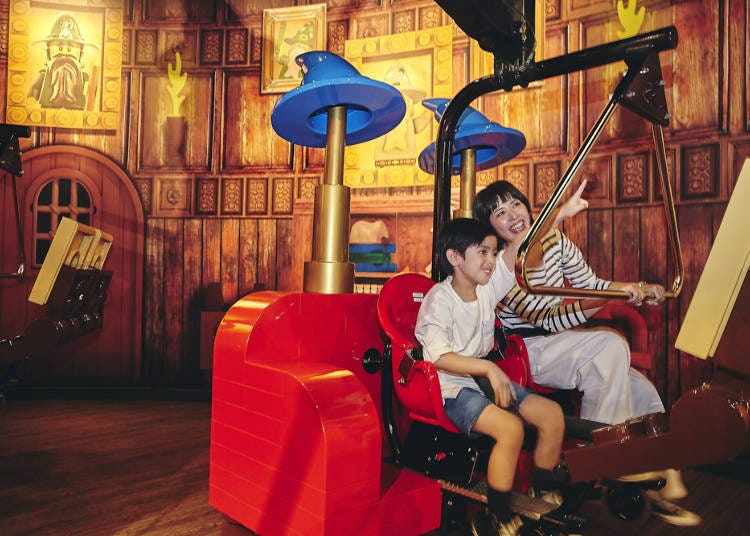 "Merlin's Apprentice" is an attraction where you pedal to fly! Enjoy the sensation of floating as this ride takes you up and down and around in circles! (Children between 90 and 120 cm must be accompanied by a parent or guardian over 18. This attraction is for two people, but adults cannot ride together.)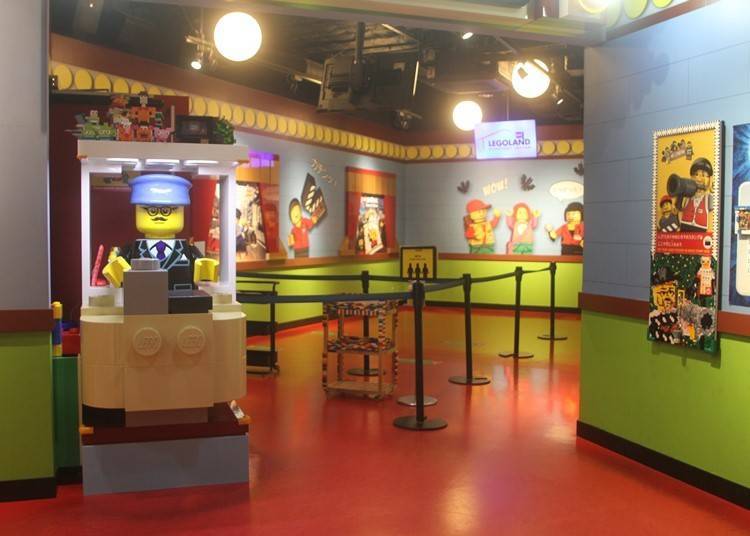 At the "Lego Studio 4D Cinema", you can watch a short movie in 4D on a large screen. The movie lasts approximately 15 minutes, and a parent or guardian must accompany children under six.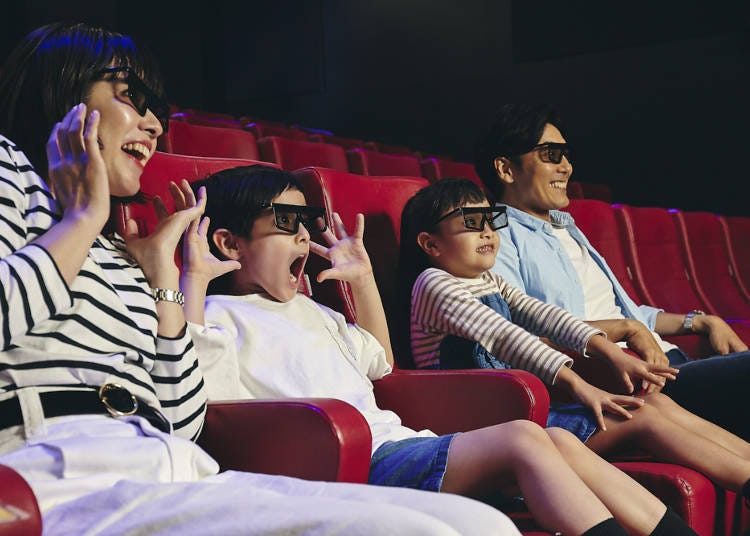 Special glasses given to you at the start of the movie make it seem like the footage is jumping out at you, so much so that you won't be able to resist putting your hands out! Smoke and wind are also produced in time with the images, adding to the realistic experience.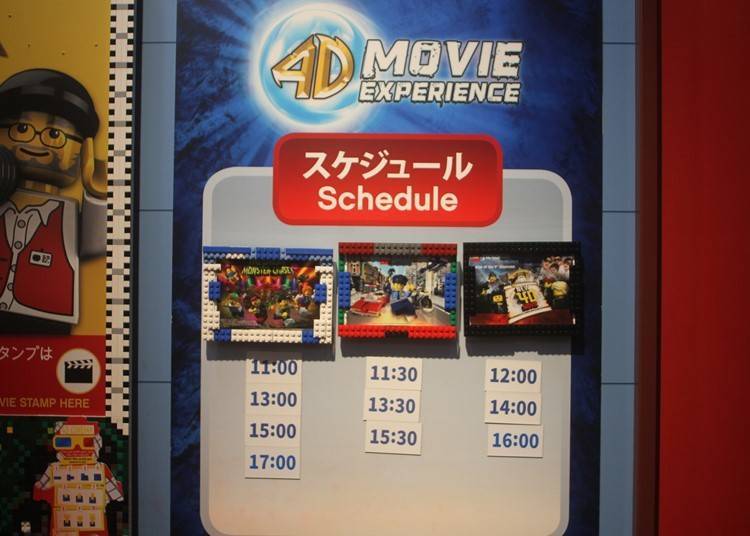 There are about three movie screenings. Some of the movies have no dialogue, making the experience enjoyable even if you don't understand Japanese. "Lego City Police" is a favorite among foreign visitors, recommended for both children and adults!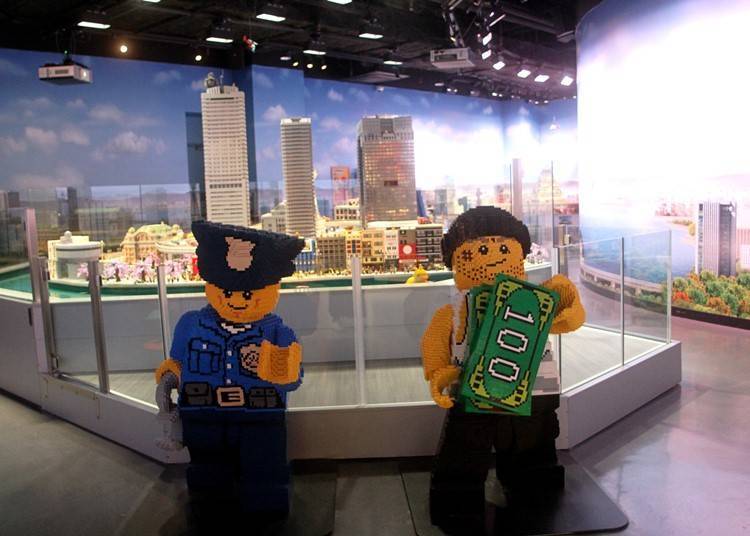 "Mini Land" features a series of miniature-sized dioramas of Osaka's famous landmarks, recreated using more than one million Lego blocks!
Osaka Castle, one of Osaka's most famous tourist attractions, is also a part of the diorama!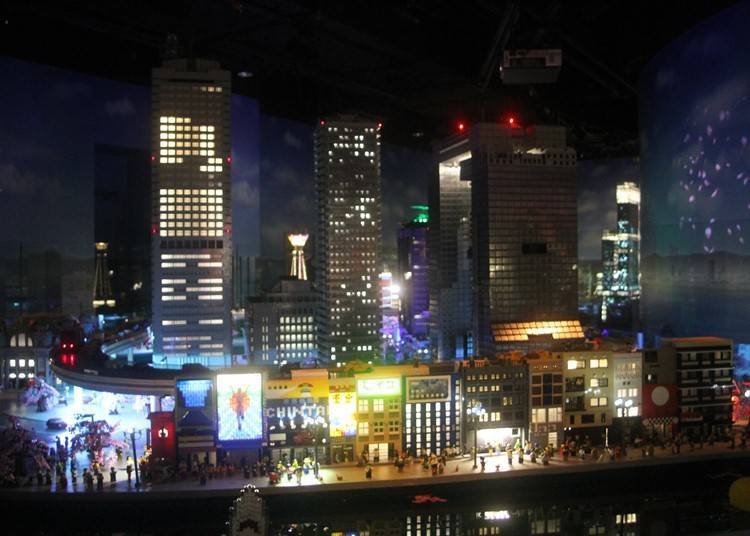 When looking at the diorama for a while, the sun gradually sets and your welcomed with views of Osaka City at night. We highly recommend taking in the sights of the beautiful nightscape!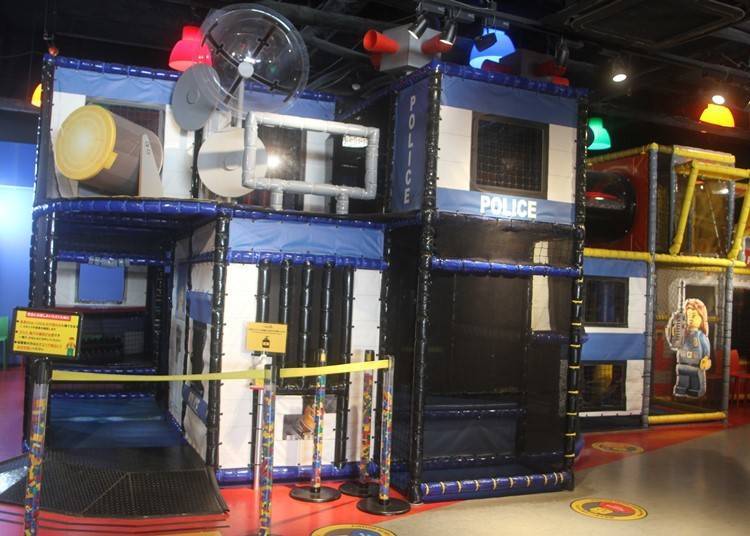 The "Lego City Play Zone" is recommended for children looking to run around and explore! It includes a maze-like area with large blocks and slides. Admission is limited to children who are 90 cm to 150 cm tall, and although adults aren't allowed inside, they can take a break on one of the nearby benches.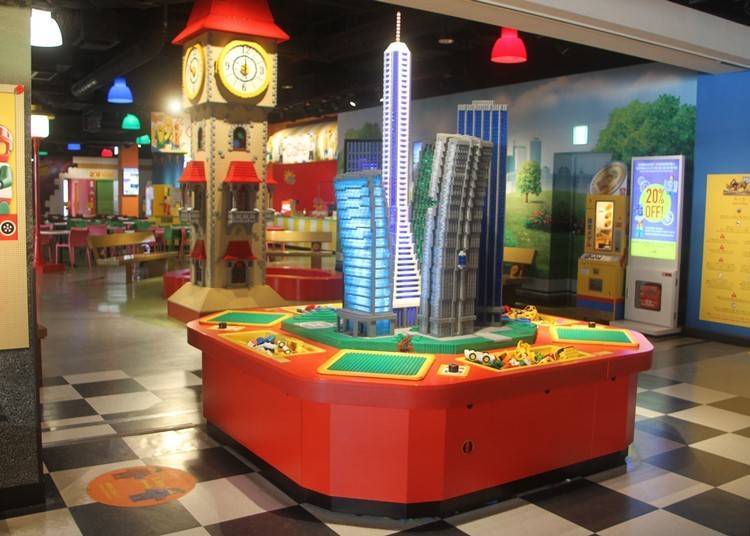 Lego block experiences can be enjoyed throughout the facility.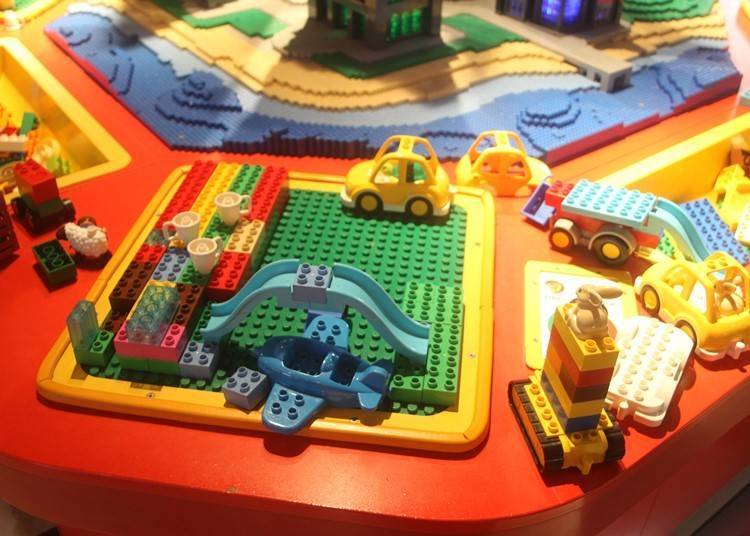 Lego blocks can be stacked freely, offering no limits to what you can create! We recommend experimenting with these blocks and making special pieces as a family.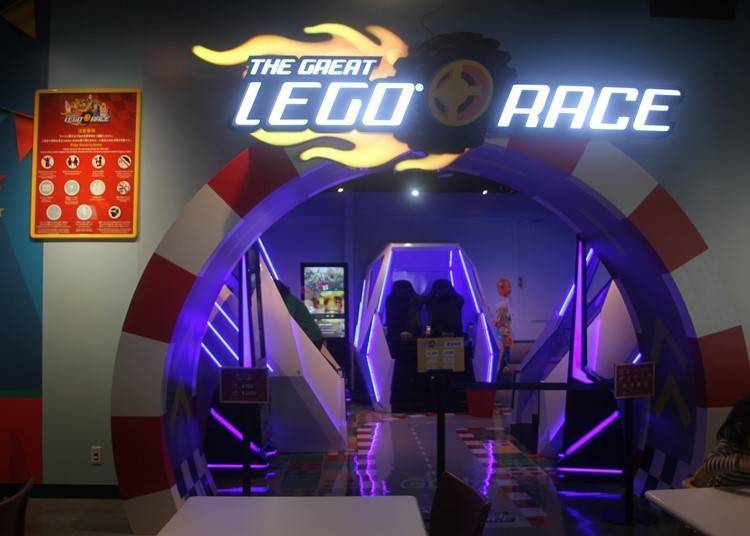 The "Great Lego Race" (fee required) is a VR attraction where you can enjoy realistic images by wearing special glasses. Admission costs 700 yen for one person or 1,000 yen for two people. Here you can experience the thrill of joining a race against Lego figures! The chairs move up, down, left, and right in time with the images! This is a 360 degree-experience enabling you to turn around and enjoy the scenery around you.

The "Great Lego Race" is for ages six and up; an adult must accompany children 12 and under.
8. Master Builder Academy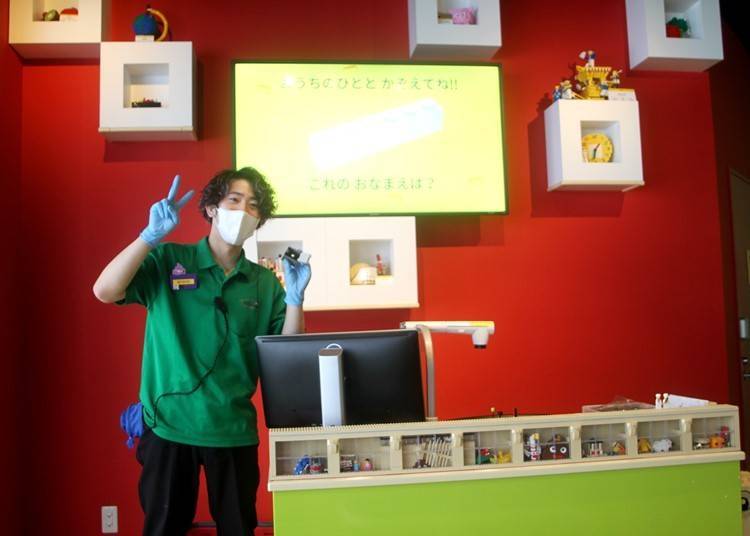 The "Master Builder Academy" (500 yen per person) is a workshop where you can make Lego artwork taught (in Japanese only) by a staff member. Although there is no foreign language guidance, this experience is limited to Legoland Discovery Center Osaka! The staff's hand is projected on the screen before you, so you can follow instructions and build simultaneously. Why not try getting creative with Lego blocks?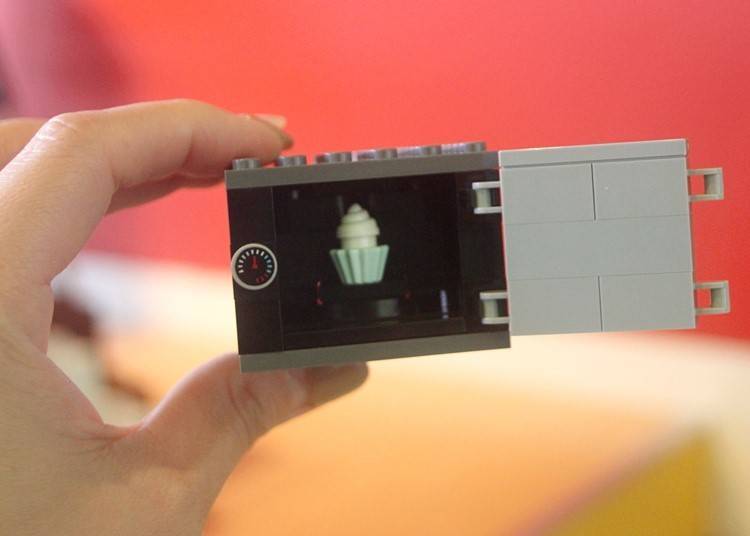 On the day we visited, we built a microwave equipped with a mechanism that changes the color of the cupcake inside when the door is closed. We learned the names of the Lego block parts and tips on assembling them, all while having lots of fun. What's more, completed works can be taken home, making it the perfect souvenir!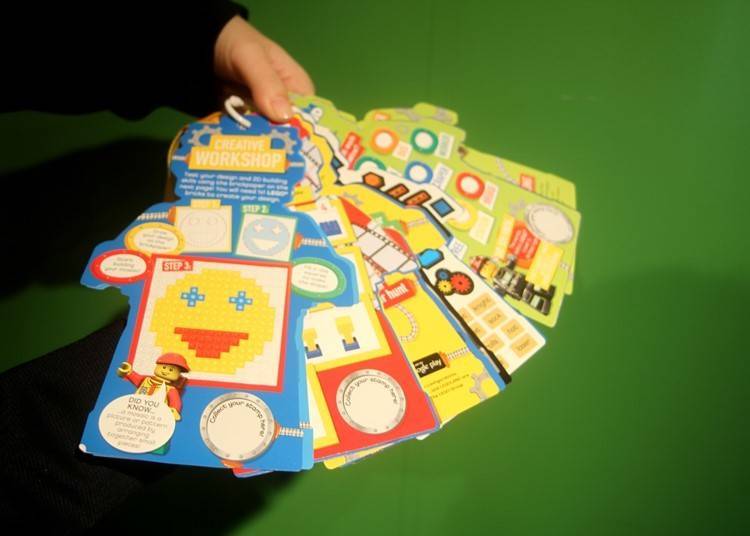 For those who want to further add to their experience, we recommend the "Activity Pack" (500 yen). This booklet contains tips for enjoying Legoland, assembling Lego blocks, and stamp-collecting cards.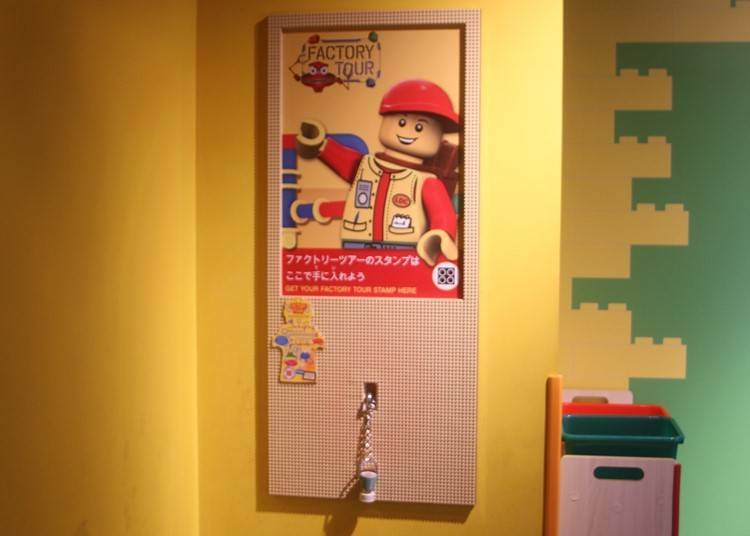 Be on the lookout for stamp stations around the facility!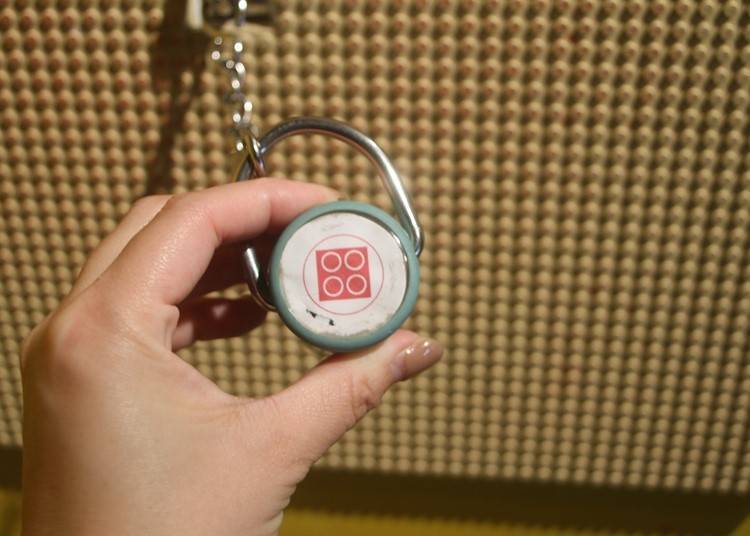 If you collect all the stamps, you get a minifigure as a gift.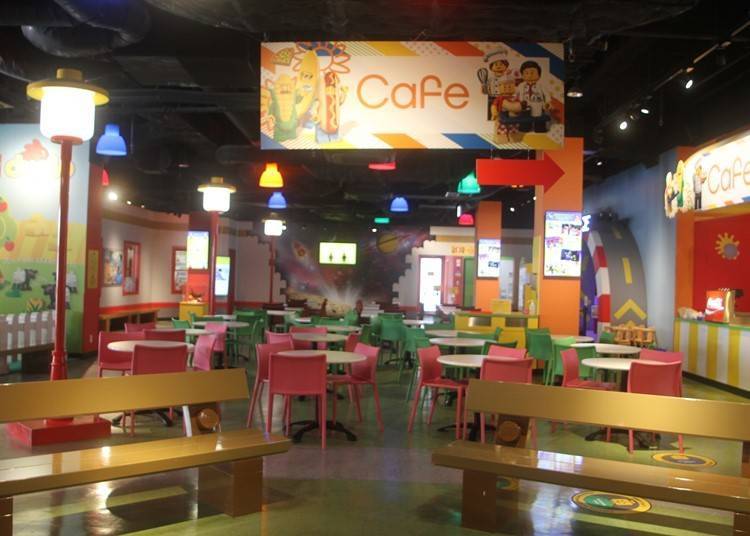 Legoland Discovery Center Osaka also has a cafeteria!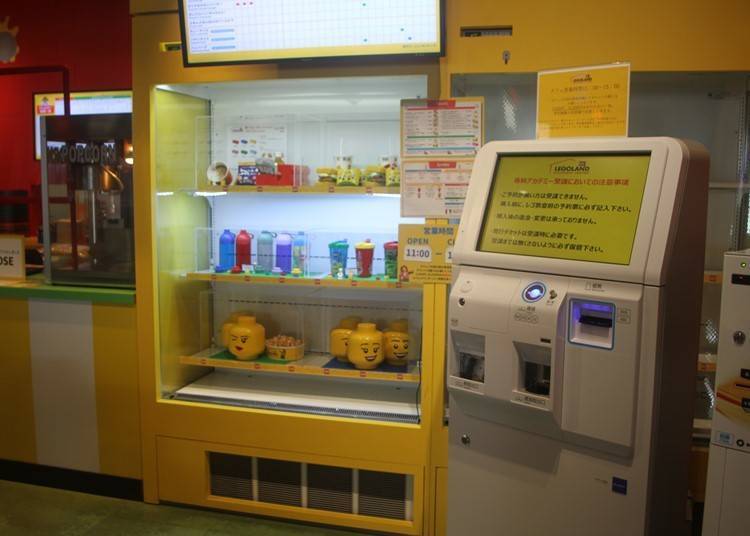 Use the ticket vending machine next to the counter to order your meal. Choose your favorite menu item, pay, and hand your ticket to the staff.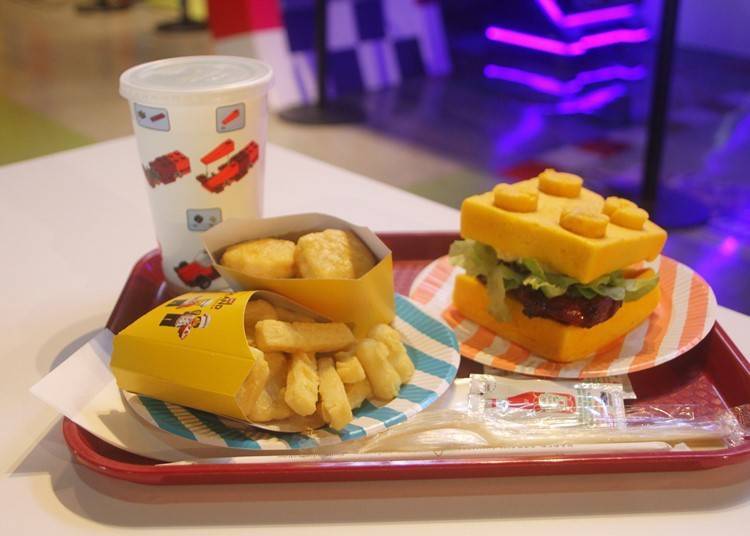 A popular choice is the "Teriyaki Chicken Burger, Fries, and Nugget Meal (1,800 yen)", which includes a teriyaki chicken burger, fries, nuggets, and a drink.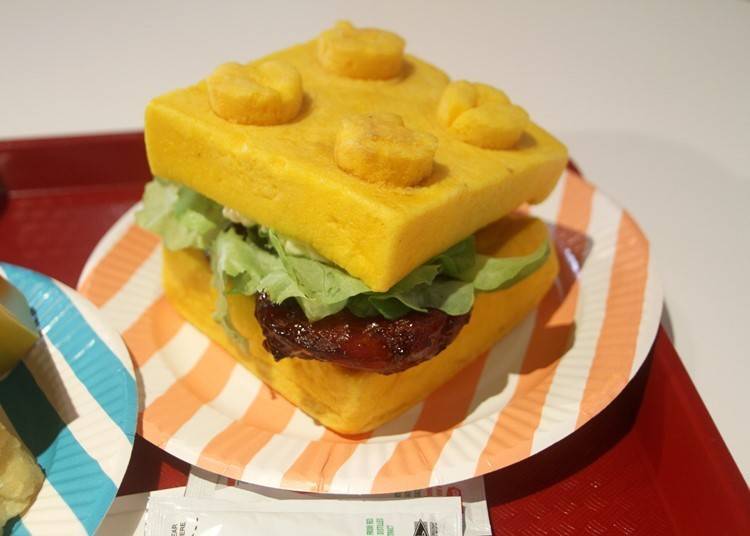 As you can see, the buns of the burgers are adorably shaped like Lego blocks! This is perfect for those who want to enjoy Lego-themed dishes.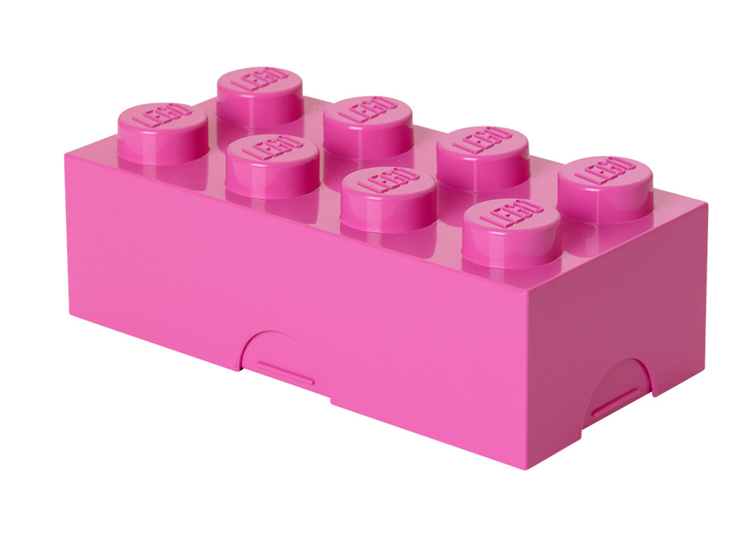 Customizable Lego Box Set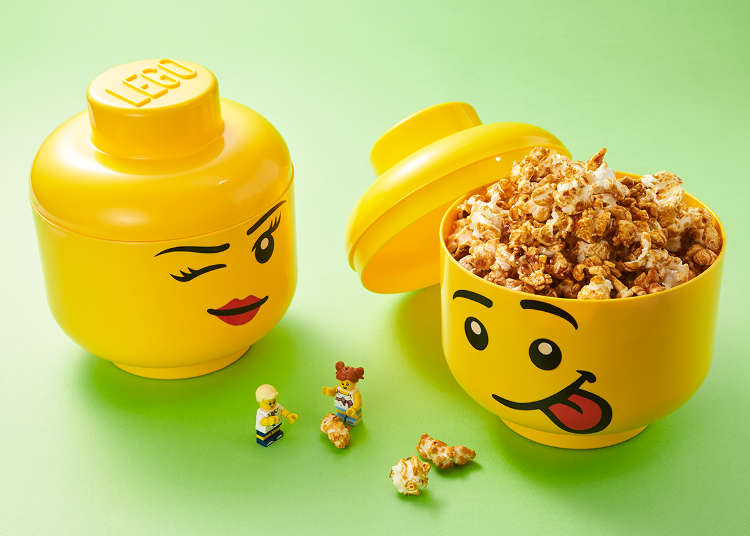 Popcorn bucket (minifigure head)
Other favorites include the "Customizable Lego Box Set" (2,500 yen), which comes with a Lego box, juice, food, a minifigure, and snacks, as well as the "Popcorn Bucket (minifigure head)" (2,800 yen), which comes with a minifigure-shaped container that you can take home as a souvenir.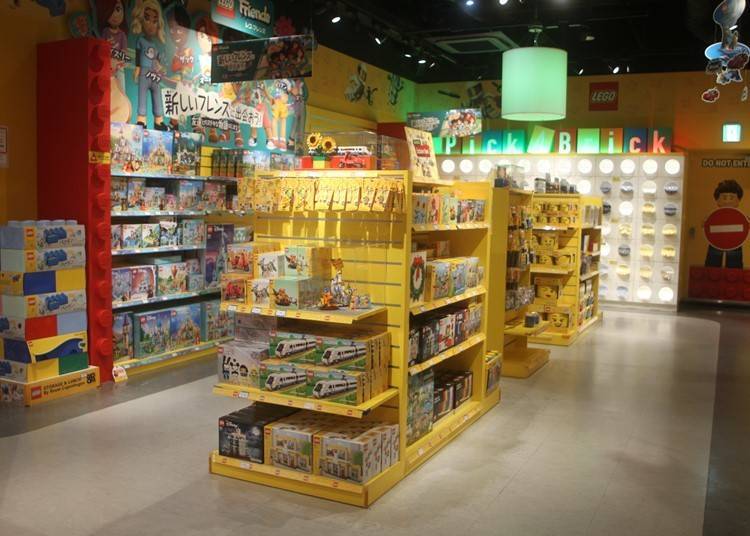 For more souvenir shopping, stop by the Legoland Discovery Center on your way out.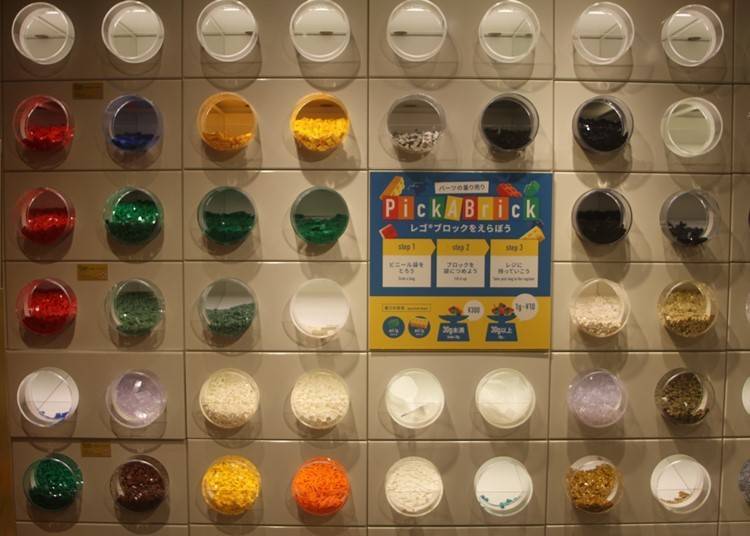 At "Pick a Brick," you can choose from over 100 of your favorite Lego parts by the gram, or ...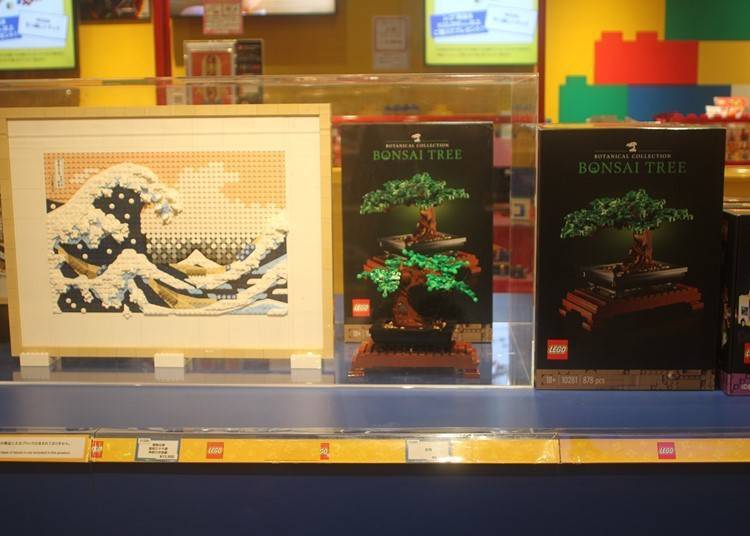 Purchase one-of-a-kind pieces such as "LEGO® Art: Katsushika Hokusai's 'Thirty-six views of Mount Fuji'" and "LEGO® Bonsai."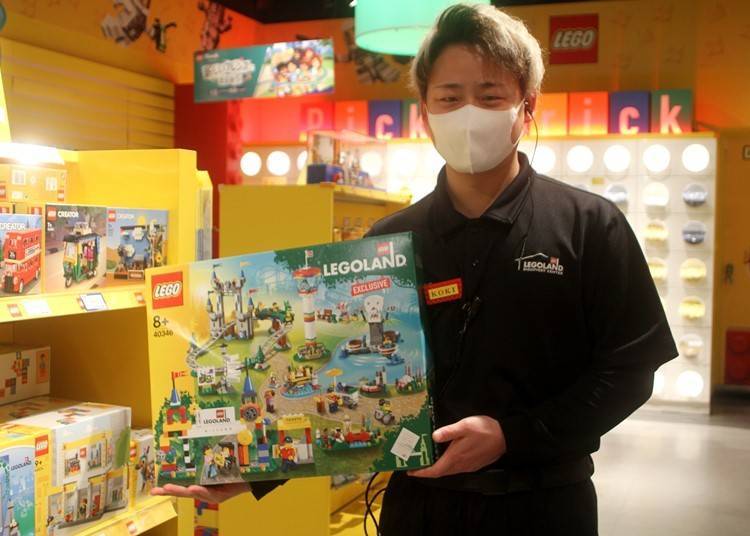 Items branded with the "LEGOLAND" logo are only available at the Legoland Discovery Center and Legoland Japan Resort, so be sure to check them out!
The fun with Legos never stops! Legoland Discovery Center Osaka offers many attractions and play areas where you can fully immerse yourself in the world of Lego. Moreover, as it's an indoor facility, you can enjoy it any weather. We highly recommend taking a trip as a family!

*The information in this article is from April 2023. Please check the official website for the latest updates.
・Guides and signs are available in English.
・Explanations for attractions are provided in English, Chinese, and Korean prior to riding.
・Foreign language speaking staff are always available.
・No discount services for foreign visitors
Legoland Discovery Center Osaka

レゴランド®・ディスカバリー・センター大阪

Address

3F, Tempozan Market Place, 1Chome-1-10, Kaigandori, Minato-ku, Osaka, 552-0022

・Price: Same-day tickets 2,800 yen, advance tickets 2,200 yen (*No fee required for children under two years old.) Tickets are not sold at the counter. Purchase tickets online beforehand.
・Hours: Follows the hours of Tempozan Market Place
・Closed: Follows the closed days of Tempozan Market Place
・Official website: https://www.legolanddiscoverycenter.com/osaka
Written by: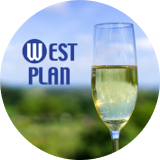 *This information is from the time of this article's publication.
*Prices and options mentioned are subject to change.
*Unless stated otherwise, all prices include tax.
Limited time offer: 10% discount coupons available now!