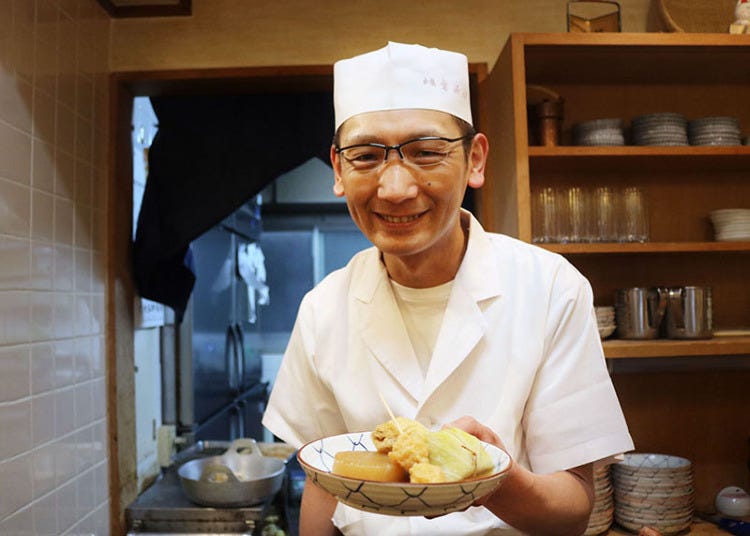 Osaka is Japan's premier gourmet capital - with hundreds of renowned restaurants offering unique takes on local cuisine. But with so much variety, it's easy to become overwhelmed.

In times like these, we suggest following the recommendations in the MICHELIN Guide Kyoto Osaka 2022, which lists a multitude of "Bib Gourmand" restaurants selected for their reasonable prices and quality meals.

One of these is Kansaidaki Honke Joyato, an acclaimed oden joint near Nakatsu Station, the next stop after Umeda on the Osaka Metro. With two appearances in the legendary manga Oishinbo, you know it's worth checking out!
Oden like you've never seen before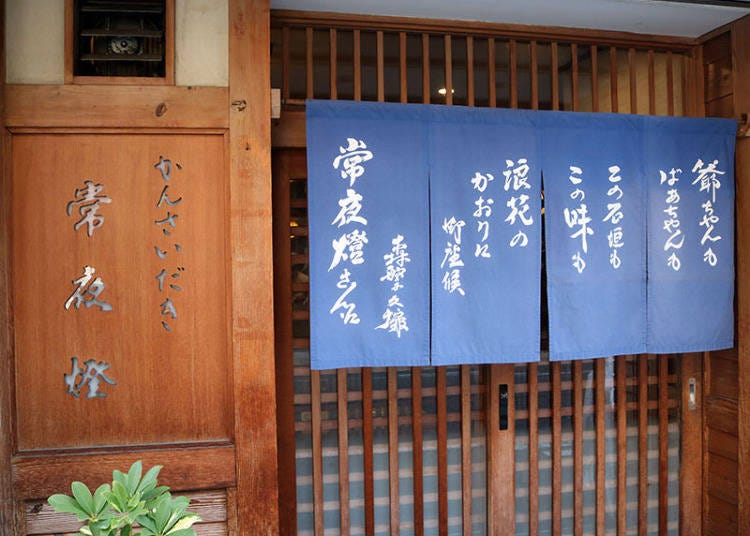 Find the restaurant by looking for the 'noren' curtain.
Kansaidaki Honke Joyato is a 5-minute walk from Nakatsu Station on the Osaka Metro. It can also be reached after a 15-minute walk from the Chayamachiguchi Exit of Osaka-Umeda Station on the Hankyu Railway. It sits on a quiet street a short distance from Osaka's Midosuji Avenue, and can be found by looking for the blue curtain that hangs at the entrance.

It serves "kansaidaki," which is a kind of "oden" - a famous Japanese meal of ingredients stewed in a light broth.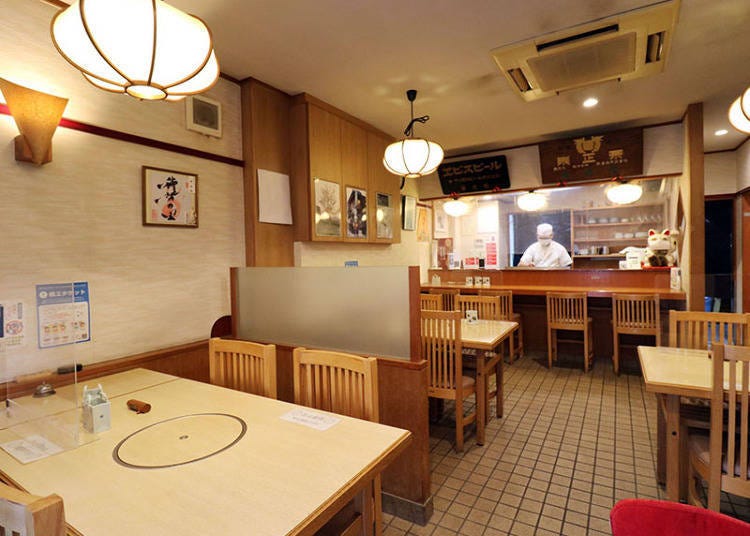 The interior. The counter seats are currently not in use.
Inside Kansaidaki Honke Joyato are three tables seating four people, with additional counter seating that is currently not being used. As the restaurant is small-scale, tables must be booked by phone in Japanese, so don't just turn up without calling.

Health and safety measures are firmly in place, such as plastic dividers between tables and the counter to prevent droplets. Once you've made your reservation, enter the restaurant, spray your hands with disinfectant alcohol, and the staff will guide you to your seat.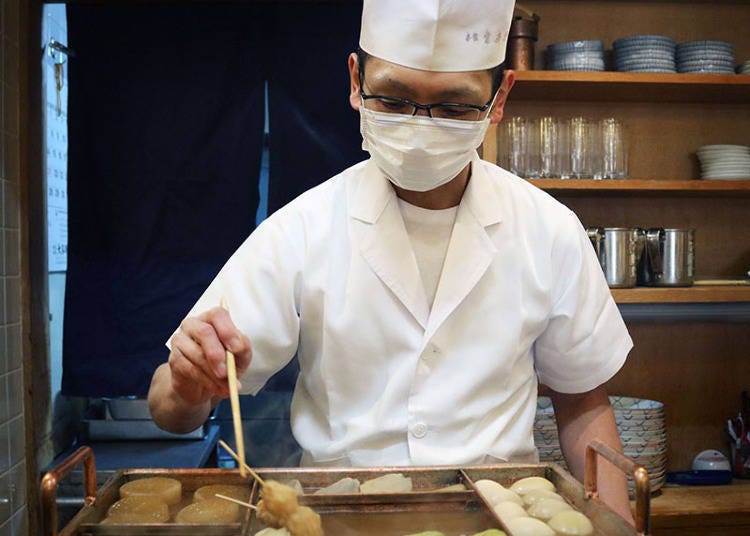 The restaurant manager Keiji Matsuo.
Keiji Matsuo, the friendly manager, runs the restaurant by himself. The restaurant is actually the 1st floor of owner Shin Ikenaga's home. Shin is 90 years old but still makes an effort to visit and chat with customers and taste-check the oden.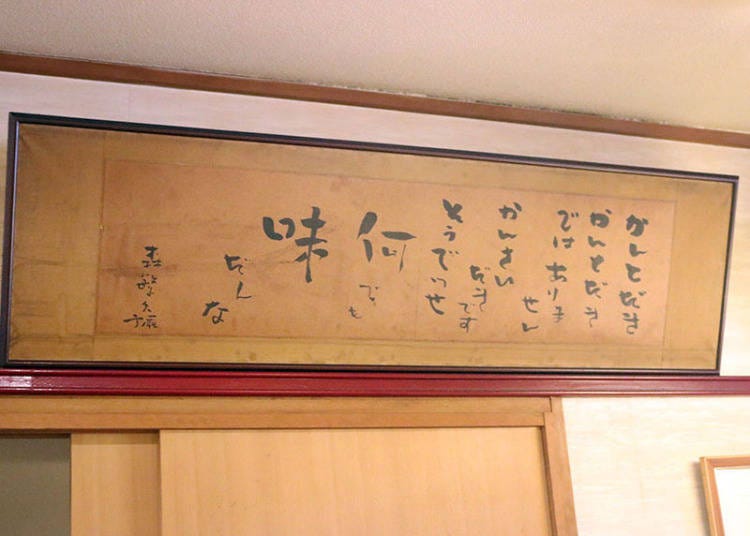 The words of Hisaya Morishige adorn the walls.
Kansaidaki Honke Joyato has its roots in a restaurant founded by the owner's father on the grounds of Ohatsu Tenjin Shrine, which was burned into rubble during WWII.

This restaurant was also named "Kansaidaki," a name coined by Japanese actor and singer Hisaya Morishige, who was a regular while staying with a friend after losing his home in the war.

The "Joyato" part of the name is a kind of stone lantern installed at shrines and temples in Japan. It was named as such due to the original restaurant being built on the grounds of a shrine, with one of these lanterns inside.
The Kansaidaki Set - A taste of everything!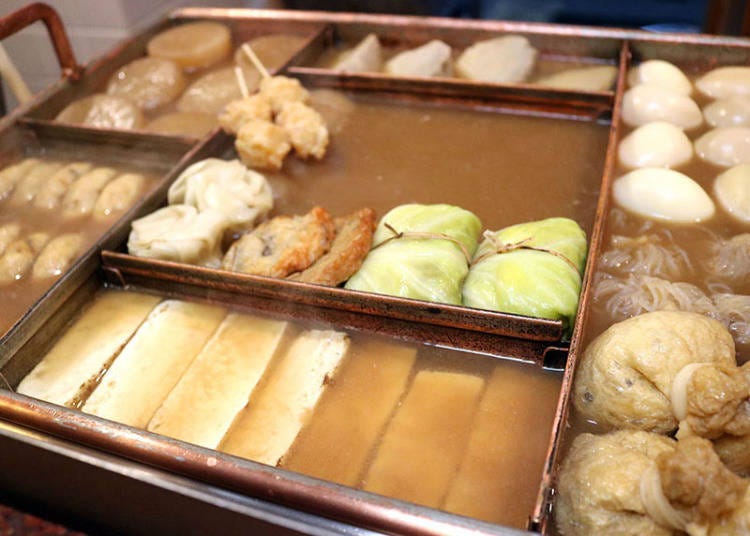 The oden served on the day.
Oden is a kind of "nimono," a simmered dish said to have origins stretching back to the "tofu dengaku" (tofu with miso glaze) popular during the Muromachi period (1336-1573).

While the name "oden" is universal throughout Japan, regular oden is called "kantodaki" in Kansai, referring to the Kanto region of Tokyo and its surroundings.

Kantodaki is distinguished by the use of rich, dark soy sauce, yielding a somewhat salty taste. The owner's mother was born in Kyoto, and the oden she made had a refined, light flavor.

Hisaya Morishige, who had only eaten kantodaki oden, remarked how different it was, and gave it the name "kansaidaki," with "kansai" referring to the Kansai region of Osaka and Kyoto.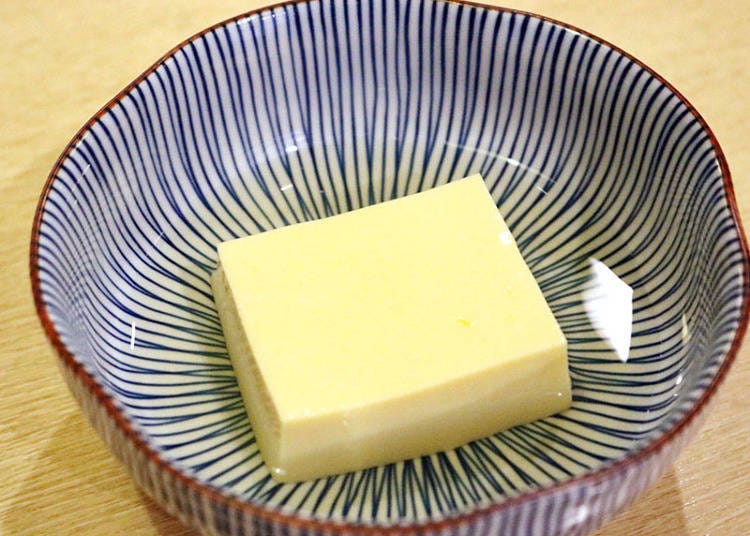 The "tsukidashi" egg tofu.
After sitting down, the first dish presented was a "tsukidashi" of egg tofu. Tsukidashi are small entrées served without ordering, allowing customers to whet their appetite while waiting for the main dish.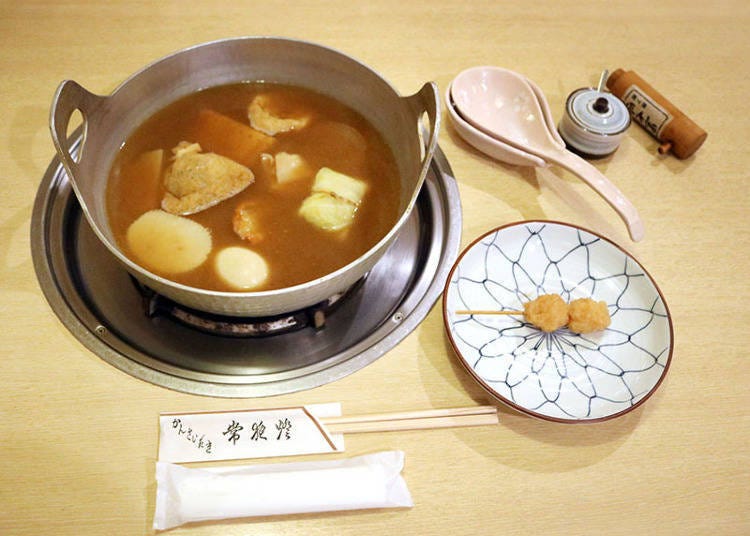 The Kansaidaki Set has 13 types of oden, including daikon, egg, tofu, fukuro, konnyaku noodles, burdock root tempura, shrimp tempura, potato, sumaki, roll cabbage, konnyaku, ganmodoki, and shumai.
One popular option is the Kansaidaki Set, which allows you to relish all 13 types of oden (3,960 yen). Orders are taken at the table, and individual pieces can also be ordered separately.

The menu is only in Japanese; however, the oden simmers in a pot on the other side of the counter, so you'll be able to point at what you want to eat.
Homemade oden with exceptional ingredients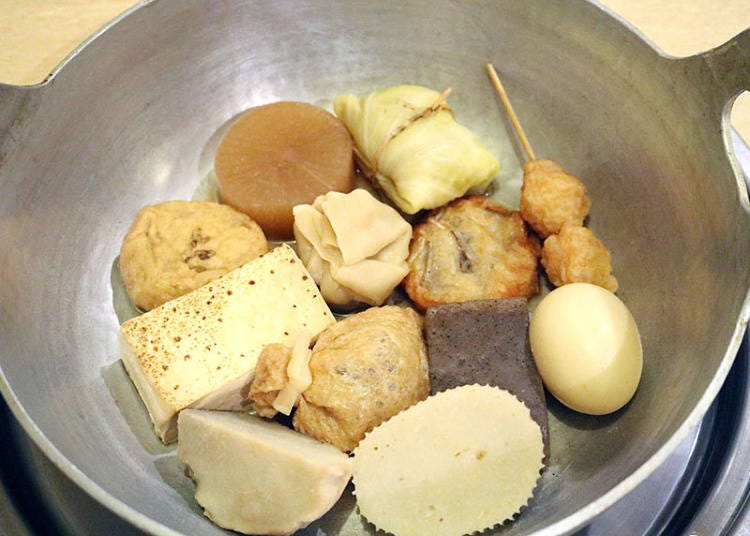 The oden ingredients, most of which are homemade.
The oden ingredients are all homemade, with the exception of the tofu. The broth is made from "dashi" flavored by boiled-down chicken feet and bones. Sea bream fish heads and kombu from Rausu in Hokkaido are spread out at the bottom of the pot, weaving together a deep, sophisticated taste. The leftover dashi is used again to build a deeper character, ensuring nothing goes to waste.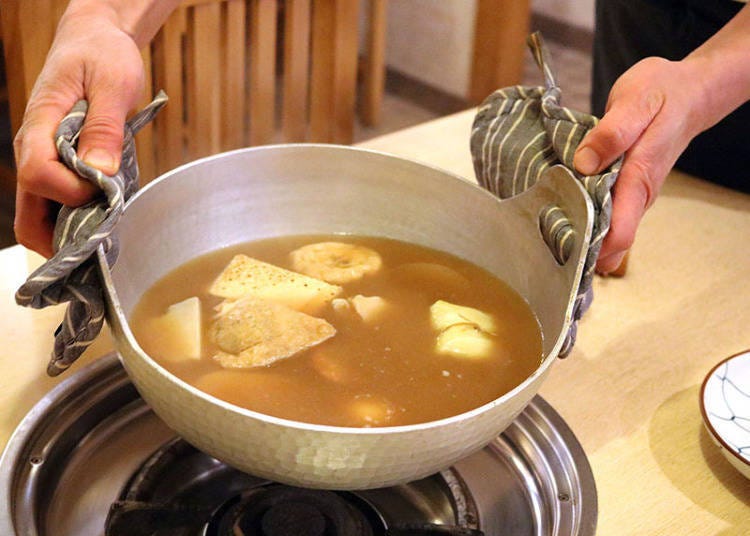 Heated on a cooker, you'll be able to eat it piping hot.
The oden is served in a hotpot. Each table has its own cooker, allowing it to be kept hot until the last bite.

"Lots of business meetings, dinners, and whatnot are held at our restaurant, and we've found that if you serve oden in a bowl or plate, it'll often be cold by the time you've finished talking. To keep it nice and warm the entire time, we decided to serve it all in hotpots," says Matsuo.

"We also have complete oden sets, so there's no need to order each piece at a time."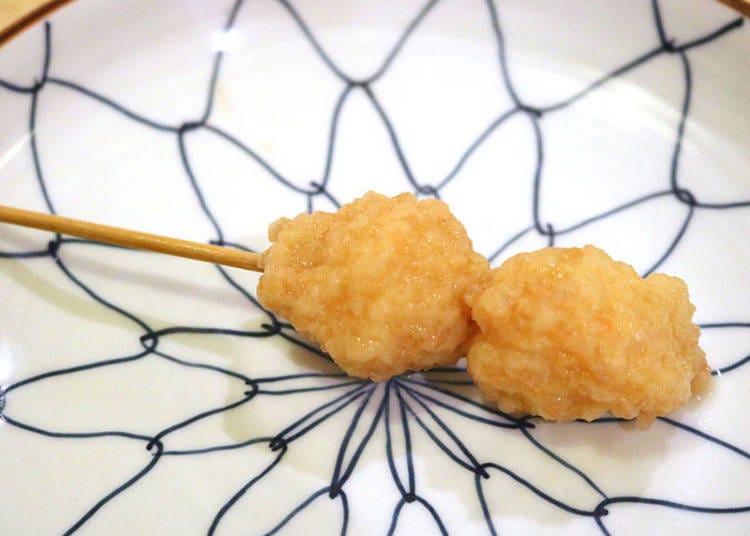 Shrimp tempura is the most popular.
The most popular oden is shrimp tempura, called "ebiten." Shelled shrimp is roughly crushed into a bulky bite before being spiced up with ginger and made into "dango" with bracken starch. The mouth-watering savory flavor and satisfyingly tender texture is an absolute treat!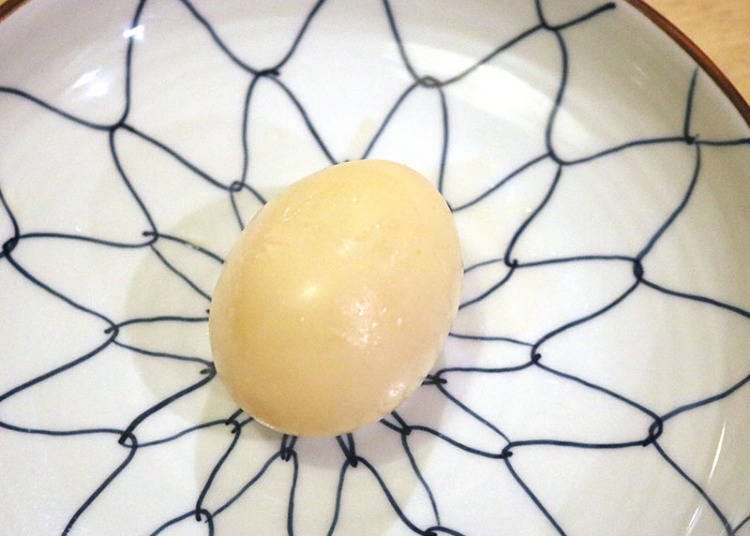 The well-cooked egg.
The egg is also very popular, painstakingly sourced from local chickens known for large yolks. Each egg is thoroughly soaked in dashi, yielding a mild, pleasant flavor.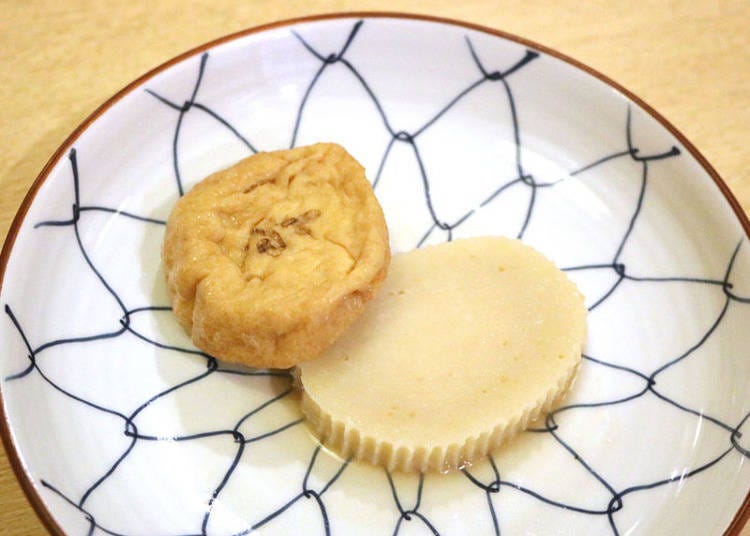 Ganmodoki (left) and the restaurant original "sumaki" (right).
"Sumaki" is a Joyato-original made from minced pike conger eel, a luxury seafood, steamed with egg whites and bracken starch, forming a firm bite and well-balanced taste. The "ganmodoki" fried tofu fritter is cooked from scratch and simmered in the broth for hours for a more potent flavor.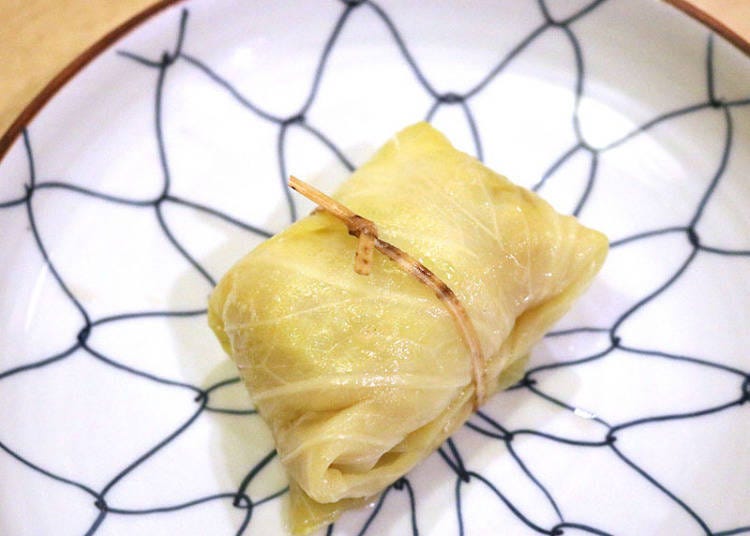 Roll cabbage - once a rarity in oden.
We also recommend the "roll cabbage," which is cooked using juicy, savory Kobe beef with melt-in-your-mouth onions from Awajishima Island. While now a staple in oden, Kansaidaki Honke Joyato was the first to add roll cabbage to its oden menu, owing to the creativity of the owner's mother.

Shumai is also an unusual addition at oden joints, along with the "fukuro," which are made from burdock, carrot, and shiitake mushroom stuffed in a pouch of fried tofu. There's so much to explore, and when you find one you particularly like, then don't hesitate to order it separately!

"We also have all-you-can-drink broth," said Matsuo. The broth here is so popular that many customers would probably buy it if it were sold separately. Once your broth is gone, ask to have it topped up for free.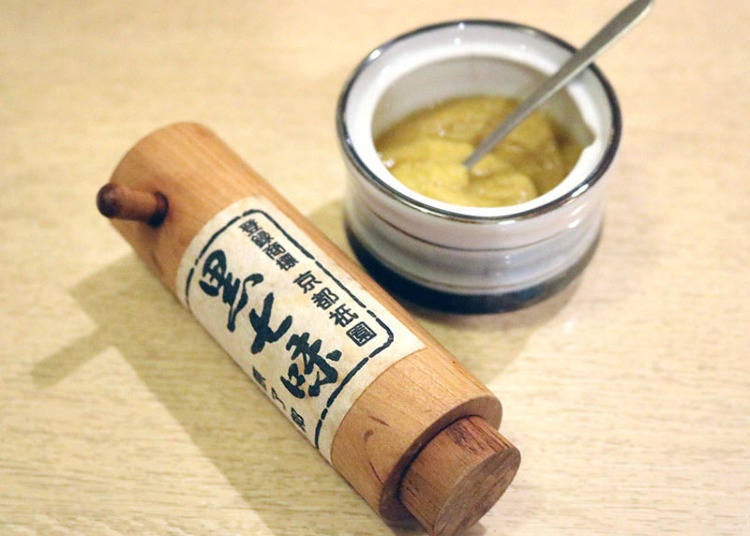 The black shichimi (front) from Hararyoukaku in Gion, Kyoto, is a popular Kyoto souvenir.
Those wanting extra oomph, try experimenting with the condiments, including the spicy "karashi," and black "shichimi" from the heritage shop, Hararyoukaku, in Gion, Kyoto. The black shichimi is highly fragrant, and the karashi is delightfully spicy - both pair fantastically with oden!
Chameshi - The final touch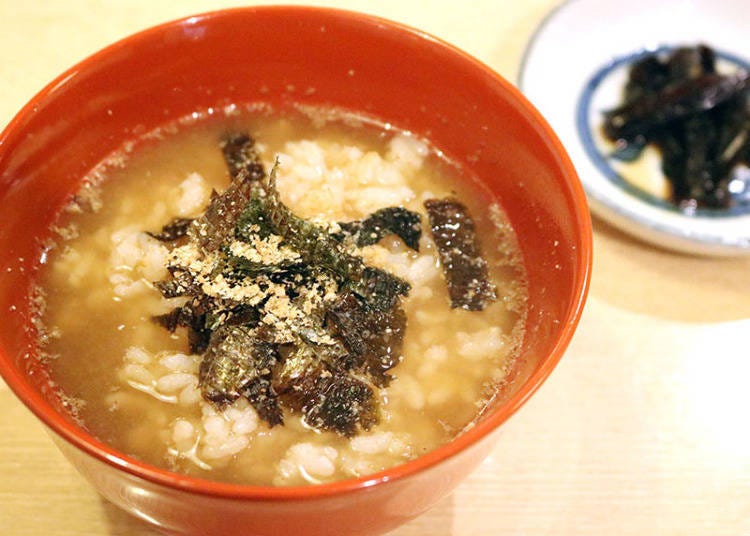 A popular final dish is "chameshi."
"Chameshi" (400 yen) is rice cooked in broth - and a must-have after oden. "The name comes from the brown color (brown is "chairo" in Japanese)," explains Matsuo.

It's topped with sesame seeds and roasted, finely chopped "momi nori" seaweed, which is specially sourced from Nagoya and is highly aromatic.

The soft rice quickly soaks up the broth, forming a gentle flavor perfect for settling one's stomach. The "tsukudani" of salty-sweet kombu, which serves as a palate cleanser, is made from the leftover kombu used for the broth.

As for drinks, oden goes well with beer! For something more Japanese, then potato or wheat shochu and junmai sake are great pairings. Oolong tea is also available.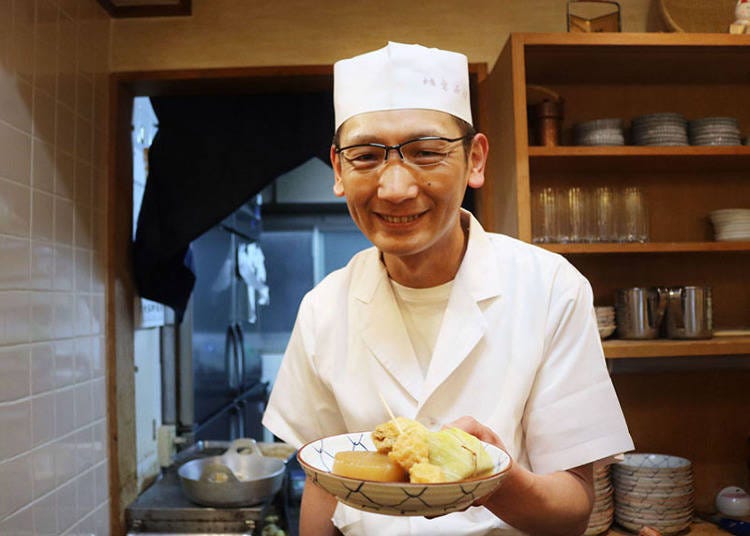 Matsuo, who projects a calm and relaxing aura.
"Our restaurant is partly the owner's hobby, so we put a lot of time and effort into the ingredients and preparation," Matsuo says.

Indeed, oden tastes much better when enjoying it in such a relaxed, authentically Japanese atmosphere.

"We're truly proud of our oden, so we want you to take the time to relish it properly."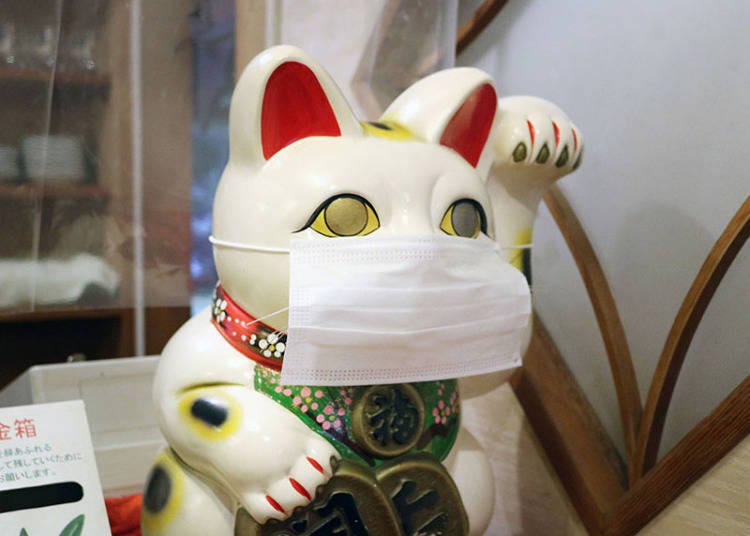 Protecting the restaurant's resident maneki-neko!
Kansaidaki Honke Joyato was also featured twice in the famous gourmet manga, Oishinbo.

The original Ohatsu Tenjin Shrine restaurant is in volume 79, while the current location appears in volume 106.

We suggest reading these before visiting! The owner, Shin Ikenaga, was also on the comic's cover! An original manga page, given by the author as a present, is displayed in the restaurant, so keep an eye out.
Health & Safety Measures
Indoor disinfection measures taken - Sanitizer installed - Disinfected after each guest leaves - Ventilation measures in place - Coin trays used - Plastic partitions installed - Staff wear masks, gargle, wash hands regularly, and monitor body temperature - Reservation system and entrance limits in place - Entry declined to anyone who is feeling unwell - Masks required

Assistance for Tourists
Credit cards accepted/wheelchair and baby stroller accessible (however, the toilet is Japanese style)
かんさいだき 常夜燈 豊崎本家

Address

2-8-14 Toyosaki, Kita Ward, Osaka, 531-0072

Phone Number

06-6371-1115

・Hours: 6:00 p.m. - 9:00 p.m. (Mon-Sat)
*Reservation required
・Closed: Sundays and national holidays
Article by: Niki Shigemi
*This article is accurate as of April 2022. Confirm the latest information on official websites before making plans.
*This information is from the time of this article's publication.
*Prices and options mentioned are subject to change.
*Unless stated otherwise, all prices include tax.
Limited time offer: 10% discount coupons available now!