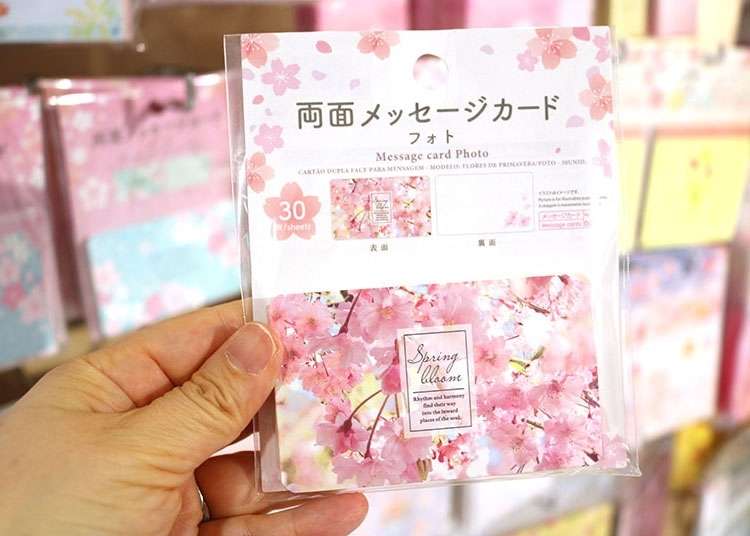 Daiso always has a selection of fun, high-quality products on sale. For this spring, we've taken a look at some cherry blossom-themed items that are available at Daiso Osaka Umeda Shop!

These products can be found at Daiso Osaka Umeda, a shop located only a five-minute walk from JR Osaka Station. Here we will introduce some of our favorite Daiso items in 2021 that are sure to lift you into a cheerful, springtime spirit! You can also reasonably acquire a selection of masks and other sanitary goods perfect to use as countermeasures against Covid-19.

(*100-yen shop: 110 yen including tax)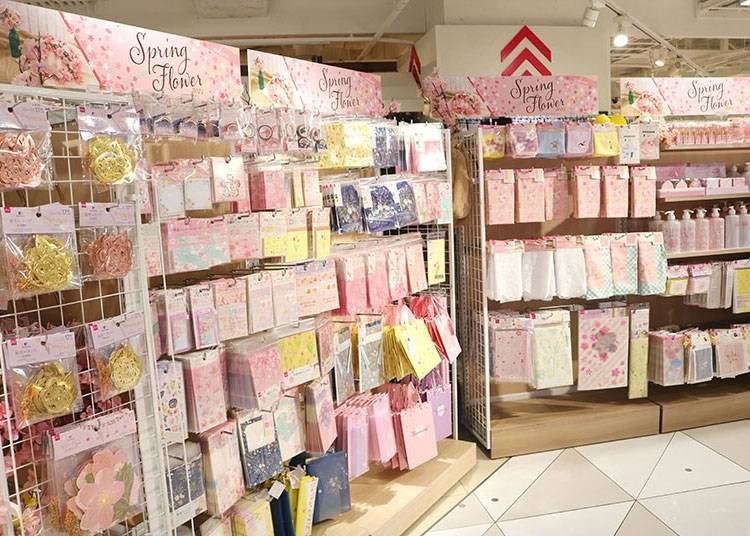 At Osaka Umeda Store, you can find the spring-themed items section near the entrance of the second basement floor.
1. Sparkly Spring Stickers: Add some glamor just by sticking them on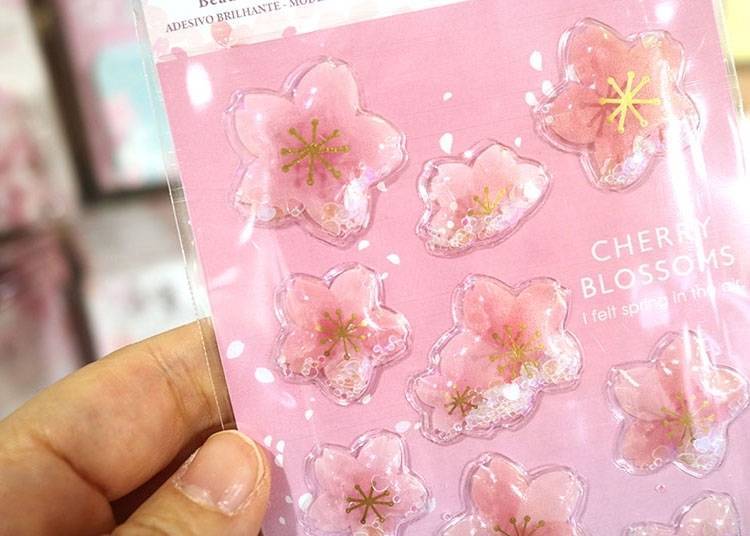 Sparkly Spring Stickers
Sparkly Spring Stickers are stand out, three-dimensional stickers in the shape of cherry blossoms. Inside the acrylic pop-up stickers, you can find pieces of glitter in the shape of circles and hearts. Each time it moves, the appearance changes.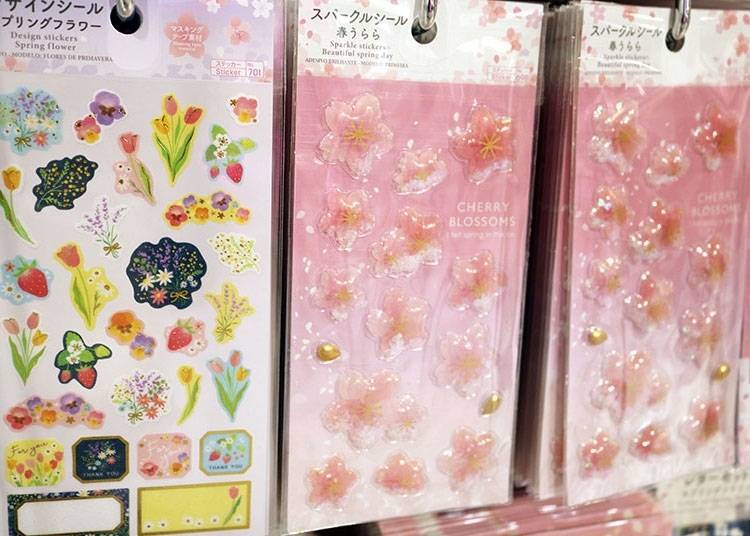 Besides cherry blossoms, there are many other kinds of spring-themed stickers
At Daiso's Umeda Shop, the stickers are a popular item due to their varying designs. Choosing from the many kinds available is also one of the enjoyments. It's convenient because you can upgrade a notebook, gift, or letter just by sticking one on.
2. Double-sided Message Cards: Perfect for conveying a message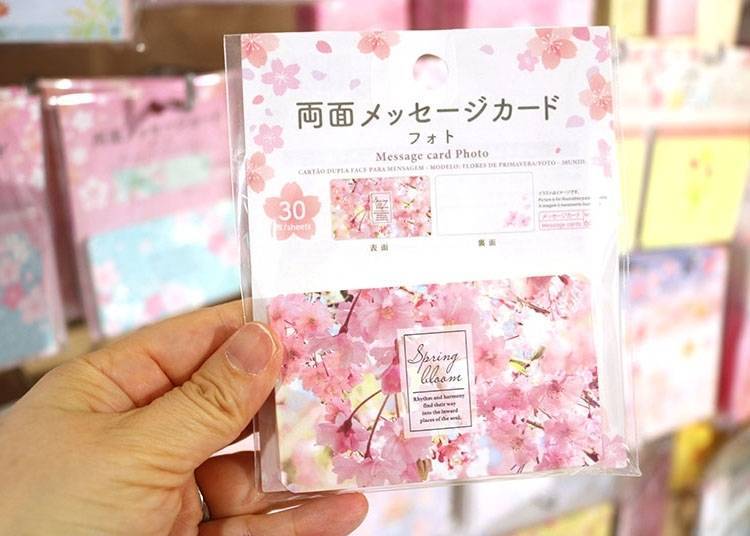 Double-sided message cards (30 cards with a photo of spring flowers)
In Japan, cherry blossom season is otherwise known as the season of meeting and parting. This is because events such as graduations and entrance ceremonies happen around this time. The double-sided message card (30 cards with a photo of spring flowers) is a type of card you want to give along with a small gift.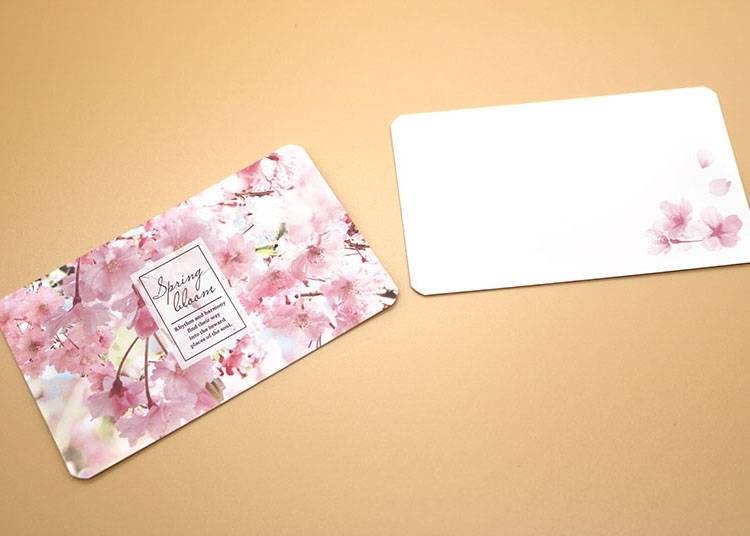 It's the perfect size to write a brief message.
About the size of your palm, it's the perfect card for writing a brief message. The photograph of the beautiful cherry blossoms is also very soothing. As they come in a large stack of 30, you can conveniently use one when you want to give a card to each of your classmates or coworkers. There's also a small design of cherry blossoms on the back of the card.

(* Items are limited to the number in-stock at the shop.)
3. Cherry Blossom Shikishi Card: Adorably cherry blossom-shaped design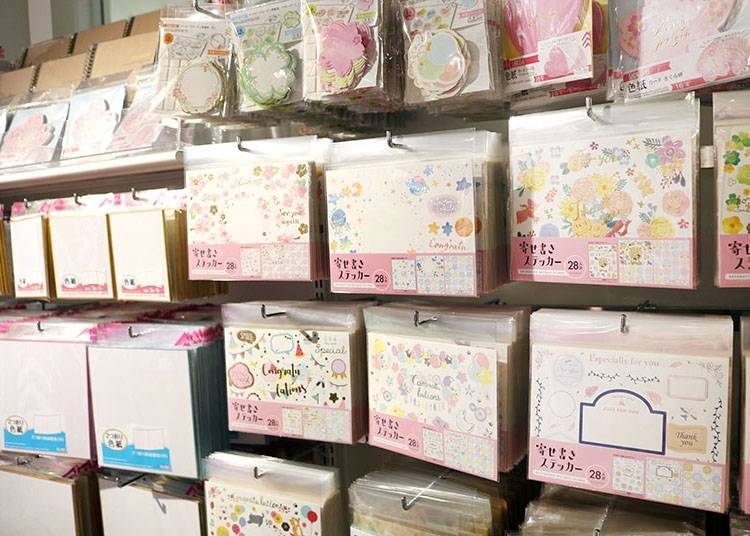 Even at the shikishi corner, there are many items with cherry blossom designs
There are also many message cards and shikishi, colored card paper often used for autographs and important messages, that have cherry blossom designs. The cherry blossom shikishi card is designed so that you can remove the metal tack and detach the cards. Unlike a message board, the cards can be handed out one by one. This makes it a popular item because you can take your time to write a message.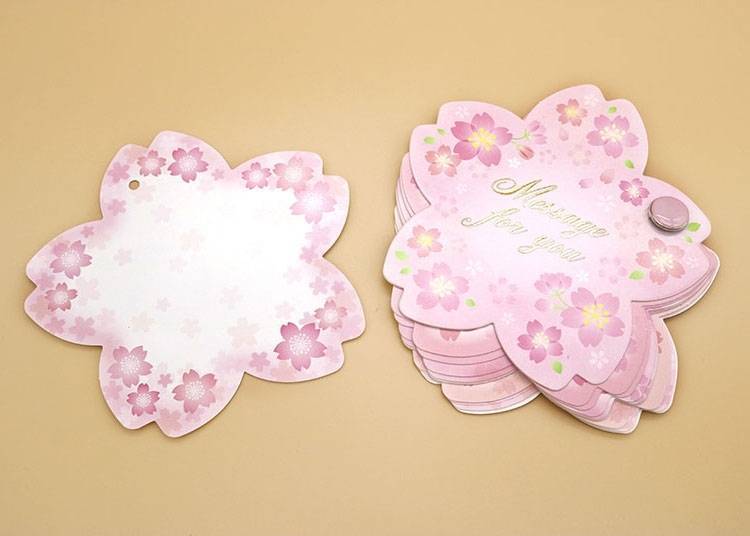 Cherry Blossom Shikishi Card
There are 16 cards total. With four differing designs, they are adorably cherry blossom-shaped. In addition to the firm thickness and shine of the paper, the gold lettering on the cover makes for a refined look. It also comes with a sticker to cover the back of the tack that holds the cards together.
4. Flower Soap Pumps: Spring-themed, cherry blossom-colored bottles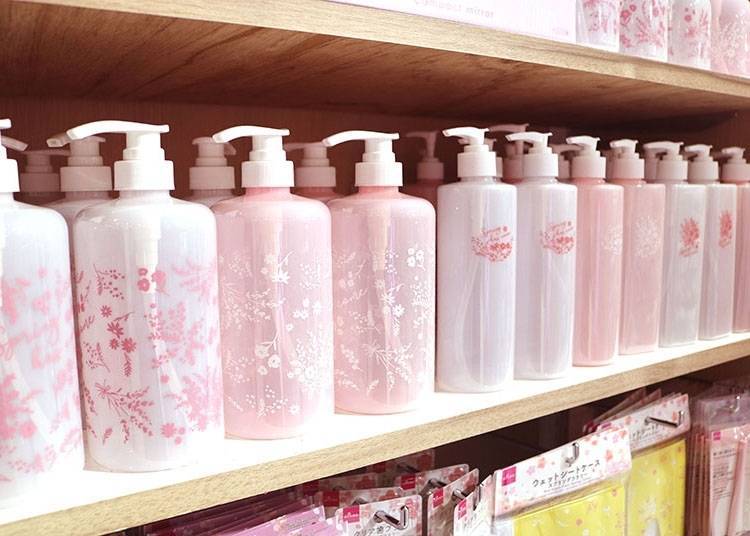 There's lots of variation for the pump bottles.
The flower soap pumps are a very exciting item with their springtime flower design and cherry blossom-pink coloring. These bottles come in all shapes and sizes and can be used to hold your shampoo, conditioner, or body wash. The designs come in the two colors of either cherry blossom-pink or white.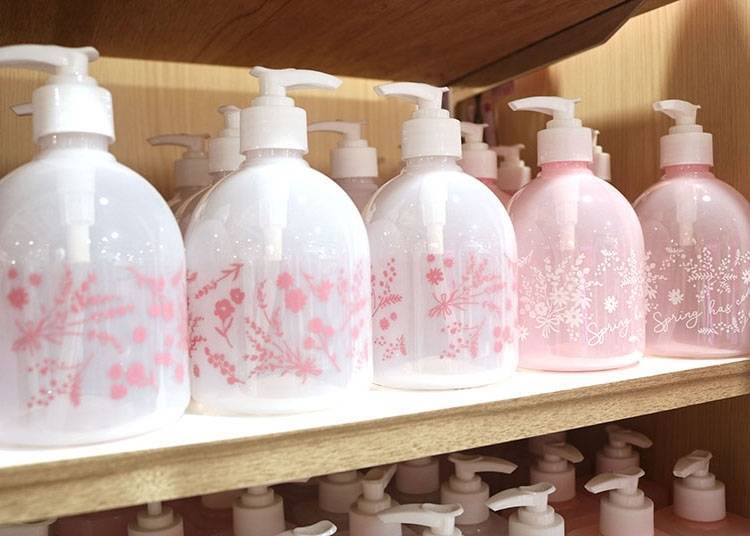 The easy to push bottles are great to use for hand soap
It's said that people buy the shorter bottles for hand soap. It's a perfect item during this time of Covid when washing your hands is an important habit.
5. Cherry Blossom Bottom Gusset Ziploc Bag: For simple gift wrapping
These popular gift bags have come out with a cherry blossom design. The cherry blossom Ziploc-style bag has a bottom gusset, so it can hold items that have some girth to them. By wrapping some store-bought candy or chocolate in this cute bag, it becomes a tiny gift.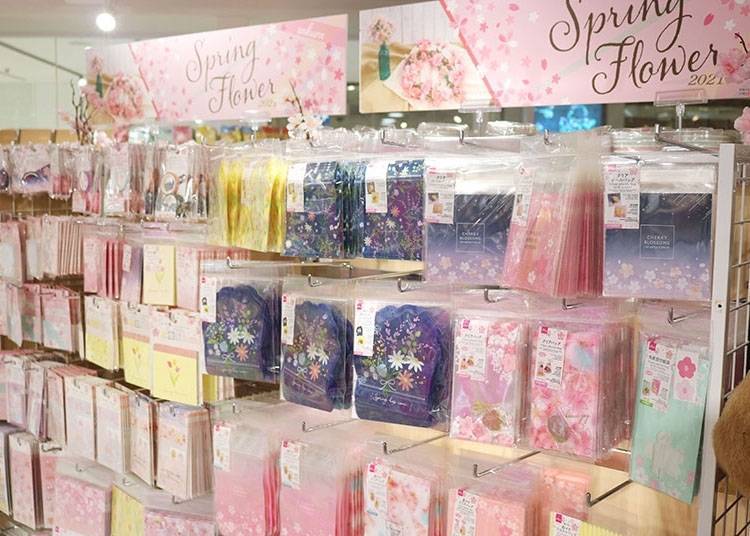 Find a selection of splendid, spring-themed gift bags.
These bags are made securely. You can put unwrapped food inside the bags directly, so it's convenient for giving out homemade baked goods such as cookies or financiers. Another great aspect is that you don't have to go through the hassle of closing the top with tape or string because it closes on its own.
6. Bamboo Chopsticks: A popular item during sightseeing season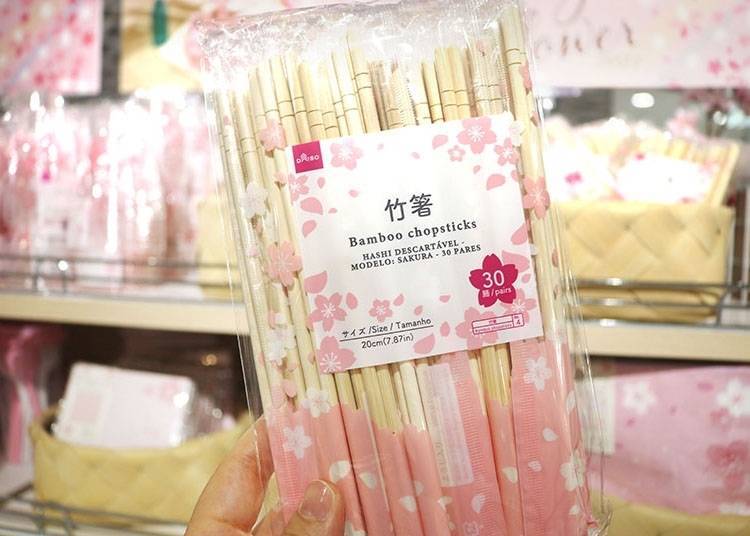 These bamboo chopsticks have a cherry blossom design on the package
One of the popular items at Daiso is their disposable chopsticks. It sells especially well during the sightseeing and end-of-the-year party seasons. This year, since there won't be much demand during cherry blossom viewing given the current situation, it is said that many customers buy the chopsticks along with paper plates and cups as a way to brighten up their dining tables at home.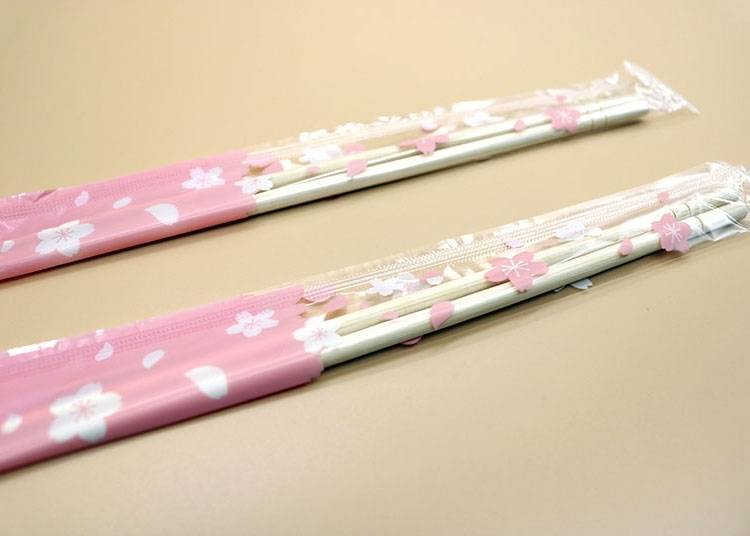 These chopsticks are hygienic due to being individually wrapped
There are 30 pairs of bamboo chopsticks in this package. Each pair is individually wrapped and comes with a tooth pick. You'll be put in a cheery mood just by looking at the cute packaging. Due to its warm cherry blossom color, it's sure to be an item that brightens up your dining table.
7. Air Freshener Beads (Cherry Blossom): Welcome the atmosphere of spring into your room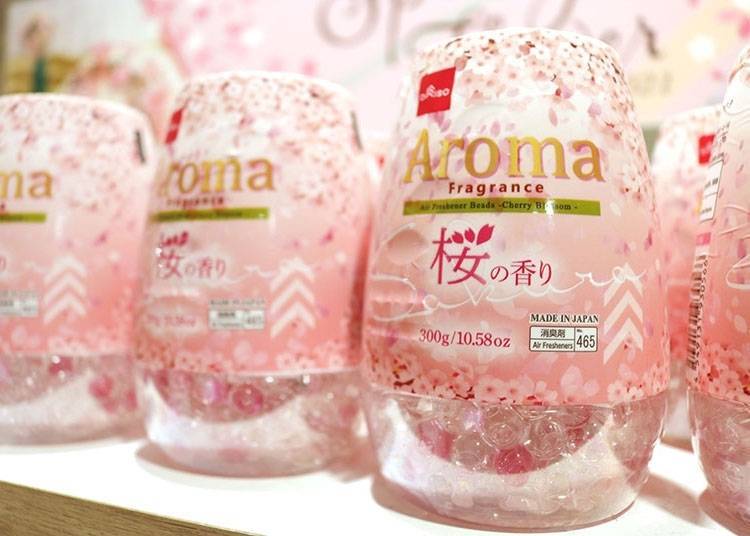 Air Freshener Beads (Cherry Blossom, 300g)
Air Freshener Beads (Cherry Blossom, 300g) is a cherry blossom-scented indoor deodorizer. The beads steadfastly absorb any bad odor and, in turn, leave a cherry blossom scent throughout the room.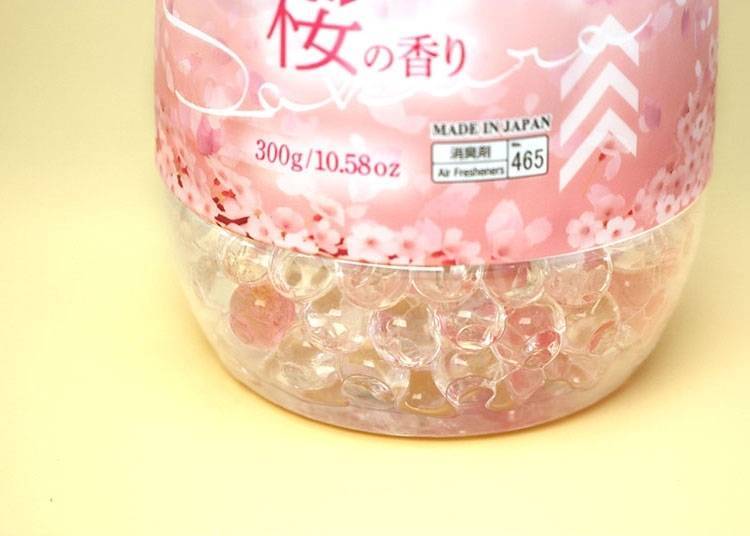 A deodorizer with large beads
This deodorizer largely stores 300 grams of beads. It may depend on how often you use it, but it usually lasts for approximately two to three months. The faint, wafting scent of cherry blossom will bring spring into any room. ※ Items are limited to the number in-stock at the shop.
8. Square Compact Mirror: Have fun with spring makeup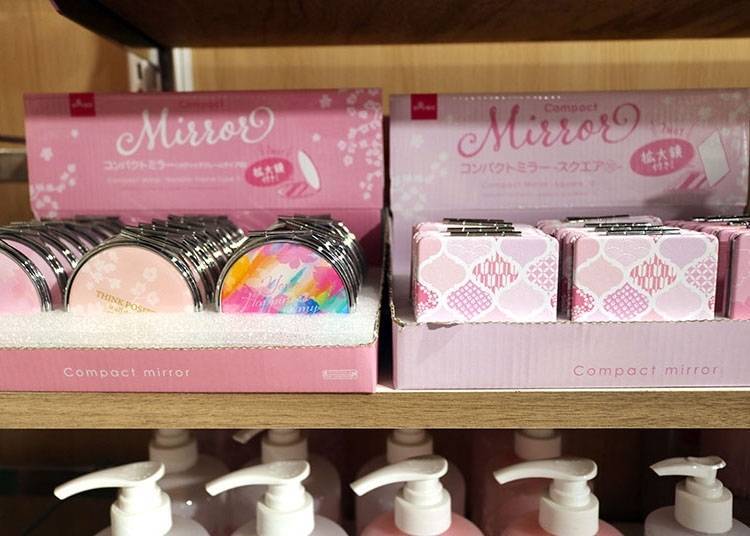 The compact mirrors come in the two types of either circle or square
It's hard to choose out of the many cute designs with these compact mirrors. Your makeup bag will take on the atmosphere of spring just by adding an item with a spring-themed design.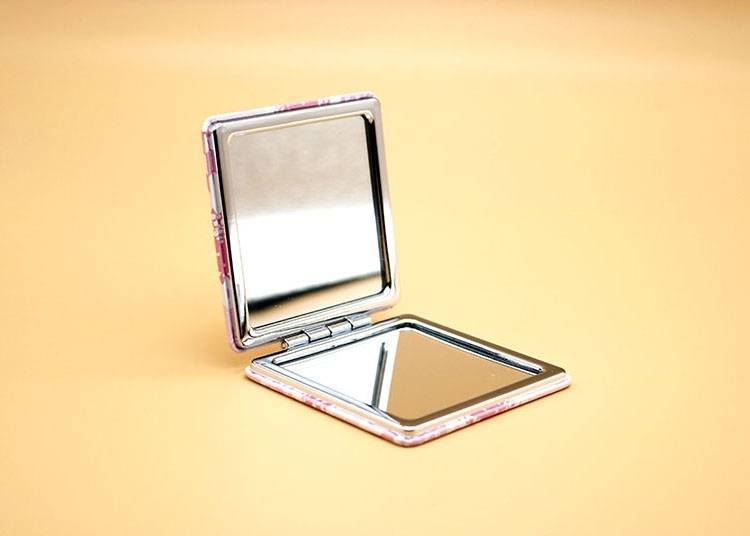 Square Compact Mirror
With one side being a magnifying mirror, this two-fold mirror is an exceptional item. It's well-built and can be used by opening it up. There's also a circular-shaped mirror, but the square-shaped one has a larger surface area. As a result, the square compact mirror is a more popular item because you can see yourself easily.
9. Cat and Dog Embroidered Handkerchief: An absolute must-have item for handwashing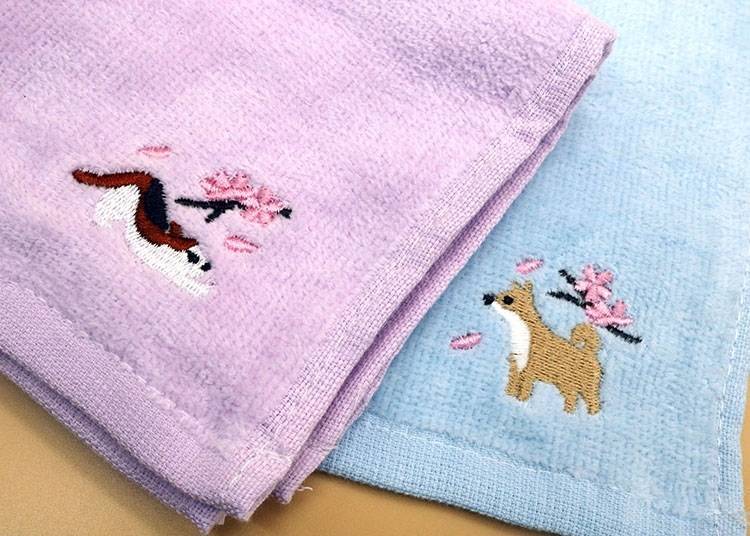 Starting from the left is the cat embroidered handkerchief and the dog embroidered handkerchief.
You can never have enough handkerchiefs with frequent handwashing becoming a habit due to Covid-19. There's a handkerchief section in the cherry blossom-themed items corner. Two of the most popular options are the handkerchiefs embroidered with a dog or cat design along with small cherry blossoms.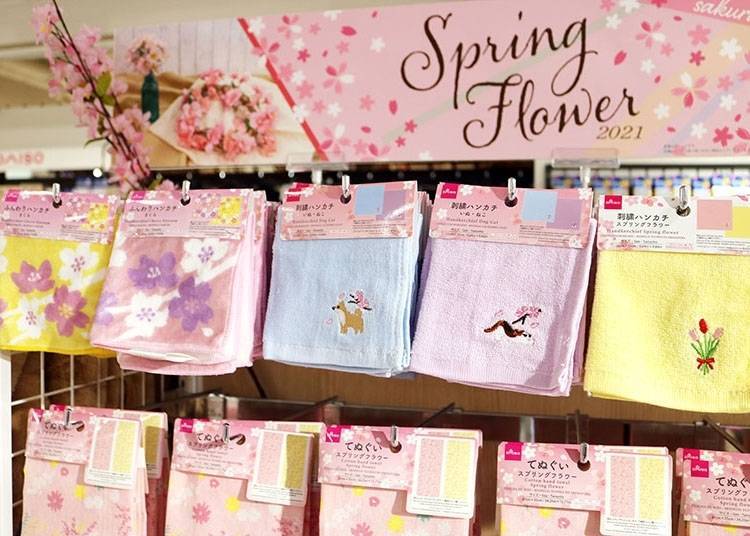 You can find a selection of spring-themed handkerchiefs in this section
This handkerchief has a solid size of 25 centimeters both in length and width. Made out of 100-percent cotton, it also has great absorbency. Due to the simple embroidered design being in one spot, the towel can be used by both men and women. It's said that many people buy these handkerchiefs in bulk.

(* Items are limited to the number in-stock at the shop.)
10. Artificial Flowers: Easily produce the atmosphere of spring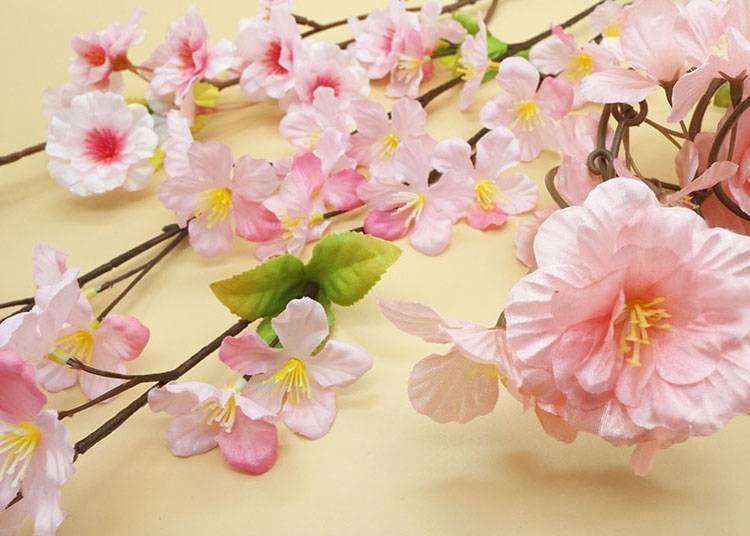 The shape of the petals is different depending on the type of flower. These include the double-flowered cherry blossom and the Somei-Yoshino cherry blossom
These no-hassle artificial flowers are a popular item to put on display. On the second basement floor, you can find artificial cherry blossoms like the double-flowered cherry blossom and the Somei-Yoshino cherry blossom.

The blossoms range from ones on artificial branches that can be displayed on their own to garland-style blossoms that can be wrapped around items you want to decorate. The difference in the shape of each flower is due to the merchandiser's strong preferences. With its bright pink coloring, the flowers will instantly bring the atmosphere of spring to your room.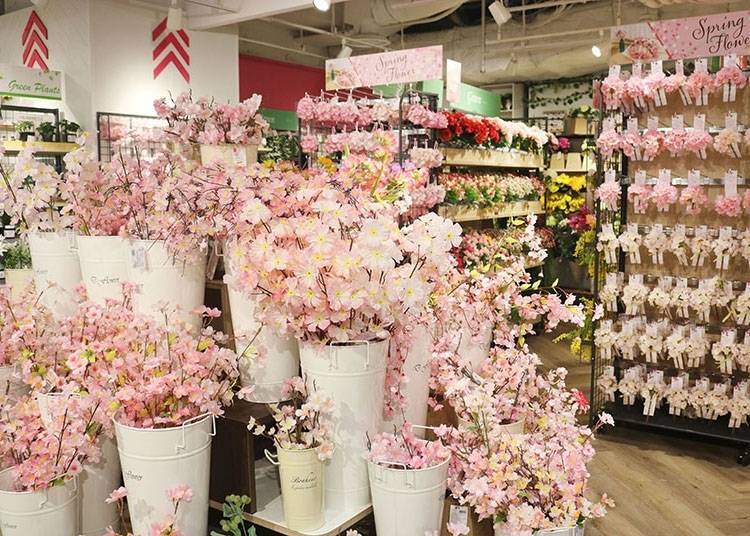 The artificial cherry blossoms can also be found in the artificial flower section on the first basement floor
The artificial flower section on the first basement floor is always lively. There are flowers available throughout the seasons. In the summer you'll find flowers suitable for household Buddhist altars, in the fall there are foliage and ginkgo leaves, and in the winter, flowers fitting for Christmas are available.

(*Items are limited to the number in-stock at the shop.)
Over 70,000 items can be found at the huge Osaka Umeda Store!
DAISO Osaka Umeda Shop is located only a five-minute walk away from JR Osaka Station. This station can be easily accessed with both subway lines and private railways going through it.

There are also many commercial buildings in the area so that you can also enjoy dining and shopping.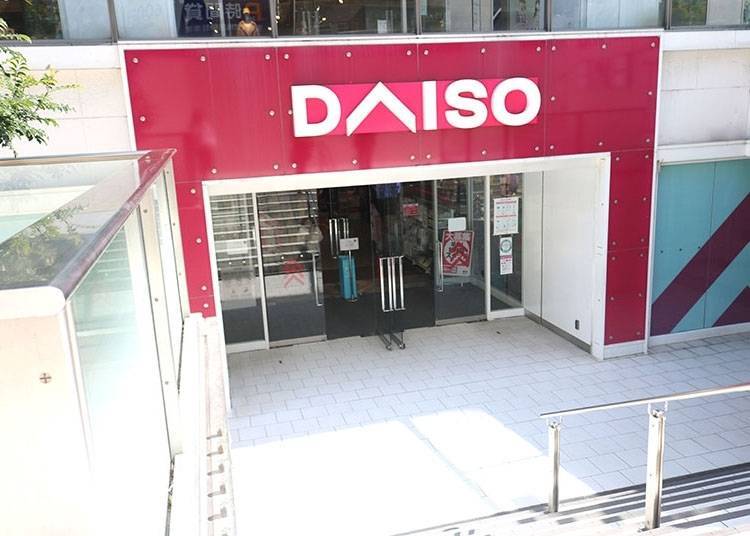 Daiso Osaka Umeda Store
The shop has two floors, the first basement floor and the second basement floor. On the first floor you can find makeup, travel items, gift-related items, and stationery. On the second floor, there are dishes, kitchen utensils, food, and living room accessories.

There are approximately 76,000 items in this shop! They regularly bring in new items, so you will be able to find something new no matter when you go. Labels and shop signs are only available in Japanese, but product tags have explanations in English and Portuguese.

You can find a register on both the first and second basement floors. It's possible to pay for all items at either one. Many kinds of credit cards as well as UnionPay are accepted. You will be fully content with high-quality products that are only 110 yen including tax. What's more, using these spring-themed items will instantly put you in a cheery mood.
Countermeasures for Covid-19
Disinfection, sterilization, and cleaning of shop and facilities / Ventilation measures in place / Usage of coin trays / Plastic partitions installed / Staff wear masks, gargle, wash hands regularly, and monitor body temperature / Masks required

*All items introduced are 110 yen (including tax).
*What's in stock may differ depending on the shop.
ダイソー大阪梅田店

Address

ABC-MART Umeda Bld B1・B2F 1-27, Chayamachi, Osaka Shi Kita Ku, Osaka, 530-0013

Nearest Station

Access:Right by the Chayamachi exit of Osaka Station on the Hankyu Railway


Hours: 10:00 a.m.~9:00 p.m.
Closed: Open daily
This is the information at the time of the interview.
Due to the effects of the new coronavirus infection (COVID-19), business hours may have been changed, temporary closures may have been made, and services may have been altered.

Text By: Shigemi Niki
*This information is from the time of this article's publication.
*Prices and options mentioned are subject to change.
*Unless stated otherwise, all prices include tax.