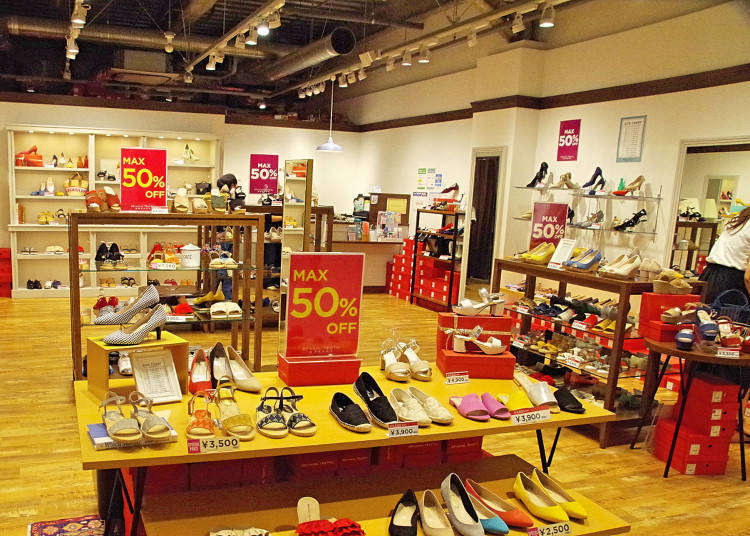 Shopping in Osaka, you can find great deals on the kinds of Japanese products you'd want to take home as souvenirs and gifts for yourself.

After enjoying sightseeing, why not go shopping at these four popular Osaka outlets and malls in the greater Osaka area for some great savings!
1. Rinku Premium Outlets: Near Kansai International Airport
Osaka's Rinku Premium Outlets are located near Kansai International Airport, and it is a perfect place to go casually shopping in Osaka before your flight.

You can reach these Osaka outlets on foot in about 6 minutes from Rinku Town Station, which is one train station away from Kansai International Airport.

Also, there is the Sky Shuttle bus that goes between the mall and the airport every 30 minutes. Since the bus goes directly between the airport and mall, you don't have to worry about any large purchases you make.
Popular Made-in-Japan Shops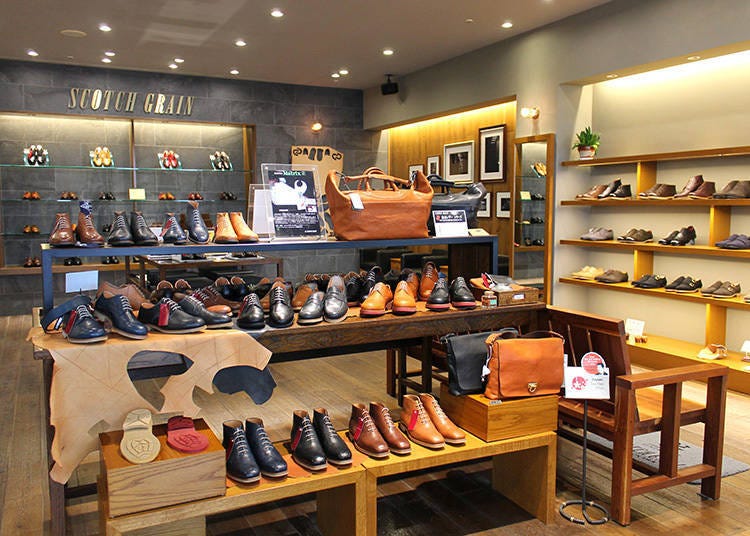 Out of the 210 shops we would like to recommend shops that sell "Made in Japan" goods.

At the KitKat Gift Shop, they sell around 40 types of KitKats, including the popular matcha series and KitKats made with sake and plum wine.

At Senshu Towel, which is directly managed by the Senshu Towel brand Union that originated from Osaka Senshu, they sell quality towels with high moisture absorption that retains the softness even after multiple washes. They make perfect gifts from shopping in Osaka.

Also, the shoe brand SCOTCH GRAIN from Tokyo Sumida-ku sells outlet-exclusive shoes that are hand made by a master craftsman at a discount price.
Dining Guide: Wide Selection of Different Cuisines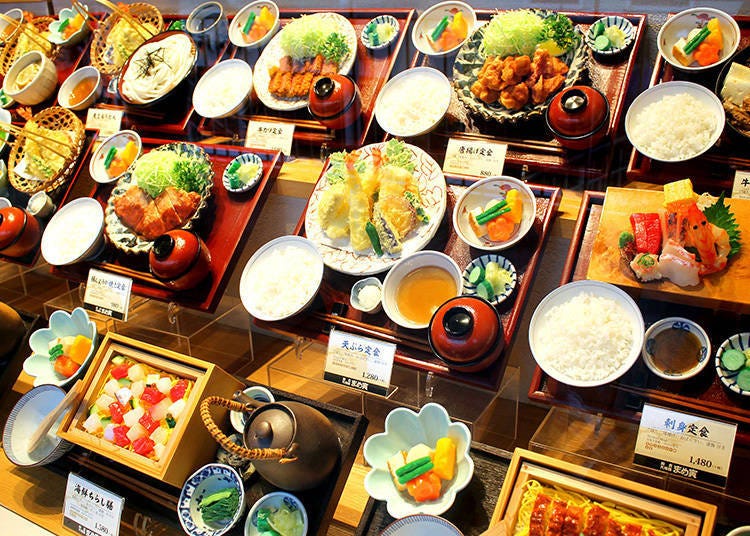 At Rinku Premium Outlets they serve a wide selection of different cuisines such as Japanese restaurant Mametora, Chinese restaurant Soryutougyokudou, Hawaiian burger shop KAU'AINA and Korean restaurant Bibim'. So you are bound to find something that matches your mood.
Rinku Premium Outlets Tip: Don't Forget Your Passport for Additional Discounts!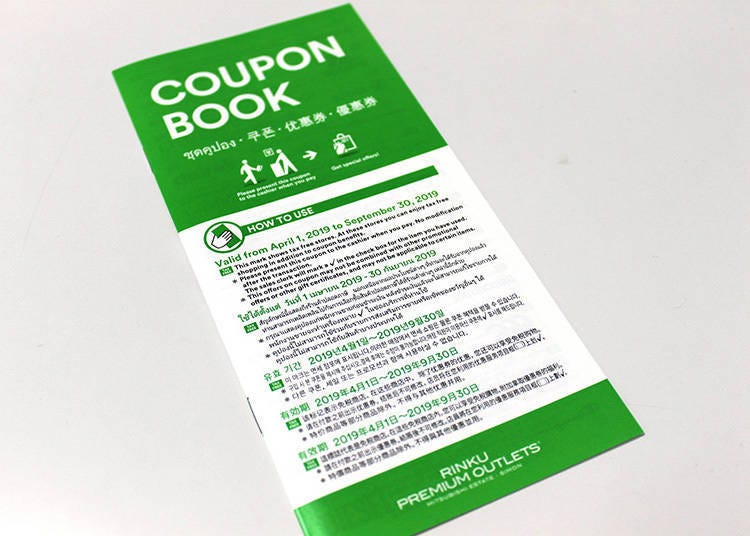 The mall holds 5 major sales throughout the year. They have the Premium Outlet Bargain Sale in January and August, the Spring Sale in March, Summer Sale in June, and Winter Sale in November. You can enjoy a greater discount on already great deals.

Also for foreign visitors, you can get the awesome "Inbound Coupon." This coupon can be used at over half the shops, excluding dining facilities. Some stores have restrictions, but you can receive a 5% to 20% discount. You can receive 1 coupon book per passport at the information center.
Address

3-28,Rinku-ourai Minami,Izumisano-shi,Osaka, 598-8508
View Map

Nearest Station

Rinkutaun Station (JR Kansaikuko Line / Nankai Airport Line)
8 minutes on foot


Phone Number

072-458-4600
2. Mitsui Outlet Park Shiga Ryuo: Direct Bus from Kyoto Station!
Mitsui Outlet Park Shiga Ryuo is the closest Kyoto outlet and on Saturdays, Sundays, and holidays there are direct shuttle buses operating from Kyoto Station.

The mall is located in an environment with nature and it is family-friendly, with outdoor parks and indoor kid's spaces. Also they hold major sales throughout the year. For more information please check out the website.
Great Discounts for Children and on Adult Clothes at Mitsui Outlet Park Shiga Ryuo!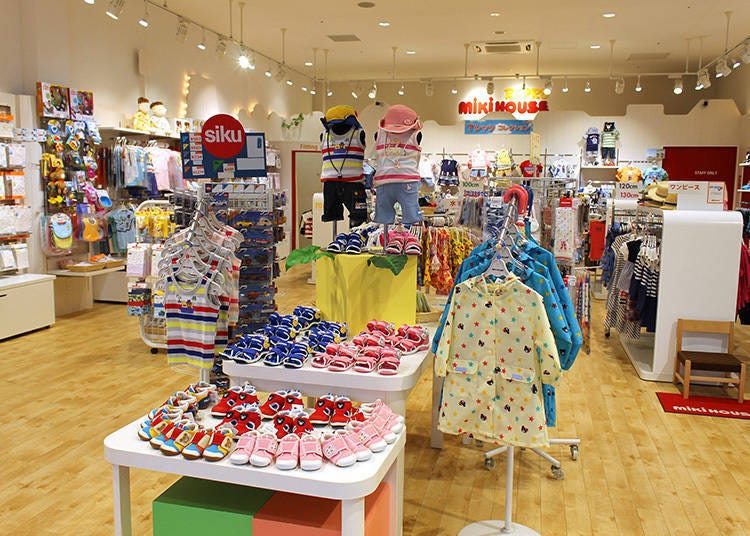 We recommend the children's clothes brand Miki HOUSE's outlet brand Miki HOUSE REPRO. Many foreigners give great reviews of the shop saying the quality is top-notch.

At GUNZE, which is popular with their stress-free undergarment, the men's undergarment for T-shirts "in T" is popular. You will probably want to buy this made in Japan functional undergarment for yourself, friends and family.

Also at LOGOS SHOP, which has an exciting lineup of outdoor gear such as tents and BBQ items, is attracting attention with their collaboration product with the flower art unit "plantica."
Mitsui Outlet Park Shiga Ryuo Restaurants: Variety of Popular Kansai Area Food!
At Maccha House, the popular matcha sweets shop from Kyoto, they offer drinks and sweets that are made with matcha from Kyoto's long-established shop Morihan. Since it isn't as crowded as the main store in Kyoto Kawaharamachi, it is a great hidden gem.

There are also many key cuisines of the Kansai Area such as Oumiushi Okaki where you can eat the local Shiga Omi Beef, Gion Ramen Miyako with their unique Gion white chicken broth soup and aged thin noodles, Kamatake udon with their Kansai style udon noodles, and Gionyata Katsufuku where you can enjoy tonkatsu with a crispy exterior made with soft and delicious pork carefully selected by chefs in Kyoto.
Mitsui Outlet Park Shiga Ryuo: Great Deals for Foreign Visitors!?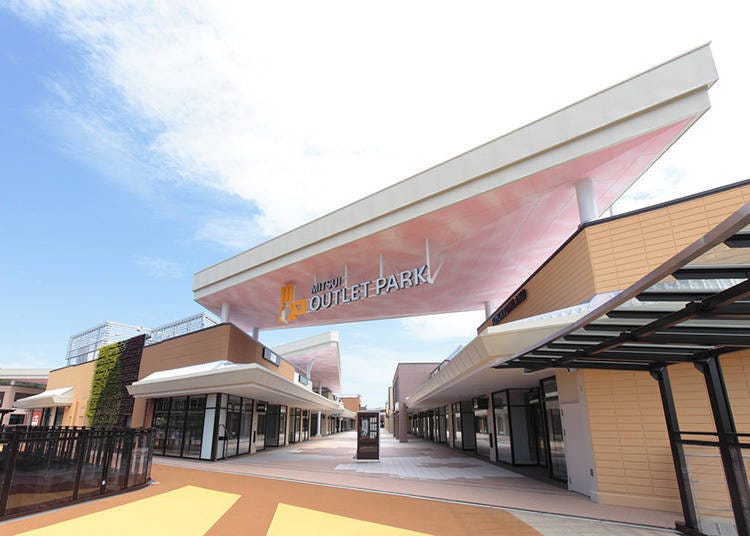 The shuttle bus that operates on Saturdays, Sundays, holidays and specific weekdays costs 1,000 yen one way for adults. Currently, they have a special deal where foreign visitors who take the shuttle bus on the weekday will receive a 1,000 yen shopping coupon that can only be used on Saturdays, Sundays, holidays by foreign visitors. Which means that the shuttle bus round trip will cost 1,000 yen.

Also if you say you saw "LIVE JAPAN" and show the web page at the Information Desk at the South Mall 1F, all foreign visitors receive an Outlet Special Coupon. With this you can receive special discounts and novelty gifts, so make sure to grab it before you go shopping.
Mitsui Outlet Park Shiga Ryuo

三井アウトレットパーク 滋賀竜王

Address

1178-694 Aza Sunayama, Ooaza Kuzushi, Ryuo-cho, Gamo-gun, Shiga

Phone Number

0748-58-5031

Hours: 10:00 a.m. - 9:00 p.m.
Closed: always open
3. Mitsui Outlet Park Marine PIA Kobe: Enjoy the Magnificent View of the Port City Kobe
Mitsui Outlet Park Marine PIA Kobe is located about 30 minutes away from Kobe and about 40 minutes away from Osaka. These Kobe outlets are located next to a yacht harbor so it feels like you are at a resort. The best part is you can see the Akashi Kaikyo Bridge, the longest suspension bridge in the world that spans across the Seto Inland Sea!
Mitsui Outlet Park Marine PIA Kobe: From Casual to Business, Stores with a Wide Selection of Items
The outlet store of BEAMS, which is known for their wide range of goods such as casual, business, men's and woman's fashion. Many foreign visitors look for dresses and suits. It is always nice to be able to purchase comfortable and high-quality products at a discount price.

Ladies shoes specialty shop Oriental Traffic OUTLET, remains popular with their wide range of selection. They have basic designs for the latest trends, so you can look for shoes that match any occasion.
Enjoy Great Food with a Great View at Mitsui Outlet Park Marine PIA Kobe!
At Mitsui Outlet Park Marine PIA Kobe they have specialty restaurants such as INDIAN RESTAURANT GAYLORD, where Indian chefs make authentic India food and also supports halal and provide a beer garden, at Konana they serve Japanese style healthy pasta made with Japanese dashi (soup), and at TOOTH TOOTH Paradise Kitchen they have all you can handmade bread which are freshly baked at the shop every morning.

Another thing to consider when looking for a place to eat is the location. Some places offer a great view from inside and others have nice terrace seats to enjoy your meal from. Enjoy your meal with a magnificent view.
Mitsui Outlet Park Marine PIA Kobe Tip: Discount Coupons Available at the Information Desk for Personal Travelers
There are many discount goods at Mitsui Outlet Park Marine PIA Kobe, however, there are more discounts for foreign visitors.

Group travelers will receive discount coupons from their tour agency, however, there are discount coupons for personal travelers.

If you head over to the Information Desk and show your passport, you can get the discount coupon "Outlet Special Coupon." The coupon works at many shops so make sure to get it. About half of the stores have duty free. Also, most stories accept Union Pay cards, so you can shop without any worry.
MITSUI OUTLET PARK MARINE PIA KOBE

三井アウトレットパーク マリンピア神戸

Address

12-2 Kouzdai, Kita-ku, Kobe-shi, Hyogo Prefecture

Nearest Station

Access (car): About 4km from Second Shinmei Road Myodani IC
Access (train): 10 minute walk from JR Tarumi Station and Sanyo Electric Railway Sanyo Tarumi Station, a free shuttle available from Tarumi Station


Phone Number

078-709-4466

Hours: Shops 10:00 a.m. - 8:00 p.m., Restaurants 11:00 a.m. - 10:00 p.m. *Hours may vary depending on the shop
Closed: not scheduled
Foreign Visitor Service: Multilingual display for floor guide, building signs and web site, Union Pay payment terminal (*not all shops), duty free (*not all shops)
Official Site: https://mitsui-shopping-park.com/mop/kobe/
4. Kobe-Sanda Premium Outlets: Enjoy Quality Shopping in an Open Space Area
Kobe-Sanda Premium Outlets is located in a prime spot near the interchange of Chugoku Expressway, Sanyo Expressway, Shin-Meishin Expressway, and Rokkokita Toll Road, and also has great access with direct bus routes from Osaka.

These Kobe outlets are modeled after the luxurious residential area in the outskirts of Los Angeles, Pasadena, which will let you feel like a celebrity shopping in an open space area.
Kobe-Sanda Premium Outlets Offer Everything From Kitchen Products to Travel Goods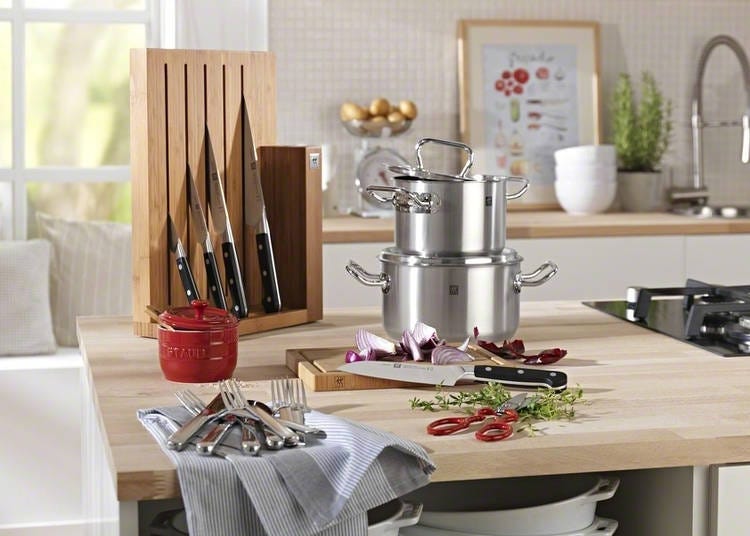 Photo provided by Zwilling J.A. Henckels)
We recommend Zwilling J.A. Henckels for a place to look for kitchen goods to enrich your daily cooking experience. They have stylish pots, to sharp and hygienic knives, and many other items that would be perfect even as gifts.

Also if you purchase many things and run out of space, head over to Samsonite. They have a great lineup of hard case suitcases to leather products, and the staff will explain details of the bags such as weight, durability, and usability, so you can find the bag that matches your needs.
The Only Branch Shop in the Kansai Region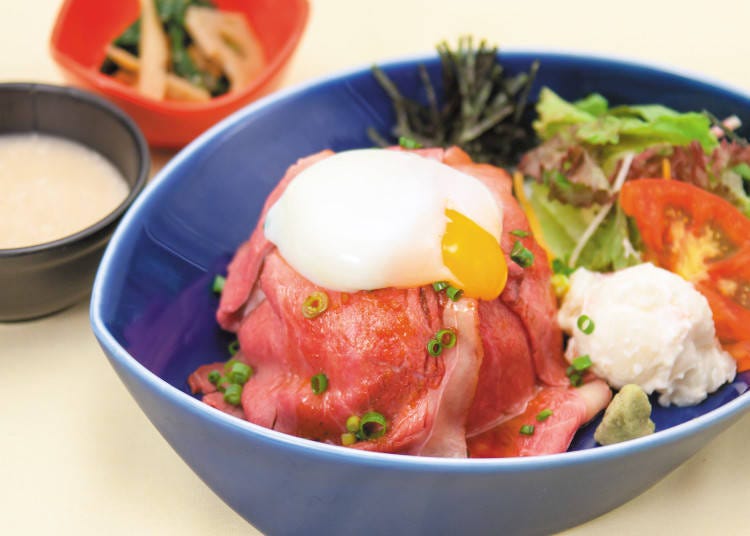 Photo provided by Japanese Food and Cafe chawan
At Kobe-Sanda Premium Outlets there are various genres of food such as Western, Chinese, Italian, and bakery-style cafes, but we would like to suggest the Japanese Food and Cafe Chawan. The most popular dish is the "roast beef over rice served with grated Japanese mountain potato." This is the only branch in the Kansai region and it is worth the wait to get in.

Also, we can't forget about the Zenkoku Gotochi Donburi Yatai, the first shop in Hyogo Prefecture, where you can get regional rice bowls and local delicacies. Here you can enjoy local delicacies that have received gourmet awards and have been officially approved by the region.
How about Spending a Full Day at Kobe-Sanda Premium Outlets?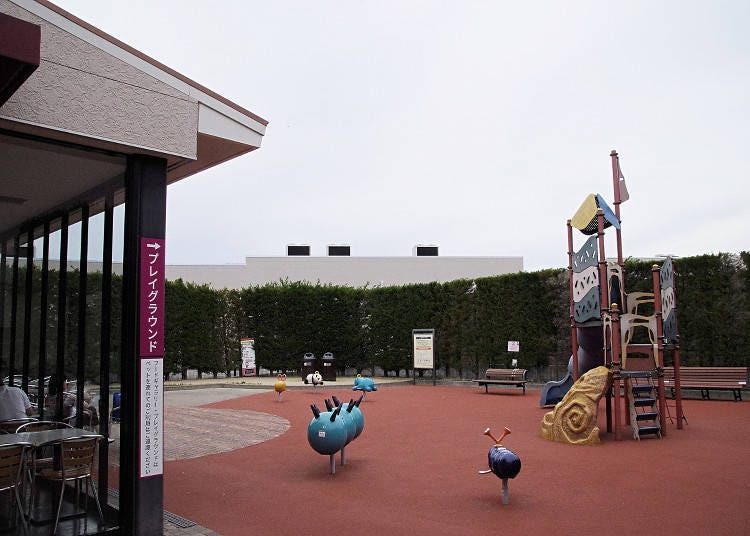 At Kobe-Sanda Premium Outlets there are tables and chairs in various places where you can rest while looking around. There is even a playground for kids, which is great for families.

Also at the Information Desk, you can receive discount coupons if you show your passport. The discount coupons are only in Japanese, but every foreign visitor can use it. All you have to do is show the coupon when you are making your payment.

Each store provides discounts based on its own rule. You can make payments with various credit cards and Union Pay cards.
KOBE-SANDA PREMIUM OUTLETSⓇ

神戸三田プレミアム・アウトレット

Address

Hyogo, Kobe, Kita-ku, Kōzudai, 7-chōme−3 〒651-1515

Nearest Station

Access (Car): About 3.5km from Chugoku Expressway Kobe-Sanda Interchange, about 1km from Rokko-Kita Toll Road Osawa IC
Access (train): About 20 minutes by bus from JR Sanda Station
Access (bus): About 50 minutes by bus from JR Sannomiya Station*through JR Shin-Kobe Station, about 75 minutes from JR Himeji Station (Shinki Bus/operates on Saturday, Sunday and holidays), about 70 minutes from JR Osaka Station (West JR Bus/operates daily), about 90 minutes from Kintetsu Osaka Abenobashi Station (through Nanba OCAT, Osaka International Airport) (Kintetsu Bus/operates on specific days), about 120 minutes from JR Tokushima Station (Tokushima Bus/operates on specific days), about 150 minutes from JR Okayama Station (Ryobi Bus/operates on specific days), about 189 minutes from JR Takamatsu Station (Kotohira Bus/operates on specific days)


Phone Number

078-983-3450

Hours: Shops / Food Gallery 10:00 a.m. - 8:00 p.m., Restaurants 11:00 a.m. - 21:00, Cafe 9:30 – 20:00, may change depending on the season
Closed: Once a year (3rd Thursday of February)
Services for foreign visitors: floor map (English and parts in simplified Chinese), phone translation service, Union Pay payment terminal, duty free (*not all shops)
Official site: https://www.premiumoutlets.co.jp/kobesanda
Text by:kurashisa
Related Articles on Shopping in Osaka and Outlet Malls
*This information is from the time of this article's publication.
*Prices and options mentioned are subject to change.
*Unless stated otherwise, all prices include tax.