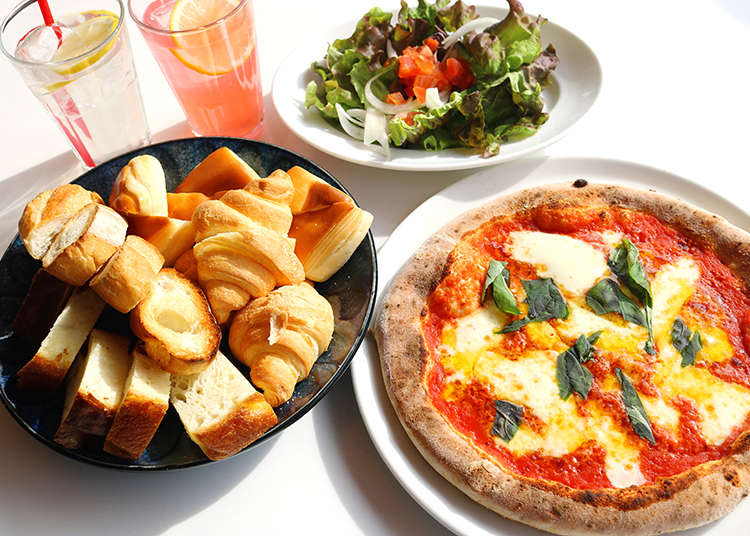 Osaka, also known as the gourmet battle ground, is home to the 580 yen all-you-can-eat bread and drink bar, a lunch that will surely satisfy your heart and stomach! You can enjoy a delicious, kiln-baked pizza lunch from a relaxing space in Umeda, which is within walking distance from JR Osaka Station.
580 yen all-you-can-eat bread and drink bar!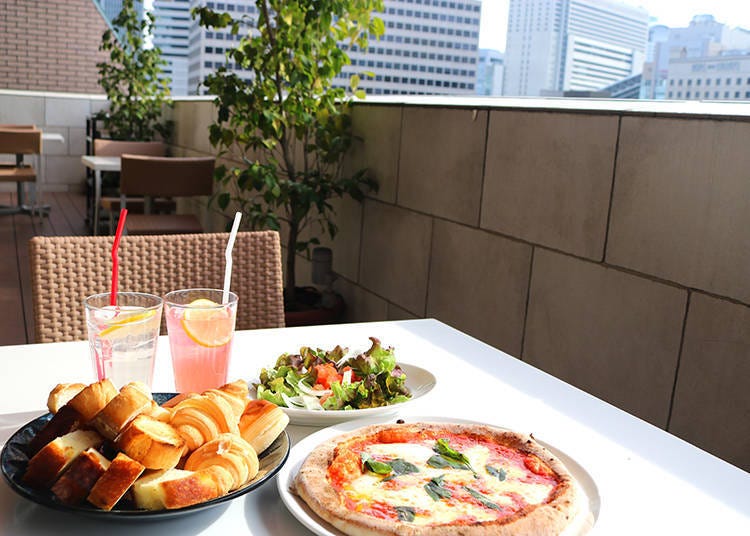 Weekday-only Lunch Margherita Pizza (580 yen)
Today we will introduce the weekday-limited pizza lunch, the Margherita Pizza. Included with the pizza are a salad, all-you-can-eat bread, and a drink bar!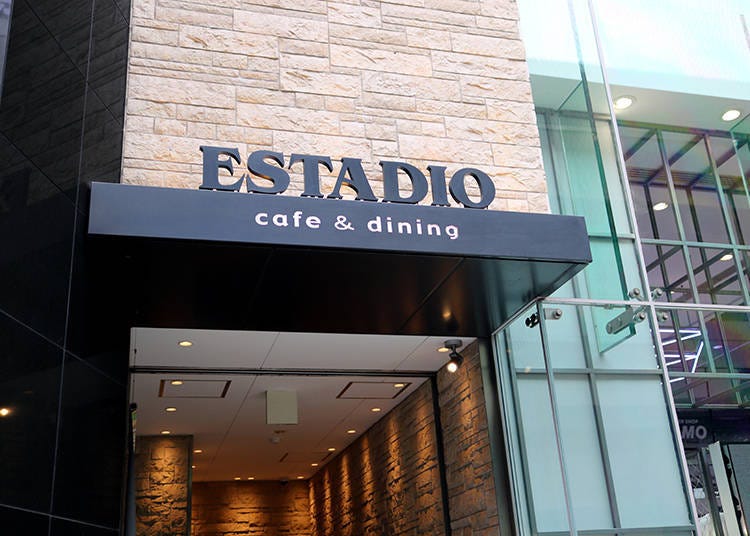 The entrance is on the left side of Soccer Shop KAMO
You can enjoy this lunch at Cafe & Dining ESTADIO, a restaurant that serves Italian dishes such as pizza and pasta. It is about a 1-minute walk from the Hankyu Electric Railway Umeda Station, Chaya-machi Exit. It is located on the 7th floor of the Soccer Shop KAMO building, which is about a 5-minute walk from JR Osaka Station.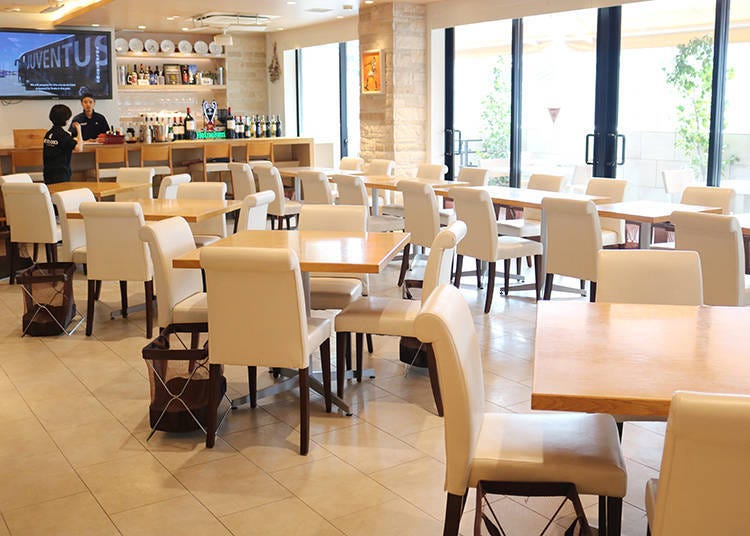 Spacious and bright store interior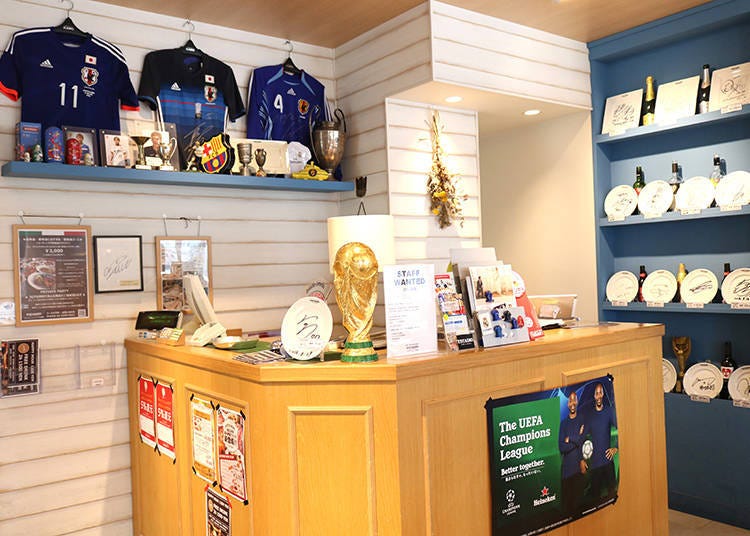 Soccer uniform replicas and athletes' autographs decorate the store
Cafe & Dining ESTADIO is actually a shop produced by Japan's largest soccer shop, Soccer Shop KAMO. You can enjoy authentic Italian food while watching soccer on a large screen TV. It is a popular lunchtime shop for office workers and housewives alike.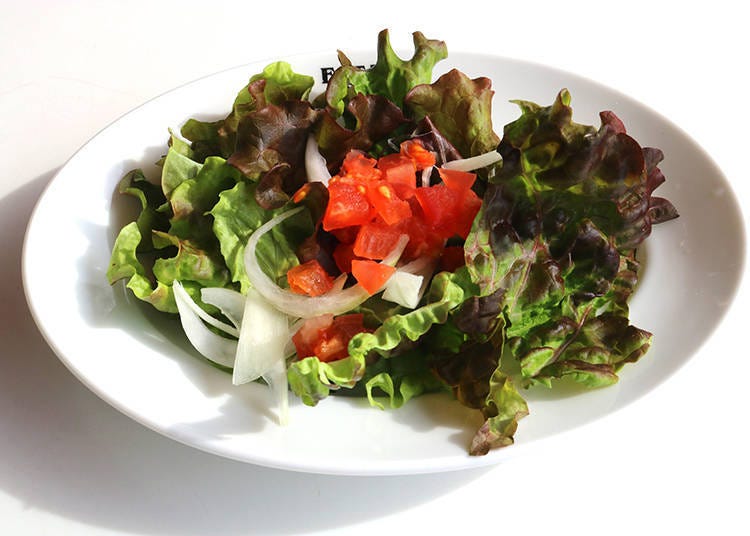 Simple salad with fresh lettuce, tomatoes, and onion slices
There are 4 types of pizza for lunch. In addition to the Margherita, which is only available on weekdays, there is also the Romana (1,080 yen), which is a Margherita with anchovies on top, and the Neapolitan Pizza (1,080 yen), without cheese. Salad, bread buffet, and drink bar re included with all lunches.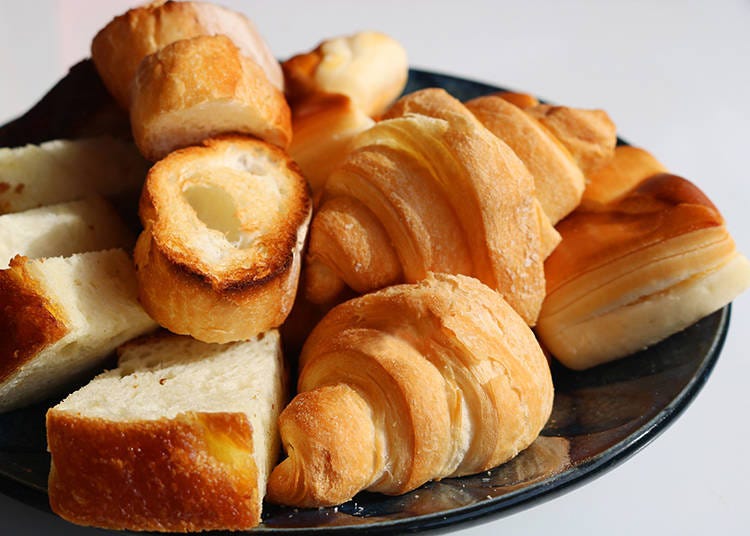 There are four types of bread in the bread buffet, all included in the all-you-can-eat!
There are 4 types of all-you-can-eat breads: baguette, croissant, milk bread, and focaccia. Each bread is cut in two, so it is easy to eat, and also makes it easy to eat more. I was happy to find that the baguette was lightly toasted. On average, most people eat about 4 pieces of bread, and some up to 20 pieces! It seems that you could get full on the bread alone.

There are 6 types of drinks. In addition to coffee and tea, there is juice and oolong tea. For an additional 300 yen, you can add order on alcoholic beverage, such as wine or sours (an often fruity drink). Many people enjoy it for lunch.
Authentic Margherita pizza baked in a kiln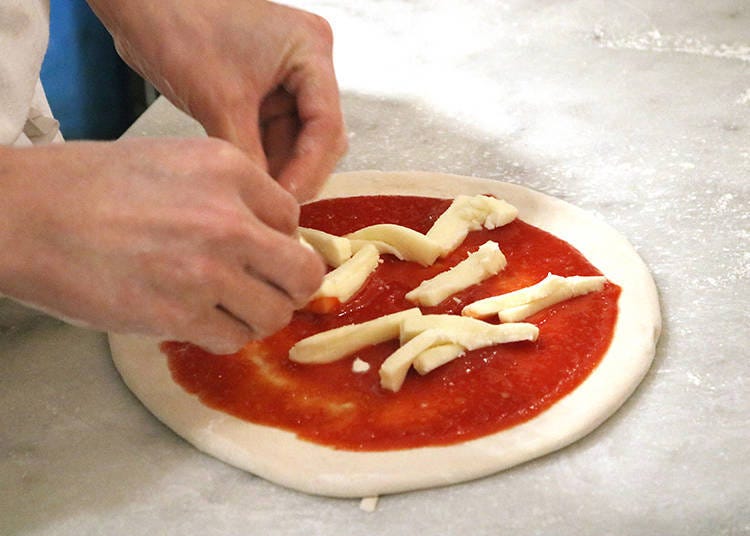 Hand-made pizza dough with toppings
This Margherita pizza is made with a handmade dough using a traditional Italian recipe. It is baked in an in-store pizza kiln. The dough is rolled out, topped with tomato sauce, mozzarella cheese, more cheese, olive oil, and fresh basil.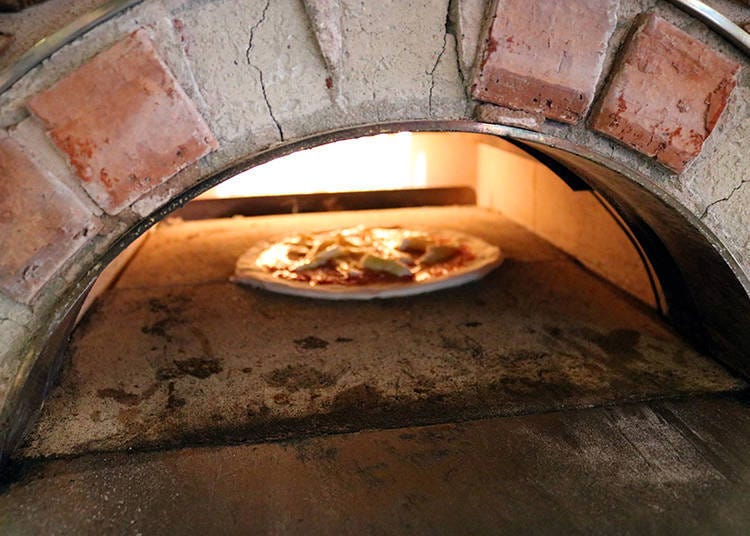 There is also a pizza kiln in the shop
Once it is put into the kiln, it is rotated to make sure it bakes evenly, paying attention to the brown color of the dough. It may look small in the photo, but this pizza is about 30 cm in diameter. If you were to order this Margherita pizza as a home-delivery, it would cost about 1,300 yen. But here, one pizza costs just 580 yen. It's super cheap and terrific value.
How does the 580 yen pizza taste?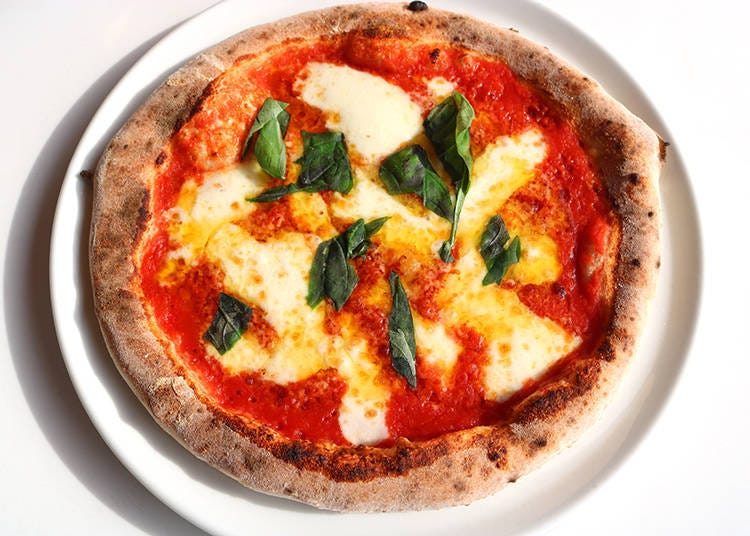 Margherita pizza, fresh out of the kiln
Here is the freshly baked hot pizza. It looks like a simple Margherita pizza, with its tart tomato sauce, chewy, melty mozzarella cheese, and the appetizing aroma of fresh basil.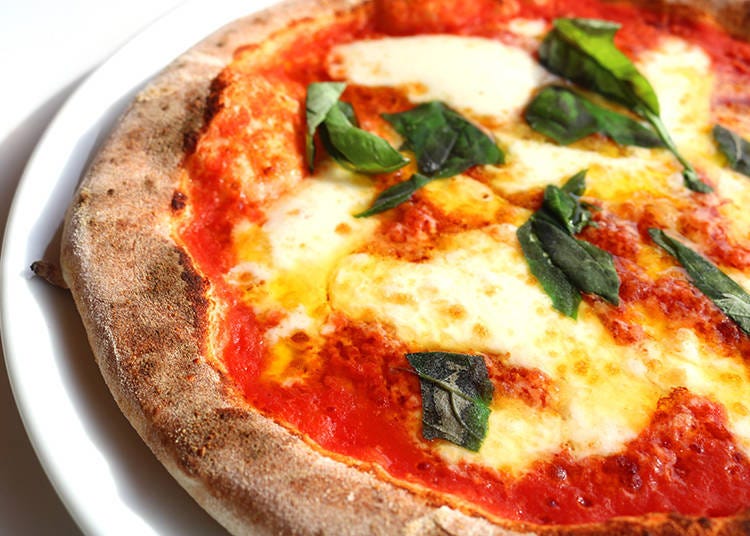 The perfect, fragrant dough!
The dough is chewy and irresistible! With each bite you can taste the delicious, wheat crust flavor. The flour used for the dough comes from Italy, and is prepared only with Sicilian salt, and no additives. To eat such a pizza at this price feels like a true luxury.
Appetizer for only 200 yen extra!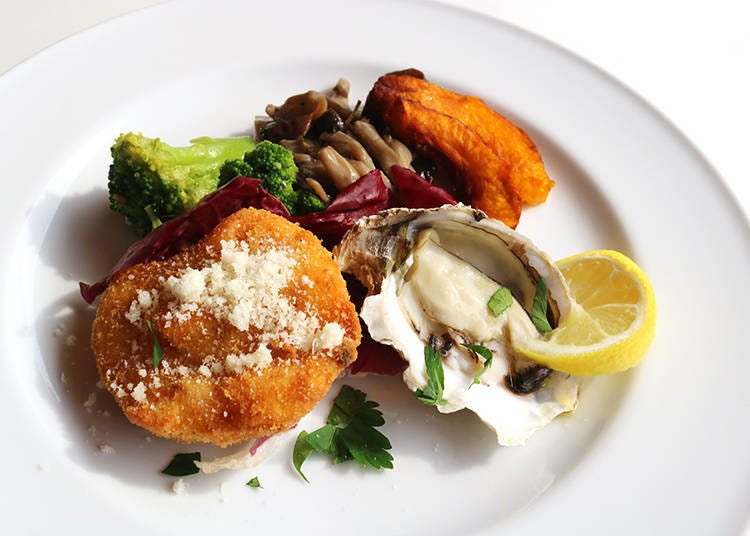 Appetizer Platter Antipasto
You can opt for an appetizer platter instead of a side salad for an extra 200 yen. At only 200 yen, you might not expect it to be so big. However, this is Osaka. It's more than just a garnish.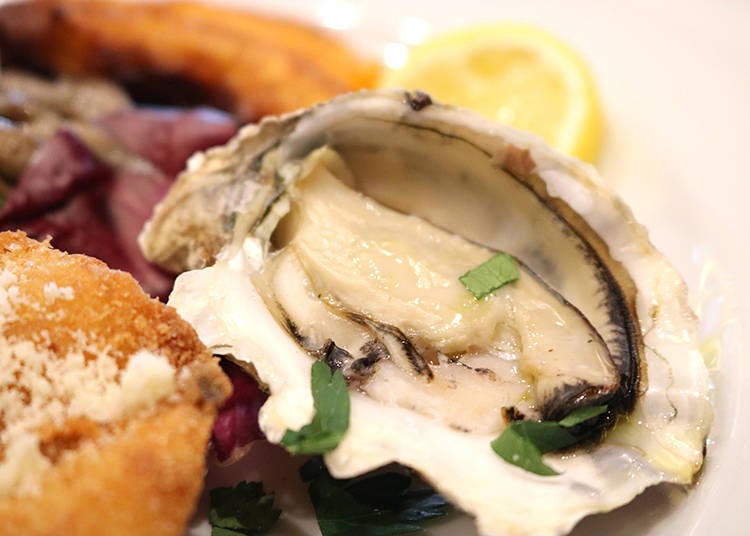 Momokomachi oysters from Mie Prefecture have a light but rich taste.
This assortment includes five kinds of appetizers. At the time of our visit, those five included kiln-baked Momokomachi oysters from Mie Prefecture,'Frittatina,' or pasta croquettes called, 'Broccoli Anchovy Sautee,' 'Sauteed Porcino Mushrooms,' and 'Kabocha Balsamic.' Even the arrangement was stylish and made me excited to try it.

"This appetizer is a great deal! I really suggest you try it," recommended head chef Sagane. All of them are exquisite, and seems to go well with wine. Appetizers vary depending on season. Seasonal ingredients are also included from time to time.
Dessert for 200 yen extra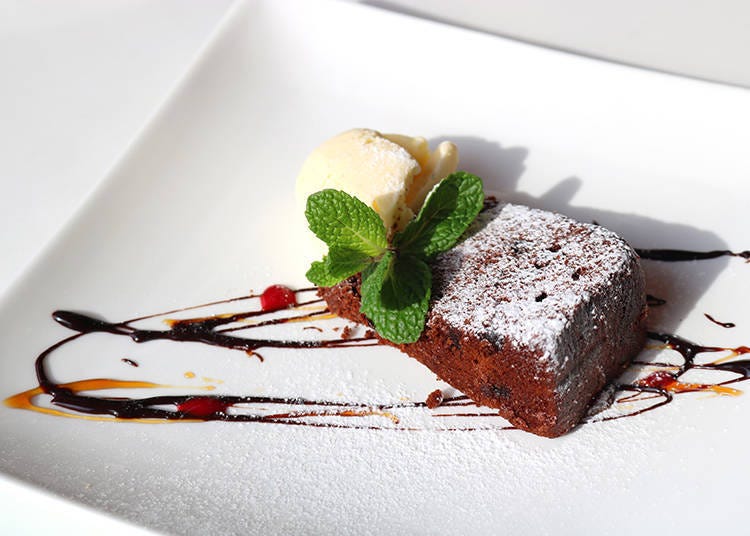 Chocolate gâteau cake and vanilla ice cream. The flavor of both chocolate and vanilla go great together
You can also add the Mini Dessert of the Day for an additional 200 yen. Desserts change daily. On the day of this visit, Gateau Chocolate Cake and Vanilla Ice Cream were on the menu. The sweet gateau chocolate went well with the vanilla ice cream. It looked like an Italian dish, and was visually appealing. Adding a dessert can really add satisfaction to your meal.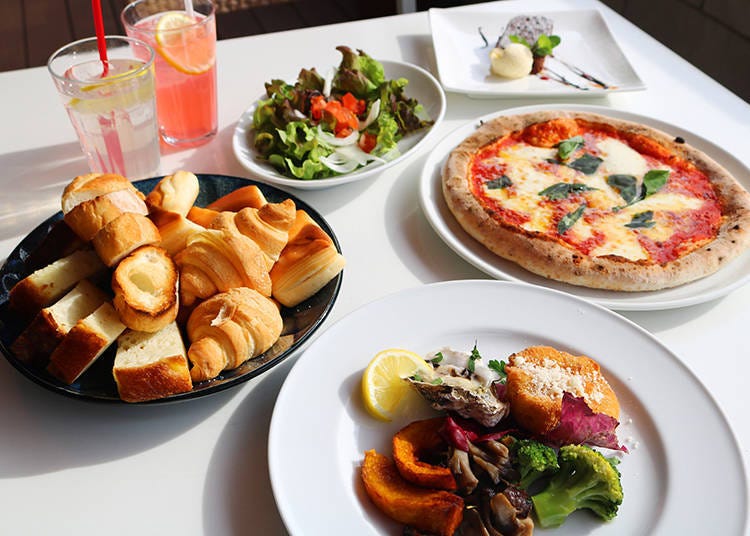 The image shows all the contents of the lunch. The appetizer and dessert were an extra 200 yen each,
Here are all the lunch options. You can select either a side salad or an appetizer. If you choose the salad, the cost would be 780 yen including dessert. If you choose the appetizer, it would be 980 yen, including dessert. Whatever your preference, it would still be 1,000 yen or less, and includes all-you-can-eat bread. Osaka truly is the city of 'eat-till-you-drop'!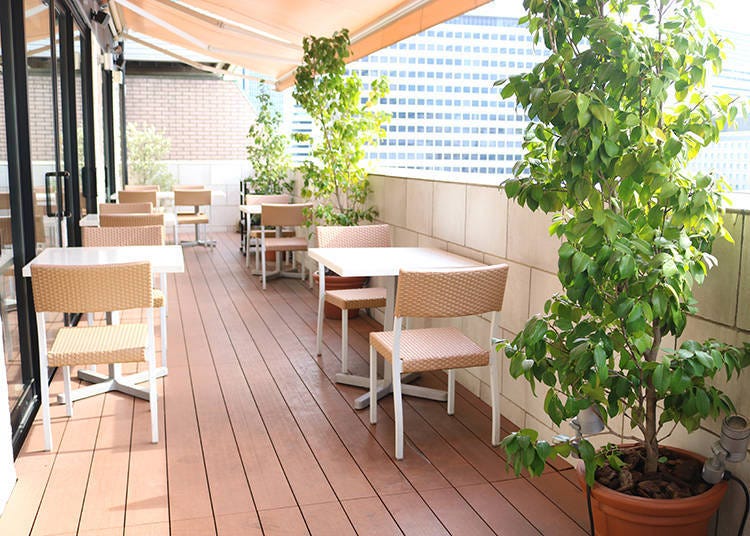 Terrace Seats
The shop spans the 7th and 8th floors, and has a total of about 140 seats. Unlike other sports bars, one of the charms of this shop is that you can sit down and watch the game at your pace. In addition to the table seats, there are counter seats as well as terrace seats, where you can enjoy a comfortable breeze.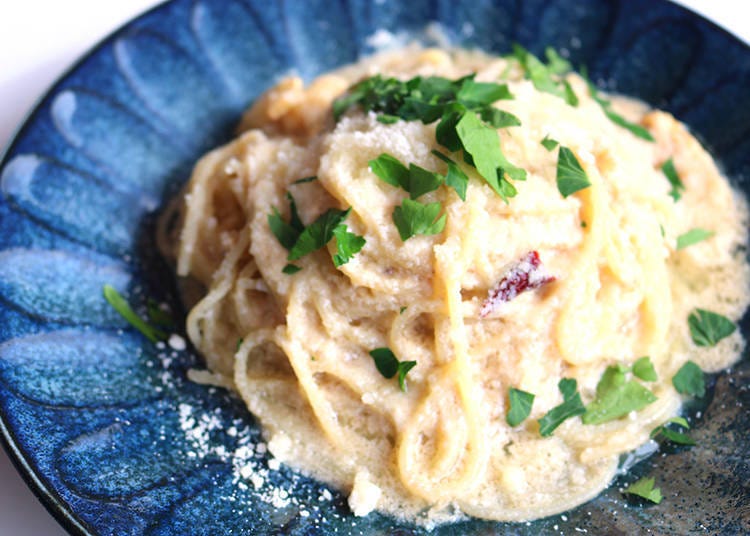 Popular dinner item, Anchovy and Egg Carbonara (1,180 yen)
The spacious room can also be reserved for parties and events. You can enjoy various dishes including pasta, stews, and pizza for dinner time starting at 6:00PM.

"The Margherita lunch is definitely worth it. It seems to be a customer favorite," says Chef Sagane. He trained in Italy and is particular about traditional Italian food. "If you enjoyed our food for lunch, I'd be happy if you also come for dinner or for sports," he said.

They are currently working on an English version of the menu. It seems that there are many foreign customers living in Osaka, including people from Italy. Depending on the day, there may be staff available who can speak English. Why not enjoy a fantastic lunch on the open terrace seats?

※新型コロナウィルス感染拡大防止のため休業中の場合があります。

Text by:Niki Shigemi

*The above article is based on information from May 2020
Cafe & Dining ESTADIO UMEDA

cafe & dining ESTADIO 梅田店

Address

KAMO Umeda Building 7F, 3-6 Chayamachi, Kita-ku, Osaka City, Osaka 530-0013

Phone Number

06-6359-5021

Hours:
Lunch Time: 11:30AM-3:00PM (L.O 2:00PM)
Dinner Time: 6:00PM-11:00PM (L.O 10:00PM)
Regular Holiday: Irregular holidays
*This information is from the time of this article's publication.
*Prices and options mentioned are subject to change.
*Unless stated otherwise, all prices include tax.