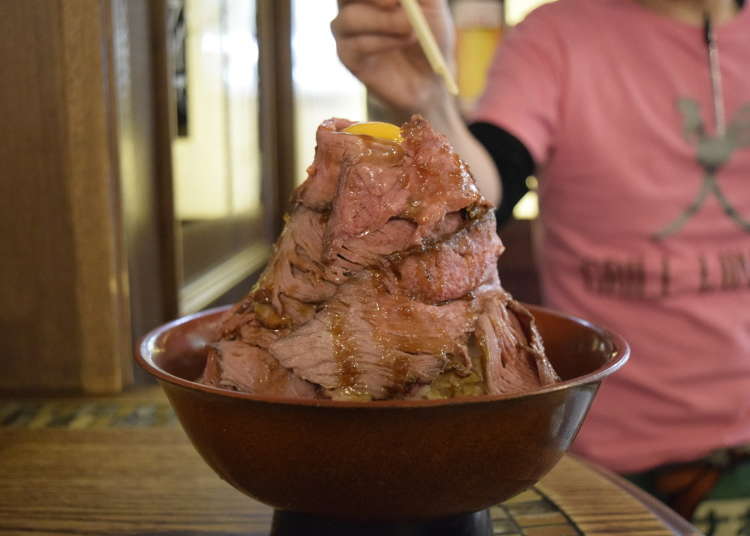 When it comes to the best food in Osaka, Osakans are known for their appreciation of good food and often eat out. They give the food high marks especially if it is not only delicious but also comes in large portions at a reasonable price. And the larger the portion, the better.

One place that has gained attention for its mega portions of roast beef is Grill Ijinkan. The portions of high-quality beef served here are truly generous! It's no wonder then that people line up to get in. That did not dissuade us from going to check out the rice bowl that everyone has been talking about.
Luxuriously large portions at Ijinkan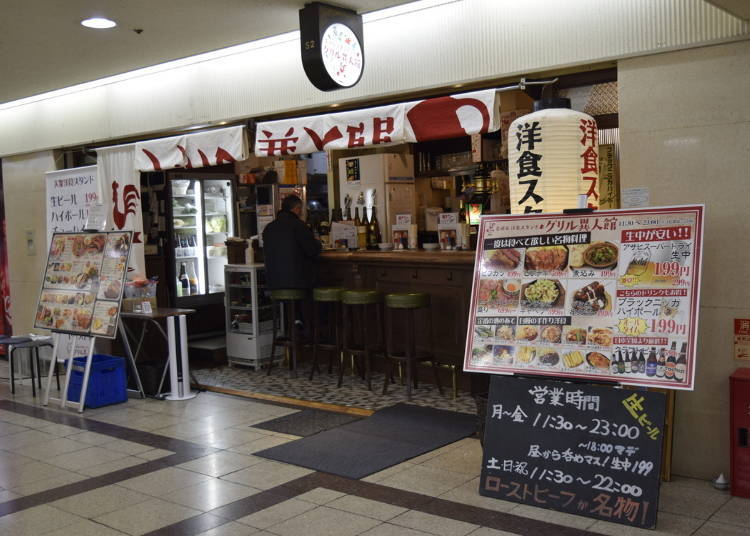 The Osaka Eki-mae No. 3 Bldg. is renowned for having a selection of shops serving up some of the best food in Osaka at great prices. It's also close to the JR, Hankyu, Hanshin, Osaka Metro, and Osaka Umeda railway stations.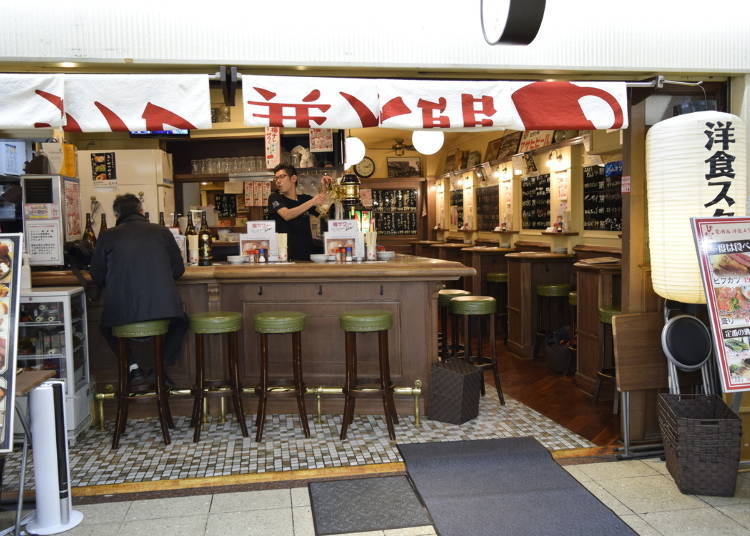 Grill Ijinkan is located in the basement of this building on the floor housing many dining establishments. If the shop curtain is out, it means they are open for business. The shop is open from 11:30 a.m. until 11:00 p.m. and as it does not close for a break during that time, you can enjoy food and drink there whenever you go.

Being located close to stations makes it popular with tourists, however, many of the regular customers are business people who work in the area.
Roast beef bowls vary in size from 100 - 300 grams and come in four types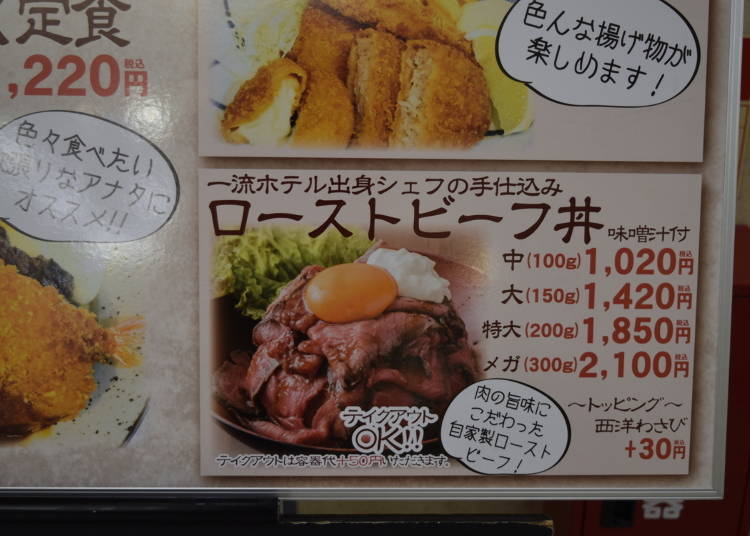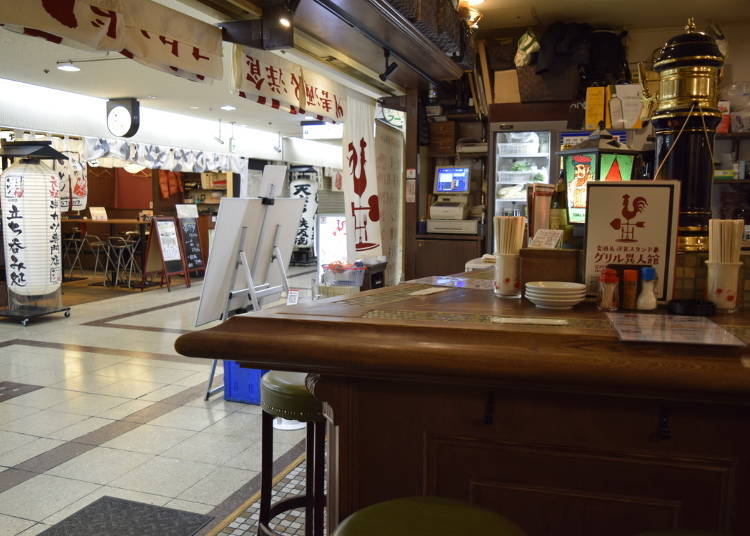 The sign outside the shop shows the four different sizes of roast beef bowls from which you can choose: medium (100 grams), large (150 grams), extra-large (200 grams), and mega (300 grams).

Entering the shop, we were greeted with a cheerful "Irasshaimase!" Hearing that lively greeting heightened my anticipation. The interior of the shop has a classic atmosphere, the kayokyoku (popular songs) of the 70s playing in the background giving it a retro feeling.

The menu includes photos and the prices are clearly indicated making it easy even for foreign visitors to order. So you don't need to know Japanese because you can order by just pointing to what you want.
The lunch roast beef bowl is famous for being of five-star hotel quality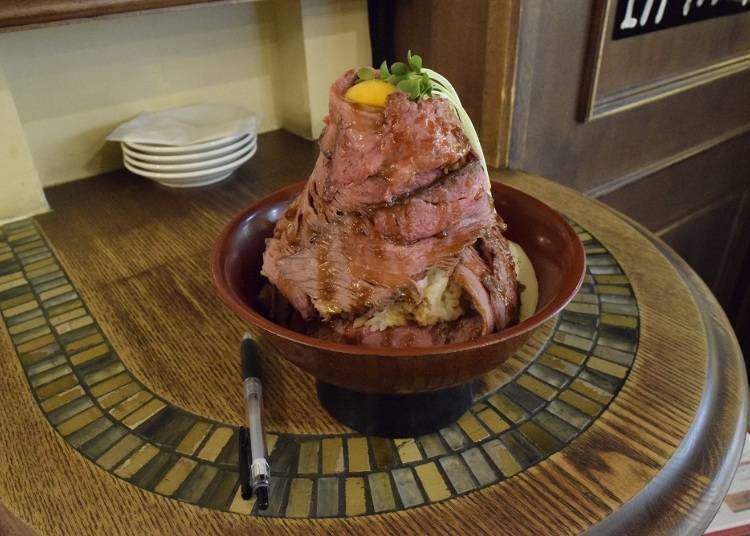 For this report, I ordered the Mega Mori bowl (2,100 yen, including tax). When the bowl was brought to the table, the customers around me cheered and some even took out smartphones to snap photos of it. The bowl is so large it is easy to see why you would want to post it to Instagram. One of the best food in Osaka, it stands about 30 cm high, and you can see how tall it is by the ballpoint pen next to it.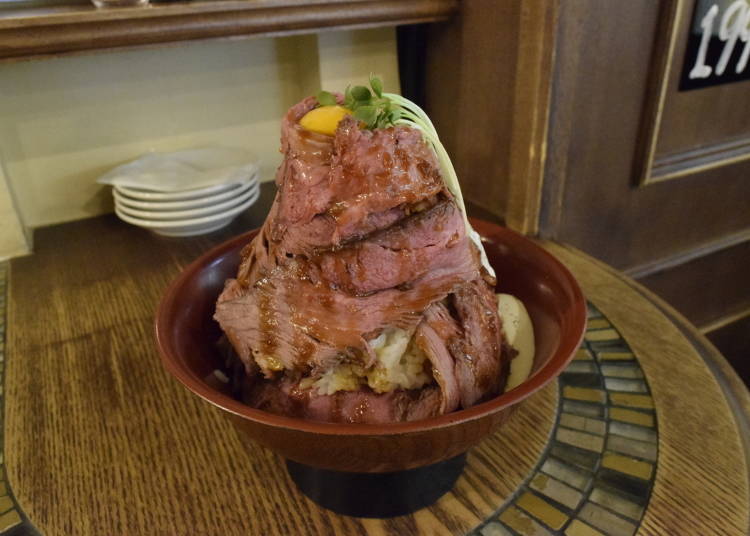 Ijinkan's popular roast beef menu has not changed since the shop opened in 1917. The bowls are prepared every day by chefs who have honed their skills in hotel kitchens. The beef is salted and seasoned with garlic before being put in the oven and cooked on a low heat for 40 minutes and then after taken out, let to set over night.

The roast beef is topped with egg yolk, white radish sprouts, an original homemade sauce, and sour cream and looks so delicious you can't wait to dig into it.
The sweet sauce brings out the exquisite flavor of the roast beef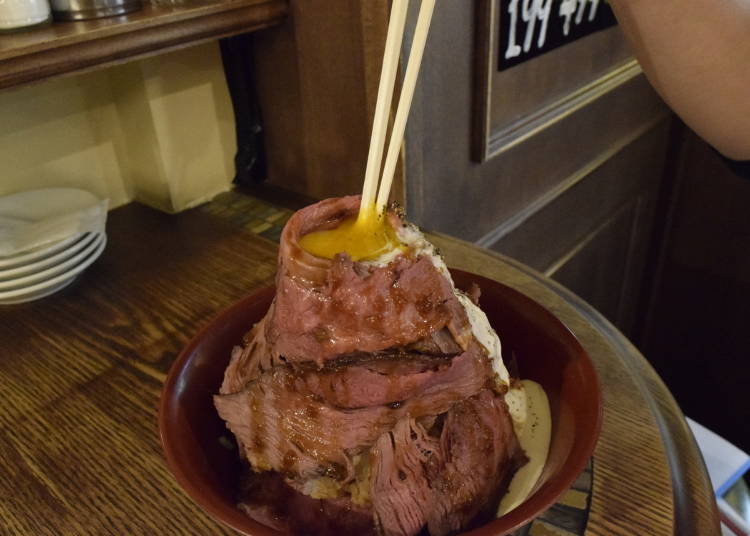 I quickly dug into this towering feast before it could fall over. First, though, I mixed the egg yolk and sour cream together with the roast beef. The savory flavor of the meat is enhanced by the honey-sweetened sauce, slightly bitter sour cream, and mellow richness of the egg yolk. The black pepper and white radish sprouts give it a zesty kick. Definitely the best food in Osaka.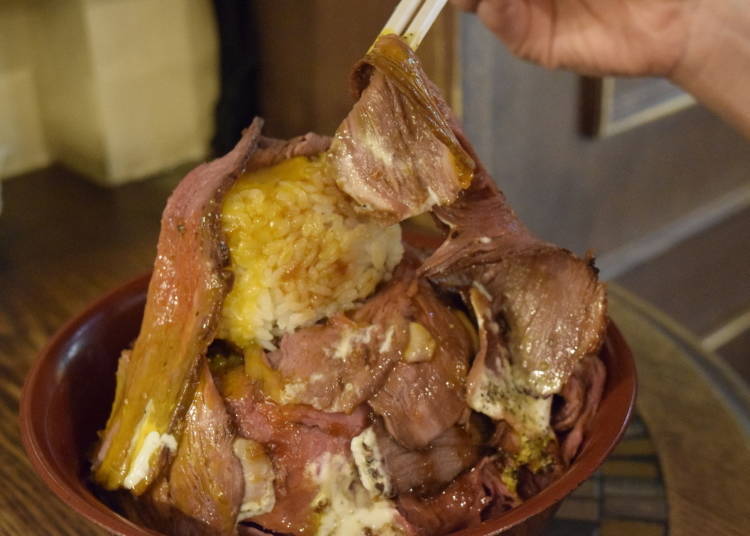 The same sauce used for the roast beef is also poured over the rice making it delicious enough to be a meal in itself. When you alternately eat the roast beef and the rice....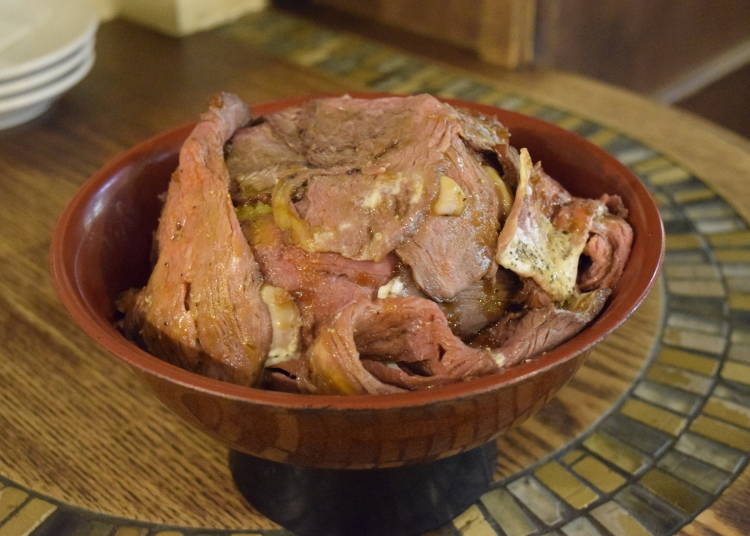 Spreading open the upper third layer of roast beef reveals the second layer stuffed beneath it. The bowl overflowing with roast beef really feels like a great bargain. Eating through the third and second layers the bottom first layer comes into view. The luxurious roast beef 300g rice bowl layered three times over rice is a solid meal giving 100% satisfaction.

The extra-large 200g bowl has the same amount as two layers and I was told that even ladies who order it are able to eat the whole thing. For an extra 30 yen, you can have horseradish with it and if you want to order it for takeout, a container is provided for another 50 yen. Roast beef is enjoyed by people of all ages so many families and friends enjoy ordering it for takeout to be shared.
Find some of the best food in Osaka at Grill Ijinkan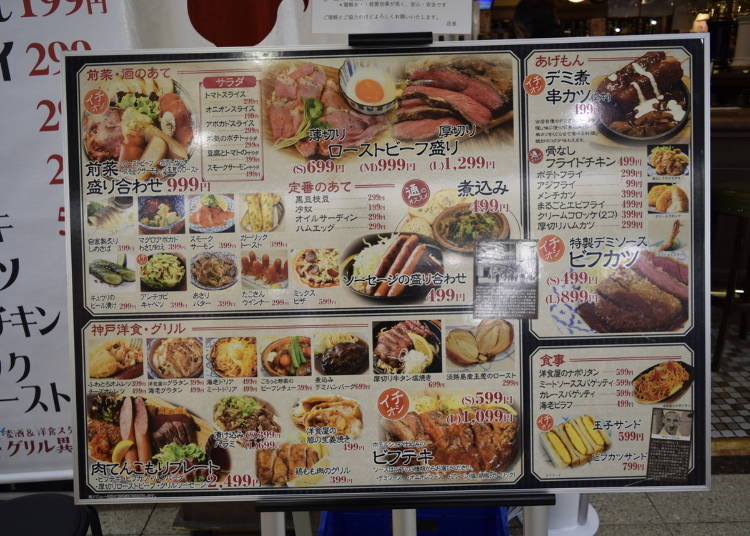 Roast beef is also available other than at the lunch hour
While it may appear that the big boom for roast beef has passed, there is no denying that Japanese love it. Ijinkan also has a roast beef menu for other than lunch time.

Popular as a Western-style izakaya, many people also enjoy wine to go with the high-quality roast beef. The shop stays open between lunch and dinner, so you can pop in then for a drink and bite to eat.

Next time you are in Osaka, why not stop by and sample this carefully prepared original roast beef dish?
グリル異人館

Address

B1F 100 Osaka Station 3 bldg. 1 Chome-1-1 Umeda, Kita-ku, Osaka, 530-0001

Phone Number

06-6455-5033

Open: 11:30 a.m. ~ 11:00 p.m., Saturdays, Sundays, holidays 11:30 a.m. ~ 10:00 p.m.
Roast beef bowl prices: medium (100 g) 1,020 yen, large (150 g) 1,420 yen, extra-large (200 g) 1,850 yen, mega (300 g) 2,100 yen *all prices include tax
Closed: always open
Book an unforgettable experience in Osaka!
*This information is from the time of this article's publication.
*Prices and options mentioned are subject to change.
*Unless stated otherwise, all prices include tax.