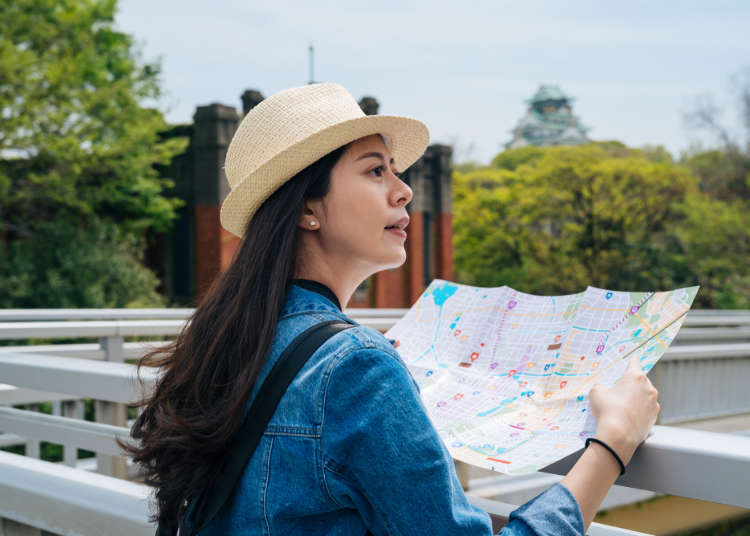 Kansai sightseeing passes are your ticket to explore the Kansai region in western Japan. Here, Kyoto and Nara are dotted with tons of World Heritage Sites. Osaka has plenty of tourist attractions, both new and old. And the port town of Kobe is full of exoticism on its own.

And now, along with these world-class tourist hot-spots, the Kansai Region Free Value Pass has extended their eligible destinations to include Shiga and Mie Prefectures. There is a reason that Kansai is dubbed the "Private Railway Kingdom," and now you can also take full advantage of the tourist destinations along these railways during your trip around Kansai.
1. Kansai One-Day Pass: Unlimited One-Day Ride Pass Covering Nearly the Entire Keihanshin Region!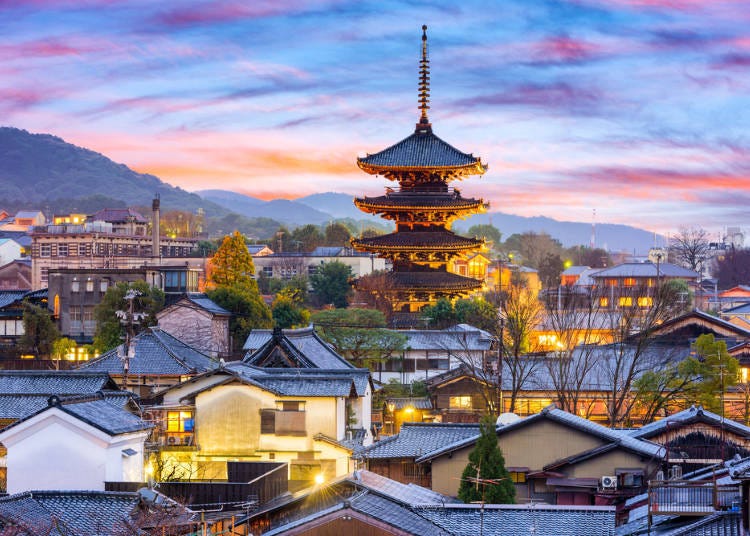 The Kansai One-Day Pass is an unlimited one-day pass, valid on the regular passenger cars of the JR train lines (including express lines and new high-speed lines) that service the prefectures of Osaka, Kyoto, Hyogo, Nara, and Shiga, which surround the central major cities of Osaka, Kyoto, and Kobe. It can also be used to ride the Osaka Aqua Liner water bus, the Kojaku Kotsu Bus line south of the Katata Station area, and the Biwako-Ohashi Line between Katata Station and Koto-no-naishi-mae (winter season only).

The following ticket vouchers are provided in partnership with three private railway companies: Biwako ticket (Keihan), Koyasan ticket (Nankai), and Nara/Nishi-no-Kyo ticket (Kintetsu).

Bicycle rentals are also available, which is convenient for when you want to stop and explore a particular town. You can also present your pass for discounts and small gifts at the facilities around the Lake Biwa area, including the Kyoto Railway Museum, hot springs, and some restaurants. However, please be sure to purchase your pass the day before intended use.

How to Get Your Pass:
Price:Adults: 3,670 yen
Children: 1,830 yen
Where to Buy: JR West Internet Reservation (e5489); Midori Ticket Machines (at each station along the Free Pass route, and some in the Wakayama/Fukuchiyama area)
*Note: Not available for purchase at any station ticket windows, telephone reservations, or travel agencies
*Advance purchases only (at least one day prior to use)
2. Osaka Amazing Pass: For Sightseeing the Osaka Region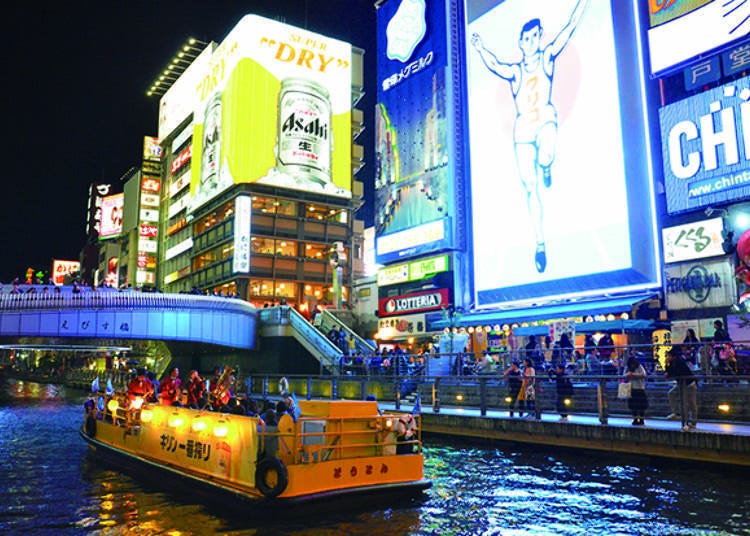 The Osaka Amazing Pass is a card ticket that allows you to ride the buses and trains for up to two days. It is especially convenient if you plan to visit tourist destinations in Osaka, such as Osaka Castle, Dotonbori, and Universal Studios Japan.

This great-value sightseeing pass includes free entry to over 40 major tourist destinations, a guidebook complete with coupons, and a downloadable app. There are also four available upgrades - Hankyu, Hanshin, Nankai Kanku, and Expo Commemoration Park - for a well-rounded trip of all the major sightseeing spots of Osaka.

Of all these attractions, one of the most popular must-see spots is the Umeda Sky Building Aerial Garden Observatory, which offers a panoramic view of Osaka City from 173 meters above the ground.

In addition, you can also enter some museums and board cruises free of charge with your pass for an extra-amazing Osaka trip.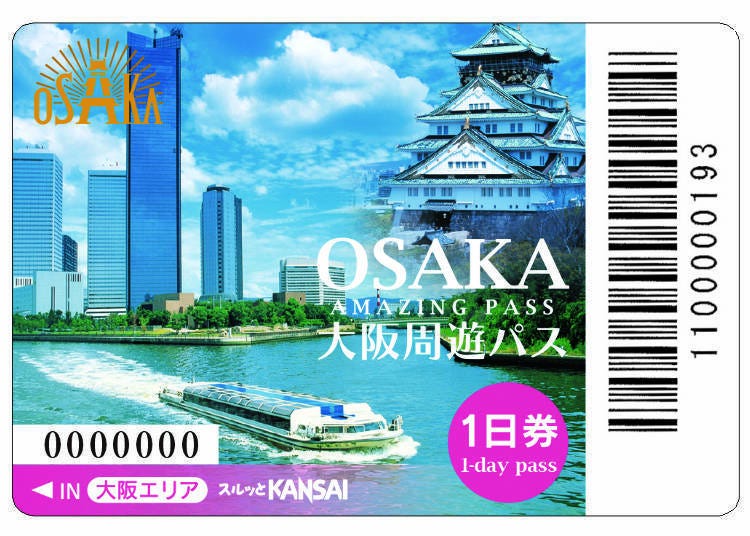 One-Day Pass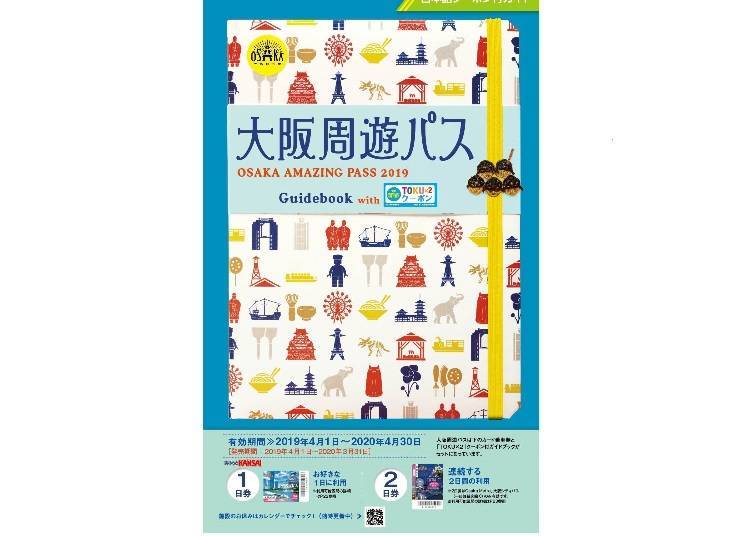 TOKUx2 Guide
How to Get Your Pass
Sales Period: Year-round
Valid Period: Year-round
*Only valid on indicated date(s)

Price: 1-day ticket:2,700 yen
2-day ticket: 3,600 yen
Hankyu Upgrade: 3,100 yen
Hanshin Upgrade: 3,100 yen
Nankai-Kanku Upgrade: 3,400 yen
Expo Commemoration Park Upgrade: 3,200 yen
*All purchases include guidebook + coupons

Where to Buy: All station offices along Osaka Metro Line;
All major stations in the valid unlimited-pass area including Nankai, Hankyu, Hanshin, Keihan, and Kintetsu; Some hotels in Osaka City; Major travel agencies; or at the link below.
3. Kobe Machimeguri 1-Day Pass: Where to use Tourist Coupons in Kobe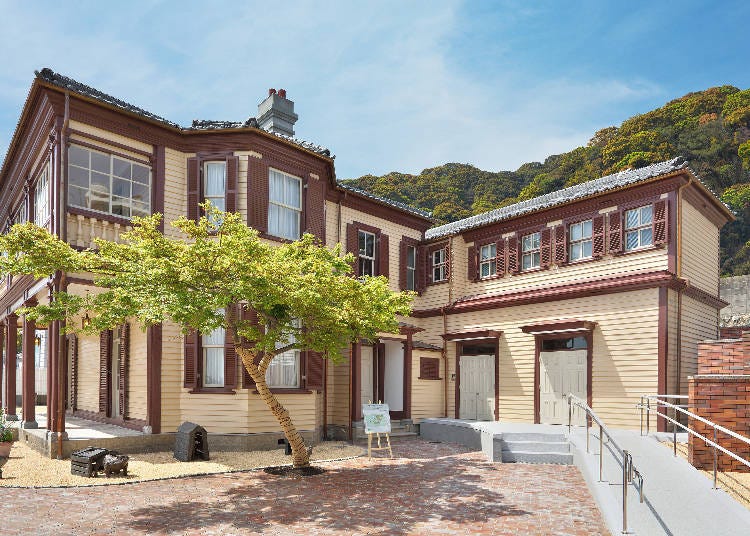 Rhine House
If you want to visit the most famous sightseeing attractions in Kobe City, such as the historical district of Kitano Ijinkan, the urban Bay Area, and the bustling Nankin-machi Chinatown, you can cover those sights with the Kobe Machimeguri One-Day Pass.

In addition to the Kobe City Area unlimited pass, which includes the Kobe City Subway (excluding some sections of Seishin-Yamate Line), Kobe Express Line, and all lines of the Port Liner, a 110-yen-off discount coupon for a one-day pass to the City Loop (a round-trip bus that takes you around all the Kobe sightseeing hot-spots) and a 700-yen "Kobe Gaiyuken" sightseeing coupon are also included as a set. Add to that a 700-yen tourist coupon that is valid at over 50 locations, 950 yen for an adult ticket is quite a deal.

You can use this coupon when visiting the popular spots of Kitano Ijinkan, including the Rhine House, where you can learn about the history and culture of Kitano and the origins of the Ijinkan (free admission, available in four languages), the Weathercock House, famous for the weathercock on its steeple, and the Moegi House, with its beautiful pale-green outer walls.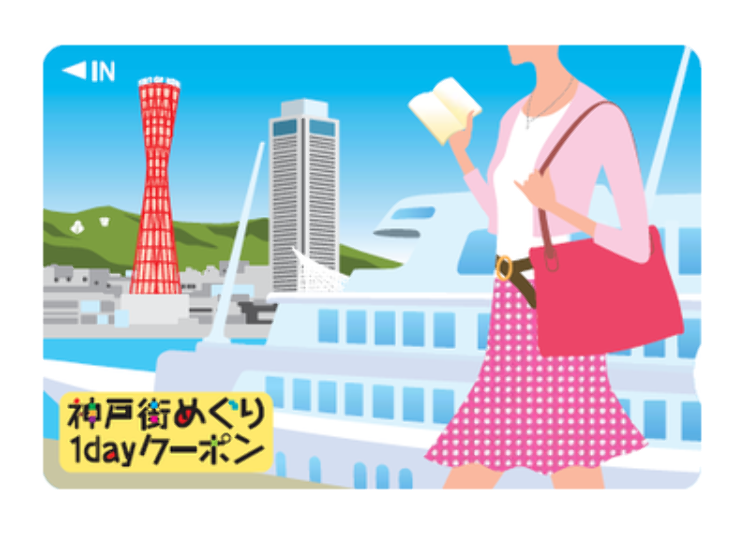 How to Get Your Pass:
Sales/Valid Period:10/1/2019~3/31/2020 (Autumn/Winter season)
*Valid only on day of purchase
Price:Kobe Area Pass: 950 yen (adult pass only)
Where to Buy: Stations between Shin-Kobe and Shin-Nagata (Seishin/Yamate Line); ticket windows at all stations along coastline (Kobe Municipal Subway); Kobe Express Line Shinkaichi Station; All stations along Sannomiya/Kobe Airport Line (Port Liner)
4. Subway/Bus One-Day Pass: Get Around Kyoto City with this One Pass!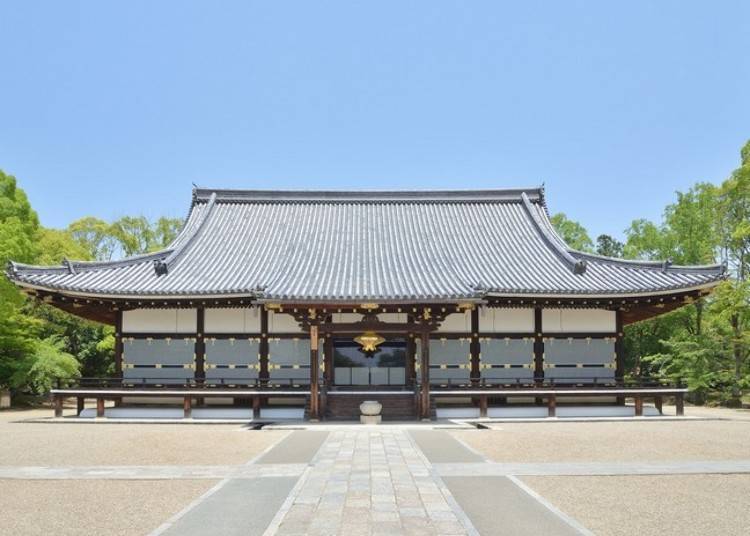 Sohonzan Ninnaji Temple Main Hall (National Treasure)
Kyoto City is dotted with 14 of the world's World Heritage Sites. With so many sights to see, the use of the subway as well as bus is indispensable to efficient travel.
The Subway/Bus One-Day Pass allows unlimited rides on the day of purchase on the Kyoto Municipal Subway, City Buses, Kyoto Bus, and Keihan Bus (some exclusions apply).

The fare for the first subway ride is 220 yen, and 230 yen for city buses (specified vicinities only). Discounts and other benefits may be available at nearly 60 different facilities, including Nijo Castle, the Kyoto Railway Museum, and Toei Kyoto Studio Park.

Our recommendation is a sightseeing tour of the World Heritage Sights, including the temples Ninnaji, Ryoanji, and Kinkakuji. The combination of subway and bus routes between Kyoto Station and Kinkakuji Temple are comfortable and convenient. Between temples, it takes about four minutes by bus, so you can easily get around to seeing them in the course of a day. You can also use the pass for travel to and from Kyoto Station and Arashiyama. Two-Day Passes are also available.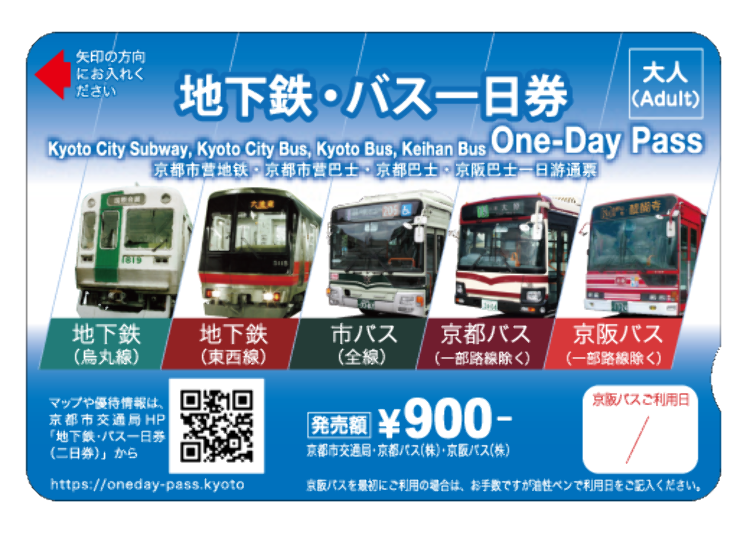 How to Get Your Pass:
Sales Period:Year-round
Valid Period:Year-round
*One-day tickets valid only on date of purchase; Two-day tickets valid only for the indicated two dates of purchase
Price:One-Day Pass, Adult: 900 yen
One-Day Pass, Child: 450 yen
Two-Day Pass, Adult: 1,700 yen
Two-Day Pass, Child: 850 yen
Where to Buy:City Bus/Subway Information Center
Commuter Pass Sales Office
Subway Station Sales Counters
Major Travel Agencies (coupon exchange)
5. Kintetsu Shumatsu Free Pass: 3 Days of Unlimited Rides Around Nara & Mie on Japan's Largest Private Railway!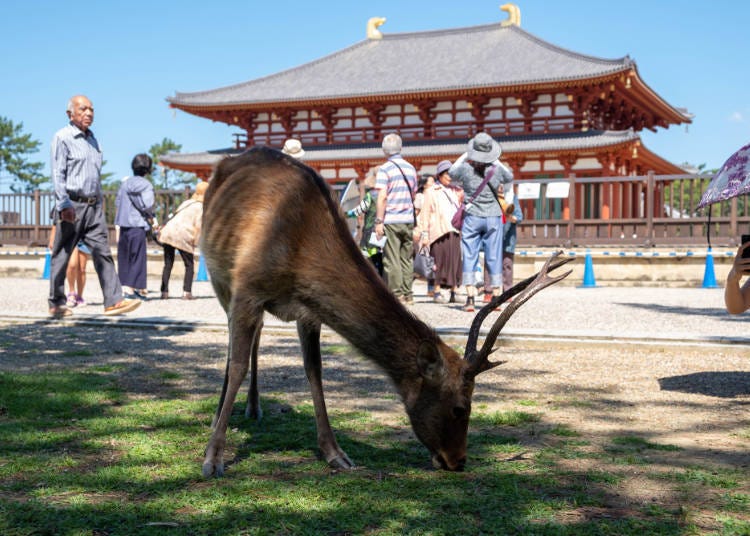 alif_Osman / Shutterstock.com
The Kinki Nippon Railway (Kintetsu) spans the five prefectures of Osaka, Kyoto, Nara, Mie, and Aichi. The Kintetsu Weekend Unlimited Pass is a ticket allowing unlimited rides on all Kintetsu lines for three days: either Friday, Saturday, and Sunday, or Saturday, Sunday, and Monday.

There are many famous sightseeing spots in this area as well, including the Nara and Asuka regions, which was the capital of Japan in ancient times, and the venue of the 2016 summit, the Ise-Shima area of Mie Prefecture.

Nara Park, located in the center of the ancient capital city Nara, is known for the over 1,338 wild deer that inhabit it. There are also three World Heritage temples, Todaiji, Kofukuji, and Kasuga-taisha, located adjacent to Nara Park. You can easily travel around these spots in a day.

Ise Jingu, a shrine boasting over 2,000 years of history, is made up of 125 shrines in total, including the main shrines Naiku and Geku, so you may want to spend a little more time exploring this area. And thanks to the convenience of having three days to use your pass, you can!

In addition, you can also use this pass on the Ikoma Cable Line and Nishi-Shigi Cable Line, also owned by the Kintetsu Railway. Please be sure to purchase your pass one day in advance of intended use.
Sales/Valid Period: Year-round
*Valid only on indicated three-day period (Friday/Saturday/Sunday, OR Saturday/Sunday/Monday)
Price:Adult: 4,200 yen
Child: 2,100 yen
Where to Buy:Major branch/sales offices of Kinki Nippon Tourist Co., Ltd.
*Advance sales only; at least one day prior to date of intended use

The Kansai Region is an area with plenty of different attractions to see in every city. With the Kansai Unlimited Passes, you will find it easy and convenient to travel between destinations. Many tourist hot-spots are also multi-lingual. With these Kansai Passes, available discounts, and other special offers, you are sure to have a convenient yet unforgettable trip.

Text by:WESTPLAN
Other Kansai Sightseeing Passes
Make your trip extra memorable by booking tickets on our partner site, Voyagin!
Book an unforgettable experience in Osaka!
*This information is from the time of this article's publication.
*Prices and options mentioned are subject to change.
*Unless stated otherwise, all prices include tax.