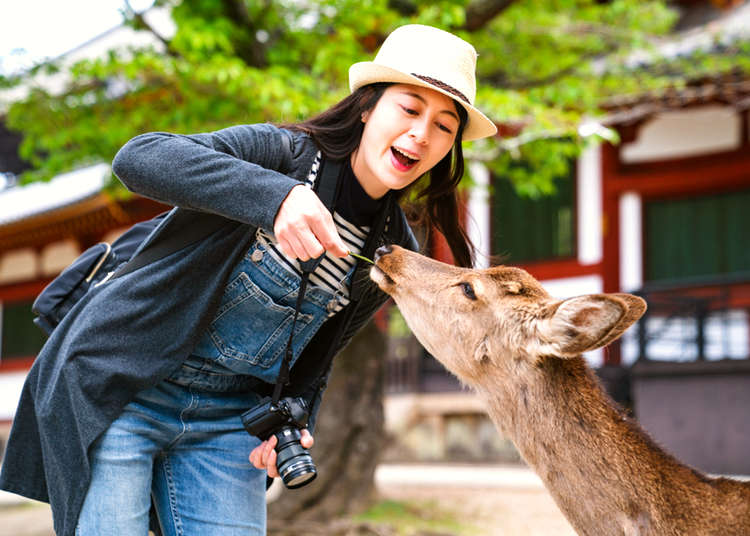 Nara City, a former capital city of Japan, is today a tourist destination near Kyoto and Osaka. It has an even older history than Kyoto, and there are a lot of cool Nara sightseeing spots throughout the city.

The number one highlights of the city are the buildings and statues of the shrines and temples, many of which are even registered as world heritage sites, make it one of the finest sightseeing locations in all of Japan.

This article will also introduce the most essential must-try elements of Nara cuisine, as well as Nara's adorable deer-themed souvenirs.
What Kind of Place is Nara?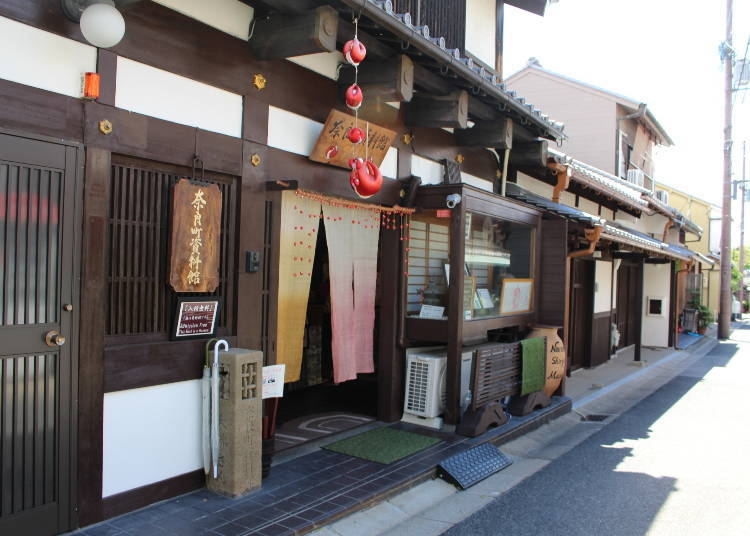 At the center of the former Japanese capital of Nara is the Nara Park area, where Todai-ji Temple, Kofuku-ji Temple, and Kasuga Grand Shrine are located.

You can reach the area from Kyoto or Osaka by taking the JR or Kintetsu Railway lines, about an hour trip. "Nara-machi" is full of historic character, with its untouched streets and shops from the Edo period and many facilities once used by tradesmen.

All over the greater Nara region, you can find countless more highlights, including the mountainside roads said to be the oldest roads in Japan, Yoshino and the world heritage site that is all of Mount Yoshino itself, and the Ikoma and Ikaruga districts which appear even in Japanese mythology.

Because Nara has no ocean and is land-locked on all four sides, its climate is characterized by particularly hot summers and cold winters. The most ideal season is autumn, when tourists visit from all over the country hoping to see Nara's fall foliage and the pieces of culture uniquely seen in the autumn season.
The Main Nara Sightseeing Points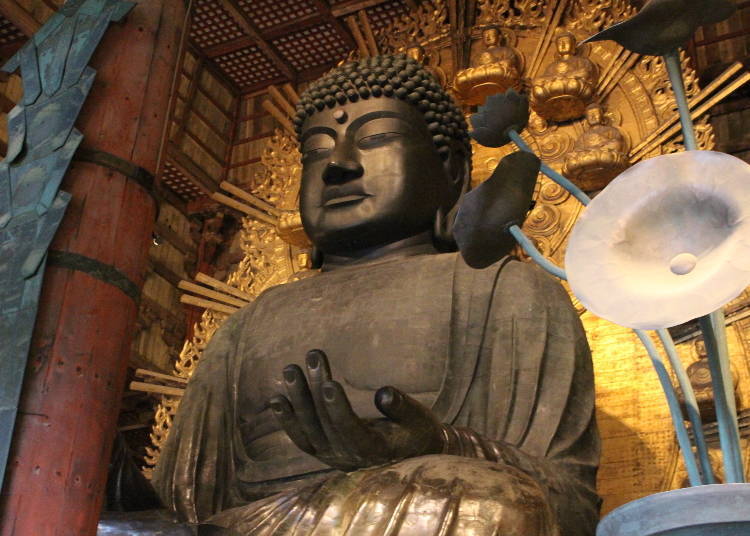 Nara's three large, world heritage site shrines and temples, Todai-ji, Kofuku-ji, and Kasuga-taisha are all concentrated in Nara Park, so you can spend an entire day in the park area alone. Tack on Yakushi-ji and Toshodai-ji Temples in Nishinokyo and Japan's first ever world heritage site Horyu-ji Temple, and you have a recipe for another day of sightseeing.

If you want to head over to Asuka and Yoshino to see the "yama-no-be-no-michi" mountainside roads, you will likely need to add on another whole day. Among the passes sold by Nara Kotsu bus lines are a "one-day pass" which will take you to all the main features in Nara City, the "wide pass" with a broad area of applicable usage, a "two-day pass", and more, so it is a good idea to effectively choose a bus pass depending on where you plan on going.
Todai-ji Temple's Statue of Buddha and Buildings are Both Extraordinary in Size
One thing you can't afford to miss when you come to Nara is "Todai-ji Temple". The temple's "Daibutsu-sama" is so indispensable, it can be said there is no point to coming to Nara if you don't see the giant Buddha statue there. The statue, also known as Rushanabutsu, was made during the Nara period per Emperor Shomu's Buddhist teachings as a prayer for happiness and fortune for all. The large temple grounds were constructed as the "eastern large temple" (where the name "Todai-ji" comes from) in Heijikyo, the capital during the Nara period. The Great South Gate and Great Buddha Hall structures are just a few the temple's grand structures, among the world's largest. The Daibutsu-sama is also of dramatic scale, at approximately 15 meters tall with a 5-meter-tall face.

There are several halls scattered throughout the temple grounds, such as the Nigatsu-do Hall overlooking the Nara Basin and the Kaidan-do Hall where you can see clay Shitennoji statues representative of the Nara period.
Address

406-1, Zoshicho, Nara-shi, Nara, 630-8587
View Map

Nearest Station

Kintetsunara Station (Kintetsu-nara Line)
20 minutes on foot


Phone Number

0742-22-5511
Kasuga Grand Shrine, Established as a Capital Guardian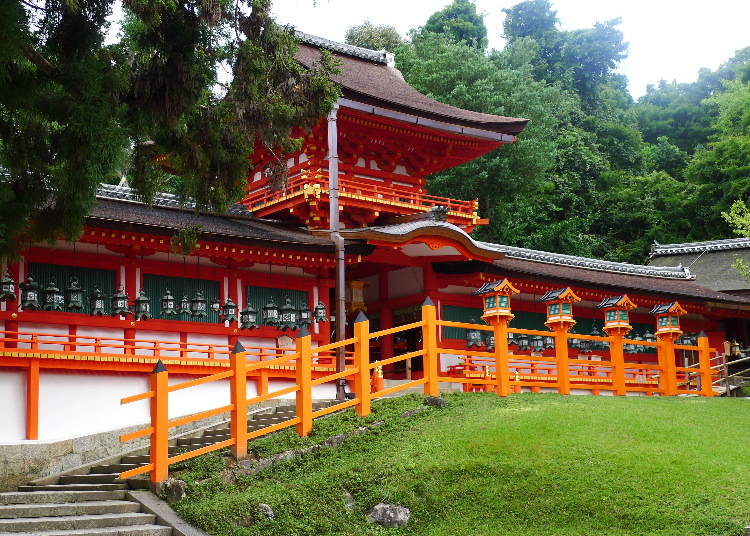 Just as much of a must-see spot as Todai-ji Temple is Kasuga Grand Shrine. The shrine's beginning starts around the time when the capital was established in Nara, when Takemikazuchi no Mikoto came to the peak of Mount Mikasa to pray for Japan's prosperity and its citizens' happiness. The shrine flourished as the place of worship for the Fujiwara clan's patron deity and earned the faith of not only the Imperial Court but also the common people. Ever since the shrine's establishment, Kasuga Taisha's vermillion pillars, white walls, and natural cypress bark roofs remain unchanged, standing in the Kasugano forest.

Deer are considered gods at Kasuga Grand Shrine, and you can see many on the vast premises of the shrine.
Address

160, Kasuganocho, Nara-shi, Nara, 630-8212
View Map

Nearest Station

Nara Station (JR Kansai Main Line / JR Yamatoji Line / JR Sakurai Line)
11 minutes by car


Phone Number

0742-22-7788
Take a Walk Through Naramachi's Historic Merchant Houses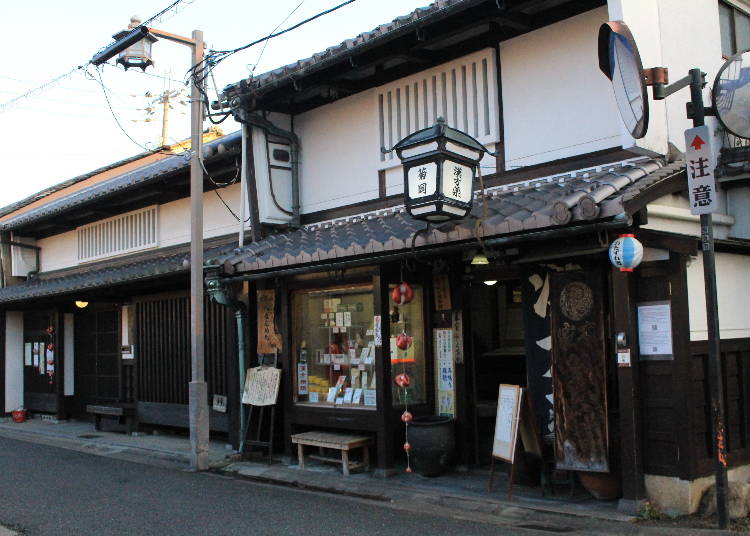 "Naramachi" is another popular tourist spot, with its charming merchant houses constructed beginning in the Edo period. Aside from the recreations of typical Edo period merchant house construction and the exhibitions of Naramachi historic materials, there are also merchant houses reformed into restaurants, cafes, and souvenir shops throughout the area. Even the narrow alleyways are filled with interesting sights.
Address

44, Gangojicho, Nara-shi, Nara, 630-8332
View Map

Nearest Station

Kyobate Station (JR Sakurai Line)
8 minutes on foot


Phone Number

0742-23-4820
Persimmon-Leaf Sushi is the Leader of Nara Cuisin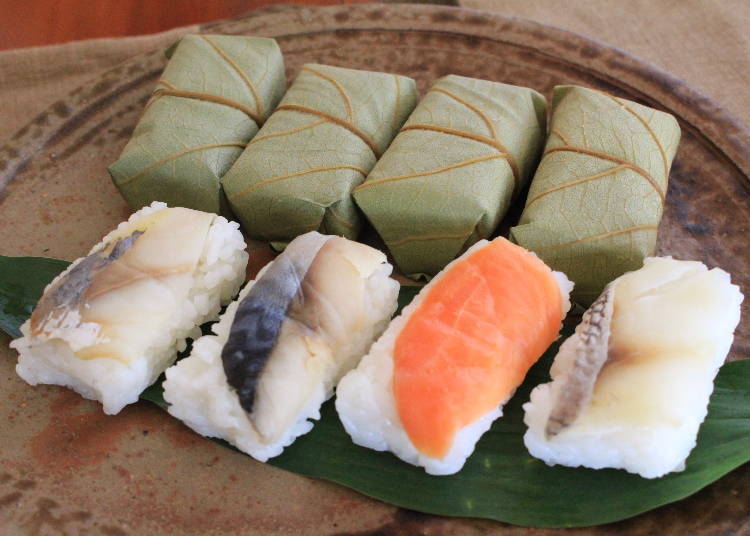 Kaki-no-ha sushi, or sushi wrapped in persimmon leaves, is one of Nara Prefecture's traditional dishes. Salt-marinated mackerel is placed atop bite-sized white rice portions and wrapped in persimmon leaves, then placed in a wooden box, pressed with a weight, and left to ferment for several days. The sushi spread in popularity as a preserved food in the times before refrigeration techniques were developed, and it was eaten as a special dish at festivals from summer through autumn in Nara Prefecture's mountain regions.

Today, most kaki-no-ha sushi is made with vinegar white rice, and the fermentation process is shortened. The most typical fish used is mackerel, but today you can get such sushi topped with salmon, sea bream, shrimp, eel, and other various ingredients.
Food and Japanese Confectionery Using Kuzu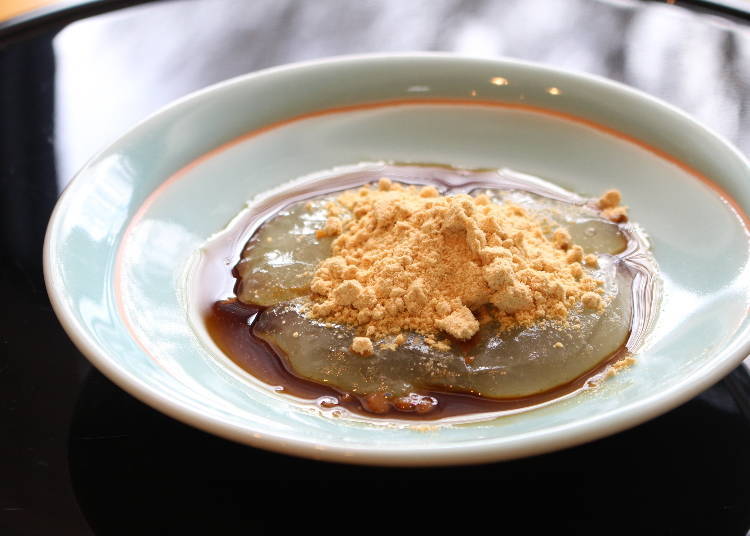 With the availability of high quality water and cold soil, the topography of the Yoshino region of Nara is ideal for the refinement of kuzuko, or arrowroot powder. The "yoshino hon-kuzu" powder made via the traditional "yoshino zarashi" method has a solid reputation for its high quality. The powder is incorporated into traditional dessert kuzukiri as well as various other kuzu sweets and dishes.
For Deer-Themed Goods, Go to "je et nous"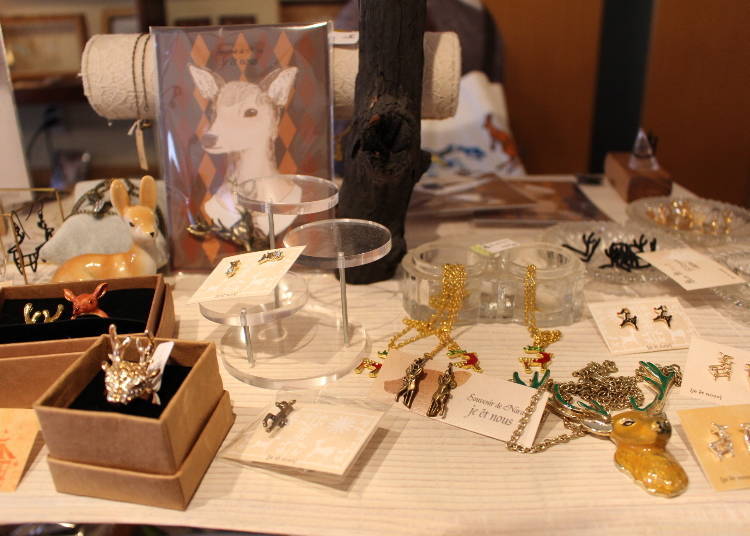 "je et nous" is a miscellaneous goods shop that carries second-hand chic deer items and original deer products from both within Japan and from overseas. From affordable stationary items like postcard and stamps to pricier accessories and decorative objects, there is a wide variety of items in stock. This shop is recommended for anyone who wants high-quality souvenirs. Most popular among international tourists are the vintage postcards. The shop's original map is also a big hit for them.
je et nous

Address

53 Suimon-cho, Nara City, Nara

Nearest Station

53 Suimon-cho, Nara City, Nara


Phone Number

0742-26-1868

Business Hours: 11:30 AM - 5:00 PM
Closed: every Monday and Tuesday
"Archaic", Packed with Deer Sweets Any Girl Will Love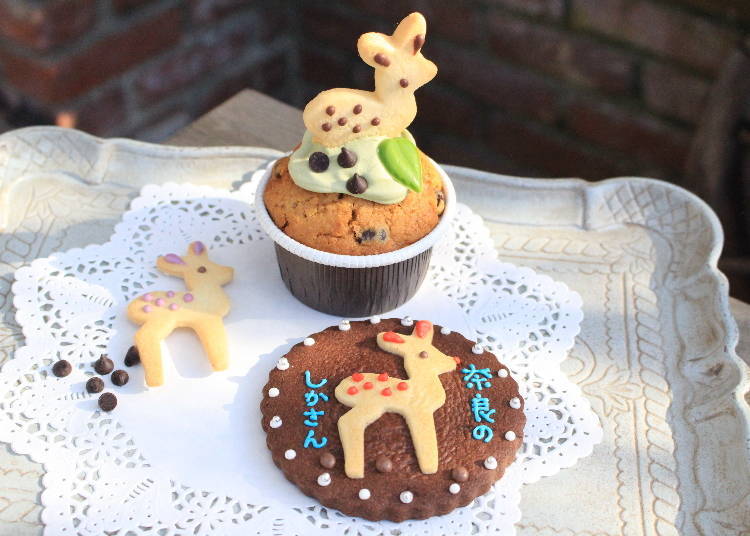 Here you will find plenty of adorable sweets that will bring joy to both giver and recipient. The store's most popular items are the deer cookies and "Nara Deer Muffins" topped with chocolate chip "deer droppings" (400 yen, tax included). The "Nara Deer Sable" cookies (480 yen, tax included) also feature cute deer images. Each dessert is hand-made with different expressions, so you'll be sure to want to take your personal favorite deer home with you.
アルカイック

Address

44-1 Fukuchiin, Nara City, Nara

Nearest Station

4-7 minutes by Tenri-yuki bus from JR Yamatoji Line "Nara" Station or Kintetsu Nara Line "Kintestsu-Nara" Station and a short walk from "Fukuchiin-cho" bus stop, or a 19-minute walk from Kintetsu Nara Line "Nara" station


Phone Number

0742-24-7007

Business Hours: 10:30 AM - 6:00 PM
Closed: every Wednesday
Written by: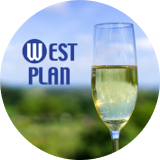 Book an unforgettable experience in Nara!
Make your trip extra memorable by booking one of these recommended tours.
*This information is from the time of this article's publication.
*Prices and options mentioned are subject to change.
*Unless stated otherwise, all prices include tax.
Limited time offer: 10% discount coupons available now!