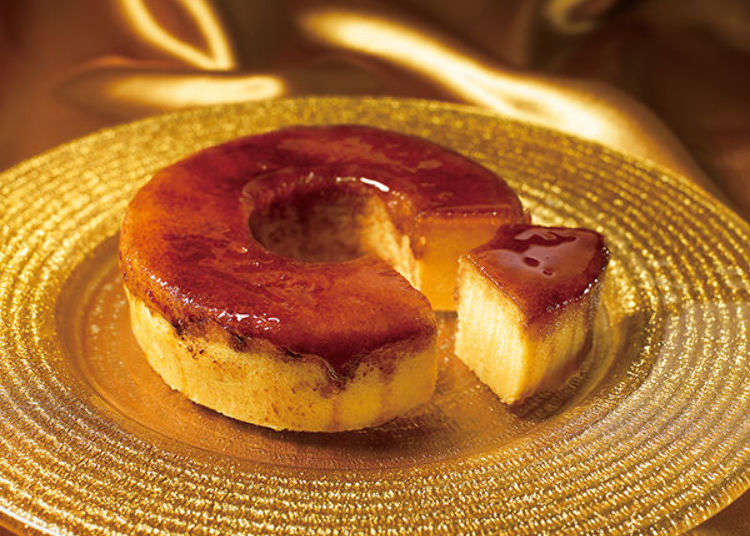 Madame Shinco is well-known for its Baumkuchen, which are also popular by mail-order. Most people associate current chairwoman Madame Shinko with bright pink colors and leopard print designs.

Today, I visited the Madame Shinco Main Branch in Minoh, Osaka, to enjoy their limited-edition sweets as well as a live performance that can only be seen here! I even got to learn about the real President Shinko herself.
Madame Shinco began as an Osaka coffee shop in 2006. There are a total of three branches, including the Saito Branch (also in Minoh) and the Daimaru Umeda Branch in Osaka City.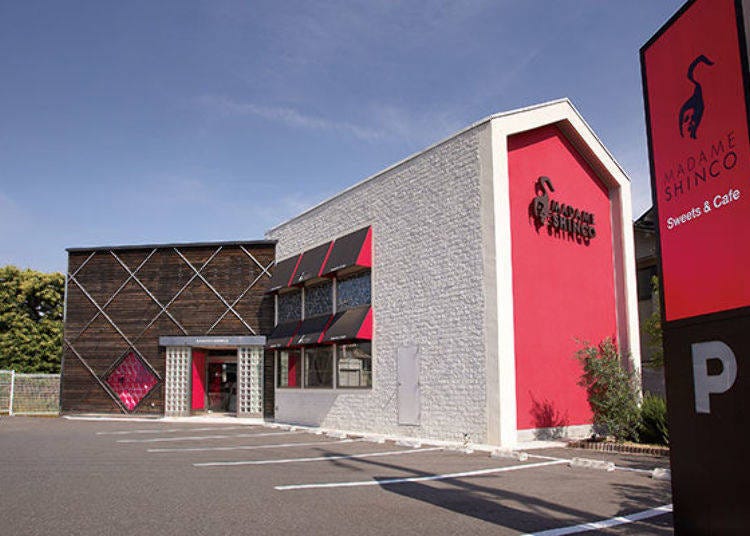 Take the bus from Kita-Osaka Express Railway Senri-Chuo Station or Hankyu Railway Kita-Senri Station, and get off at Imamiya. The shop is about 8 minutes on foot walking south. (Photo courtesy of MADAME SHINCO)
I imagined the main branch to be bigger, but it was rather compact. The outer wall has a simple black and white design with pink accents. However, once you step inside, you are greeted by the colorful world of Madame Shinco, decorated with pink, roses, and leopard print patterns!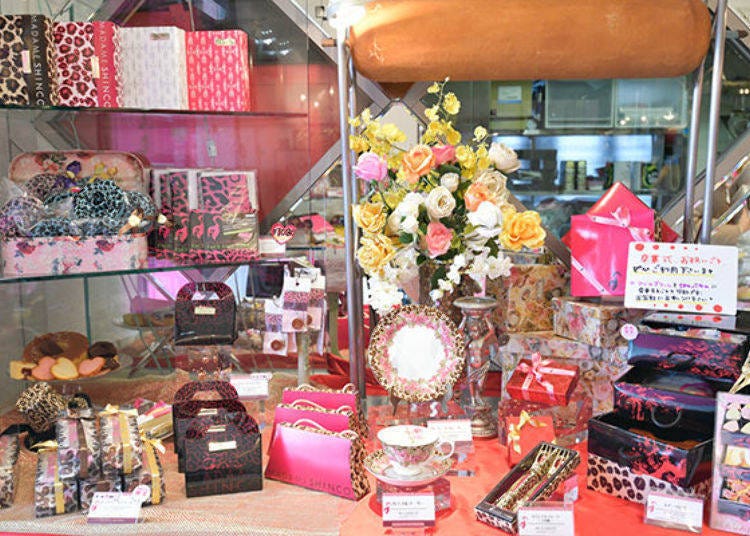 Shelves are lined with items such as original tablewares and cutlery, and small gifts such as cut Baumkuchen pieces.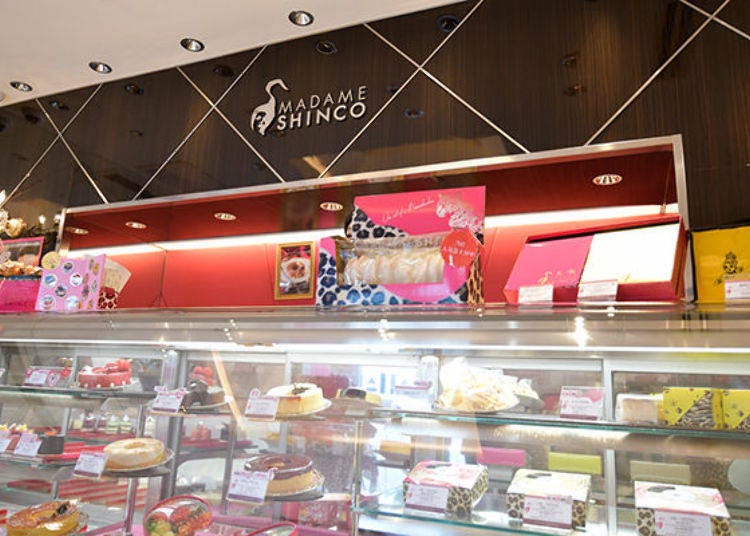 On display are a variety of Osaka Baumkuchen, including their standard "Madame Brûlée," as well as a variety of cakes.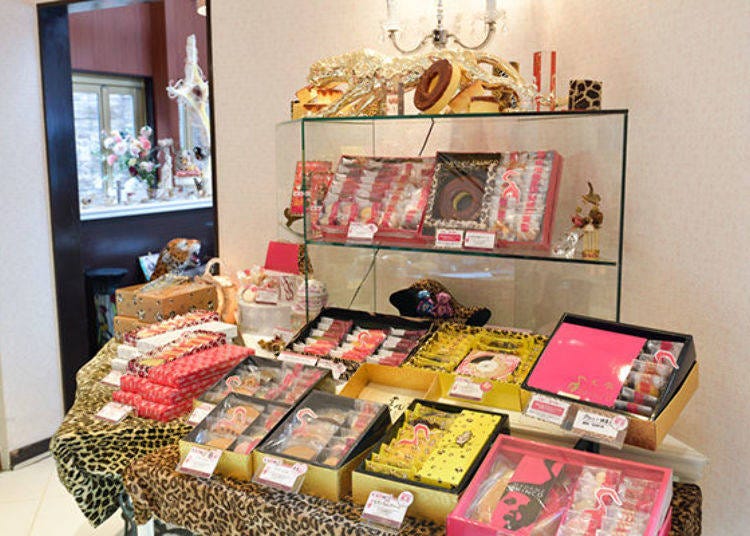 There is also an assortment of cut Baumkuchen and Madeline cakes. You can mix and match freely, and select Osaka sweets to your liking.
MADAME SHINCO's "Madame Brûlée," Plus Many More Recommended Osaka Baumkuchen!
First, let's try Madame Shinco's signature item, the Madame Brûlée. Their most popular item, this cake is caramelized with plenty of maple sugar and French cassonade (brown sugar).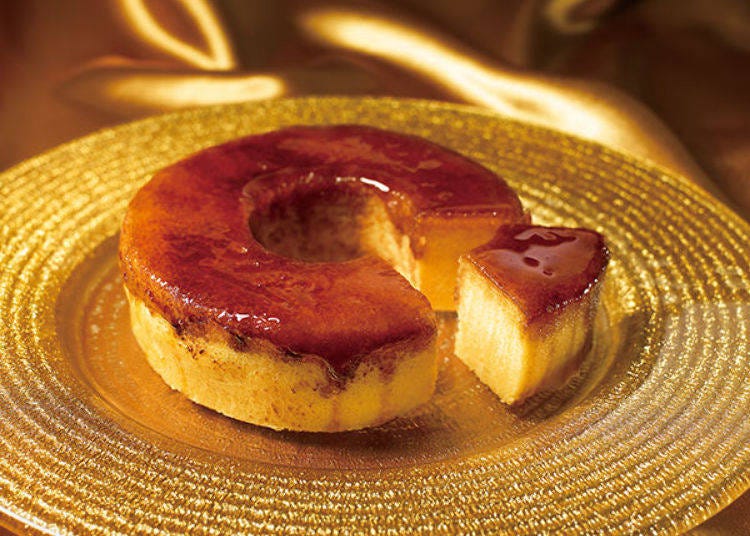 Madame Brûlée (1,500 yen plus tax), is a Baumkuchen that features a fragrant caramel aroma and a fluffy texture. You will want to eat as much as you can! (Photo courtesy of MADAME SHINCO)
There are three delicious ways to enjoy this. The first method is to have the caramel naturally melt on top at room temperature.

The second is to heat it slightly in the oven for a freshly-baked fluffy texture. The third is to put it in the freezer as soon as you get home, and eat it frozen. The shop owner, Ms. Nagata, confided the last one to me as her secret recommendation.

"It is designed so that even when frozen, it will not harden too much. If you cut and freeze it, you will be able to eat the pieces just like that. It's especially refreshing to eat chilled on a hot summer day, and tastes even sweeter frozen." (Nagata)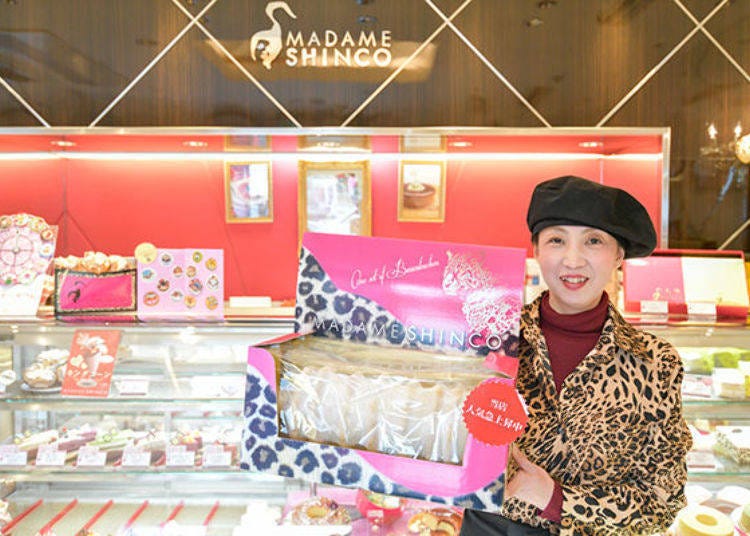 Ms. Nagata, the shop manager, also sports a leopard print jacket
Ms. Nagata's shop has it's very own limited edition Marugoto Whole Baumkuchen (7,000 yen plus tax). It is about 30 cm long! "It's a real crowd-pleaser that's great for parties," says Ms. Nagata.

There is a variety of other limited edition and seasonal Baumkuchen in Osaka, some of which we highly recommend and will introduce below.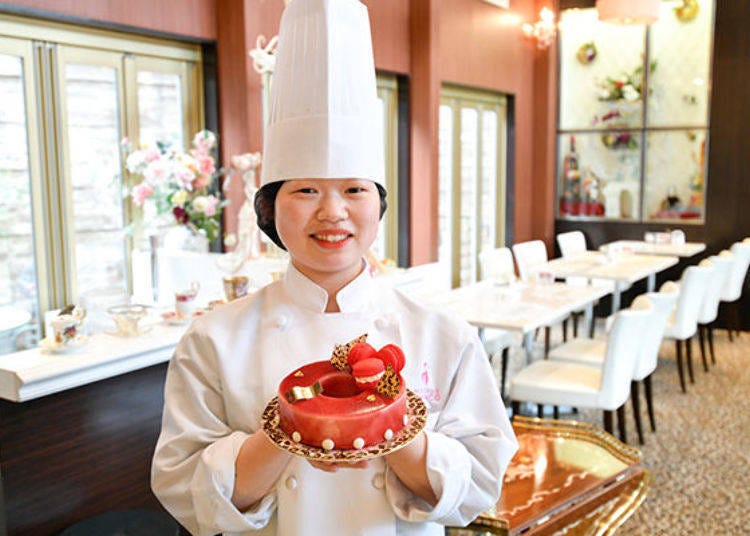 Main Branch Limited Edition Birthday Kuchen (2,400 yen plus tax). A new design is put out every month, which is decided and created by pastry chef, Ms. Nishikoori.
The January Birthday Kuchen was covered with strawberries and raspberries. "We want to exceed our customers' expectations with our creations. We pay special attention to every single detail, and each item is made with feelings of gratitude for each of our happy customers," says Ms. Nishikoori.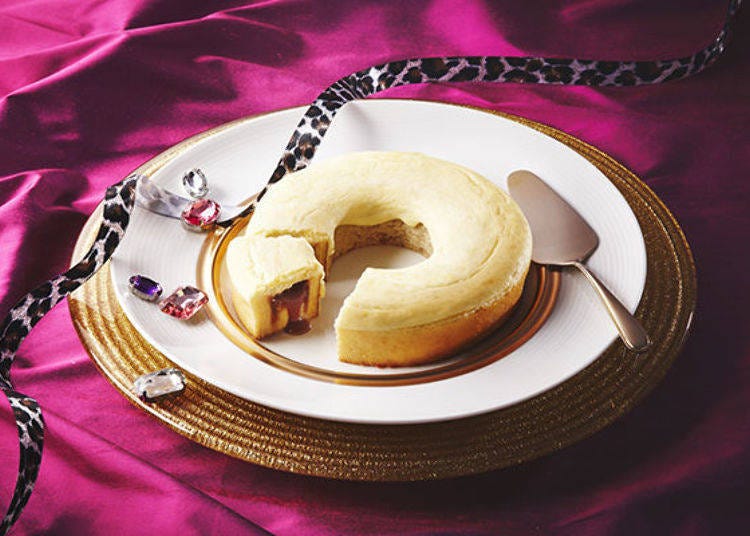 Seasonal Melted Caramel Cheese Baumkuchen (1,700 yen) (Photo courtesy of MADAME SHINCO)
The Seasonal Melted Caramel Cheese Baumkuchen is baked in an oven topped with a half-cooked cheese soufflé, and only available from March 1st to May 31st for White Day (while supplies last). It's a combination of sweet from the caramel, and salty from the cheese.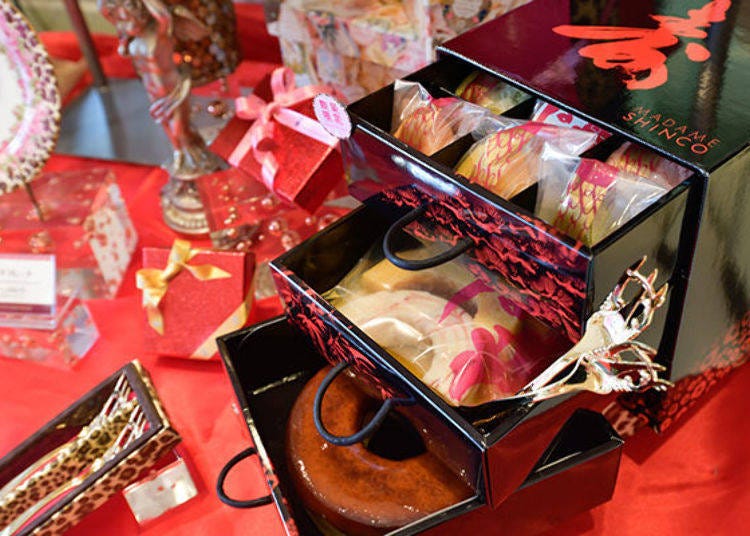 There is a limited amount available of these "2019 Sweets Food Box" (9,000 yen plus tax), a 3-tier box that includes an assortment of baked sweets, Baumkuchen, and an original fork.
Madame Shinco's cream puffs are also different from those in other shops. This cone-shape pastry is filled with maple custard cream. This item is limited only to the Main Branch and the Saito store, and is only filled with the cream upon order. If you visit the Main Branch, make sure to try one!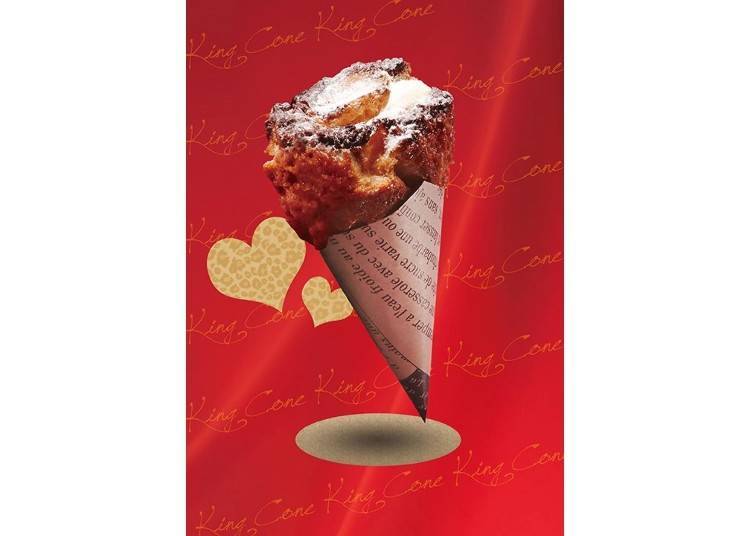 "King Cone" (500 yen plus tax). The crispy crust dough is coated with caramel and powdered sugar. (Photo courtesy of MADAME SHINCO)
The Madame Shinco Main Branch has not only your basic Japanese Baumkuchen but Osaka sweets and various other arrangements that may vary according to event and season. Because of this, there is the excitement of knowing that there will always be something new to try whenever you visit.
Enjoying Madame Brûlée at a Cafe Next Door
Right next to the shopping area is a coffee shop where you can enjoy a freshly made, caramelized Madame Brûlée Set.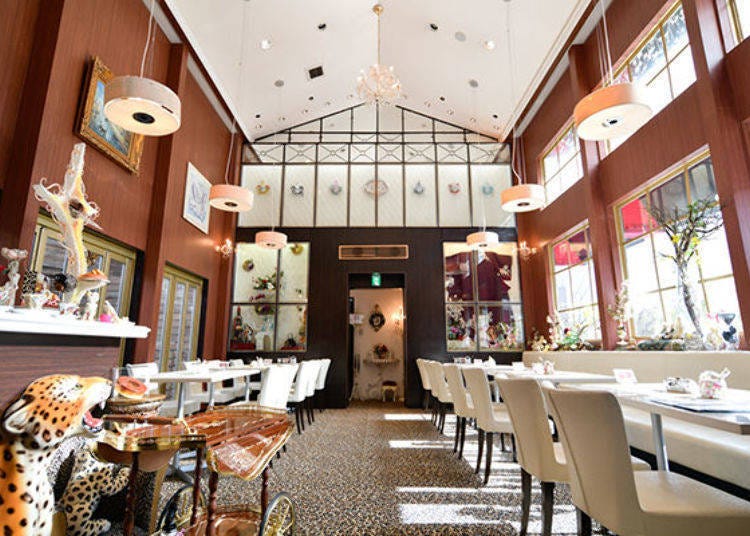 Spacious coffee shop with high ceiling and large windows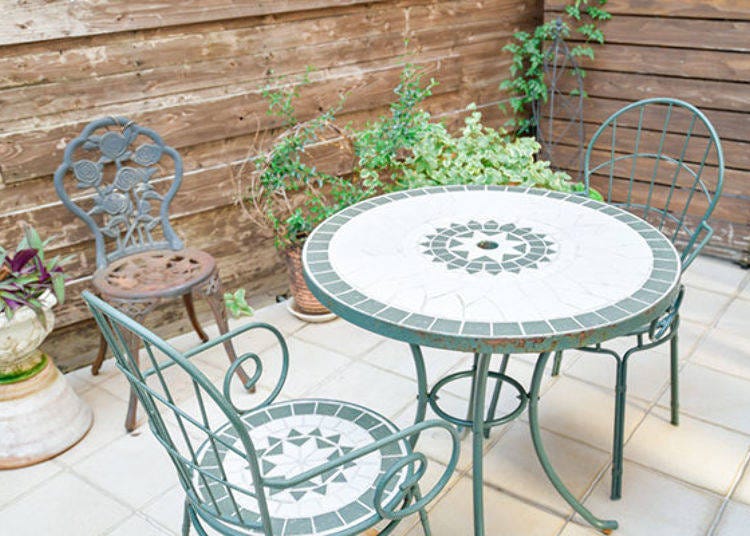 There is also a terrace seating area with two tables and chairs. It is open all year round.
The Madame Brûlée Set (1,100 yen plus tax) is a set of freshly baked Madame Brulee with two daily sweets and a drink of your choice. The final touch, the caramelization, is done by the patisserie in front of the customers. This performance can only be seen at the Minoh Main Branch! Today, Ms. Fuku is in charge.

Here comes the Madame Brûlée on a wagon!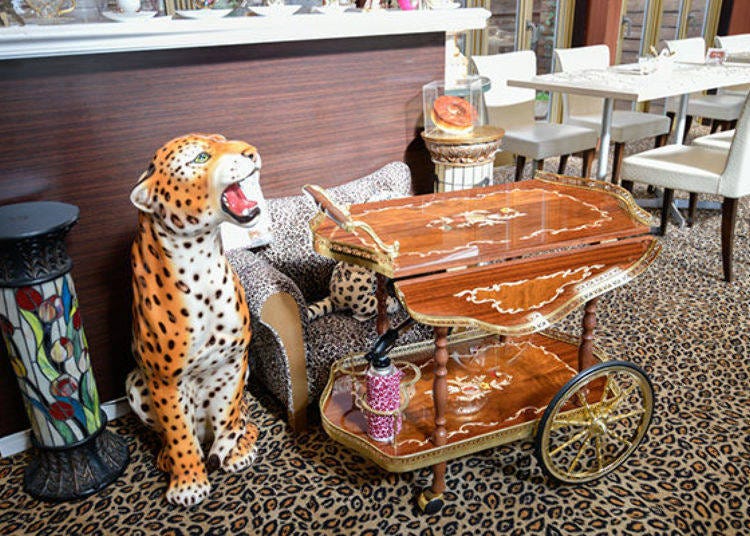 The Madame Brûlée Set is served by the patisserie on a wagon
A leopard-print burner is revealed, and the fire is lit right away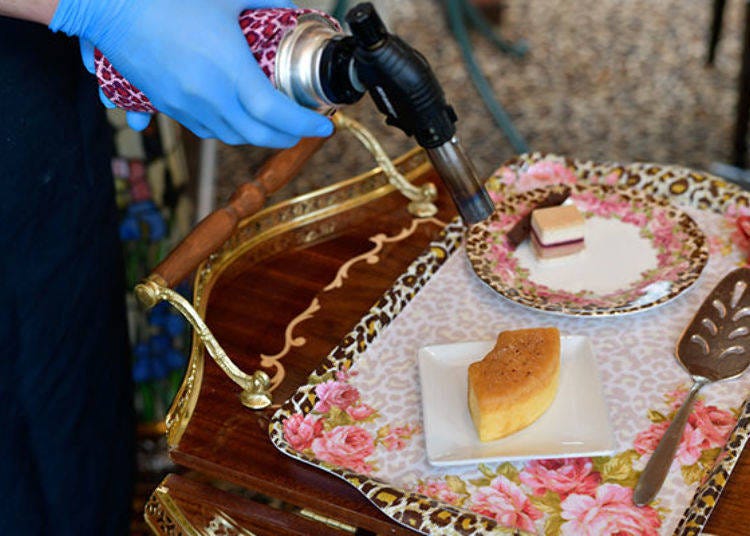 The caramel is heated with the fire burner for about a minute.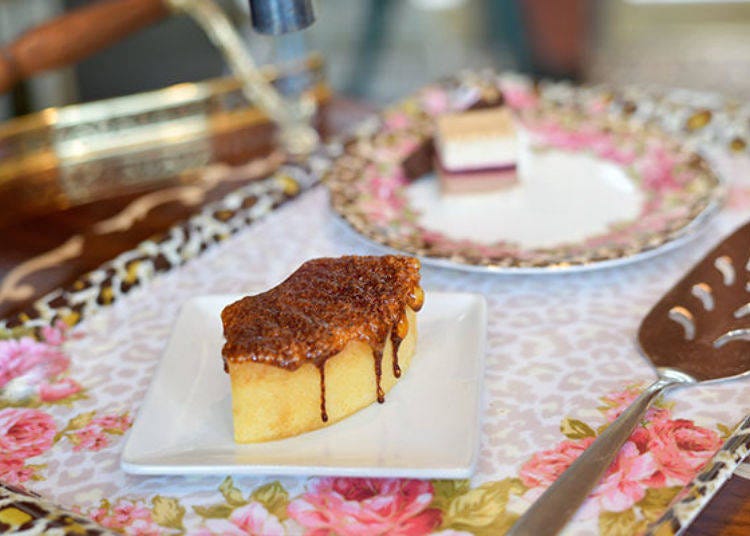 The hot caramel starts to bubble! At the same time, the sweet aroma of the sugar fills the surrounding air.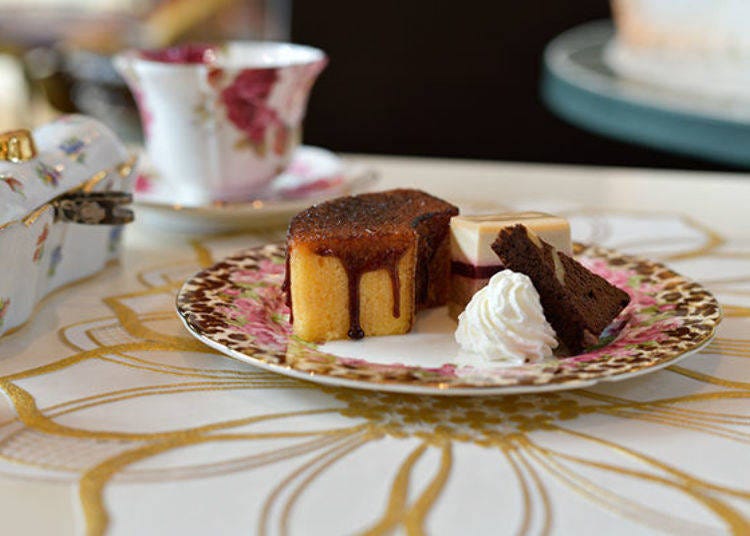 It is arranged on the plate and served right before your eyes. Today's "sweets of the day" are Earl Gray mousse and chocolate cake.
Time to dig in! After only a short amount of time, the caramel has already become crisp.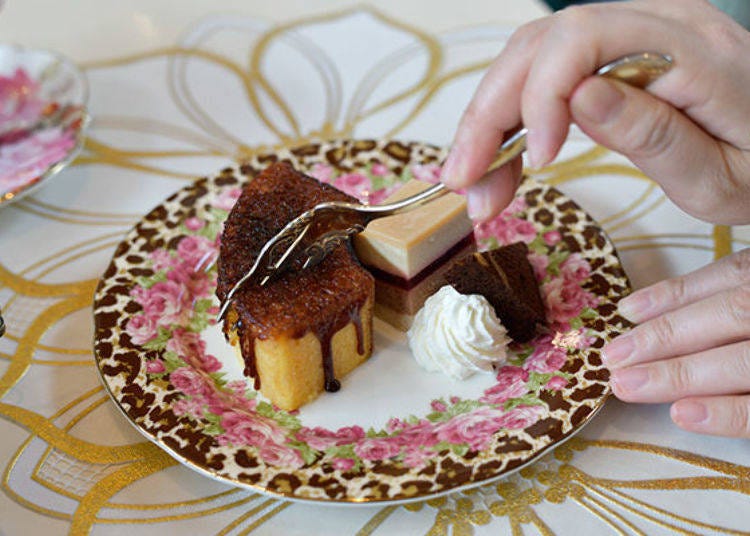 The fork cut into the crisp caramel more easily than I expected. The Baumkuchen layer below that was easy to cut.
"Here goes my first bite!" The two contrasting textures, crisp and fluffy, make an enjoyable taste. The bittersweet caramel is perfectly compatible with the nostalgic taste of the Japanese Baumkuchen. It's simple and delicious, and tastes just like grandma used to make. You can top it with maple syrup if you like.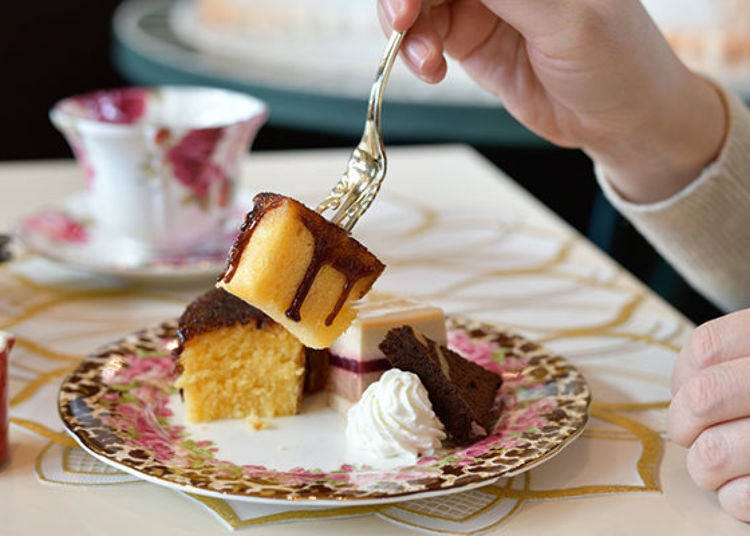 The elegant dishes and forks are also Madame Shinco originals. They are made by a famous Japanese manufacturer who also worked on the cutlery for the dinner party of the Nobel Prize Award Ceremony,
The Earl Gray mousse selected as one of today's daily sweets is filled with raspberry jelly and chocolate mousse. The slightly sour taste of the raspberries and the sweetness of the chocolate go together perfectly with the Earl Gray flavor. The chocolate cake is also simple and delicious.

"It's really encouraging to hear customers of the coffee shop say how delicious it was, or to see people buy from the shop so they can bring it home to share with their families. It makes me really happy, to think how deliciously served it must have been." (Patisserie Fuku)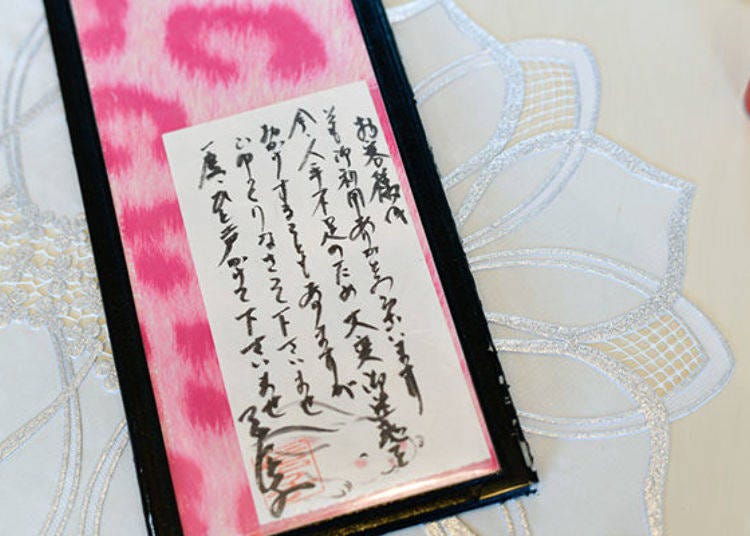 A message from President Shinko on the back of the menu
There are many other delicious menu items such as the Cake Set, French Baum Set, and Madame's Fondant Set. Please try them in the coffee shop!
Who is this "Madame Shinko" that the Shop is Named After?
Madame Shinko is the name of the current president of the company. She simply uses her own name as her brand name.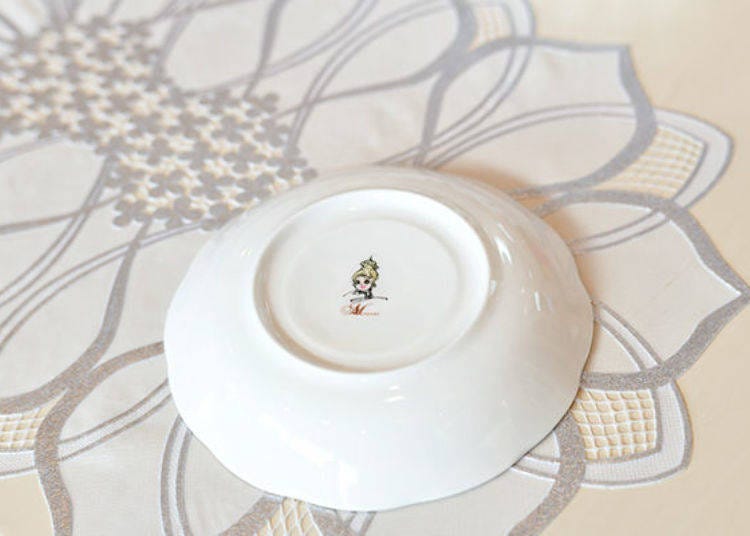 A Madame Shinco original cup saucer. The back is a little portrait of Madame Shinko, which she drew herself.
President Shinko once ran a club in Ginza. When the economic bubble burst, she returned home to Osaka and opened a barbecue restaurant, however it was later destroyed in a fire. She was feeling at a loss, when one day a magazine ad recruiting Japanese cafe franchises caught her eye. It was then that she entered the world of sweets with a feeling of desperation.

In 2006, she began to make and sell Baumkuchen in Osaka by hand, and by 2007, her signature Madam Brûlée was complete. "Because Baumkuchen brûlées were becoming popular, Madame Brûlée was a big hit! It even because a popular mail-order item. I am often advised to come out with a second item following Madame Brûlée, however, it is all thanks to Madame Brûlée that Madame Shinco even exists to this day. I will continue to regard it as such," she says.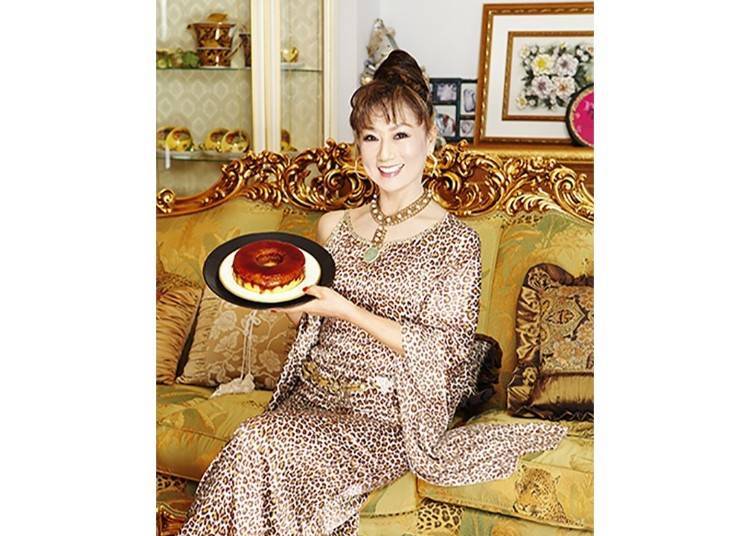 With her most popular item, Madame Brûlée. President Shinko came up with the idea herself when she thought, "I want to add something more to Baumkuchen. I want to make a Baumkuchen that has the appearance of a rich food, but a taste that the average person can enjoy." (Photo: Madame Shinko)
"I experienced many hardships and frustrations. I am extremely grateful to all the customers who visit my shop, and it makes me so happy to see people walking around the city with Madame Shinco paper bags in their hands." (Madame Shinko)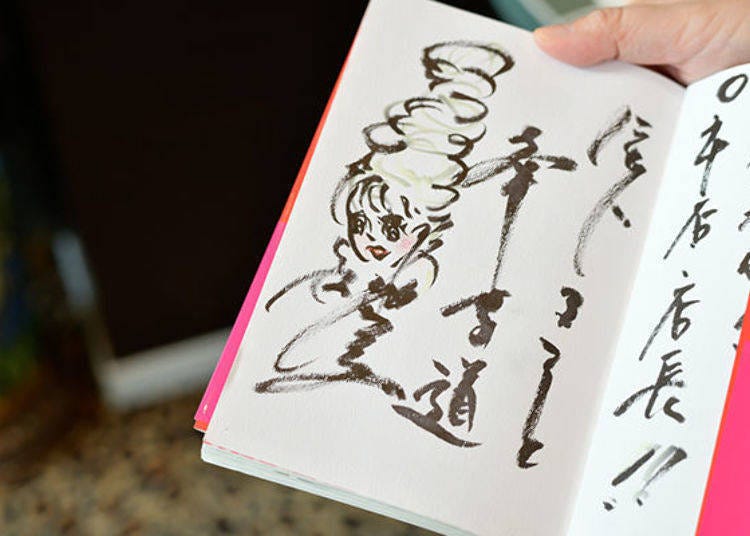 You can also buy Shinko's book in the shop. Ms. Nagata shows us her personal copy, with a message and drawing from President Shinko.
President Shinko also does writing and illustration, and even worked on the interior decoration of the shop. You can really feel the amount of planning and conviction that went into this shop, bringing it to life.

Even though it is an Osaka sweets shop, the Madame Shinco Main Branch has so much energy, it makes you want to do your best and work hard, too! If you get the chance, please make sure to come and try these delicious sweets, especially the Madame Brûlée which was birthed by President Shinko herself.
MADAME SHINCO Minoh Main Branch

マダムシンコ箕面本店

Address

4-10-44 Imamiya, Minoh City, Osaka Prefecture

Phone Number

072-749-4538

Business Hours: 10:00AM~8:00PM (shop & cafe)
Regular Holidays: Tuesdays (open on public holidays)
*This information is from the time of this article's publication.
*Prices and options mentioned are subject to change.
*Unless stated otherwise, all prices include tax.