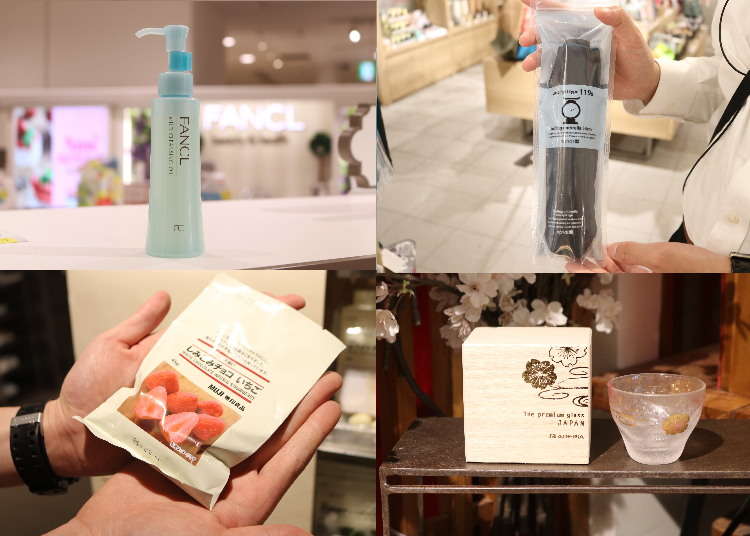 Namba CITY is a commercial complex directly connected to Nankai Line's Namba Station. Easily accessible and along the school commute route, it is often very popular. As it is also easily accessible from Kansai Airport, it's pretty popular with tourists as well.

Here, we will introduce the top 15 souvenirs that you can buy at Namba CITY in a variety of categories, including useful necessities and Japanese miscellaneous goods.
What Kind of Facility is Namba CITY?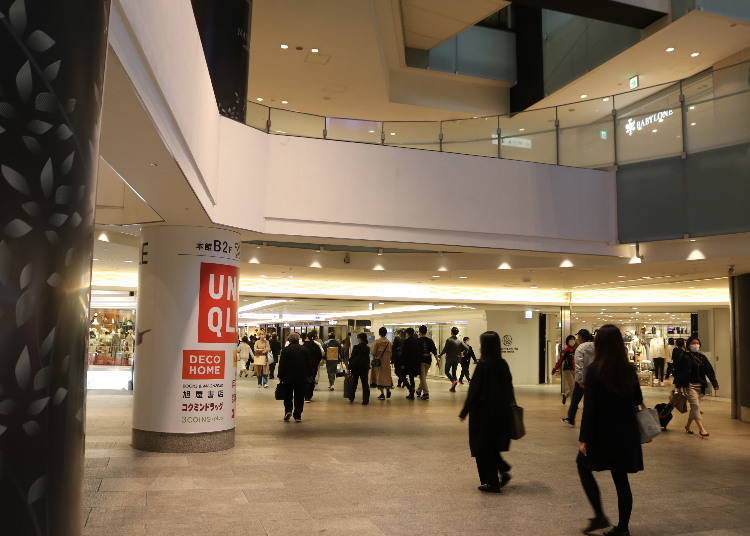 This commercial complex is located right where you get off at Namba Station, which is a direct line from the Kansai Airport via the Nankai Electric Railway.

There are nearly 240 stores that sell all kinds of goods, including fashion, cosmetics, and miscellaneous goods, as well as restaurants and cafes. There are also general stores that are popular with foreign tourists, such as MUJI, UNIQLO, and ABC Mart, which make Namba CITY a good first-stop for shopping when you arrive in Japan.

They are also fully equipped with a tax-free counter, baggage storage service, prayer room, and QR payment services (such as Alipay and Wechat pay), which is also great for tourists.
Top 15 Souvenirs to Buy at Namba CITY
Here are some souvenirs that are sure to be great memories of your trip to Osaka, including unique Japanese cosmetics and miscellaneous Japanese goods, listed by shop. These are great gifts not only for family and friends but also for yourself!
First Stop: MUJI (South Building 2F)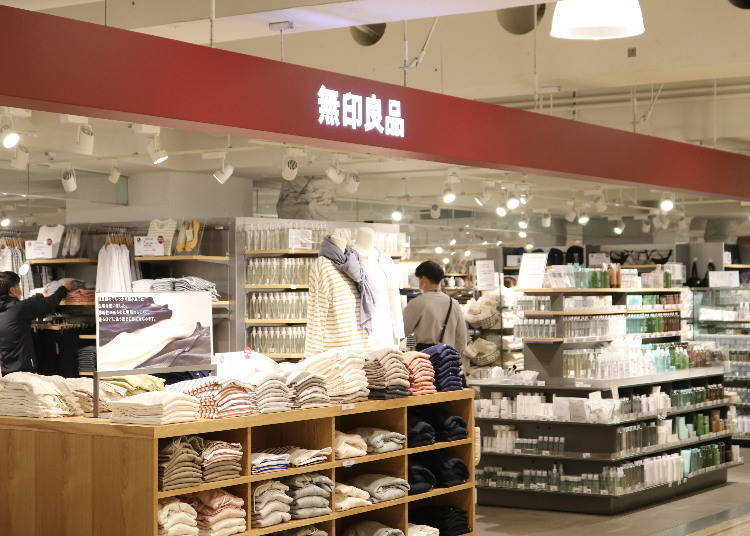 MUJI is a very popular shop in Japan, and around the world. You can find all kinds of daily necessities here, from fashion, miscellaneous goods, and cosmetics, to stationery, food, tableware, cleaning supplies, and furniture. Their simple, modern designs and easy-to-use items are very popular across all generations. The Namba CITY branch is located in the middle of all kinds of other shops. They sell trendy, popular products as well as slightly more niche products.
1. White Chocolate Strawberries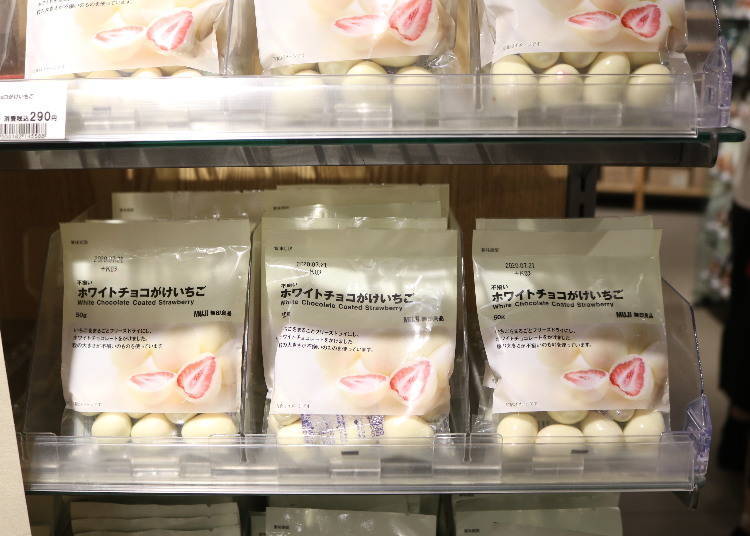 This treat is made of freeze-dried strawberries coated with white chocolate. The sweet-and-sour flavor of the strawberries plus the sweetness of the white chocolate is a great match! It is recommended to buy large quantities, as they make great souvenirs that can be shared with several people. 290 yen (tax included).
2. Chocolate Dipped Strawberries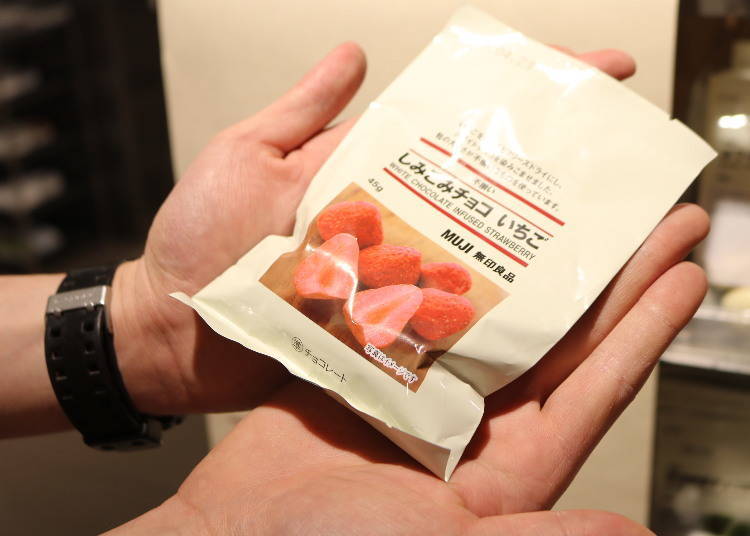 This popular treat is a part of the same freeze-dried strawberries series as the White Chocolate Strawberries. They are soaked in chocolate, creating a delicious blend of strawberry and chocolate flavor. 290 yen (tax included).
3. Polypropylene Shower Brush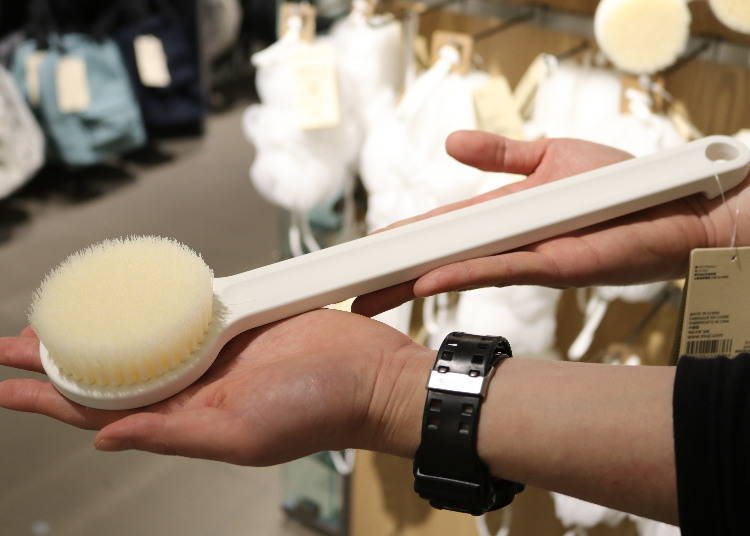 This shower brush is made with nylon bristles and is quick drying. It is especially popular with Western tourists. It's not too hard and not too soft, so you can completely and comfortably clean your entire body. The handle has grooves for an easy grip. You may want to buy extra ones, not just as souvenirs but for yourself! 990 yen (tax included).
A Full Lineup of Women's Products: hands be (South Building 2F)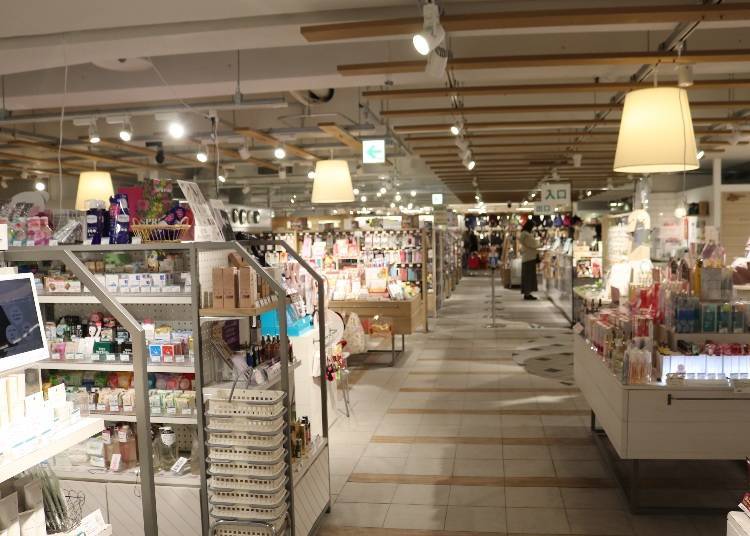 Hands be is a collection of small items to make your daily life a little more enjoyable. There are Japanese cosmetics that are popular overseas, as well as various items such as stationery, bags, products for relaxation, and hair care.
4. Tiger Stainless Bottle Silver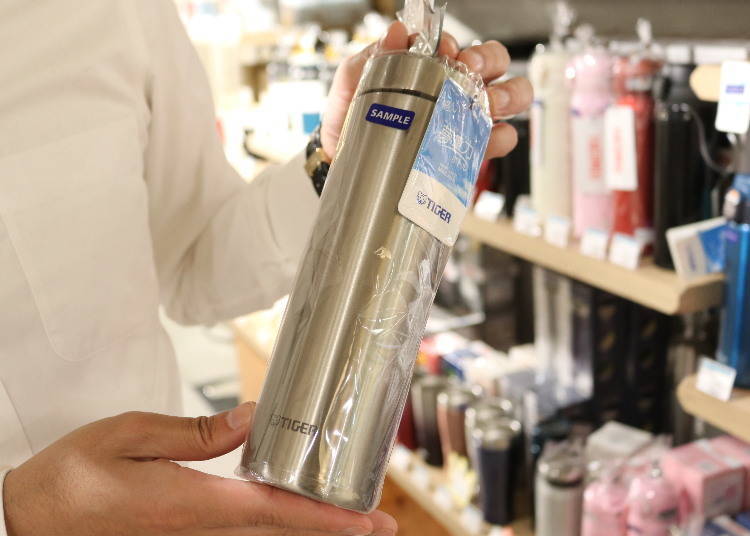 This is the original Tiger thermos bottle, a very popular product with tourists. Light enough to be called a "weightless bottle," this item reduces the stress of carrying around a regular bottle. The rounded mouth is smooth and makes it easier to drink. The stainless steel vacuum double structure gives it excellent hot and cold insulation. It doesn't stain, and it is easy to wash. The simple silver color is suitable for anyone, regardless of gender or age. 200 ml, 3,278 yen (tax included).
5. Pocket S Stainless Bottle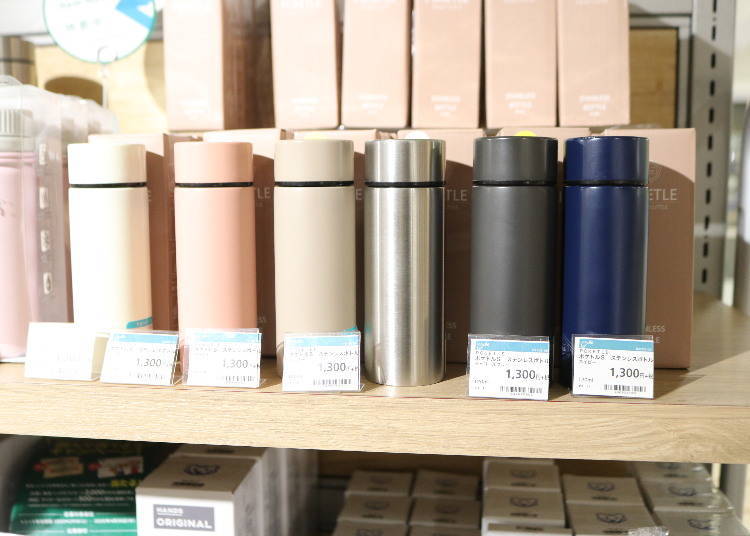 This standard stainless steel bottle is rather small in size, and has been developed to fit right into your pocket. With a capacity of 120 ml, it is very convenient when going out for just a little while. Despite its size, it retains heat and cold really well, even after 6 hours. It is a popular gift item and comes in a wide variety of colors. 1,430 yen (tax included).
6. Ultralight Easy Open & Close Folding Umbrella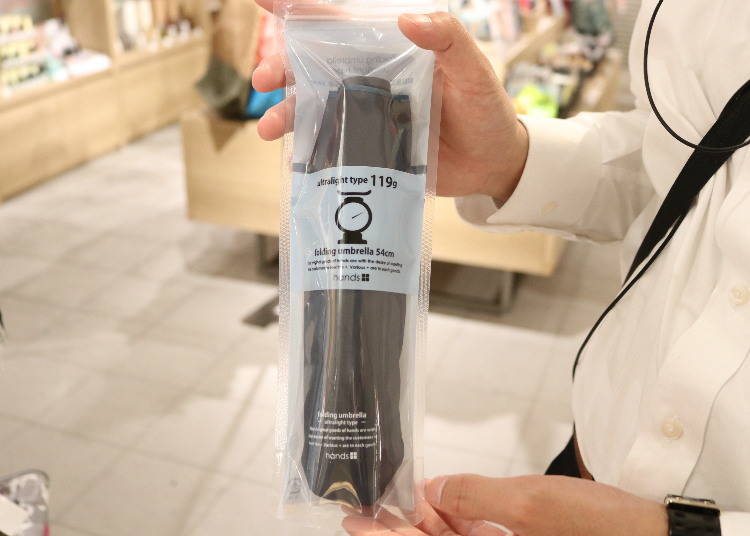 This folding umbrella is excellent to use for both sun and rain. With a diameter of 54 cm and a lightweight of 119 g, you can easily store it in your bag.

Additionally, it can easily be opened and closed with one movement, and the fabric is sturdy enough not to flip inside out when met with strong winds. There are plenty of color variations, including black, pink, and printed patterns, making it a perfect souvenir. 54cm, 3,740 yen (tax included).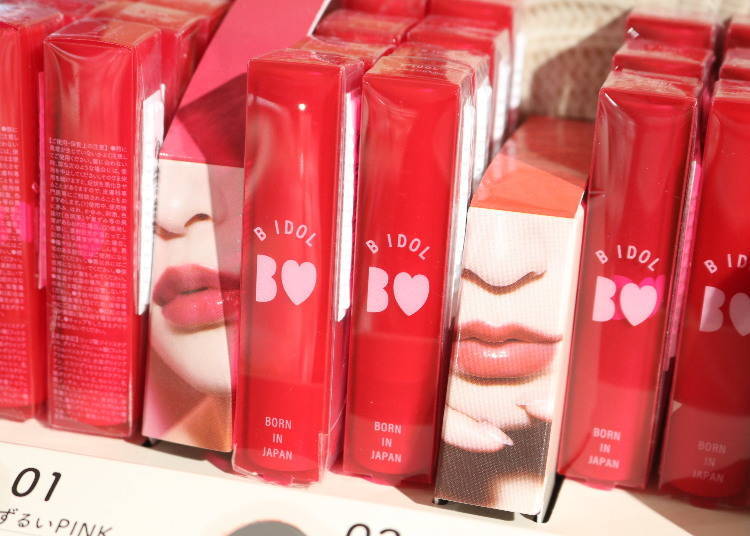 B IDOL is a cosmetic brand produced by Japanese idol group NMB48 member, Akari Yoshida. Tsuyaburu Lip Gloss is one of their biggest hits.

This gloss contains beauty ingredients for moisturizing care and a long-lasting tint. There are 10 colors in total. However, they tend to sell out quickly, so if you happen to see them in stock, buy one right away! 1,540 yen (tax included).
Additive-Free Cosmetics: FANCL beauty&health (Main Building B1F)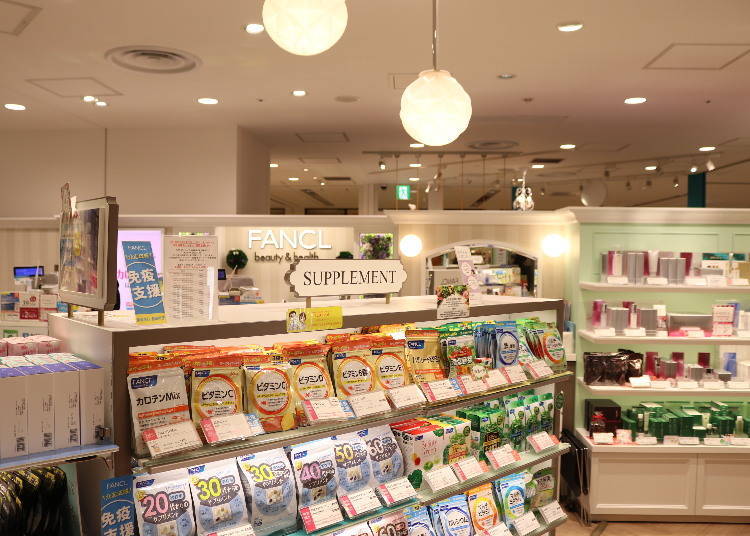 FANCL is a shop that handles beauty supplements and additive-free cosmetics. There are many gentle skin care products that are perfect for people with sensitive skin. It is super popular with foreign tourists, and many people come here to buy their favorite items.
8. Sun Guard 50 + Protect UV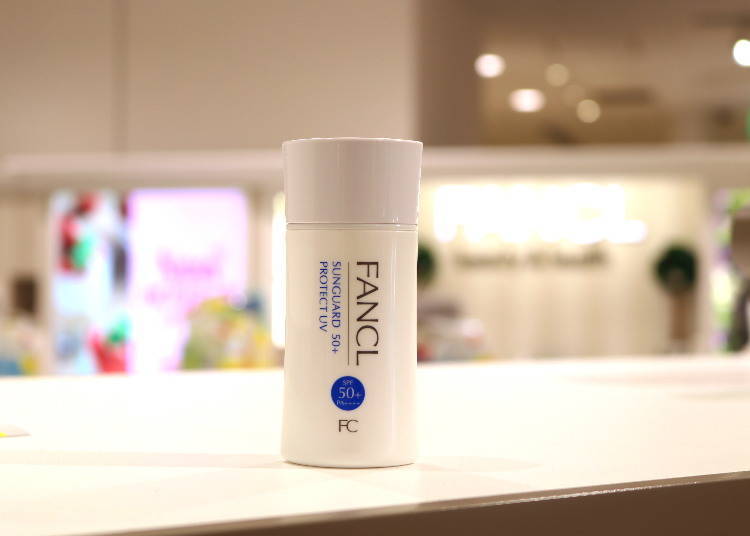 This sunburn cream focuses on the effects of strong ultraviolet rays, air pollution, and blue light. SPF50+/PA++++ fully protects your face and body with just a light layer. It is made with a waterproof formula, so you can use it even when it rains. 2,750 yen (tax included).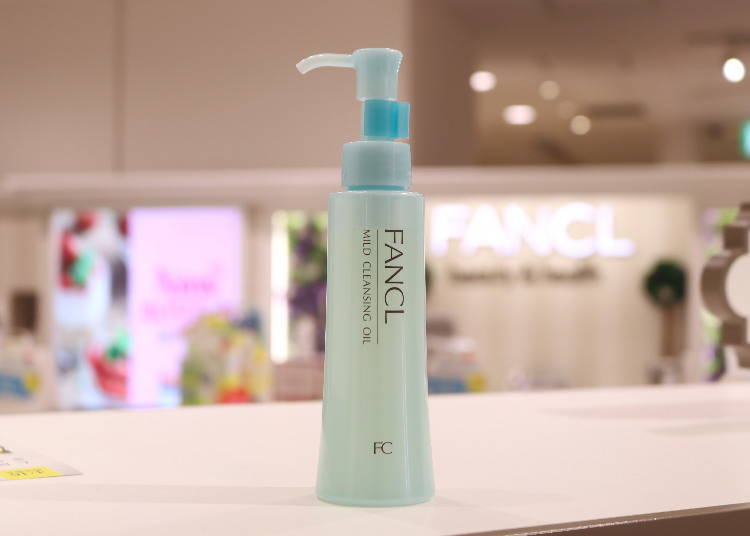 This is one of the most popular cleansing oils of FANCL's cosmetics, and many people purchase them for personal use! From hard-to-remove makeup to clogged pores, this item will clean you up quickly. It also protects the skin's moisture and reduces the appearance of fine wrinkles from dryness. 1,870 yen (tax included).
Sneakers from Popular Brands: ABC Mart (Main Building B2F)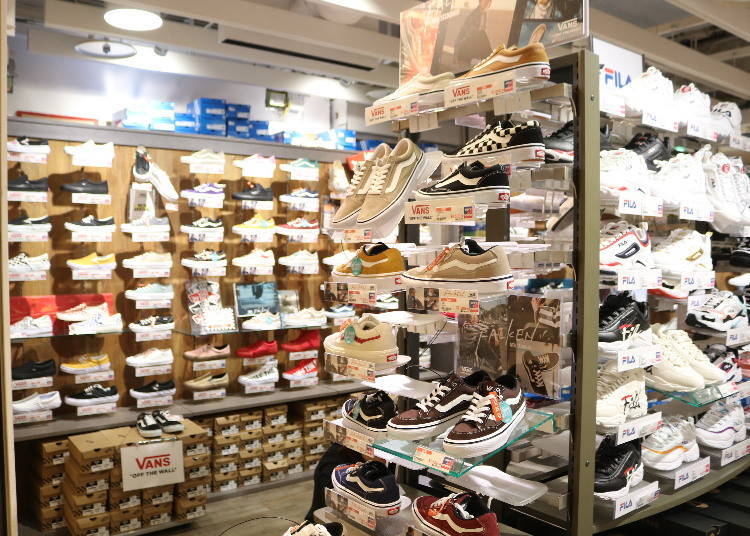 Here you can purchase sneakers from popular brands such as Adidas, NIKE, and VANS. There are a variety of product lineups, from standard to trendy, available for customers of all ages. In addition to English-speaking staff, there is also a "point-and-choose plate" that allows you to communicate the size you want easily.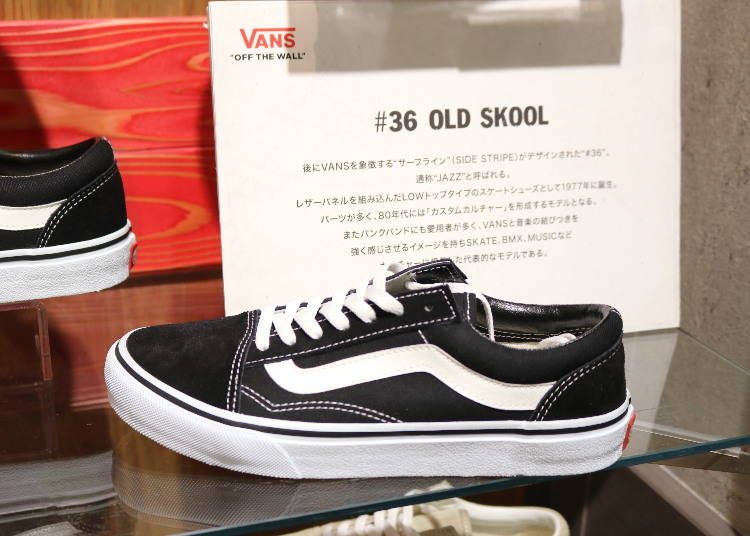 ABC Mart is one of VANS' Japanese agencies, so you can find many kinds in the store. Among them, the OLD SKOOL, born in 1977, remains a popular staple. This signature VANS model also makes a great souvenir! 7,150 yen (tax included).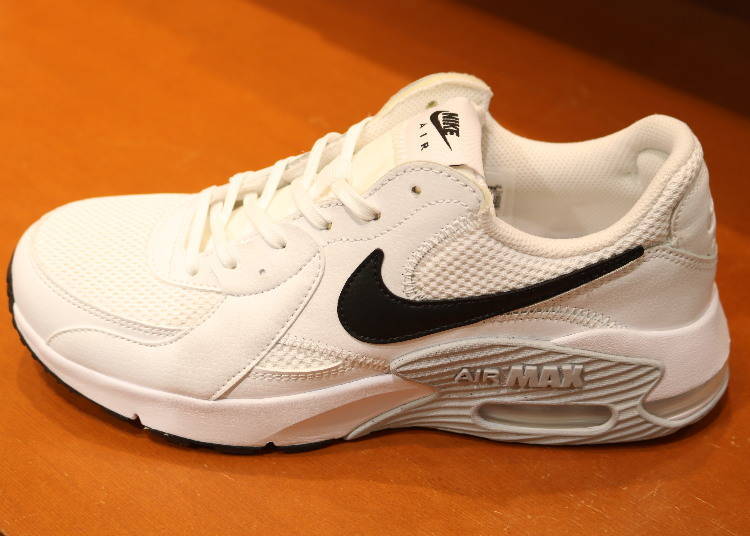 Introducing a new model of AIR MAX 90. These sneakers have a great elasticity and propulsive force, making them ideal for daily use as well as long walks. They also make great travel sneakers. 9,900 yen (tax included).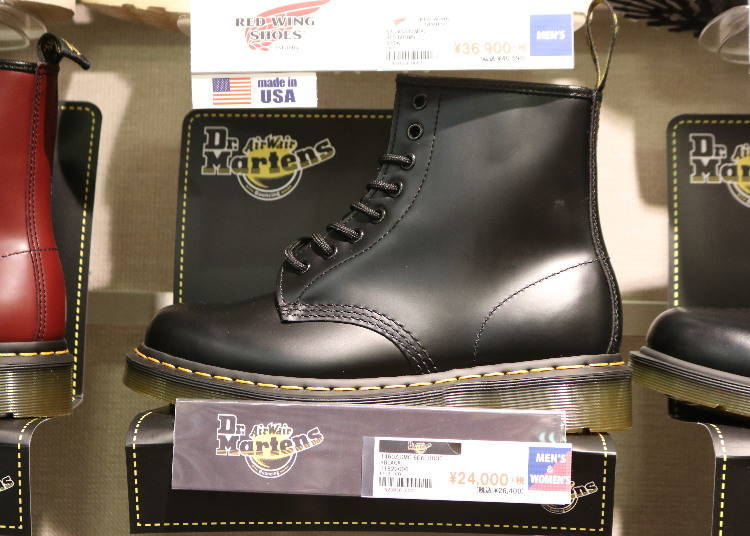 How about a pair of these standard design boots as a memory of your trip to Japan? These iconic boots from Dr. Martens are also one of ABC Mart's most popular products. Its design has remained unchanged since its birth, showing its strength to hold up against changing trends. 26,400 yen (tax included).
For Japanese Goods: Wamonoya Kaya (Main Building B2F)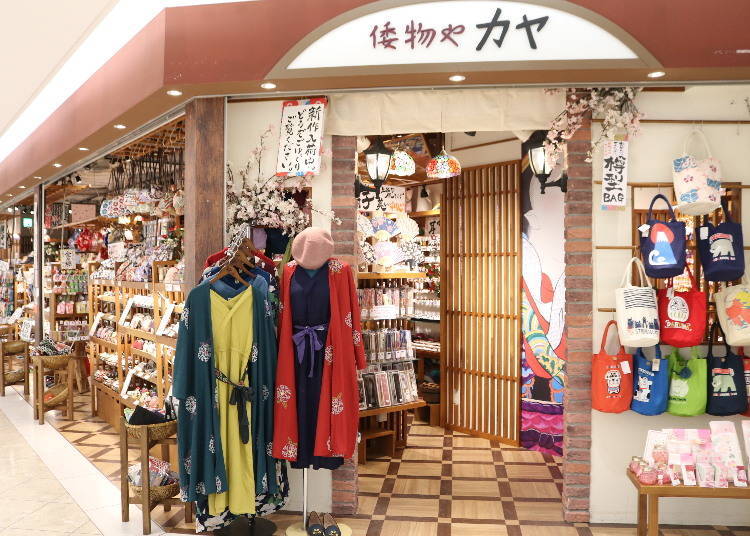 This shop deals with modern Japanese folk art. There are a wide variety of Japanese-designed products such as accessories, tableware, clothes, and food. Souvenir shopping is bound to feel more like a treasure hunt!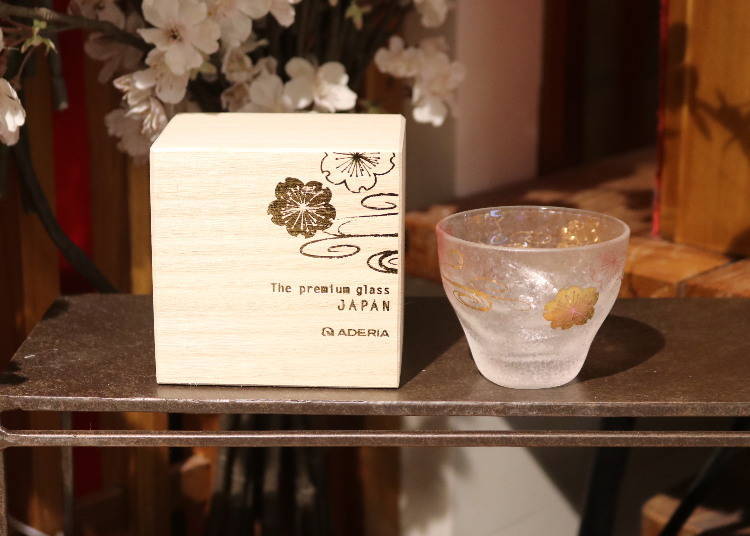 These glasses are designed with beautiful patterns, such as cherry blossoms floating on the water. Their small size makes them perfect for sake, shochu, vodka, and more. It's a luxurious gift in a wooden box, and will surely make a great souvenir for your loved ones. 2,200 yen (tax included).
14. Sakura Mizumon Beer Glasses Pair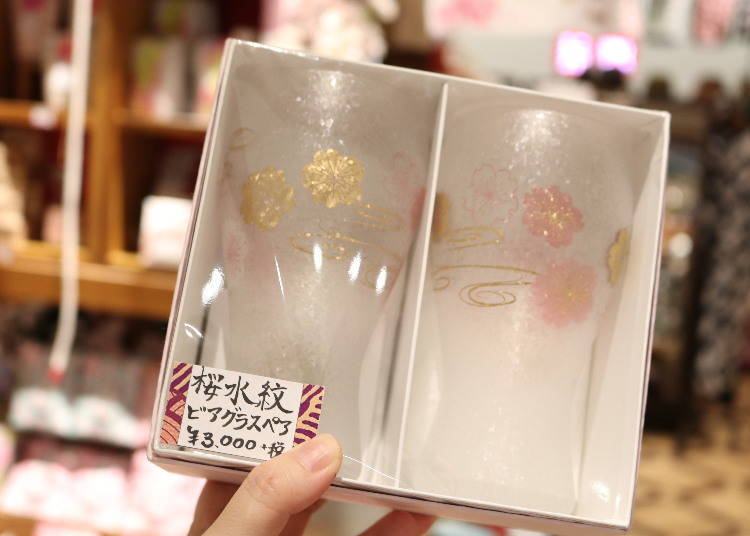 This pair of beer glasses is from the same series as the glasses above. They are designed with an adorable pink and gold pattern! 3,300 yen (tax included).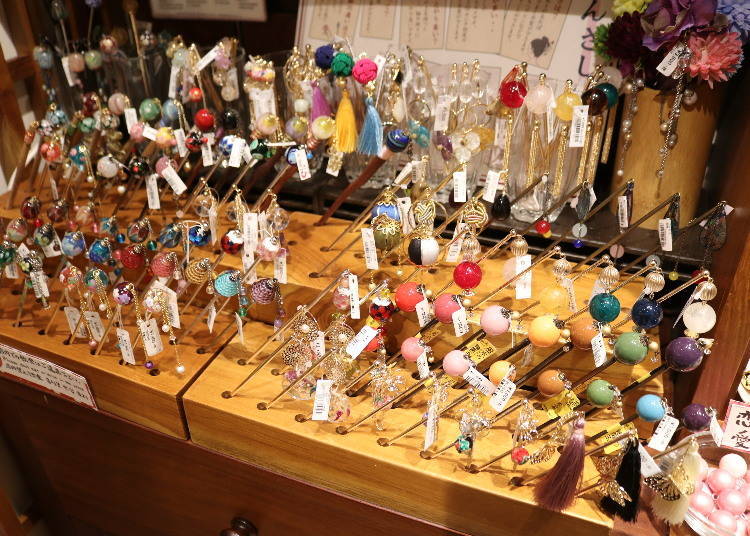 Here you will find a wide variety of Japanese hair accessories, called kanzashi, which are used for gathering long hair. Choose your favorite amongst the intricate patterns and colors. You may also want to get matching ones for you and your friends. From 1,100 yen (tax included).
Do your souvenir shopping at Namba CITY
With good access to Kansai International Airport, Namba CITY is the perfect shopping spot to begin and end your Osaka trip with. In addition to the items introduced here, there are plenty of other trendy fashion, accessory, and gourmet shops, so be sure to stop by and look around! You are bound to find some great souvenirs!
Address

5-1-60, Nanba, Chuo-ku, Osaka-shi, Osaka, 542-0076
View Map

Nearest Station

Namba Station (Nankai Airport Line / Nankai-koya Line / Nankai Line)


Phone Number

06-6644-2960
Written by WESTPLAN
*This information is from the time of this article's publication.
*Prices and options mentioned are subject to change.
*Unless stated otherwise, all prices include tax.