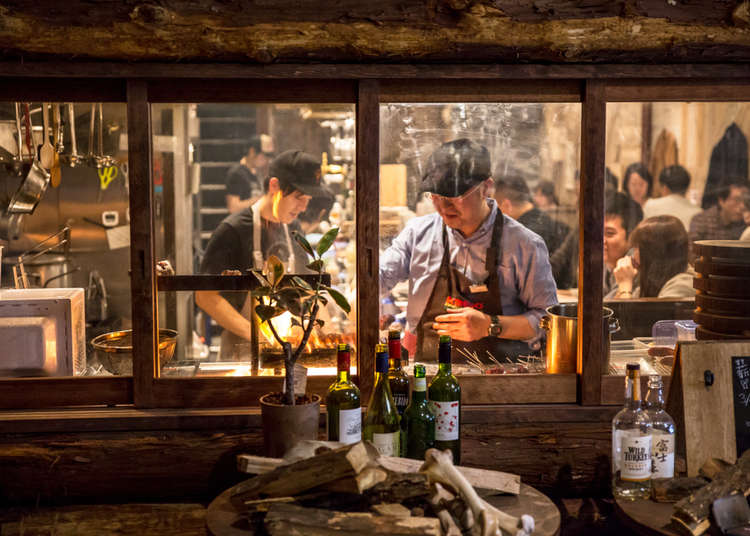 Here are three Osaka izakaya restaurants where you can enjoy the city's soul food 24 hours a day whether in Northern Osaka, Osaka Station, or Umeda Station.

As symbolized by the phrase "Eat till you drop Osaka," Osaka has delicious dishes that cannot be eaten anywhere else! This is the home of world-renowned dishes like okonomiyaki and takoyaki and kaiseki dishes.

Each of the shops in our selection are within walking distance from their stations, so why not try them all!
1. Yokozuna: An Osaka izakaya specializing in platter dishes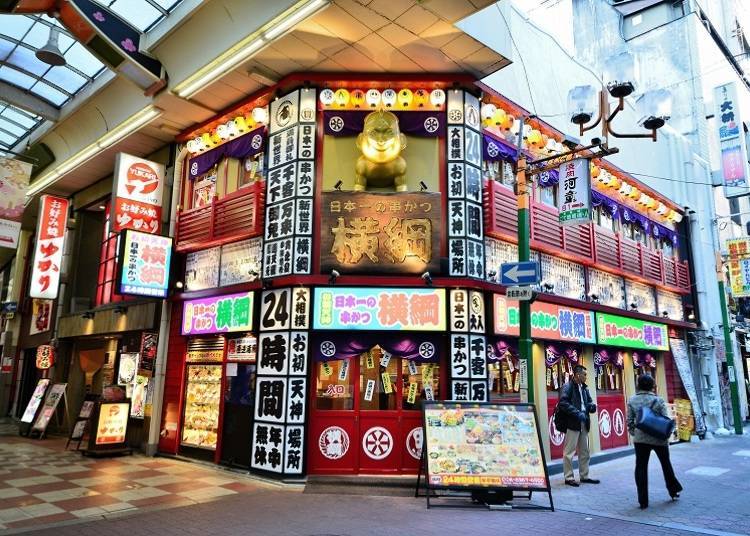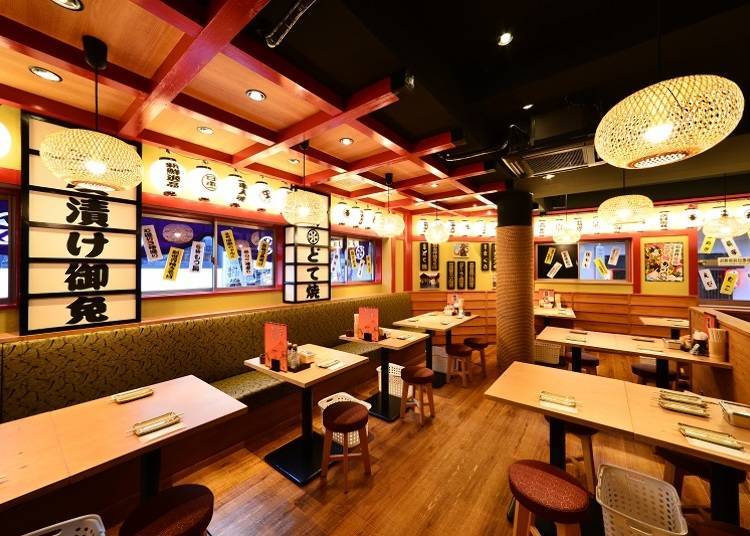 Yokozuna is a popular izakaya with three locations in Shinsekai, Osaka, and Umeda, with another three in Namba. Shinsekai was the original birthplace of Yokozuna.

The Billiken-san, a symbol of Shinsekai, is also displayed on the store sign as a trademark at the Ohatsu Tenjin store in the Ohatsu Tenjin Dori shopping district. There are lanterns, menus written like numbering tables, and wrestler posters in the store, creating an atmosphere reminiscent of a sumo hut.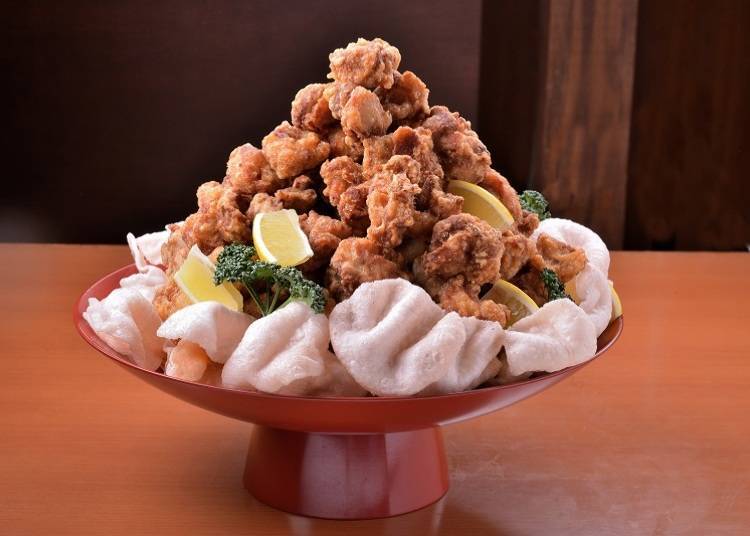 This is Yokozuna! Mega-sized servings are a must
Yokozuna as expected! Other special dishes, such as the fried chicken Yokozuna assortment (¥ 1,850 for 10 people), Shinsekai yakisoba Yokozuna assortment (¥ 1,280 for 10 people), fried takoyaki, sushi rolls, steaks, thick rolls, etc. , There are 8 types available. You can even order up to 20 times the normal size and volume. Give it a challenge.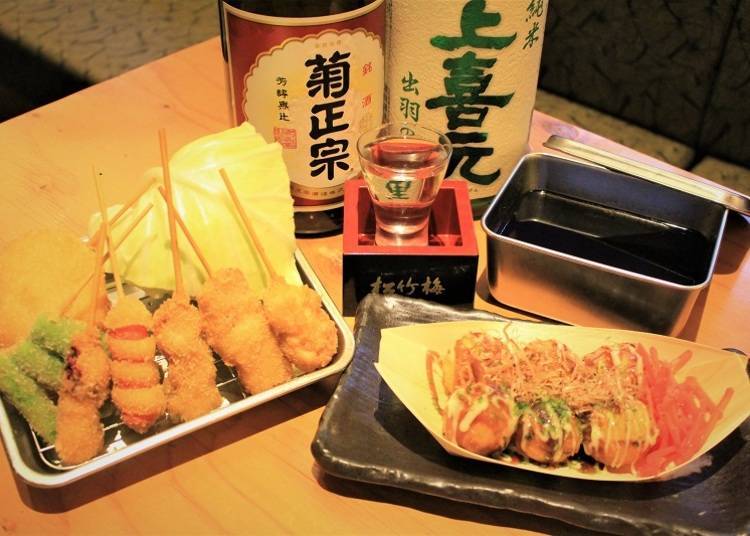 Of course, Osaka specialties are also available!
The signature menu "kushikatsu," or deep-fried skewers, is a little bit different, with its larger size, refreshing oil, fine bread crumbs, ingredients, and dressing. Of course, the kushikatsu goes wonderfully with the slightly sweet secret sauce, but double-dipping is prohibited.

If you don't have enough, scoop it with cabbage and top it on the skewers. There are about 40 different menu items with "kushikatsu" (starting from 120 yen per dish), ranging from meat and seafood to desserts, and a 7 assortment tray (1,000 yen) that is also available.

The Osaka style takoyaki with the crispy outside and fluffy inside is a specialty of the area that you should definitely try (350 yen).
横綱 お初天神店

Address

2-chome-14-13 Sonezaki, Kita-ku, Osaka

Phone Number

06-6367-6500

Hours: Open 24hrs
No holidays
2. Eatman: Popular for its wide menu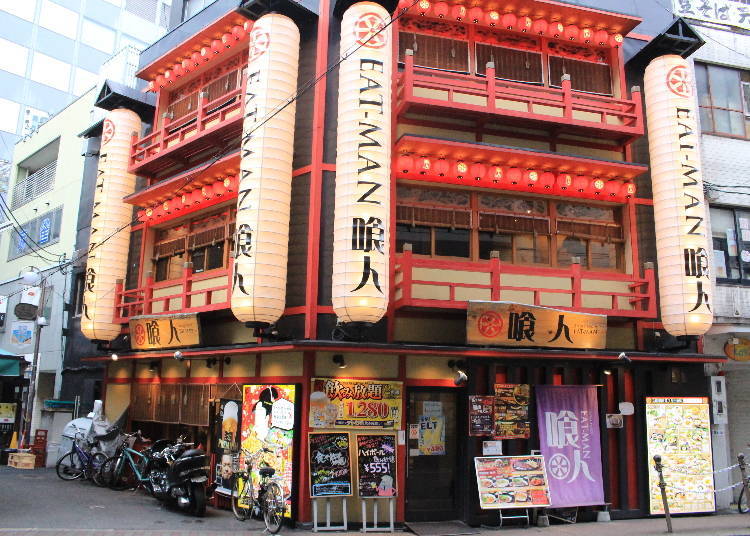 "Kuijin-Eatman-Umeda Main Store" is an izakaya that has convenient access from Hankyu Umeda Station and offers a wide variety of foods and drinks. Because it is close to the office district, the majority of the customer comes from mainstream office workers, but there is also a wide range of age groups like students, female groups, and tourists as it is also close to the New Hankyu Hotel and hotels in the Chaya-machi area. The store has locations in the Osaka Station and Umeda Station as well as their main store.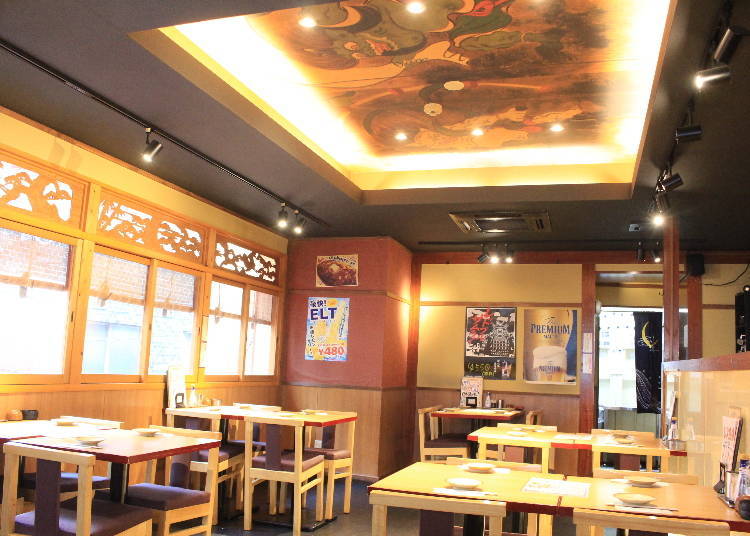 The interior is a modern Japanese-style
The Umeda main store is a four-story building with red lanterns that draws attention with space on the first, second, and third floors. Each floor has a modern Japanese modern image. Adopting interiors that symbolize Japan, such as the ramma and the Fujin Raijinzu figure. The ceilings are not too high, creating a refreshing atmosphere.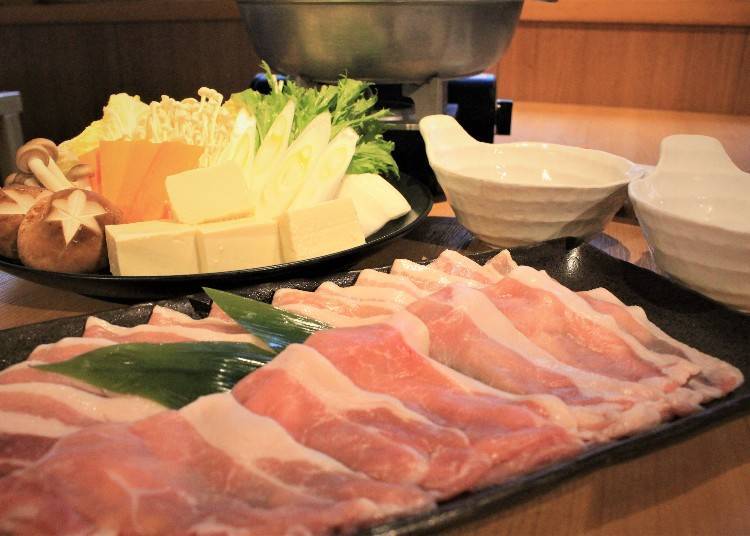 From standard Osaka izakaya fare to soul food
The menu is quite abundant, from `otsumami` to sashimi, deep-fried food, rice bowls, and hot pot dishes. Of course, there are also Osaka specialties such as kushikatsu, takoyaki and doteyaki. The recommended dish is the "Pig Shabu Shabu Pot" (1,180 yen for 1 person). Start with the soy sauce-based soup. Next add and compare eating pig roast and ribs.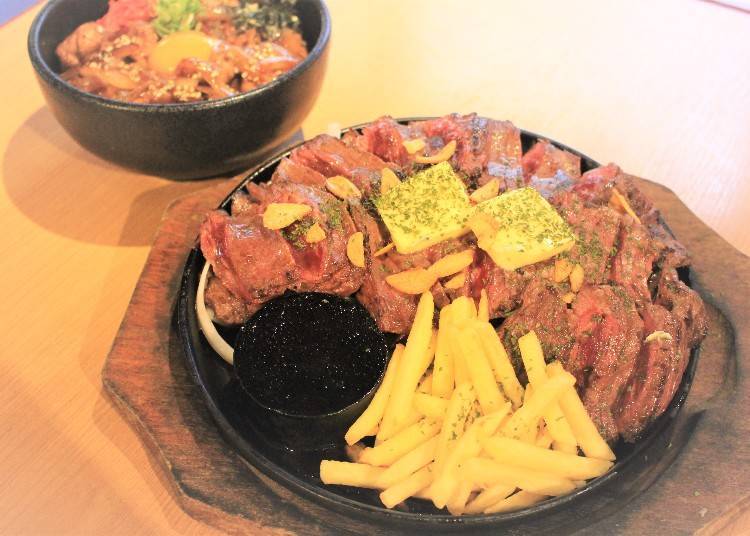 Look out for this powerful steak!
This steak plate is intense with a literal pound of harami beef steak (1,680 yen) 1 pound = 454g steak. It is transported rare and cooked to the desired level with grilling stones. Enjoy 3 different sauces with steak sauce, grated ponzu, and red salt. The chicken rice bowl (550 yen) is also a popular dish and uses thigh meat and green onions called "Negima" on rice. The dish is topped with eggs, green onions, red ginger, and seaweed.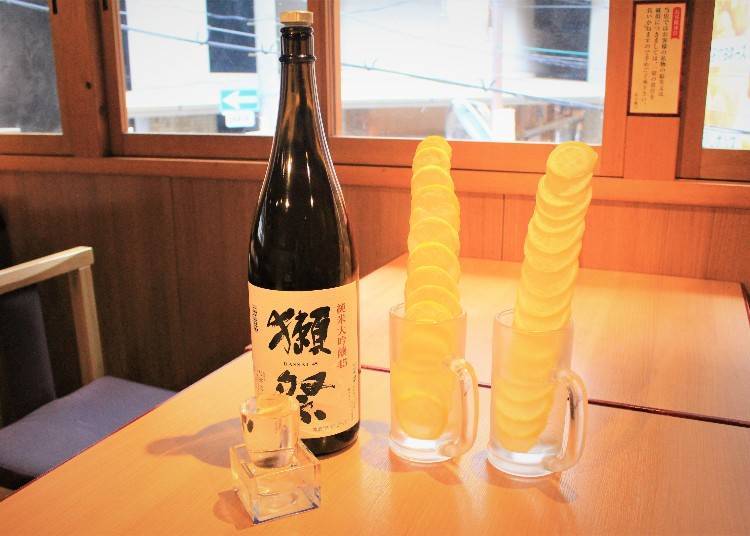 A wide variety of alcohol, including sake
A wide lineup of beer, highballs, sours, fruit liqueur, beer cocktails, wine, shochu and other cocktails are available. In particular, local brand sake such as Dassai and other brands famous through the country are selected. Taste the liquor "Emergency! ELT (Eatman Lemon Tower)," which looks like a whole lot of lemon. The lemon tower is tall enough to jump out of the glass and contains an entire lemon.
喰人~イートマン~梅田本店

Address

1 chōme-5-21 Shibata, Kita Ward, Osaka

Hours: Open 24hrs
No holidays
3. Hassen: A casual Osaka izakaya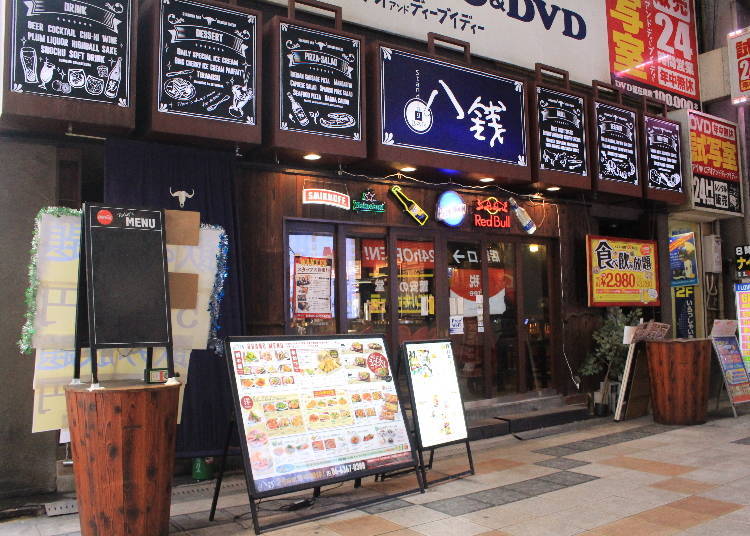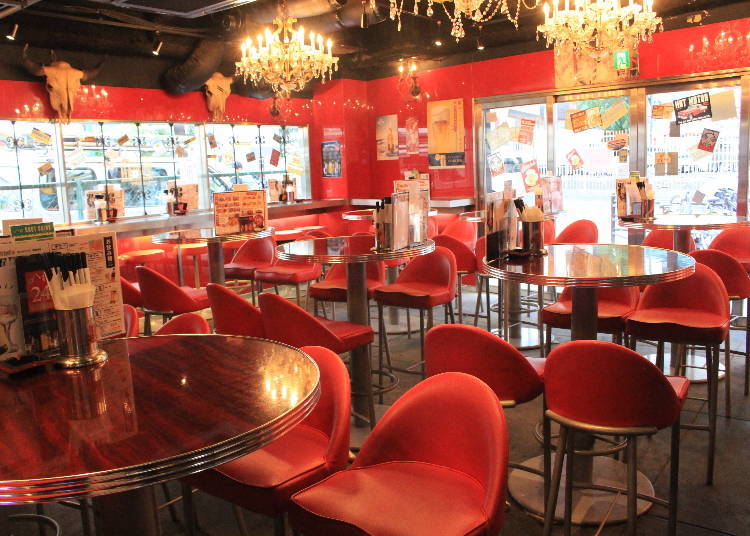 Hassen Umeda is a popular izakaya for young people. Because it is surrounded by glass, you can enter with confidence. It is reasonably priced and can be entered at any time as it is open 24 hours a day.

The interior is a standing bar style based in red. Tall counter chairs and tables with barrels give it a bar-like feel. Although it is only one floor, it has a capacity of 90 people. The tables are also movable, so even a large number of people can enjoy the space.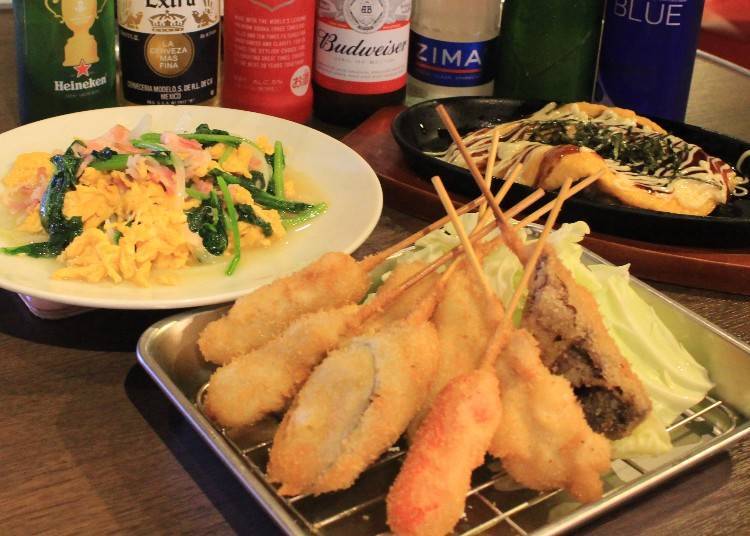 Reasonable single item dishes are attractive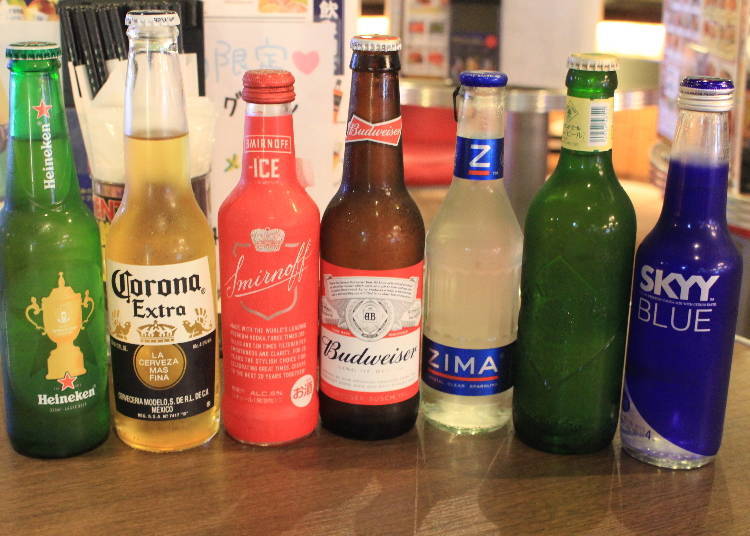 While the main feature of this restaurant is the chef that is from China, there are many menus items that are unique to the Hassen Umeda store. The recommendation is the "Pig Pei Yaki" (680 yen), which comes from the birth of the Ohatsu Tenjin neighborhood where this restaurant is located.

Fried eggs on thick pork are used for tonkatsu and tonkeki, topped with sauce, mayonnaise, and chopped paste. The spinach and bacon fried egg (480 yen) is a Chinese menu item.

The 8 type assortment of kushikatsu (780 yen) is a well-known Osaka soul food. The bottled drinks are a popular item at the store. There are four types of beer such as Budweiser and Heineken, as well as liqueurs and cocktails to choose from.
八銭 梅田店

Address

Komatsubara Bld. 1F, 5-14, 5 Komatsubaracho Kitaku, Kita Ward, Osaka

Phone Number

06-6367-0388

Hours: Open 24hrs
No holidays
You can enjoy the taste of Osaka at any of these stores!
These three shops introduced are where you can enjoy gourmet dishes in Osaka at reasonable prices, such as "kushikatsu" and "takoyaki".

Be sure not to worry as their menus are written in four languages: Japanese, English, Chinese and Korean, making it easy for foreign tourists to use. These spots are a great place to drop in any hour of the day to enjoy Osaka cuisine.

* All prices shown are exclusive of tax.
Text by: WEST PLAN
Main image credit: Osaze Cuomo / Shutterstock.com
Book an unforgettable food experience in Osaka!
Make your trip extra memorable by booking one of these recommended tours on our partner site, Voyagin!
*This information is from the time of this article's publication.
*Prices and options mentioned are subject to change.
*Unless stated otherwise, all prices include tax.