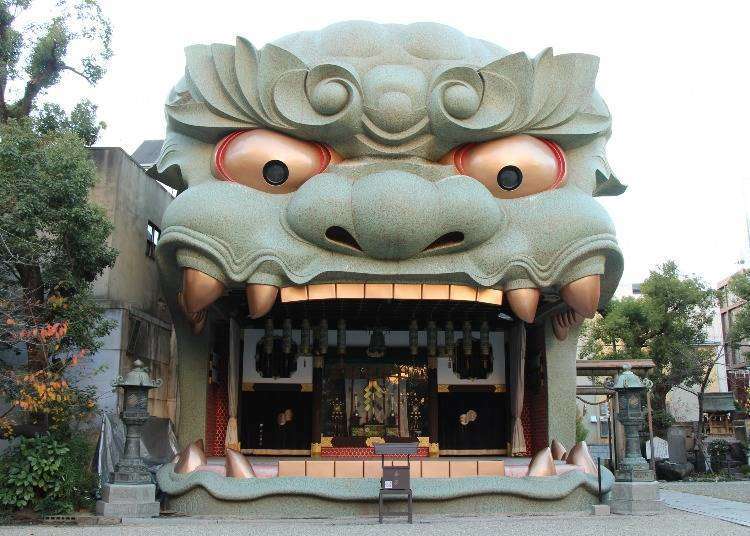 When it comes to shrines and temples in Osaka and Kobe, both cities are filled with unique spots that are worth visiting.

Let's take a look at a few shrines and temples that are easily accessible to tourists. For Osaka, our selection features shrines and temples with interesting backstories, including Shitennoji Temple established by Prince Taishi Shotoku. Meanwhile, for Kobe, we will introduce key shrines that are close to stations and other tourist spots.

So while you're enjoying the sights and food of Osaka and Kobe, be sure to enjoy a tour of the shrines and temples too.
1. Shitennoji Temple in Osaka: Japan's oldest temple, founded by Prince Taishi Shotoku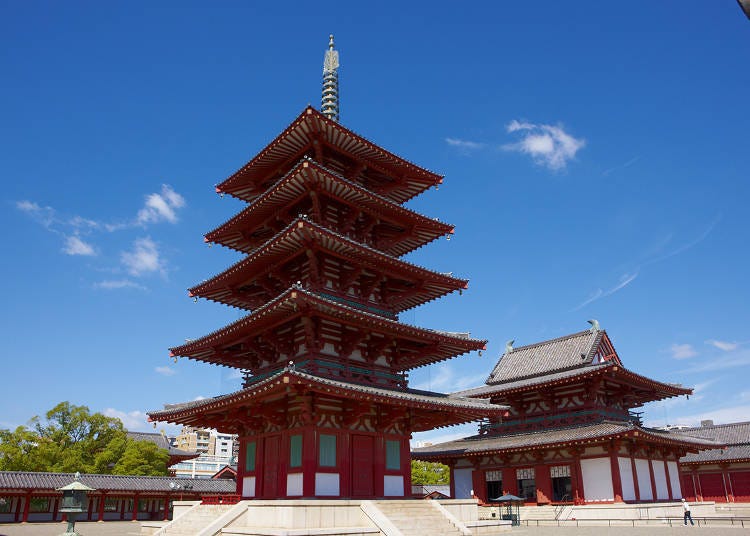 Founded in the year 593, Shitenno-ji Temple, Japan's oldest temple, is a brief five-minute walk from Osaka Metro Shitennoji Yuhigaoka Station.

The premises of this Osaka temple are rather expansive: around 11 hectares (27 acres) in size, about three times the size of Koshien Stadium.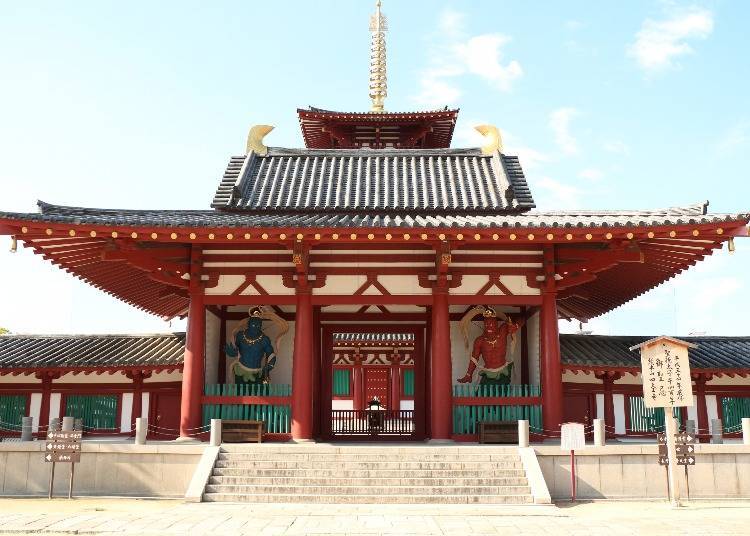 The inner gate enshrining the Kongo Rikishi (Nio statues) guardian deities of the temple
Over 1400 years ago, Taishi Shotoku founded the temple. The number one highlight is the inner temple, with a corridor surrounding the inner gate, five-storied pagoda, main hall, and lecture hall, which sit aligned straight from south to north.

This is known as the "Shitenno-ji style temple layout" and is said to be one of Japan's oldest construction styles.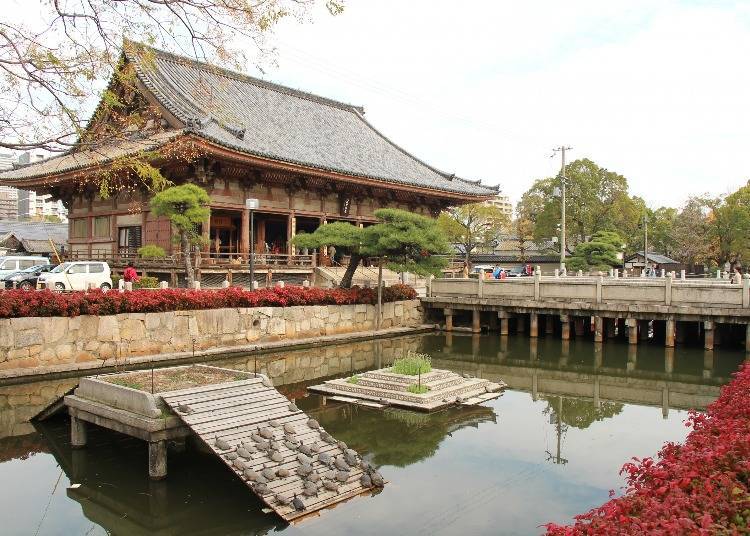 Rokuji worship hall
Rokuji-rensando, or Rokuji worship hall, stands in the center of the Shitennoji premises and is designated an important cultural property of Japan.

On April 22, the anniversary of Taishi Shotoku's death, a Bon Festival music and dance memorial ceremony, which has also been designated a nationally important intangible folk cultural asset, is performed in dedication to the prince on the stone stage constructed off the stone bridge in front of the hall.

Also within the temple, festivals are held for Daishi-san (Kobo Daishi) and Taishi-san (Shotoku Taishi) sequentially on the 21st and 22nd of each month, so be sure to come on those days to experience the festivities.
Address

1-11-18, Shitennouji, Tennouji-ku, Osaka-shi, Osaka, 543-0051
View Map

Nearest Station

Tennouji Station (JR Kansai Main Line / JR Yamatoji Line / JR Osaka Loop Line / JR Hanwa Line)
12 minutes on foot


Phone Number

06-6771-0066
2. Namba Yasaka Shrine in Osaka: The Imposing Shishi-dono Guardian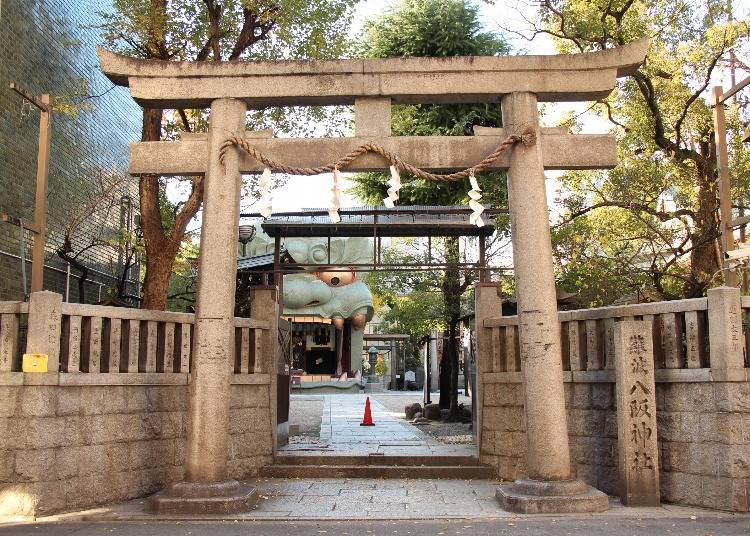 Namba Yasaka Shrine, also called "Namba-shita no Miya," is said to have once been the local shrine dedicated to all of Namba.

The giant shishi-dono, completed in 1974, is an enormous lion's head stage 12 meters high, 11 meters wide, and 10 meters thick. Its eyes are lights, and its nose is a speaker.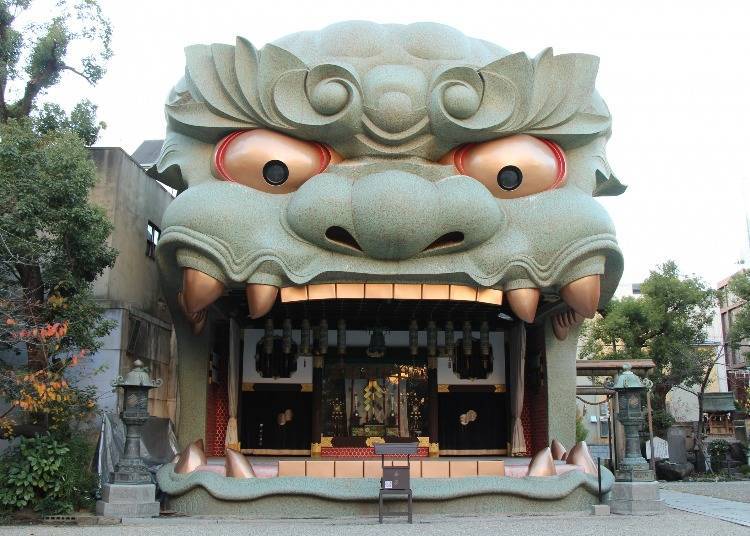 The way the shishi comes in and out of view when viewed from outside the torii gate, and how it is designed to look like the shishi is trapped inside the entrance are also impactful. This Osaka shrine draws lots of international tourists as one of the city's hidden popular spots.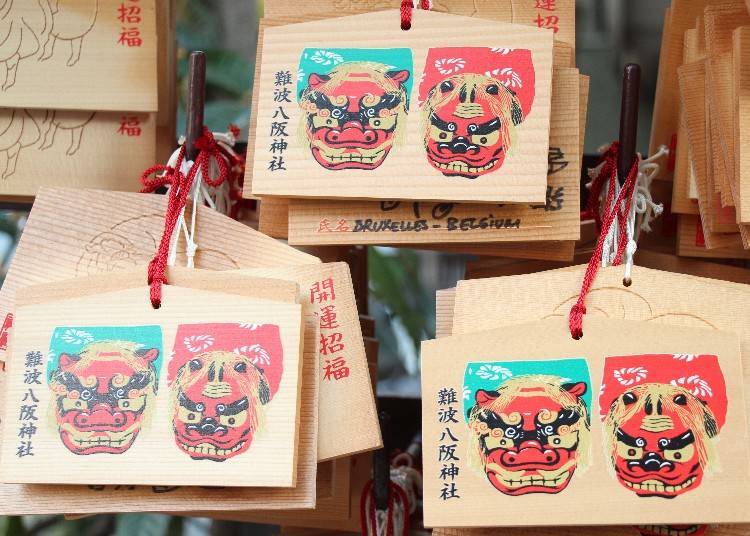 Ema and Omamori Depicting the Shishi Are Also Popular

From the belief that the shishi swallows evil with its giant mouth and summons victory and success, it is worshipped as a deity of competition in regards to academic improvement and business development, and sports players and students often come to visit the shrine for good luck.

Many international tourists also come for the ema votive horse pictures depicting the shishi and the shishi-mamori charms for warding off evil and bringing good fortune as souvenirs. So be sure to put Namba Yasaka Shrine on your sightseeing list!
Address

2-9-19, Motomachi, Naniwa-ku, Osaka-shi, Osaka, 556-0016
View Map

Nearest Station

Namba Station (Midosuji Line / Yotsubashi Line / Sen-nichimae Line)
6 minutes on foot


Phone Number

06-6641-1149
3. Senkoji Temple in Osaka: The Historic Temple Protecting the Town of Hirano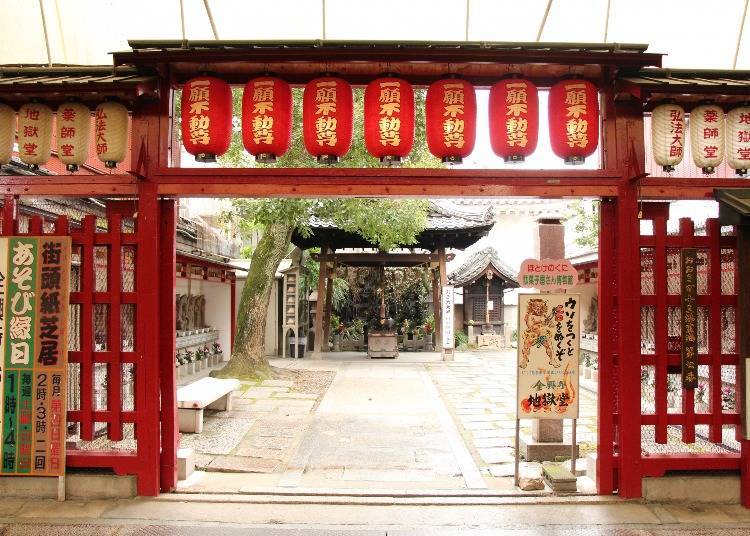 As you walk the Hirano shopping street, still much the same as it appeared in ages past, the red lanterns and red gate of Osaka's Senkoji Temple will catch your eye.

The Yakushi-do Hall, built in present-day Hirona by Shotoku Taishi 1400 years ago, is one of the oldest wooden buildings still remaining in Osaka. From that point on, as the Hirano town took shape, so did the temple along with it, making Senkoji Temple an important historical place.

What brought the public's eye to this quiet temple is its "Hall of Hell."

The hall happened to be broadcast in the media, first bringing tourists from within Japan; recently, it has become popular on Instagram as well.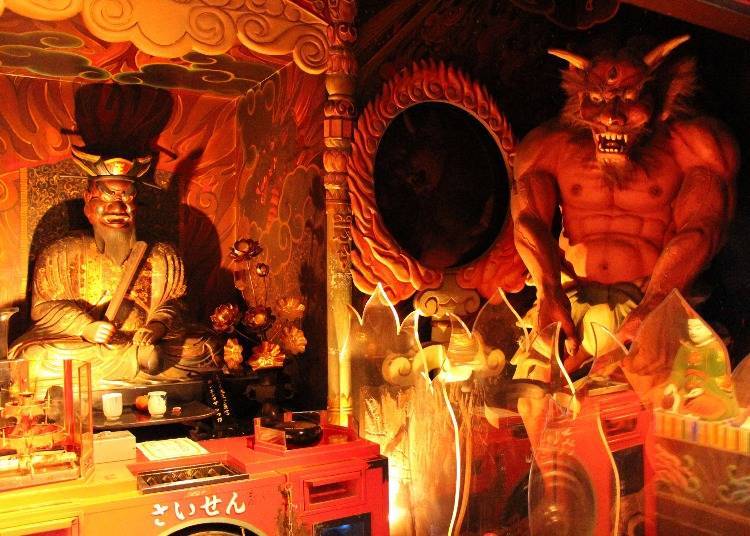 The "Hall of Hell", a Presentation on the Importance of Life
Once you pass through the "gate to Hell," the temple around you becomes dark as you enter the "Hall of Hell." As you go further in, demons appear before you, and if you ring the gong, images of Hell and a narration start to play.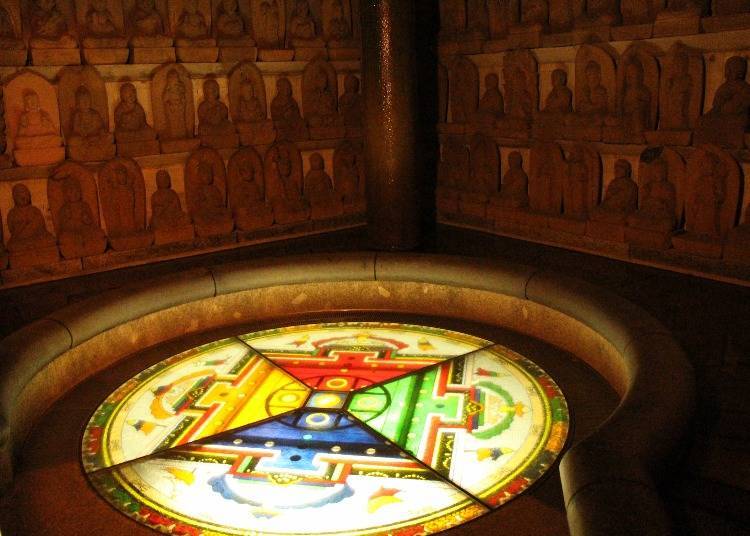 The Land of Buddha
You may be startled for a moment, but the overarching message is that experiencing "Hell" teaches you not to let your life go to waste.

After the frights of Hell, continue to the "Land of Buddha." Sit on the mandala surrounded by stone statues of Buddha and try meditating while being soothed by the sound of a water harp.

The Hirano Machi-gurumi Museum on temple grounds houses the "Small Dagashiya-san Museum," where memorable candy and toys from the past are displayed.
全興寺

Address

2-9-19 Motomachi, Naniwa-ku, Osaka

Nearest Station

Access: 6 minute-walk from Namba Station or a 7-minute walk from Daikoku-cho Station on Osaka Metro Midosuji and Yotsubashi Lines


Phone Number

06-6791-2680

Visiting Hours: 6:00 AM - 5:00 PM
Visiting Fee: Free
Closed: Open Daily
4. Ikuta Shrine in Kobe: Symbolic Presence in the Center of the City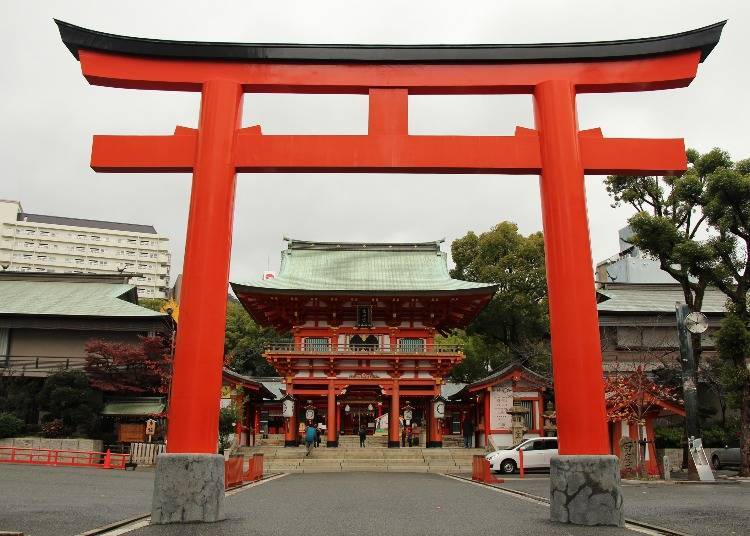 Ikuta Shrine one of Kobe's main shrines, drawing over 1.5 million visitors over the New Year holiday. It is less than 10 minutes by foot from JR Sannomiya Station and Hanshin/Hankyu Kobe Sannomiya Station, so be sure to pay the shrine a visit as a part of your Kobe sightseeing.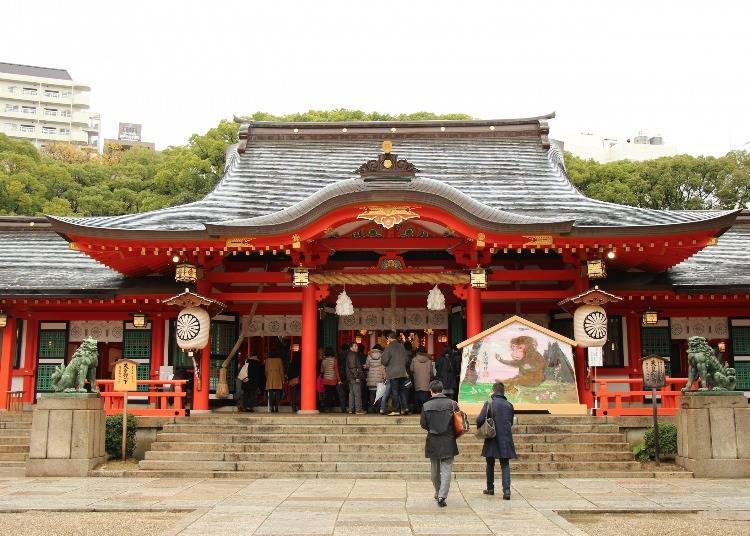 According to the Chronicles of Japan (Nihon Shoki), the shrine was established in the year 201, and the enshrined deity is Wakahirume no Mikoto, goddess of protection for birth and growth.

Within the temple grounds is the Ikuta Forest, featured in many poems as a scenic place and filled with a sense of power from the trees.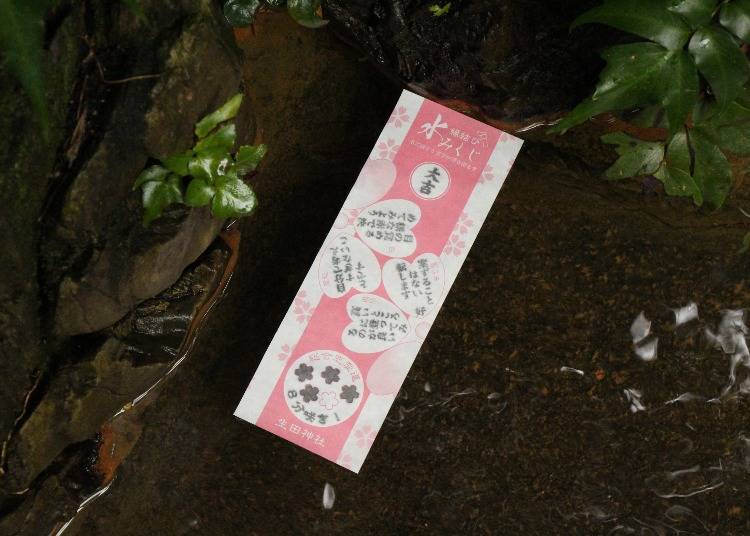 The Temple Is Also Famous as a "Power Spot" for Matchmaking and Marriage
The shrine is also known for bringing luck in marriage, and since the pre-war period, religious marriage ceremonies have been conducted there. Popular as a spiritual "power spot" for luck in love, on days designated in the Buddhist calendar as auspicious days, you'll likely witness a wedding.

There is an assortment of good luck charms specialized for luck in marriage, including the ema with a pink heart inscribed with the word "love" and paired omamori for couples, and there are English fortunes available as well.

The popular "Marriage Water Fortune" reveals its writing when dipped in water. Try setting your fortune afloat on the small lake in Ikuta Forest advertised by a signpost for "en-musubi no mizu-uranai," water fortune-telling for match-making.
Address

1-2-1, Shimoyamatedori, Chuo-ku, Kobe-shi, Hyogo, 650-0011
View Map

Nearest Station

Sannomiya Station (JR Tokaido Line / JR Kobe Line)
3 minutes on foot


Phone Number

078-321-3851
5. Kitano Tenmangu Shrine in Kobe: Towering in the Sky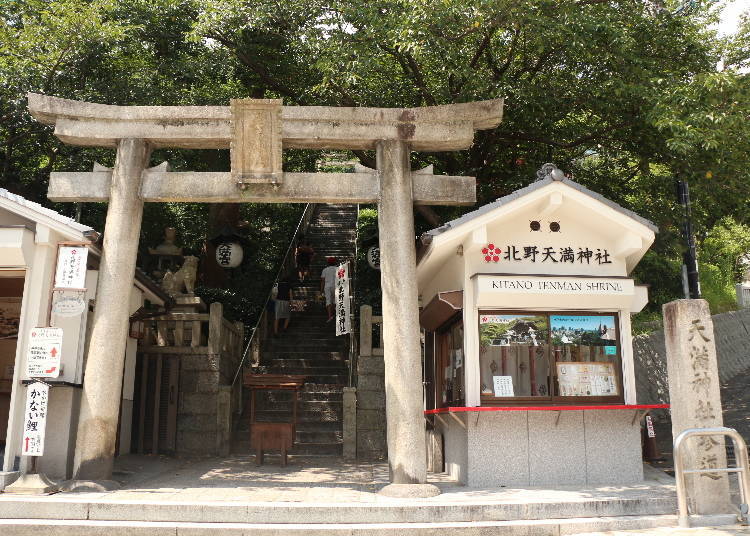 Kitano Tenmangu Shrine, our next shrine in Kobe, takes us up the Kitanozaka road to a key area for Kobe sightseeing: the Ijinkan foreign merchant houses. You'll first find Kitano Tenmangu Shrine next to the <@Weathercock House|a=spot:lj0009724>.

It's around a 20-minute walk to Kitano Tenmangu Shrine from the closest station, Sannomiya Station. But if you take the "City Loop" bus that travels in a loop around tourist spots, the shrine is not far from the Kitano Ijinkan bus stop.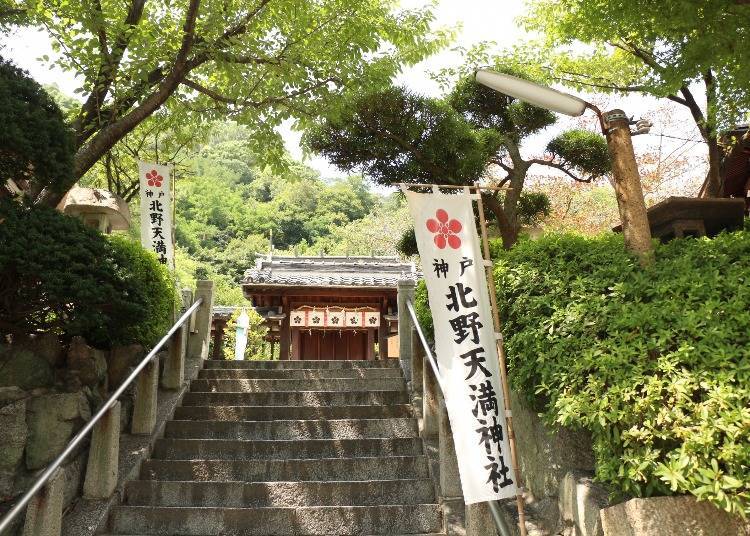 Pass through the stone torii shrine gate and climb the steep stone staircase to find a sweeping view of Kobe scenery. In the center of the shrine grounds is the haiden worship hall, built in 1724 and designated an important traditional building of Kobe City in 1985.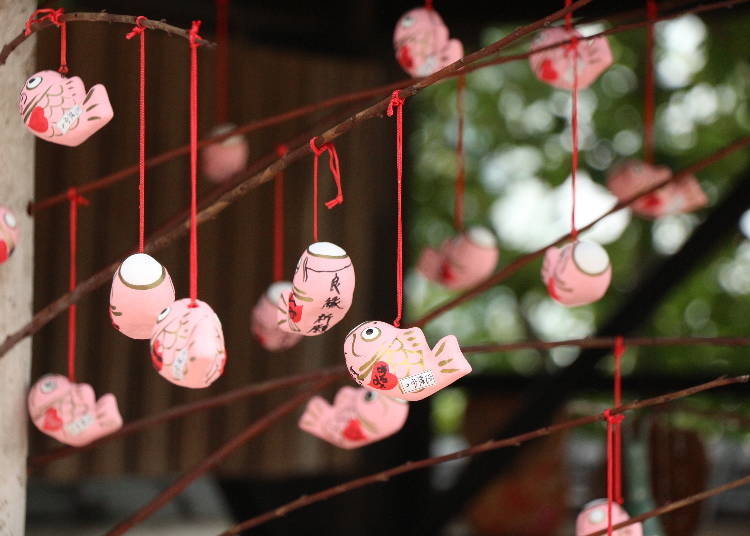 Kanai-koi (love charm)
The deity enshrined at Kitano Tenmangu Shrine, Sugawara no Michizane, is strongly believed in as the god of learning. So while the shrine draws many visitors to pray for luck with school exams, in fact, it is also a "power spot" for bringing luck in love as well.

The "kanai-koi" on the premises was originally used as sacred water for washing your hands, but from the superstition that by pouring water over koi fish and making a wish your wish will come true, as well as the fact that the word for "koi" is a homophone for "koi" as in love, the water came to be known as a lucky spot for love.

There are a variety of cute lucky goods available, including the pictured "kanai-koi" love charm, ema for fortune in love with a pink heart and the word for "love" along with a picture of a koi fish, and other kanai-koi omamori good luck charms.
Address

3-12-1, Kitanocho, Chuo-ku, Kobe-shi, Hyogo, 650-0002
View Map

Nearest Station

Shinkobe Station (JR Sanyo Shinkansen)
10 minutes on foot


Phone Number

078-221-2139
Text by:WEST PLAN
*This information is from the time of this article's publication.
*Prices and options mentioned are subject to change.
*Unless stated otherwise, all prices include tax.
Limited time offer: 10% discount coupons available now!