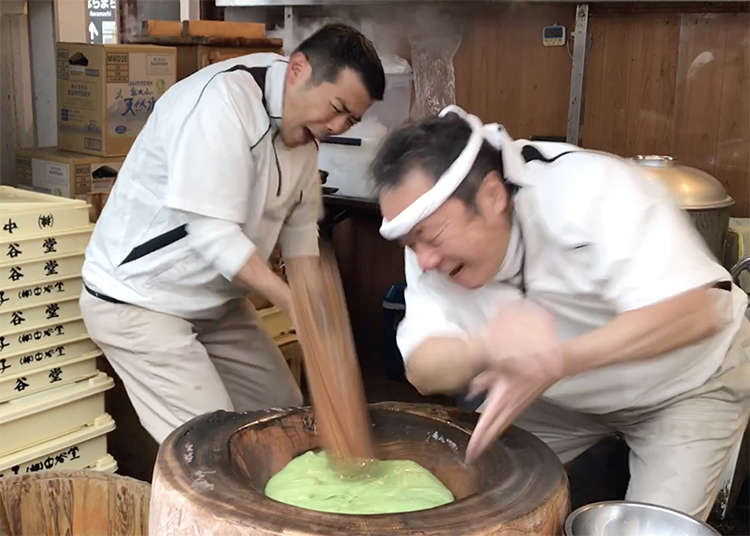 "Omochi" (mochi) is a type of sticky rice cake made from pounded rice, and is often eaten at New Year's in Japan. The "mochi-tsuki" ceremony is an essential part of the mochi making process.

In the past, wooden mortars and pestles were used to make rice cakes at home as a New Year's tradition. And although that's now somewhat of a rarity, there are stores where you can watch the mochi-tsuki and buy delicious, freshly made rice cakes. The mochi-tsuki is truly a thrilling sight!
What is Nakatanido's Yomogi Mochi?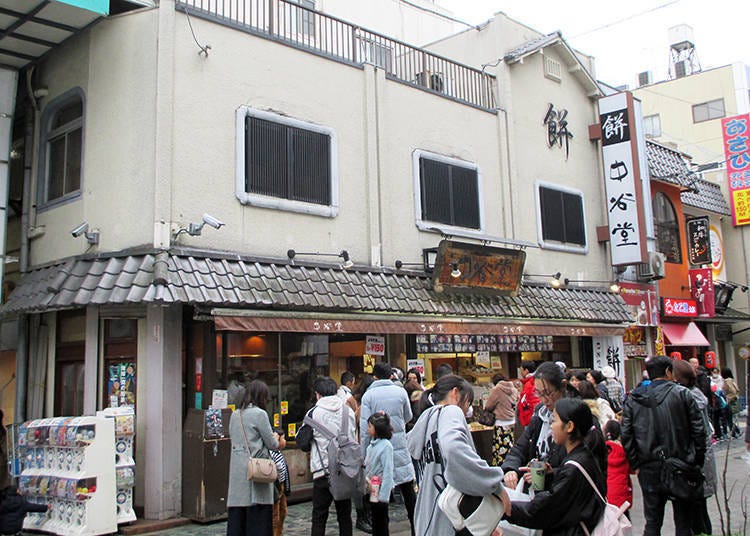 Nakatanido is about a 5-minute walk south on the Higashimuki Shopping Street just outside Kintetsu Nara Station Exit 2 and a 15-minute walk from JR Nara Station. The shop specializes in takeout orders and sells only the specialty "yomogi mochi" made in the store.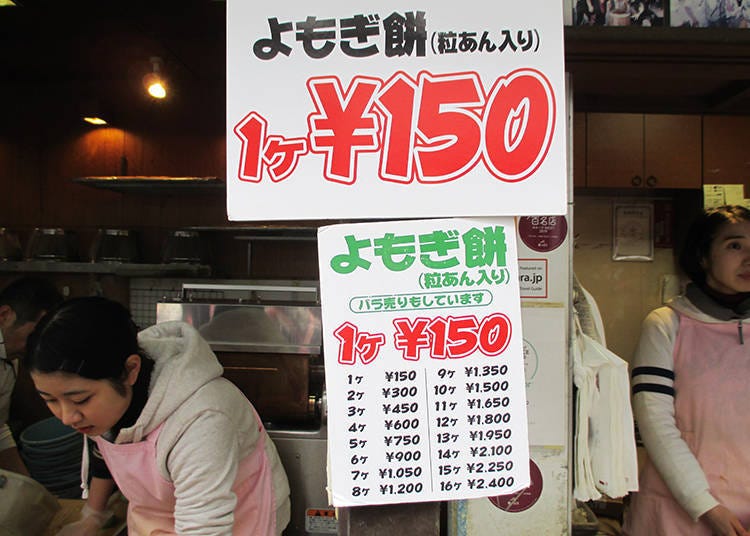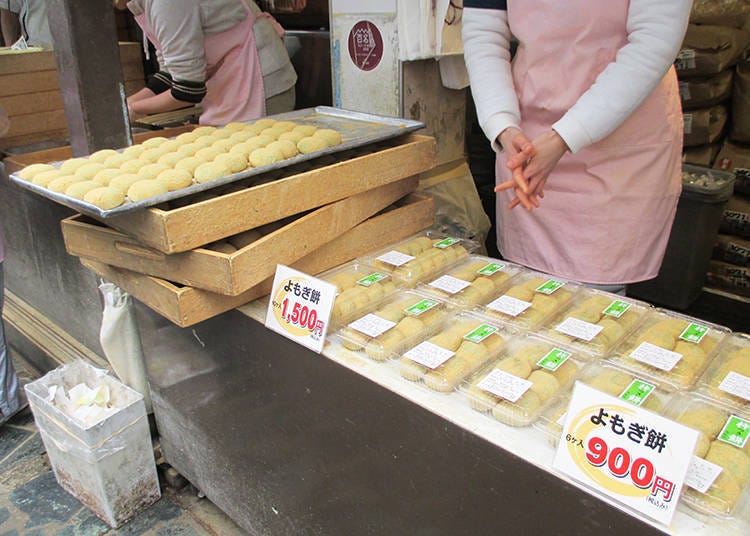 Yomogi (Japanese mugwort) has long been a part of the Japanese diet. A common plant often called "Japanese herb," it has high nutritional value and a pleasant aroma.

To make pale green yomogi mochi, it's kneaded in rice and shaped into palm-sized balls. They're then filled with plenty of anko (sweet red soybean paste) and their surface is dusted with kinako (sweetened soy) powder.
The Nakatanido storefront is always popular with tourists – local and international alike!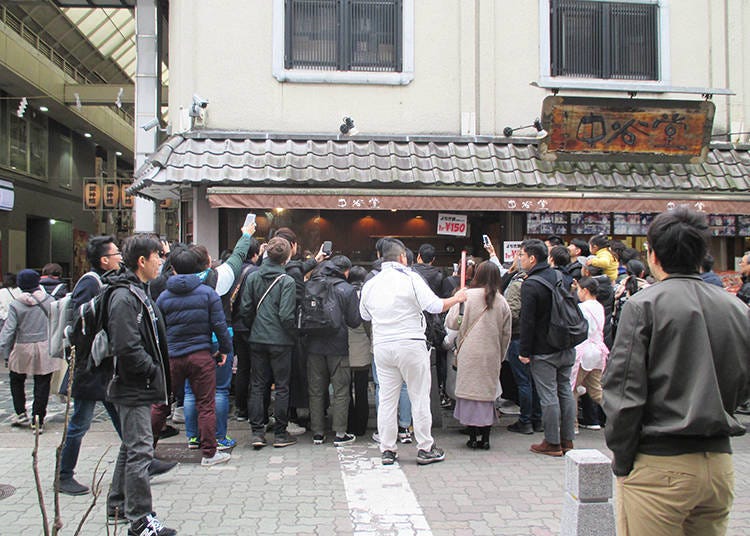 It's a must-see! All eyes are fixated on the impressive mochi-tsuki demonstration
First, two craftsmen lightly pound the sticky rice with large hammer-like pestles in an alternating pattern.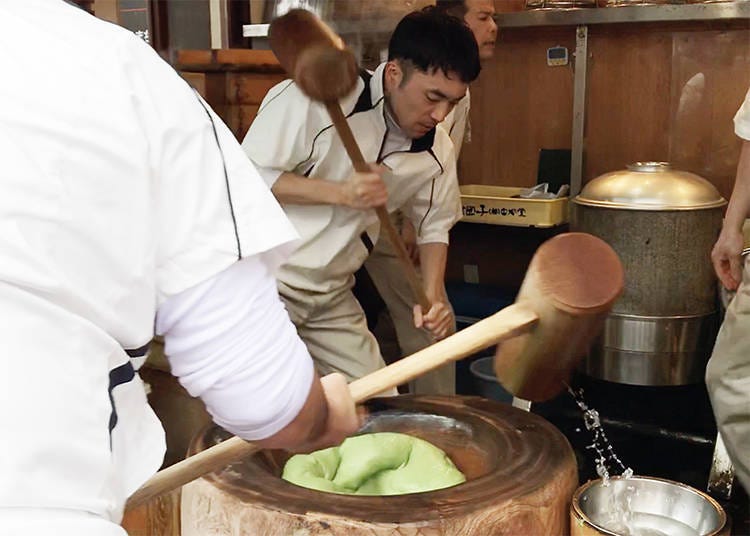 After that, one of them takes on the role of "tsukite" and continues to pound the rice, while the other acts as the "kaeshite," turning the rice over by hand(!) in the mortar.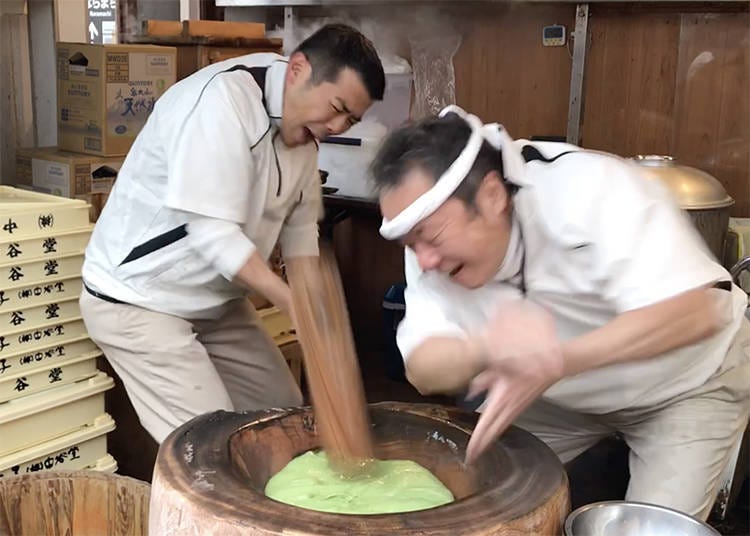 And that's when the highlight of the mochi-tsuki begins! With loud shouts, rhythmical movement and breathing, and very quick hands the tsukite and kaeshite pound and turn the rice to create mochi.
It's lightning-fast! The tempo is much faster than that of typical mochi making and this "high-speed mochi-tsuki" will have you wondering if the pestle might crush the turner's hand. Fortunately, these craftsmen are well-practiced, so don't worry!

A Singaporean couple saw videos of the process online and said, "We were just planning to visit Kyoto, but really wanted to see it with our own eyes. It was so exciting to watch, we came once in the morning, and then again in the afternoon. It's a convenient location, close to Todaiji and Kofukuji."

A woman from Hong Kong said, "I'm glad I could see it." Holding a yomogi mochi in her hand she continued, "Hong Kong also has mochi, but this one is softer and more delicious." Her 10-year-old daughter was happily chewing and couldn't comment!
One freshly made yomogi mochi is 150 yen (tax included). The rice cakes are so soft they seem likely to be crushed if you squeeze them too hard, and looks like soft-serve ice cream.

However, the mochi also stretchy feels firmer when chewed. The rich flavor of the mugwort and the natural sweetness of the bean paste will fill your mouth and you'll finish your mochi the blink of an eye.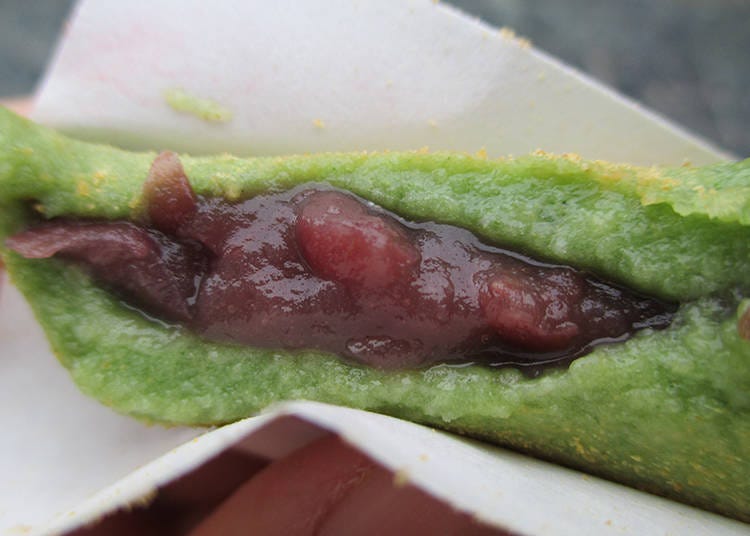 Of course, you can eat as many as you like! Ordering a few for take-out and having some fresh, warm rice cakes to enjoy while sightseeing is a good idea. Yomogi mochi is delicious even when cooled, but if you take some home, be sure to eat it on the same day.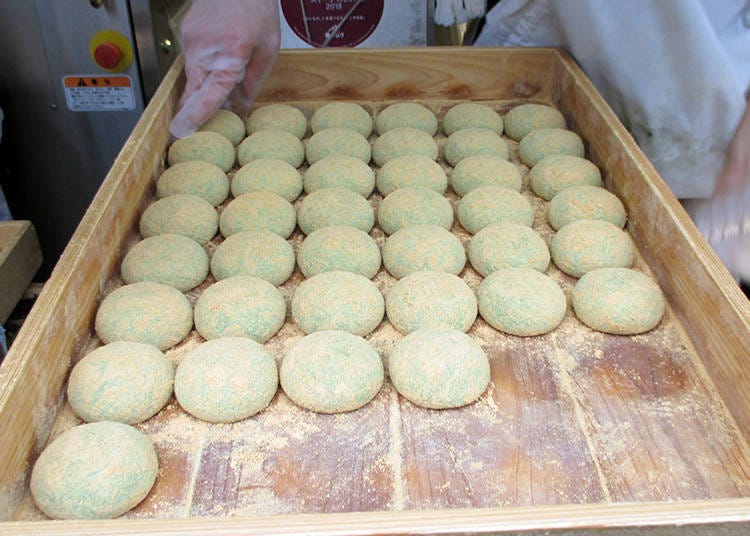 Nakatanido's manager, Mr. Nakatani says, "This high-speed mochi-tsuki is not a show like a street performance." The fast method is said to have originated in Mr. Nakatani's hometown of Kamikitayama in Nara's Yoshino district and has been passed on for many years.

"Japan is proud of its mochi culture. When I decided to sell mochi that everyone could eat with a smile, I thought of the delicious mochi of my hometown that I ate when I was young."

Nakatanido has been practicing high-speed mochi-tsuki since its foundation. The reason for the speed is not simply to attract tourists – it's an important and necessary part of producing delicious, richly textured yomogi mochi. It is said that completing the mochi-tsuki while the rice is still hot will result in mochi that's both soft and firm.

Nara will delight your senses with impactful cultural sights, the traditional taste of Japanese mochi, and energetic shouts from Nakatanido resounding through the streets.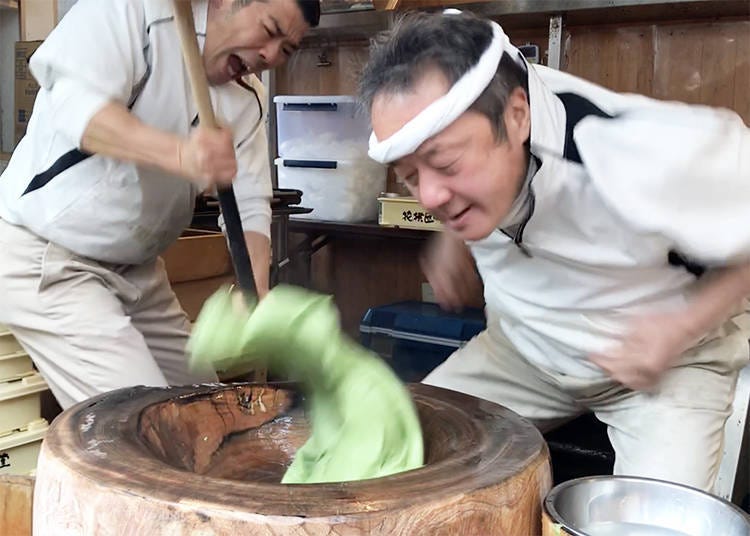 When you visit Nara, with its history even more ancient than that of Kyoto, be sure to enjoy some delicious yomogi mochi and the high-speed mochi-tsuki.
中谷堂

Address

29 Hashimoto-cho, Nara-shi, Nara 630-8217

Phone Number

0742-23-0141

・Hours: 10:00 a.m. - 7:00 p.m.
・Prices: Yomogi mochi 150 yen each (tax included, cash only)
Text by: Tamami Kunimatsu
*This information is from the time of this article's publication.
*Prices and options mentioned are subject to change.
*Unless stated otherwise, all prices include tax.
Limited time offer: 10% discount coupons available now!