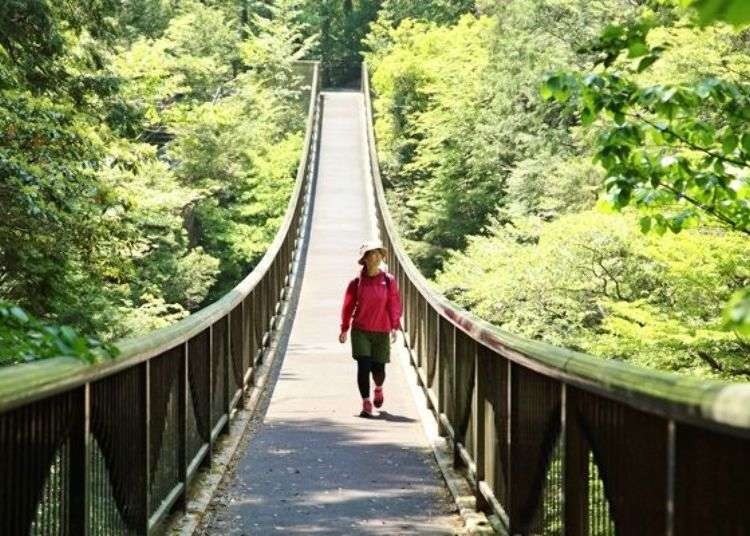 The scenic Mitarai Valley in Nara Prefecture's Yoshino District is one of the most beautiful valleys in the Kansai region. The hiking course, which was developed along a river that flows between large rocks, allows for visitors to take in the beautiful scenery.

It is said that the course is easy for beginners and since I don't get much exercise, I decided to head down on a nice day and give it try.
Before Hiking in the Mitaranai Valley: Make Sure to Grab a Hiking Map and Get Started!
The Mitarai Valley hiking course is about 7.4km long and takes about 2 hours to complete. The course starts from Tenkawa Information Center and ends at Dorogawa Onsen Center.
From Kintetsu Shimo-ichiguchi Station take the bus for about an hour and get off at Tenkawa-kawai Station to reach Tenkawa Information Center.

The first thing to do is get the hiking course map at the information center. If you have any questions, feel free to ask the staff.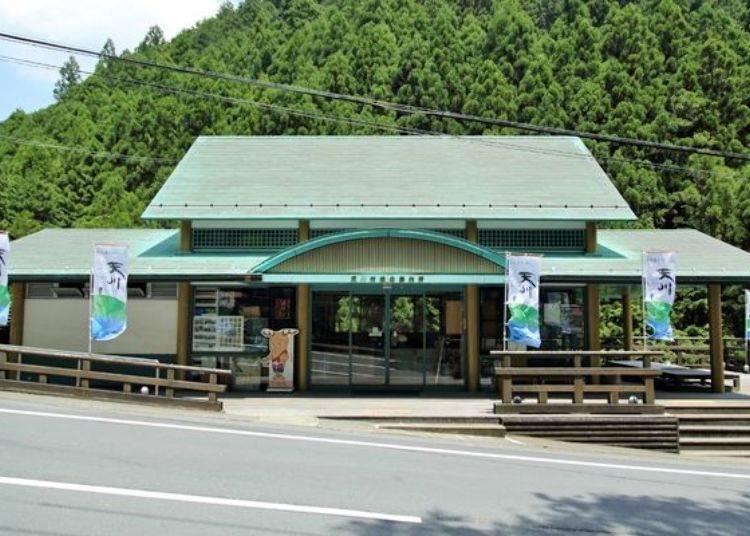 ▲Tenkawa Information Center
We recommend stopping by the Tenakwa Mura Fureai Chokubaijo Komichi no Eki 'Ten', a shop that is about a minute or two away on foot.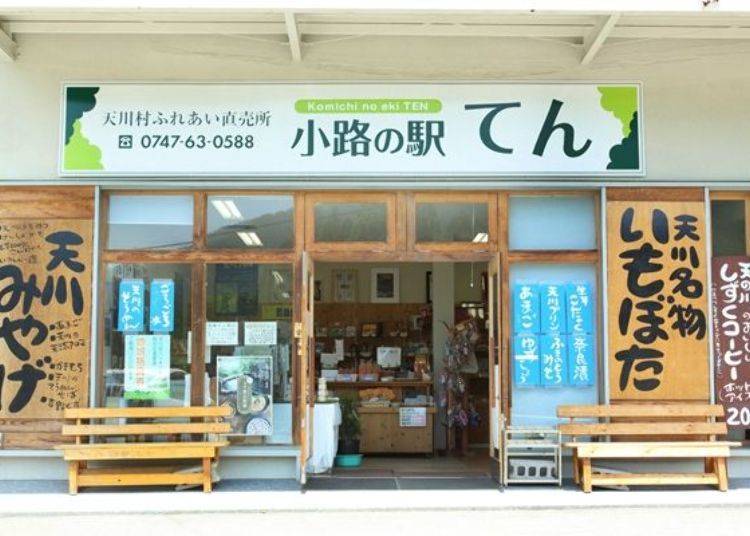 At this shop they sell many specialty products from Tenkawa Village. We strongly suggest getting a bottle of 'Goro Goro Mizu', which is both famous natural water in Nara Prefecture and which was also selected among Japan's top 100 water sources.

Goro Goro Mizu has been springing up from under the natural monument, Goyomatsu Shonyudo, a limestone cave in Tenkawa Village, for many years. The water received its name from the water sound echoing in the limestone cave and creating a 'goro goro' type sound.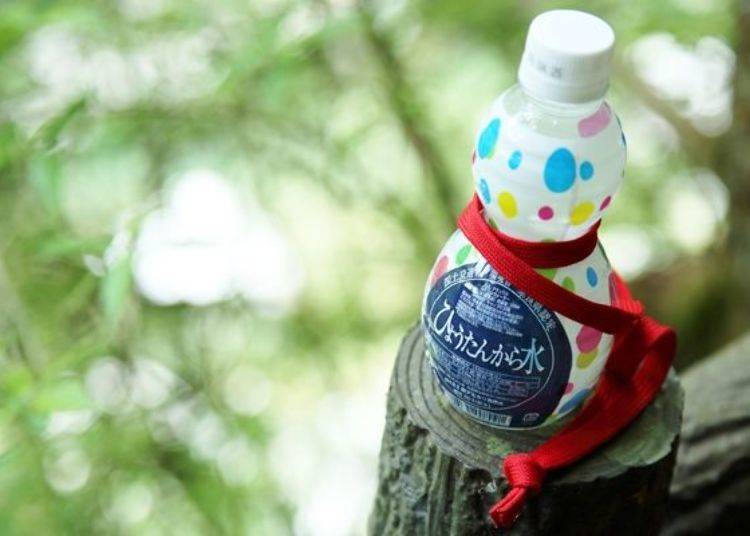 ▲Hyoutan kara Mizu 370 yen (tax included, 350ml). There are also other designs.
The Hyoutan kara Mizu is a gourd-shaped bottle containing Goro Goro Mizu. Since we will be walking through Mitarai Valley, drinking water from Tenkawa Village would be perfect for the occasion.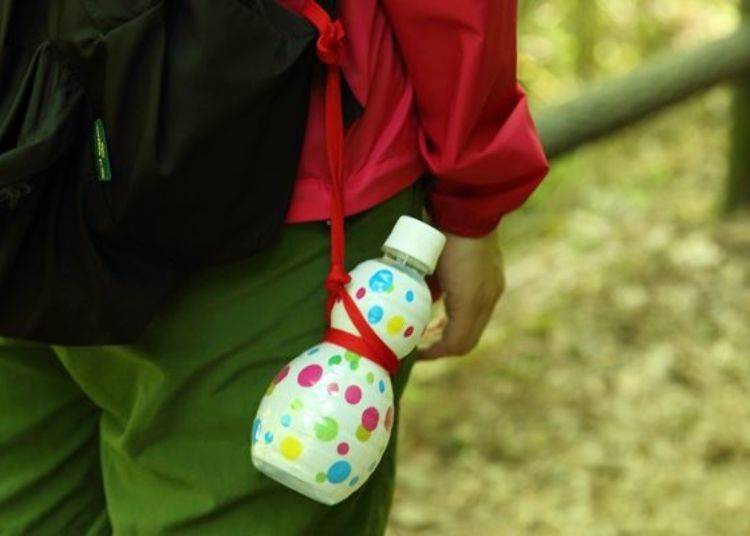 ▲It comes with a strap and can be carried easily
Tenkawa Mura Fureai Chokubaijo Komichi no Eki Ten

天川村ふれあい直売所「小路の駅 てん」

Address

120 Kawaai Tenkawa-mura, Yoshino-gun, Nara Prefecture

Hours: 10:00 AM – 5:00 PM (Open on Saturday, Sunday and Holidays from 10:00 AM – 4:00 PM from December to March)
Closed: Wednesday and Thursday (Closed Monday to Friday from December to March), New Year's Holidays
Start Hiking with Water in Hand
After exiting Ten, cross the road with the only traffic light in the village and go along the path with homes. After about 2 minutes you will turn left by the wooden road sign and reach a retro suspension bridge. I started to get excited with the anticipation of a fun hike.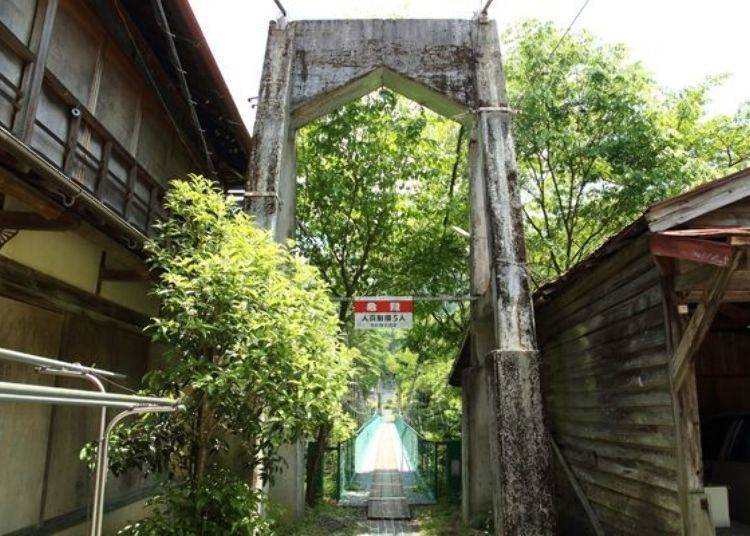 Caution written on the sign above the bridge, noting it has a max capacity of 5 people.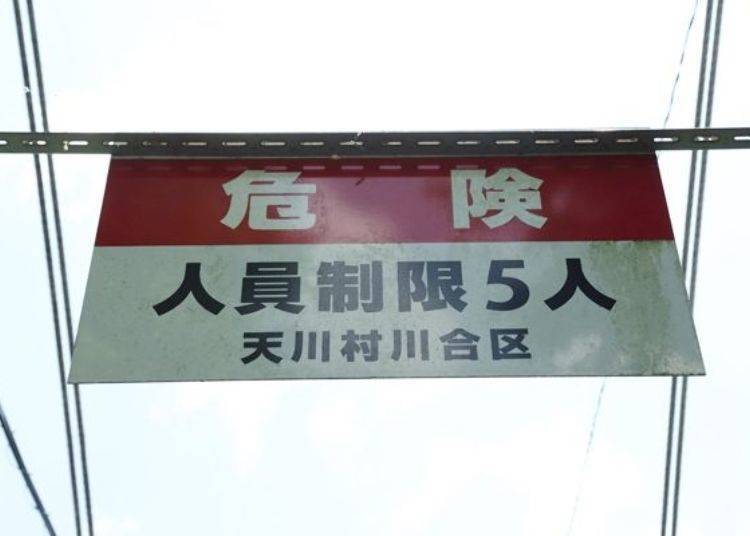 As you start crossing the bridge, you are greeted by the beautiful valley.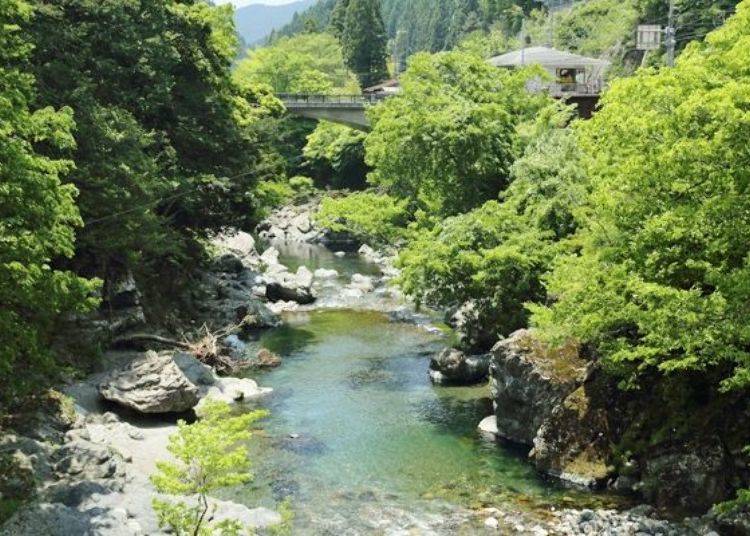 ▲The emerald green clear water
After crossing the bridge you will walk about 15 minutes along the quiet road and reach the entrance to Mitarai Yuhodo (Mitarai Path).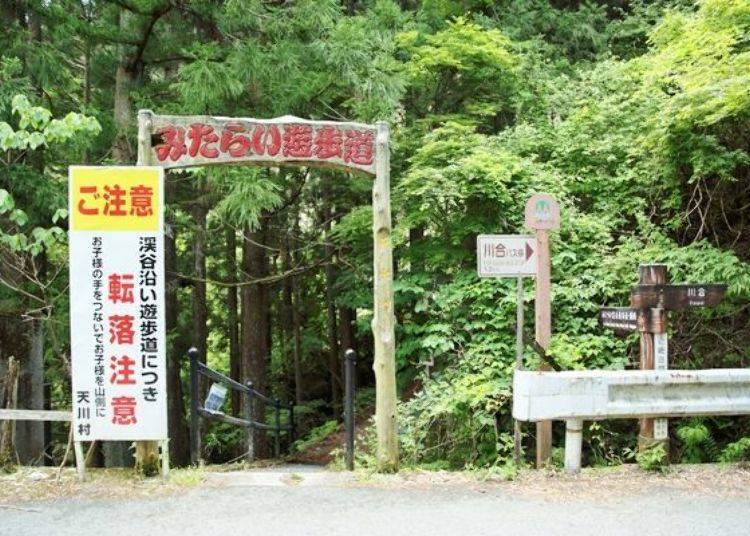 ▲This is the entrance to the path
From here you will be walking on a dirt path surrounded by nature. The lush green filters the sunlight and the breeze blowing feels refreshing.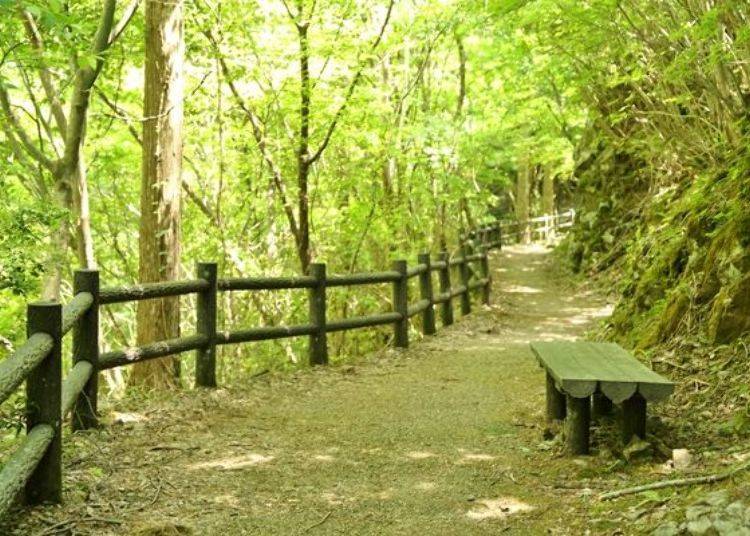 ▲Don't push yourself too hard: there are benches along the path to take breaks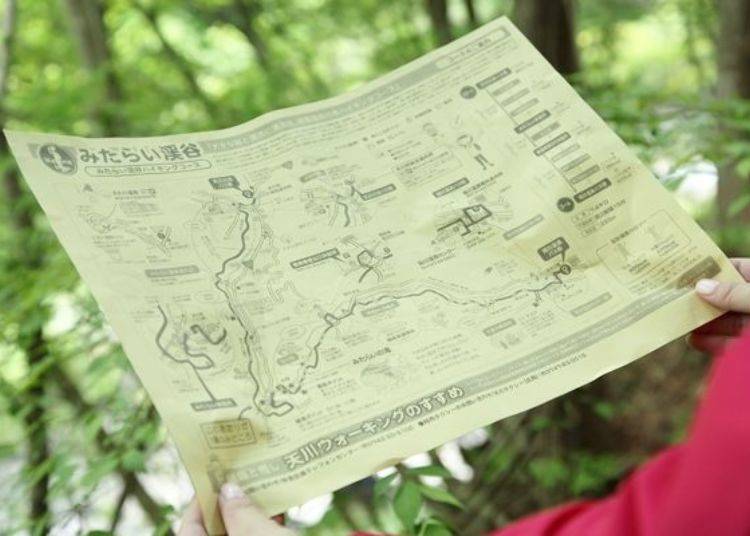 ▲Make sure to check the course with the map you got at the information center
The sound of the Tennokawa River to the left of the path is like music. If you look down there are many boulders and you can feel the grandeur of nature. Also during the summer there are many people that go swimming here.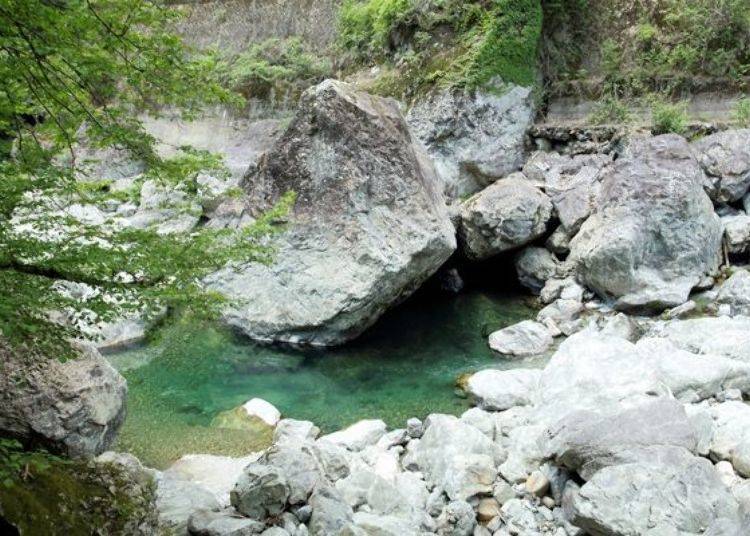 So far the path has been flat and easy even for me and I don't exercise much. However there are some places where the path is muddy, so we recommend using trekking shoes over sneakers.

After walking for about 20 minutes you will come across another suspension bridge.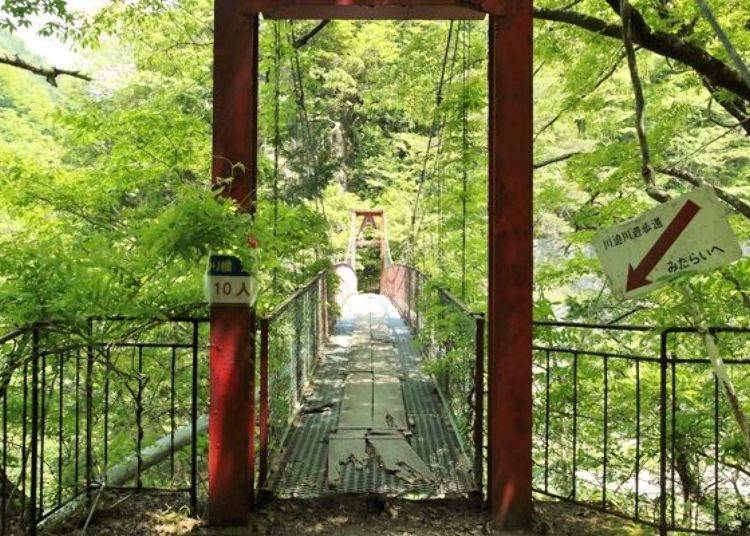 ▲This bridge can hold up to 10 people
The bridge is made with metal mesh with a wooden plank down the center. It is quite high above the river and looking straight down could be a bit scary.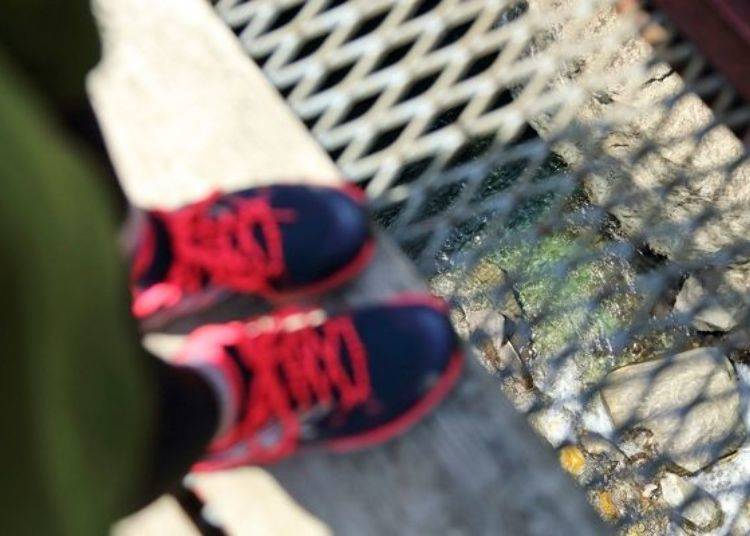 ▲Clear stream below
After crossing the bridge, you will reach a rest area. This is the first restroom area after entering the course. The new restroom is clean and convenient for woman.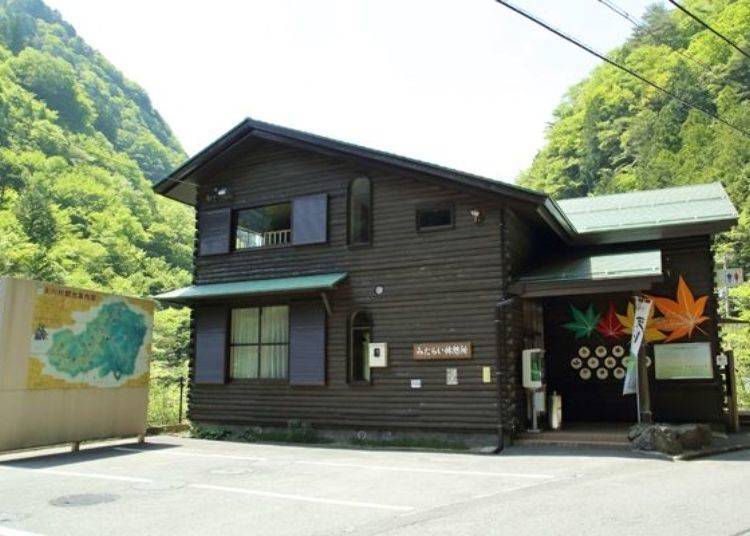 ▲Mitarai Rest area. There is an information center on the 1st floor, but has an irregular schedule
The Highlight of the Course: Mitarai Valley
After going past the rest area, you will come across the course's highlight: the Mitarai Valley. A magnificent view with a waterfall, bridge and boulders. The clear emerald green water flows from Mt. Omine, a holy mountain for Shugendo. You can feel the negative air ions.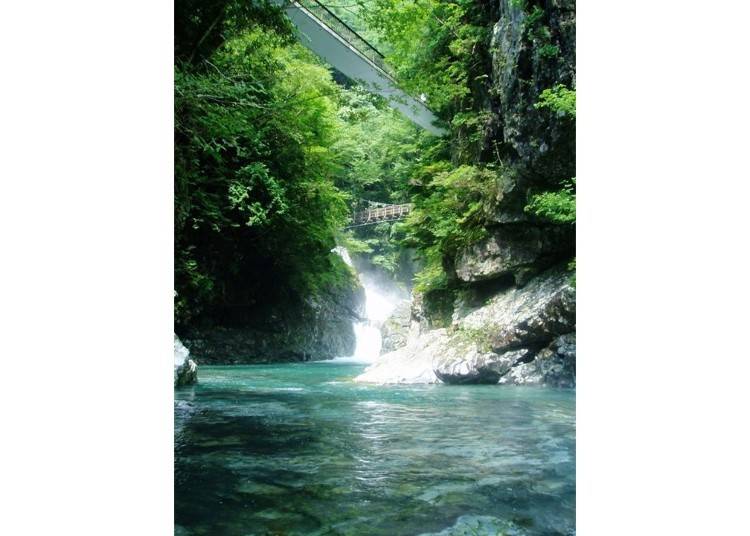 ▲A view from the bottom of the bridge next to the rest area. As of June 2017 it is off limits due to falling rocks. (Photo provided by Tenkawa Village)
Climbing the stairs you will reach Aiden Bridge, the bridge up close in the picture. Aiden Bridge has a paved surface and doesn't look like a suspension bridge, but it is a variety that uses the hanging floor slab bridge method. There are many suspension bridges along the course but this is the longest and biggest of them.
▲85m long. When you walk across the bridge you can feel it move. There are no limits on the number of people that can cross this bridge at once
In kanji Mitarai Valley is written as 御手洗 which means purifying your hands in holy water. It was given this name because during the Nanboku-cho period Emperor Go-Daigo's son Prince Moriyoshi purified his hand here for the battle victory prayer. I was amazed once again how much history Nara Prefecture has.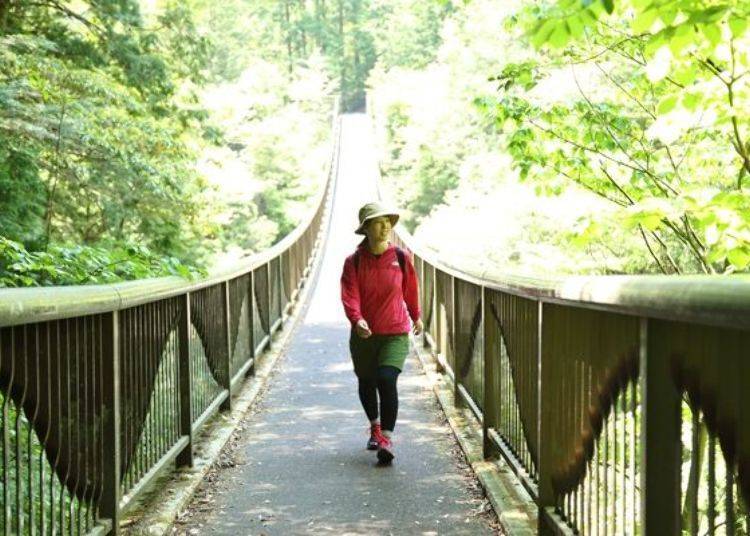 ▲Walking through beautiful nature feels like detox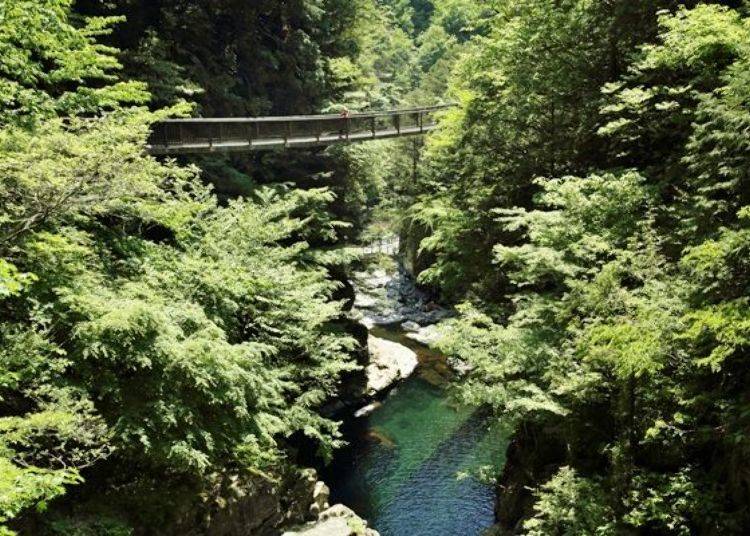 ▲Amazing view of Aiden Bridge in the valley
In autumn the beautiful valley has a different look.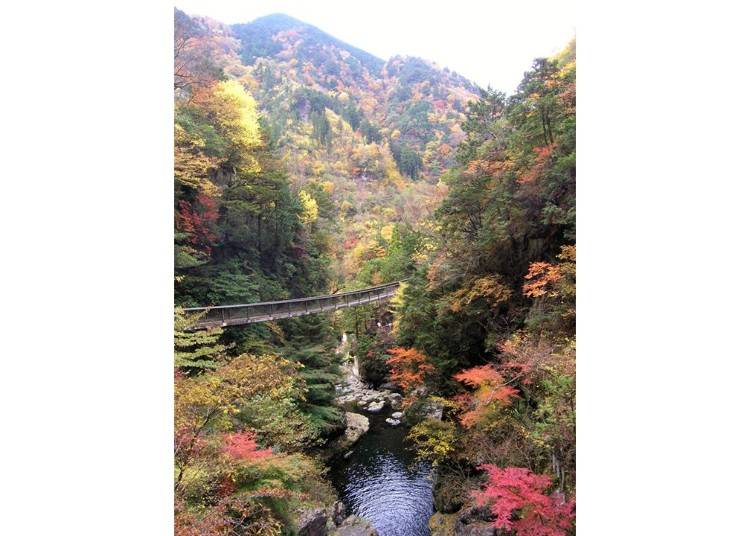 ▲From early November to mid-November is the best time to view the colored leaves (Photo provided by Tenokawa Village)
Once you cross the bridge and walk some more, you will come across a bedrock where water flows between boulders and curiously shaped rocks. This place has a very unique landscape.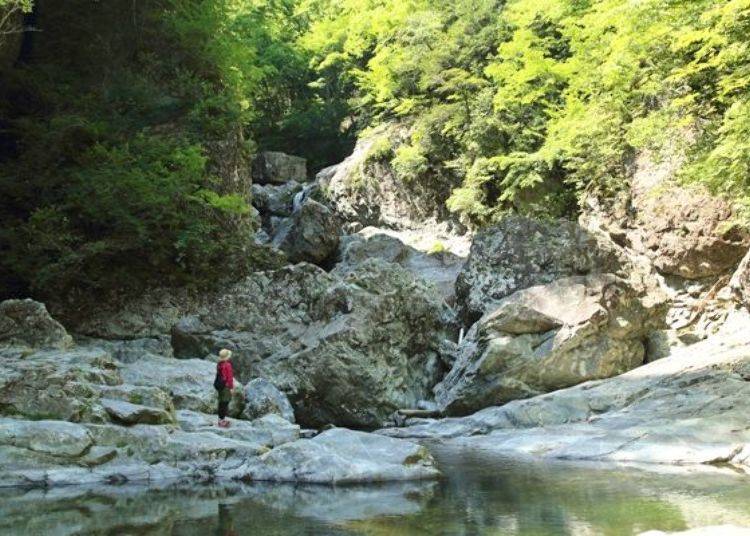 ▲You can see how big the rocks are compared to a person (me)
▲A blend of very clear water from Mt. Omine and Dorogawa Spring Water which is ranked in the top 100 waters of Japan. The water is cool even on a warm day
After enjoying the negative ion and clean air, we will continue our path. Until the next sight, Hikari no Taki waterfall, we will climb steep steps.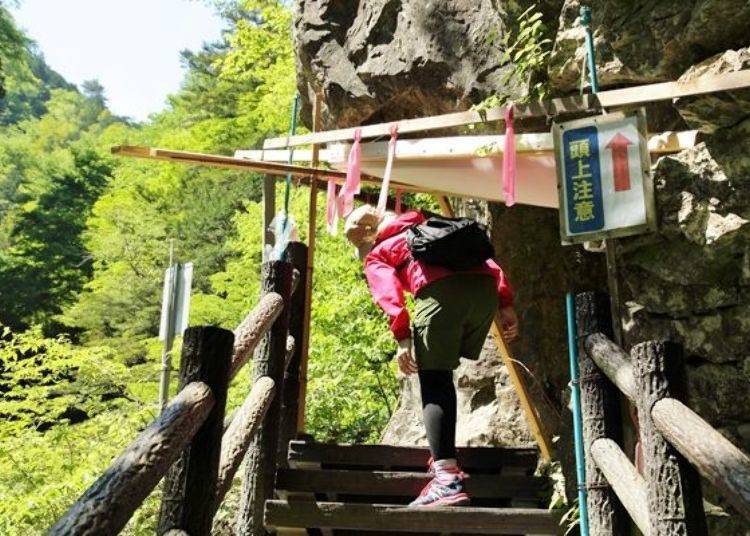 ▲There are places like this along the way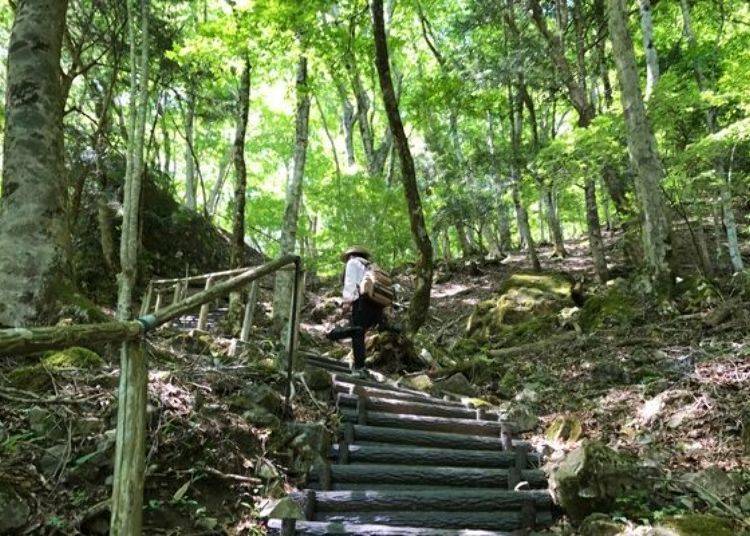 ▲Our female cameraperson effortlessly climbs with her camera and tripod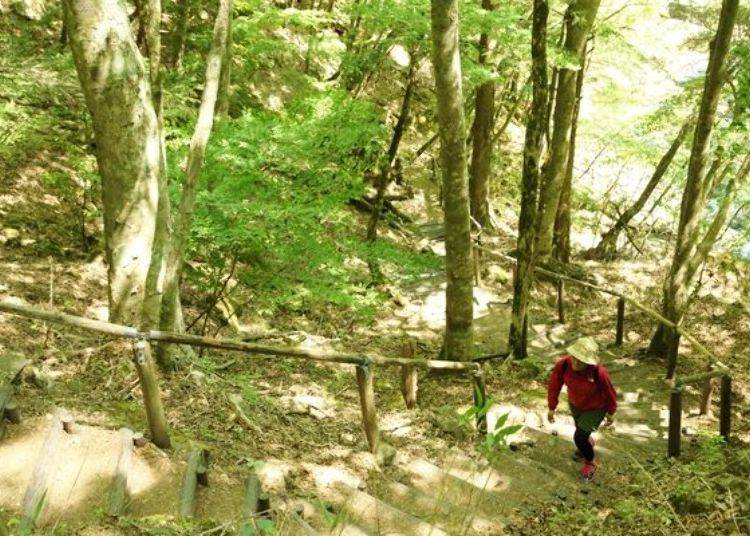 ▲On the other hand, I am huffing and puffing.
Finally we reached Hikari no Taki waterfall, here where we can get a view of the waterfall from the side.This waterfall has a 15m drop and is a chokubaku type waterfall, which is where the water falls almost vertically along the rock wall.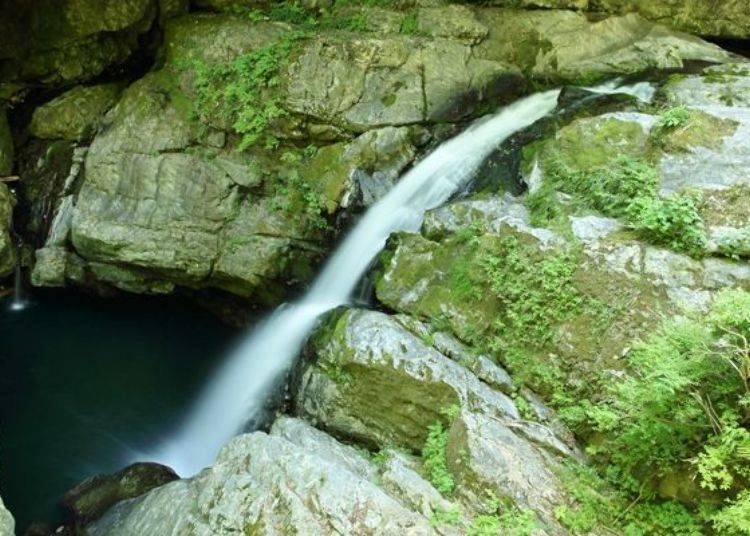 ▲Hikari no Taki waterfall. Very beautiful when the sunlight reflects off of the water
The Second Half of the Trail Starts Here
After Hikari no Taki the path surrounded by trees continue.
About 30 minutes from Aiden Bridge, you will see the sign Mt. Kanon Mine and this is where the path splits. This is the entrance to for climbing Mt. Kanon.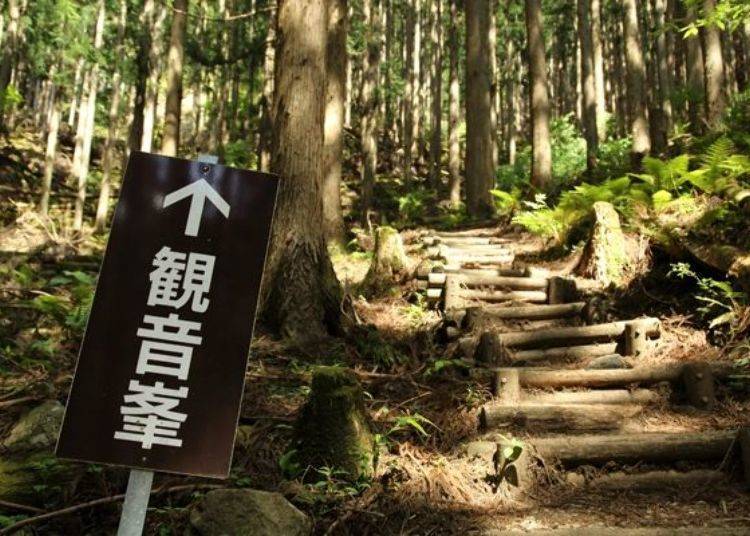 If you have the energy and time we recommend going to Mt. Kanon Mine.It takes about 90 minutes one way to the observatory on the peak at an altitude of 1,285m. At the observatory there is a great panoramic view of the Daireiho Mountain range with Mt. Inamuragatake, Mt. Dainich, Mt. Sanjogatake and Mt. Misen.

Along the way there is a panel with information about the deep ties between Nancho (Southern Court) and Tenkawa Village, which is bound to make the walk worth the while for history enthusiasts.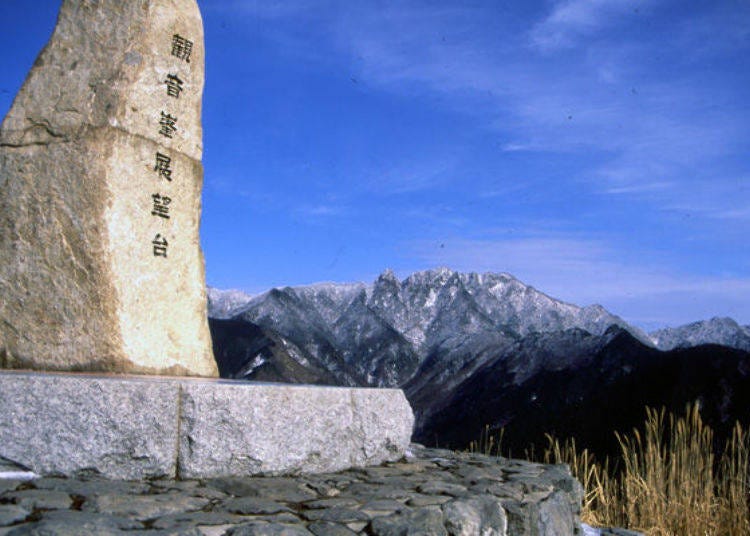 ▲Mt. Kanon Mine Observatory (Photo provided by Tenkawa Village)
This time we didn't go to Mt. Kanon Mine and headed straight along the path. Ahead of the suspension bridge is a small hut; here we can take a break and go to the restroom.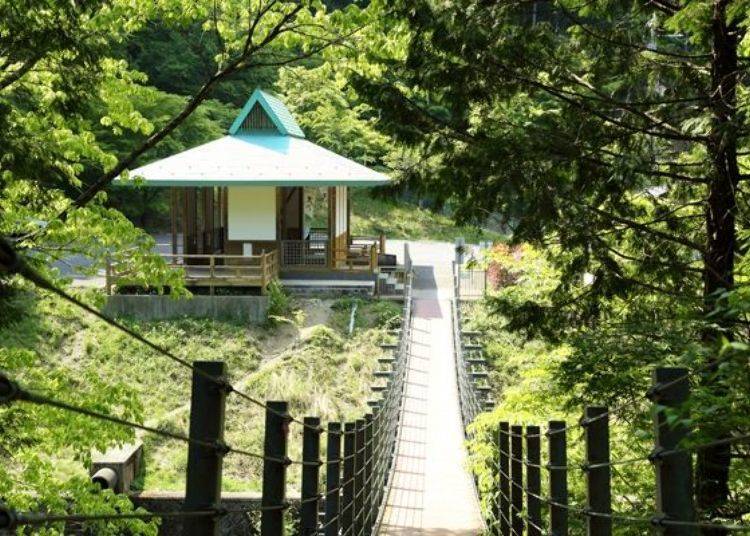 From here we will enter the roadway so be careful for any vehicles. After a while you will come across another sign with Mitarai Yuhodo, and go back into the path.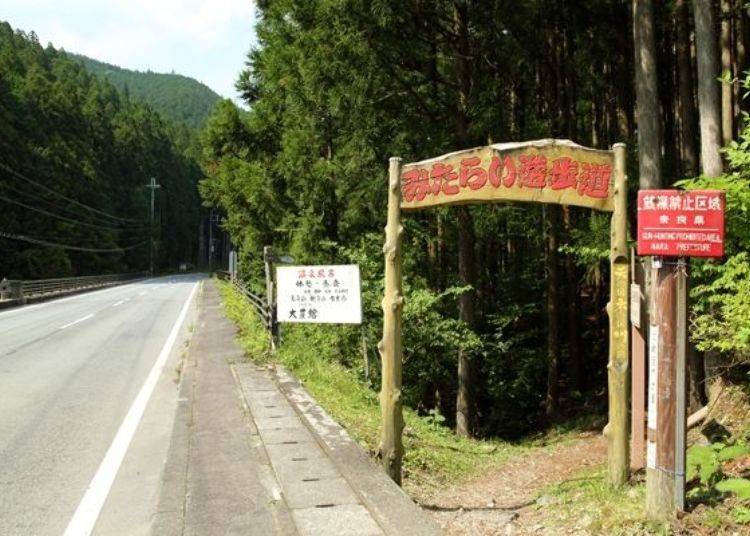 From here we will enter a dense forest. However the path is flat and easy to navigate. Along the way we found a red torii shrine gate to the far right.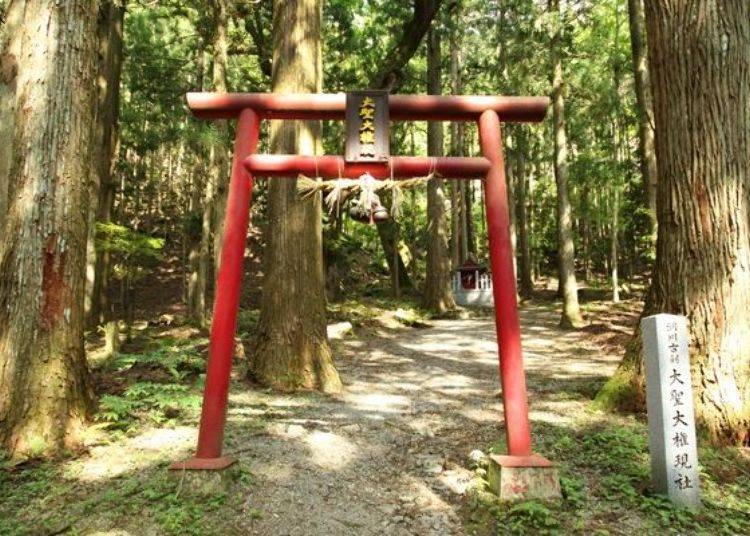 Past the torii there is a huge Japanese horse-chestnut tree from the Edo period and a small red shrine that is dedicated to Daijo-Daigongen. This place is considered the kimon (demon's gate that brings bad luck) so they built the shrine to protect the village.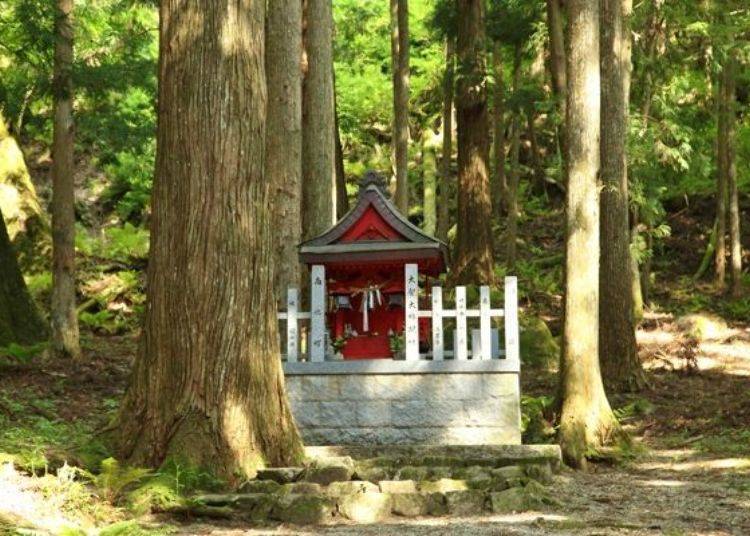 5 minutes from here we can finally see our destination Dorokawa Onsen Center. It took about 50 minutes from Mt. Kanon Mine entrance. The hike was comfortable with a flat path.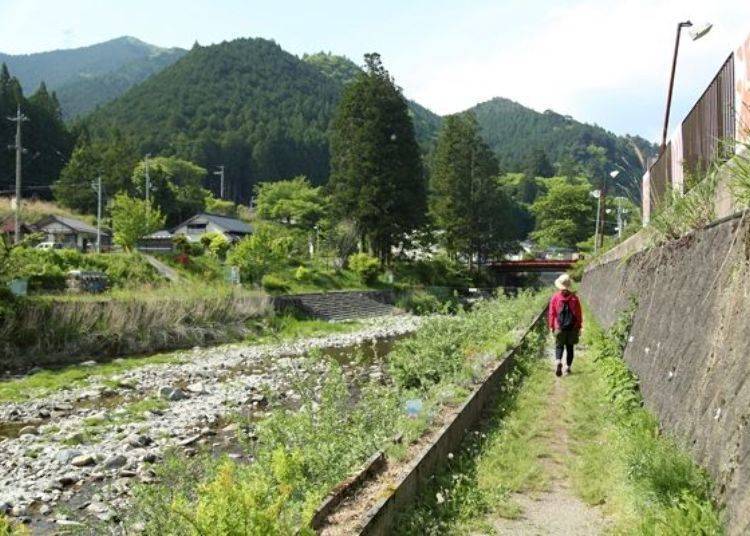 ▲In early July you can see fireflies in this area
And we are here!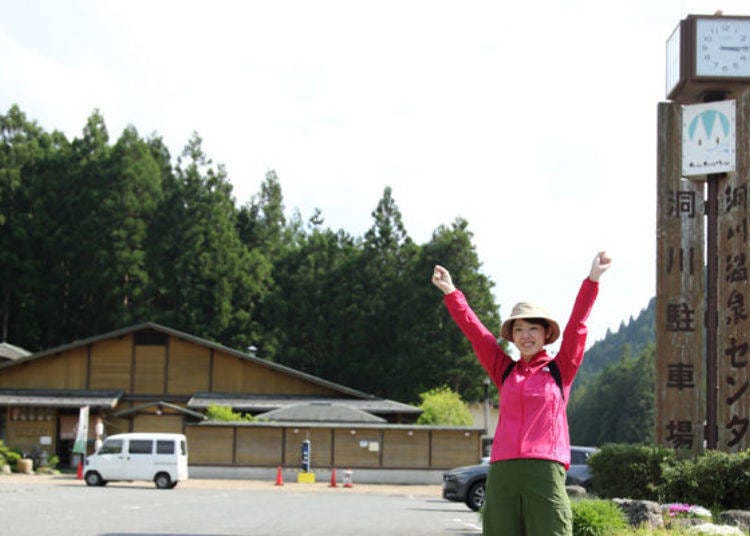 In our case, we took our time taking pictures and I don't exercise much so it took about 3 hours. As a whole, the course doesn't have too many ups or downs and was very comfortable walking through the lush forest.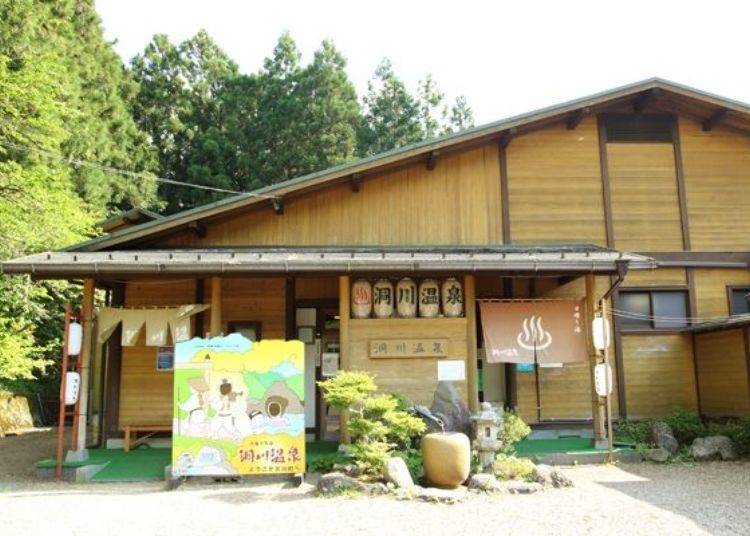 It's so wonderful that the finish line is a bathhouse at Dorogawa Onsen!

Dorogawa Onsen is a hot springs village located at an altitude of 820m and relieves the fatigue for people who climbed Mt. Omine. We decided to enter the bathhouse to wash away our fatigue.
▲Don't forget to take a picture at the board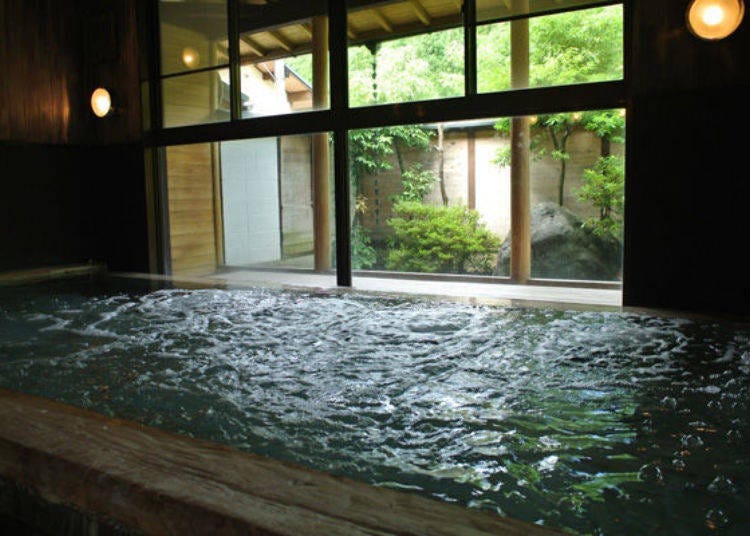 ▲There is an indoor and outdoor bath. Our skin became very smooth after the bath (Photo provided by Tenkawa Village)
The water quality at Dorogawa Onsen is mildly alkaline simple spring. It is said to help treat neuralgia, muscle pain, arthralgia, motor paralysis, chronic gastrointestinal disease and poor circulation. A perfect bath to take after a hike, and I didn't have any sour muscles the next day!
洞川温泉センター

Address

232 Dorogawa Tenkawa Mua, Yoshino-gun, Narak Prefecture

Phone Number

0747-64-0800

Hours: 11:00 AM – 8:00 PM
Closed: Wednesday
Price: 600 yen adults, 200 yen children (3 years old to elementary school students) (tax included)
Mitarai Valley hiking course was fun and enjoyable for even a person like me who doesn't exercise much. With the walk through nature, I was able to forget about my daily stress and freshen up. Tenkawa Village is a summer retreat where the temperature is 4 degrees lower than Nara City. Come experience a nice hike to cool off.
みたらい渓谷

Address

Tenkawa Mura, Yoshino-gun, Nara Prefecture

Phone: 0747-63-0999 (Tenkawa Village Information Center)
Text by:EditZ
*This information is from the time of this article's publication.
*Prices and options mentioned are subject to change.
*Unless stated otherwise, all prices include tax.
Recommended places for first-time visitors to Kansai