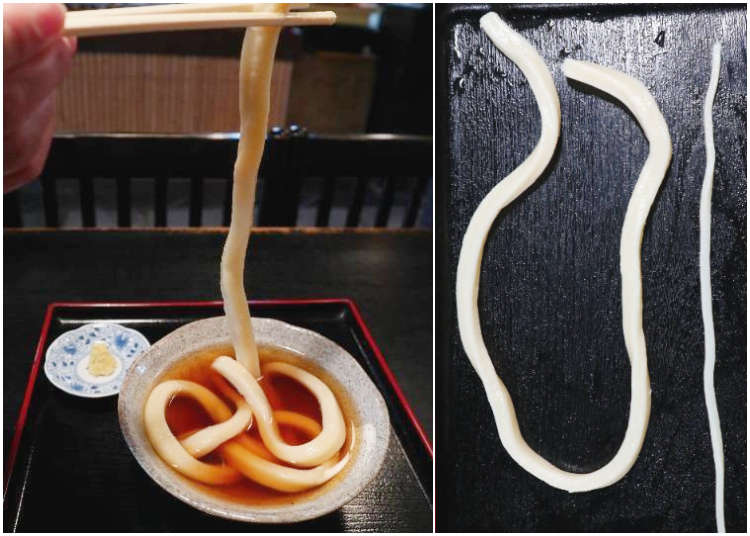 Typical thin udon noodles are made from wheat flour and usually eaten with tasty and fragrant broth. In Kyoto, however, there's something called "Ippon Udon" that's completely different from the udon you're probably used to seeing.

Its exceptionally long and thick noodles have certainly caused many curious heads to turn. Let's visit the shop where the Ippon Udon is said to have come from and see if the dish is as delicious as it is novel.
Tawaraya: The originator of Ippon Udon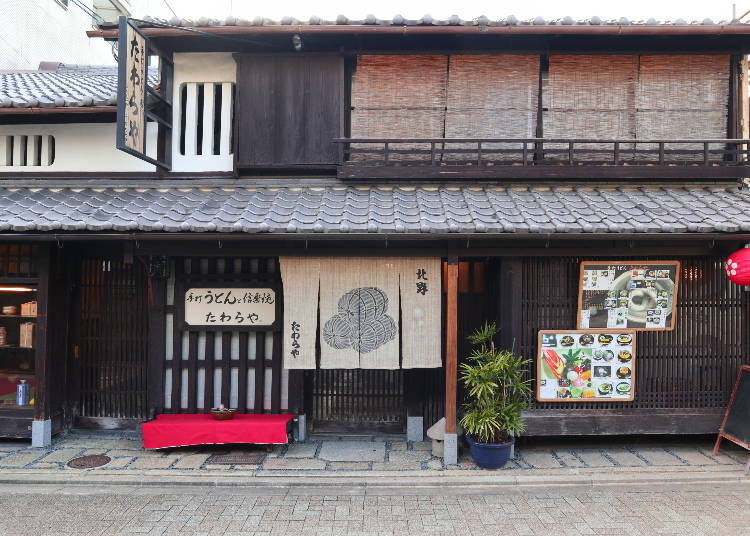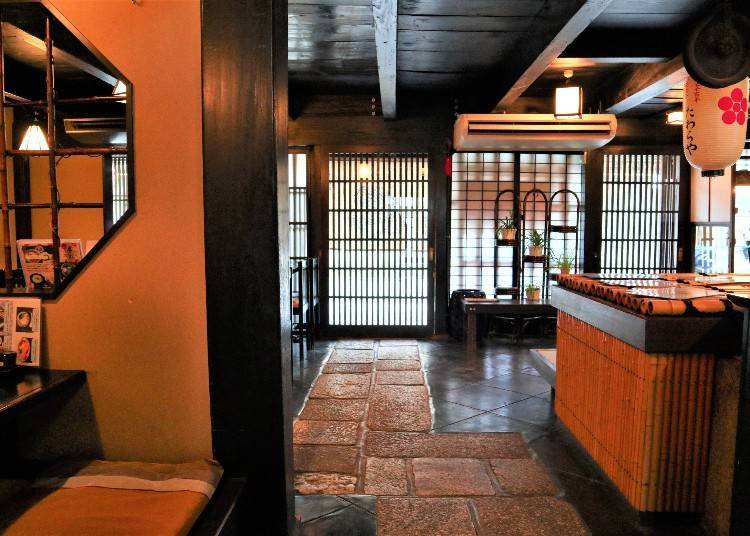 Immediately south of Kitano Tenmangu Mae bus stop is an old-style building that looks like it just materialized straight out of a history book one day. This townhouse that was built 400 years ago is where you can find Tawaraya, a restaurant selling handmade udon and Shigaraki stoneware pottery.

This traditional shop was established during the Edo era's Kyōhō period (between 1716 to 1736 C.E.), and the Ippon Udon noodles they created were already famous back then.

Shop staff would put these long and thick noodles into multilayered boxes, load them onto a shoulder carrying pole, then hawk them throughout the town. Ippon Udon even make their way into Monzeki temples (shrines where members of the royal family served as priests) such as Ninna Temple, and some of the raden-style (shell-inlaid lacquer) boxes used to contain the noodles back then are still being displayed in the shop.

After World War II, when udon ingredients became difficult to procure, the shop closed its doors for a time but revived itself in 1996. Today, it is one of the most popular shops among pilgrims and visitors of Kitano Tenman Shrine.
Ippon Udon: A perfectly harmonious marriage of springy noodles and aromatic broth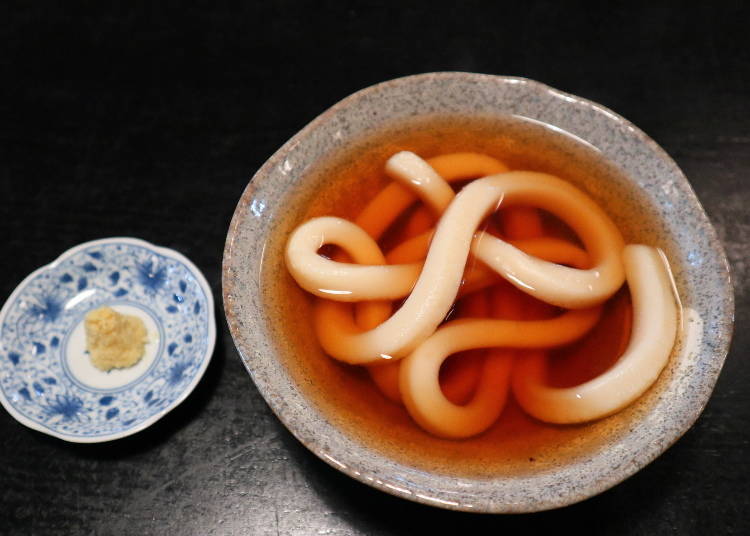 When the 15th shop owner of Tawaraya reopened its doors, he decided to revive one of their old-time favorites as well, and this turned out to be the Ippon Udon.

The phrase literally means "single strand udon" and the noodles being served in this dish, called "Meibutsu Tawaraya Udon (700 yen, tax included)" are so thick and long, you can be sure they've been carefully handmade with the hope that eaters will enjoy a long and fulfilling life, as depicted by the equally long and fulfilling stand of noodle!

Each portion comes with two hearty strands of ultra-thick udon that are one centimeter (about 0.4 inches) wide throughout their long length. The impressive girth has certainly caused many a customer to let out an exclamation of admiration despite themselves.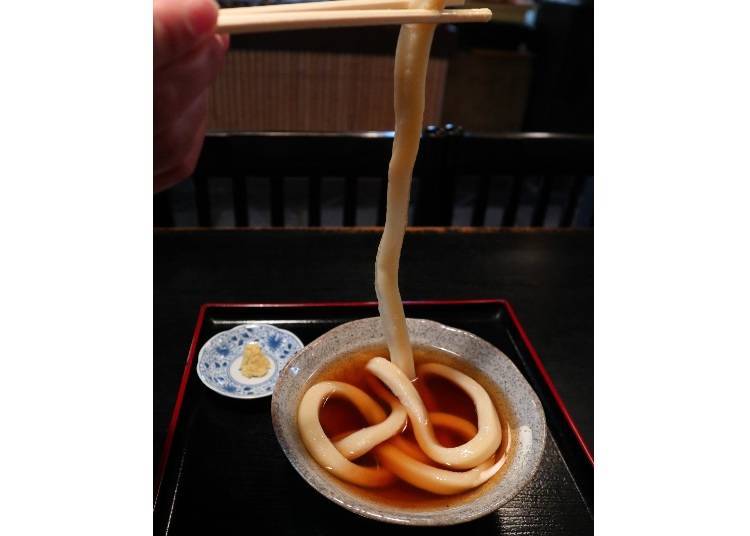 Lift up a thick strand of Ippon Udon from its fragrant broth, bite in, and be pleasantly surprised by the springy texture. The more you chew, the more the aromatic flavor of the wheat spreads around your palate, combining with the fragrant broth to form a perfectly harmonious blend.

Eat it with some of the grated ginger that comes in a side dish to enhance the exquisite taste even further. The recommendation is to mix the ginger into the bowl little by little to enjoy the gradually and subtly changing taste.
Comparing the Ippon Udon with regular udon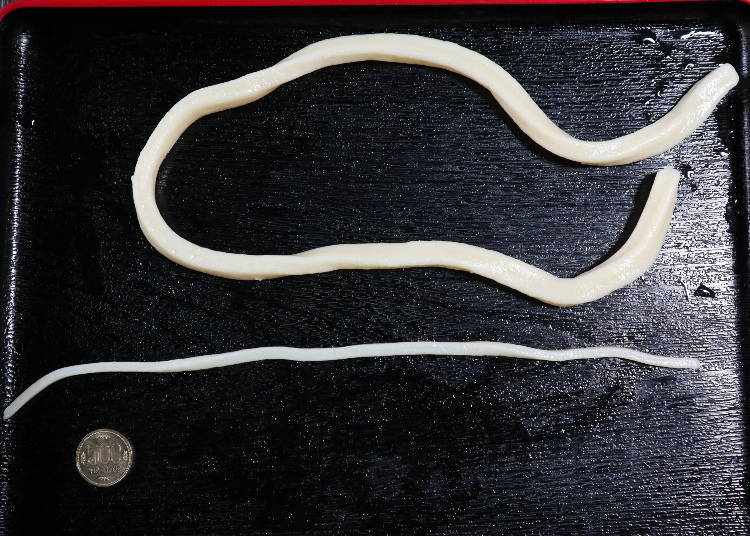 The regular udon in Kyoto restaurants are about five to six millimeters in width (about 0.2 inches) and have a soft texture.

In comparison, the Ippon Udon is thick and chewy, almost like a sticky rice dumpling snack!

Apparently, these ultra-thick noodles were carefully boiled for over an hour to achieve the springy texture they're so well-known for.

To ensure that the noodles don't turn mushy despite the long time spent in water, the chef has to carefully adjust the heat throughout the boiling session. This also has the added benefit of giving it a smooth appearance.

After asking the shop staff for permission to do a comparison, we find out to our further surprise that while regular noodles are usually about 30 cm long (about 12 inches), Ippon Udon is actually double that length - a whopping 75 centimeters (about 30 inches) or longer!

More interestingly, the original Ippon Udon was apparently supposed to be double that length. Because its tremendous length made it slightly difficult to eat, it got cut down into half to its current iteration. That's why there are two strands of noodles in the bowl being served even though Ippon Udon means "single strand noodle".
The shop's Kyoto udon and sweets are worth trying too
Although the restaurant is almost synonymous with its Ippon Udon dish, which is undoubtedly its bestseller as well, they also do sell other Japanese food like regular Kyoto udon and soba (buckwheat noodles).

Another recommendation from us is the "Fragrant Plum Udon (890 yen, tax included)", which is designed after Kitano Tenman Shrine, a famous scenic spot for plum flower viewing.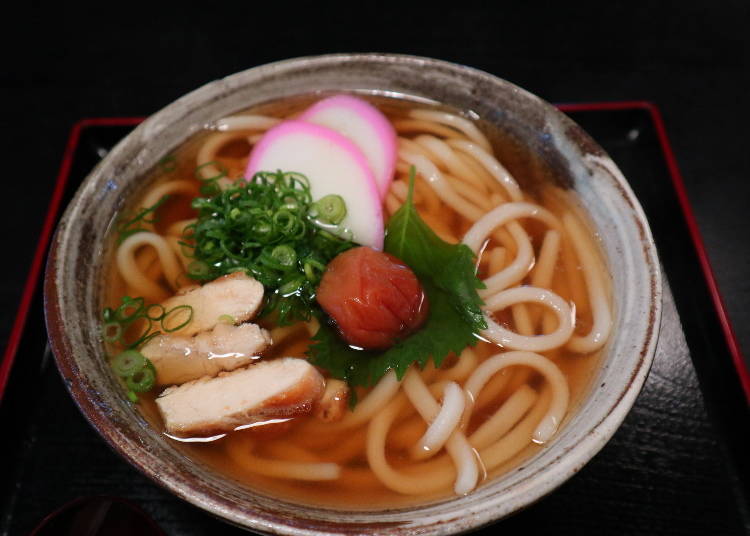 The Kyoto-style soft udon of this dish is topped with pickled plum that has a mellow, sourish taste and green beefsteak leaves that leave a refreshing aftertaste in your mouth. Slices of chicken meat cooked to golden brown perfection is throw in as well to stimulate the appetite with their tasty umami. As you keep eating, the plum fragrance eventually seeps into the broth, altering the taste slightly while still preserving its deliciousness.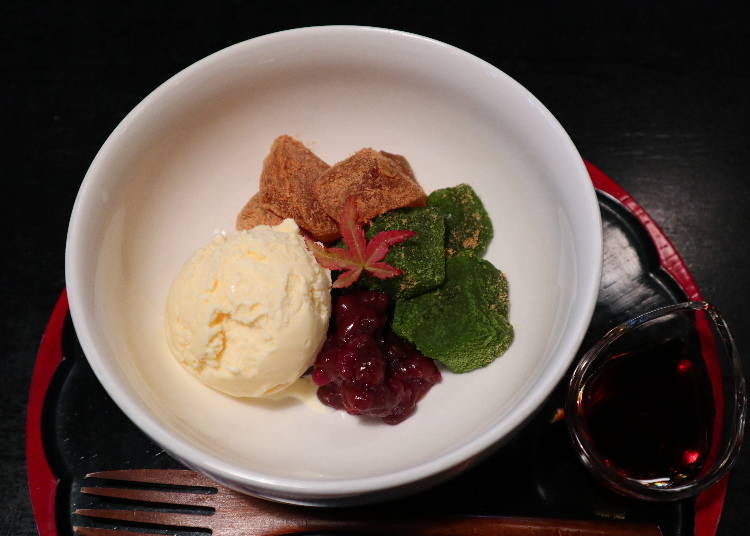 The shop's Japanese dessert menu is something else to look out for, the most popular of which being the "Warabimochi (630 yen, tax included). This jelly-like starch confectionery is so soft and smooth, it simply melts in your mouth. Pour some brown sugar syrup onto the jelly cubes to enhance its taste and they'll all be gone before you even realize it!
Ippon Udon is only available in Tawaraya
Currently, the only place serving Ippon Udon in Kyoto is its origin shop, Tawaraya, so this is the only place where you can be awed by the dish's impressive presentation and fantastic taste.

When you drop by, don't forget to admire the restaurant's traditional townhouse building and the rows of Shigaraki stoneware pottery on display in the shop too. Not only does it enhance your cultural knowledge of Kyoto, it makes the time spent waiting for the food to arrive seem shorter as well!

Visiting a traditional building serving a traditional local dish is sure to leave great memories behind for your Kyoto trip that can be looked back on fondly in the future.
たわらや

Address

918, Bakurocho, Kyoto Shi Kamigyo Ku, Kyoto Fu, 〒602-8386

Phone Number

075-463-4974

Hours: 11:00 a.m. – 4:00 p.m.
Closed: Not fixed
Text by: Word KK. English translation by: Huimin Pan.
Love noodles? Sample some of these other recommended Kyoto udon and soba restaurants
Address

It is ru 69-3, Itsutsujicho in the authority of House of Kamigyo-ku, Kyoto-shi, Kyoto wisdom light five crossroads, 602-0000
View Map

Nearest Station

Kyoto Station (JR Tokaido Line / JR Biwako Line / JR Tokaido Shinkansen / JR Kyoto Line / JR Sagano Line / JR San-in Line / JR Nara Line / Karasuma Line / Kintetsu-kyoto Line)
20 minutes by car


Phone Number

075-431-7567
*This information is from the time of this article's publication.
*Prices and options mentioned are subject to change.
*Unless stated otherwise, all prices include tax.
Limited time offer: 10% discount coupons available now!