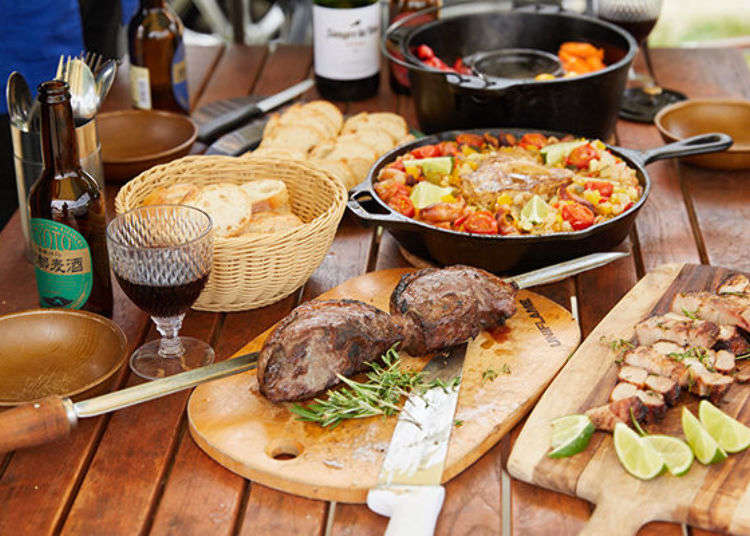 Kyoto glamping spot GRAX Rurikei is located in Rurikei Onsen, in the central part of Kyoto Prefecture.

About an hour's drive from the Kyoto City center, it is acclaimed for providing a relaxing and luxurious Kyoto glamping experience. We visited it in order to write this report about it.
Luxurious Kyoto camping in harmony with nature!
Ruri Gorge is a 4 km-long canyon into which a tributary of the Oigawa River, which flows towards the city of Kyoto, and Sonobe River flow and is famous nationally for its rich natural beauty; plus, it is also a designated prefectural park.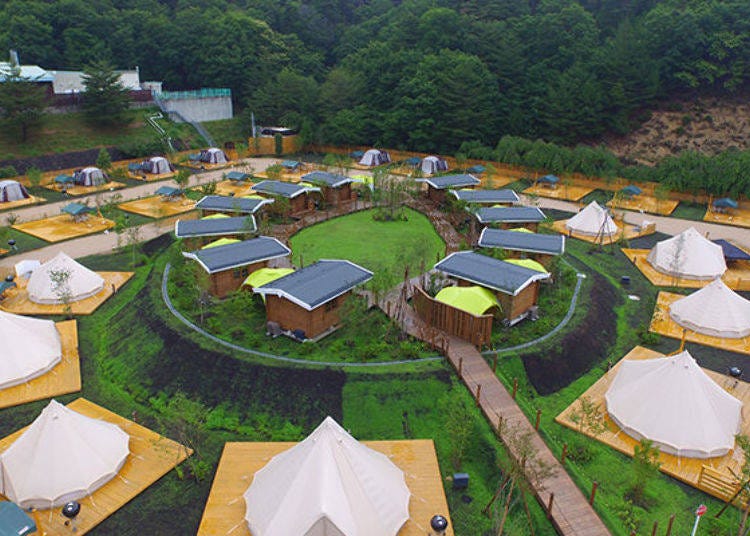 GRAX Kyoto is located about a one-hour drive from Kyoto City via National Route 9 and the Kyoto Jukan Expressway. GRAX, which opened in 2016, is located within the grounds of Rurikei Onsen.

Being one of the most popular Kyoto glamping facilities - and in the Kansai area as well - it is usually fully booked with reservations on Saturdays, Sundays, holidays, and during the summer holidays.

The spacious grounds have 46 glamping sites ranging from glamping tents to bungalows to trailer houses.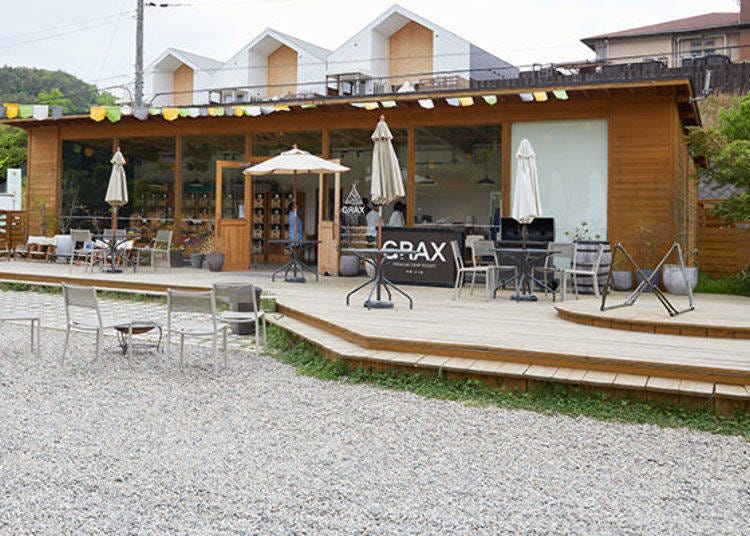 We arrived at the famous Kyoto glamping site a little after 2:00 p.m. There were already several cars in the parking area as check-in is from 2:00 p.m.

After parking the car we checked in at the Center House, where we received a brief explanation of how the facilities can be used. We next picked up tableware, cooking utensils, and food supplies.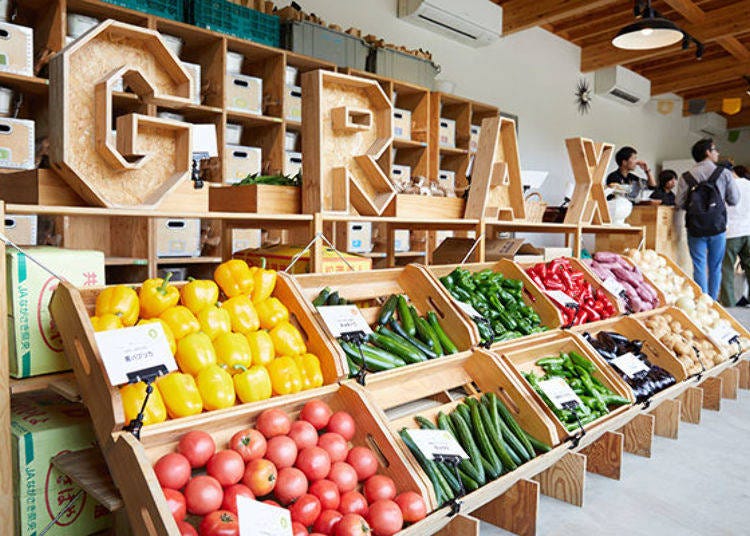 ▲ Boxes of tomatoes, cucumbers, peppers, zucchini, and other fresh vegetables such as new onions and mushrooms.
The Center House has a Vegetable Marche where various vegetables including local fresh vegetables are displayed. You can help yourself to as many as of these vegetables as you would like! One of the pleasures here is in using them in any way you like, be it by grilling or in salads!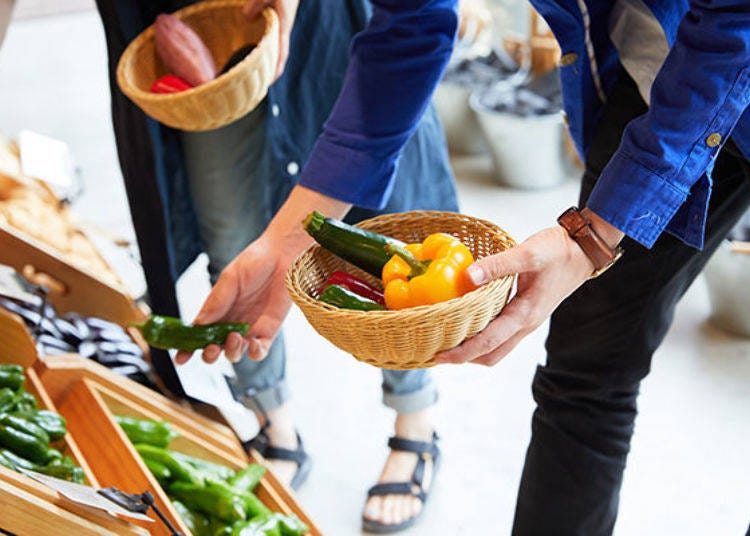 When you check in, you receive at that time a recipe for the dinner menu and a manual. As these explain the vegetables you will need, you can pick them out as you read the recipe.

Of course, vegetables that are not in the recipe can also be barbecued, so feel free to select your favorite vegetables, put them in a basket and carry them to the awesome Kyoto glamping campsite.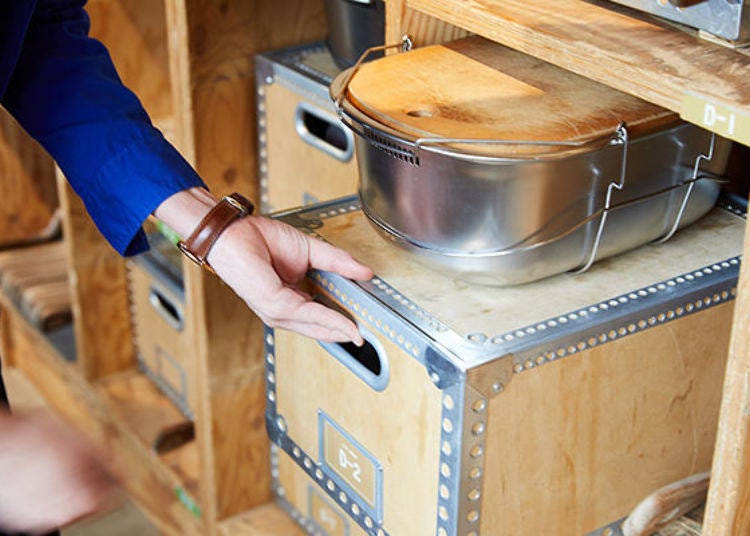 ▲ Everything you need is provided here so you don't need to bring anything. It is all conveniently contained in one of these boxes!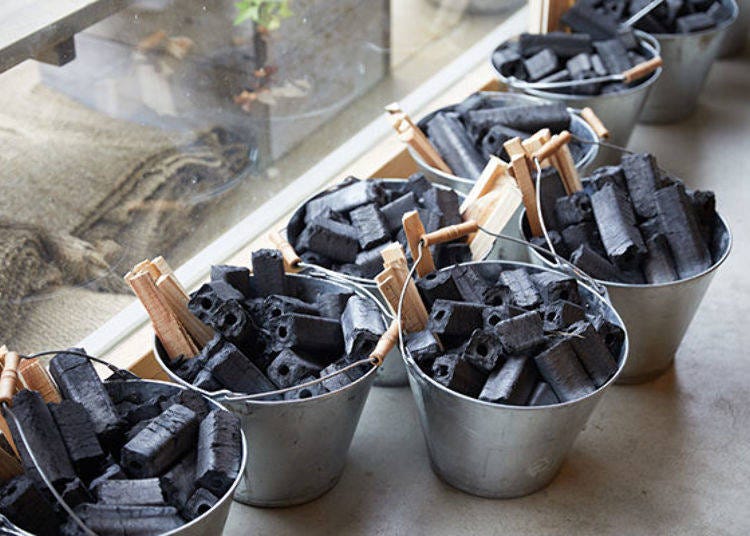 Charcoal for the barbecue grills is also available in easy-to-carry buckets. There is a parking space next to each camp site, so you can load these items in your car and take them along with your other luggage to your camp site. (*Cars are not allowed into the Lumiere cabin site) Please note that dinner supplies and cooking utensils are available until 5:30 p.m.
Relax in luxurious tents with comfy beds and sofas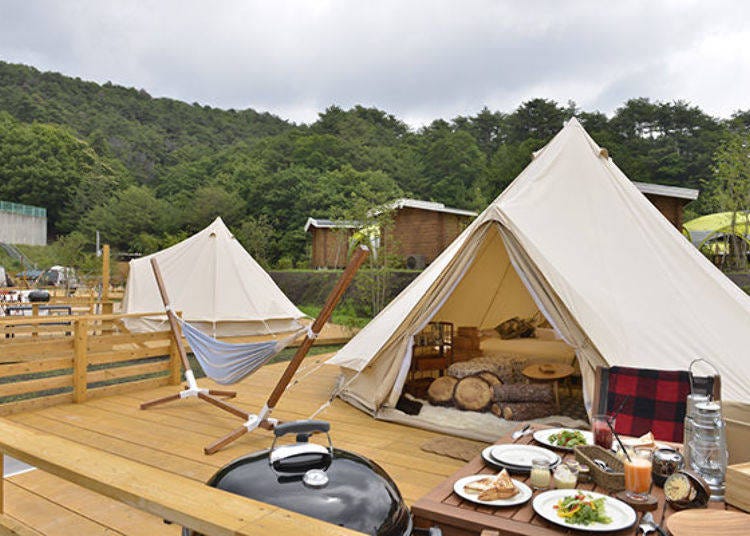 After unloading the car we went into the tent to relax a bit.

The GRAX Kyoto campsite varies in facilities and size depending on the number of people using them. For our report, we used the GLAMPING TENT HOBBIES area. This type is for 4 people and has 2 semi-double beds and hammock.
The tent feels more spacious than it appears from the entrance because of the high ceiling. The interior of the tent, made of cotton, is bright because it allows natural light to pass through. The sofa and table on the soft carpet make the interior very comfortable. They are perfect for lying about and relaxing.

The tent is also outfitted with electricity so appliances, such as refrigerators, fans, and heaters, can be used. Taking advantage of that, we heated up a pot of water and made coffee.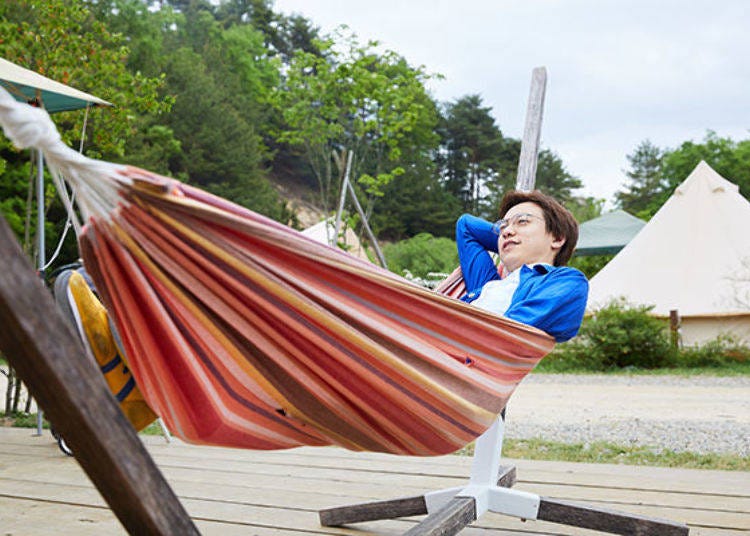 ▲ Enjoying a breeze from the forest in the hammock. Enjoy reading during the day and gazing at stars in the night
In addition to the type of tent in which we stayed there are in total 7 other types of tents and cottages. Thus, you can select a type that is perfect for the number of people who will be in your group.
It contains 4 single beds, a hammock, and inside there is also a kids' tent. Able to accommodate up to 6 people, it is perfect for families.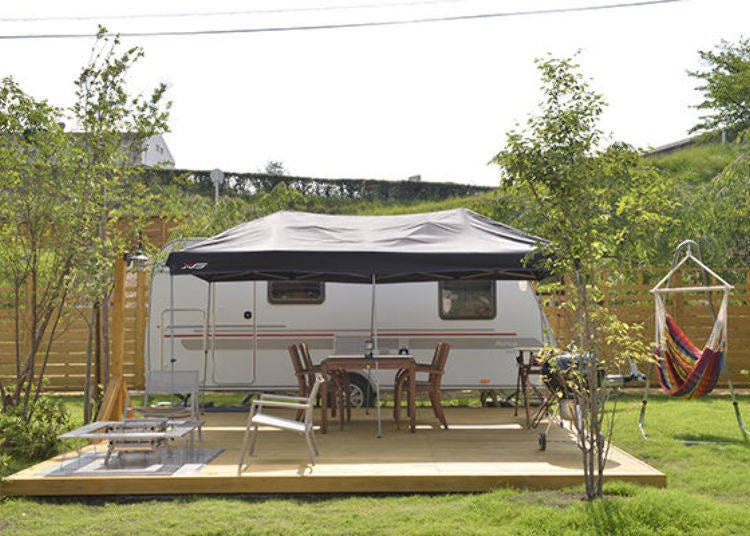 As its same suggests, the TRAILER HOUSE provides lodging in a camping car. Inside there is one double bed and a bunk bed. It can accommodate up to 4 people.
Time to fire up the barbecue!
We relaxed in the tent until about 4:00 p.m. Then we decided to begin preparing dinner!
▲ GRAX SPECIAL BBQ PLAN dinner ingredients *portions are for 4 people (for GLAMPING TENT HOBBIES, the fee per person, excluding tax, ranges from 9,700 yen to 20,200 yen for two meals per tent. Drinks are separate)
For our stay we selected the GRAX SPECIAL BBQ PLAN, which has a slightly more luxurious menu than the standard BBQ. The main course is rump steak Churrasco. In addition, this course also included other delightful dishes such as Spicy Jambalaya, Boneless Pork Rib Steak, and Marche vegetables Bagna Cauda prepared in a Dutch oven.

The Center House, mentioned earlier, also offers a selection of delicious local beer (from 650 yen including tax) as well as red and white wines (from 1,500 yen including tax) to go with your meals.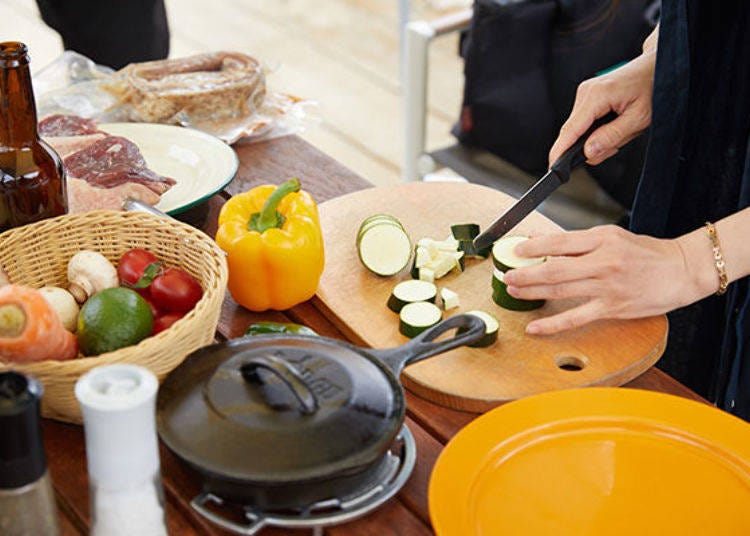 ▲ Cutting vegetables for jambalaya and bagna cauda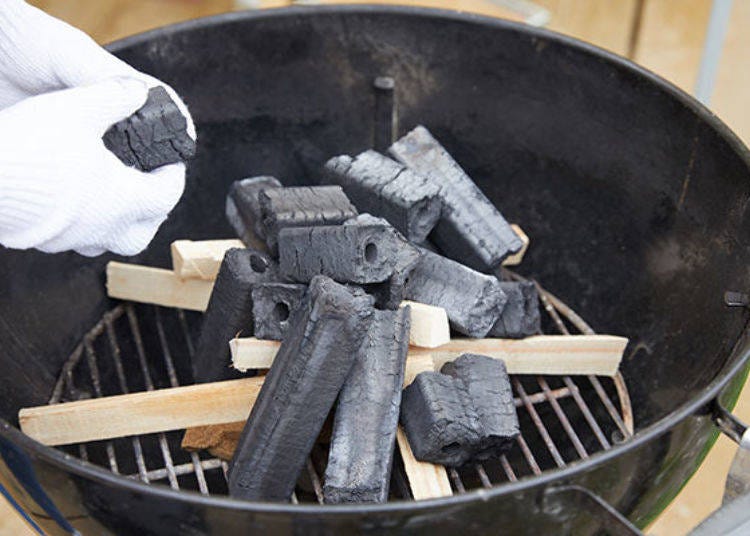 Firing up the barbecue is super easy. Place the kindling on top of the firelighter, then on top of that stack the charcoal in a pyramid.

Once you light the firelighter, there is nothing left to do except wait for the charcoal to catch fire. After about 20 minutes the charcoal will begin to turn white and at that point, it is time to start preparing the meat for grilling.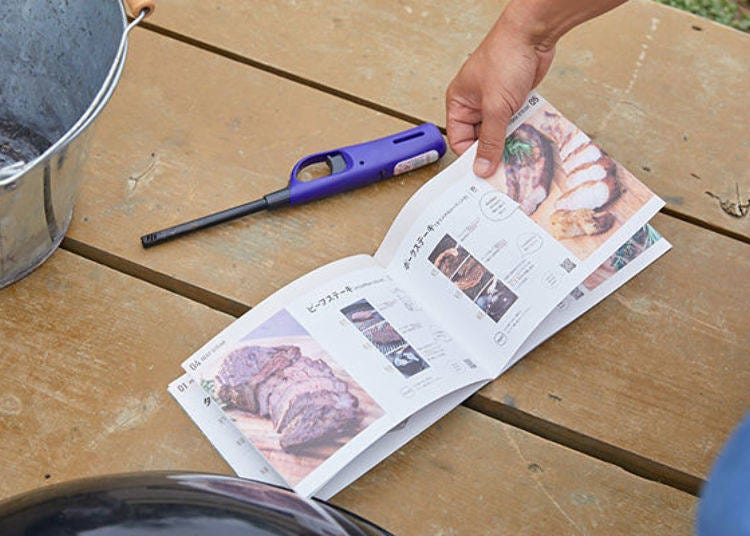 This is easy to do by just following the instructions in the recipe and manual you received when you checked in.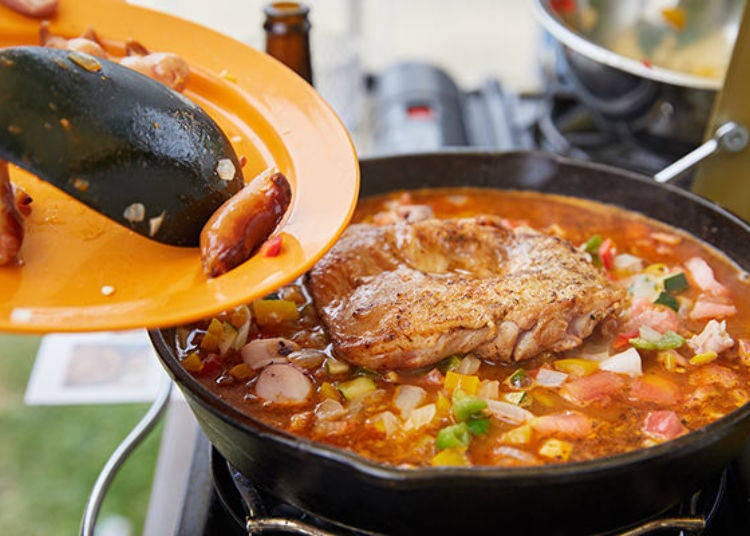 This is the jambalaya loaded with vegetables. It is loaded with sauteed chicken and sausages! Preparations took about 30 minutes to complete while following the instructions in the recipe book.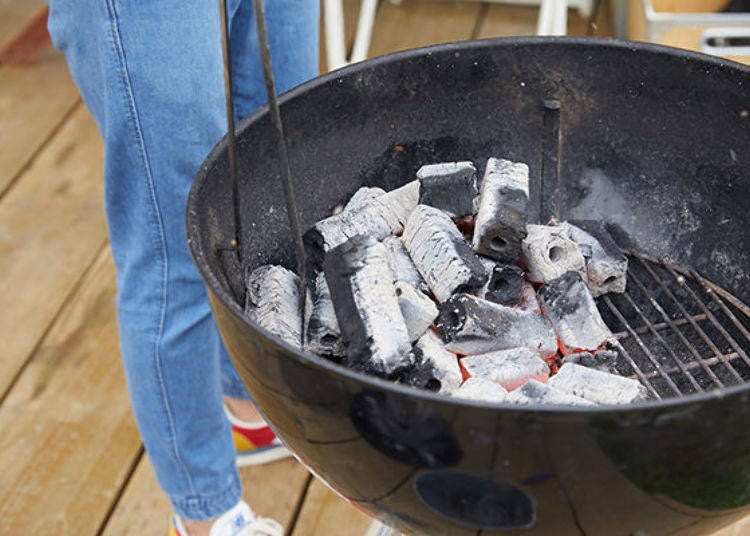 During this time the charcoal became perfect for grilling. By moving the charcoal to one side of the grill, you can then have high, medium, or low heat zones for grilling the meat.
We began by first grilling the boneless pork rib steak. The meat is clean and safe because it comes in a vacuum pack. It also comes pre-seasoned, so you can grill it as is. This sort of attention to detail makes easy work of it.

After first grilling both sides over the high heat, then move it to the area where the heat is lower, cover the grill and let it cook for another 20 minutes. Once 20 minutes have passed, lift the lid and…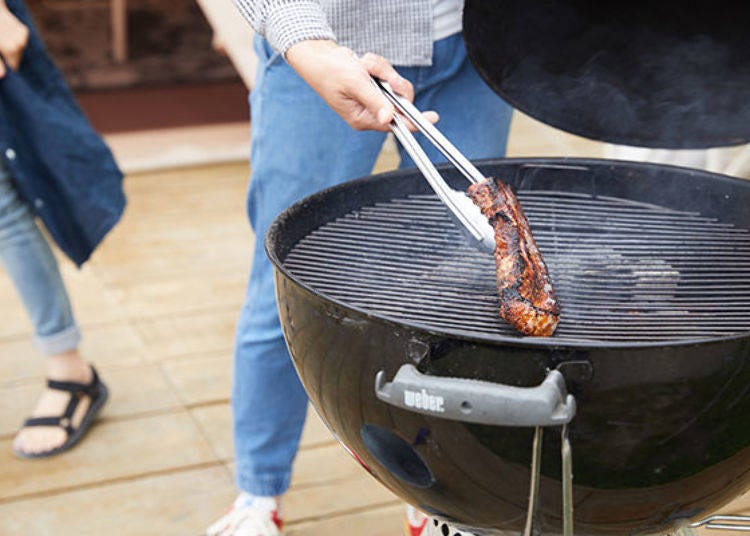 Savor the aroma and sight of the cooked meat!!

It looked so good our cameraman exclaimed how delicious it looked! After taking it off the grill we sliced it up.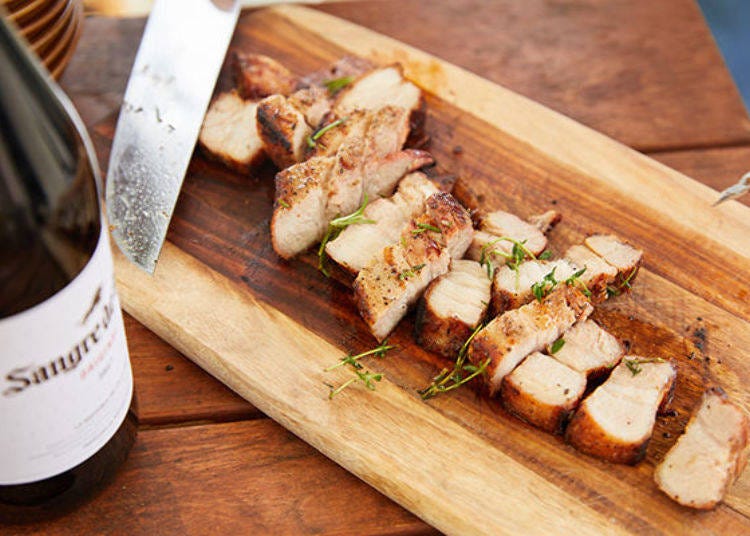 After seasoning the slices with thyme, the boneless pork rib steak was ready to eat!

Just look at how perfectly cooked it is. Looking at the photo you can probably imagine how delicious the aroma must be. As the cook, I sampled a bite just to be sure. And it was as tender, juicy, and full of flavor as I could have imagined. The fatty parts had a nice crispy texture.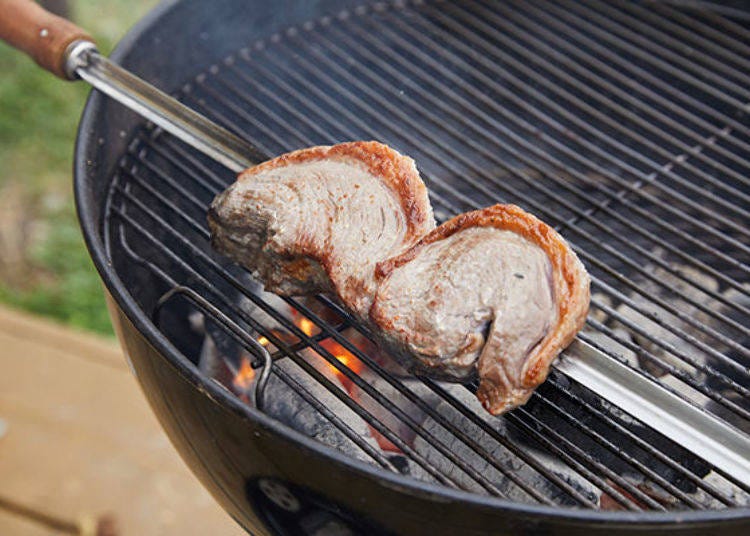 Next it was time to grill the main dish of rump steak Churrasco. Just as with the boneless pork rib steak, I first grilled both sides over the high heat.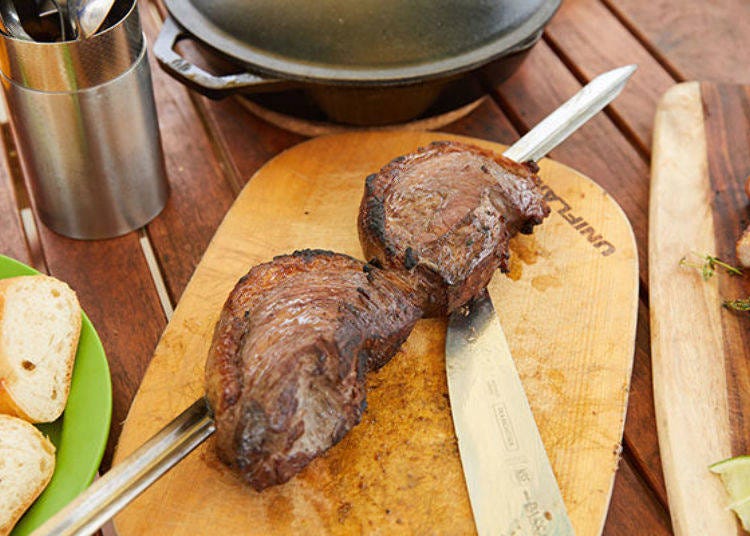 ▲ The portions look big on the carving board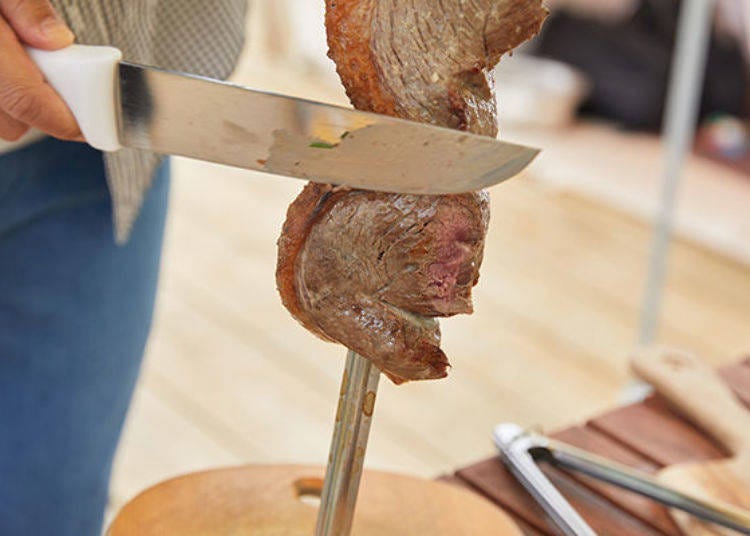 Churrasco is a South American dish where the cooked surfaces of the meat are sliced off with a knife. The meat was so thick that I repeatedly placed it back on the grill to cook it.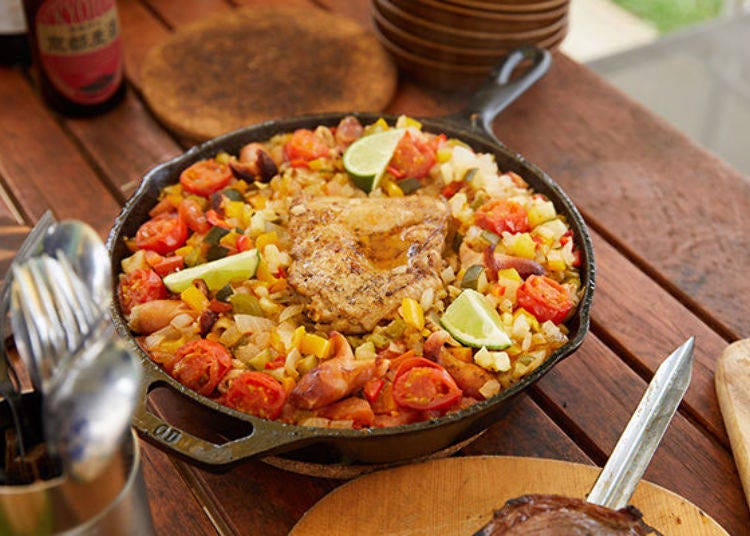 Once the Churrasco had been completed, the jambalaya and bagna cauda also had been prepared. Both dishes were also prepared on the grill using the same coals.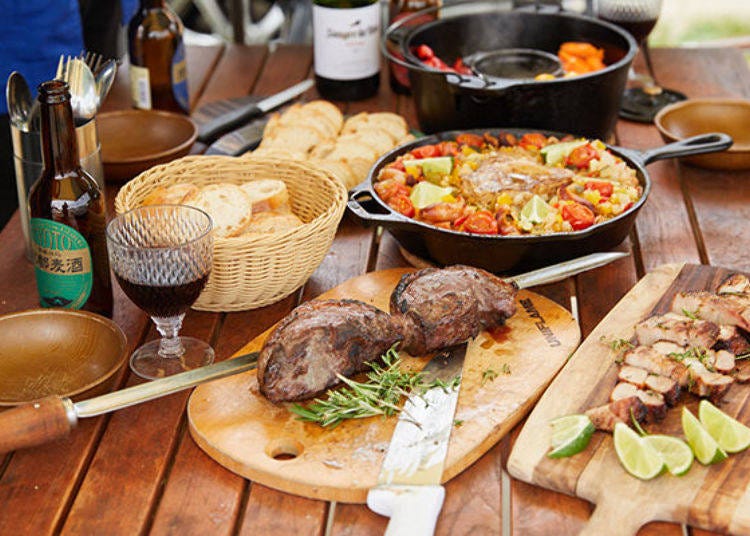 Once everything had been cooked it was placed on the table. It made quite an impressive sight! There was enough food here to satisfy all our gourmand desires.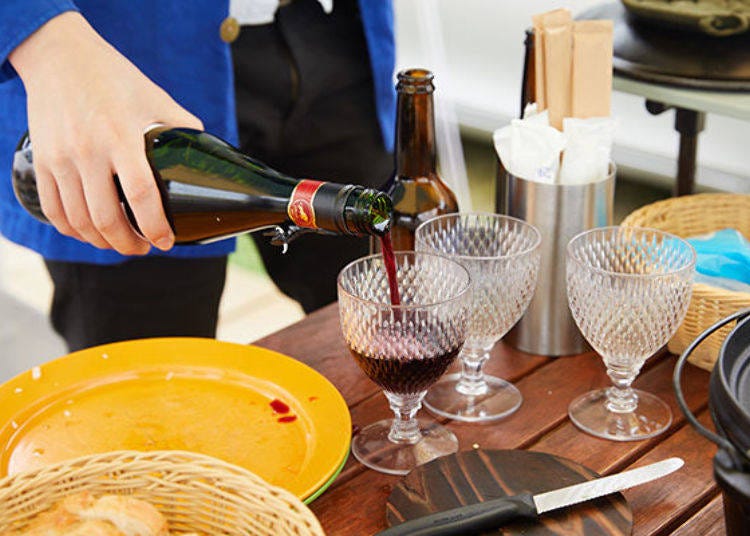 ▲ We selected a red wine to go with the meal. Of course the wine glasses were also provided free of charge.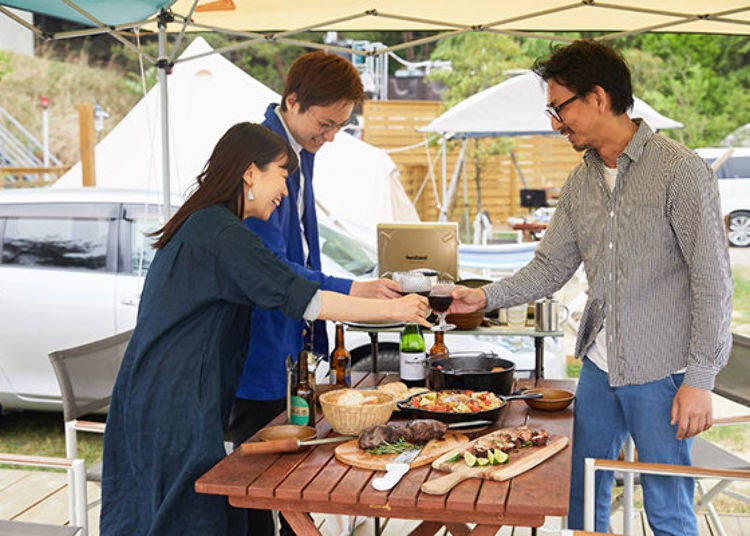 ▲ Bon appetit! Cheers!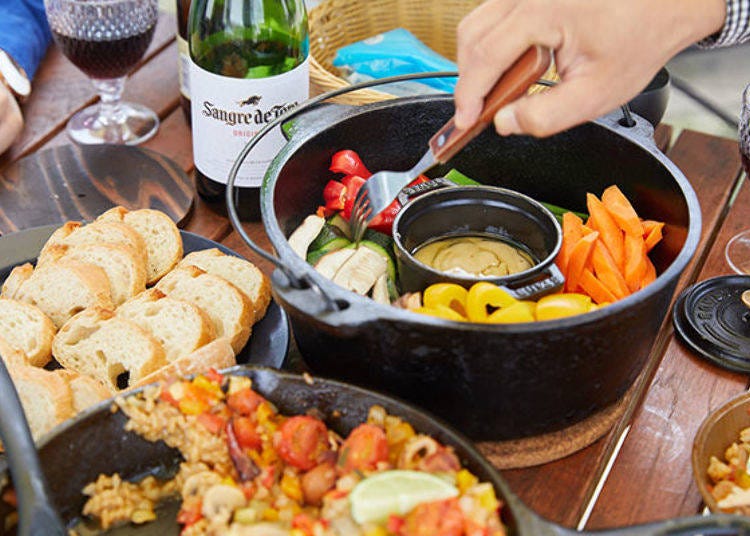 The vegetable bagna cauda is steamed and grilled in a Dutch oven filled with water. Dipped in the sauce that was steamed with them, they tasted really delicious. The sauce spread on slices of French bread was also delicious!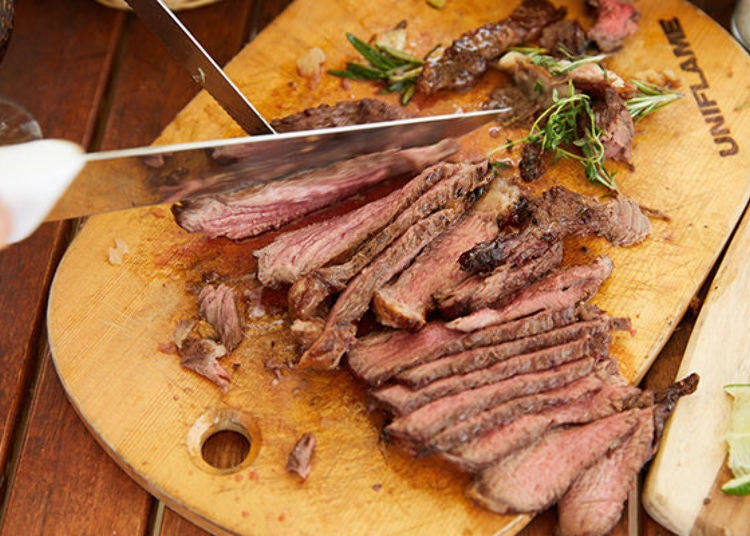 We began by eating slices of the grilled Churrasco and then once much of the meat had been carved, we put the remaining chunks on the grill and closed the lid to cook them, too. Cutting into the meat showed it was cooked to a perfect pink color! The meat simply seasoned with salt and pepper turned out tender and delicious.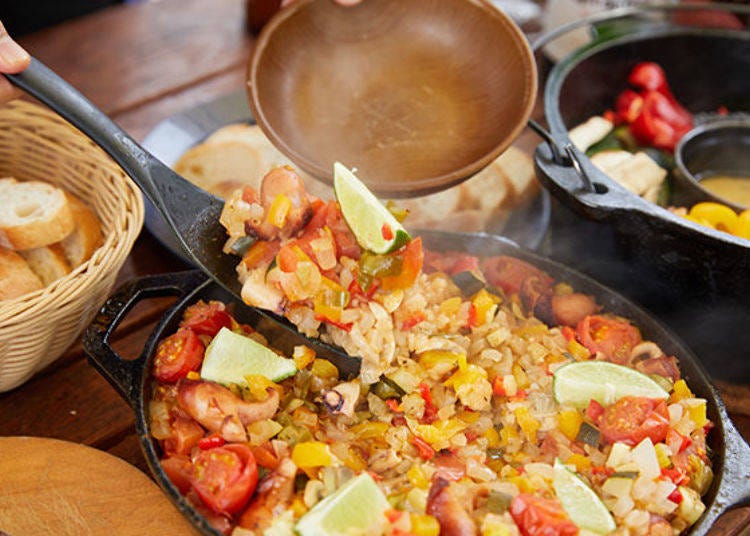 The jambalaya also was very delicious, the vegetables and chicken giving the rice much flavor. The aroma of the spices whetted our appetites. We also enjoyed it by squeezing fresh lime juice over it.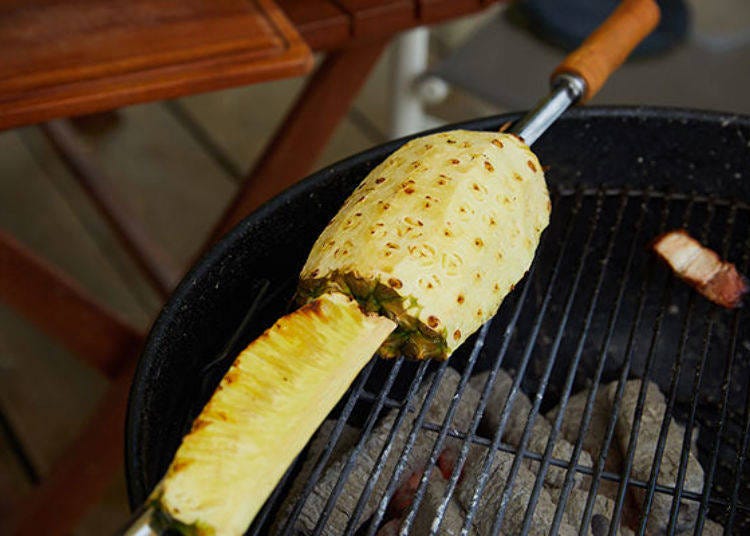 For dessert we had grilled pineapple. Slices of pineapple were skewered and put on the grill to make a simple dessert.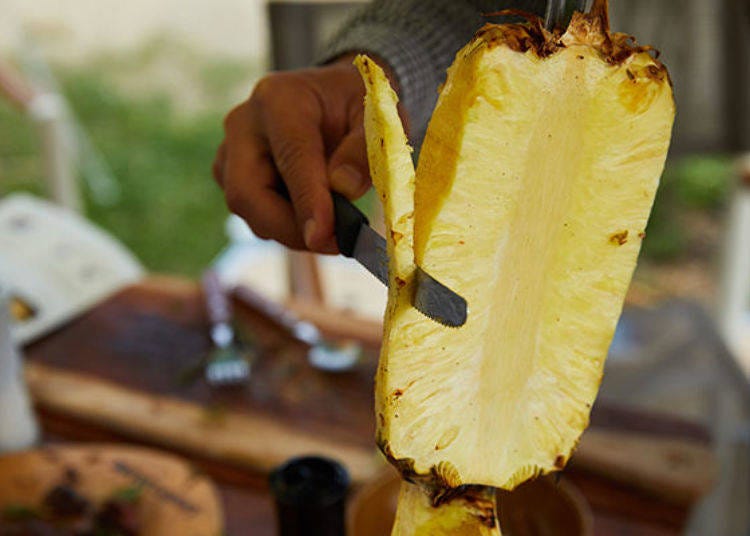 This we grilled over the hot section and after it was done we sliced off pieces in the same way we sliced the Churrasco. I wasn't sure how it would turn out, but after just one bite I was quite satisfied. Grilling the pineapple concentrates its sweet, tart flavor. Pineapple makes the perfect dessert after a meat dinner because it aids digestion.

Everything turned really well and was satisfyingly filling! As we say in Japan after a good meal, "Gochisosama deshita!"

The great thing about this meal is that we did not need to clean up afterwards. All we had to do was put the cooking and eating utensils in bags for that purpose and return them to the Center House! When returning the dinner utensils we picked up new ones to be used for the next day's breakfast at the same time. Just remember that you need to return the dinner items and pick up the breakfast items before 9:30 p.m.
After dinner enjoy a dip in the Rurikei Onsen hot spring and other activities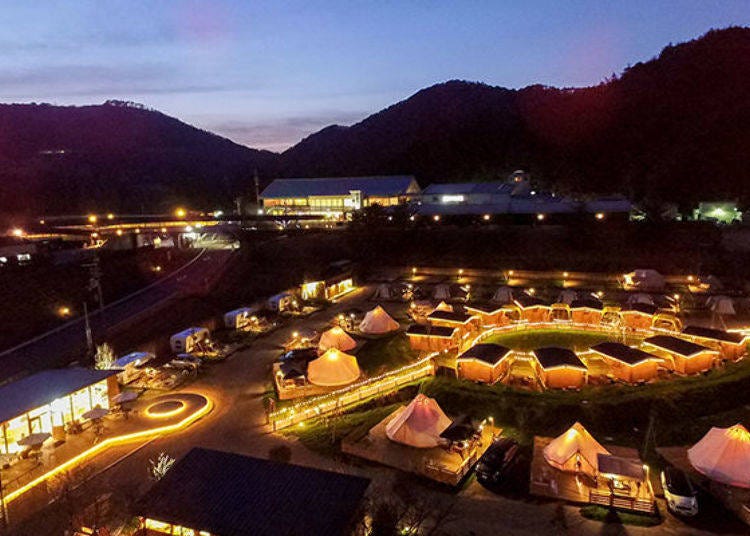 Normally everyone finished dinner between 8 and 9:00 p.m. By then the sun has gone down and the night becomes quiet. When the weather is nice it is a good time to sit outside the tent and enjoy the starry sky, but there are other ways to spend the long night in the Rurikei Onsen grounds.
▲ The large bath is open from 7:00 a.m. to midnight *last entry at 11:30 p.m.
The Rurikei Onsen Main Building is located a few minutes' walk from the camp site and guests spending the night at GRAX can use it for two days at no extra charge. In addition to the large bath, there is also an open-air bath and, pool, and sauna you can use with bathing suits.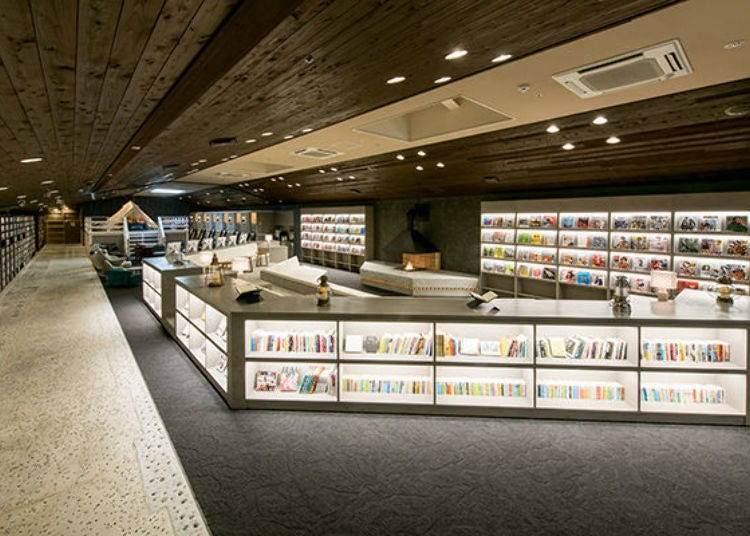 Another good place to relax is at the Lantern Terrace near the Rurikei Onsen main building which was built in 2017. There are sofas everywhere, and there are plenty of spaces where you can relax, such as in semi-private booths and on the soft carpet area.

There are also more than 20,000 manga you can read and also a bedrock bath. Guests staying at GRAX will receive a 700 yen discount off the standard price to use these.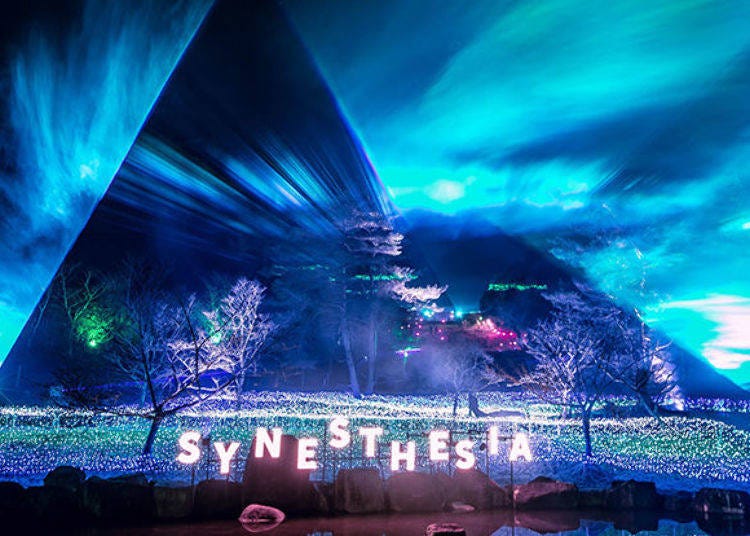 Also be sure to check out Synesthasia Hills which opened in October 2018. This is a facility that lights up the entire Rurikei Onsen site with beautiful illuminations.

Nine lighting effects based on the concept of synesthesia envelop viewers in beautiful and mystical illuminations. The Aurora Experience, added in March 2019, is an impressive replication of colorful auroras in the night sky.
Kyoto Illumination Synesthasia Hills
Hours of operation:

Sunset ~ 10:00 p.m. (Last admission 9:30 p.m.) *Check website for details
Closed:

March, part of September for maintenance; facility closed when content is changed
Admission fee:

Junior high school aged and older 1,500 yen on weekdays; 1,800 yen on Saturdays, Sundays, and holidays; Christmas 2,000 yen (All with 500 yen voucher) 4 year-olds ~ elementary aged 750 yen on weekdays, 900 yen on Saturdays, Sundays, and holidays; Christmas 1,000 yen (No benefits) 3 years old and younger: free *all prices include tax; Free admission for GRAX guests on weekdays, and can be viewed at special prices on Saturdays, Sundays and public holidays.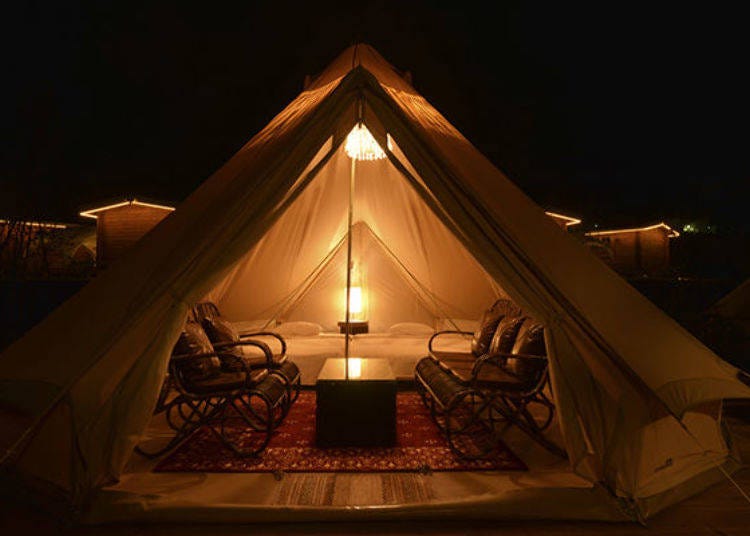 ▲ Lights out (Quiet Hour) is from 10:00 p.m.
Time to enjoy the soft comforts of the beds after enjoying the hot spring and illuminations. You can fall asleep listening to the gentle breezes in the forest and the soft chirping of insects all of which will put you into a deep sleep.

The next morning breakfast of hot sandwiches, salad, and smoothies await you.

A glamping experience awaits you in a rich natural setting just outside of Kyoto. Here you can spend a luxurious time without the hassle of making any sort of preparations.
GRAX PREMIUM CAMP RESORT Kyoto Rurikei

GRAX HANARE 京都・るり渓

Address

Hirotani-1-14 Sonobecho Okawachi, Nantan, Kyoto 622-0065

Phone Number

0771-65-5001

Pre-check-in: 10:00 a.m. ~ 2:00 p.m. (When checking in you can use the hot spring at the Rurikei Onsen at a discounted fee
Check-in: 2:00 p.m. ~ 5:00 p.m.
Check-out: 8:00 a.m. ~ 10:00 a.m.
Hours of operation: 7:00 a.m. ~ 10:00 p.m. *Main gate is closed from 7:00 p.m. ~ 6:00 a.m. the following day)
Lodging fee: 4 people in one room from 6,700 yen (excluding tax) per each adult
* For the Special Plan there is an additional charge of 1,500 yen (excluding tax) per adult
Closed: when undergoing maintenance
Website: http://www.grax.jp
*This information is from the time of this article's publication.
*Prices and options mentioned are subject to change.
*Unless stated otherwise, all prices include tax.