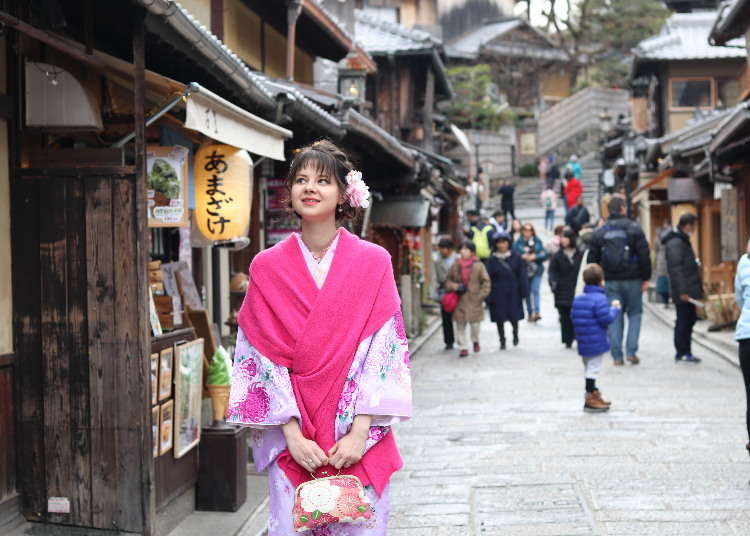 When planning where to go for Kyoto sightseeing, you'll want to add the Ichinenzaka/Ninenzaka area to your list. Particularly evocative of classical Japan, the narrow stone-paved streets here are lined with old-style homes, and visiting feels like a trip back in time.

In Ichinenzaka/Ninenzaka, there are many famous temples to visit nearby, plus souvenir shops, and you'll find many restaurants as well in this Kyoto sightseeing microcosm.

In this article, we'll see how to enjoy the perfect Kyoto day tour in the Ichinenzaka/Ninenzaka area with Yuliya, from Russia. Read on to learn about fascinating sights and experiences!
First, Kyoto kimono rental at Yume Kyoto

Great spots for Kyoto kimono photos in Ichinenzaka and Ninenzaka

Next up, a Kyoto tea ceremony experience at "Wa Nagomi"!

Learning expert techniques at the "Tofu Ladle-making Experience"

For dinner, we head to stylish "The Sodoh Higashiyama Kyoto"
What kind of place is Kyoto's Ichinenzaka/Ninenzaka?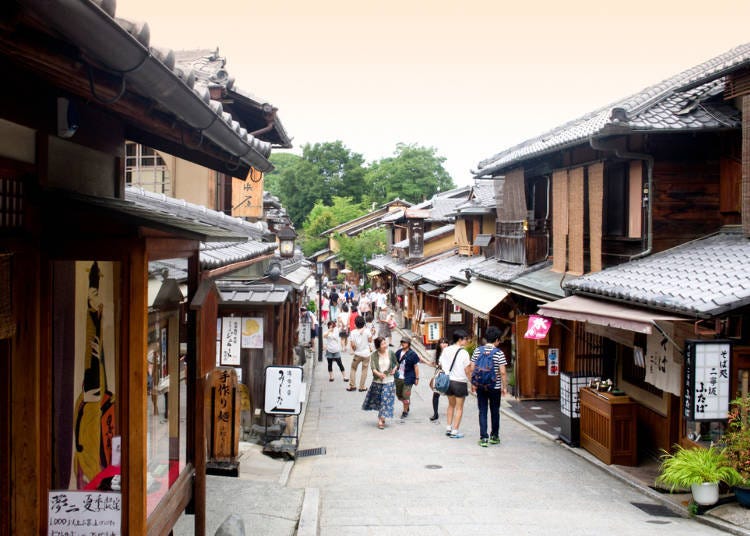 Stock for you / Shutterstock.com
"Ichinenzaka" and "Ninenzaka" are stone-paved streets leading to Yasaka Shrine and Kiyomizu-dera Temple.

In the 16th century, the principal wife of samurai Toyotomi Hideyoshi climbed the path to Kiyomizudera to in hopes of being blessed with children, and her path would be known as "Sannenzaka", or "birth-prayer slope." Since "san" could also mean three, it's thought that people may have decided to number the paths leading to the slope "Ninenzaka" and "Ichinenzaka". Another possibility is that the names were established long before then with the paths' repaving in 804.

As roads leading to some of Kyoto's most famous temples, including Kodai-ji Temple, the area sees a lot of foot traffic from tourists every day. Even so, dedication to preserving its scenery gives it a strikingly tranquil atmosphere.

■How to get to Ichinenzaka/Ninenzaka
From Kyoto Station (JR): Exit the central gate and head for the D2 bus stop. Board the #206 bus and disembark at Kiyomizumichi
From Kyoto-Kawaramachi Station (Hankyu) / Gion-Shijo Station (Keihan): Board the #207 east-bound bus on Shijo Dori, disembark at Kiyomizumichi (includes 18 minutes of walking)
Enjoy Kyoto's Ichinenzaka/Ninenzaka with this Kyoto day tour itinerary!
We have the perfect Kyoto day tour plan to get the most out of your visit to Ichinenzaka/Ninenzaka! Accompanying us is Yuliya, whose excited first impression of the area was "How beautiful! Looks like fun!" Let's get walking!
1
First, Kyoto kimono rental at Yume Kyoto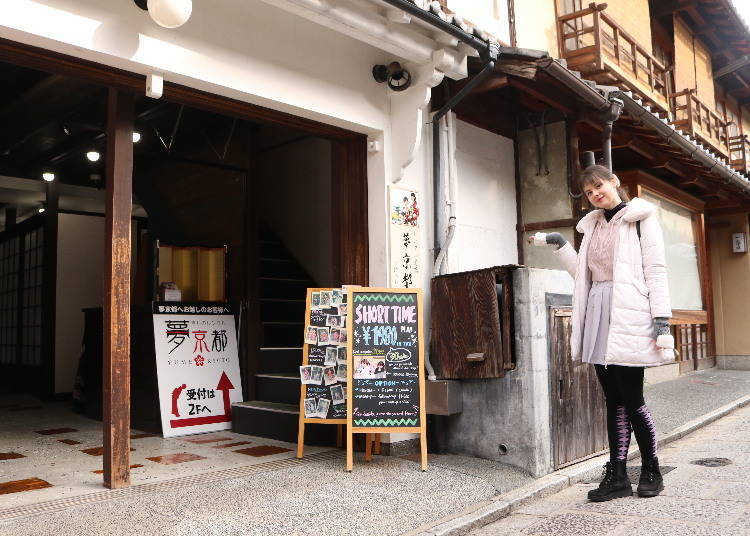 Our first stop was the kimono rental shop, Yume Kyoto (Kodaiji shop). It's close to the start of Ichinenzaka, so it's a good place to change into a kimono to enjoy further sightseeing and taking photographs. Their Kyoto kimono rental fee starts at 2,900 yen (minus tax) for one day. Not bad at all!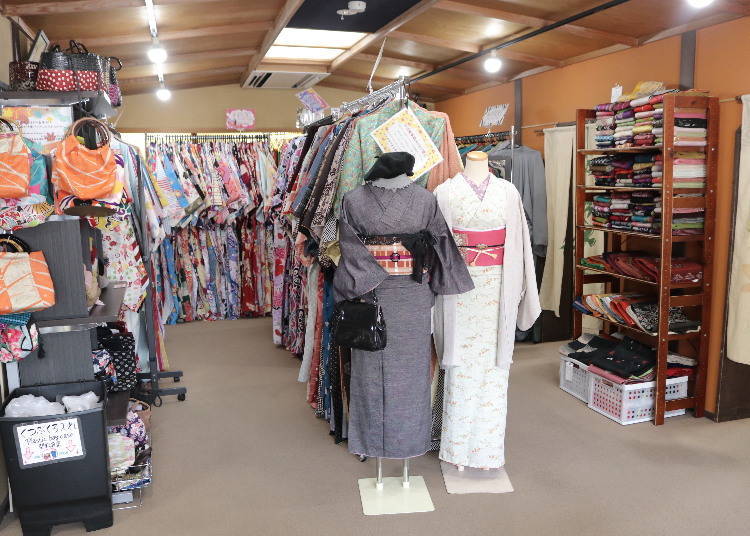 Inside, a whole rainbow of kimonos! There are kimono with bright patterns for city-walking, and also semi-formal or long-sleeved kimono that you could wear to more formal occasions. The rental fees are based on your choice of kimono. For this visit, Yuliya picked the Full Set plan, which for 7,900 yen (without tax), includes hairdressing, make-up, and a kimono/bag/traditional sandal getup.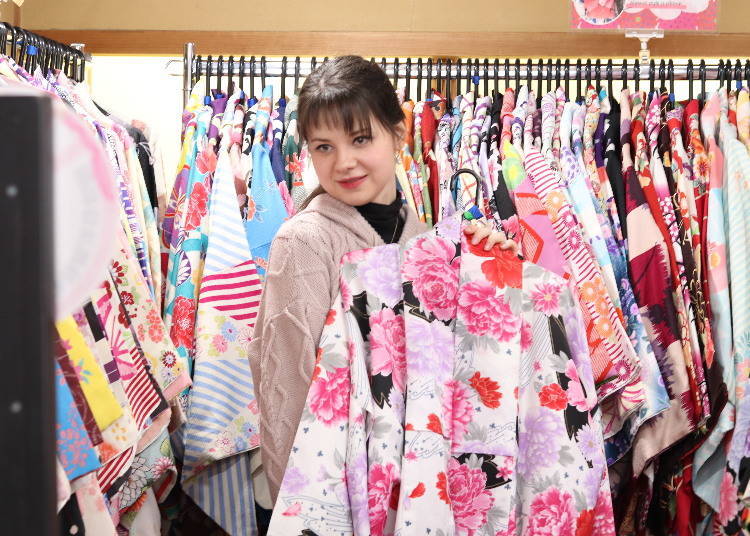 Yuliya's on the taller side at 178cm in height, but their kimono selection includes all kinds of sizes. Yuliya looked over the kimonos carefully for "pastel colors" that suited her taste. Of course, if you have trouble deciding, you can ask the staff for advice.

They also have a plan at 2,900 yen (without tax) through which you pick a kimono to wear, and the staff will find shoes and a bag to go with it.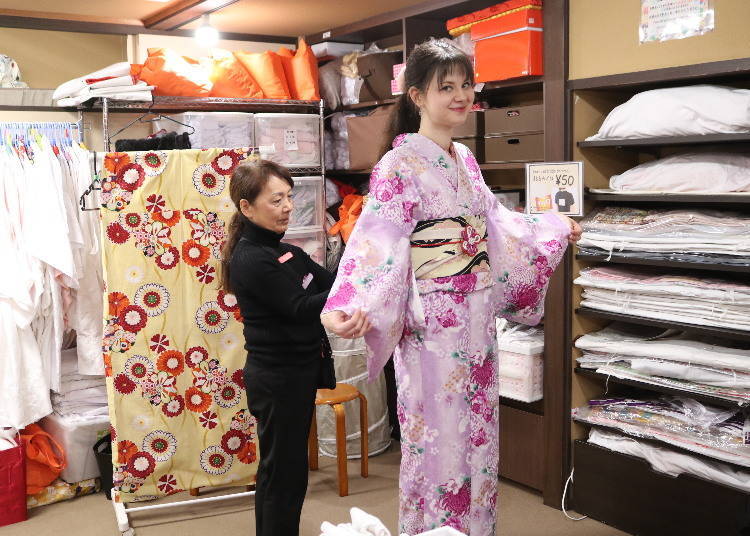 Finally, it's time to get dressed up. Each Kyoto kimono rental shop has a team to help you put everything on, and you can leave it all to their capable hands. They'll direct you with simple English.

Once you have your kimono on, they'll pull the obi tight around your waist, which naturally gives you graceful posture. Yuliya joked, "Now I'm feeling uptight, too."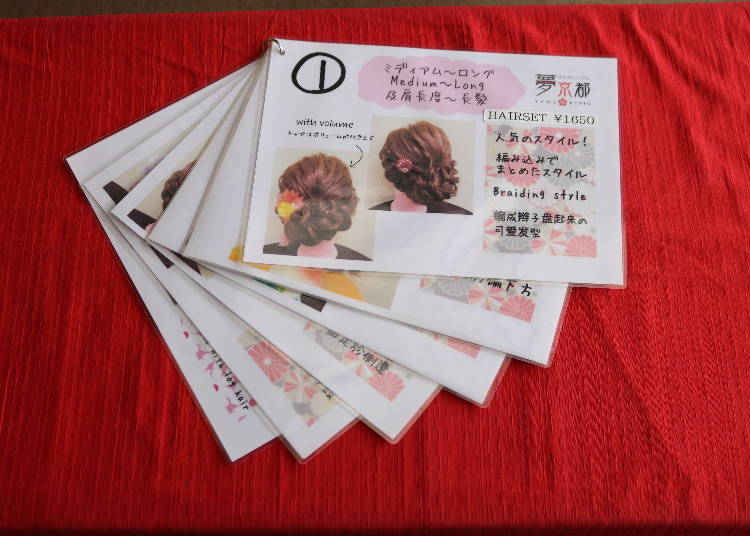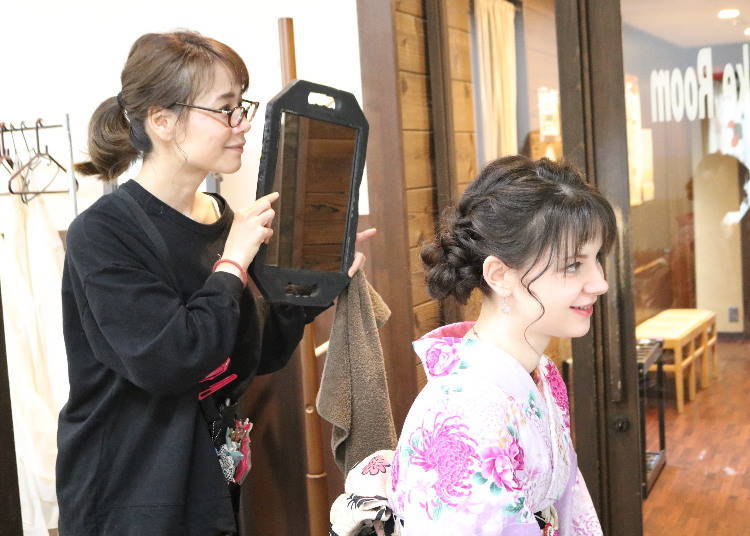 There are twelve hair sets to pick from. The kimono-oriented sets only require hair five centimeters in length at the nape of the neck.

Yuliya was greatly satisfied with the set which had her hair braided upward!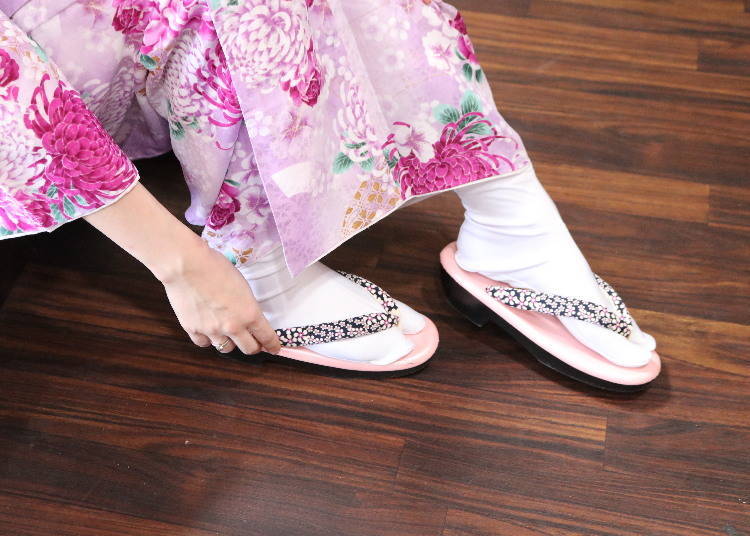 Finally, Yuliya picks her bag and sandals, and hits the Kyoto streets!
Address

masuya 2F, 362-5, Masuyacho, Higashiyama-ku, Kyoto-shi, Kyoto, 605-0826
View Map

Nearest Station

Gionshijo Station (Keihan Line)
15 minutes on foot


Phone Number

075-541-4630
2
Great spots for Kyoto kimono photos in Ichinenzaka and Ninenzaka
Once you're in your kimono, you're going to want to take lots of pictures as you sightsee! Thankfully, you can take a picture anywhere in Ichinenzaka and Ninenzaka, and it'll turn out looking nice. We had a great time taking pictures at all the best spots!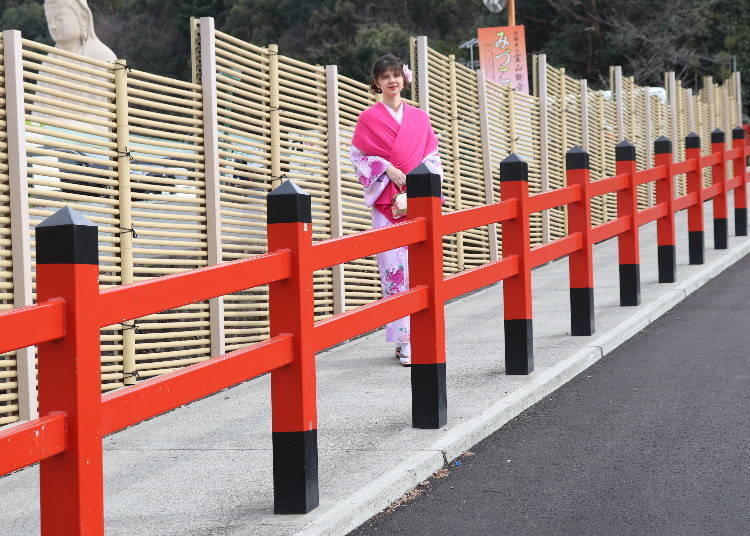 Near the gate to Kodaiji. The red fencing is remarkable.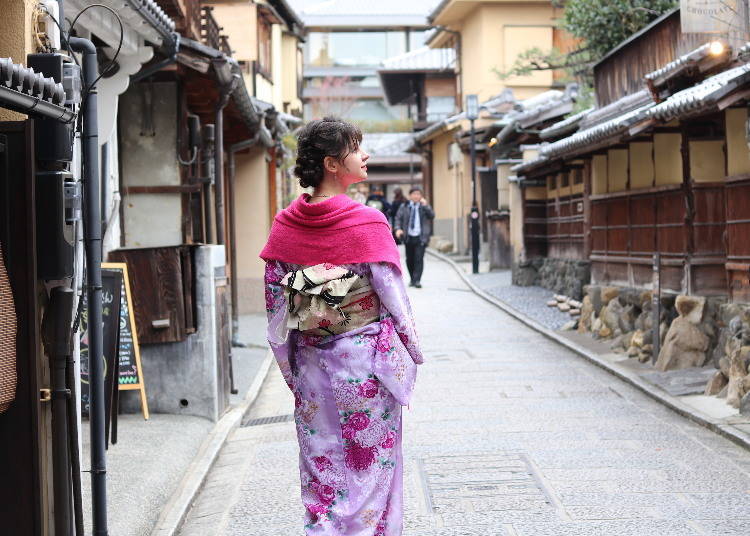 At Ichinenzaka. Wearing a kimono, she fits right in.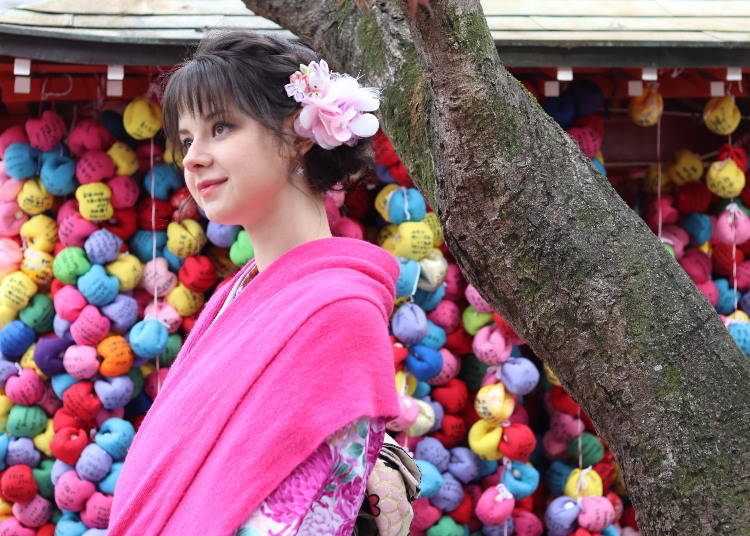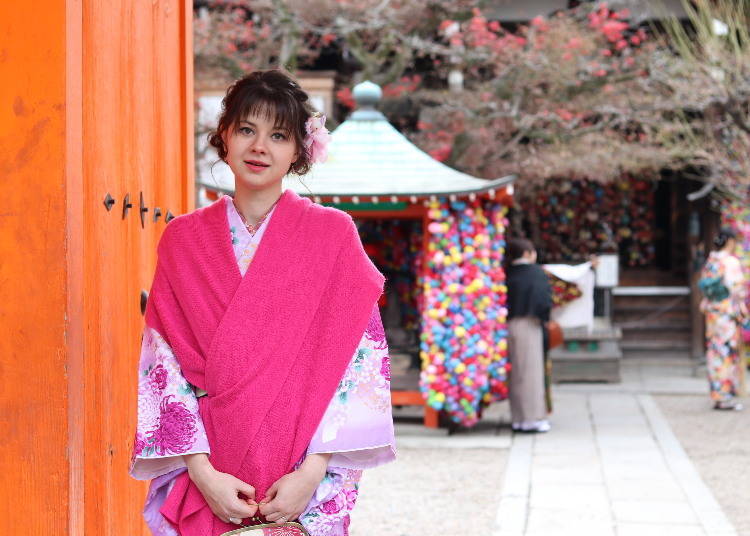 At Yasaka Koshindo. It makes for a very colorful picture.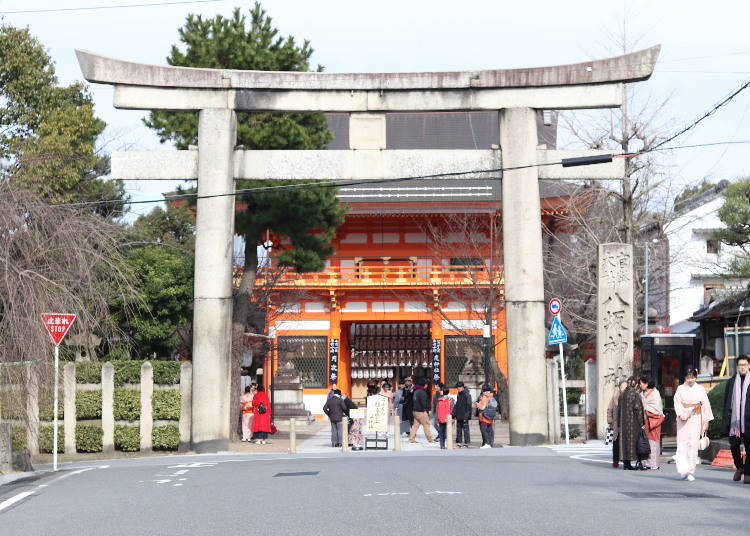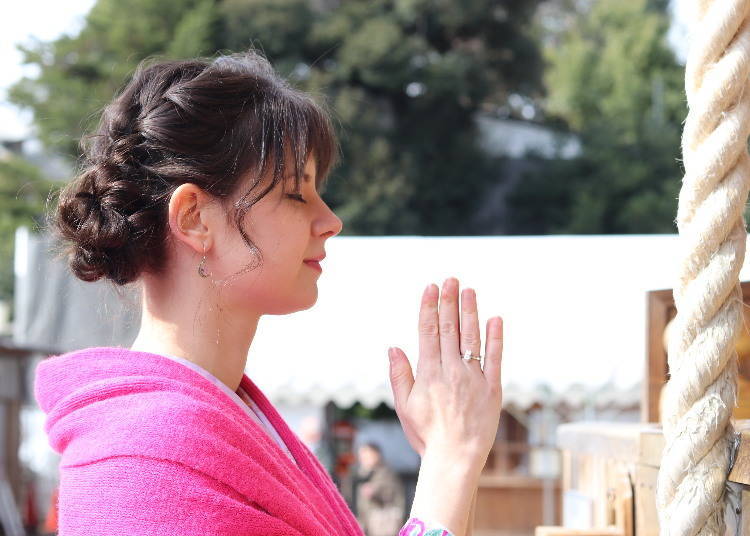 We also visited Yasaka Shrine proper!
3
Next up, a Kyoto tea ceremony experience at "Wa Nagomi"!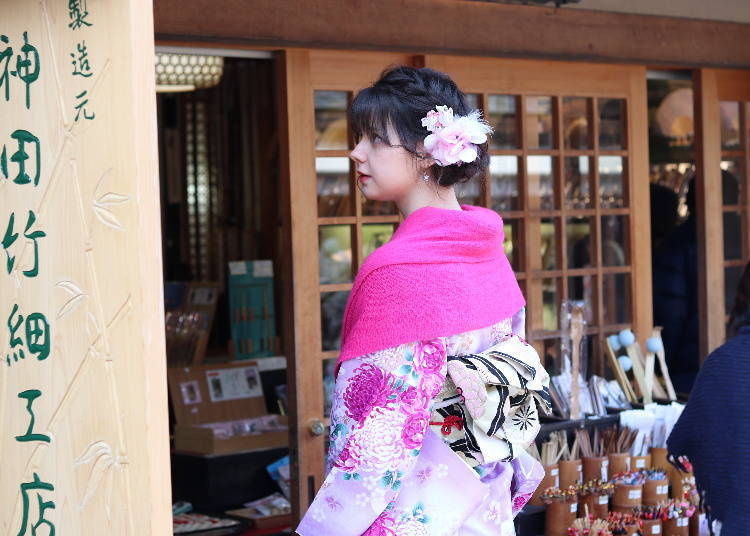 After enjoying our impromptu photo shoot, we head for "Wa Nagomi" for a reserved tea ceremony experience. The establishment is on the second floor of the Kanda Bamboo Crafts shop on Ninenzaka.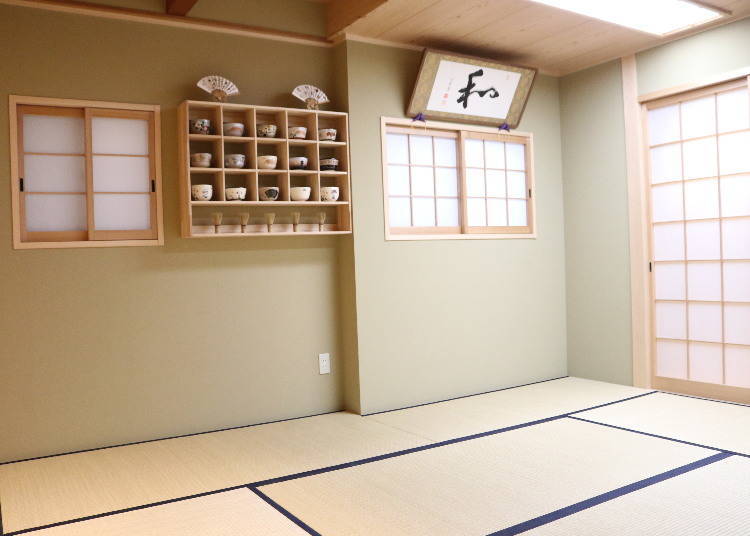 The tearoom on the second floor has a relaxing, reserved atmosphere in contrast with Ninenzaka's traffic. It immediately calms the nerves.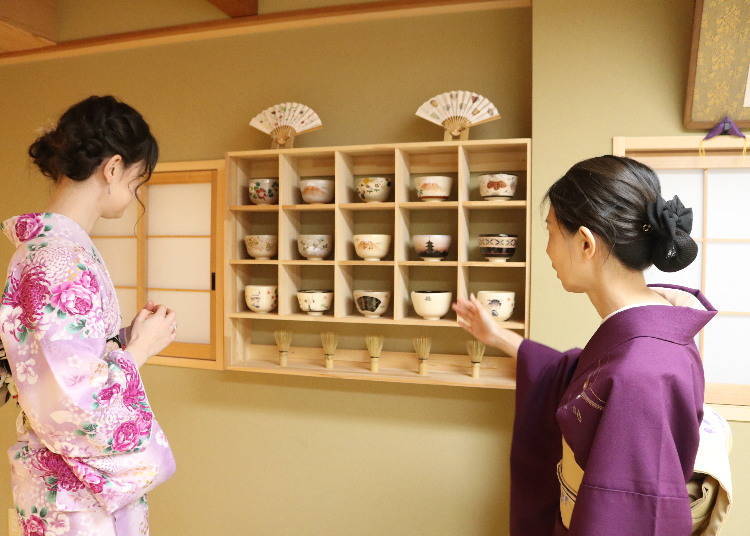 First, we pick a tea bowl out. There are all kinds, from bowls with cute flower patterns to bowls with anime characters. All of them are made by Kiyomizu-yaki craftsmen. Yuliya picked a bowl perfect for Kyoto, with a five-storied pagoda design!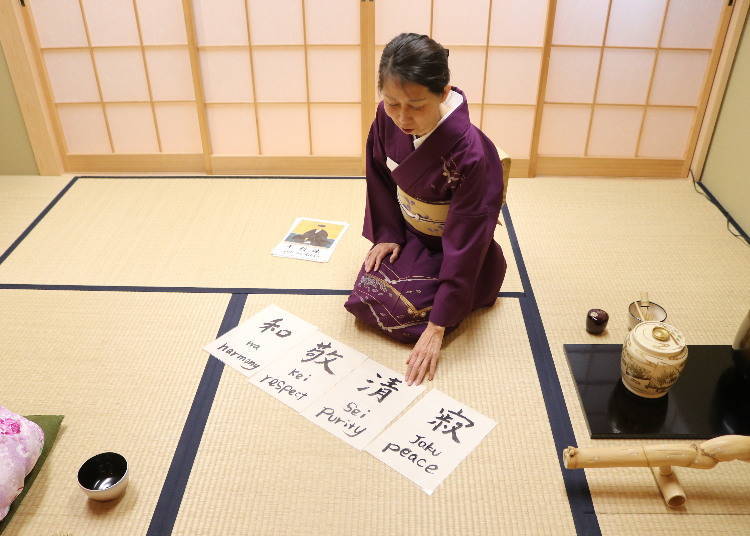 Before mixing the matcha, we first learn more about tea ceremony, in particular, its four tenets: Harmony, Respect, Purity, and Peace. After this lecture, our teacher shows us the beautiful procedures that form tea ceremony.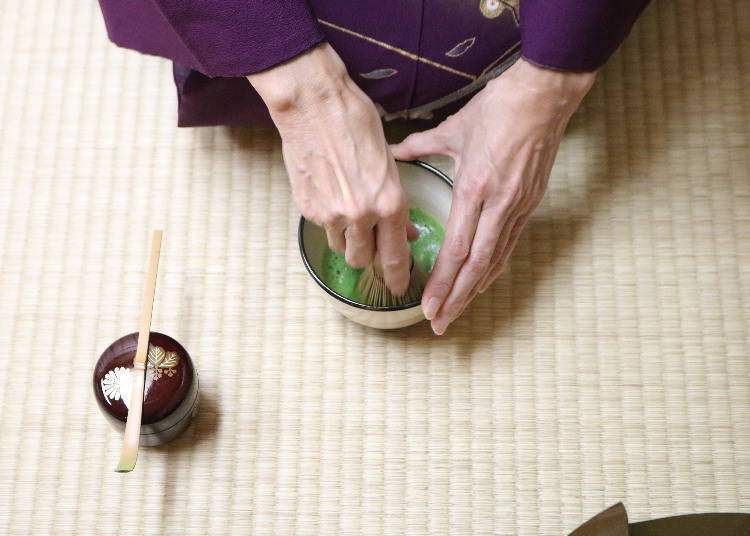 Once the procedures begin, the room is filled with a tense atmosphere. You can hear the sound of the hot water entering the tea bowl, the whisking of matcha, the brushing of kimono against tatami floor mats. In that breathtaking quiet, you could sense the heart of tea ceremony.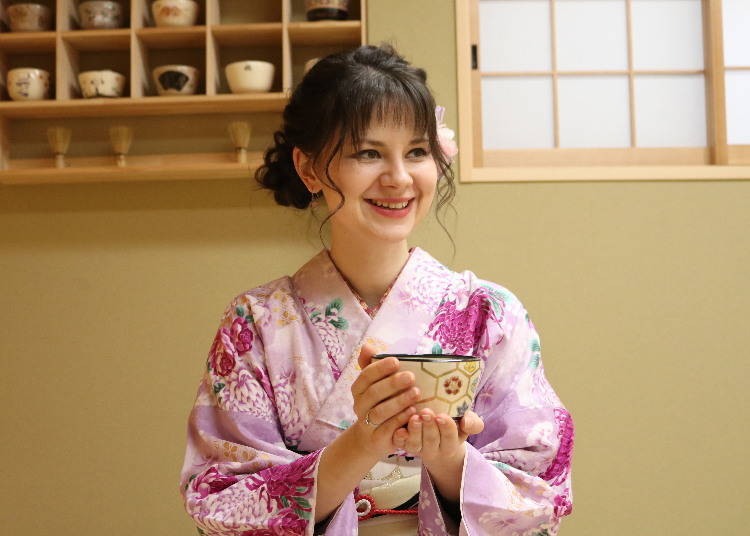 In Japanese tea ceremony, there are also procedures for when you drink the tea. It was all new to Yuliya, but she gave a good performance and enjoyed her tea.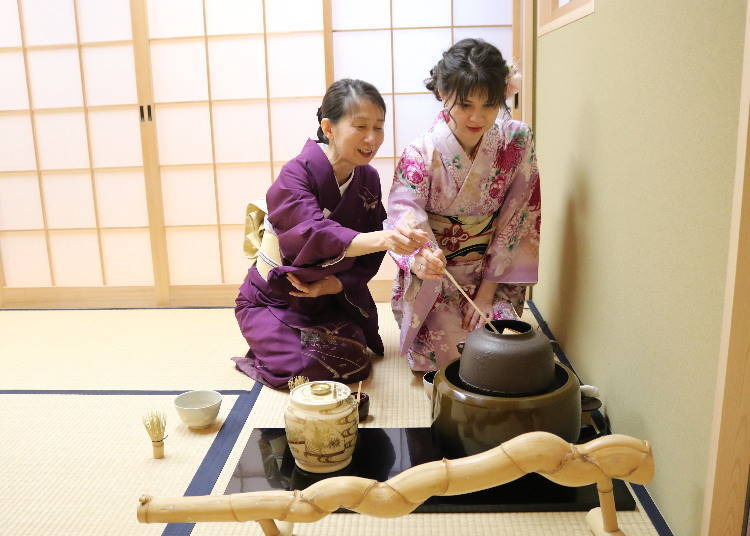 Finally, it was her turn to whisk the matcha. Under the guidance of our teacher, she carefully executed the steps and whisked up the next bowl of matcha tea. Although visibly nervous, you could tell Yuliya was enjoying herself. Don't worry! It's okay if you make a mistake.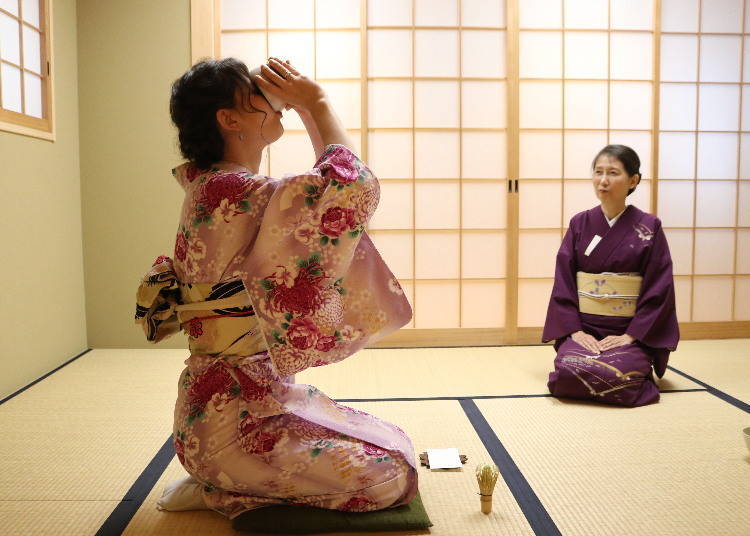 The taste of tea you make yourself is something special. Yuliya exclaimed, "this is really good!"

"Wa Nagomi" tea ceremony experiences are 45 minutes long and include tea and sweets, once per hour between 10:00 AM and 5:00 PM, with the exception of 12:00 to 1:00. You can make same-day reservations, but you're more likely to find an available time by reserving over the phone or online at https://kyoto-nagomi-tea.com/form/contact
Address

Kanda Bamboo Craft Shop 2F, 349-7 Masuya-cho, Higashiyama-ku, Kyoto-shi, Kyoto, 605-0826
View Map

Nearest Station

Gionshijo Station (Keihan Line)
16 minutes on foot


Phone Number

075-205-4538
4
Learning expert techniques at the "Tofu Ladle-making Experience"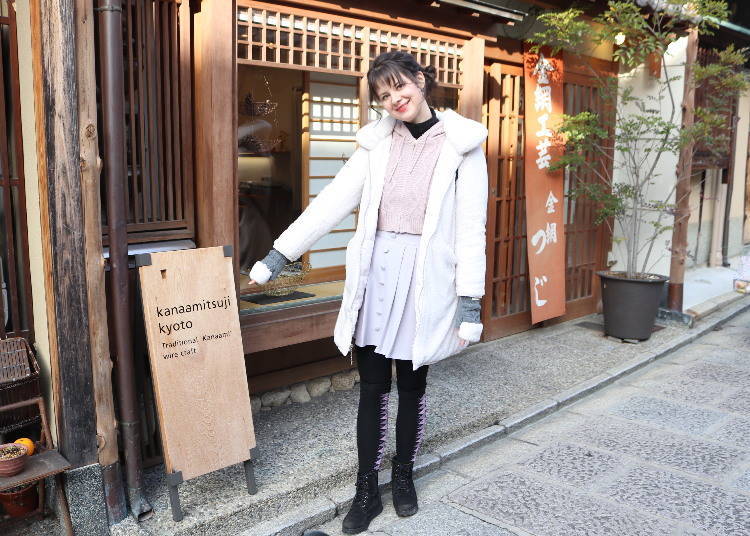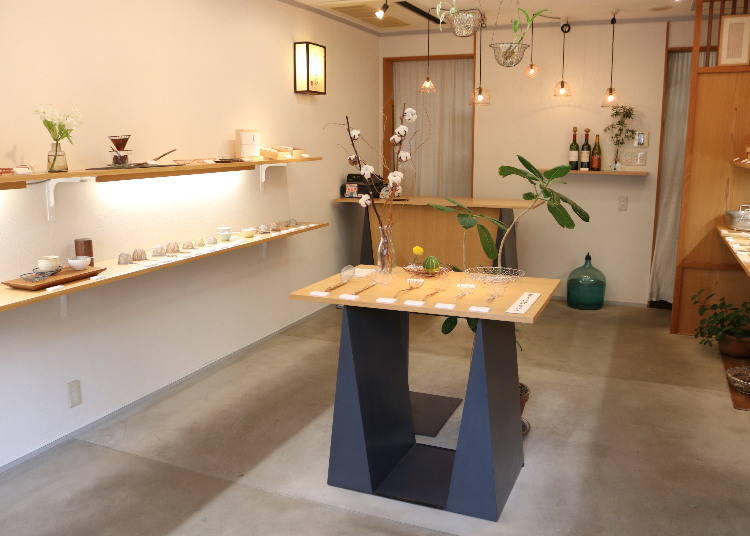 Having finished tea ceremony, we returned our rental kimono to Yume Kyoto and head for "Kodaiji Ichinenzaka Kanaamitsuji". Their seasoned workshop creates wire meshes by hand for use in the kitchen.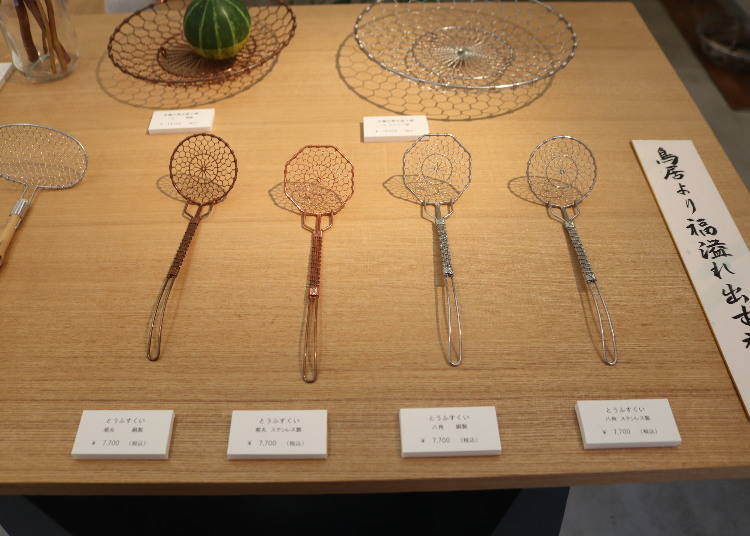 They have a shop on the first floor, where you can buy tofu ladles, tea strainers, baskets, and other wire-mesh tools. On the second floor, you can try making your own tofu ladle.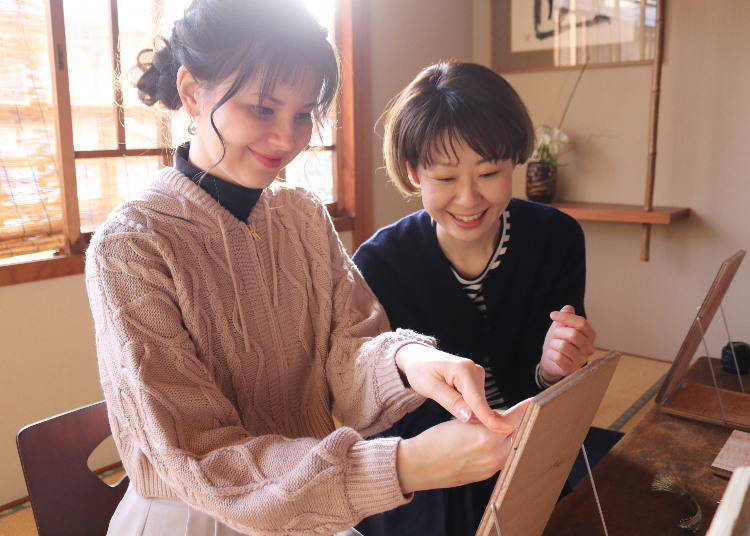 Tofu ladles are vital to Kyoto's traditional cuisine, boiled tofu. The mesh is designed to be strong but gentle, so that you can move fragile tofu without them breaking apart.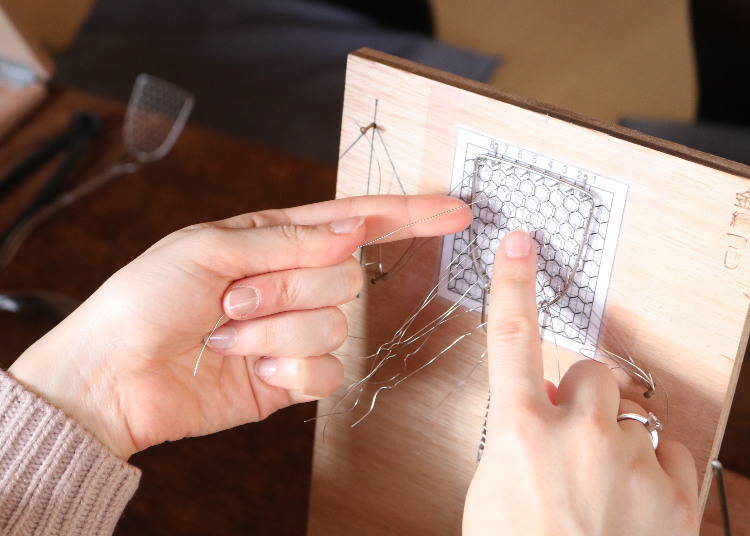 At this workshop, you have your own personal teacher to teach you how to tie the mesh together. Yuliya remarked, "It takes focus to work this with your fingertips. But it's easy to lose track of time. (laughs)" It's nice having a teacher nearby to help you at any time.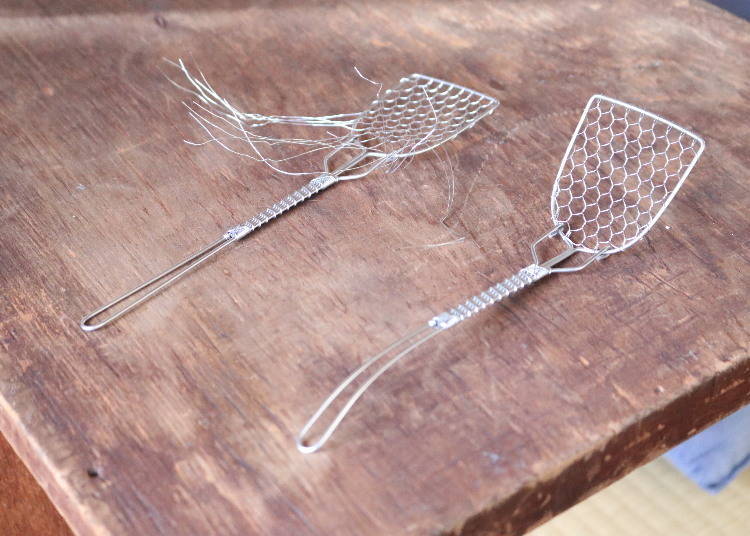 The workshop ends when you're done twisting the mesh together. The shop's craftsmen will finish the ladle for you (seen right). The finishing touches take one or two weeks, so you can pick up your ladle when it's ready or have it mailed to you anywhere in Japan, including hotels.
Address

362, Masuyacho, Higashi-iru, Shimogawara, Minamimon-dori, Kodai-ji, Higashiyama-ku, Kyoto-shi, Kyoto, 605-0826
View Map

Nearest Station

Gionshijo Station (Keihan Line)
15 minutes on foot


Phone Number

075-551-5500
5
For dinner, we head to stylish "The Sodoh Higashiyama Kyoto"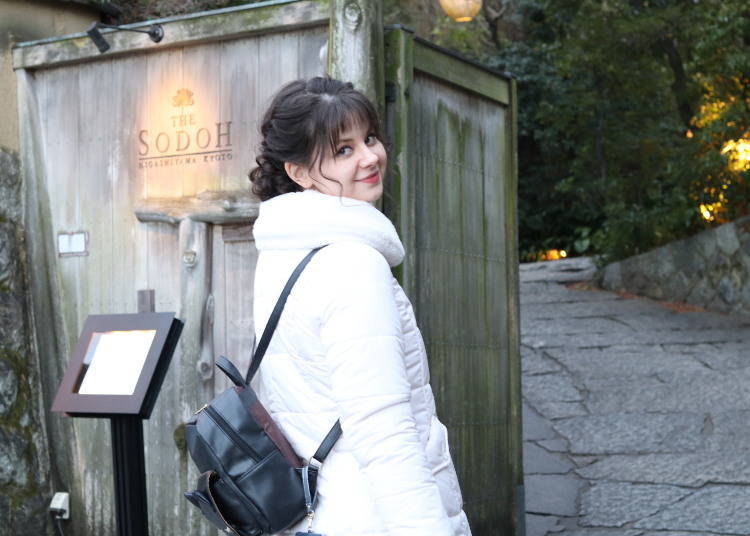 It's finally time for dinner at "The Sodoh Higashiyama Kyoto", an Italian restaurant in a great location!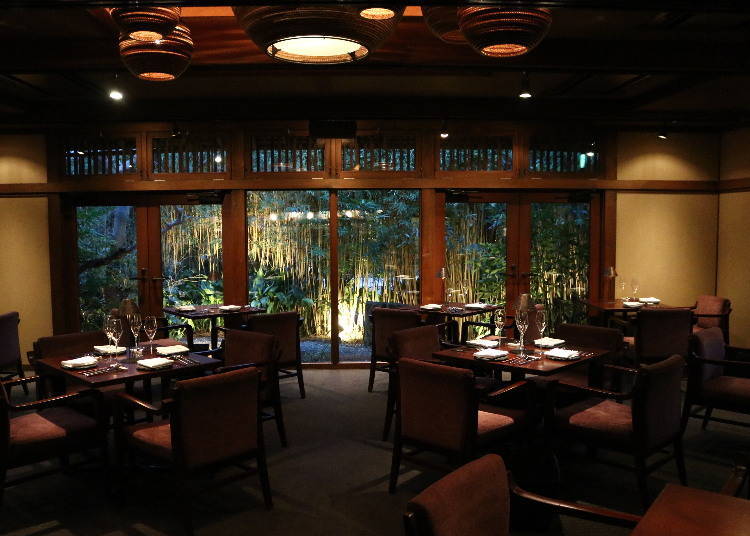 This restaurant was once the residence and garden of Takuchi Seiho, a modern nihonga painter. Its expansive grounds have a wide variety of trees and flowers, and you can enjoy them all in their seasons through the building's large windows.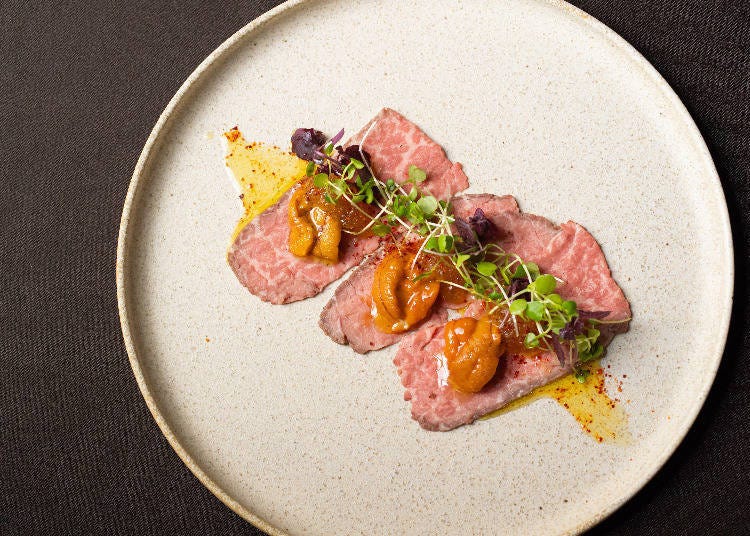 Dinner courses starting at 6,800 yen~
Courses available are based in Italian cuisine, modified to use Kyoto ingredients and to represent the current season. Lunch courses came at 3,000 yen, while the dinner courses are either 6,800 yen, 11,000 yen, or 7,000 yen for the vegan full course (prices include tax, do not include service charges). Arrangements for Halal options are also available. Also, if you reserve ahead of time, you can order a dinner course at lunchtime.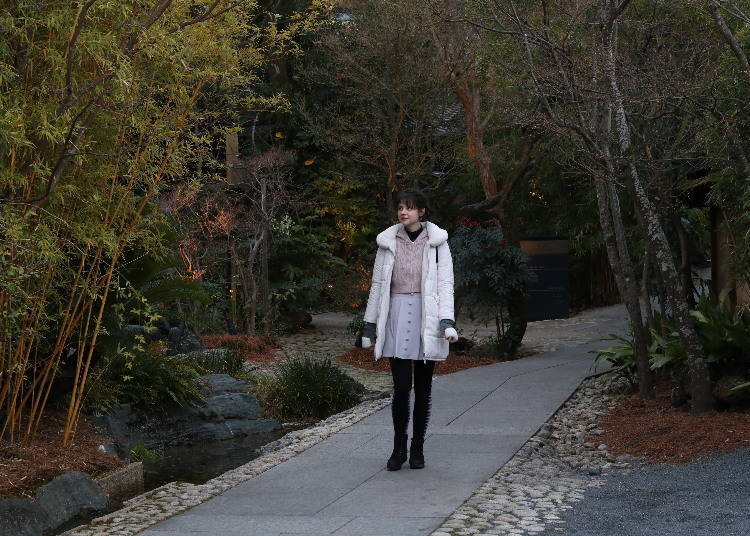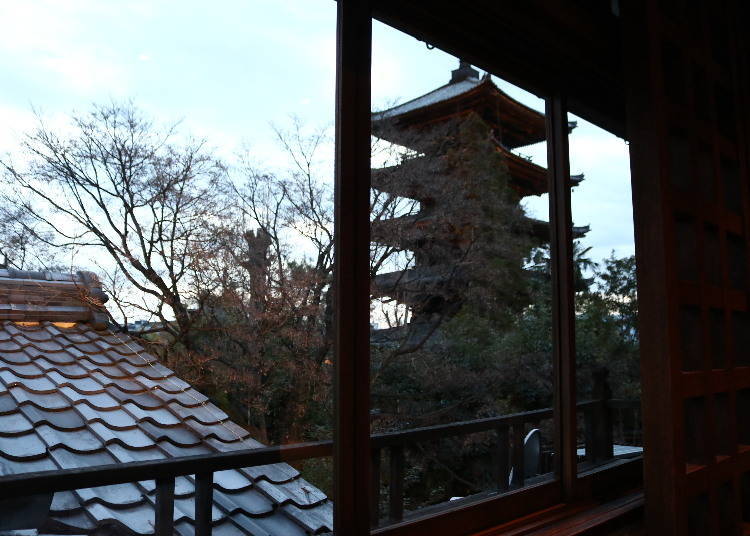 Their massive garden would make a great place to take a stroll after eating. You can see the symbol of the Gion district, Yasaka-no-to Pagoda, from the garden or the second floor private rooms. As noted by Yuliya, it's entrancingly beautiful, who murmured "It feels wonderful just walking out here."

With the autumnal colors of fall, it's even more extraordinary. Enjoy their combination of gourmet Italian and beautiful scenery for yourself!
Great sightseeing spots all around Ichinenzaka and Ninenzaka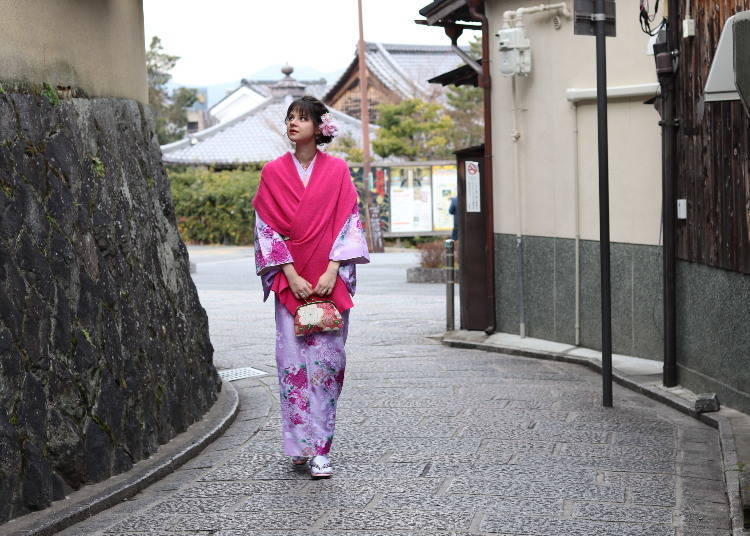 There are too many fantastic shops in the area to introduce them all in one trip, but to mention a few, there is "Ninenzaka Marun" for souvenirs reminiscent of Japan, and "Studio Shikiori" for taking pictures in maiko/geisha attire.

Our companion for this trip, Yuliya, loves traveling and tells us she's been to places all over Japan. "I've often been to Shijo and Kawaracho, but I never explored this area until now. I got to see wonderful sights while wearing a kimono and have fun experiences! It's made for a wonderful memory."

The Ichinenzaka/Ninenzaka area truly is a key spot for touring Kyoto. Visit it to get a sense of classic Kyoto and the depth of Japanese culture!

Text by:WESTPLAN
Book an unforgettable experience in Kyoto!
Make your trip extra memorable by booking one of these recommended tours.
*This information is from the time of this article's publication.
*Prices and options mentioned are subject to change.
*Unless stated otherwise, all prices include tax.