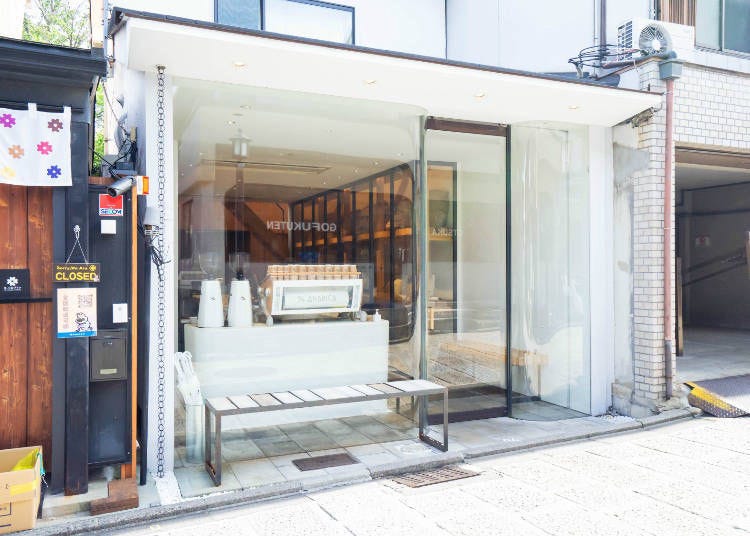 The coffee connoisseurs among us should definitely have "% ARABICA Kyoto" on their radar! Founded in Kyoto, this boutique coffee brand currently boasts three stores in Japan's ancient capital alongside outlets across 17 countries, including Hong Kong, China, Singapore, and France (as of August 2021).

In June 2021, % ARABICA also opened up a new flagship store in New York, further putting them on the world stage as one of Japan's most esteemed coffee brands.

Their main store is located in the historical Kyoto district of Higashiyama, allowing one to relish good coffee surrounded by Japanese scenery.

Read on to discover more about % ARABICA Kyoto and find out exactly why they should be on your Kyoto to-do list!
What is the ARABICA Kyoto coffee brand about?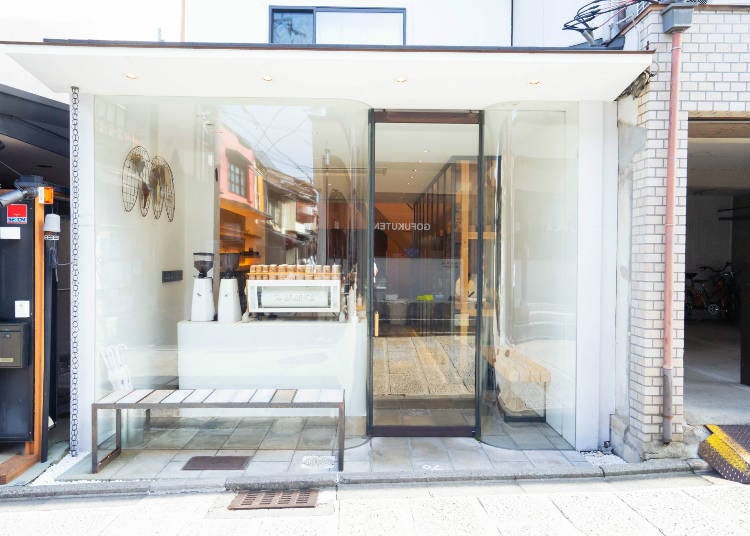 The Higashiyama store.
% ARABICA Kyoto is a coffee brand managed by the Kyoto trading company "Asiamix."

They began by setting up a coffee plantation in Hawaii and trading in green beans before becoming the representative business specializing in "Slayer Espresso" machines, which are said to be the best in the world.

In 2012, they opened their first store in Hong Kong, after which they moved their main store to Higashiyama in Kyoto in 2014. As of August 2021, they have expanded to 95 franchise stores worldwide, including locations in Asia, the Middle East, and Europe.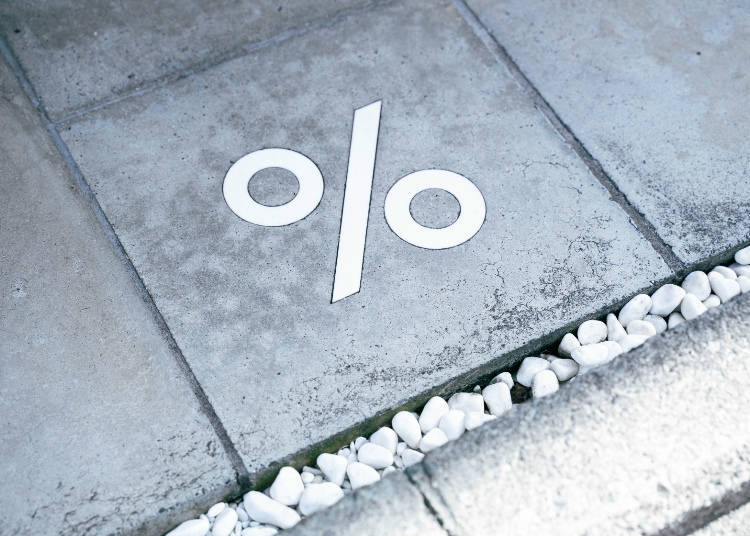 In front of the entrance to the Higashiyama store.
One of the most distinctive elements of ARABICA Kyoto is the above-pictured logo. This was devised by the business's owner, who wanted to create a logo that people would immediately recognize.

Upon glancing at a "%" sign, he suddenly saw it as a tree bearing coffee cherries, which led him to adapt it as his logo.

As % signs are used across the world, this familiar symbol traversed cultural boundaries and instantly became a sensation online, contributing to the brand's popularity.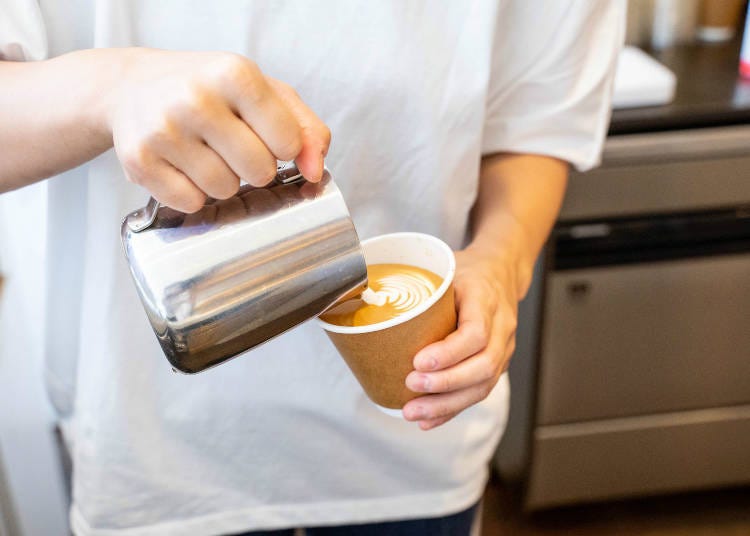 The base of the menu is drinks-only, with a lineup of espresso, drip, and others. The coffee beans can be selected from either the "original blend" or "single-origin."

Their most popular coffee drink is by far the latte, which has a smooth and rich taste and comes adorned with foam art if ordered hot.
Every store is worth a visit! Excellent locations around the world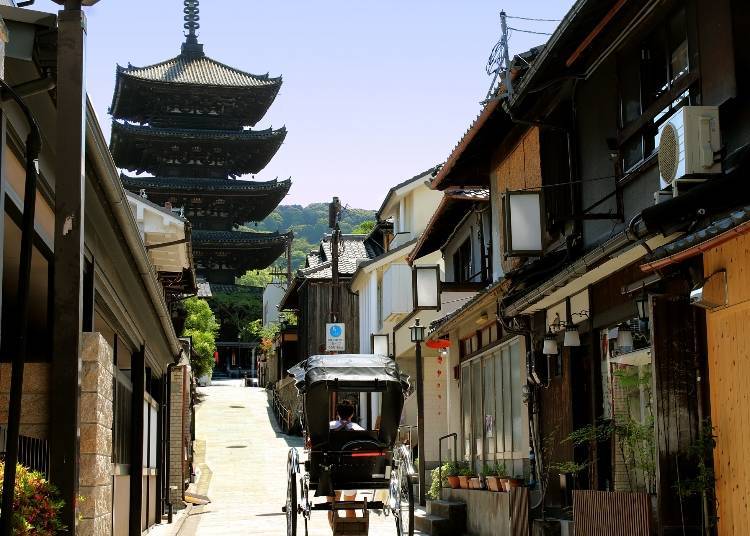 The streets and atmosphere of the Higashiyama store in Kyoto.
Whether it's in Japan or overseas, one of the main reasons behind % ARABICA Kyoto's popularity is the carefully selected locations of its stores.

For example, the Higashiyama main store is located on the street leading to the Yasaka-no-to Pagoda, one of Kyoto's most distinctive sights. Meanwhile, the newly opened New York store was set up in the DUMBO area, which offers iconic lookouts over Manhattan, while the Beijing no.5 store is close to Tiananmen Square and the Forbidden City.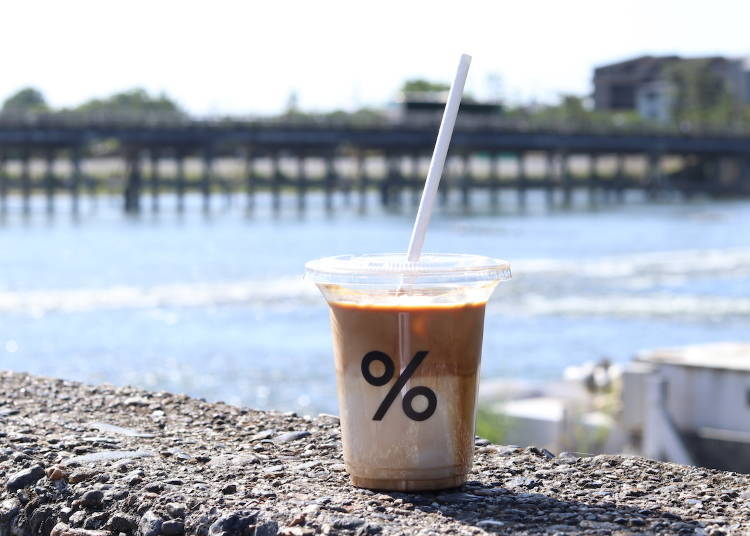 The Arashiyama store, which offers incredible views of the Katsura River and Togetsu-kyo Bridge.
Other iconic stores include the one in Dubai, situated within the world's largest shopping center of The Dubai Mall, and the Paris store, which is in the Passage des Panoramas, the oldest of the covered passages of Paris.

Each % ARABICA shop is designed with a simple white undertone, preventing it from clashing with the area's aesthetic.
A remarkable, authentic flavor!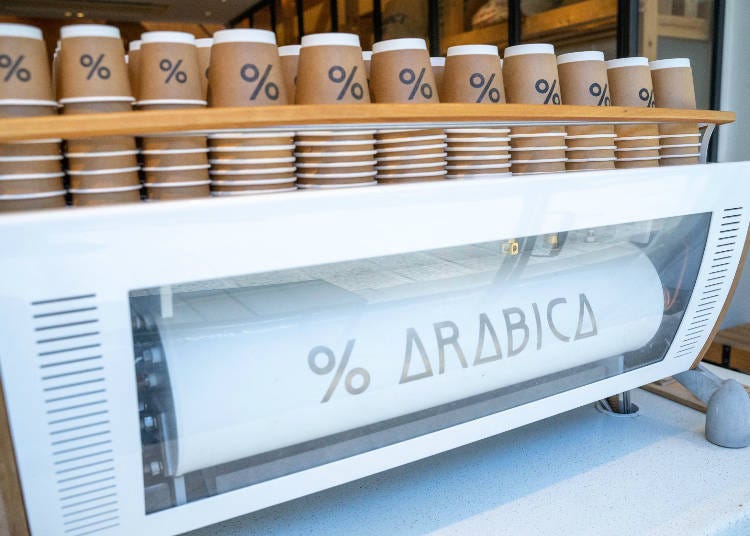 One of the most defining elements of % ARABICA is that each store uses the Slayer Espresso coffee machine. Totally different from conventional espresso machines, the Slayer Espresso machine allows baristas to control the extraction temperature, water amount, and timing, giving them the freedom to pursue the creation of their own perfect espresso.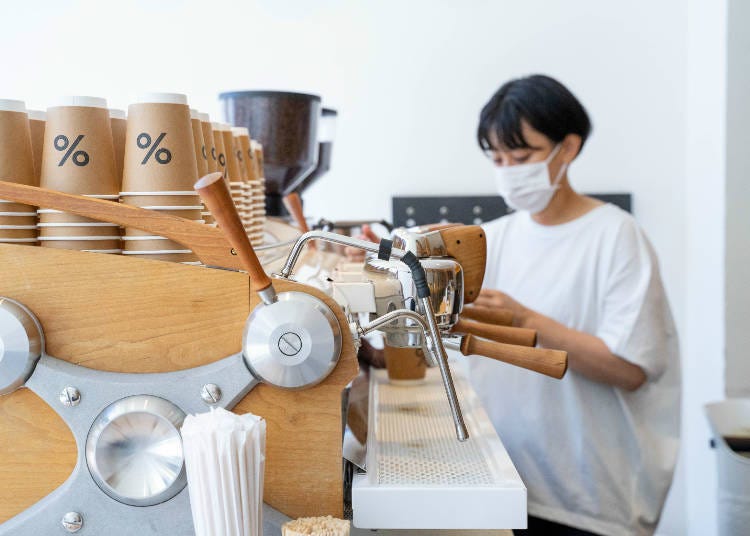 For drip coffee, the barista first gently pours hot water and allows the coffee to steam, leading to each cup being different depending on the recipe and the barista's skill. Completely automatic conventional espresso machines don't allow this kind of freedom, making it difficult to alter the taste to one's liking.

However, the Slayer Espresso allows the user to create their own "steaming" process, resulting in fragrant coffee designed by the palate of a professional.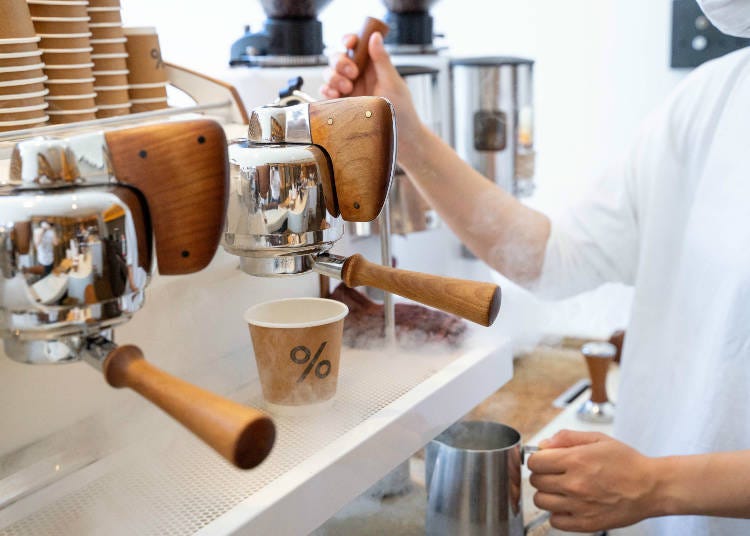 This function is particularly useful as each country and barista has their own unique taste and preferred style of coffee. % ARABICA respects the individualism of countries and baristas, which is another reason behind the brand's ever-growing popularity.
Heading to Higashiyama: The homeland of % ARABICA Kyoto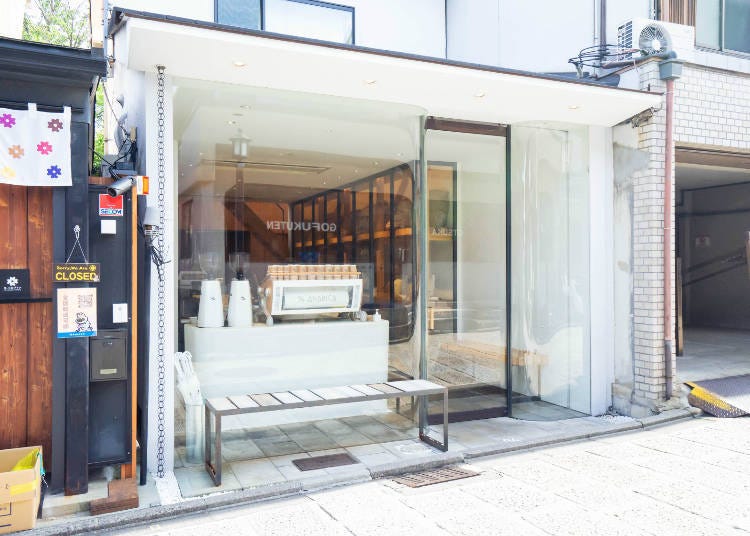 Without any further ado, let's start checking out the "homeland" of % ARABICA in Kyoto's legendary district of Higashiyama.

As stated above, the store sits upon Yasaka-dori Street, adorned by the famous Yasaka-no-to Pagoda. It can be easily reached after a 12-minute walk heading south-east from the 1st exit of the closest station of Gion-Shijo.

The area is packed with some of Kyoto's most celebrated sightseeing destinations, including the "remover of bad luck" temple Yasui Konpiragu and the Gion geisha quarter.

The closest bus station to the cafe is "Kiyomizumichi," just a 2-minute walk away. You can get to the cafe without changing lines if you take the municipal bus 206 heading to Higashiyamatori/Kitaoji Bus Terminal from JR Kyoto Station. If you use a taxi, it'll take roughly 10 minutes.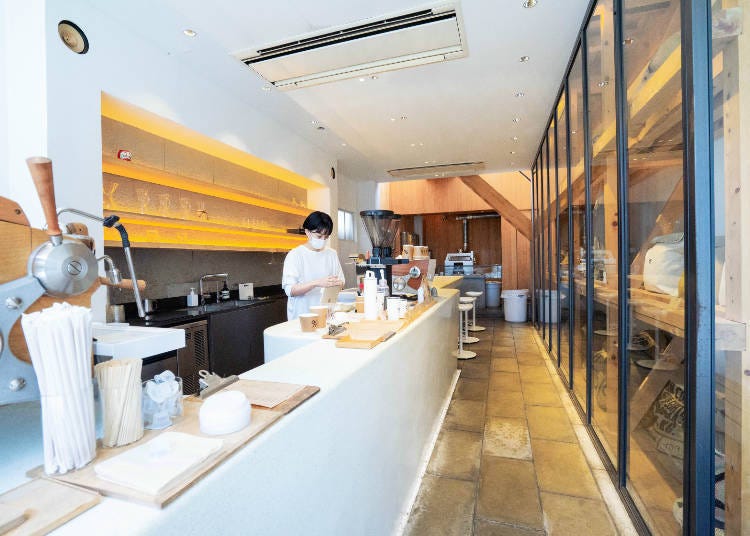 The store is actually quite snug and cozy - a surprise considering it's the flagship store for such a huge brand! Designed with a quaint coffee stand in mind, they mostly specialize in take-out.
However, at the back of the store is a counter with 5/6 seats for those who wish to dine in. You can also enjoy your coffee on a bench in front of the store or opposite the counter.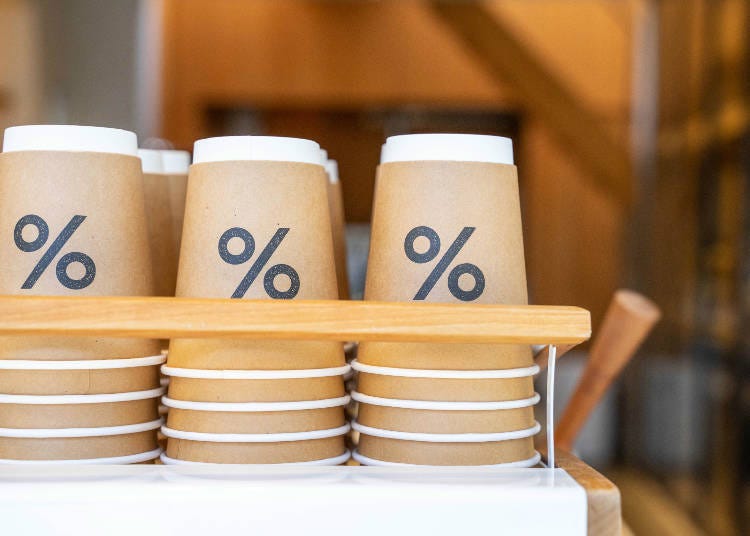 While the effects of COVID-19 have largely prevented international customers from visiting, a sizable percentage of the patrons between its opening until 2019 were visitors from across the globe.

From the numerous stores set up in China and Hong Kong, local customers have dreamed of visiting the main store in Kyoto one day, leading to long lines of tourists from Asia in particular. Some would wait up to 2 or 3 hours!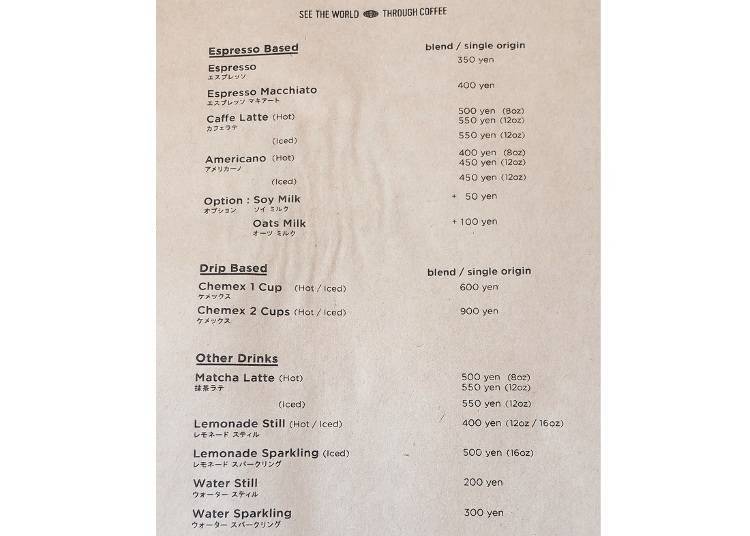 % ARABICA Kyoto's menu is as above. The most popular item is by far the latte.

Customers can pay using all major credit cards, along with Alipay, WeChat Pay, LINE Pay, QUICPay, iD, and public transport IC cards. The menu is in English, and the staff can also speak English, making ordering a breeze!
Our Top 3 Recommendations From % ARABICA Kyoto Higashiyama
Cafe Latte (Hot; 8oz): 500 yen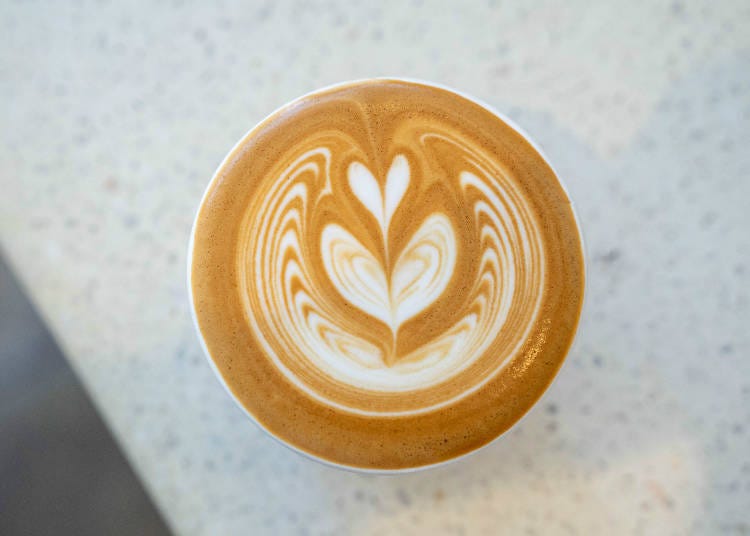 The most ordered coffee at % ARABICA Kyoto Higashiyama is their classic hot cafe latte. The talented staff will decorate your latte with gorgeous foam art through their refined pouring technique, making the final product look as good as it tastes! Naturally, the flavor is incredible, seamlessly blending the exquisite milk with the intense body of the original coffee blend.

Americano (Iced; 12oz): 450 yen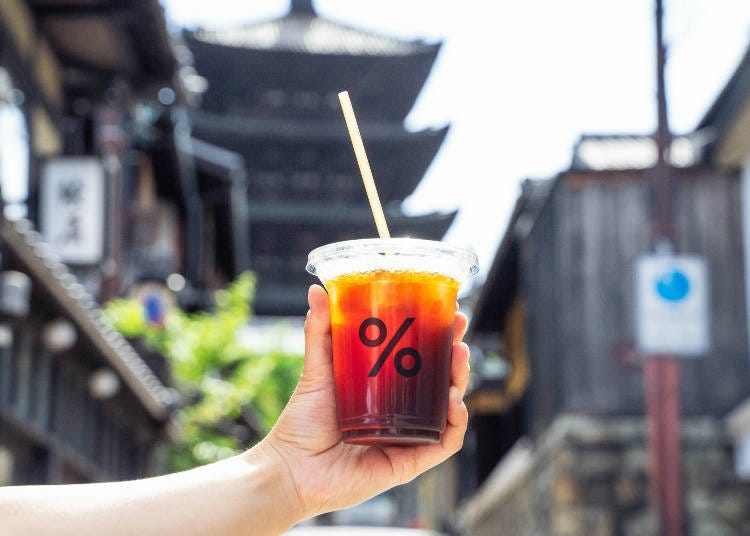 Owing to the powerful coffee flavors and aromas of the original blend, even the iced Americano allows one to relish the full intensity of ARABICA Kyoto. With a crisp mouthfeel and fresh body with astringent hints, this drink is an essential accompaniment serving to invigorate fatigued travelers during their Kyoto adventures. We recommend getting this with the "single-origin" beans for those who enjoy more floral coffees with acidity.

Lemonade - Still (Iced; 16oz): 400 yen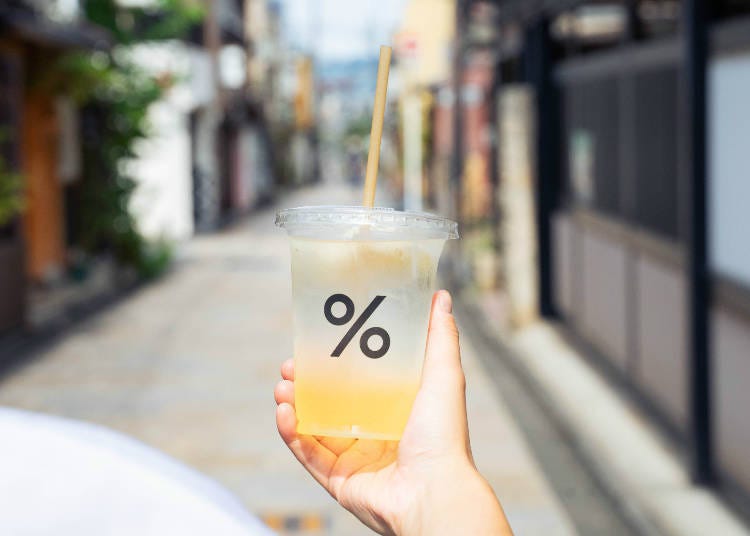 For those who dislike coffee but still want to join the fun, we recommend getting % ARABICA Kyoto's lemonade. The invigorating acidity and gentle sweetness are irresistible, making for an equally great Kyoto counterpart. You can choose between still (uncarbonated) and sparkling (carbonated), with the sparkling costing a little more at 500 yen for 16oz. Make sure you give both a good stirring before you drink!

The straws provided for iced drinks are made from sugar cane fiber, which feels great to use and keeps their strength even after a long time!
3 Original items perfect as souvenirs!
% ARABICA Kyoto Higashiyama also stocks a collection of original items making for great Kyoto souvenirs. We recommend checking out the following three!

% Umbrella (3,900 yen)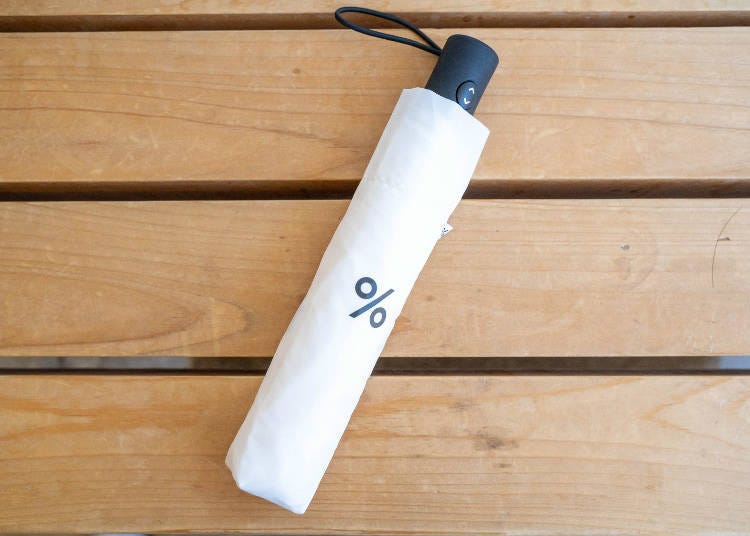 This is % ARABICA Kyoto's original foldable umbrella. Upon opening, the "%" logo appears boldly in the surrounding white, making it stand out while the simple design is super easy to use. The frame is made from carbon fiber and will seamlessly open and close with just the push of a button. It can be used for both sunny and rainy days. If you're in immediate need of a cheaper umbrella, a plastic one bearing the same design sells for 600 yen.

% Tote Bag (5,700 yen)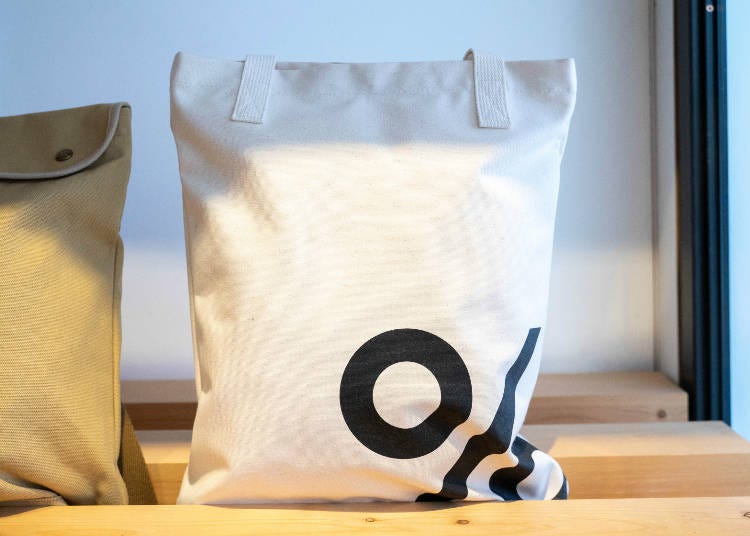 This is a Japanese-made handcrafted tote bag. It's extremely easy to use, with the inside equipped with a pocket allowing secure storage of wallets, passports, pens, etc. The dimensions are H 410mm x W 355mm x D 75mm, and the capacity is 11L, making for the perfect side bag to use when shopping in Kyoto!

% Tumbler (8oz 2,400 yen, 12oz 2,600 yen)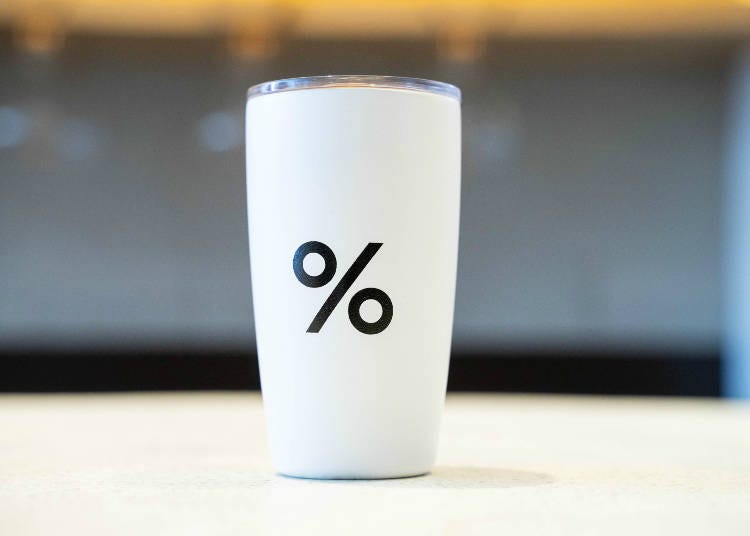 This stylish original tumbler is made using medical-grade stainless steel, making cold drinks colder and hot drinks hotter while keeping the temperature for hours on end. The matte texture feels great and is easy to hold!
How to make delicious iced coffee the % ARABICA Kyoto way!
Thankfully, you don't have to travel all the way to Kyoto to enjoy good coffee! Here we'll share how to make a delicious Americano like the baristas at % ARABICA Kyoto. To make it easy, we'll use a recipe for one cup of drip-style coffee.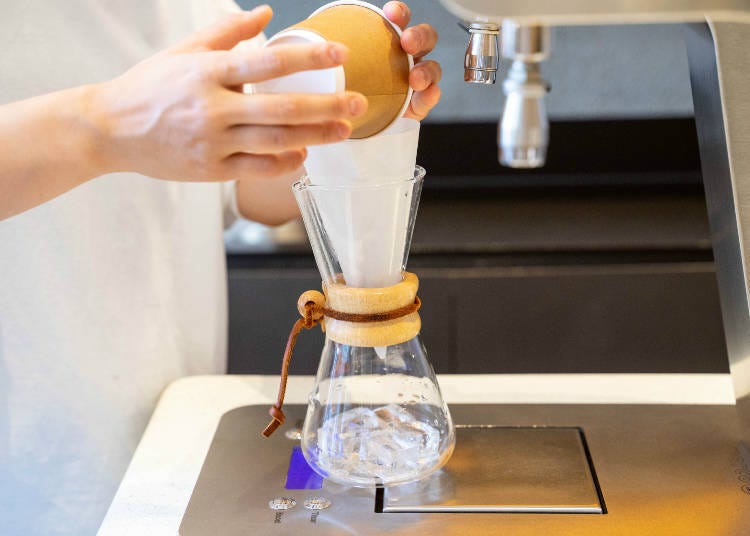 First, place 4 to 5 ice cubes into a coffee server and 16g of coffee into a filter. Medium ground coffee beans work best. If you're going to grind them yourself, make sure the final measurement of 16g is of ground coffee, not beans. Even a difference of just 1g will completely change the flavor!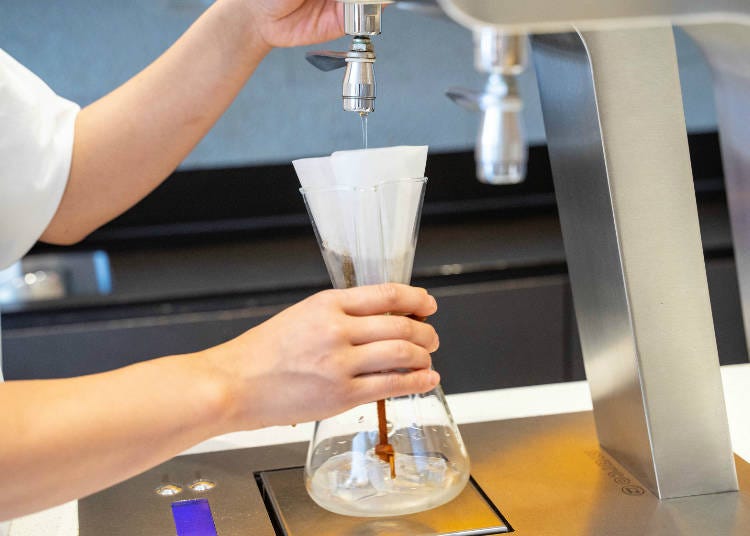 To open up the coffee, pour a little hot water (heated to roughly 80°C/176°F) into the filter over the coffee and allow it to rest for 30 seconds. After this, gradually pour the additional hot water into the coffee in a circular pattern. Aim to use around 200ml (6.8oz) of water.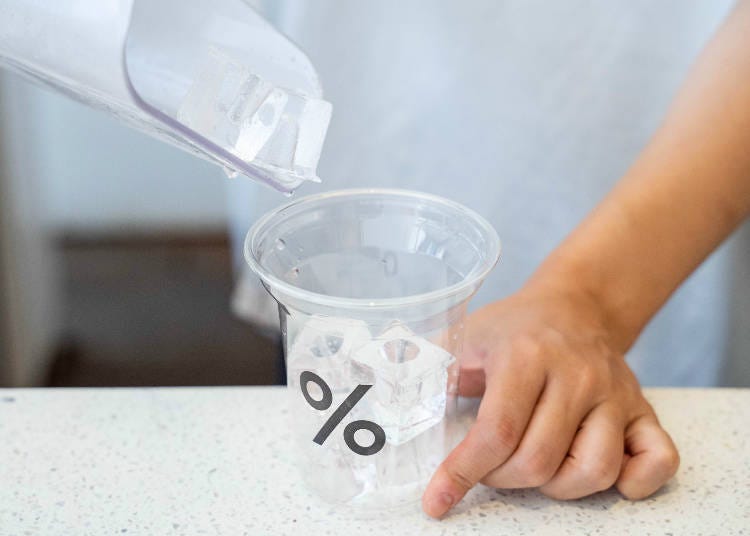 Place 5 or 6 ice cubes into a cup.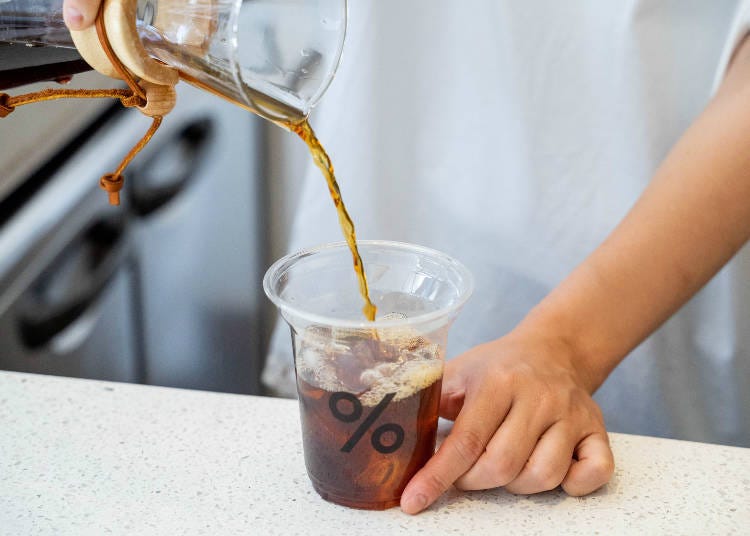 Once the coffee has brewed, pour it all into the cup. Because you already placed ice into the coffee server, the freshly brewed coffee is not hot enough to instantly melt the ice cubes in the cup, creating a crisp and utterly delicious Americano!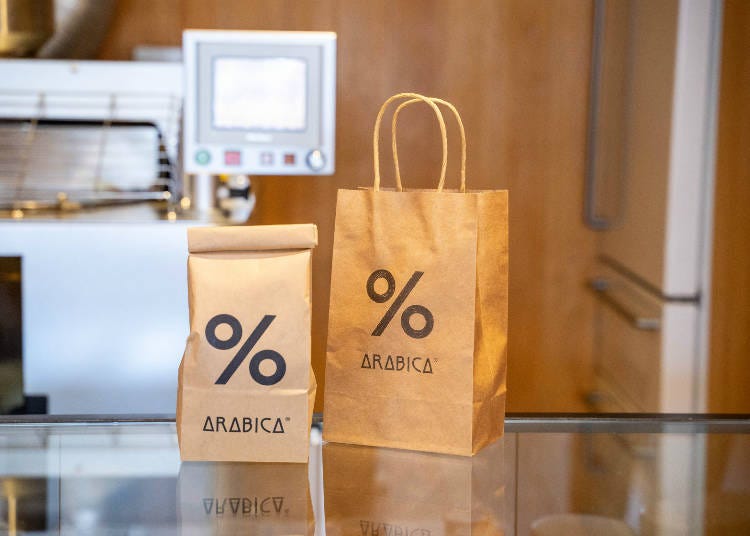 ARABICA Blend (200g): 1,300 yen
The Higashiyama and Arashiyama stores are the only ones boasting a coffee roasting machine, making them the only % ARABICA stores to sell freshly roasted coffee beans! The aromas are particularly remarkable, allowing anyone to make cafe-style coffee at home easily!

% ARABICA Kyoto Higashiyama is a coffee-lovers paradise allowing sightseers to relish the tastes of premium-grade, lovingly crafted coffee alongside some of Japan's most iconic sights!

Next time you're wandering through the magical world of Higashiyama, stop by % ARABICA Kyoto for a well-deserved pick-me-up.

Health & Safety Information
Disinfection, sterilization, and cleaning of shop and facilities - Sanitizer installed - Disinfected after each guest leaves - Ventilation measures in place - Coin trays used - Plastic partitions installed - Staff wear masks, gargle, wash hands regularly, and monitor body temperature - Limited capacity/increased space between seats - Restricted admission - Entry declined to anyone who is feeling unwell - Guests requested to wear masks and conduct temperature checks.
% Arabica Kyoto Higashiyama

アラビカ京都東山店

Address

87-5 Hoshinocho, Higashiyama-ku, Kyoto, 605-0853

Phone Number

075-746-3669

・Hours: 9:00AM – 6:00PM
・Closed: Open daily
*The information presented in this article is accurate as of August 2021. Please check the official website for the latest details.
Written by: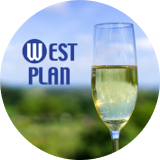 *This information is from the time of this article's publication.
*Prices and options mentioned are subject to change.
*Unless stated otherwise, all prices include tax.