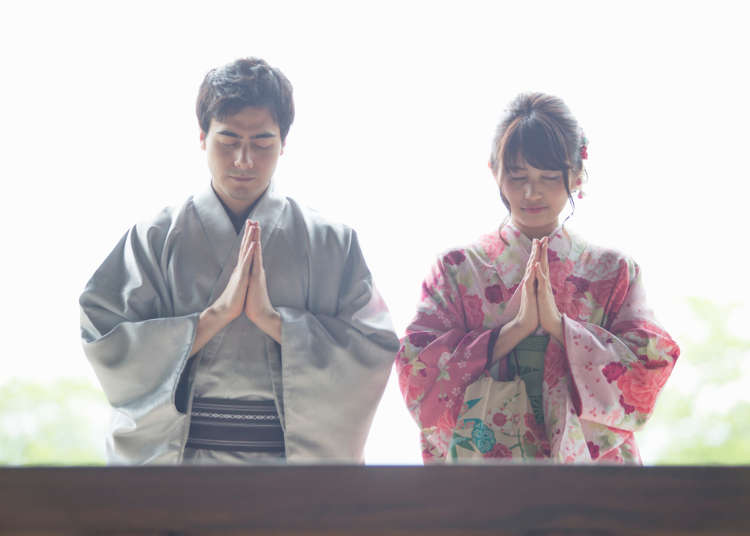 For the Japanese, the end of the year and the New Year holidays are an important time to express gratitude for the passing year and to anticipate the aspirations of the year to come. Everyone has their own way of celebrating, but many people express their sentiments by visiting shrines and temples.

Here are some fun and interesting options for ringing in the New Year in Kyoto, where so much Japanese tradition can be found, whether you prefer praying at a shrine or temple, or parting with your pals.
1. The Powerful Sound of the Chion-in Temple Bell
One traditional way to celebrate the New Year is listening to the "Joya no Kane" – the tolling of temple bells that literally ring in the New Year at midnight.

Throughout New Year's Eve and into the night, a huge bell called a "bonsho" sounds 108 times to drive away the same number of stresses, worries, and annoyances that can weigh on the mind. By doing so, people can welcome the New Year with renewed feelings.

The "Joya no Kane" is held at temples all over Japan, but the most famous ceremony takes place at Kyoto's Chion-in temple, where the Jodo sect of Buddhism was founded. While visitors cannot enter the temple itself during the proceedings, they are eager to watch this stoic yet dynamic ritual.
One of the three biggest bells in Japan, Chion-in's is about 3.3 meters tall, 2.8 meters in diameter, about 30 centimeters thick, and weighs about 70 tons. Seventeen monks ring the bell with a huge wooden pole called a "shumoku".

To do so, one monk holds a rope fastened to one end of the shumoku and shouts "Ei, hitotsu" while the other sixteen monks pull ropes connected to the other end of the shumoku and reply "Ei, hitotsu – Sore!" In a way completely different from the usual method, the first monk then uses his full body weight to slam the shumoku into the bell and produce a deep, powerful sound that reverberates into the night.

On December 31, general entry into the temple ends in the evening and admission to the ceremony begins around 20:00. The bell ringing starts around 22:40, and ends at 00:20 on January 1. Keep in mind that it may be difficult to see the proceedings if the crowd of onlookers is too large.
Ohojo and Hojo Garden are designated as important cultural properties
Although you can only enter the area around the bell on New Year's Eve, there are many buildings in the Chion-in complex that have been designated as national treasures and important cultural properties, so be sure to set aside some time enjoy these examples of the beauty of Japan.
知恩院

Address

400 Rinkacho, Higashiyama-ku, Kyoto, 605-8686

Phone Number

075-531-2111

Hours: 6:00 - 16:00 in December and January (5:30 on January 1), (building entry at 9:00)
Admission: Hojo Garden is 400 yen for adults, 200 yen for elementary and junior high school students (9:00 - 15:50)
2. A Fun Countdown Party at Tango Kingdom Shoku-no-Miyako
If you want to spend a lively New Year's Eve in Kyoto, head to Tango Kingdom Shoku-no-Miyako's countdown party! Located in Kyotango City, Tango Kingdom is the largest Michi-no-Eki (roadside station) in West Japan and is a great place for travelers to rest or get local tourist information. It's about two hours by car from Kyoto City, on the Kyoto Jukan Expressway, or, if you're traveling form Osaka, it's about three hours from Shin-Osaka Station to Mineyama Station via highway bus. From there, it's a 10-minute taxi ride to Tango Kingdom.
The countdown party starts at 23:45, and just after midnight an impressive fireworks show lights up the sky! You'll be amazed by the sights and sounds, which are exceptional in the clear winter air.
There are stage performances featuring singing and dancing, soba noodle stands, and other special events.

On December 31, general entry to the park ends around 21:00, and admission for the countdown event starts at around 21:45. There are plenty of activities to enjoy including restaurants, cafes, a petting zoo, go-carts, and VR experience facilities, so it's highly recommended that you spend the whole day and the evening leading up to the main event at midnight.
Tango Kingdom Shoku-no-Miyako

丹後王国「食のみやこ」

Address

123 Yasakacho Tottori, Kyotanngo, Kyoto 627-0133

Phone Number

0772-65-4193

Hours: 10:00 - 21:00 (hours subject to change due to season and special events); closed Tuesdays
Admission: Free
3. Welcome the First Sunrise at Kyoto Tower!
Kyoto Tower, the city's tallest building, has an observation deck located 100 meters above ground that has a special early-morning opening on January 1 for its "New Year's Day First" event. Directly connected to JR Kyoto Station via an underground passage, the tower is easily accessible and many people head there to greet the dawn after listening to the late-night bells.
With an unobstructed view, the first sunrise is truly heavenly, and you'll feel renewed just looking at it. The observation deck opens at 6:30 (last entry at 8:00), but many viewers line up at 5:00 saying "I want a good spot to see the sunrise," so you might consider getting there early too.
Men's bath
Women's bath
The observation deck has a shrine where you can receive your fortune for the new year, and after greeting the dawn you can relax at the underground public bath – Yuu – that opens at 7:00. The men's bath is an expansive 130 square meters, while the women's bath has a calm, relaxed atmosphere. After cleansing your mind and body, you'll be refreshed and ready for more sightseeing in Kyoto!
京都タワー

Address

721-1 Higashishiokojicho, Shimogyo-ku, Kyoto, 600-8216

Tel: 075-361-3215(9:00〜20:00)
Hours: New Year's morning hours 6:30 - 8:00 (last entry; usually 9:00 - 21:20), public bath 7:00 - 22:30
Admission: Yuu Bathing, adults 770 yen on weekdays & 910 yen on Saturdays, Sundays, and holidays; elementary school students aged 2 and over 450 yen; free face towel service
4. New Year Prayers and the Beautiful Shinsenen Garden
Built in 794, Shinsenen has been visited by many emperors for cherry-blossom viewing, boat trips, and other banquets and events. is also the birthplace of the famous Gion Festival. The beautiful pond and its red-painted Hosei Bridge – said to connect God and Buddha – are iconically Japanese, and is a major tourist draw, where many make wishes for the New Year.
At 11:00 on January 1, a New Year prayer sevice is held at Zennyo Ryuo Shrine. Although the ceremony is held by a particular sect of Buddhism, all are welcome to attend regardless of religious affiliation. After the prayer, you can purchase a card with a unique prayer for 10,000 yen.

Additionally, Toshitokujin (the goddess of directions) is enshrined there, and the year's blessed direction ("eho") is divined on December 31 every year. It is said that happiness and relief from illness will be granted by worshiping in that specific direction.
神泉苑

Address

166 Monzencho, Nakagyo-ku, Kyoto, 604-8306

Phone Number

075-821-1466

Hours: garden 8:30 - 20:00, temple office 9:00 - 17:00
Admission: Free
Let's Have a Special New Year's Holiday in Kyoto
You can experience a traditional Japanese New Year at Chion-in and Shinsenen, celebrate the holiday with good food and fireworks in full bloom, or drink in the first sunrise from the Kyoto Tower. Of course, there are many other temples you could visit, so find your favorite and enjoy the New Year in Kyoto!

Text by:WESTPLAN
*This information is from the time of this article's publication.
*Prices and options mentioned are subject to change.
*Unless stated otherwise, all prices include tax.