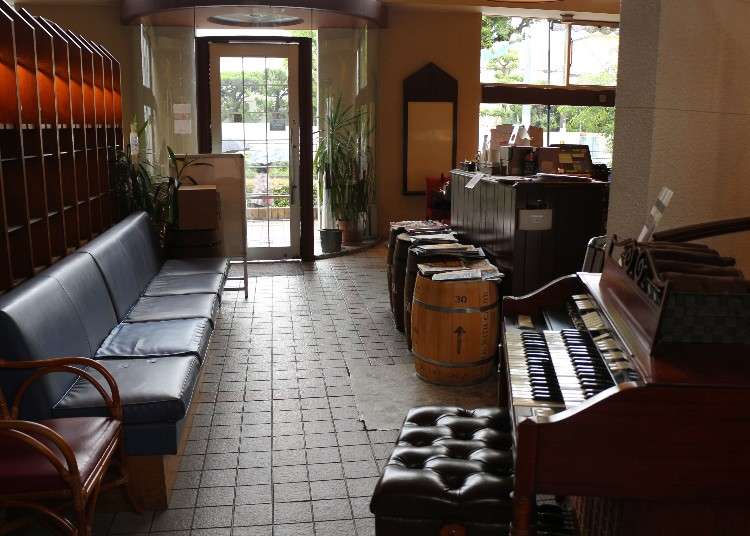 Whether you arrive in the tourist city of Kyoto early in the morning or late at night, several convenient 24-hour restaurants are ready to serve you breakfast, lunch, or dinner.

From light drinks and filling meals to evening desserts and parfaits, these 24-hour stores are ready for you any time of the day.
1. Harbor Café: Catering to all your needs, be it breakfast or a late-night dessert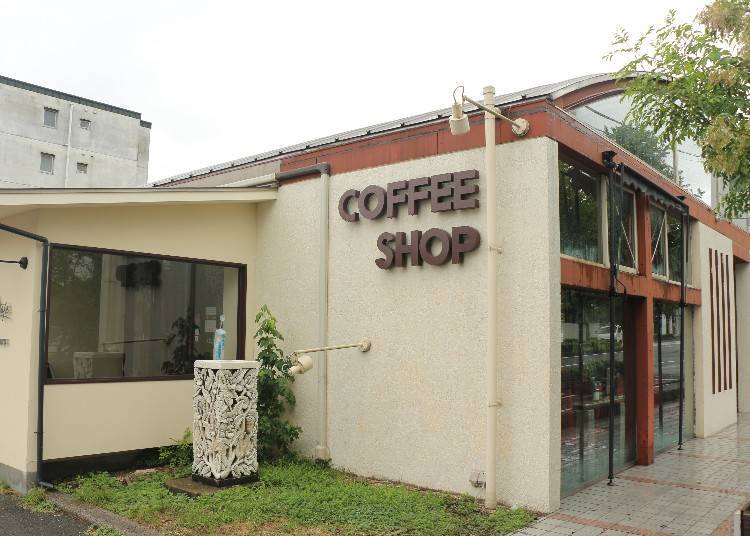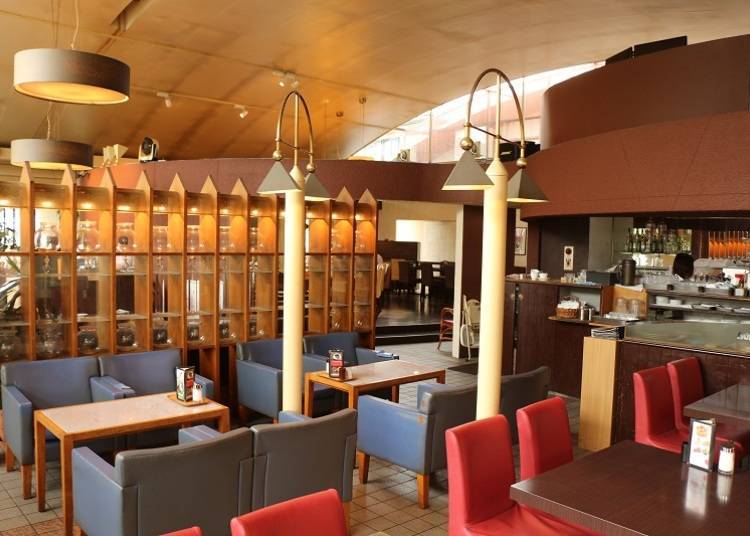 It is located near Kitano-Hakubaicho Station (Randen). Running for 24 hours a day and close to Kitano Tenmangu, Hirano Jinja Shrine, and Kinkaku-ji, this store is invaluable.

Facing Nishioji-dori road, this cafe has been run from its eye-catching building for roughly 40 years (including when they operated under a different name).

Tables with blue and red seats settled under dangling circular lights and a high ceiling create a relaxing retro atmosphere. Breakfast is served from six to eleven a.m., and you can choose between three staple dishes (620 yen each, tax included) and, on weekdays, the daily special (700 yen, tax included).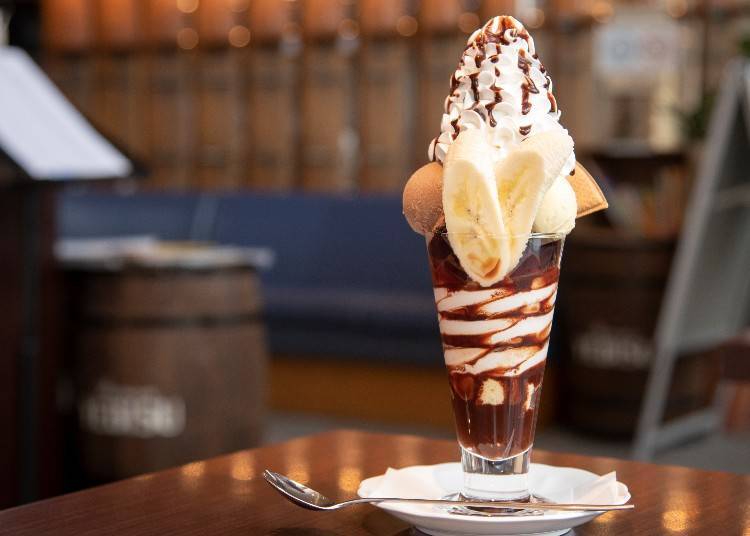 This super parfait is available 24 hours a day!
The most favored items on their specialty menu are their stunningly massive parfaits. They're 30 cm (one foot) tall! The most popular "Chocolate Parfait" (830 yen, tax included) is packed with rich chocolate and accented with bittersweet gelatin, made from coffee that was cold-brewed for ten hours.

Joining the "Chocolate Parfait" are three others, one of which is the "Adult Premium Chocolate Parfait" complete with the creamy liqueur, Baileys Irish Cream (1,000 yen, tax included). Order during the weekday "Parfait Time" (6 ~ 8 p.m.) and get a free coffee!

Pair their popular cake with some coffee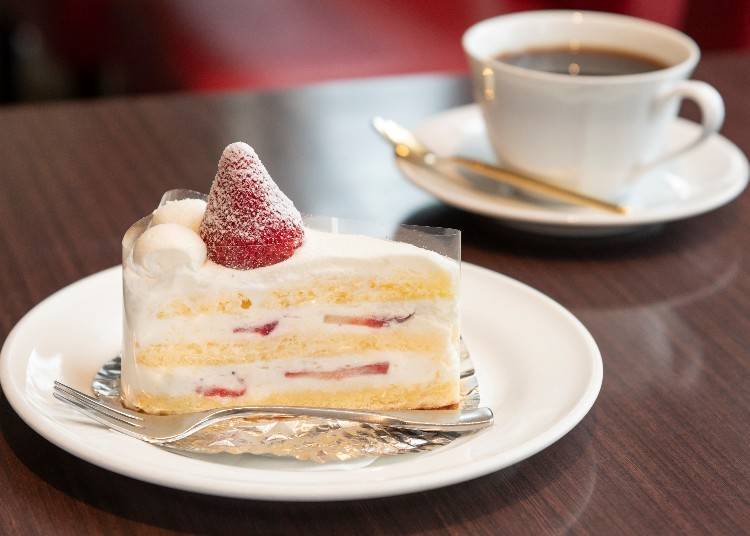 Strawberry shortcake and blend coffee (come as a set, 950 yen, tax included)
Prepared in the central kitchen, the chefs and pâtissiers have a lineup of five different seasonal cakes. You can try their strawberry shortcake (480 yen, tax included) year-round.

Fresh strawberries and quality whipped cream are sandwiched between slices of soft, mild sponge cake. For coffee, try their specialty coffee (600 yen, tax included) which uses beans from Dominica, their house coffee blend (490 yen, tax included), made by heating Brazilian and Colombian beans over white charcoal, or the iced coffee (520 yen, tax included) which is steeped in mineral water for ten hours. Your second cup gets a discount!
Harbor Café Kitano Branch

ハーバーカフェ 北野店

Address

88 Kitanokobaicho, Kita-ku, Kyoto City

Phone Number

075-464-7272

Operating hours: Open 24 hours
Closed: Open daily
* Must purchase another item after three hours. Additional charge of 50 yen (tax included) for those entering or leaving between ten p.m. and five a.m.
2. Sushizanmai Kyoto Kawaramachi: Known for their pacific bluefin tuna!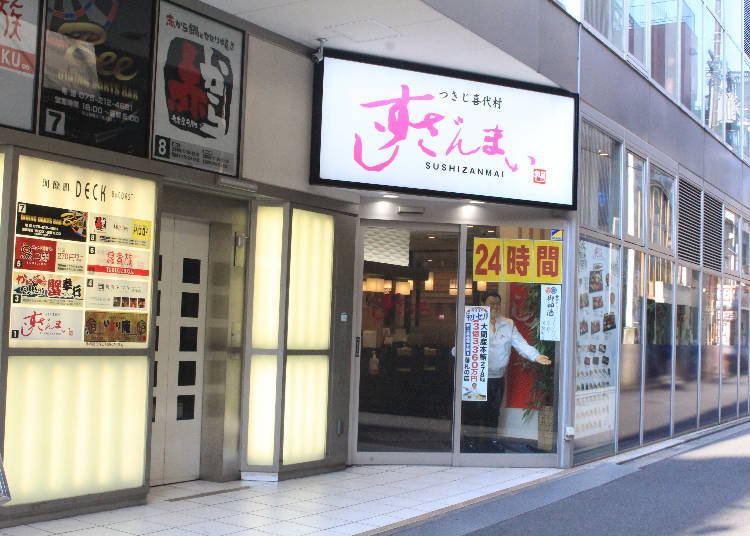 Kyoto's Sushizanmai is in Kyoto's no. 1 shopping district, Shijo Kawaramachi. Just a three-minute walk from Kawaramachi Station (Hankyu), Sushizanmai is on the first floor of an alleyway building, a stone's throw away from the Kawaramachi-dori and Takoyakushi-dori intersection.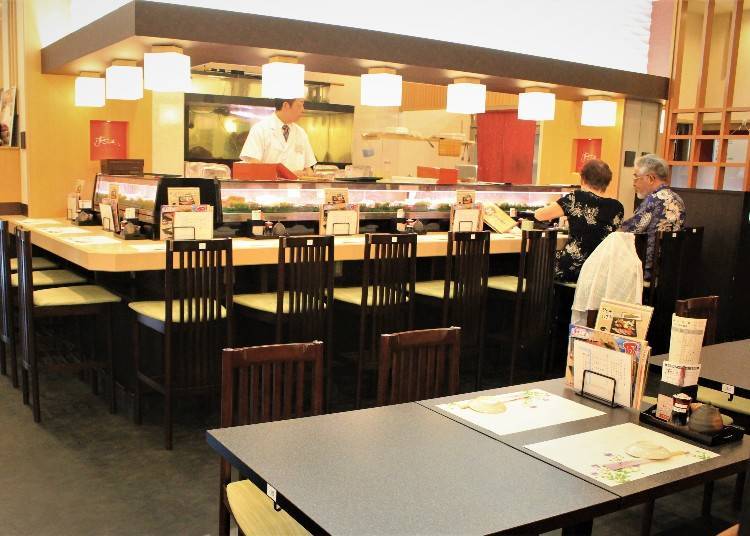 Nicknamed "The Tuna Emperor," a doll representation of the manager, Kimura, welcomes those who enter. Once inside, neta (sushi topping) cases filled with fresh seafood line the counter. This wide, single-story restaurant boasts 74 tables and counter seats.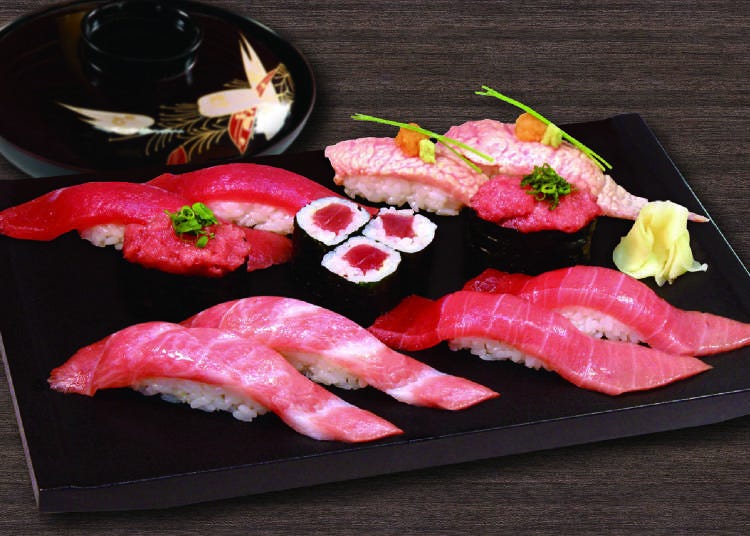 Eat tuna to your heart's content!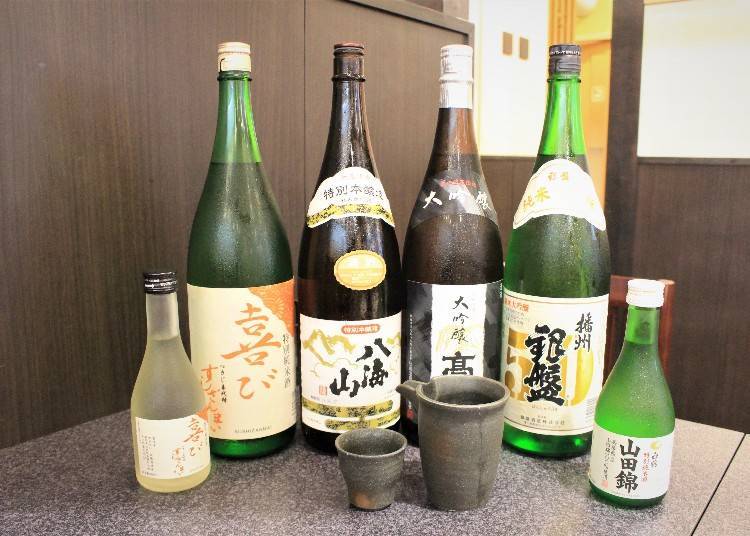 Sushizanmai's biggest selling point is their heavenly, low-cost Pacific bluefin tuna. Enjoy every part of the tuna in the gotta-have dish, "Tuna Zanmai" (3,100 yen, plus tax).

They also have an array of extravagant sets, including one that comes with fatty tuna, medium fatty tuna, red tuna, broiled fatty tuna, minced tuna with green onion, tekka maki tuna rolls, and a rice bowl.

Sets are more economical than ordering one-by-one, so here's your chance, tuna-lovers! Sushi rolls are the most popular among foreign visitors. They have four different rolls: the ten-ingredient "Seafood Roll" (1,180 yen, plus tax), the "Crab Salad Roll," the "Salmon Roll," and the "California Roll."

Those who want a bit of everything can also order individual nigiri slices. Enjoy your choice of nigiri! You can also choose to have wasabi added, on the side, or not at all.

Their drinks have all the bases covered—they serve beer, sours, shochu liquor, sake, and more. On top of their original, tokubetsu junmai (pure rice) sake called "Yorokobi," they also have sake from the famous brands Hakutsuru and Hakkaisan.
Sushizanmai Kyoto Kawaramachi Branch

すしざんまい 京都河原町店

Address

Kawaramachi DECK By COAST 1F, 291 Naraya-machi, Nakagyo-ku, Kyoto City

Phone Number

075-253-6916

Operating hours: Open 24 hours
Closed: Open daily
3. Machikadoya: Fill up morning, afternoon, and evening!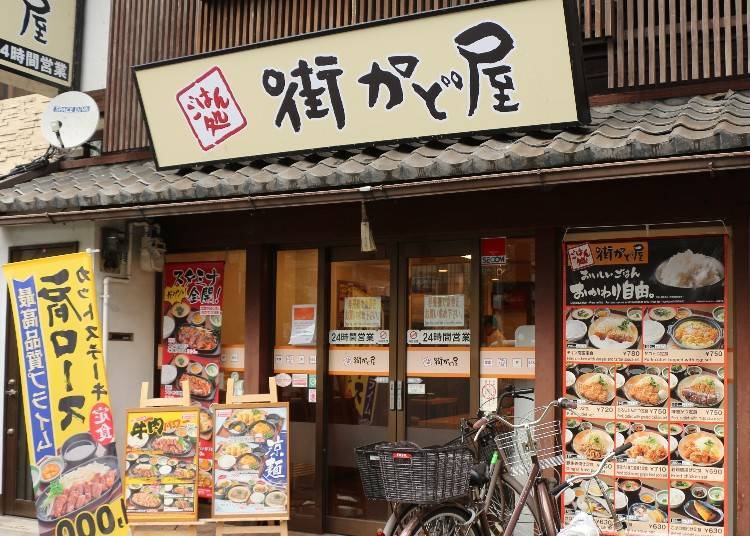 Machikadoya has over 50 stores throughout the Kinki and Tokai areas. Kyoto hosts the Karasuma Gojo Branch and the Kawaramachi Sanjo Branch, both open 24 hours.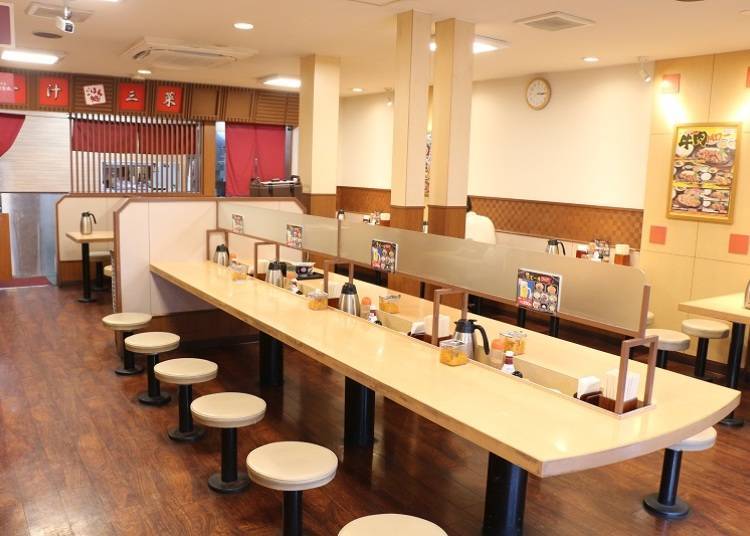 Serving large, assorted meals
The Karasuma Gojo Branch is conveniently located right in front of Gate 1 at Gojo Station (subway). Reasonably priced and originally centered around serving lunch to nearby salarymen, this branch is also surrounded by hotels and therefore sees many late-night travelers, suitcases in tow.

Breakfast sets are served from five to ten. Choose between staple breakfast sets or a simple, Japanese-style breakfast like natto, raw eggs, and miso soup, popular among foreign visitors.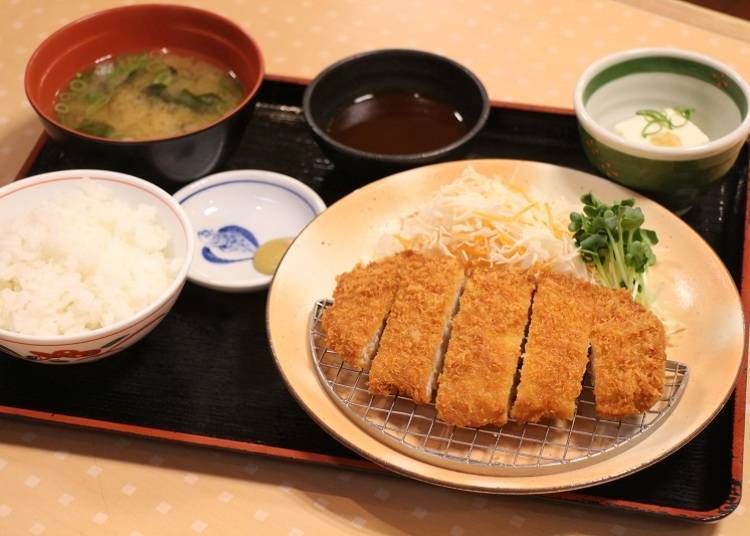 Pork Cutlet Set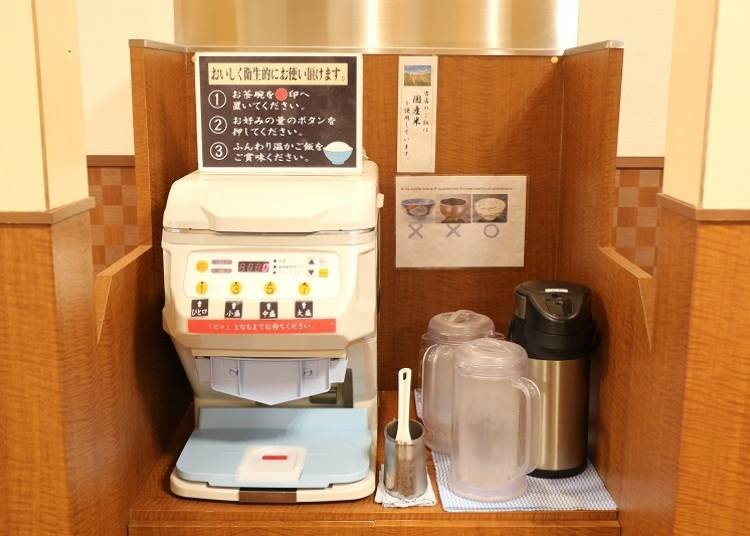 The popular "Pork Cutlet Set" is 720 yen (tax included). Delivered to the store as a large chunk of meat, the pork is then cut and prepared in the kitchen.

As it's never frozen, the meat stays juicy and gets a proper crispy coating, making it absolutely delectable. You can also serve yourself free rice refills using the rice serving machine.

Popular items on the regular menu are the pork miso soup set and the pork cutlet and egg set. Along with the pork cutlet set, these sets make up the store's top three meals.

They also serve lunch from 11 a.m. to three p.m. In addition to the daily special, they also have a discount menu (available while supplies last).
Machikadoya Karasuma Gojo Branch

街かど屋 烏丸五条店

Address

418 Matsuya-cho, Karasuma Higashi iru, Gojo-dori, Shimogyo-ku, Kyoto City

Phone Number

075-351-8621

Operating hours: Open 24 hours
Closed: Open daily
Whether you're after an early-morning breakfast or a late-night dessert, these 24-hour stores are here for you. Make the most out of your trip to Kyoto.

Text by:WESTPLAN
*This information is from the time of this article's publication.
*Prices and options mentioned are subject to change.
*Unless stated otherwise, all prices include tax.