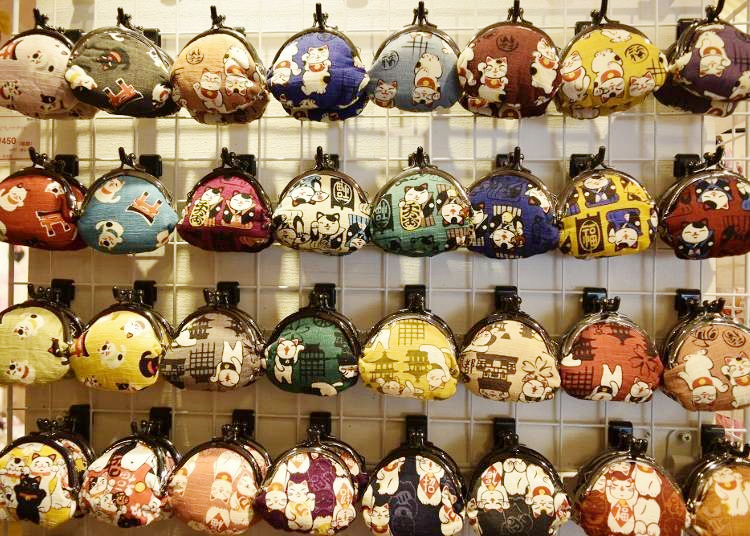 Kinkakuji Temple (the Golden Pavilion) is one of those places that you are going to want to visit at least once in Kyoto. This is a particularly memorable temple complex with many shrines and beautiful structures.

Of course, if you look for souvenirs, you want to find something that is related to the place you're visiting. We have selected a few great souvenir shops for you to check out when you visit Kinkakuji.
What is Kinkakuji Temple?
The official name of the temple is "Rokuonji," but it's known as the Golden Temple (Kinkakuji) because of its main golden pavilion. This is a temple of the Rinzai Sokokuji school and the shari-dono was originally built in the early Muromachi period. The original structure was destroyed by arson in 1950. The current shari-dono was built in 1955. The temple is located in the Kinugasa district, in the northern part of Kyoto, and since it's close to Ritsumeikan University and Bukkyo University, the area is often populated with students. Many buses from JR Kyoto Station reach Kinkakuji (12, 59, 205, and more).

So let's dive into it: where should you buy your souvenirs? Here are 5 of our recommendations.
Address

1, Kinkakujicho, Kita-ku, Kyoto-shi, Kyoto, 603-8361
View Map

Nearest Station

Kitanohakubaicho Station (Keifuku Dentetsu-kitano Line)
20 minutes on foot


Phone Number

075-461-0013
1. Sasayamorie: Popular Kinkakuji-inspired items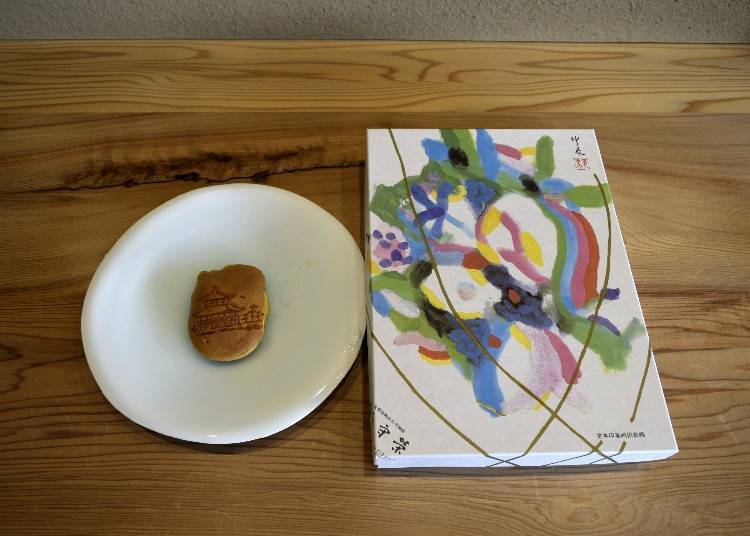 7 minutes on foot from the east side of Kinkakuji, walking south on Nishioji Dori, you will find Sasayamorie, a locally loved confectionery store. For people who like snacks and who like to get them and give them as souvenirs, you should try "Shikazono" (160 yen each, 1000 yen for 5 pieces, tax included).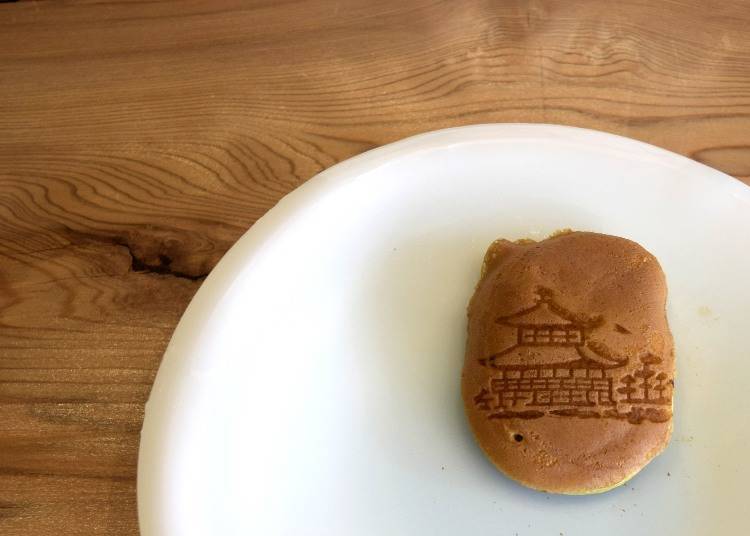 The pastry has a filling of bean jam, wrapped by a soft layer of rice flour. The rice is procured directly from farmers in Shiga Prefecture and the red beans are from Kyoto Tanba, creating a masterpiece of flavor. The shelf life is 10 days.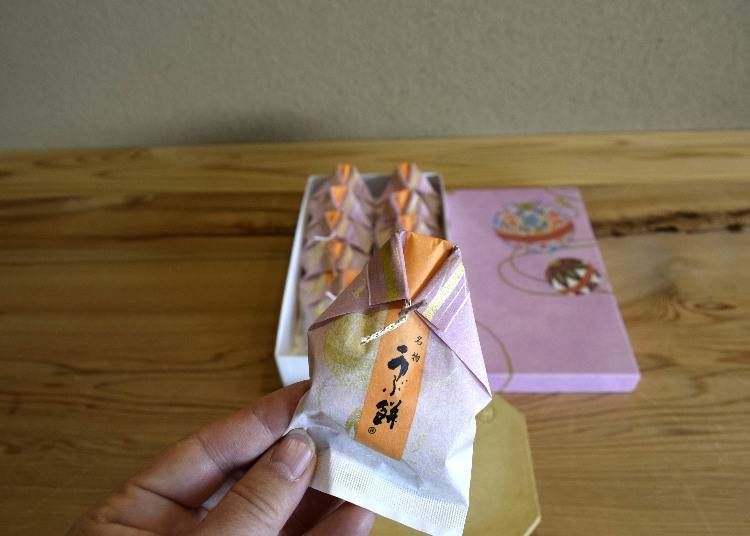 The famous confection "Ubumochi" (1 for 150 yen, 10 for 1,700 yen) is made with soft rice cake and plenty of kinako. As you bite down, homemade sweet cream fills you with flavor.

This particular cream, called "amanatto" is a specialty of Kyoto Danba and is prepared over five days with red bean paste and honey, for a unique and tasty texture. The beautiful boxes and the papers on the wall are original paintings of the Japanese artist Akihisa Miwa, who also lives in Kyoto. Depending on the season, and on the collection of sweets, the decorations on the walls also change.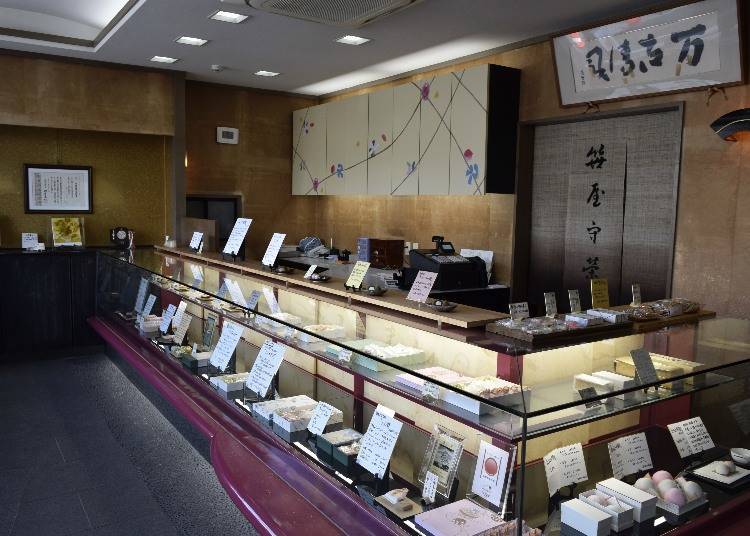 These Kyoto sweets can only be found here in the Sasaya mo Rie store, and they will surely make you happy, if you are looking for traditional Kyoto sweets. In addition, there is a café inside the store where you can enjoy chilled red bean cream in summer and zenzai in winter.
笹屋守栄

Address

38 Kinugasa Tenjinmoricho, Kita-ku, Kyoto, 603-8375

Phone Number

075-463-0338

Open: 9am-6pm
Closed: Wednesdays, and last Tuesday of the month.
2. Nichieiken: Home of the special bun "Kinkaku no hana"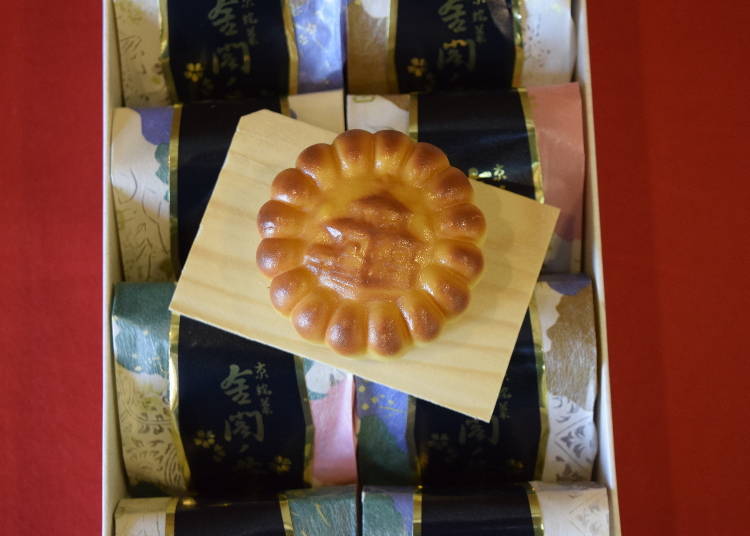 The Japanese confectionery store "Nichieiken" is located near the bus stop taking visitors from Kinkakuji to Kyoto Station. Its specialty is the Kinkaku no Hana (160 yen for one piece, 1,800 yen for 10 pieces – tax not included), a steamed bun with a distinctive decorative pattern representing Kinkakuji temple. Since opening in 1963, the store has been a common stop for students and visitors. The bun has a shelf life of 2 weeks, and it's as elegant as it is tasty.
This very cute confectionery box is called "Treasure Tsukushi" (700 yen, tax not included), and it's shaped like a lucky charm. It uses Wasanbon, a high-quality sugar, and has a shelf life of 6 months. This kind of candy has been recently introduced to more and more foreigners, as they are often offered during green tea tastings and ceremonies, so people who have tried them, will often buy them.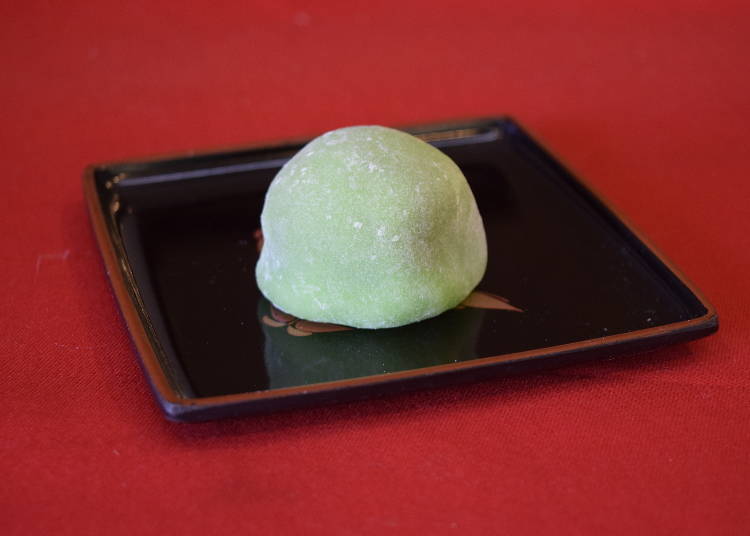 The store also sells three-colored dumplings made with macha daifuku and macha bean paste. Make your bus-wait sweeter and enjoy one.
日栄軒

Address

13 Kinugasa Kaidocho, Kita-ku, Kyoto, 603-8372

Phone Number

075-463-4079

Open: 8am-7pm
Closed: irregular holidays
3. Manekinekonote Manekiya: A lot of colorful lucky charms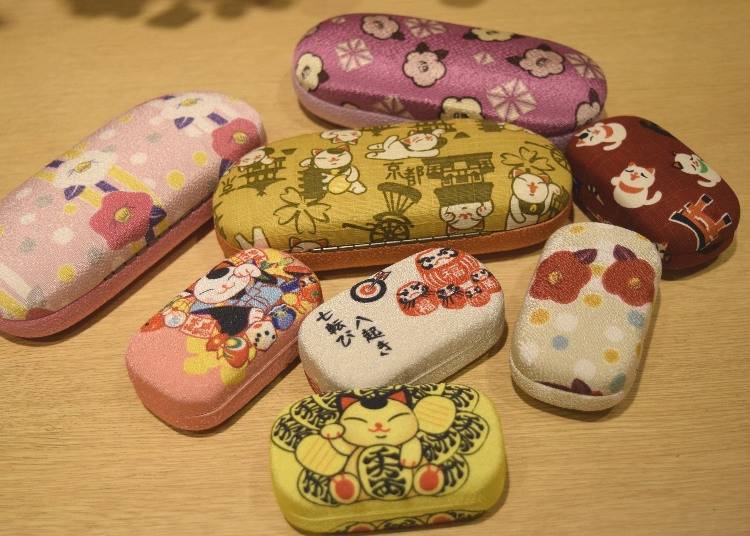 This store is a colorful miscellaneous goods shop near the gate of Kinkakuji Temple. The store sells glasses cases (1,000 yen – tax not included) and accessories of different kinds, made with Japanese cloth. There are many kinds of cloth to choose from, so dive in. The store also gives discounts if you buy three or more, or 10 or more.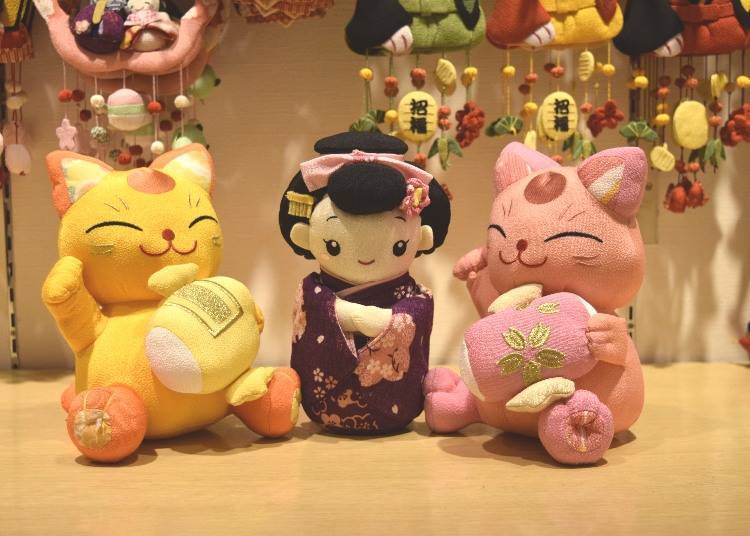 Popular among westerners is the Maiko doll (1,800 yen – tax included). The doll's expression is very cute, and there are a lot of colors and patterns to choose for the doll to wear. If you are looking for a good fortune gift, then you can take the lucky cat (1,600 yen, tax not included). If you raise the right arm, you invite money, while raising its left invites people. The two cats are both cute, so after some thinking, most people buy them both.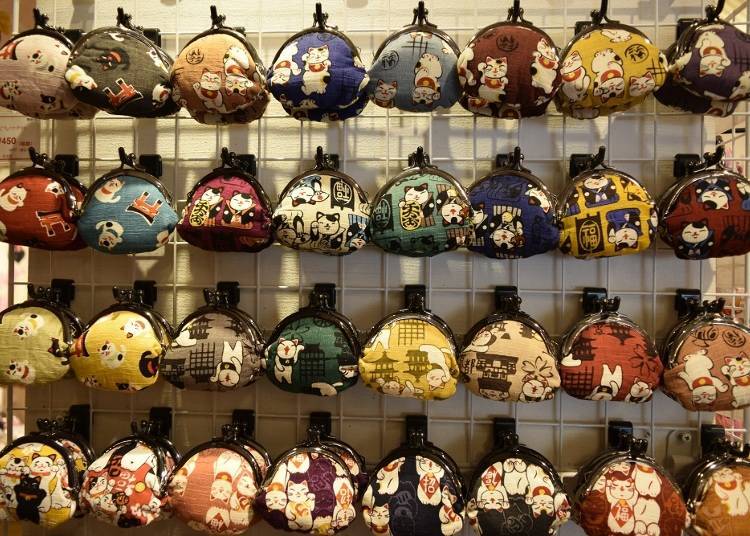 There are many other kinds of items like Jinbei clothing for young children, postcards and towels inspired by the city of Kyoto, and more. The Maneki Neko pattern is very cute, but there are also beautiful purses and pouches with Kinkakuji illustrations and kanji patterns. This store will definitely make you happy with its many choices.
まねきねこのて招喜屋

Address

33-3 Kinugasa Kitatenjinmoricho, Kita-ku, Kyoto, 603-8376

Phone Number

075-466-6262

Open: 9:30am-6pm
Closed: always open
4. Kyo-komono Kinugasa: Assorted cool Japanese goods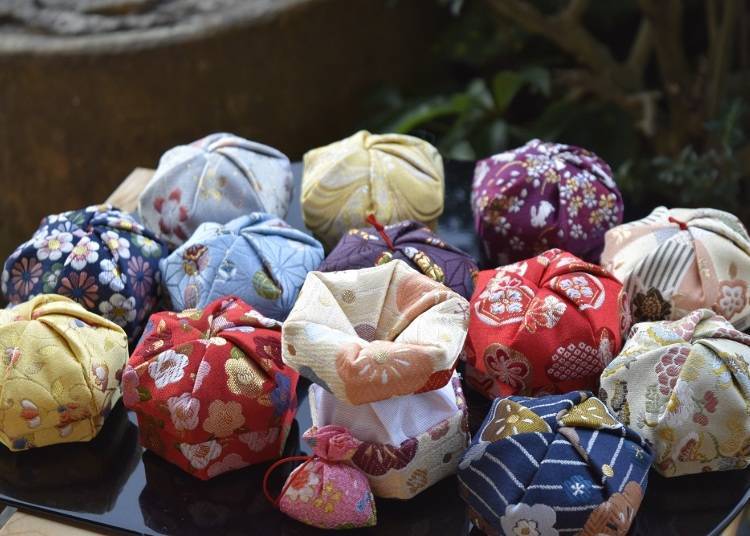 Located along the "Kinukake no Michi" from Kinkakuji Temple to Ryoanji Temple is Kyo-komono Kinugasa, a Japanese miscellaneous goods store. Their original twisted box (1,500 yen, tax not included) has gained more and more popularity since its opening 20 years ago. The store makes a mysterious small box that is opened by twisting Nishijin fabric. It can be used as an accessory case, or as a stand for glasses. Inside, there is a small scented bag, and an elegant scented wood.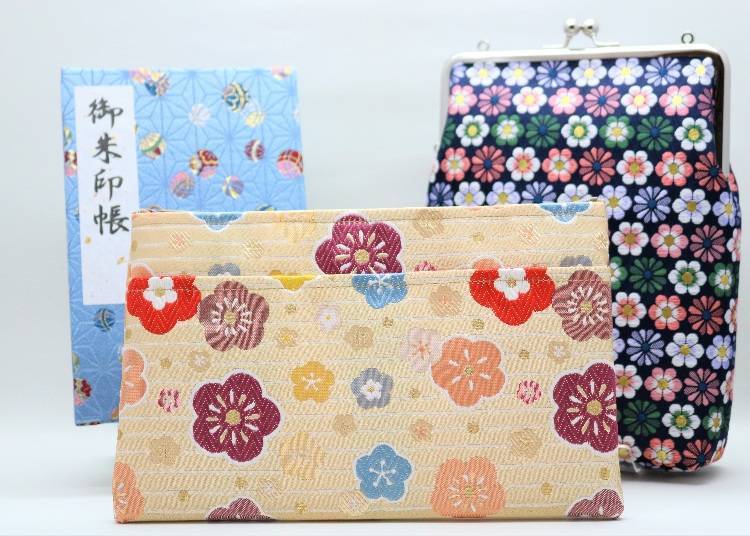 When you visit a temple or a shrine, there is a red stamp that you can collect (in a special book called a Goshuin) that shows you have been there, and it has a great design.

The red stamp bag (1,500 yen tax not included) is perfect to store the stamp book, and if you are a tourist it's great to store brochures, as well as documents. If you want to separate your stamps, the gamaguchi bag (3,500 yen for the handbag, and 4,000 for a shoulder bag – tax not included) holds multiple stamp books. Made with gorgeous Japanese cloth, it looks pretty and stylish.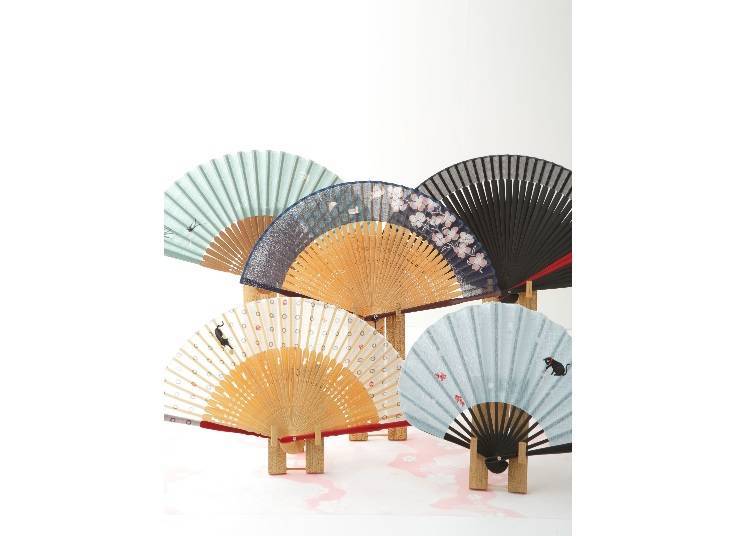 Hand fans are popular regardless of the season. In addition to being compact and practical, they have many designs and are made with many materials for both men and women. Choose a cute, elegant, or cool one. There are notations in English in the store, and the staff will kindly help you.
京こもの衣笠

Address

5 Ryoanji Goryonoshitacho, Ukyo-ku, Kyoto, 616-8001

Phone Number

075-461-2631

Phone: 075-461-2631
Open: 9:30am-5:30pm
5. Kyoto Ohashi Kobo: Chopsticks and chopstick boxes made of natural materials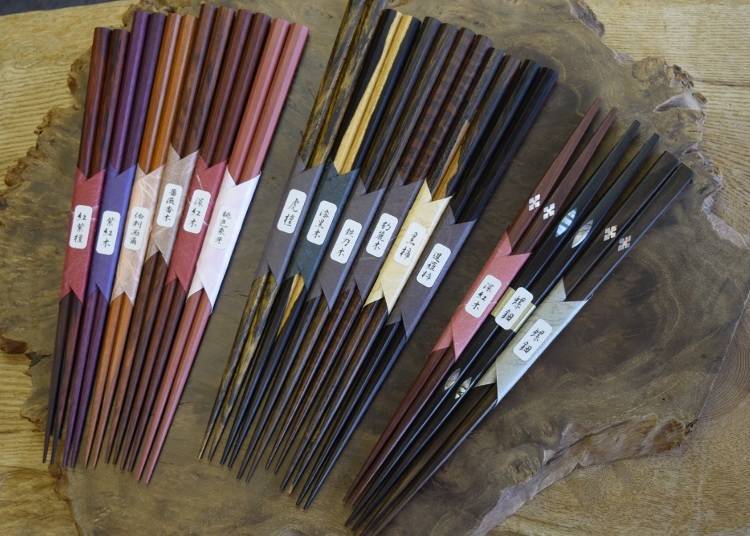 With the growth in popularity of Japanese food, many westerners have learned to use chopsticks well. Here you will find a unique shop where you can buy handmade chopsticks, heading west from Kinkakuji, going towards Ryoanji Temple. The materials used are bamboo and other types of wood, and only of the best kind. There are so many different types of chopsticks and patterns that you will be conflicted on which ones to get.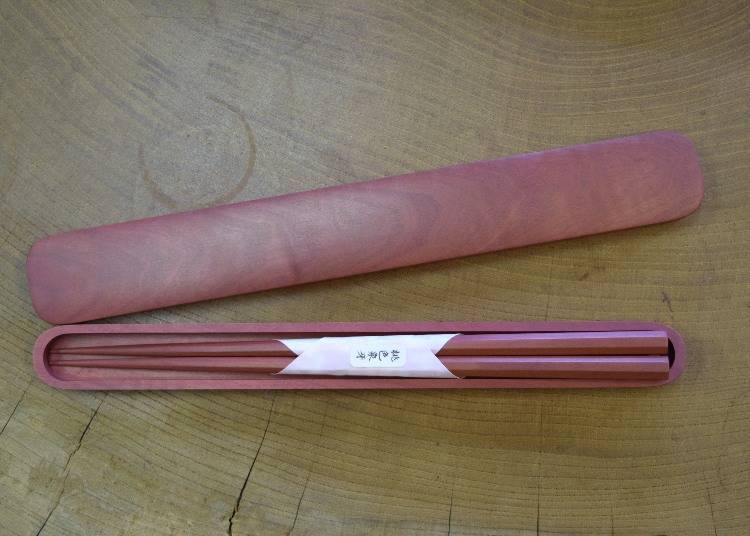 One of the features of the shop's chopsticks is that they have rather sharp tips, in order to allow you to concentrate more pressure when you are trying to pick up very small bits of food like sesame, or while you are trying to remove the bones of a fish effortlessly. The finishing of the chopsticks contributes to their beauty and durability. There are also chopstick boxes made of the same material and of different sizes, to fit your chopsticks perfectly, so that they don't rattle when you carry them around.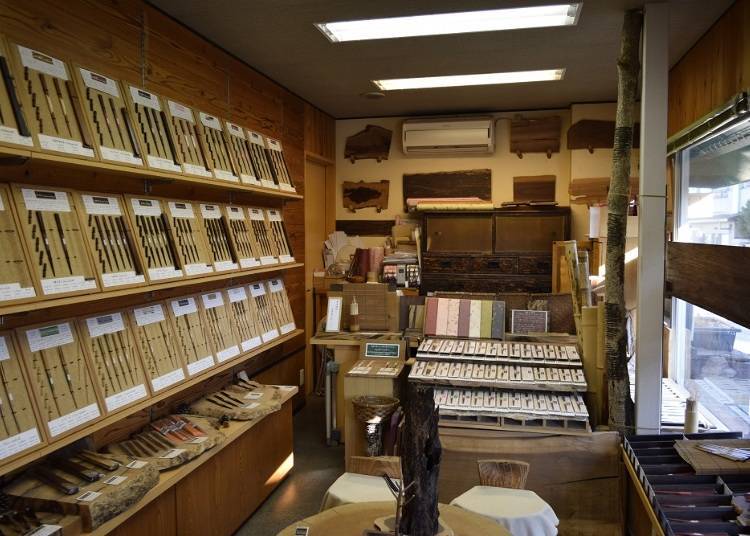 Craftsmen make chopsticks in store. A comfortable size and shape depend on the hand holding them, so you can even consult with these experts for them to recommend the best pick for you. They can help you choose the optimal size for you or the people you would like to give the chopsticks too even just based on their height. Your orders can be mailed also overseas. It may be a little expensive, but they will last for a very long time.
京都おはし工房

Address

16-5 Hanazonotenjugaokacho, Ukyo-ku, Kyoto, 616-8021

Phone Number

075-464-3303

Open: 10am-5pm
Price: chopsticks start at 1,000 yen, Chopstick boxes from 13,000yen
Closed: Thursday and sunday
Near Kinkakuji Temple there are Japanese sweet shops and general stores that have been the locals' favorite for a long time. Enjoy the quiet townscape of Kinugasa, where the mountains are close by and take a look at the various old and new shops, and choose your favorite.

You can enjoy the sweets right in the store, ad some of the goods you buy, you can use right away. So, what souvenirs will you bring back from Japan?
Written by WestPlan
*This information is from the time of this article's publication.
*Prices and options mentioned are subject to change.
*Unless stated otherwise, all prices include tax.