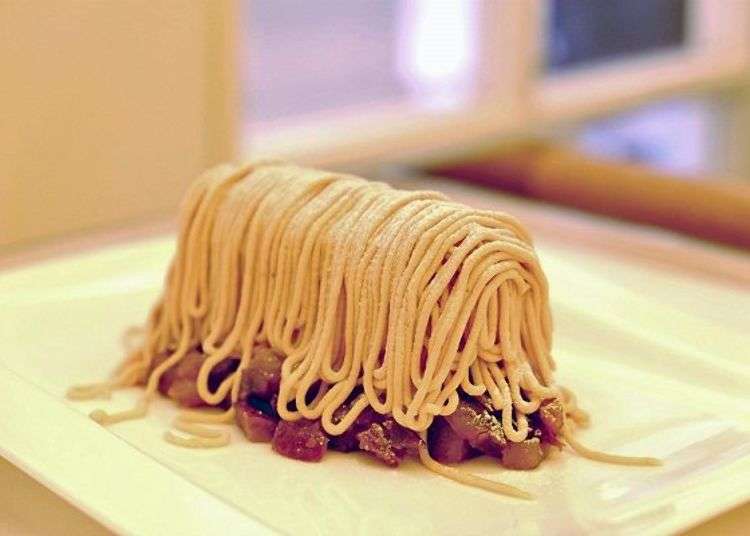 Malebranche Kyoto Kitayama makes and sells one of the most famous Kyoto souvenirs: the (strong green tea) okoicha-flavored langue de chat called 'Cha-no-Ka.'

Here they also have the limited Mont Blanc dessert that is offered exclusively at the main store salon. This dessert is so popular that it forms a line. Here we will share about Malebranche and its other stores, such as the chocolate specialty store Cacao 365.
Malebranche: A Kyoto Gift Standard
Malebranche was established in 1951 in Kyoto Sanjo as a café. Since then it has grown into the main western confectionery of Kyoto, which is the holy land for Japanese confectionery.

The current new standard gift from Kyoto is the okoicha langue de chat biscuit Cha-no-Ka, which is made with high quality matcha that is used as koicha in tea ceremonies.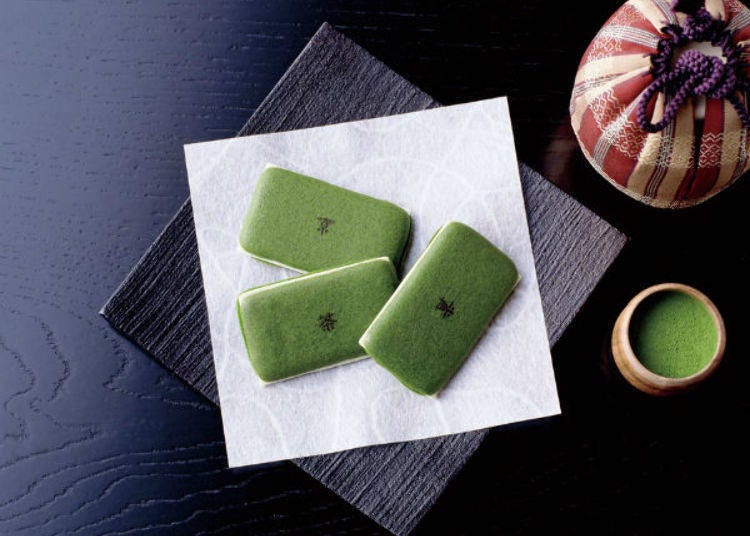 ▲The main product Cha-no-Ka, a koicha langue de chat (5 in a box, starting from 745 yen).
Other than the Kyoto Kitayama Main Store, Malebranche Kyoto has café shops and other stores in Kyoto.
Look for the Brick Exterior Malebranche Kyoto Kitayama
Kitayama is located in the northern region of Kyoto City. This area is known as a sophisticated area with select shops, modern designer buildings, churches and botanical gardens.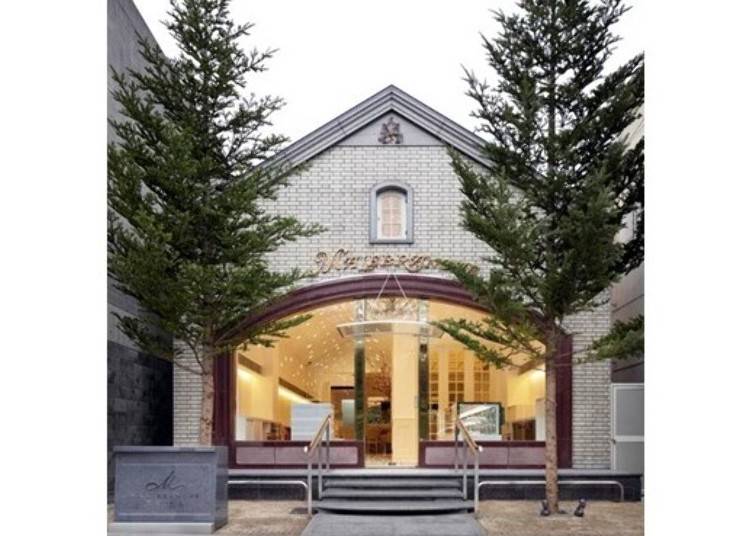 ▲Malebranche is in a convenient place located about 3 minutes on foot from Kitayama Station. To reach Kitayama Station ride the Kyoto Municipal Subway from Kyoto Station
This popular store attracts locals and tourist. The store has an adjoining tea salon.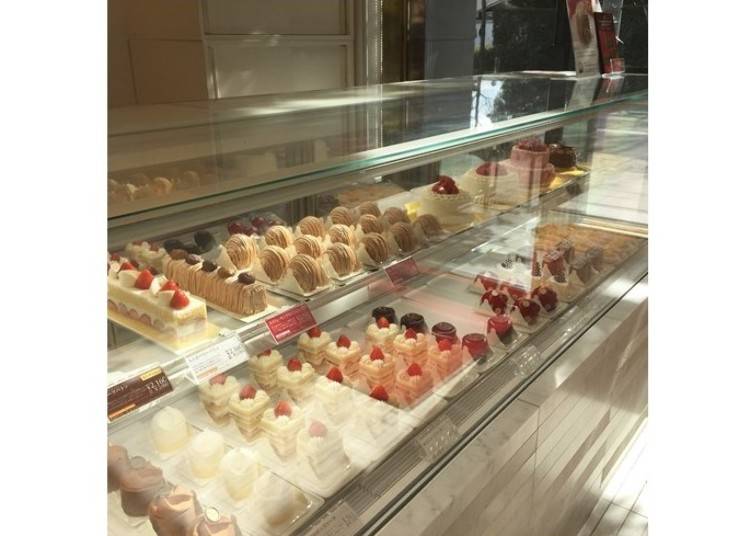 ▲At the sales counter they have Cha-no-Ka and about 20 types of cake. You can also order the cake at the tea salon
▲Tea salon uses natural colors to give a warm vibe
Many customers come here to enjoy the Mont Blanc menu that is only offered in the tea salon. According to Hitomi Nishioka, responsible for PR, the store has two types of Mont Blanc, the Mont Blanc haute couture which is available throughout the year and the seasonal Mont Blanc dessert. We decided to order the dessert right away.
Premium Mont Blanc: Available only at Malebranche Kyoto Kitayama
The Mont Blanc haute couture was served first. However when we looked at the plate, it only had a white object on it. Ms. Nishioka explained to us that "the white object is called mousse glacée, a frozen mousse with vanilla. The final touch of the dish will be done here."

The completion of Mont Blanc haute couture with the decoration of Mont Blanc cream can be enjoyed at the table.

Also for the chestnut with the inner skin that is decorated around the mousse glacée will be flavored with rum. You can choose from among three rum brands, each of which is a top-quality one found on the menu at first-class restaurants. Each chestnut is flavored to your liking.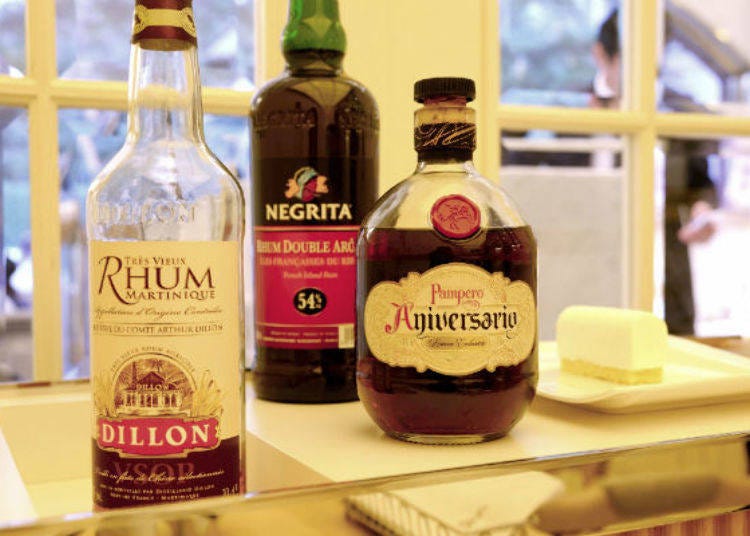 ▲From left, Dillon Tres Vieux Rhum VSOP, Rhum Negrita Double Arome, and Pampero Aniversario Rum. They also have non-alcohol sauce too
The staff will quickly mix the rum and crushed chestnut with inner skin and place it around the mousse glacée.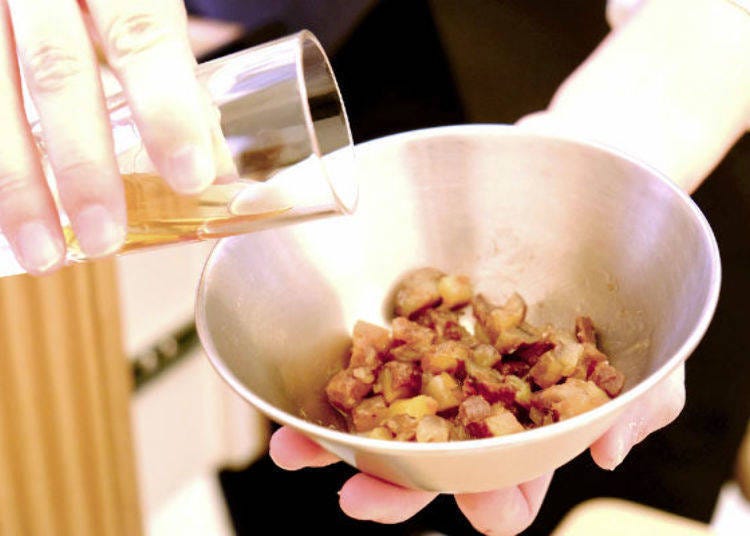 ▲About 3 large chestnuts crushed up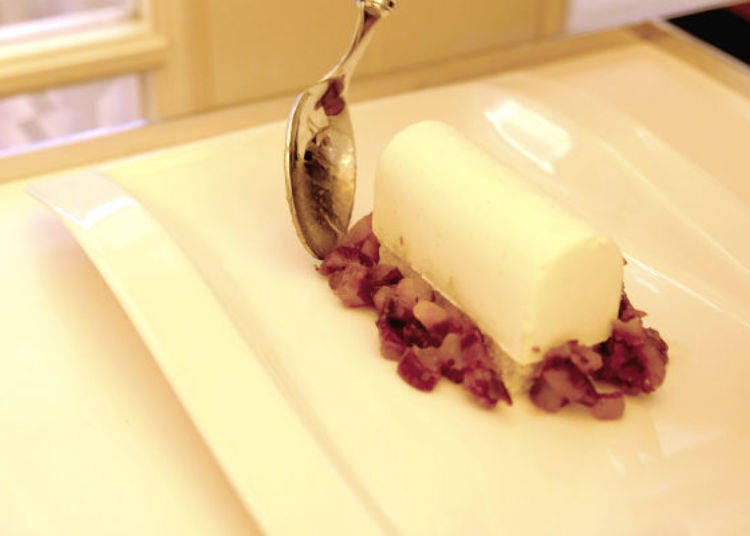 ▲Lots of crushed chestnut placed around the mousse glacée
Freshly made chestnut cream is paced on in all directions. It is quite an experience seeing the staff skillfully make Mont Blanc in front of us.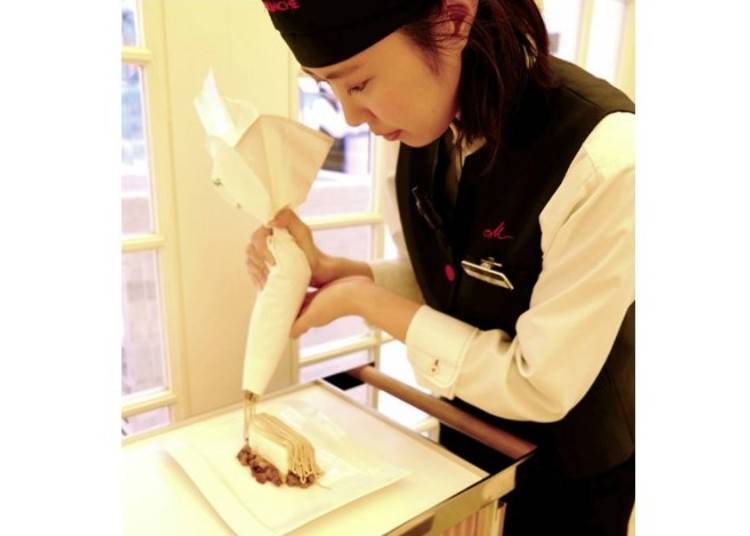 ▲With plenty of chestnut cream, a large cake is created
Sprinkle a little sugar and complete. It's not often you get to have a custom Mont Blanc for yourself. Enjoy the dessert paired with the tea salon's original fruit tea.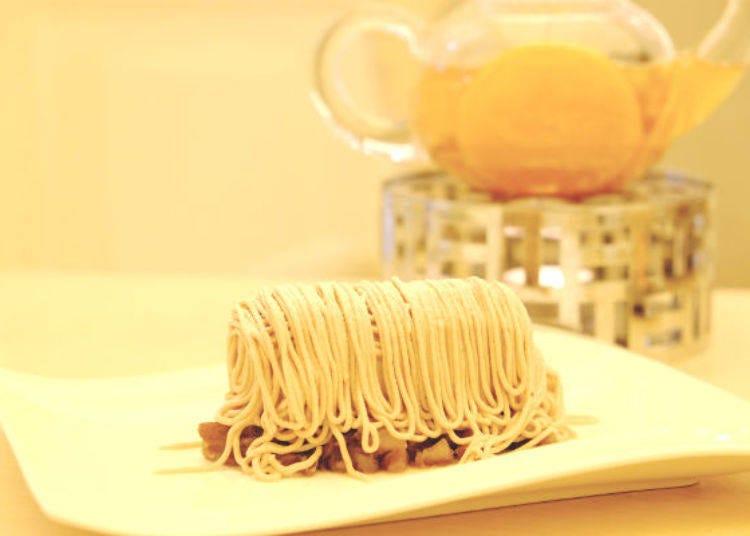 ▲Mont Blanc haute couture (1,404 yen) and Fruits Tea (1,080 yen per person). The fruit tea has 7 types of fruit pulp such as apple, white peach and blueberries
It has the perfect softness where the fork goes right though. With one bite the flavor of chestnut spreads in your mouth, and the rich and deep flavor goes down smoothly. Also you can taste the chestnut through the chestnut cream.

Then will come the refreshing sweetness of the mousse glacée and crushed chestnut with rich rum flavor. It is heavenly good.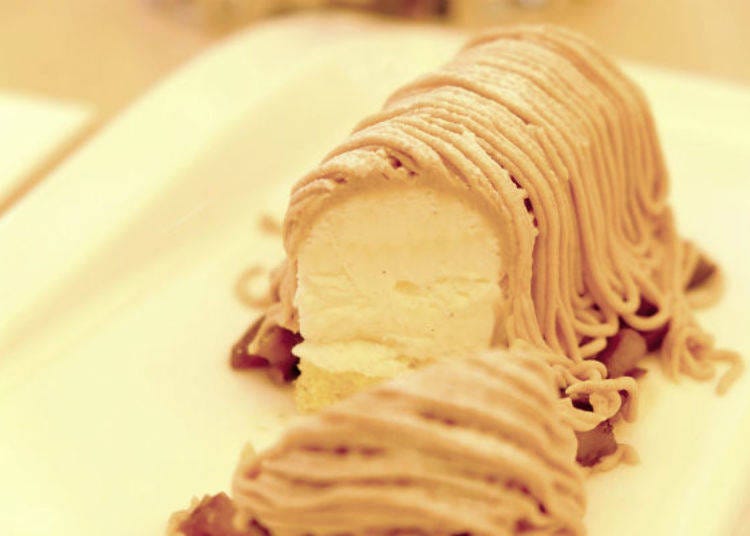 ▲The rich flavor of the chestnut cream and light mousse glacée is a perfect match
The Mont Blanc haute couture uses 1.5 – 2 times the amount of chestnut cream compared to the Mont Blanc sold at the store. Also since the cream isn't chilled, you can taste the freshly made cream.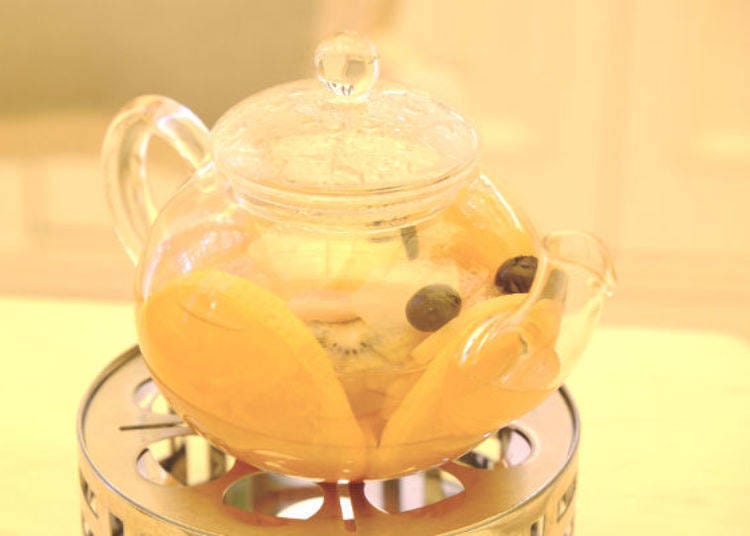 ▲The fruit tea is served with a candle beneath it, as time passes the fruits become softer and enrich the tea
Can't Miss Out on the Seasonal Malebranche Mont Blanc
After learning that there are certain Mont Blanc available during each season, we ordered the winter time limited Mont Blanc Picnic – freshly baked chestnut wrapped in paquet de pâte filo.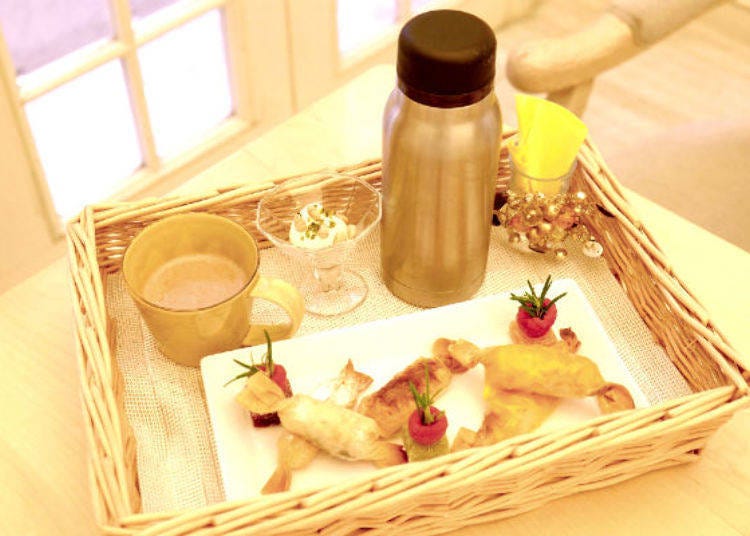 ▲Mont Blanc Picnic – freshly baked chestnut wrapped in paquet de pâte filo (1,404 yen, available until end of February). The set includes Mont Blanc cream in a cup, nuts cream and hot milk in a pot
Hot sweets are placed in a picnic style basket. Apples, chestnut and cheese are wrapped with paquet de pâte filo, a thin crust made with flour. They are wrapped in a so it looks like wrapped candy.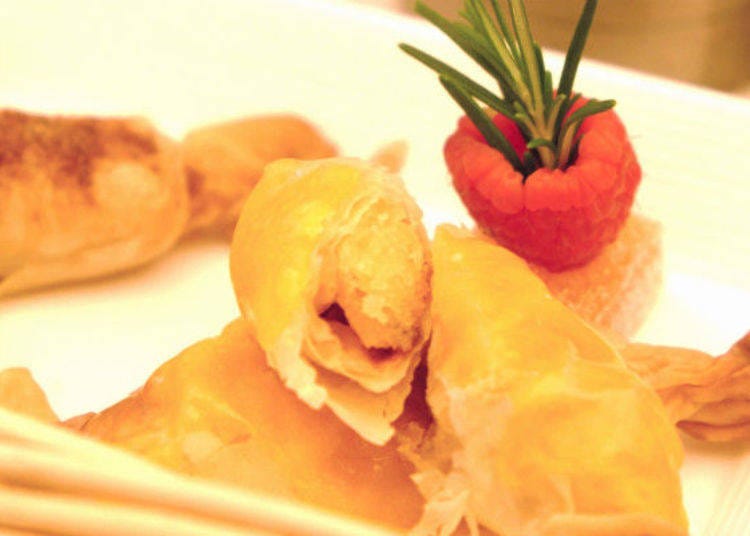 ▲Amazing when freshly baked, make sure to eat them before they cool off
The paquet de pâte filo is baked when the order is made, so it has a very crisp texture and it matches the ingredients perfectly. It is good plain, but dipping it in the cream on the side adds more to the flavor. You can also add the Mont Blanc cream to the hot milk and make Mont Blanc au lait.

Regardless of the season, you are bound to find a new flavor that is satisfying. For example, in spring they have spring colored Mont Blanc with a cherry-flavored sauce and meringue. For summer they have the Yuki-no-Ha Mont Blanc Shaved Ice that uses natural ice from Shogetsu Himura in Nikko, Tochigi Prefecture.
▲The Sakura Saku Cherry Mont Blanc (1,404 yen) available during spring only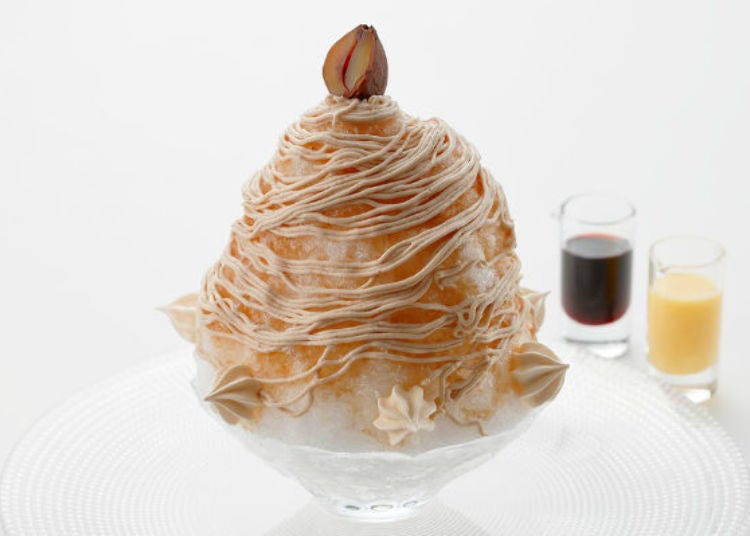 ▲The summer special Yuki-no-Ha Mont Blanc Shaved Ice made with natural ice (1,404 yen) has a line before the store opens!
Why Malebranche Focuses on Mont Blanc
There is a reason why Malebranche Kyoto focuses on Month Blanc. When the store opened in the 1980s, the mainstream Mont Blanc was made in the Japanese style of using slightly-sweetened boiled chestnuts.

When in Paris, one of the central hubs for western confectionery, the owner of Malebranche came across a real chestnut-colored Mont Blanc with rich flavor. The owner was shocked at how different it looked and tasted.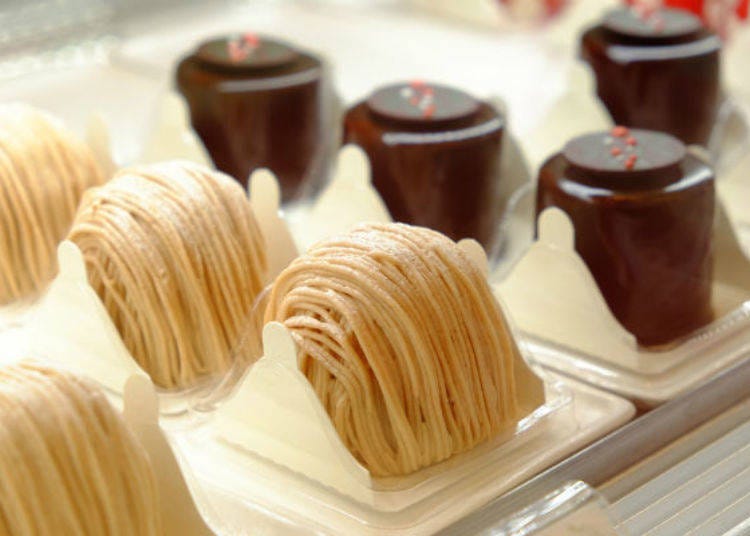 ▲The 5th generation Mont Blanc (562 yen) sold at the store.
"To share the genuine Mont Blanc," the owner made the French-style Mont Blanc with rum. However the owner improved it to match the people of Kyoto by adding delicate flavor, aroma and seasonal accents which evolved it to a Malebranche original Mont Blanc.

Also the store has wonderful cakes other than Mont Blanc. A popular cake here is the Strawberry Short Cake (605 yen), it uses a moist sponge with honey in it. A rich short cake with layered rich whipped cream and strawberries.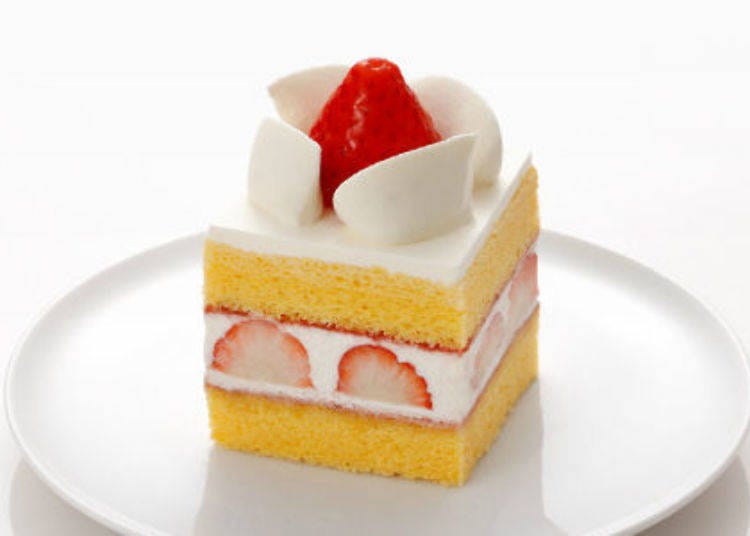 ▲Gorgeous appearance with three layers
Malebranche Kyoto Kitayma Main Store

マールブランシュ 京都北山本店

Address

Kyoto Botanical Garden Kitayama Door Front, Kyoto-shi, Kyoto-ku

Phone Number

075-722-3399

Hours: Salon 10:00 AM – 8:00 PM (L.O. 7:30 PM), Shop 9:00 AM – 8:00 PM
Closed: None
For a Quick Visit Stop by the Café near Kyoto Station
Malebranche also has a café near Kyoto Station. If you want to stop by for a quick visit on your way home, we recommend the JR Kyoto Isetan 6F salon store. The department store JR Kyoto Isetan is directly connected to JR Kyoto Station.

At the salon store they have items that are limited here, such as the Mont Blanc Pancake (1,188 yen).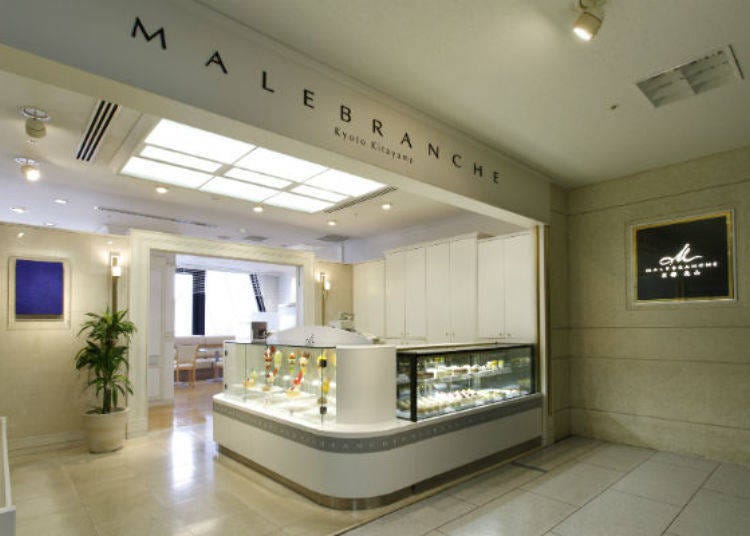 ▲Café with a great view of Kyoto's symbol, Kyoto Tower
Malebranche JR Kyoto Isetan 6F salon store

マールブランシュ ジェイアール京都伊勢丹6Fサロン店

Address

JR Kyoto Isetan 6F, 901 Higashishiokoji-cho, Kyoto-shi, Kyoto-fu

Phone Number

075-343-2727

Hours: 10:00 AM – 8:00 PM (L.O 7:30 PM)
Closed: When JR Isetan Closes
Also right under Kintetsu Kyoto Station is the Malebranche Café in Kintetsu Meitengai Miyakomichi. This location has the limited Okoicha Fondant Chocolat Nama Cha-no-Ka (960 yen), the popular Box of Tea (1,060 yen), and tea made with their original Nambu ironware.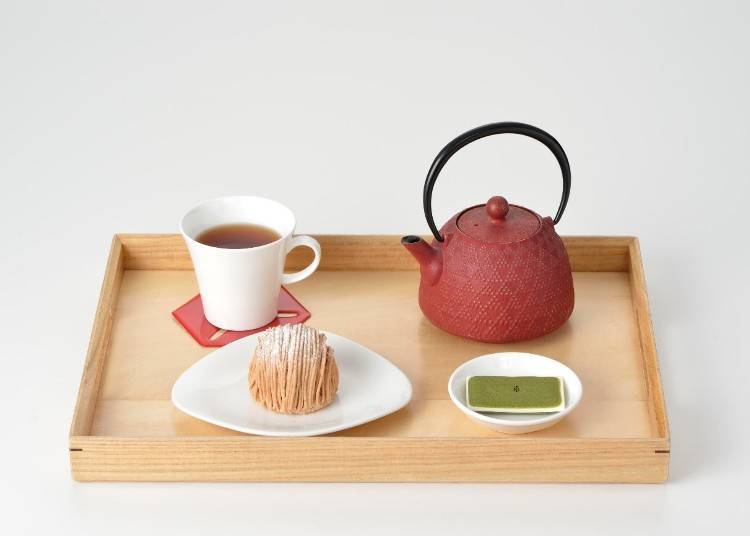 ▲Box of Tea [Snow] (1,060 yen). A great value set with delicious sweets and tea in an iron kettle.
マールブランシュカフェ

Address

Inside Kyoto Station Kinetetsu Meitengai Miyakomichi, 31-1 Higashiokuoji kamadono-cho, Kyoto-shi, Kyoto-fu

Phone Number

075-661-3808

Hours: 9:00 AM – 9:00 PM (L.O. 8:30 PM)
Closed: None
Chocolate Specialty Store Cacao 365 Gion Store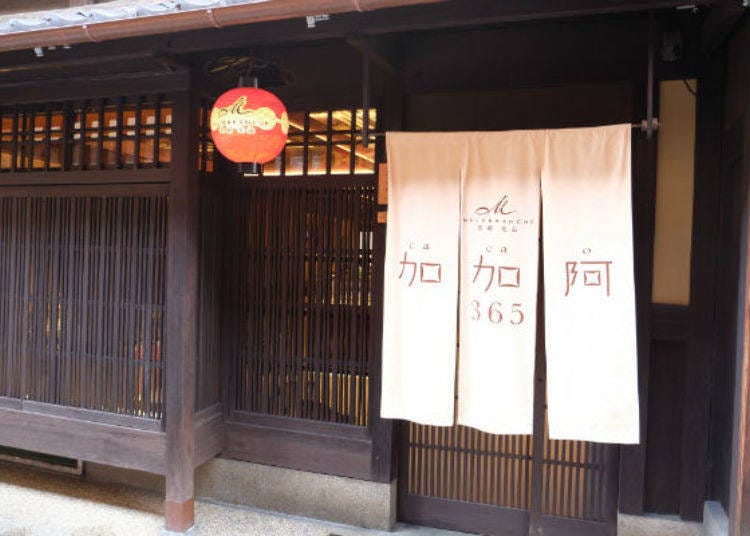 ▲10 minute walk from Keihan Main Line Gion-Shijo Station. An exterior that fits in with residential facilities in Gion
Chocolate specialty store Cacao 365 opened in 2014 in Kyoto's geisha district of Gion. In September 2017 they renewed the store and in addition to their main chocolate product Cacao 365, they added the bonbon chocolat Kyo-no-Sora series.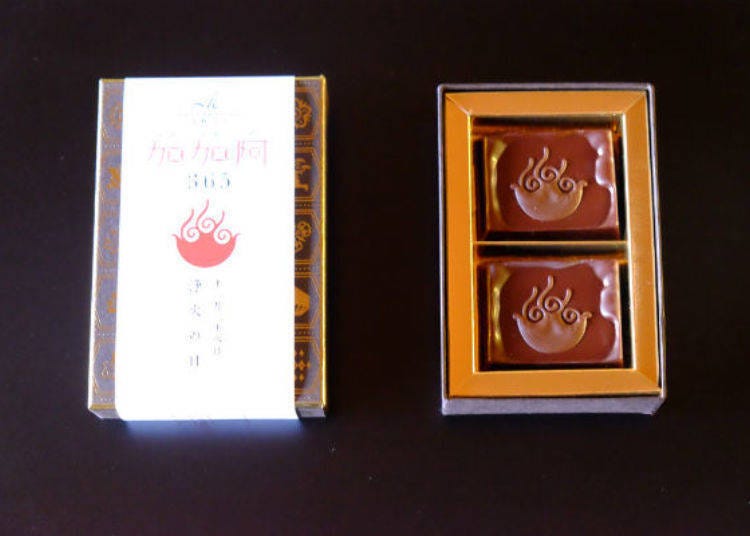 ▲The main chocolate of Cacao 365 Gion Store, Cacao 365 (1,080 yen, 2 in a box)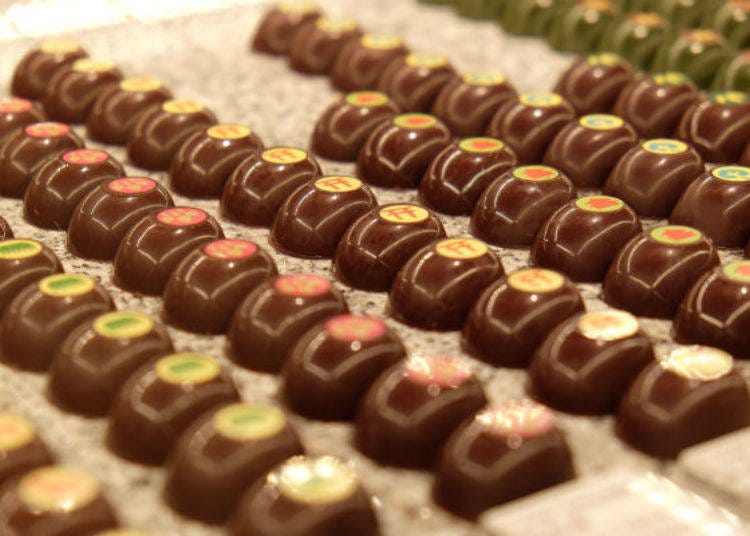 ▲Kyo no Sora (starting from 350 yen per item), with cute designs of famous spots in Kyoto. There are 30 types of Kyo no Sora
Kyo-no-Sora is a bonbon chocolat that is named after famous spots in Kyoto such as Kinkaku-ji Temple. The chocolatier arranged the flavor of each bonbon to match the locations' image.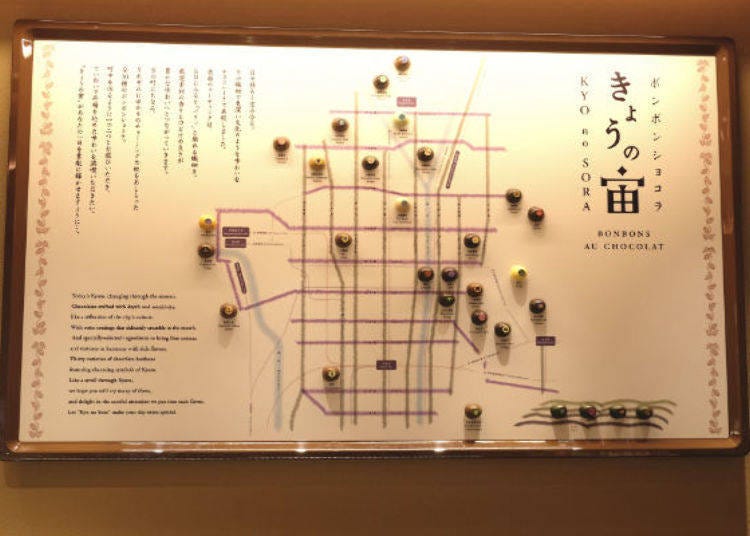 ▲In the store there is a map with famous locations of Kyoto and corresponding bonbons
For example Kiyomizu-dera Temple (350 yen) has a refreshing taste made with bitter chocolate mixed with orange flavor and hazelnuts. Also the Nijo Castle has a perfect blend of pleasant kinako flavor with a deep rich milk. Even after the chocolate melts away in your mouth, you can enjoy the after taste.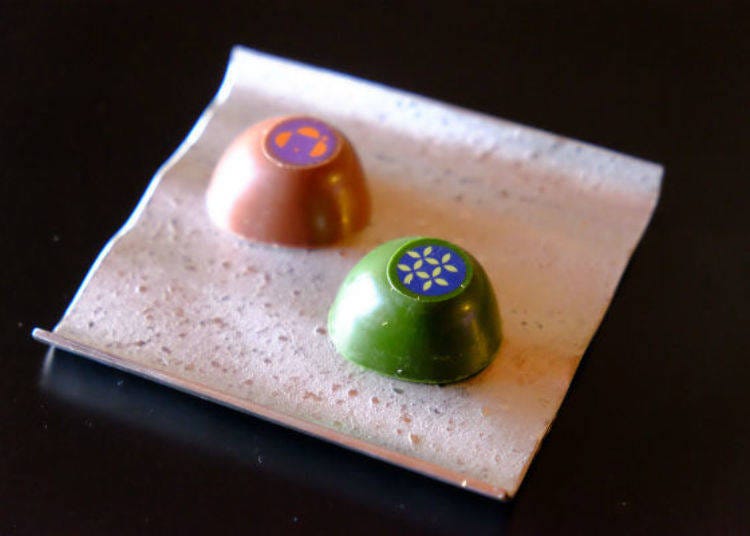 ▲Amazing premium okoicha flavored Asahi 2018 (750 yen, front), and heart melting caramel flavored Gion (400 yen)
Special chocolate that can only be bought in Kyoto. It also makes a perfect Valentines gift.
Malebranche Cacao 365 Gion Store

マールブランシュ加加阿365祇園店

Address

570-150 Gionmachi Minamigawa, Higashiyama-ku, Kyoto-shi, Kyoto-fu

Phone Number

075-551-6060

Hours: 10:00 AM – 6:00 PM
Closed: None
One could say that Malebranche Kyoto was born and raised by Kyoto and has a deep connection with the city. We hope you experience the amazing Mont Blanc and matcha sweets on your visit to Kyoto.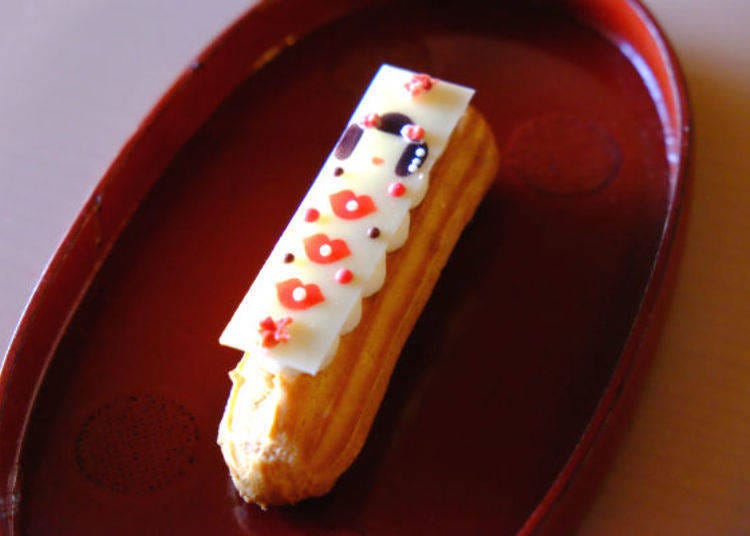 ▲The Chokotto Éclair Ochobo (430 yen) exclusively at Cacao 365 Gion Store
Text by:kurashisa
*This information is from the time of this article's publication.
*Prices and options mentioned are subject to change.
*Unless stated otherwise, all prices include tax.