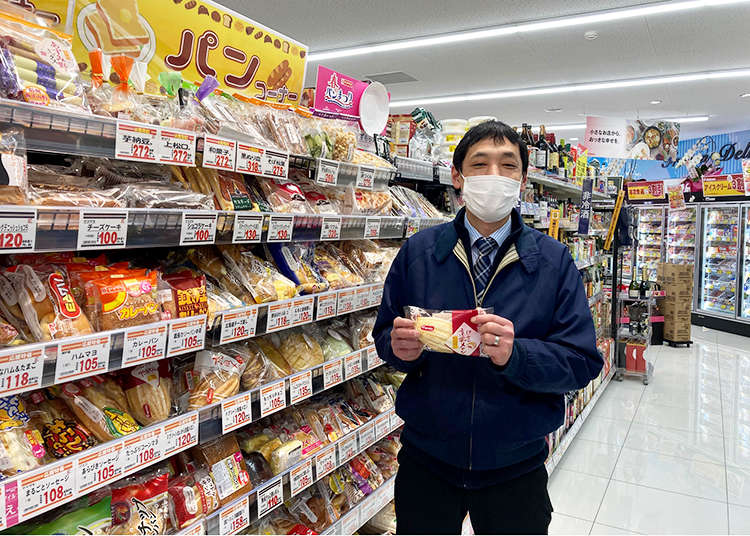 It is no exaggeration to say that Kyoto is among the most famous tourist spots in Japan. Many foreign tourists visit Kyoto to buy unique souvenirs such as Japanese sweets and matcha (green tea) sweets every year. Here, we would like to introduce a selection of Kyoto-style souvenirs that can be easily purchased at supermarkets.

You might be able to become more like a Kyoto resident if you eat or take home souvenirs that are filled with "wa (Japanese - spirit, harmony)," which are eaten by people in Kyoto every day.
Let's head on over to "Super Fresco," which operates mainly in Kyoto City
The "Super Fresco Gojo Ohashi Store" is conveniently located near Keihan Shimizu Gojo Station.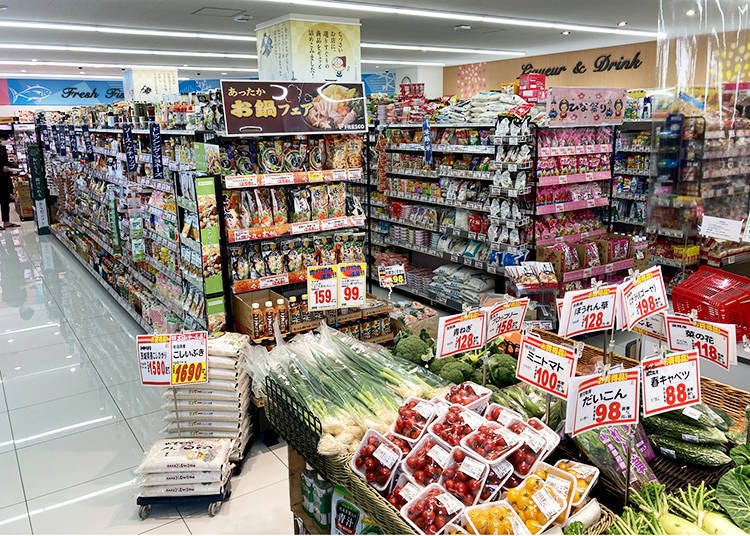 The name of the store means "fresh and lush" in Italian, and the products are lined up with outstanding freshness.
In 1992, Super Fresco began operating as a retail market in Yamashina-ku, Kyoto. This supermarket, which operates mainly in Kyoto City, has introduced 24-hour operation in some stores.

It offers fresh products at reasonable prices, even late at night, and is loved by locals as a "super convenience store" that combines the selection of supermarket groceries with the convenience of a convenience store. It is also popular among foreign tourists, as they can shop without worrying about time, especially when they need a midnight snack.

We spoke with Mr. Tadahiro Shinji, manager at the Gojo Ohashi store, which just opened in November 2020 to hear their recommended Kyoto-style products.

Near the Gojo-Ohashi store is the Shoseien Garden, a stroll garden of Higashi Honganji Temple, so you can stop by during sightseeing, and since the store is open 24 hours a day, you can always find souvenirs.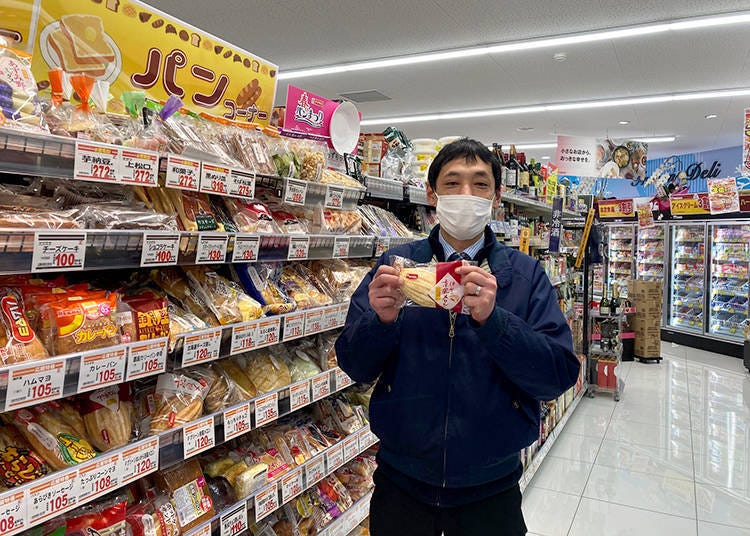 "The Gojo Ohashi store is the only Fresco store that also carries discounted products. Please check it out," says Mr. Shinji.
1. A Classic Kyoto Souvenir! "Kakugiri Yatsuhashi," from a Long-Established Japanese Confectionery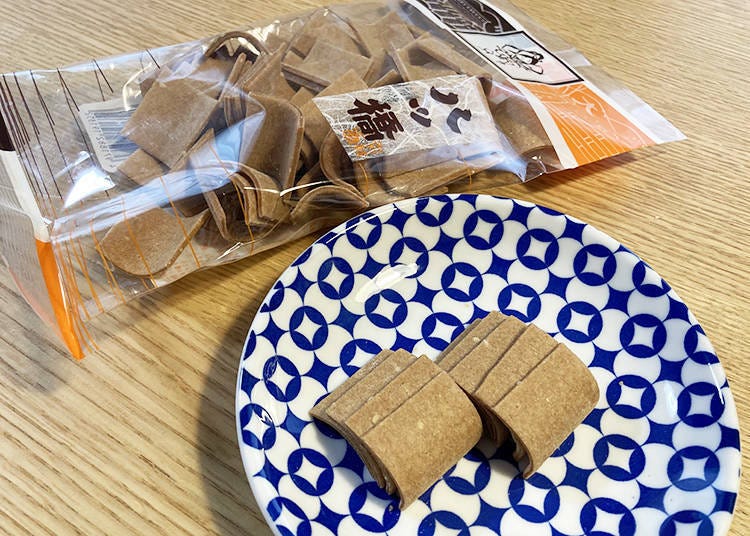 Yatsuhashi, a Kyoto-style confectionery with over 300 years of history
Yatsuhashi, one of Kyoto's most popular Japanese sweets, can also be found in Kyoto's supermarkets. These rice crackers have a strange shape that mimics the form of a Japanese koto harp and come in many varieties.

"Kakugiri Yatsuhashi" (135g, 213 yen) from Kyoeido, a long-established Japanese confectionery, is an easy-to-eat Yatsuhashi made by mixing rice flour, sugar, cinnamon, and sesame seeds, which is then rolled out thin and baked.

Surprisingly, Kyoto residents rarely buy and eat them, and they are specialized as souvenirs, but when they are given, they are gratefully accepted. The crispy texture is delightful. The subtle sweetness and flavor of the cinnimon are irresistible, making it an excellent gift for anyone.
2. "Kyofu Melon" and "Haikara Kyofu Melon," Fresco's Limited Edition Melonpan Shaped like a Rugby Ball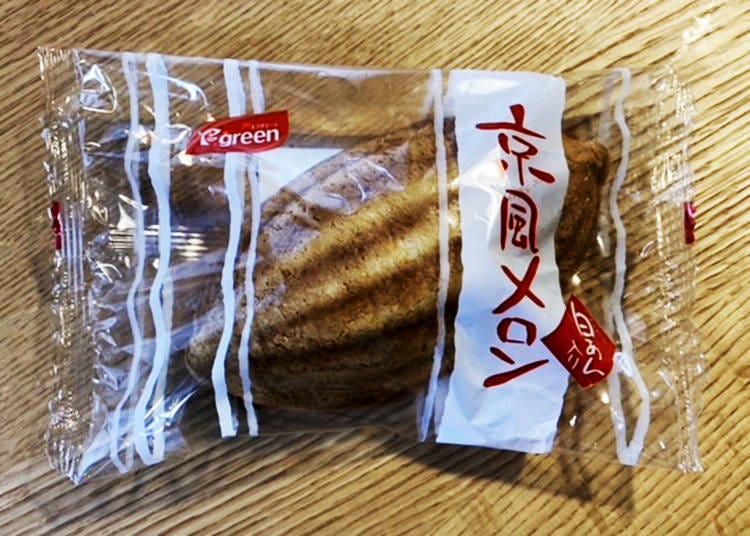 The "Kyofu Melon" is filled with a moderately sweet white bean paste
Fresco has a lineup of private brand "F-Green" products that are high in quality and taste. The most popular of these are the "Kyofu Melon" and "Haikara Kyofu Melon" (129 yen each).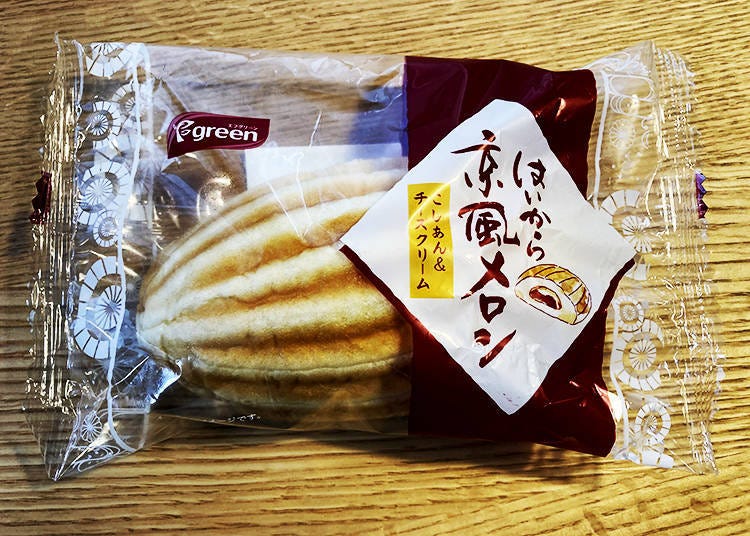 The harmony of sweet red bean paste and cheese cream is superb in "Haikara Kyoto-style melon.
In Japan, melonpan is usually round, but the traditional variety in Kyoto is a cute oval shape. Inside the moist baked dough, the Kyofu Melon is filled with white bean paste made from white navy beans and white azuki beans, while the Haikara Kyofu Melon is filled with koshi-an sweet bean paste and cheese cream.

"Some people in Kyoto have never eaten the oval-shaped melonpan, so if you give it as a souvenir, people will think you are a Kyoto connoisseur," says Mr. Shinji.
3. Kansai-style Thick Omelet Sandwich, "Tamago-Lover's Tamaran Sandwich"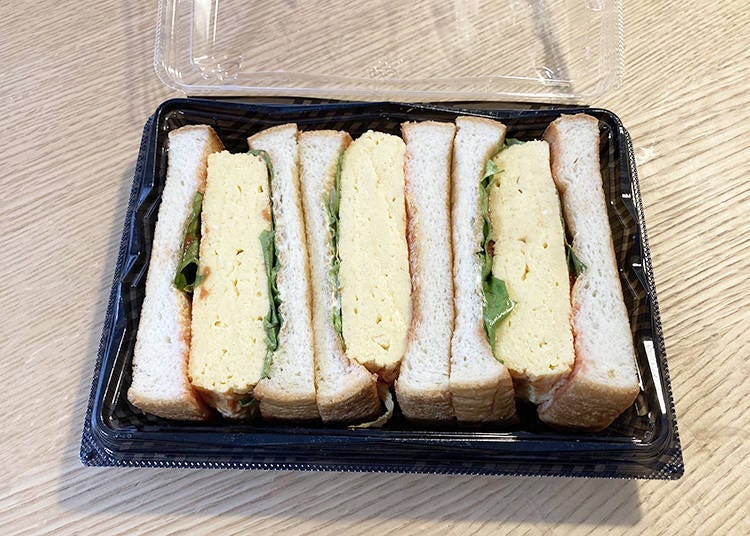 In addition to the large size in the photo, there is also a small size for 378 yen.
In the Kansai region, tamago (egg) sandwiches are usually made with an omelet in between, rather than a mashed boiled egg. The Tamago-Lover's Tamaran Sandwich (547 yen) has a thick omelet sandwiched between two slices of bread.

The slightly sweet omelet is flavored with dashi (broth), and the tangy mustard mayonnaise and ketchup adds a nice accent. It's also very hearty, so locals often eat it for lunch.
4. "Han-nari Chirimen Sansho" Made with Carefully Selected Ingredients and Artisan Handiwork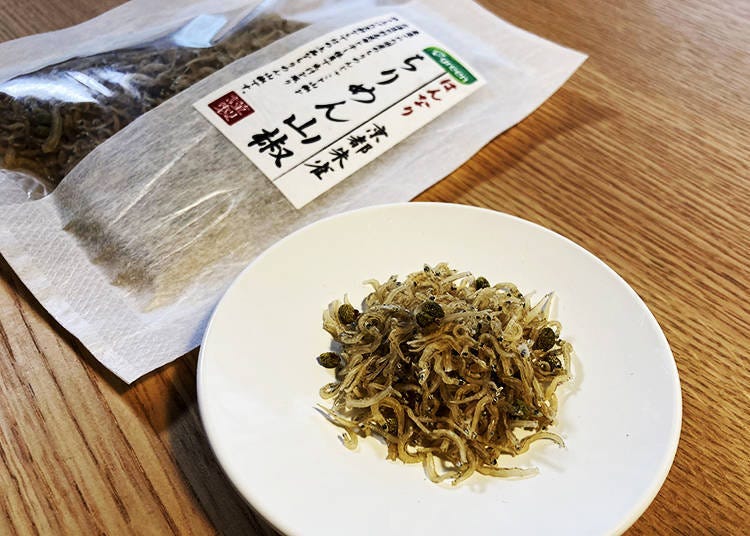 日本産素材にこだわった「はんなりちりめん山椒」
"Hanari Chirimen Sansho" (40g, 321 yen) is a Fresco-exclusive product. It is made by purchasing small-sized chirimen (young sardines) that have been sun-dried directly from the producer, and using high-quality grape sansho pepper produced in Wakayama and Gifu prefecture.

It is cooked in a broth made from Hokkaido's Rishiri kelp and dried shiitake mushrooms, giving it a rich and elegant flavor. Also, it is flavored with sansho pepper, one of Japan's most popular spices, which has a unique fresh aroma and sharp spiciness, so it can be eaten on its own as a snack for drinks; also the author loves to eat it with rice.
5. "Kizami-Suguki" and "Shiba-Zuke" are Kyoto Pickles Like You've Never Tasted Before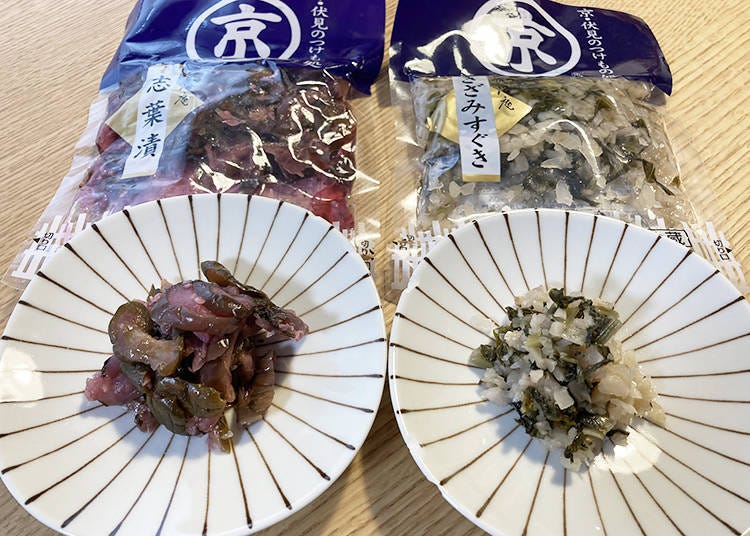 "Shibazuke" is on the left in the photo and on the right is "Kizami-Suguki".
With its water resources such as the Kamo River, Kyoto has long been a center for the cultivation of Kyoto vegetables. Among them, "shibazuke," made by pickling red shiso and eggplant, "senmai-zuke," made by using kabura (turnip), and "suguki," made by using suguki-na (green leaf mustard), are known as "Kyoto's three major pickles." Famous as specialties of the city, they are always found on dining tables of Kyoto residents.

"Shorakuan" makes pickles using carefully selected seasonal vegetables purchased from contract farmers throughout Japan. Fresco recommends "Kizami suguki" (120g, 246 yen), a lactic acid fermented version of the local suguki turnip, which looks like a shortened daikon radish, and "Shiba zuke" (100g, 246 yen), a lactic acid fermented version of cucumber and eggplant pickled with the acidity of shiso.

The quality of the materials in both of these products has been brought out, and they have a nice crunchy texture. These pickles go great with drinks and rice, and will last for about a month, making them a great souvenir.
6. "Kyo Shichimi" and "Kyo Sansho" from Ikkyu-do, Made with Only Natural Ingredients
The Kyo Shichimi on the left goes well with everything, and the Kyo Sansho on the right can be used in soups and other dishes.
Ikkyu-do has been selling Kyoto's condiments since its establishment in 1892. The spices are handmade every day using a proprietary formula, and even the process of bottling them is done by hand.

Kyo Shichimi (15g, 451 yen), which represents Ikkyu-do, is a product with rich flavor as well as spiciness and is recommended to be sprinkled on chicken dishes, soups, and noodle dishes. Kyo Sansho (8g, 505 yen), another popular item, is made from the finest domestic ingredients and has a tangy and refreshing aroma.

It goes well with western cuisine, but the author recommends adding it to steak sauces and dressings. These condiments have long been a favorite for Kyoto residents to accent their food, and they are great for souvenirs.
8. Fumiya Nabe: Get a Taste of Kyoto's Famous Restaurant "Fumiya"!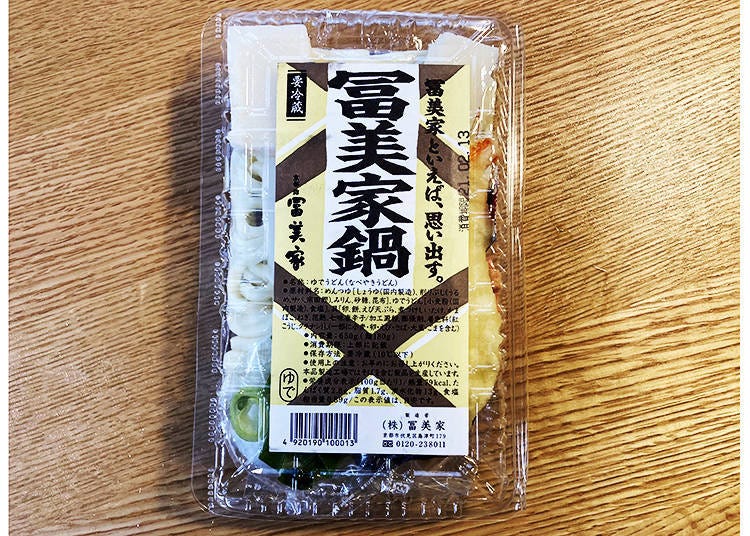 It comes with udon, broth, ingredients, and even shichimi [a blend of 7 spices].
Fumiya is a very popular udon noodle and sweets shop with its main branch in Nishiki Market, also known as Kyoto's kitchen. You can enjoy such udon noodles at home with the "Fumi-ya Nabe" for 496 yen.

According to Mr. Shinji, "Unfortunately, it is a little unsuitable as a souvenir for overseas because it only lasts for four days from the date of production. I recommend making them in the kitchen of your guest house."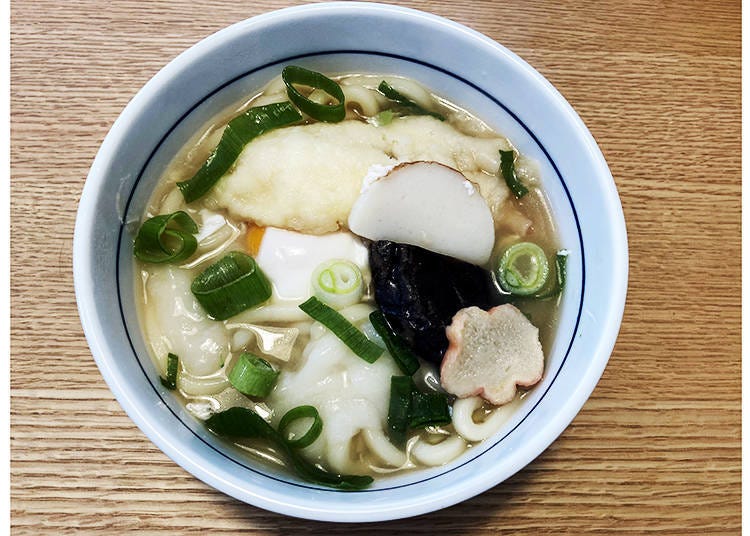 Finally, add an egg until it is half-boiled, break the yolk, and mix it around for even more flavor.
The taste of ingredients such as shrimp tempura, with its traditional thick batter that soaks up the broth, rice cakes that are soft and stretchy, and boiled shiitake mushrooms with a resilient texture that spreads sweetness in your mouth when chewed, make the broth even richer in flavor.

Just pour the broth into the pot, heat it up, and then add all the ingredients to enjoy the traditional taste of Kyoto.
8. Ramen Restaurant Flavor in a Few Minutes! "Sugomen Kyoto Se-Abura Shoyu Flavor"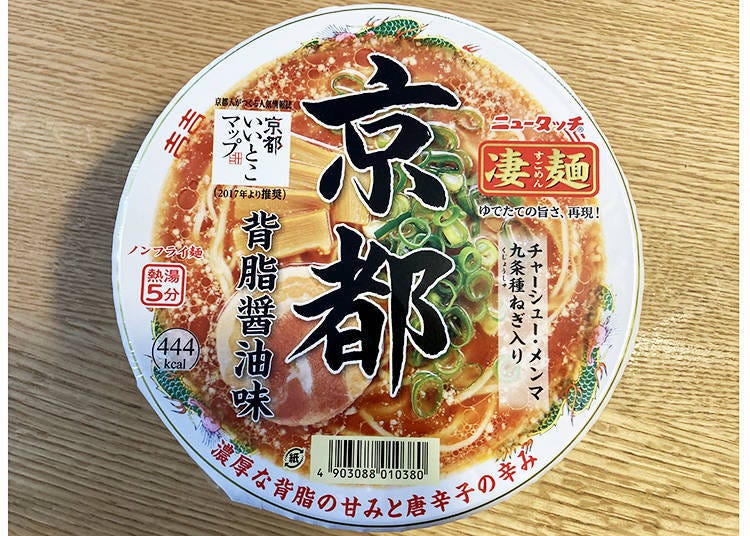 Easily enjoy the classic Kyoto ramen, with chicken broth and se-abura (pork back fat).
Because of Kyoto cuisine's elegant image, it is easy to imagine that Kyoto ramen also has a light and simple soup. But, in fact, a rich and thick type of soup is common in Kyoto. This is because "Shinpuku sai-kan", the original Kyoto Ramen restaurant, invented a ramen with a rich soup using dark soy sauce around 1938, which became Kyoto's standard.

The area of Ichijoji is a highly competitive market for Kyoto ramen, and because of the popularity of all the restaurants, people often line up in front of the stores.

For those who don't have time to wait in line and want the authentic taste of freshly prepared ramen, Yamadai's Sugomen series of ramen noodles is perfect. A variety of local noodles are also available, and "Sugomen Kyoto Se-abura Shoyu Flavor" for 213 yen, is limited to Kyoto.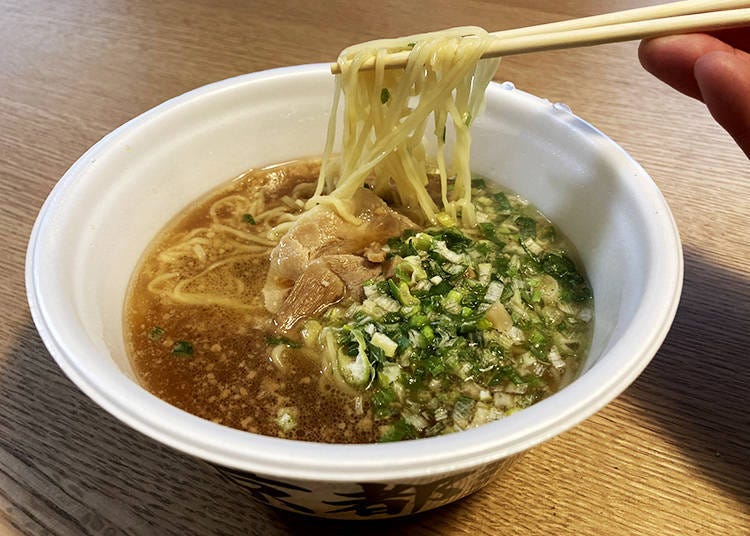 The smooth and chewy noodles are delicious and overturn the standard of instant cup noodles.
The irresistible soup with rich back fat and chili pepper spiciness matches the unique non-fried Yamadai noodles of Sugomen. The flavors of the green onions added later are also a perfect match, giving the flavor an extra punch. You can easily enjoy the rich ramen flavor that Kyoto residents love.
9. "Uji-cha Soba" Made with Carefully Selected Uji Green Tea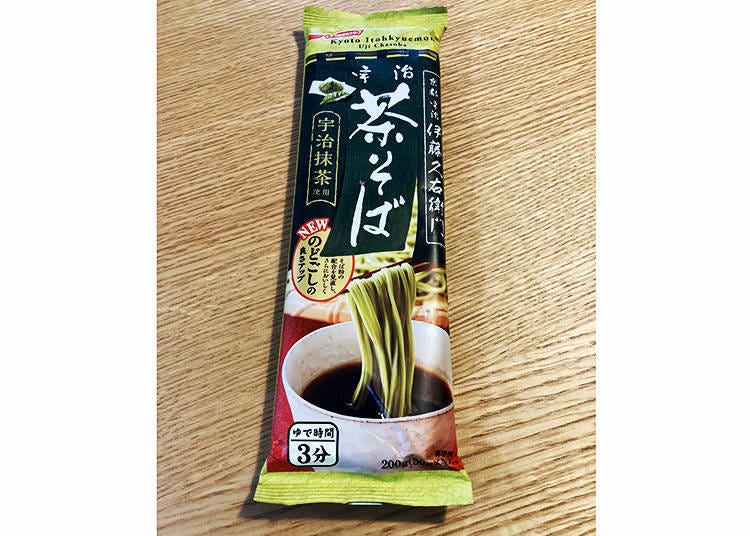 Reproduction of Matcha Soba, a popular dish at the tea house of Ito Kyuemon
Uji-cha Soba (buckwheat noodles with Uji tea; 200g, 300 yen) is a unique product of Ito Kyuemon, which has a store in Uji, Kyoto and delivers tea to many famous shrines and temples in Kyoto.

The soba noodles are carefully made from buckwheat flour and wheat flour with an abundance of carefully selected Uji green tea, and have a refreshing aroma of green tea and an exceptional feel going down your throat. Its bright green color is also unusual and would definitely make a great souvenir!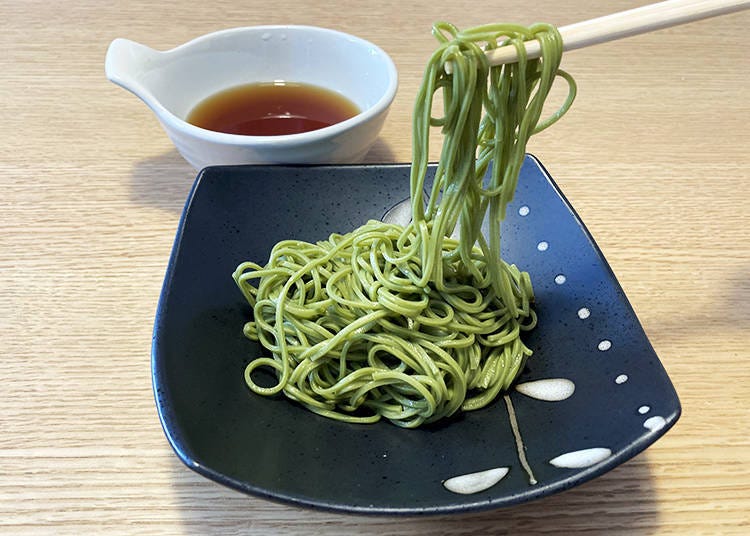 Featuring the elegant taste of Uji green tea and visually colorful soba noodles.
We think that chilled noodle dishes are rare in other countries, so we recommend the "zaru soba," which is cold and smooth and has a more distinct matcha flavor.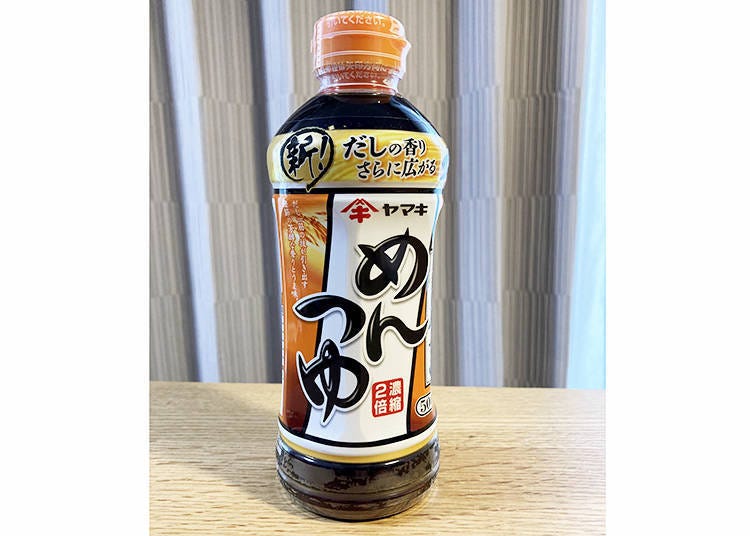 We recommend purchasing the Yamaki's men-tsuyu dipping sauce 500ml for 255 yen to go with your soba
10. "Kitagawa Hanbei Shoten Matcha Soft" with the Refreshing Aroma of Uji Green Tea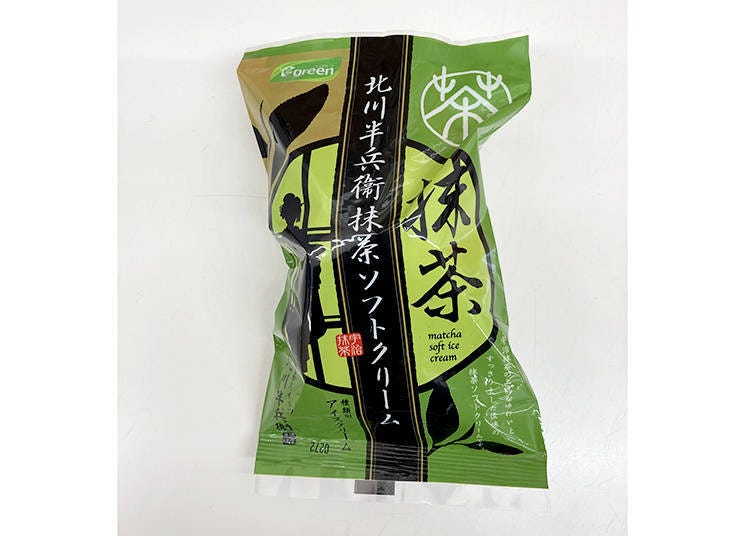 Kitagawa Hanbei Shoten Matcha Soft, a Fresco limited product
The "Kitagawa Hanbei Shoten Matcha Soft" (172 yen), is made with an abundance of the finest matcha green tea from Kitagawa Hanbei Shoten, a long-established tea wholesaler in Uji, Kyoto founded in 1861.

This richly flavored and aromatic Kyoto ice cream is not too sweet, and the bittersweetness of the green tea stands out, making it a good choice for people who don't like sweets.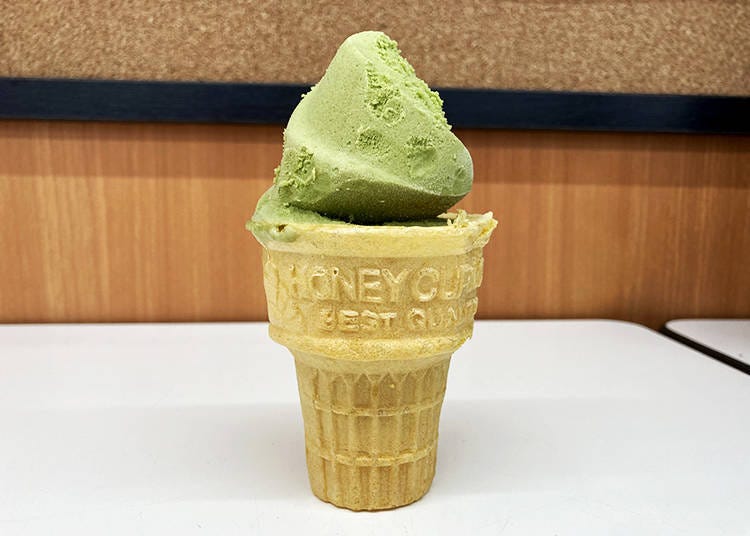 The ice cream made with matcha green tea from Kitagawa Hanbei Shoten is a unique product of Fresco, which operates mainly in the city of Kyoto.
The Kamo River, one of the most famous rivers in Kyoto, flows near the supermarket, and you can experience Kyoto to the fullest while eating it walking along the river.
11. "Kankitsu Hana Ponzu" Jointly Developed by a Famous Restaurant in Kyoto and Fresco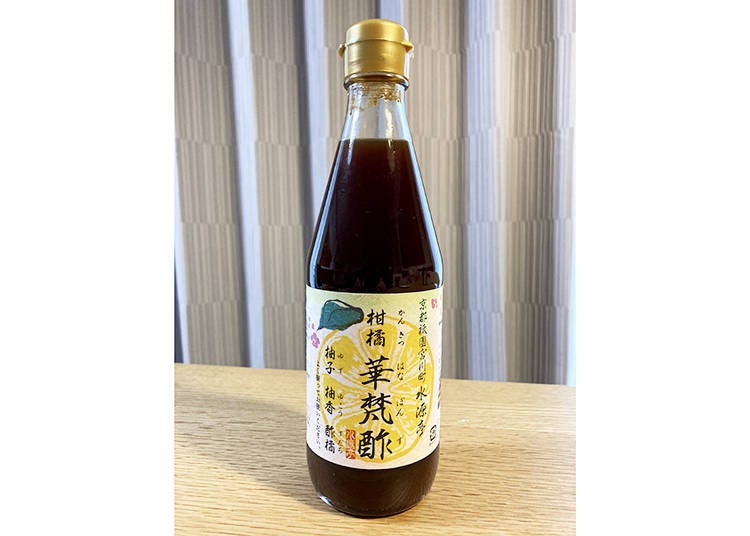 This ponzu, which is only available at Fresco and Suigen-tei, has a uniquely refreshing aroma
Based on the concept of "drinkable ponzu," Kankitsu Hana Ponzu, 360ml, 1,058 yen, was jointly developed by Fresco and the famous kappo restaurant "Kyoto Miyagawa-cho Suigentei" in Gion, Kyoto.

Ponzu is a Japanese seasoning made by mixing citrus juices such as lemon, lime, and yuzu with vinegar to preserve them, and it is very healthy because it is oil-free.

A unique blend of the citrus fruits using the best yuzu, sudachi, and rare yukou from Tokushima Prefecture, finished with the best soy sauce and sake, has earned a reputation among Kyoto residents for being delicious on everything from stir-fries to salads.

Mr. Shinj says "Ponzu is usually associated with sourness, but this product is characterized by its elegant sourness and gorgeous aroma that is typical of Kyoto. In Kyoto, some people add it to sake and drink it."
12. "Junmai Ginjo Shu, Kyoka Fuwari," Available Only at Fresco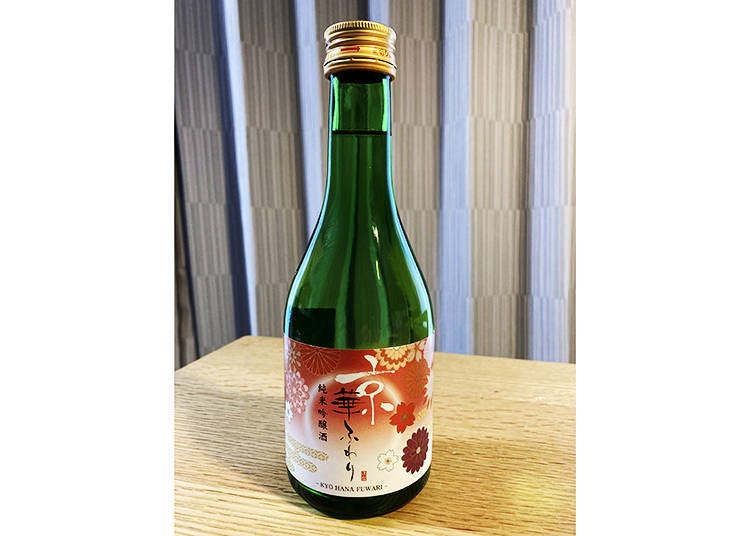 As the name suggests, it has a gorgeous fragrance that tickles the nose
Japanese sake is becoming more and more popular overseas as "SAKE," and there are many connoisseurs. You may want to buy some to take home as a souvenir, but there are so many different kinds that you may not know what to get. In such a case, you can buy the Fresco limited "Junmai Ginjo Shu, Kyoka Fuwari" (300 ml, 699 yen) made by Sasaki Shuzo, a sake brewery in Kyoto.

It is popular even among foreigners who are not familiar with Japanese sake, as it has a soft, Kyoto-style Han-nari taste and a dignified, crisp finish. The author often chills it to enhance the aroma and flavor. This product is only available at Fresco, so if you give it to a Kyoto enthusiast, they will surely be pleased.
Enjoy Kyoto's local foods!
Japanese sweets are also good, but you can also enjoy egg sandwiches, condiments, udon, soba, sake, and other products filled with the Kyoto flavor that locals usually eat. Please enjoy these products for yourself or as souvenirs. Fresco has many stores throughout the city, so you can easily stop by and buy souvenirs on your way home from sightseeing, which is very useful when you don't have a lot of time.

* All prices mentioned include tax.
* Prices and products at the time of reporting. Please note that the price may change or the product may no longer be available at other stores.
Countermeasures against COVID-19 being taken at Super Fresco Gojo Ohashi Store
Disinfection, sterilization, and cleaning of store interior and equipment/Installation of sanitizing and disinfecting solutions/ Ventilation of the store/ Use of coin trays/ Installation /Staff wearing masks, washing their hands, disinfect, gargle, and take their temperature/ Adjusting the number of people entering the store and the space between seats/ Not allowing customers who are not feeling well to enter the store/ Asking customers to wear masks and to take their temperature.
SUPER Fresco GOJO OHASHITEN

スーパーフレスコ 五条大橋店

Address

16-21, Mieidocho, Gojodoriteramachi-nishihairu, Kyoto Shimogyo-ku, Kyoto 600-8101

Nearest Station

Access: 3-minute walk from Keihan Kiyomizu-Gojo Station


Phone Number

075-708-2921

Open: 24 hours a day
Closed: Open daily
Text by: Efeel
*This information is from the time of this article's publication.
*Prices and options mentioned are subject to change.
*Unless stated otherwise, all prices include tax.