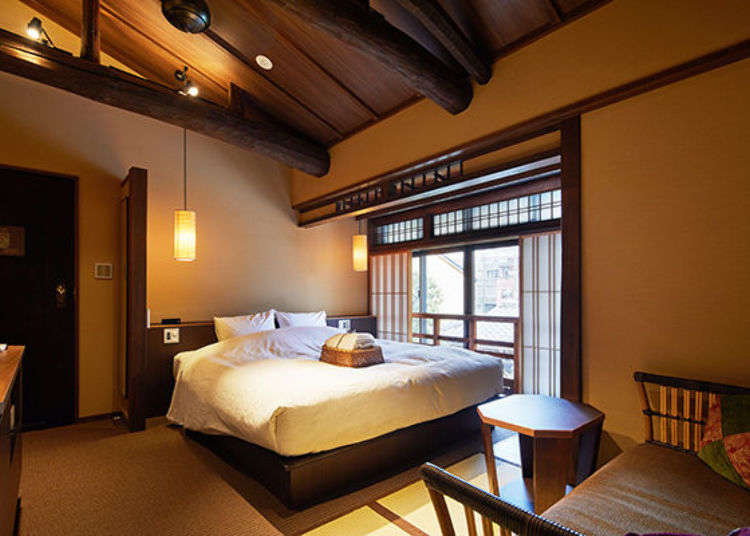 Travel to Kyoto's Muromachi neighborhood, and you'll find Kyokoyado Muromachi Yutone: a peaceful ryokan inn with only seven rooms. Here, we will take you inside this charming hotel, with its elegantly designed rooms and interior, and delicious, delicately flavored seasonal dishes.

If you are seeking lodging for your next trip to Kyoto, then this place is a must-see.
In a quiet town where both new and old meet, sits Kyokoyado Muromachi Yutone
From Karasumadori, a street that runs north to south along central Kyoto, to Muromachidori, which runs west. The area surrounding these streets prospered as a political and cultural center during the Muromachi Period and as a bustling shopping street lined with clothing shops during the Edo Period.

It is in this Muromachi area that Kyokoyado Muromachi Yutone lives. It is an area lined with old buildings and houses, mixing the quiet lifestyles of old with the lively bustling of the city.
The entrance to the hotel. At first glance, it looks more like a restaurant, but it definitely feels like Kyoto.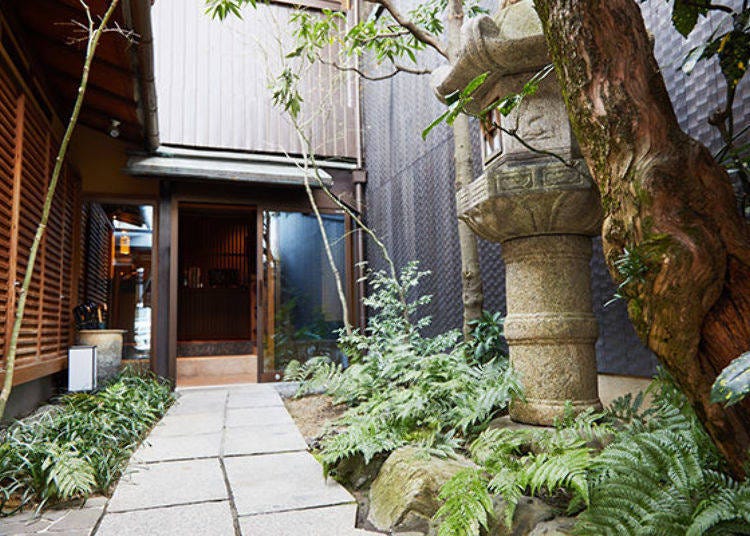 Pass through the noren curtains, and you will come to a stone path and a little garden. It seems this inn was renovated from what was once a private home that was also a kimono shop.

With a total of seven rooms, it might appear quite compact for a Kyoto ryokan inn; however, when you consider that it once was a home, it is actually quite spacious!
▲As soon as you go through the front door, you enter the lobby
Kyokoyado Muromachi Yutone opened in 2016, leaving behind some of the pre-renovation glass, handrails, beams, and pillars for a space with a combined old-fashioned yet modern atmosphere.

The decorative cloths behind the round wooden chairs were also made using fabric handed over from the previous owner from when it was a kimono shop.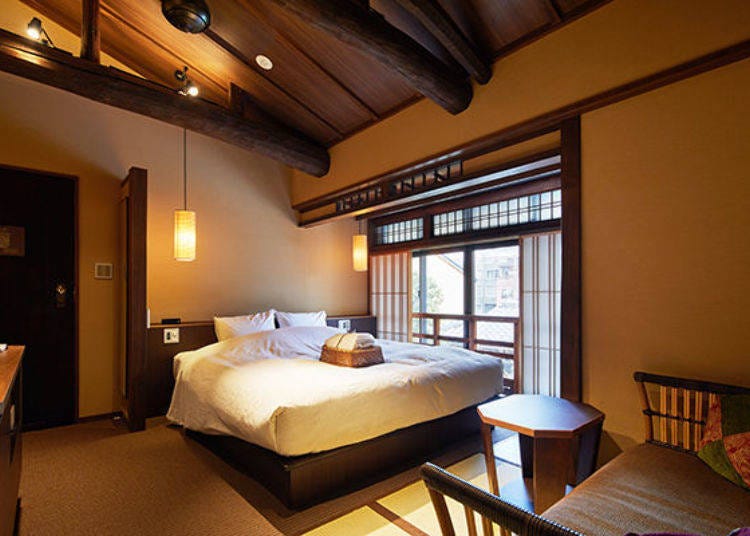 ▲Shiraai Double Bed Room
Once we finish with reception, we head straight to the room. Check-in takes place for each room, after which you are given full personal time. There is no scheduled meal time, or time for making the bed. You are truly free to use the entire time in any way you please.

Each of the seven rooms are given names of ancient Japanese colors, which are also set as the room's theme color. The room in the photo is called "Shiraai" (2 person room, 23,000 yen plus tax per person on weekdays, includes 2 meals). It is a pale bluish yellow color, an old color whose name can even be found in old Heian Period books.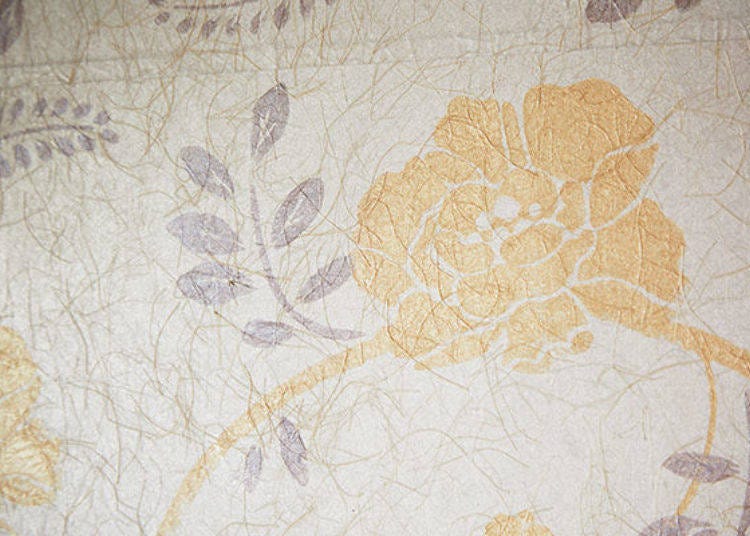 ▲The theme color of each room is used in that room's interior and decoration.
The other rooms besides this one each have their own theme colors as well.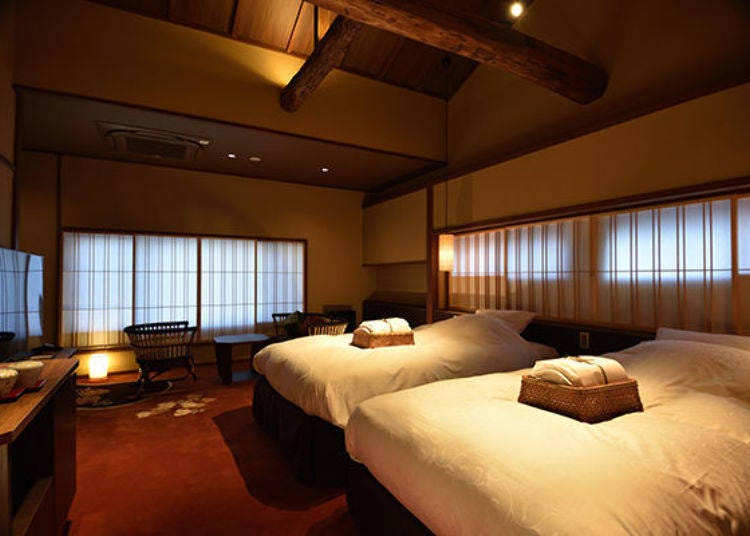 ▲Botan Twin Bedroom (triple rooms possible). 2 persons, 23,000 yen each plus tax on weekdays, 2 meals included.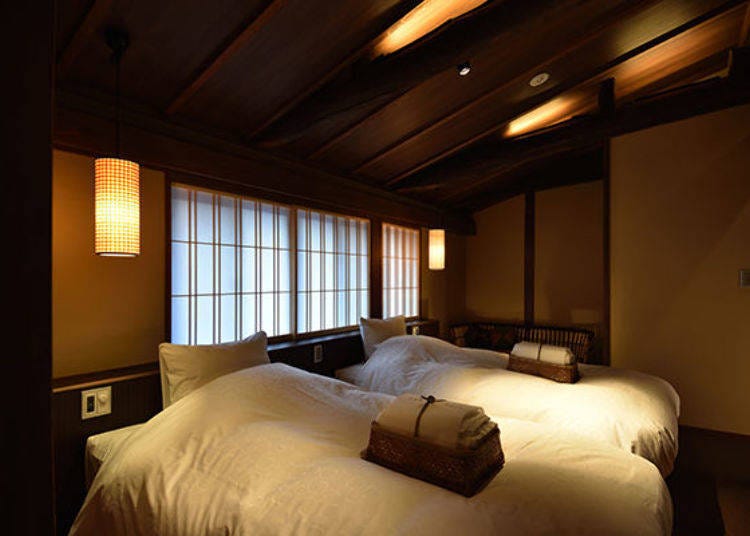 ▲Fuji-murasaki Twin Bedroom. 2 persons, 23,000 yen each plus tax on weekdays, 2 meals included.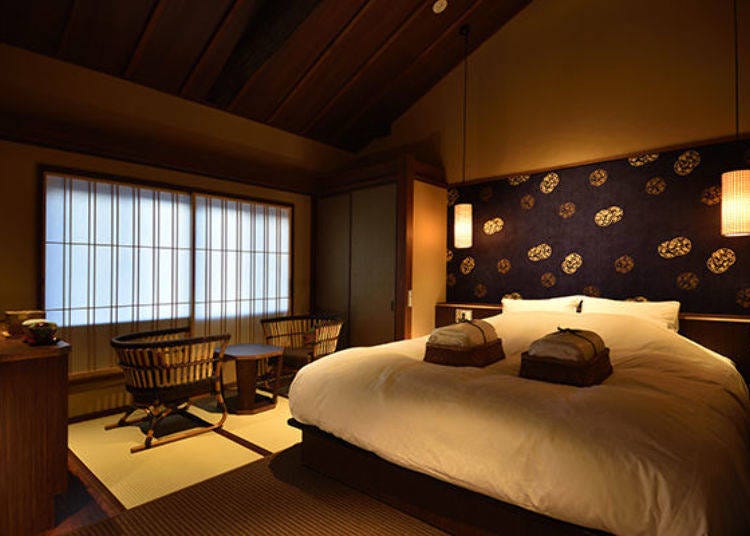 ▲Ruri Twin Bedroom. 2 persons, 23,000 yen each plus tax on weekdays, 2 meals included.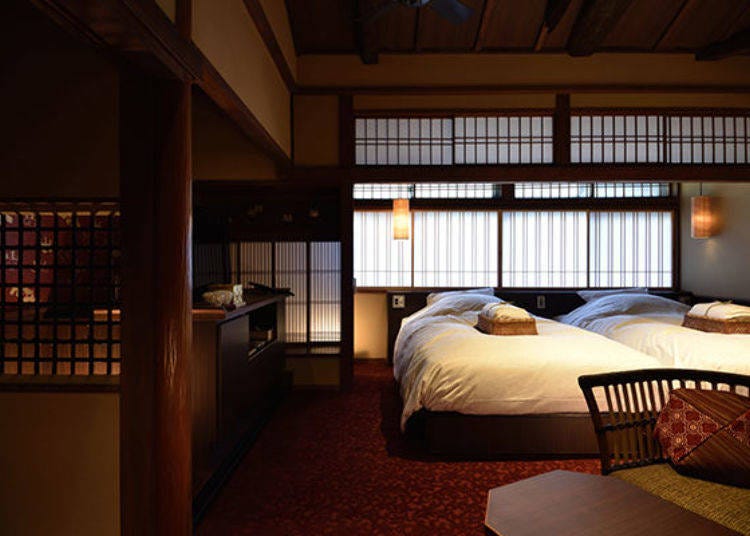 ▲Ginshu Twin Bedroom. 2 persons, 23,000 yen each plus tax on weekdays, 2 meals included.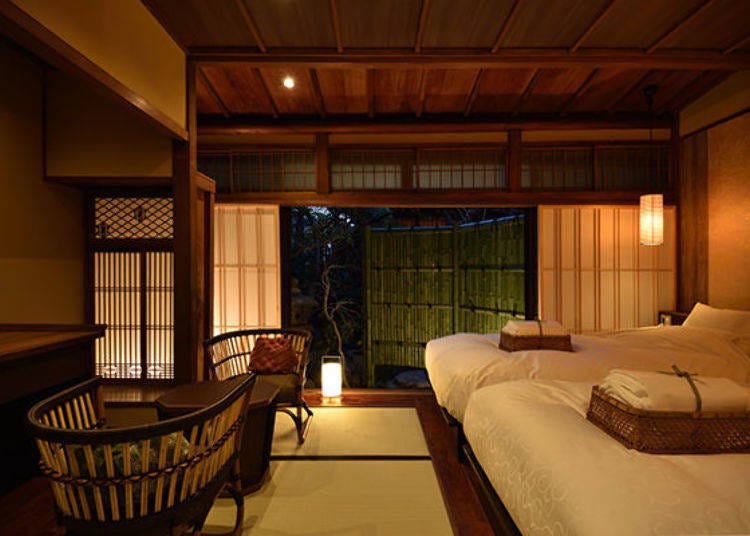 ▲Usuzakura Twin Bedroom. 2 persons, 23,000 yen each plus tax on weekdays, 2 meals included.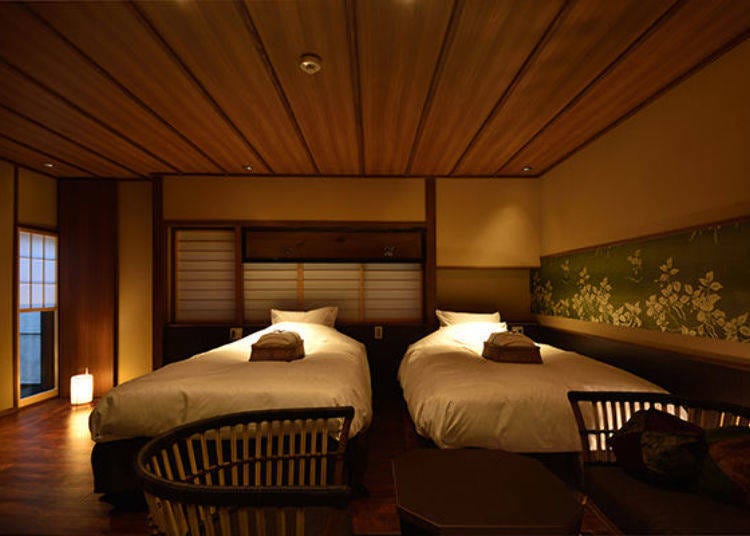 ▲Tokiwa Twin Bedroom. 2 persons, 23,000 yen each plus tax on weekdays, 2 meals included.
Botan, shiraai, fuji-murasaki, ruri, ginshu, usuzakura, tokiwa. When you arrange the first letter of each room's name... Ho-shi-fu-ru-ki (kyo)-to... "Hoshifuru Kyoto!" An expression that means "Starry Kyoto."

I probably wouldn't have noticed if I wasn't told, but now that I know, it's an interesting idea!

Each room is similar in that they all use light colors to calm and relax the mind.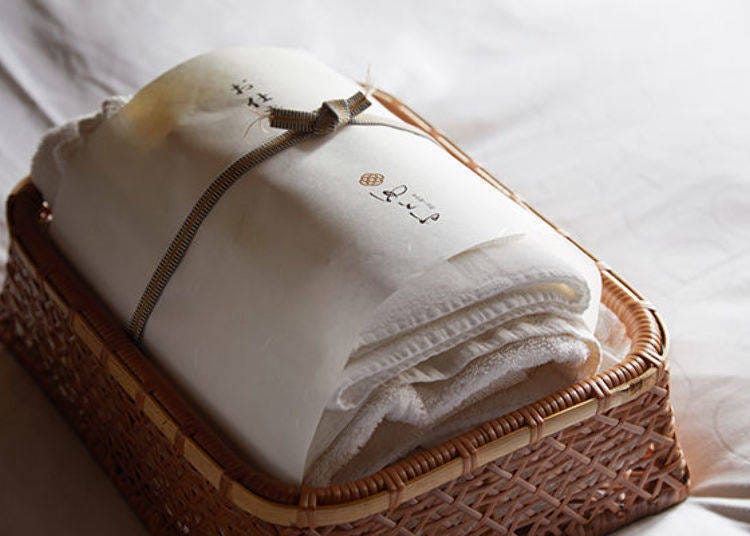 Bedding and towels are set on the beds in a ready-to-use state. They are wrapped with sanada string, which is also used as an obi-fastener, making it feel as if being presented with a gift.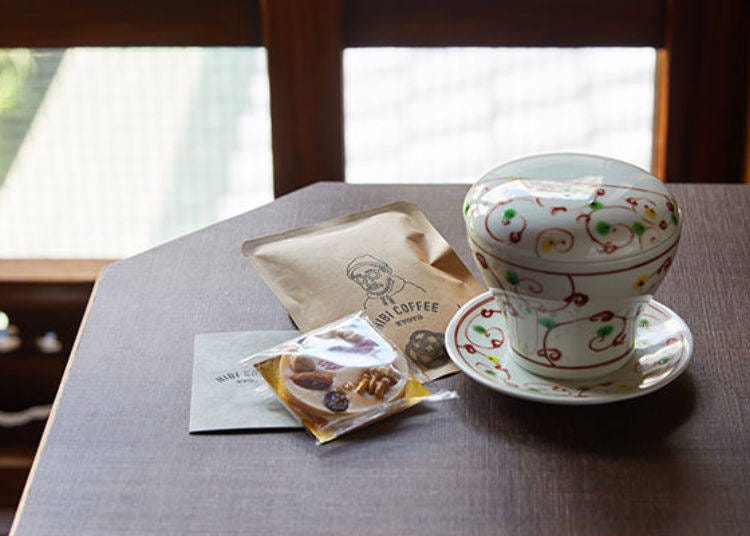 Special coffee is provided as a welcome drink upon arrival in collaboration with HIBI COFFEE, a company that offers specialty coffee roasted right in the Kawaharacho, Kyoto area. A popular Kyoto chocolate was also served as a treat along with tea.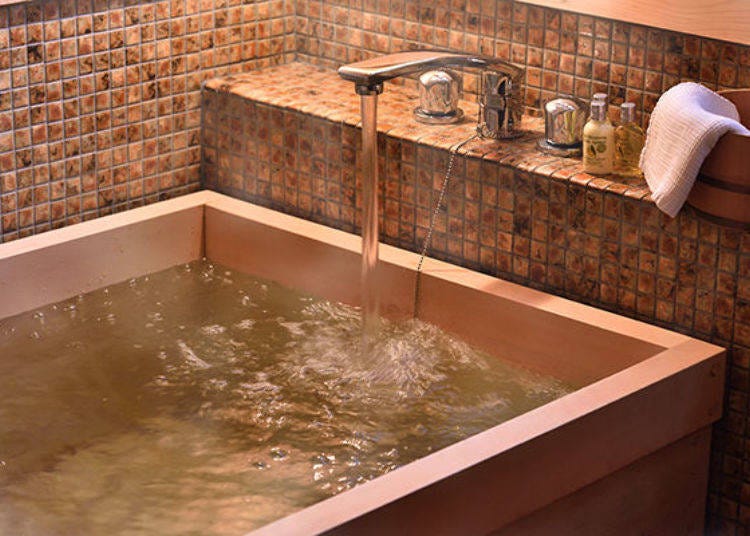 All seven rooms at Kyokoyado Muromachi Yutone have their own hinoki (cypress) bathtubs. You can relax your body and mind in this bath, which gives off an aroma of fresh cypress.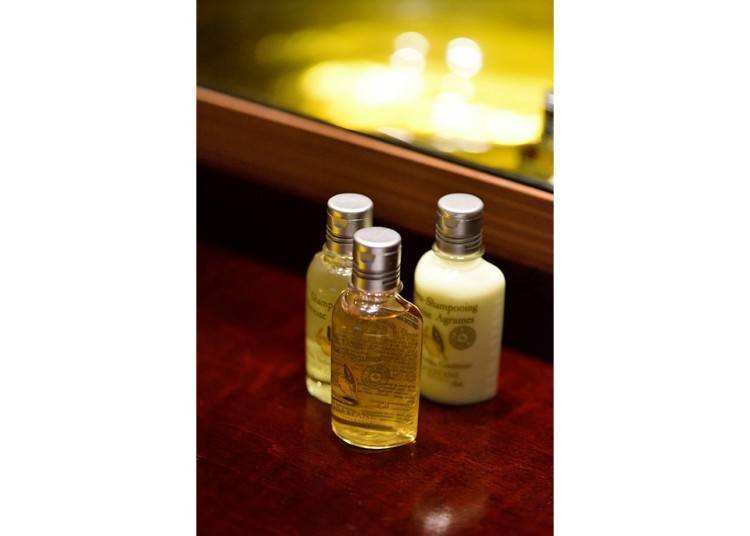 ▲Shampoo, conditioner, and other toiletries provided by L'Occitane.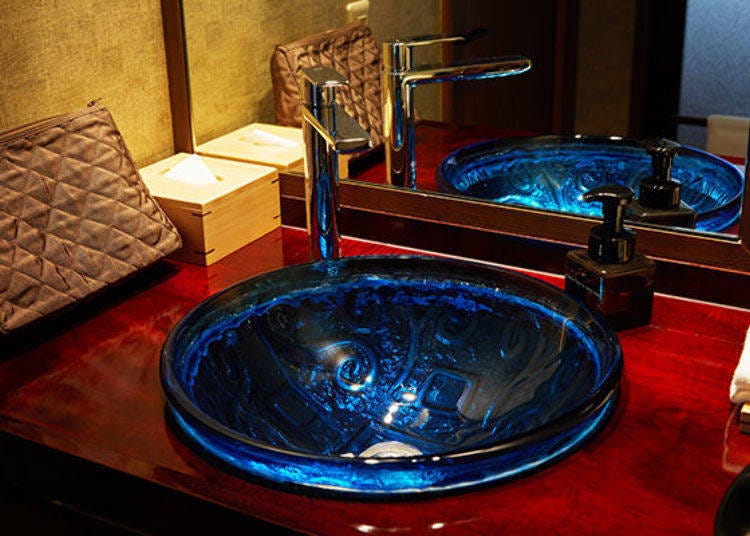 ▲A custom designed lacquer washbasin
The room is very quiet thanks to the soundproof, double-glazed windows, surrounding you in a silence that is quite mysterious for a place in the middle of a city. It is a space where you can enjoy the atmosphere of the old town buildings, feel the kindness of hospitality, and relax your tired mind.

After taking a quick break in your room, it's time to check out the rest of the building!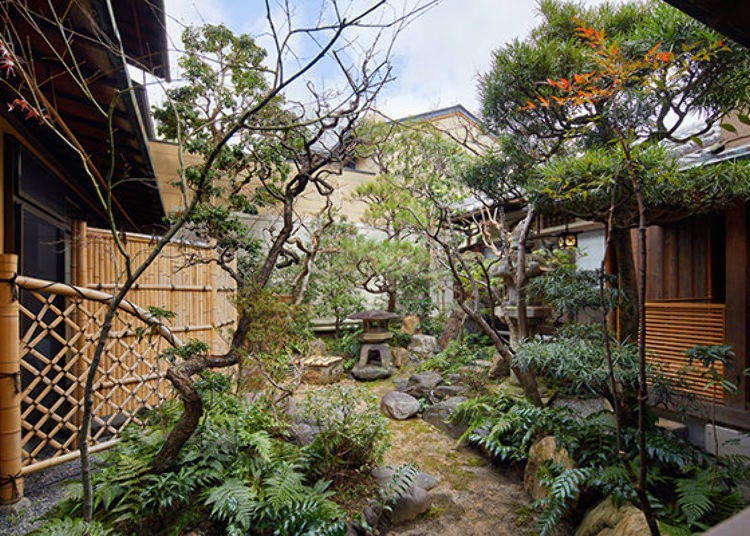 There is a small garden in the center of the inn, which you can also see from the lobby, the lounge, and even some rooms. The garden changes with the seasons, from plum blossoms blooming in spring, and lilies-of-the-valley, crape myrtles, and foliage turning yellow in the fall.

At the time of my trip (February 2019), I was able to spot some newly blooming plum blossoms.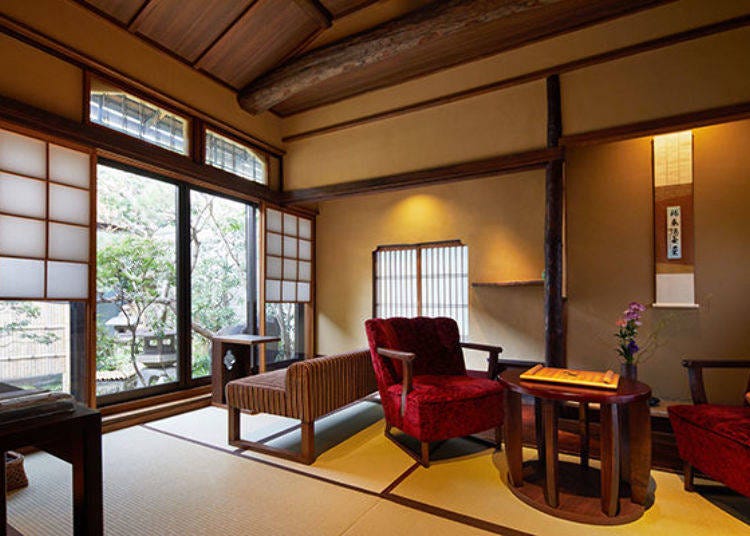 This is the library lounge that looks out towards the garden. Guests can freely access it at any time. You can find books about Kyoto sightseeing, as well its history, amongst others, and can unwind here with a free cup of coffee or tea.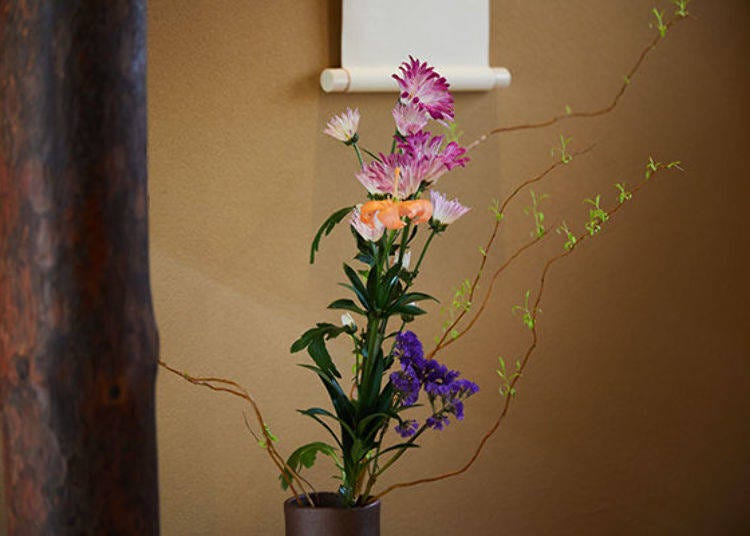 ▲Beautiful flowers decorate the library lounge, a quiet space of peace and harmony
Traditional Kyoto Cuisine at Kyokoyado Muromachi Yutone's Restaurant
If you intend to spend the night at this delightful Kyoto ryokan, I recommend the plan that includes meals. You will be able to taste beautiful and delicious traditional Kyoto cuisine as prepared by a young chef who mastered his skills at a long-established Kyoto restaurant.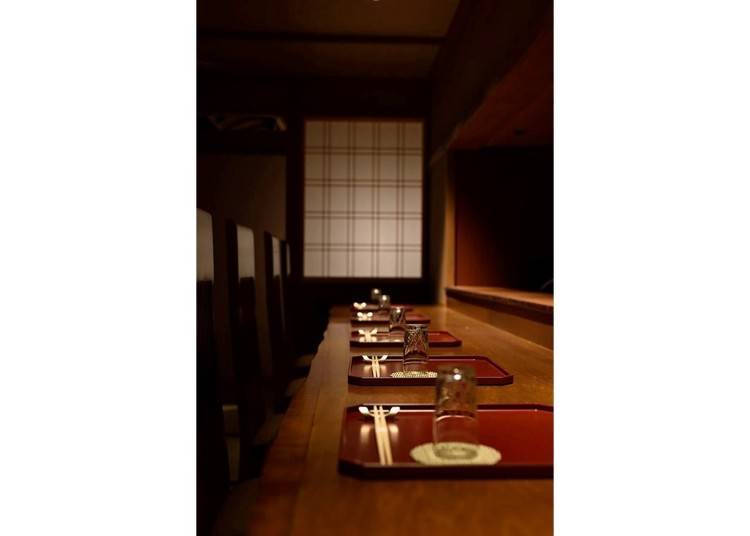 ▲The counter seats. Enjoy your meal in this calm, quiet space
The restaurant, Isshozui, has a total of 18 seats, including both counter and table seats. The setting is very Japanese, yet you can sit and eat from chair seats.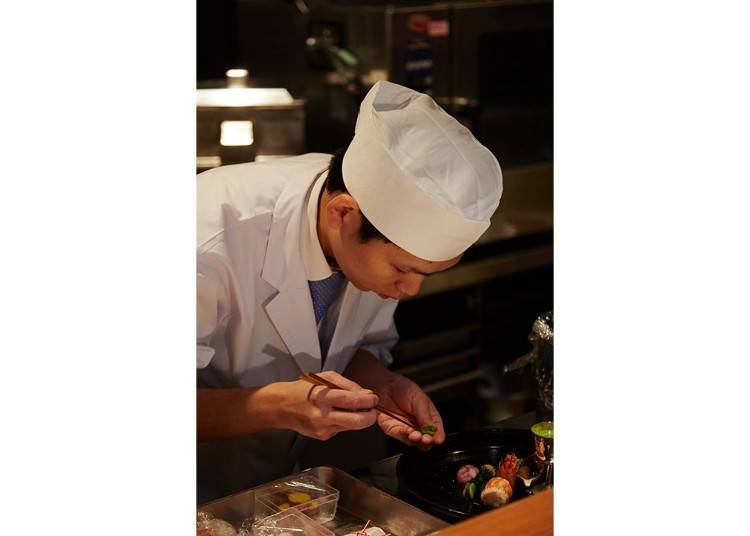 ▲Chef Nozu, who has been the inn chef since its opening in 2016
▲Lacquered spring bowl, "Takenoko and Aburame Kuzu-uchi"
The menu changes each month according to the seasonal ingredients available. You can get a different taste of Kyoto with every dish, depending on the time of your trip. "Looks are important, but first and foremost is that it is delicious," says Chef Nozu.

He is very conscious of what goes into his dishes, and makes use of the taste of each ingredient, such as bonito, tuna, and kelp as dashi (soup stock).

The fresh and crisp texture of the bamboo shoots, and the soft taste of the aburame, along with the exquisite flavor of the broth... they all combine to form a gentle taste that permeates your entire body from the moment you have your first bite.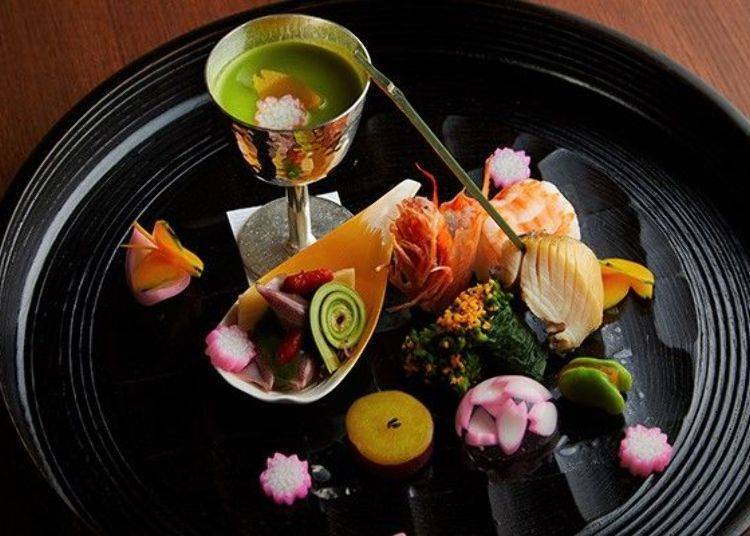 This is the "Haru no Hassun" (Spring dish). There are many spring ingredients used, including nanohana blossoms, broad beans, and firefly squid. Lily roots in the shape of cherry blossom petals and prawns add spring colors to the dish. Just looking at the dish makes one feel as if spring has already came.

Each dish is designed to be easily consumed in bite-sized portions, and is a highly satisfying dish combining a variety of textures and flavors. You can almost taste the fresh spring breeze with every bite.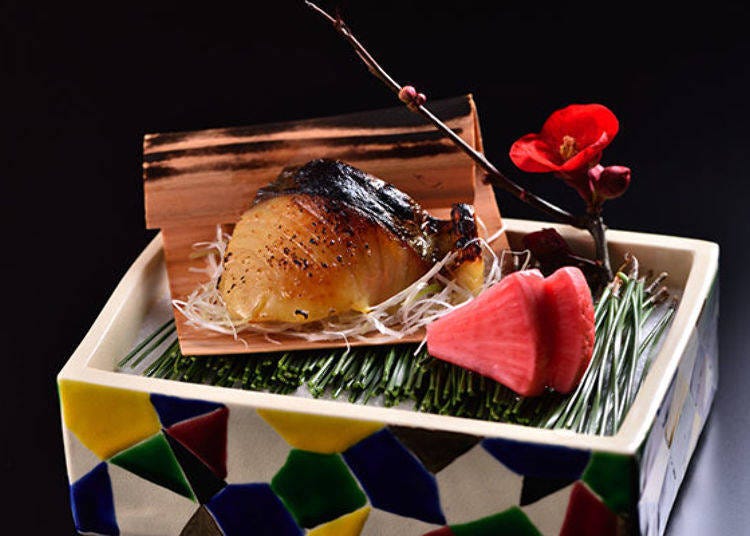 ▲Another example of a spring dish. Fish cooked with seasonal ingredients.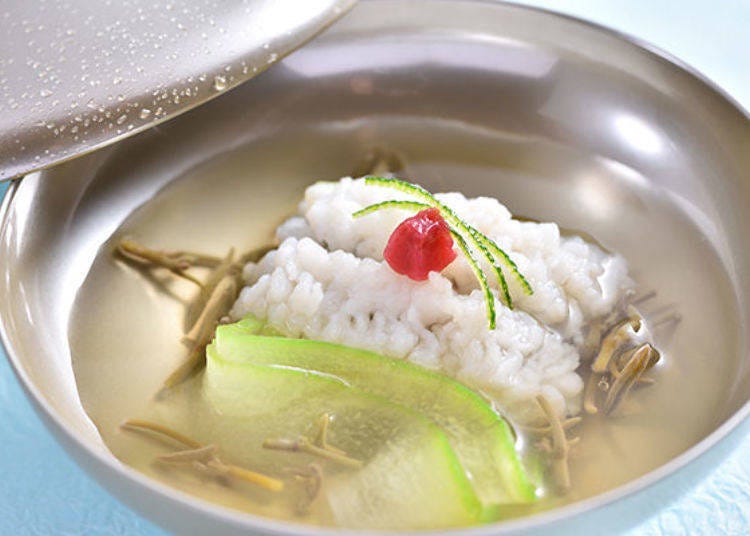 ▲This is an example of a summer dish. For hot Kyoto summers, you can't go wrong with eel, a refined and delicious dish.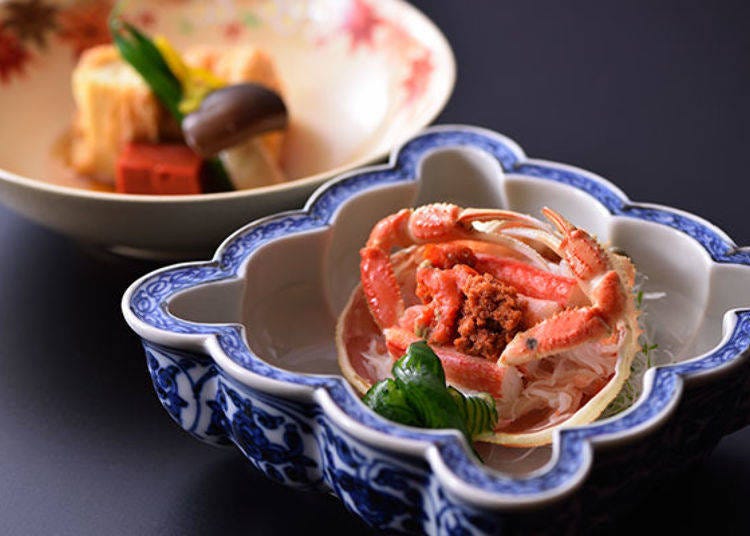 ▲An example of a winter dish. One of the pleasures of wintertime in Kyoto, which overlooks the sea, is to enjoy what is called the "king of winter flavors," or crab.
After satisfying both your belly and heart with the delicious traditional Kyoto dishes, it's time to return to your room for some quiet relaxation. Soak yourself in the bath, and release the stresses of your travels. Check-out is 11:00AM the next morning, so don't worry if you happen to oversleep a bit.

A hidden inn in the heart of the city with a quiet, Kyoto-esque feel. If you are looking for a luxury lodging for your trip to Kyoto, this is a place you will want to stay at least once.
Kyokoyado Muromachi Yutone

京小宿 室町ゆとね

Address

199 Tokumancho, Shimogyo-ku, Kyoto

Phone Number

075-342-6226

Check-In: 2:00PM~
Check-Out: ~11:00AM
Fee: 2 person rooms from 23,000 yen each plus tax on weekdays, 2 meals included

Vacancy search, reservation

from

40,000JPY

1room, 2adults

Check with our partner site as the latest rates, rate details, and guest room requirements may vary.
*This information is from the time of this article's publication.
*Prices and options mentioned are subject to change.
*Unless stated otherwise, all prices include tax.