Hotel Sowaka Kyoto opened in the Gion Yasaka area of Kyoto in November 2018. Located in a refurbished old tea house built more than 100 years ago, this small Kyoto luxury hotel has only 23 guest rooms.

All rooms are fully furnished with traditional Japanese elements, such as fusumae paintings on sliding paper doors, lacquer, and Japanese paper, and each has its own layout.

During autumn when the foliage is at its brightest colors there is also a special plan for visiting a temple. If you are going to visit Kyoto, then make it a truly memorable experience by staying in this very Kyoto-like hotel!

We highly recommend it for individuals interested in immersing themselves in the traditional culture of Kyoto.
Located in the Higashiyama area, a convenient place to stay in Kyoto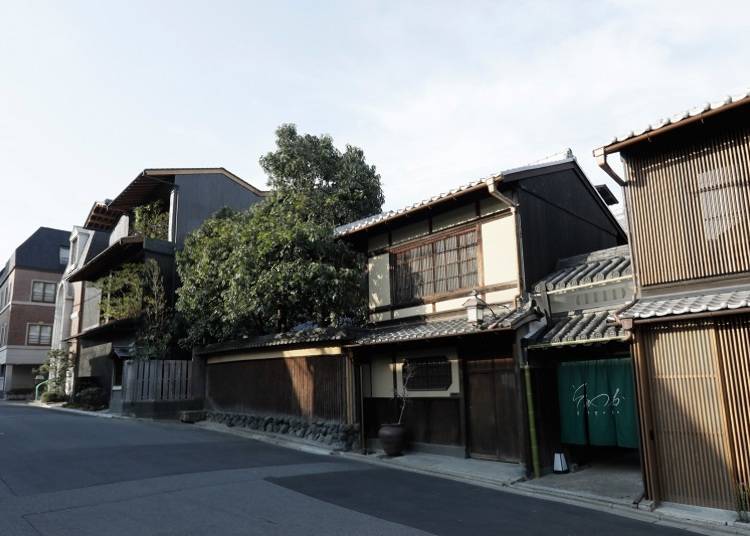 Higashiyama, in which Sowaka Kyoto is located, is one of the most famous sightseeing spots in Kyoto.

Close by are famous Kiyomizu Temple, famous for its highly elevated and large veranda, Heian Shrine, and Yasaka Shrine.

The atmosphere of such elegant streets as Nene no Michi and Nineisaka, preserved and maintained by prefectural regulations, can be enjoyed just by walking around in the vicinity of Hotel Sowaka Kyoto.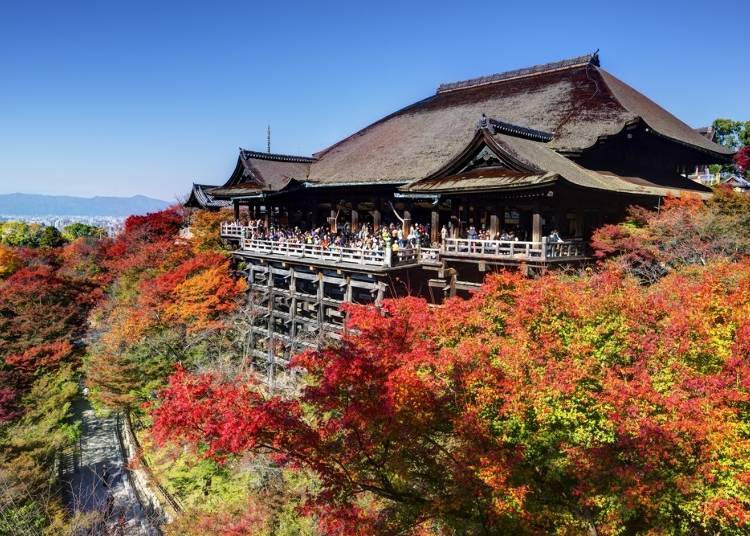 ESB Professional / Shutterstock.com
Kiyomizu Temple, visited by tourists from around the world throughout the year, is also within walking distance. This is a trendy tourist spot teeming with sightseers at any time of the year, and you can walk to it from Hotel Sowaka Kyoto in about 15 minutes. It is advisable to go early in the morning.

Shoot for around 6:00 a.m. when the gate opens as there are not so many visitors, then making it possible to enjoy the tranquil quiet. The air is refreshingly clean and pure at that time as the temple begins a new day to welcome a multitude of visitors.

To get to Hotel Sowaka, take a No. 206 bus from JR Kyoto Station and get off at the Gion stop. It is about a 10-minute walk from the Kyoto Gion-Shijo Station and a 14-minute walk from the Hankyu Kawaramachi Station.
Hotel Sowaka Kyoto's main building is in the charming Sukiya architectural style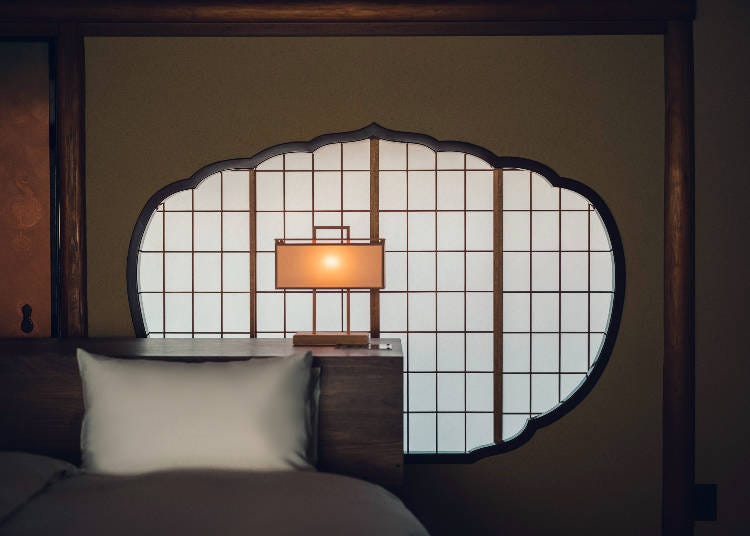 The main building was originally a ryotei (traditional Japanese-style restaurant) built in the Sukiya architectural style that was prominent during the latter part of the Taisho era and early part of the Showa era and has since been renovated.

Sukiya-zukuri refers to an architectural style that incorporates the style of a sukiya [tea house]. The name comes from "suki" which means "like".

In other words, "the house was made in a pleasing style" and refers less to form than the playful spirit behind it. The detail that goes into the design and decoration of the windows and ceilings is a unique feature of this style.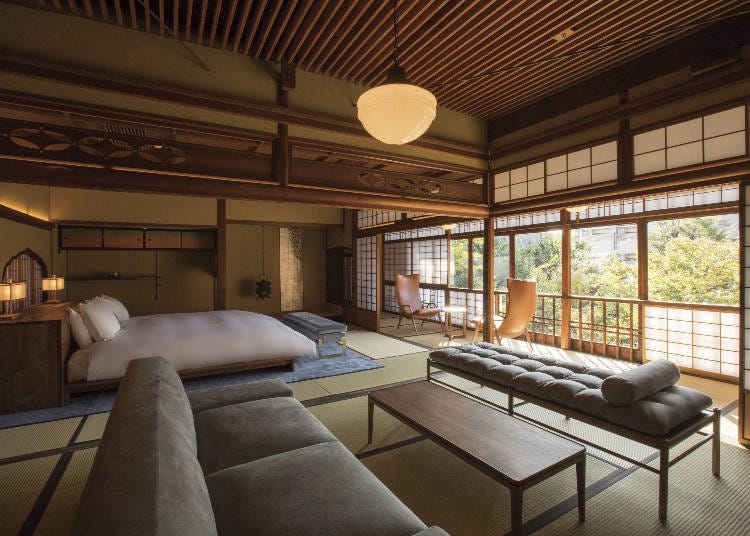 Among the 4 types of 11 rooms, the 108 Garden View Suite in the main building offers a beautiful serene view of the main garden. Opening the conch shell-shaped door handles you will find yourself in an open and luxurious bedroom surrounded by traditional clay walls skillfully finished with a delicate touch.

There are also other rooms resplendent in their own styles, such as a maisonette-type room with a tea room, and a room in which you can enjoy the distinctive wave patterns of the wood, called naguri, in the walls created by skilled craftsmen. People living today still cherish these traditional Japanese styles, not finding them to be incompatible, but easy to adapt to because of the close attention paid to detail.
Uniquely modern spaces (Annex)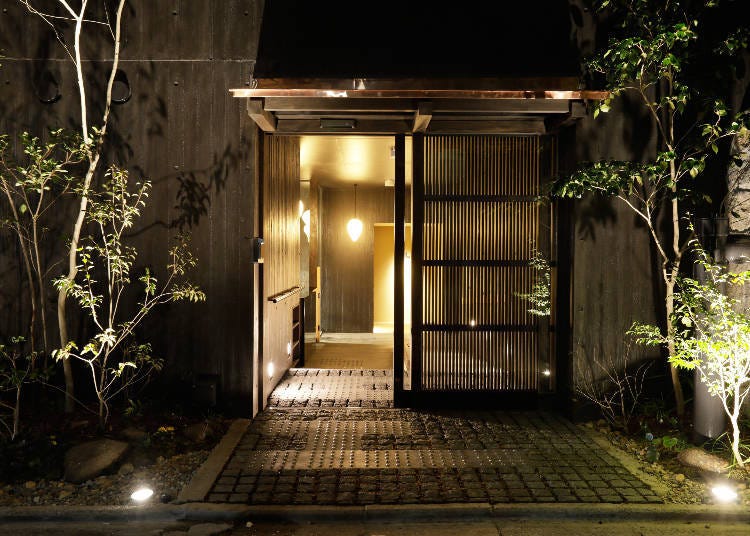 The newer Annex with its beautiful cedar design. The layout is spacious and designed so that the rooms are not adjacent; there also being lots of small courtyards so that greenery can be seen from all rooms.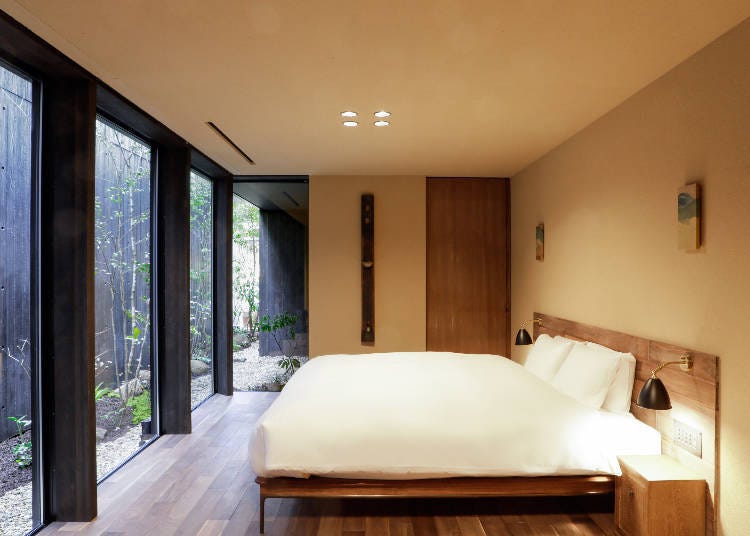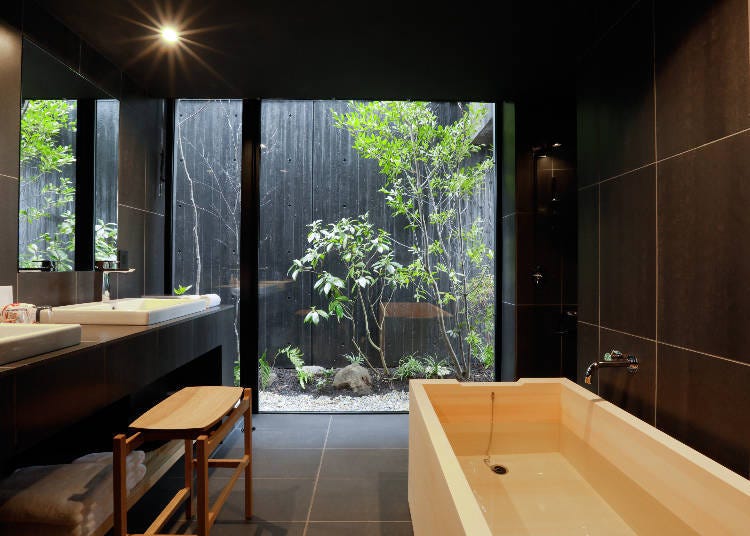 The entrance of each room is a little off the common corridor, rather like walking down a narrow alley in Kyoto. Each room has its own unique features: one may be slender like a merchant house, another with tatami flooring, and one with a semi-open-air bath. In each you can relax in spaces that still impart a modern air. The Main Building and the Annex each have their own unique features.
Experience a new kind of Japanese cuisine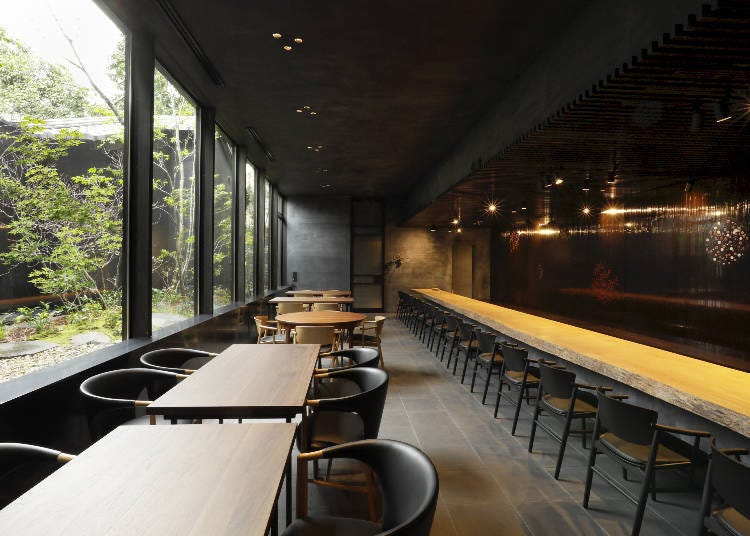 Guests can enjoy fine dining in the hotel restaurant La Bombance Gion. The main restaurant is a famous one located in Nishi-Azabu, Tokyo and has been awarded Michelin stars for 10 consecutive years. While you enjoy an original Japanese cuisine style prepared with seasonal ingredients to which careful attention has been paid, you can also admire the small garden outside the window.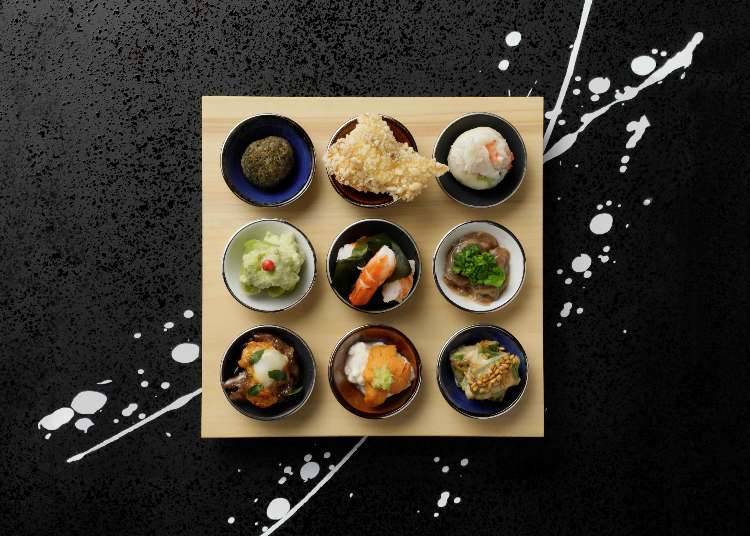 The dinner course uses lots of Kyoto ingredients directly obtained from their sources and the menu is changed every month. Beginning with an appetizer there are nine dishes in total including soup, a steamed dish, meat dish, and hot pot. A menu standard is the Foie Gras in a Savory Egg Custard which is also included as one of the dishes in the course. Actively incorporating ingredients that are rarely used in Japanese food, presented here is a borderless "new Japanese cuisine" that can only be enjoyed here.
Check out Sowaka Kyoto's luxurious special accommodation plans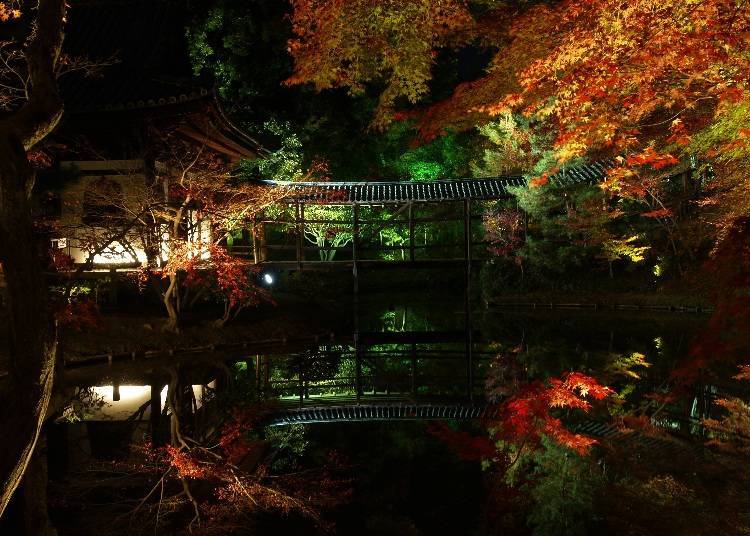 * Photo provided by Kodaiji
Sowaka Kyoto regularly offers special plans that incorporate sightseeing in Kyoto. For example, on the two nights of Saturday, November 30th and Saturday, December 7th, 2019, there is a plan that allows for exclusive one-night stays at Kodaiji Temple. Kodaiji is famous for its cherry blossoms in the spring and autumn leaves in the fall and during these times arrangements have been made so that only guests staying at Sowaka can walk in its grounds at certain times having them all to themselves. Normally the autumn leaves in Kodaiji can be seen between the middle of October until the beginning of December. This is especially a time when many people visit Kodaiji, so under the arrangements with Sowaka, hotel guests who take advantage of this plan are able to visit and enjoy the autumn foliage and culture in a quieter environment during a time exclusively reserved for them.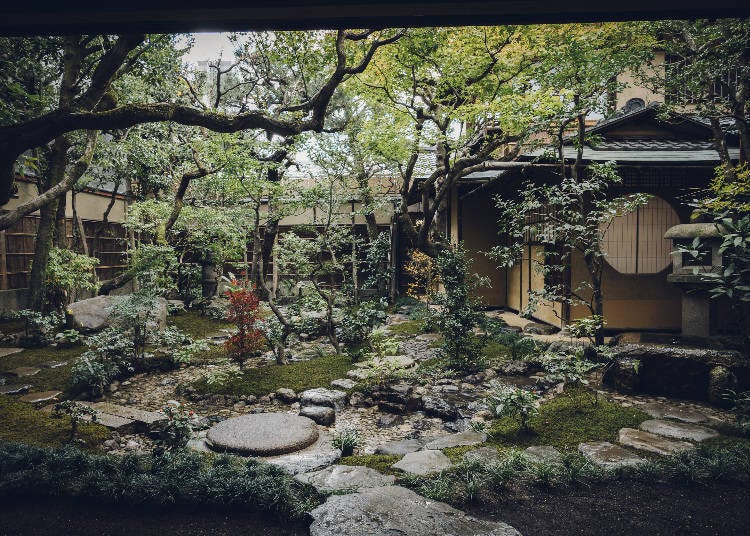 How did you like it? Hotel Sowaka cherishes the Kyoto experience, where the old and new meet and blend harmoniously. The name of the hotel, Sowaka, is taken from the Sanskrit meaning "good luck". Here you can spend a very pleasant time in a luxurious and aesthetically pleasing space.
そわか

Address

480 Kiyoi-cho,Yasaka Toriimae-sagaru,Shimogawara-dori,Higashiyama-ku, Kyoto-shi,Kyoto

Phone Number

075-541-5323

Open: Check In is from 3:00 p.m. and Check Out is until 11:00 a.m.
Room rates: Main Building Deluxe from 50,000 yen (one night room charge); Annex Standard from 40,000 yen (one night room charge)* 2 guests may use one room; taxes and service charges are not includedClosed: always open

Vacancy search, reservation

from

37,224JPY

1room, 2adults

Check with our partner site as the latest rates, rate details, and guest room requirements may vary.
Text by: WEST PLAN
*This information is from the time of this article's publication.
*Prices and options mentioned are subject to change.
*Unless stated otherwise, all prices include tax.