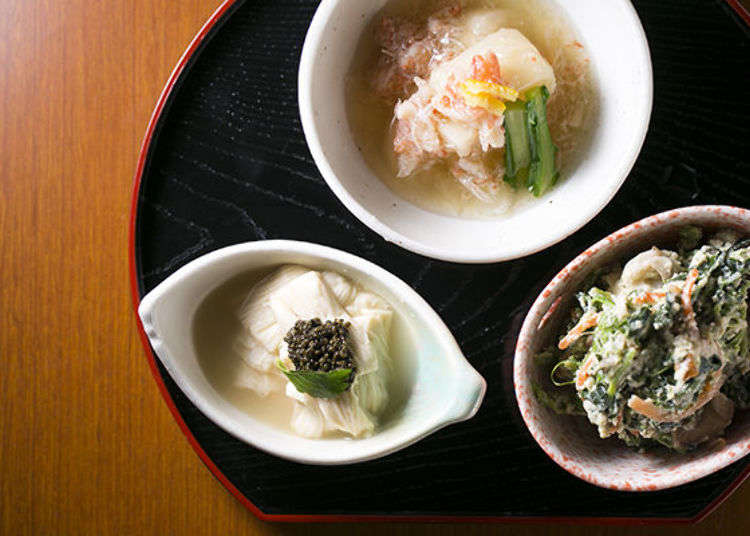 Obanzai is a delicious, simple traditional Japanese cuisine native to Kyoto. When looking for what to eat in Kyoto, this is one food you must add to your bucket list.

Most obanzai are nimono (simmered Japanese dishes) that uses light shoyu and dashi (soup stock) made from bonito or kombu (kelp). However, in recent years there are fewer traditional Kyoto obanzai such as western-style dishes.

Here are three Kyoto obanzai restaurants that offer refreshing flavors. These shops are all within walking distance of JR Kyoto Station and can be easily reached.
1. Kamado Takitate Gohan Doi: Kyoto Obanzai and Tsukemono Buffet with All-You-Can-Eat Rice
Kamado Takitate Gohan Doi
Take a left from the JR Tokai Kyoto Station Hachijo Exit, and head to ASTYROAD Kyoto Omotenashi Koji to find Kamado Takitate Gohan Doi. This shop is owned by the Doi Shibazuke Main Store in Ohara, Kyoto. Kamado Yakitate Gohan Doi sells tsukemono (Japanese pickles) in the area facing the path.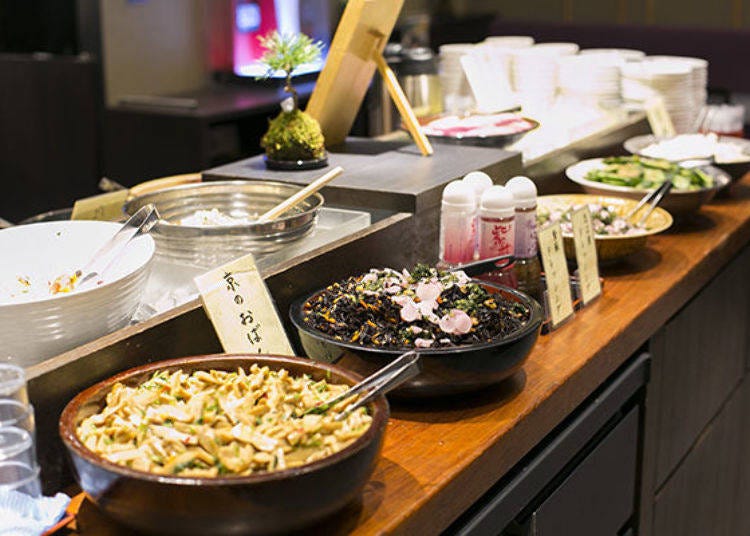 Obanzai and tuskemono buffet
This is the recommended obanzai and tsukemono buffet. It offers all-you-can-eat seasonal obanzai and tsukemono.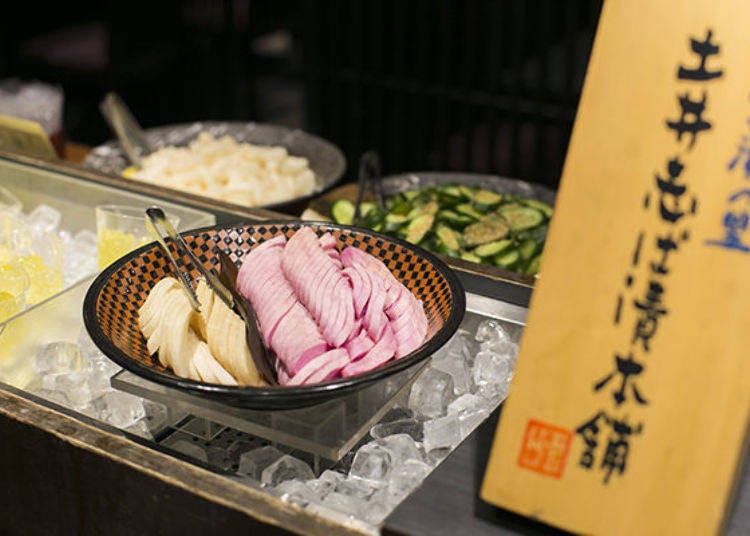 ▲They have 5 or 6 seasonal tsukemono and 3 or 4 obanzai
Since it is a tsukemono shop, they mainly use tsukemono for their obanzai. The shop offers more of its own unique obanzai than standard obanzai.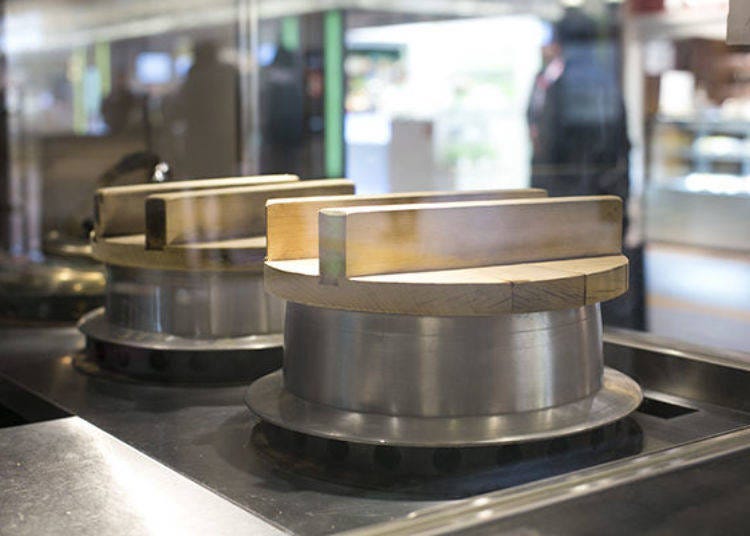 Kamado (Japanese style cooking stove) cooked rice
As for the cooked rice, they use a Kamado (Japanese style cooking stove) and various Kyoto rice brands, depending on which is the best at the time. Seasonal takenoko (bamboo shoots) rice and matsutake mushroom rice are also served. (*Takenoko and matsutake mushroom rice require additional fees)

Open throughout the day, the restaurant offers a breakfast buffet (972 yen including tax) which includes freshly cooked rice, miso soup, Kyoto obanzai, and a pickle buffet. It is simple but delicious. For lunch and dinner, they have various meals that come with different small dishes and an a la carte menu.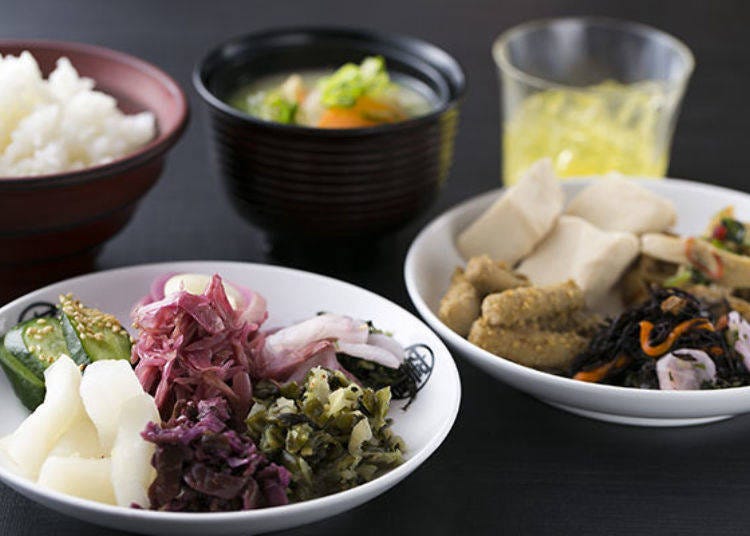 Otsukemono Tempura Zen (1,728 yen, tax included)
This time we went for lunch and ordered the Otsukemono Tempura Zen (1,728 yen, tax included). First, we went over to the buffet and dished up some tsukemono and obanzai.

At the buffet they had cucumber asazuke, shibazuke, and suguki pickles, as well as various obanzai, such as a side dish of eringi mushroom and hijiki (brown sea vegetable), mibuna and pickled daikon radish. They were all flavored just perfectly to match the rice.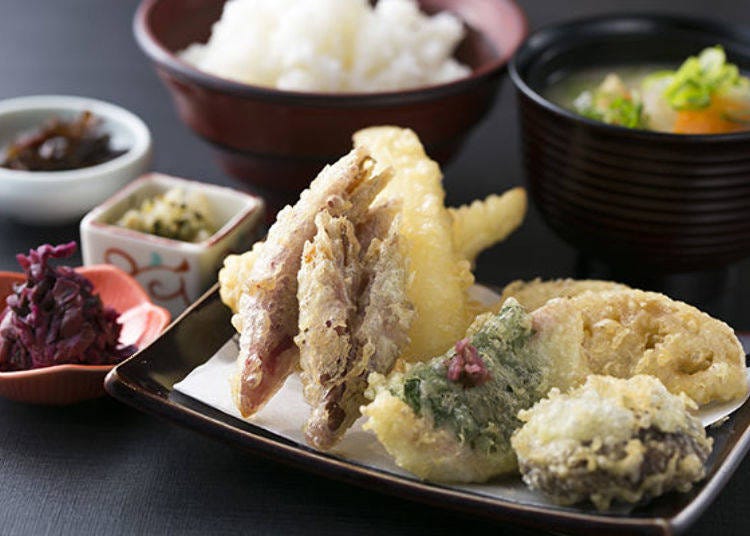 Tsukemono tempura
The main a la carte dish was tsukemono tempura, a rare dish. Since it is already flavored we were recommended to eat it as it was. Deep-frying eliminated much of the moisture of the myoga (Japanese ginger) and yamaimo (Japanese mountain yam) which condensed and intensified their respective flavors. The slight sourness and saltiness combined with the rich umami is magnificent.

The rice and miso soup are all-you-can-eat for the breakfast buffet, lunch, and dinner.
Kamado Takitate Gohan Doi

竈炊き立てごはん 土井 京都八条口店

Address

JR Tokai Kyoto Station Hachijo Exit 1st Floor, Kyoto Omotenashi Koji ASTYROAD, 8-3 Higashishiokoji Takakura-cho, Shimogyo-ku, Kyoto-shi, Kyoto

Phone Number

075-634-8545

Hours: 9:00 AM – 10:00 PM (LO 9:30 PM) *hours are different during New Year's Holiday season
Closed: None
*All seats non-smoking
2. Kyoto Kotokoto: Obanzai Buffet with Specially Selected Ingredients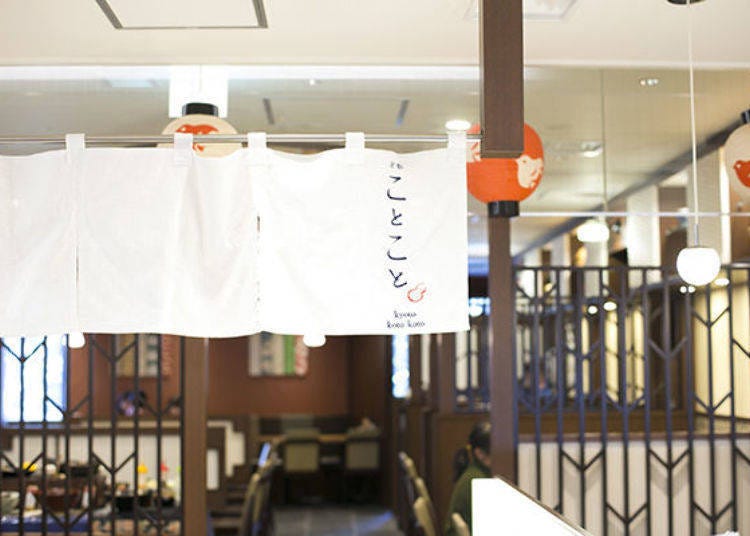 Kyoto Kotokoto
The next store is Kyoto Kotokoto located on the 11th floor of the Kyoto Station building specialty mall, The Cube. It takes about 5-minutes to reach the store from JR Kyoto Station by riding the escalator to the 11th floor. The escalator is built along large stairs, which is one of the major features of the station building.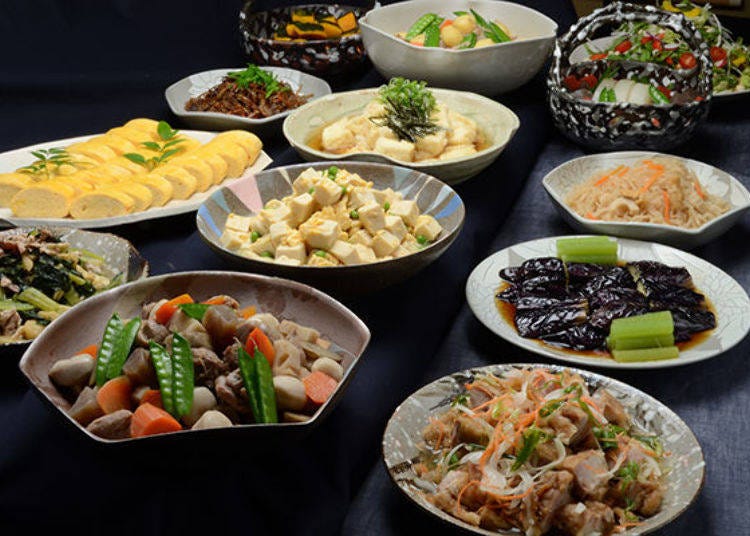 ▲Gently flavored obanzai such as the excellent dashimaki-tamago, kiriboshi daikon and standard nimono
The main feature of Kyoto Kotokoto is the obanzai buffet that uses specially selected ingredients. They specifically use ingredients from Kyoto such as Kyoto brand rice, eggs, seafood acquired from Maizuru Port, and vegetables from Jinento Market, where farmers from Kyoto bring their crops.

Bringing out the ingredients' flavor to the fullest, the buffet has ten different dishes such as kiriboshi daikon (thinly sliced and dried strips of daikon radish), kinpira (chopped burdock root and carrots cooked in shoyu and sugar), ohitashi (vegetable side dish), dashimaki-tamago (Japanese style rolled omelet) and koya-tofu (freeze-dried tofu) nimono.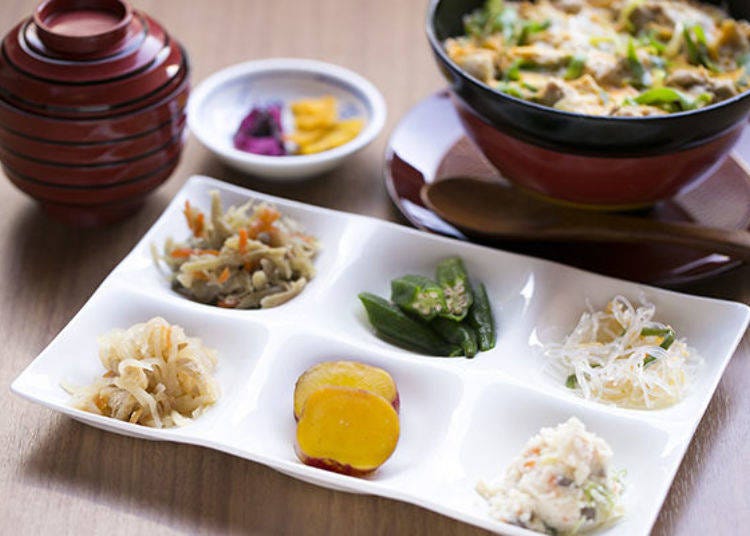 ▲The all-you-can-eat buffet (60 minute time limit) with dishes like okra no ohitashi and sweet potato cooked in sugar syrup uses fresh ingredients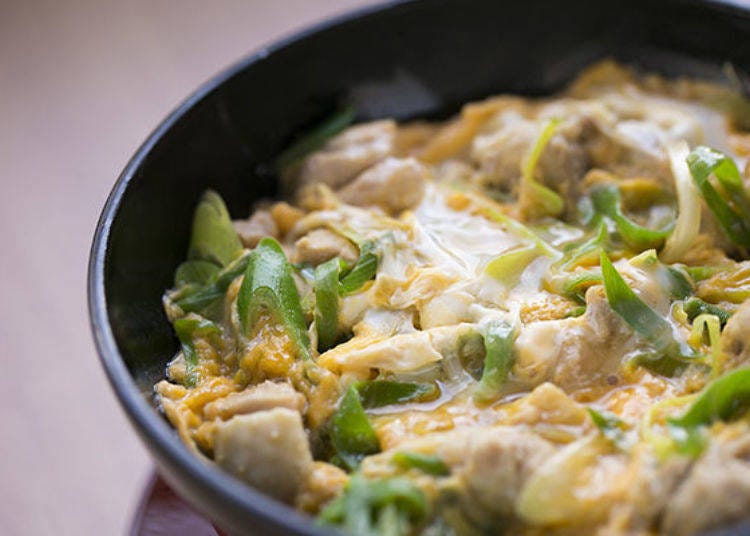 Tanba-jidori Oyakodon (1,296 yen)
The set meal, consisting of an obanzai buffet and dishes like tempura, sukiyaki and donburi (rice bowl), is popular.
This time we selected the Tanba-jidori Oyakodon (1,296 yen) as our main dish. The egg, sourced from farmers in Maizuru, was lightly cooked and the Tanba-jidori (chicken from the Tanba region) had the perfect texture and flavor. The excellent flavor of the soup stock and crisp Kujo leek complimented the dish. With the excellent obanzai and donburi, our stomachs were full and our heart's content.

As a side note, at night Kyoto Kotokoto still serves the obanzai and main dish meals, but also offers local sake and a la cart dishes. We recommend this shop if you want to try many types of obanzai.
京都ことこと

Address

Kyoto Station Building Specialty Mall The Cube 11th Floor 901 Higashi Shikoji-cho Karasuma-dori, Shiokoji Sagaru Shimogyo-ku, Kyoto-shi, Kyoto Prefecture

Phone Number

075-365-8733

Hours: Lunch 11:00 AM – 4:00 PM *last entry 3:45 PM, Dinner 4:00 PM – 10:00 PM (L.O. 9:25 PM)
Closed: January 1st
3. Kyomiso Shunsai Rokkakuya: Obanzai and Oden with Perfect Dashi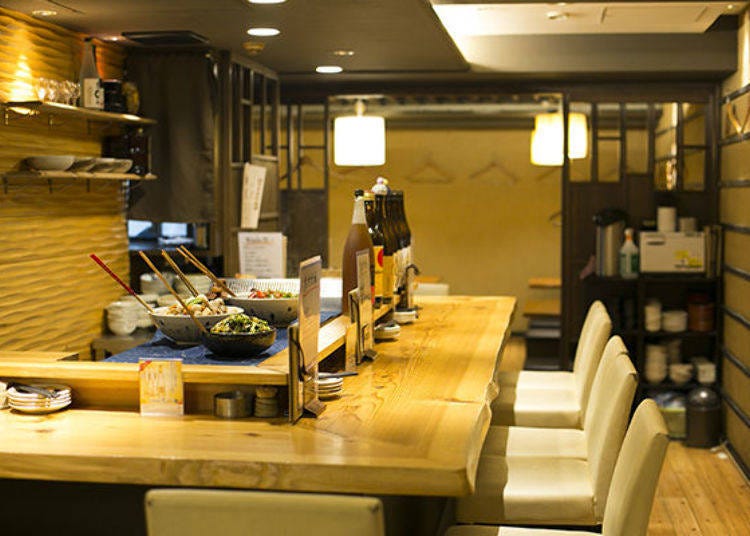 Kyomiso Shunsai Rokkakuya
Our last entry is Kyomiso Shunsai Rokkakuya. It is located along Shichijo-dori, about a 5-minute walk from JR Kyoto Station. The obanzai and the steaming oden (Japanese pot dish with several ingredients) placed in front of the counter looks delicious.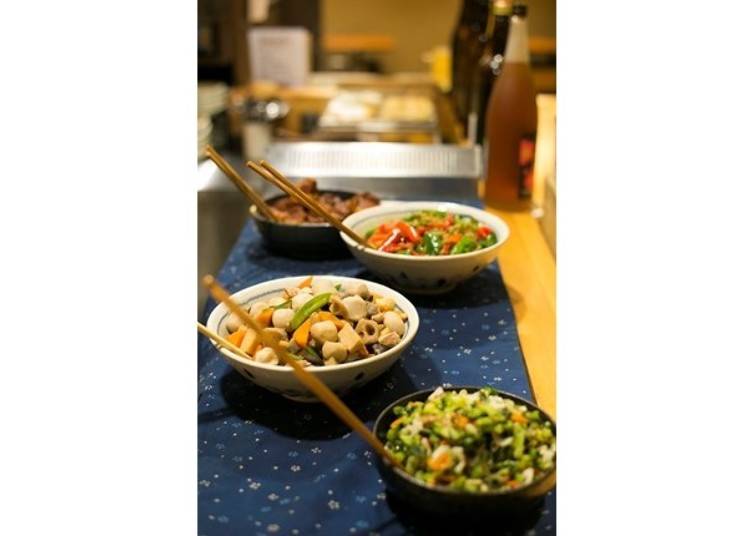 ▲Obanzai cooked with ingredients from Kyoto such as Manganji chili pepper and standard nimono perfectly flavored with dashi
The recommended dishes at Rokkakuya are the obanzai made with dashi in which the hosts take great pride. There are seven or eight seasonal obanzai made with dried bonito and mackerel shaving dashi. The dishes are balanced perfectly so they're not exactly home cooking but, at the same time aren't quite kaiseki cuisine (traditional multi-course meal) either.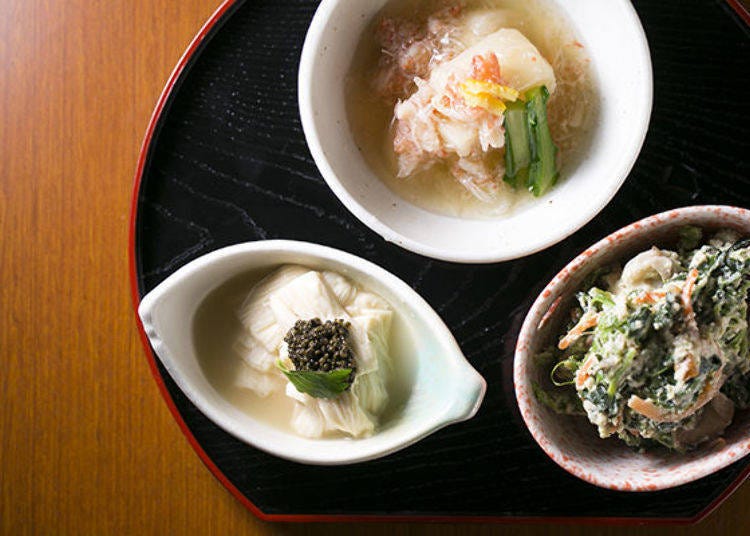 Omakase Obanzai Sanshumori (Chef's choice three obanzai set) (850 yen, tax excluded).
First we ordered the Omakase Obanzai Sanshumori (Chef's choice three obanzai set) (850 yen, tax excluded). The set comes with beautiful looking, delicious obanzai.

The obanzai on the front right is the Shiro-ae Spinach and Smoked Duck (shiro-ae is white sesame and white miso mixed with tofu for flavoring). The texture of the crushed tofu and smoked duck creates an amazing dish.

On the left is Nama-yuba and Tonburi Ohitashi. Eating the creamy nama-yuba (raw tofu skin) is an experience filled with quality dashi flavor. The tonburi (burningbush seeds) that pops with each bite compliments the creamy nama-yuba.

At the top is Shogo-in Kabura-ni Kani Ankake. The kabura (turnip) is fully flavored with dashi and the umami of the crab and the sweetness of the kabura fuse as one as you eat them.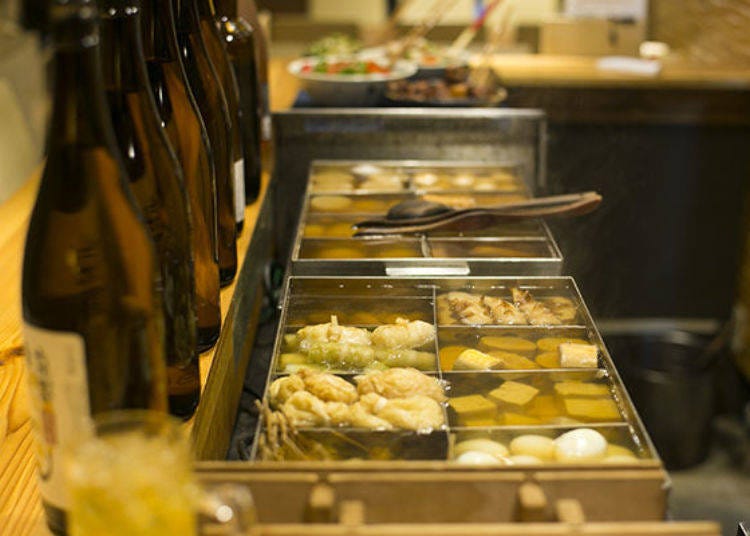 The dashi used in their signature oden is changed every day. If soup stock is continually added to, over time the flavor becomes stronger, so by changing the dashi every day it keeps its distinct Kyoto flavor.

Ingredients like daikon and eggs are stewed for two days, and some ingredients are served at just the right time to compliment your meal.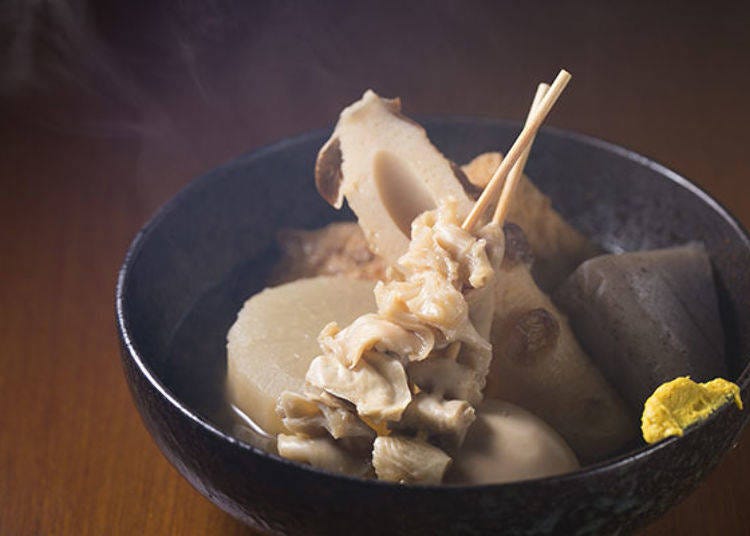 ▲Oden (one item starting from 150 yen, tax excluded)
For oden we ordered the standard dishes such as daikon, suji (beef sinew) and chikuwa (tubular fish paste cake). All the portions are large and filling. The fully stewed oden in the excellent dashi is delicious, but make sure you don't burn your tongue!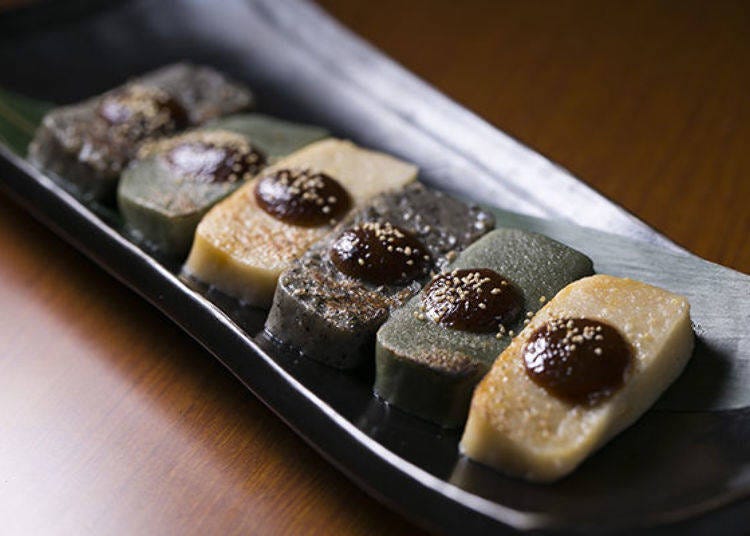 Gojo Hanbei no Namafu no Denraku (580 yen, tax excluded)
Gojo Hanbei no Namafu no Denraku (580 yen, tax excluded). Nama-fu is wheat gluten mixed with rice flour that is steamed into a block. They use nama-fu from a long-established shop in Kyoto and offer three flavors: awa (foxtail millet), yomogi (Japanese mugwort), and goma (sesame). The dish strikes a balance between soft and tough -- an exquisite Kyoto-like texture.

Rokkakuya is only open at night and is a perfect place to drink local sake while having obanzai and oden.
六角や

Address

Neo Building B1, 172 Higashi-Sakaicho Shichjo-dori Karasuma Hishi Hairu, Shimogyo-ku, Kyoto-shi, Kyoto-fu

Phone Number

075-354-3789

Hours: 5:30 PM – 11:00 PM (L.O. 10:30 PM)
Closed: Sunday, Holidays
All the Kyoto Obanzai restaurants are conveniently located near JR Kyoto Station and only require a few minutes' walk. Either eating a lot at lunch or indulging at night, please try the delicious obanzai of Kyoto during your visit.
Text by:Myogaya Nobuhisa
*This information is from the time of this article's publication.
*Prices and options mentioned are subject to change.
*Unless stated otherwise, all prices include tax.