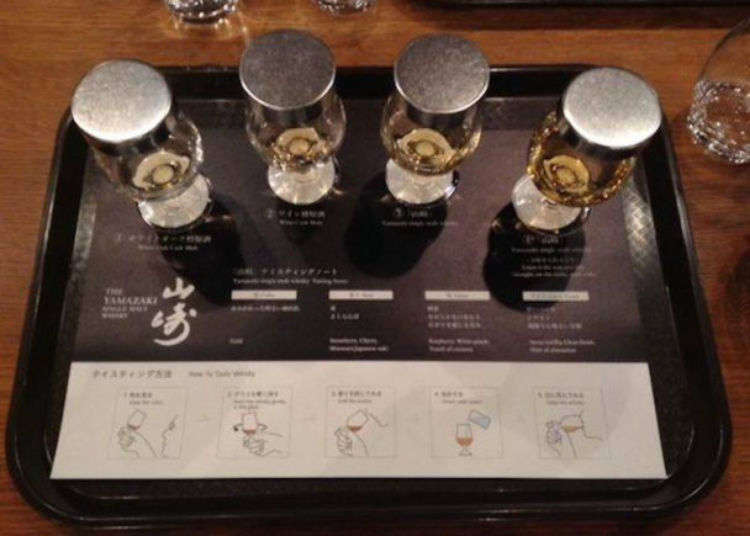 A 58-year-old man living in Kyoto who has been drinking whisky for a quite a long time, I applied online for a tour of the Suntory Yamazaki Distillery. Located in the "holy land" of whisky in the Kansai region, it should be at the top of the list of any aficionado's bucket list. The following is a record of my experience from the start to the end of the tour. It was a thoroughly enjoyable tour and one I think everyone would also enjoy.
The first time I visited the Suntory Yamazaki Distillery was about 30 years ago, I think. At the time I was invited to be a guest of an event planned by a magazine. I only have dim recollections of the Yamazaki Distillery of that time, so I began by looking up how to get there on the Internet before setting out.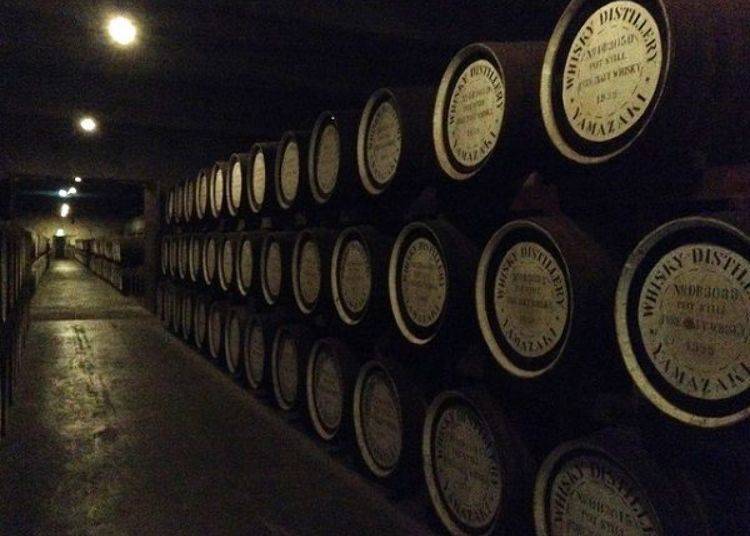 Off to the Suntory Yamazaki Distillery at 2:50 p.m. on a Friday
Because I live in Nakagyo-ku, Kyoto and work in the city, the moment I made my travel reservations, I thought to myself, "I'll have a late lunch, then leisurely stroll over to Hankyu Kawaramachi Station, take a train leaving at about 2:00 in the afternoon, tour the distillery, then after the tour, take the train back to Osaka arriving early in the evening and then go to a bar in either Dojima or Dotombori."

Then the day finally arrived.

It began much as I had imagined and as I descended the stairs in the Hankyu Oyamazaki Station, I sang, "As I step down from the train and there to meet me is my Mama and Papa," a verse from the song Green Green Grass of Home, I went forth. As I walked away from the station I pretty much knew the way even without looking at the map on my phone.

After walking a short distance my spirits were further primed when the Suntory Yamazaki Distillery came into view.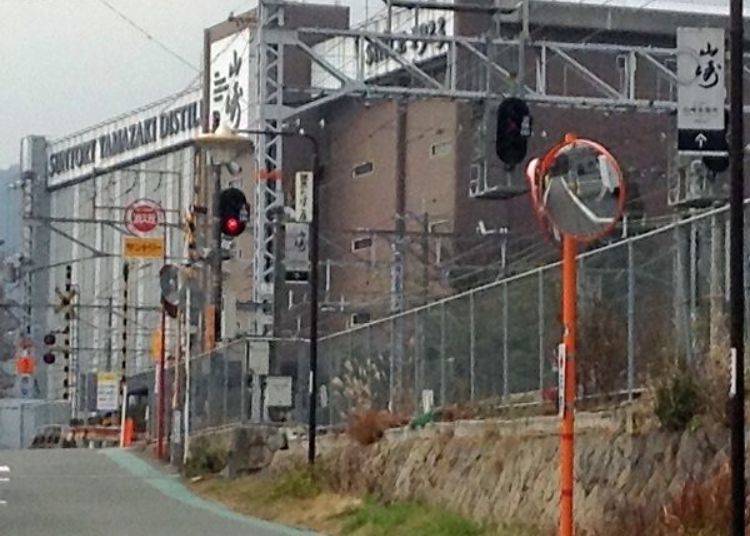 ▲ This was the moment I was waiting for. It smelled of whisky.
It smelled of Suntory whisky from the Showa era. The instant I saw that after leaving the station may have been the high point of my trip. At least that is how I felt then because I was so moved by the sight.

As soon as I crossed the train tracks and entered the grounds I was greeted by a large pot still object. It's not that interesting, but when I saw its unique shape, I was reminded of the television drama "Massan."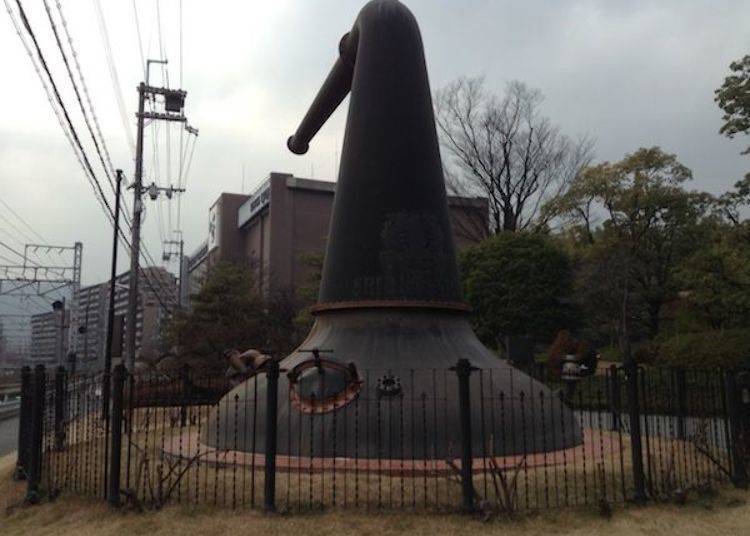 Looking up I saw "Yamazaki" in a Suntory-like script on the brick facade highlighted by the mountains in the background.

At the reception office, I said that I had made a reservation for the tour. The very friendly and polite receptionist verified my reservation and issued me a pass to enter the distillery.

Ever since I was a kid I have been in awe of Suntory and I felt a tingle as I now stood there.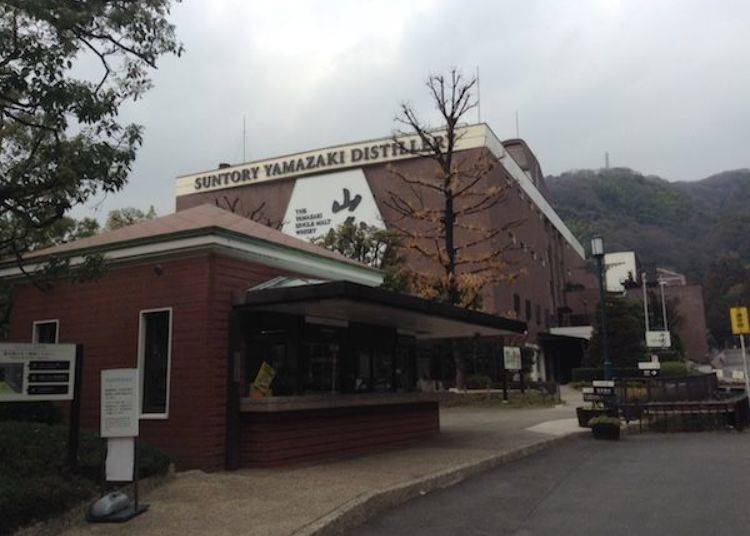 ▲ The Tennozan mountain range in the background
After registering, I walked alone to the starting point of the tour. I wondered what sort of people I would soon meet and tried to imagine what my feelings would be on my way home.
The best part of a journey is its beginning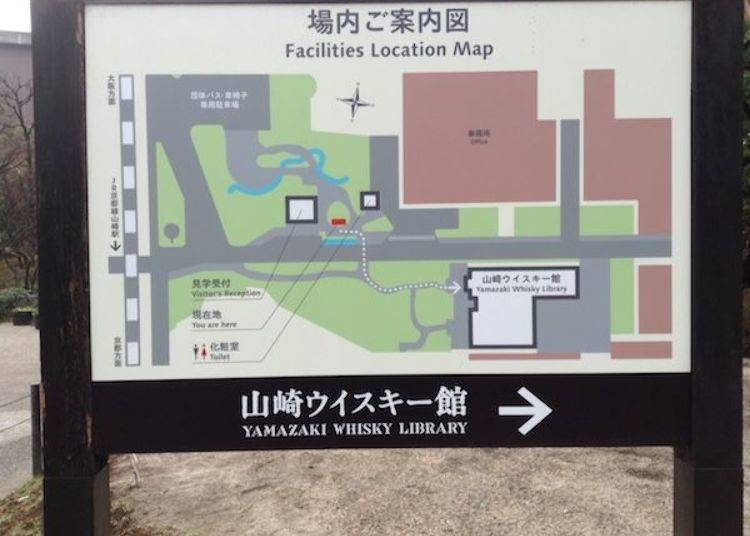 Wherever I looked, it had the feel of whisky. That is to say, each scene was a picture full of detail.

I thought so as an experienced drinker and visualizer.

The attraction of whisky is its appeal to satisfy all five senses. That is what makes Suntory great.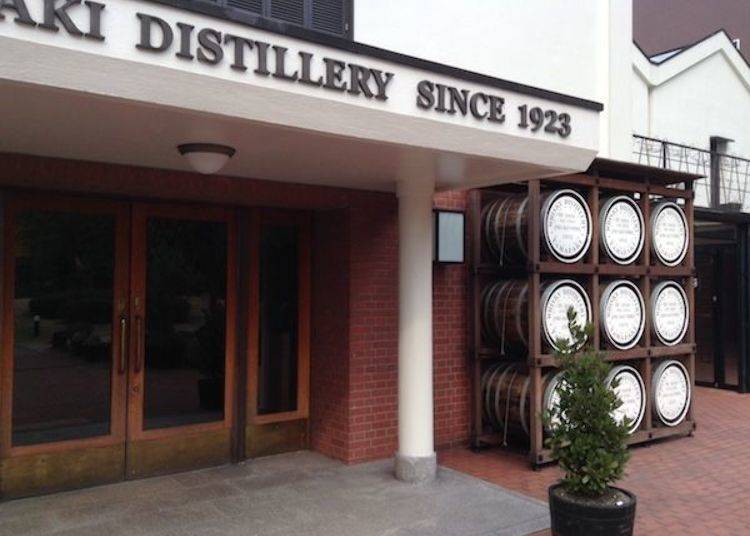 Increasingly I yearned for a drink of whisky.

Even as I was reading the newspaper while riding on the train, the thought that I might get drunk today surfaced in a corner of my mind and made me feel a bit blue.

Not really blue, but something like that. I like to drink, but I don't like to get drunk. But if I have too much to drink I inevitably do get drunk.

While thinking about such things I opened the door and entered into the Yamazaki Whisky Museum.

Entering the whisky museum I was immediately greeted by a display of a barrel showing whisky inside it.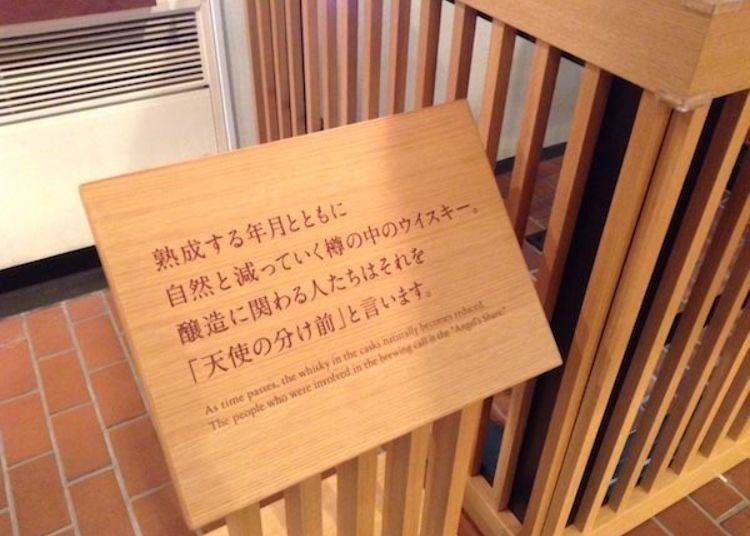 "As it ages with time..."

I can't write prose like that.

And there is no way I could write something like the phrase, "shared by an angel", either. Probably because I can't imagine anything like that. No, instead I'd probably write something bland like, "The reduced amount is proof that it's good."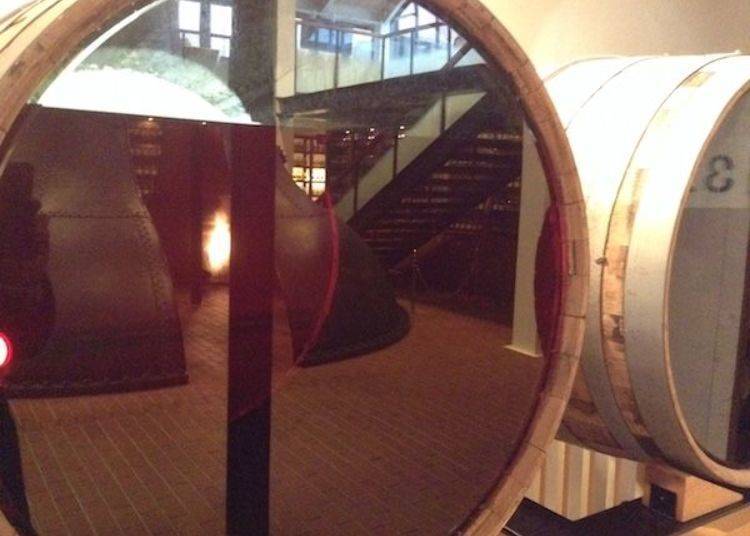 Looking at the display I wondered how many bottles of whisky were in the barrel. I wondered which was greater, the whisky in the bottle or all the whisky I've drunk until now. All I could think about was what I wanted to see. And I haven't even begun my journey yet.

"It feels exactly like the lessons before starting out on a school trip," I thought, not out of malice, but because I was impatient for the tour to start.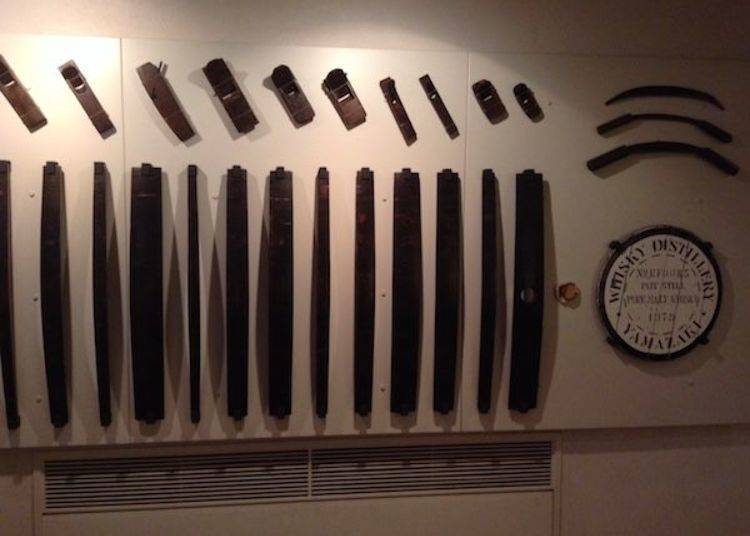 ▲Tools used for making the barrels
Learn how to make a barrel. I'm very familiar with barrels because I run a pickle shop. Almost every day I handle cedar barrels. Even so, a barrel is a real piece of work.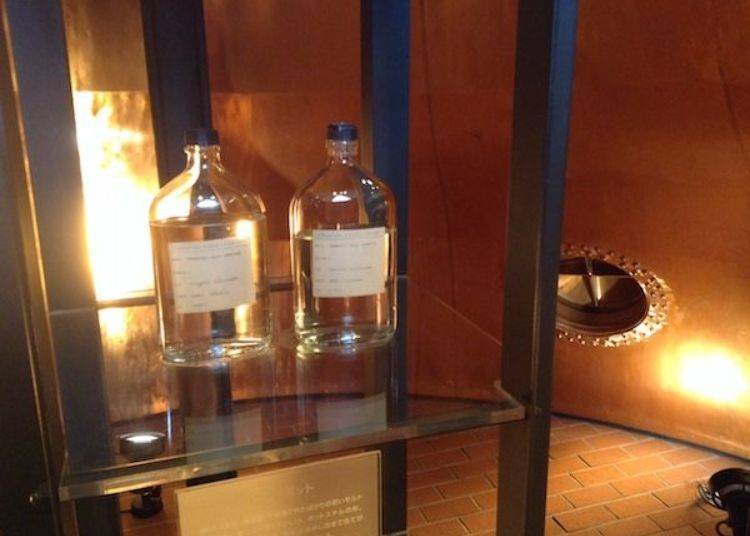 ▲ The many types of tools used in the making of whisky and what whisky looks like before it is aged are displayed.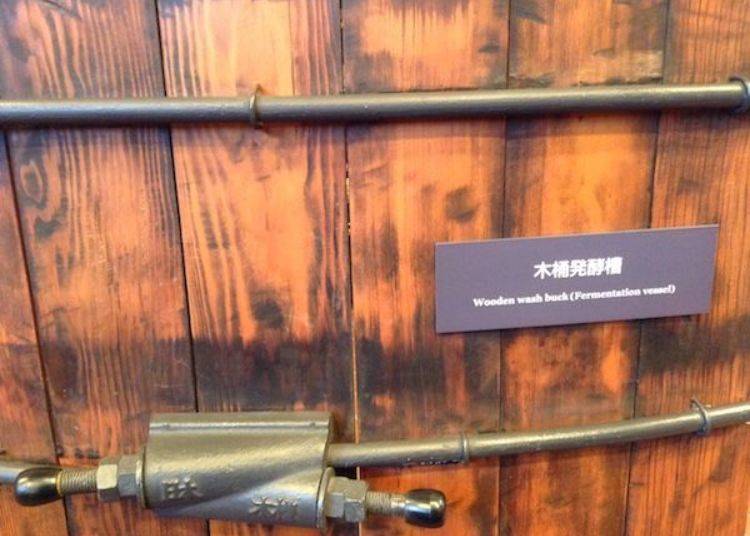 ▲ When I saw the screw part of the metal hoop on this wood fermenter I was again deeply impressed.
It really is well made. Quite beautiful, in fact.

If you look carefully at the metal you can see "Japan Wood Tank" written on it. Twisting the nut tightens the hoop. In the case of cedar barrels bamboo hoops are used, but the way they are used by pickle shops is so rough that the hoops often fly off.

As a safety measure, they wrap the barrel with a thick wire (annealed iron wire), but this is quite difficult. If too much force is applied it ends up breaking the barrel.

Nevertheless, it is a beautiful object. Just seeing this made the trip worth it. Just seeing this device was worth at least 300 yen of the 1,000 yen (tax included) cost of the tour.
The tour still has not begun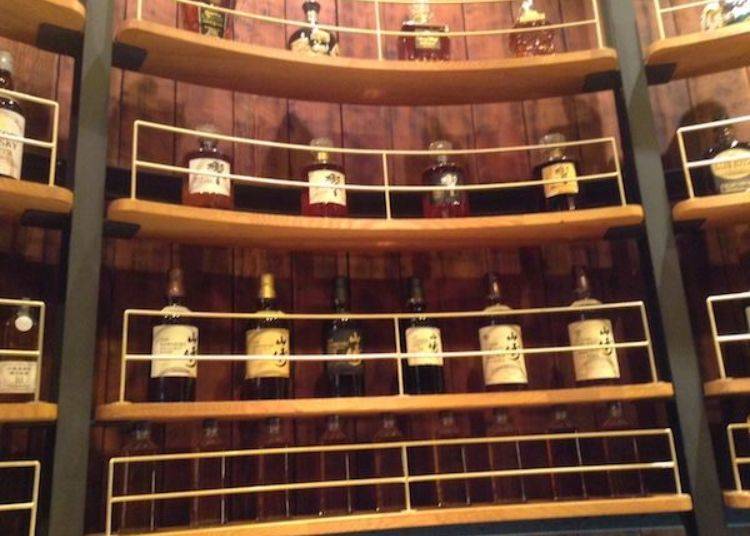 I looked at the various displays in the Yamazaki Whisky Museum while waiting for the tour to begin. Many kinds of whisky bottles were lined up in a room that had the shape of a large barrel.

Of course there were Suntory whiskies like Royal, Hibiki, and Yamazaki, but there were also many scotches, too.
While thinking that these were probably handled by Suntory, I was happy to see brands other than those made by Suntory displayed, too.

I wonder why. Maybe it's because of the way society is today or because there are so many hard things in life.

Now you know why I drink.

Why?

Drinkers can respond to delicate things because they are so petty.

Incidentally, I was recently told to my face that I am a "really cheap fellow" and on top of that was called "Kosygin" (former prime minister of the Soviet Union who ruled from 1964 to 1980).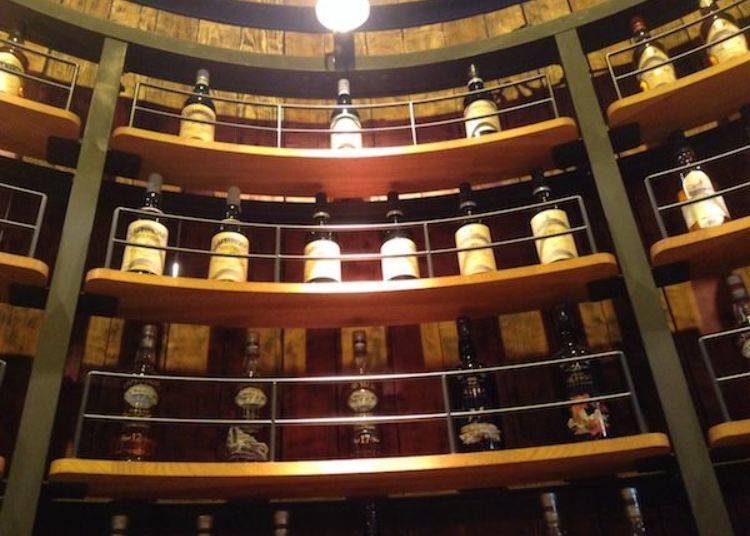 It really is whisky, whisky, whisky. I increasingly wanted to drink a mizuwari [whisky mixed with water]

"Mizuwari originated in Japan and is the best drink of all."

That was the topic of an essay I previously wrote and shall mention here.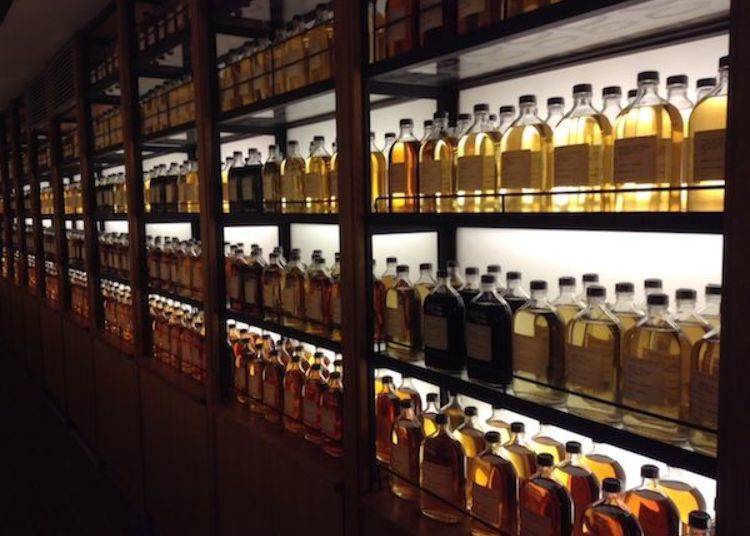 "Mizuwari, proudly proclaimed to the world, exists in Japan."

Actually the recent popularity of whisky highballs has been a big problem for me. It's not that I make a living off of promoting mizuwari, it's just that I am proud of being someone who understands how great Japanese mizuwari is.
I don't think any other drink can match the excellence of whisky mixed with water. There are three reasons for this.

First of all, the flavor of the drink can be modified. You can't find that in other drinks or cocktails. It's OK if is too delicious, but even if a mizuwari is not delicious it is OK. Mizuwari is a drink that, when you wake up after a late night of drinking in a hotel room and see some leftover mizuwari that looks like coarse tea, you don't mind drinking it because it is there in front of you.

The second reason is that you can drink it for a long time. You can't drink gimlets from evening until two in the morning. It's impossible. My limit is two hours: My internal organs can handle it, but my head can't. And neither can my wallet. But it is possible to do that drinking mizuwari. And if you keep a bottle in a snack bar where you can drink really cheaply and sing lots of songs, mizuwari will keep you company.

And the most amazing thing about mizuwari is the way it connects similar cells together. When you bring the glass to your mouth, you are connected to it and when you put your hand on the counter of the bar, you become connected to the bar, and the beautiful lady drinking next to you, the bartender holding a swizzle stick, and the backpacker - you connect with all of them. Mizuwari is an evangelist in its purest form. It numbs and neutralizes the interactions between people and people, people and shops, and time, becoming a bridge that transcends time and space. The finest drink made simply of whisky mixed with water exists here in Japan. It did exist. Ah! My beloved mizuwari is being swept aside by a wave of highballs. If that is not the case, it seems like canned mizuwari will become extinct.
(Excerpted from the magazine "dancyu" published in the October 2013 issue of President)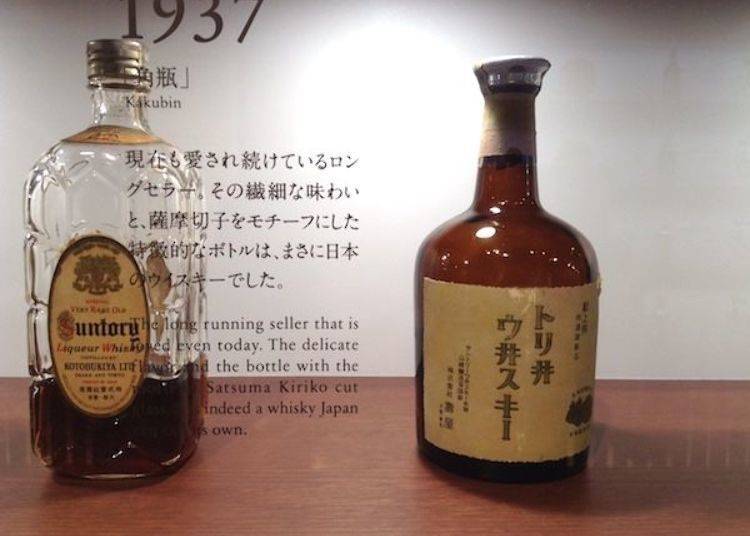 ▲This year marks the 80th year since the square bottle (on the left in the photo) made its debut
I have been attracted to Suntory advertising since I was in my teens.

What's more, I think it was the advertising that taught me that it was so cool. I think the TV commercials in particular made me think it was cool. It came across in ways that advertising in magazines and newspapers didn't.

In the mid-1960s when I was a teenager, there were many cool television commercials. Some of the best were those by Kewpie, Shiseido, Coca-Cola, Toyota, Nissan, the Japan Monopoly Corporation (today JT, Japan's tobacco industry).
But those by Suntory were in a separate class all of its own.

This was a time when the air in advertising departments was thick with cigarette smoke.

Even before I was 20 I knew about advertisement production companies such as Sun-Ad, Light Publicity, K2, and advertising agencies such as Dentsu and Hakuhodo. I also knew about Takeshi Kaiko, Hitomi Yamaguchi, and Ryohei Yanagihara who worked in the advertising department of Suntory (Suntory was called Kotobukiya until 1962). It may be a cliché, but it felt like advertising led the times.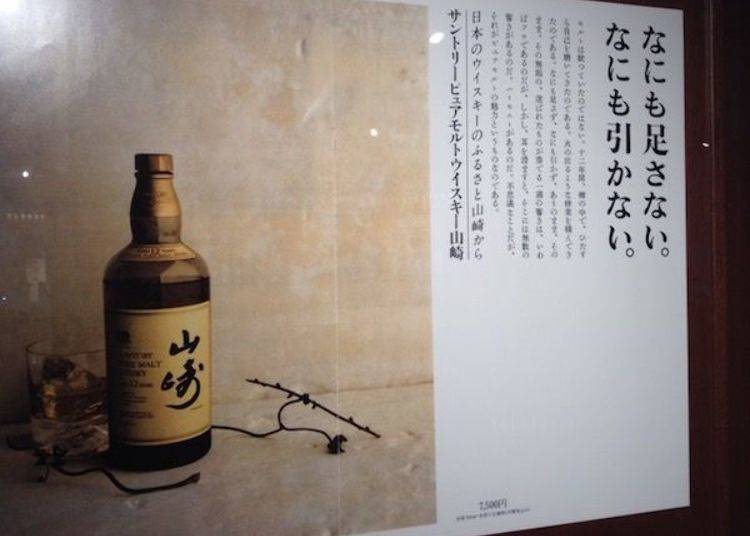 Then this advertisement for Yamazaki appeared in the 1990s, I think.

More than twenty years have passed since then but the copy is still powerful and its message lives on in the back of the minds of everyone.

The photo is also of a very high quality. The glass behind the bottle and the tone are also well designed.

Nothing added. Nothing removed.

Followed by, "The malt is not sleeping." And then. It is doing its job. What a great place Japan is.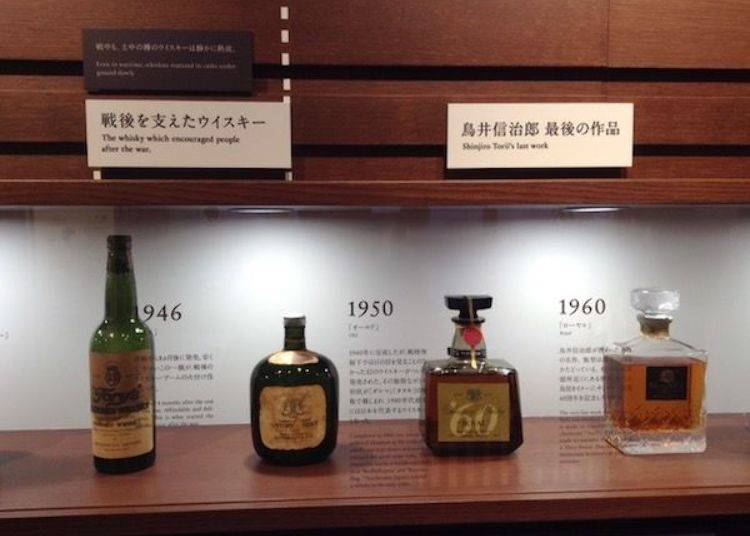 ▲ Famous brands of the Showa era
The tour still has not begun, but my tour is approaching the midway point. That is how big the influence of Suntory has been on me.

I don't know when TORYS was at its peak, but I do remember when Suntory Old was very popular.

Every snack bar I went to had the Dharma-shaped black bottles on the shelves behind the bar.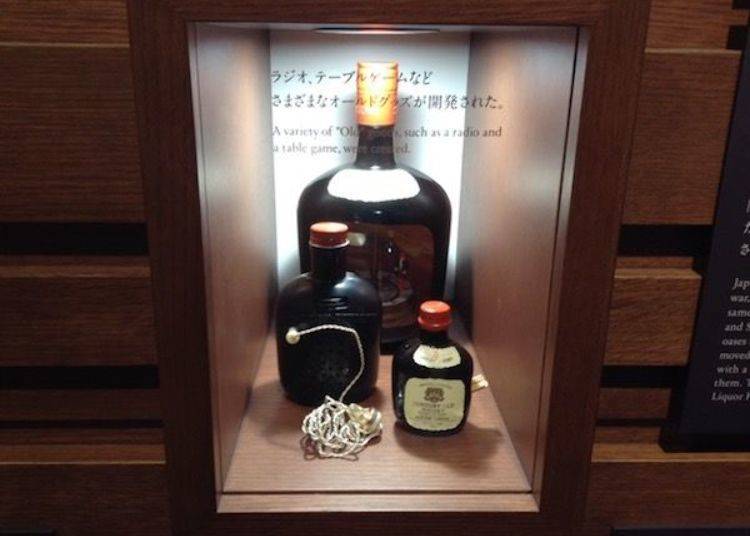 Finally the time has come for the Suntory Yamazaki Distillery tour to begin
There were about 7 or 8 people in the group: some up in their years, one old lady, a young lady, a foreign couple; quite a variety and very whisky-like.

My expectations of the tour increased at the sight of the smiling tour guide.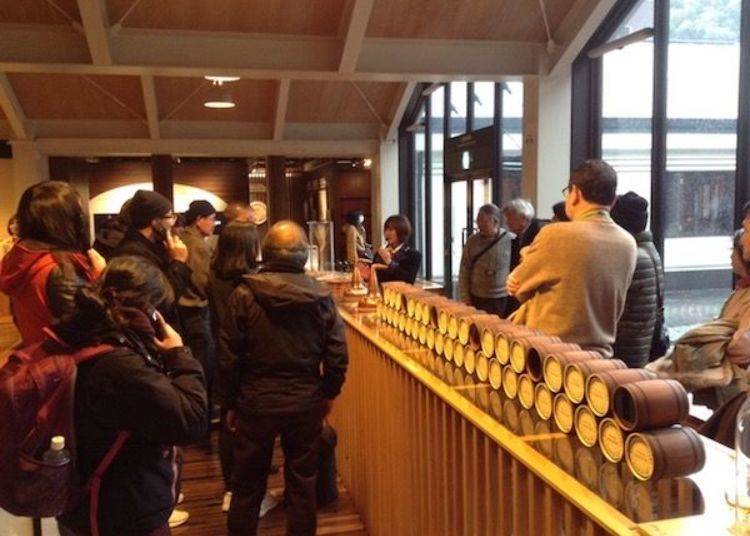 ▲I felt a growing sense of excitement. And I don't think it was only me.
It began with an explanation of the water used in the making of whisky and also an explanation about the grain.

The guide said that malt made from germinated and dried barley is put into a feed tank.

The lesson begins.

In spite of that, I couldn't help but feel excited by something I had never seen before. A beautiful metal tank of circular and straight lines.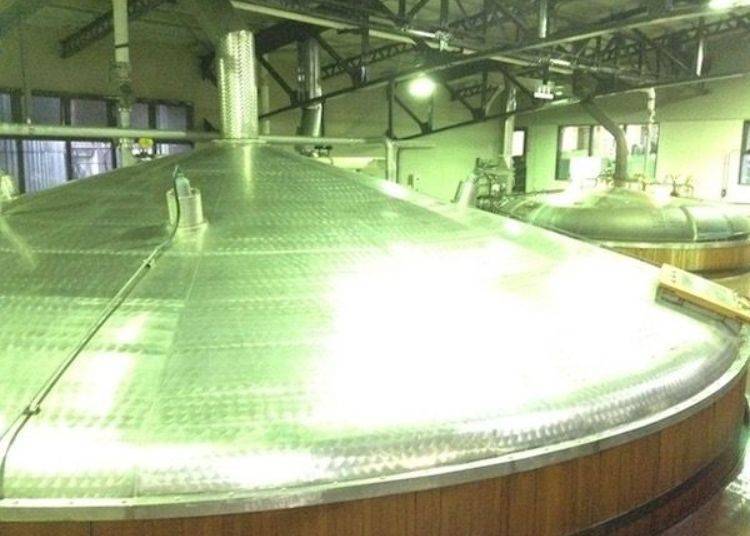 A wood fermenter. There is something comforting about the use of wood.

Probably because it once was alive like us.

I intend to do my best as a missionary of living things.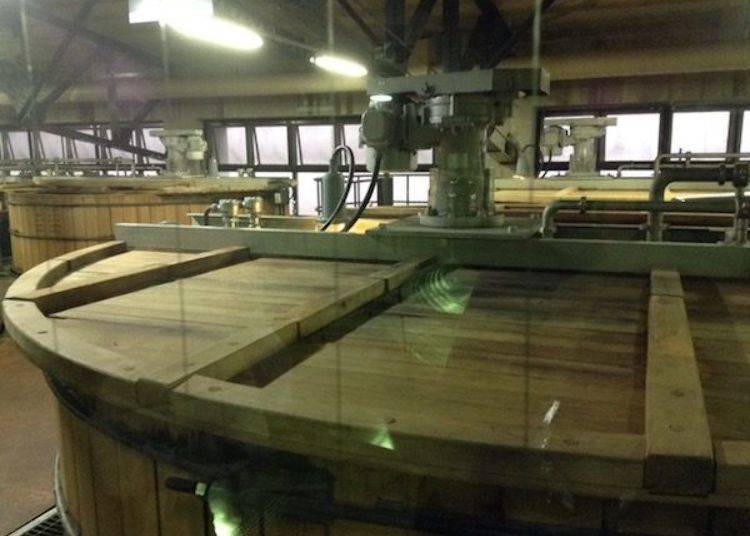 ▲I could really feel the making of whisky with all of my five senses.
Operating a pickle shop in the Nishiki Market in Kyoto, I really respond to the word "fermentation".

Pickles are fermented food items and change creates the most delicious foods.

Previously I wrote about how time changes well-pickled food.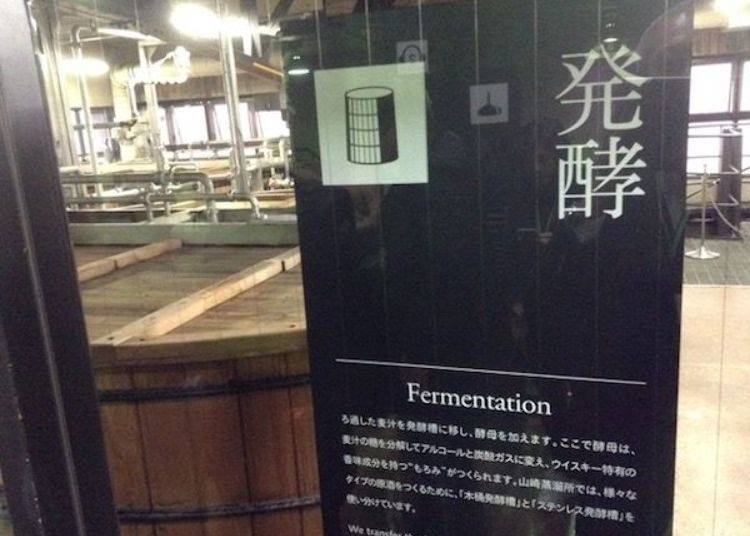 "Furuzuke [well-pickled vegetables] bend, but asazuke [lightly-pickled vegetables] break."

Personally my favorite pickles are cucumbers, eggplants and Japanese white radishes that have been well-picked so as to give them a good acidic flavor from being fermented over a long time in a bed of salted rice bran. I especially like the dull color of well-pickled cucumbers. I eat them with thinly sliced ginger and soy sauce. Indescribably delicious. Outside my shop in Nishiki Market I always have a tub of salted rice bran on top of which lots of furuzuke are offered for sale. A lot of the local residents often come to purchase just furuzuke. Those who work with me and I always smile when someone says, "You and your furuzuke both have an old-fashioned flavor that I like." But I'm getting sidetracked.

Time is a factor in making furuzuke. The vegetables come into contact with salt and other things while in the bed of salted rice bran and become well-pickled depending on the amount of time spent in the tub. The flavor of asazuke changes easily, but the acidic flavor of furuzuke hardly changes at all.

So, asazuke breaks and furuzuke bends. Furuzuke is popular with older people. Furuzuke is kinder to older people.
(Bucky Inoue said, "The especially good shops in Kyoto keep the lights on even if you do not visit them." From the 140B publication)
▲I always end up at the back of the group because I'm fascinated by everything I see
The tour begins, and we go deeper and deeper
I really wanted to take notes, but my foolish adult pride stopped me.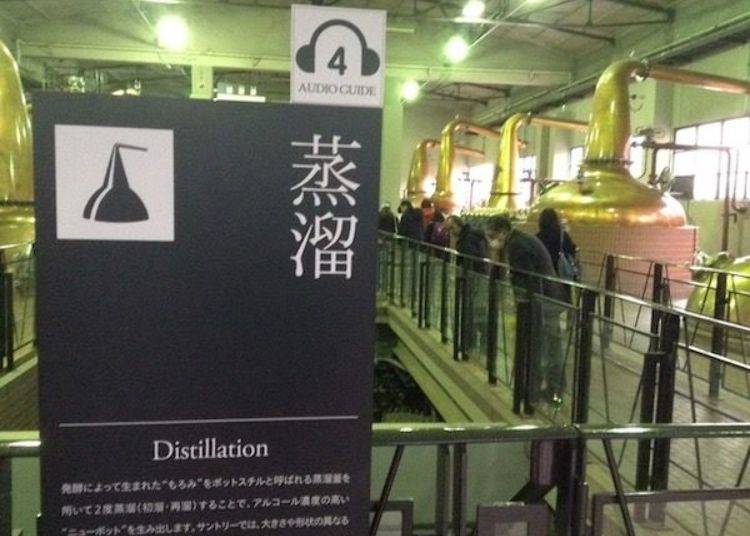 And finally we came to it. Distillation. And pot stills.

In that morning television drama "Massan" Mitsuo Sagawa played the president of the company that made these pot stills. "Yamazaki" even appeared in the drama and Shin'ichi Tsutsumi gave a lively and entertaining performance as Kinjiro Kamoi (modeled after Suntory's founder Shinjiro Torii).

Those were the sort of thoughts bouncing around in my head as the tour went forward.

The colorless, highly concentrated alcohol that comes out of the distillation is malt whisky.

We're still only at the 3rd or 4th point in the tour but I find myself increasingly wanting a drink.

That reminded me of the movie "Hill 203".

I have no idea as to why that came to mind.I guess that's just the way it is.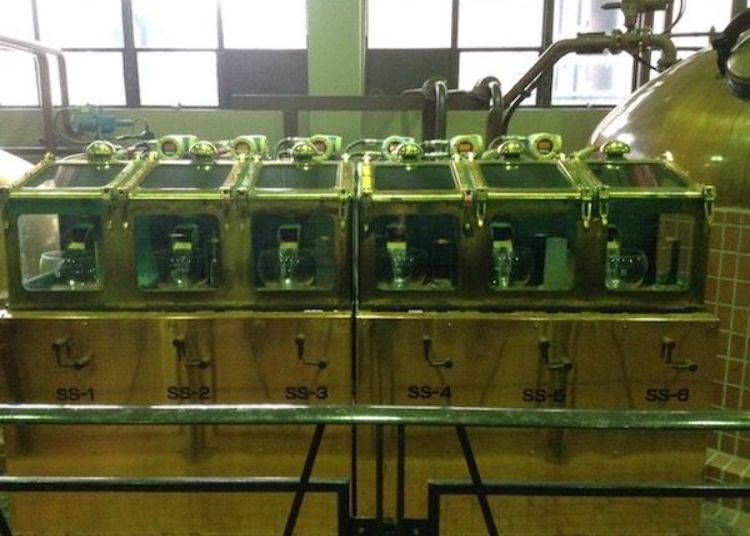 ▲ Drinkers are also worldly philosophers
I've drunk a lot of whisky in my time, but I've never become attached to any particular type.

If I had to say, more important than the kind of whisky I was drinking was the time, place, and people.

That's me; I'm fine even if the whisky is not all that good.

This may have been a situation where a boozer not closely connected to the tour found his way into it because of the wonderful design of the distillation stills. Just like a spy.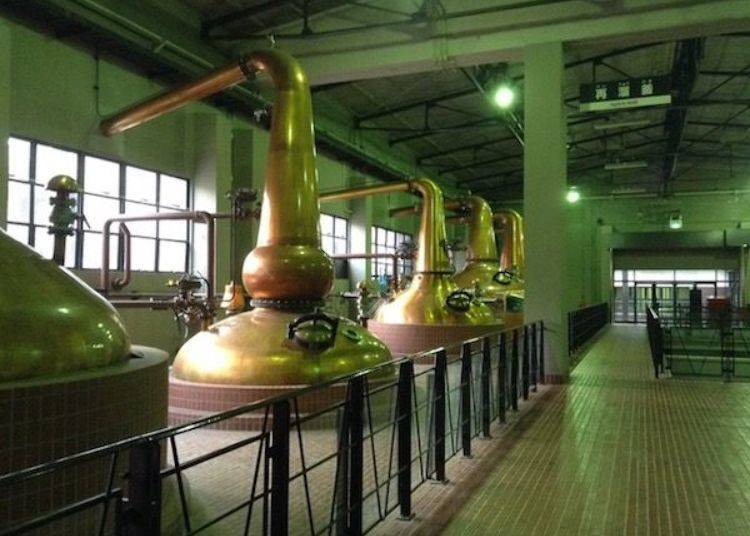 Aging. That's tough to deal with.

"Aging" was written below "Storage". I knew something about manipulating whisky that had been distilled to mature it, but wondered what "aging" was. I should be paying more attention to the explanations of the guide. Sorry about that.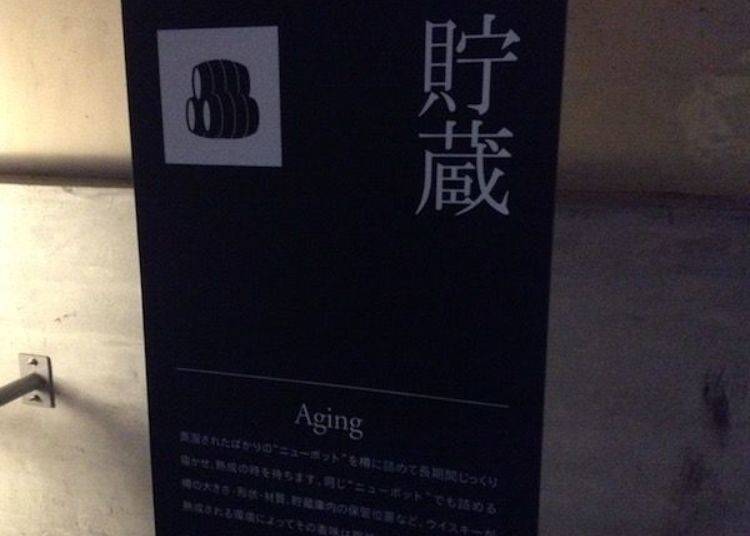 It seemed like barrels of whisky as far as the eye could see were lined up in the concrete storehouse.

When I thought about all the whisky sleeping silently in each of those barrels in the storehouse, I wondered why I thought the barrels and the whisky in them were good buddies.

The year is branded on the barrel. I wondered if there were rules for the way they were lined up, but I couldn't spot any though I looked. It did not seem that they were arranged in chronological order.

If the tour had not moved along, I probably would have walked around inside the storehouse trying to figure out why the barrels were arranged as they were.

I thought it would sound stupid if I asked the guide.

It made me want a drink even more.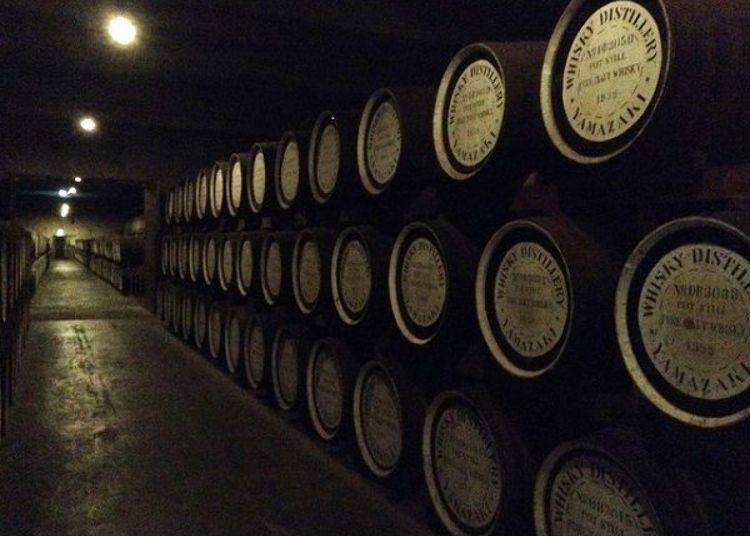 ▲When I saw this I wondered how people and how many years it would take to drink all of it.
The barrels were in various sizes.I found them charming.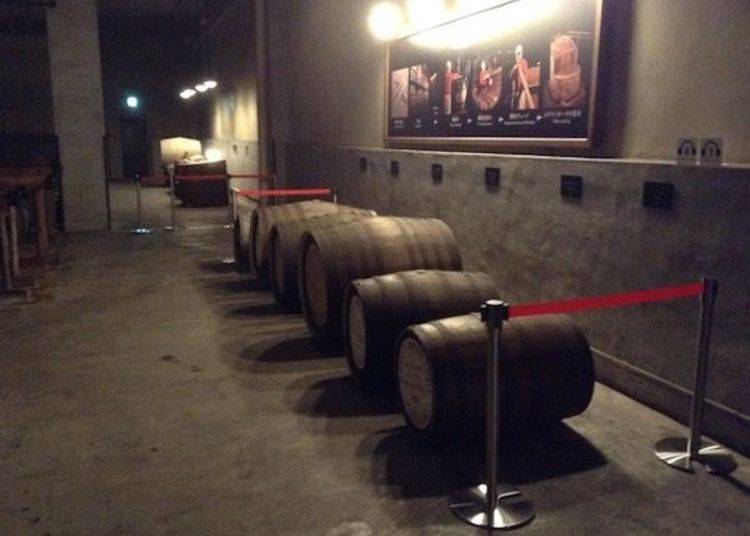 Outside the storehouse there was a pond.

It seemed really bright outside after leaving the dimly-lit storehouse. It was not what I had expected. Good job, Suntory. I thought it showed good sense.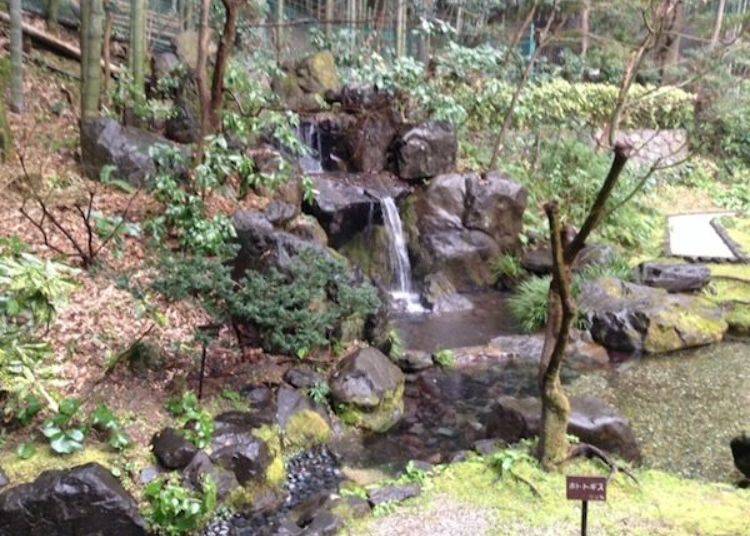 Next we came to a shrine. I couldn't hear most of the explanation because the guide had gotten too far ahead or perhaps it was because I was straggling along at the rear.

So, that is why I don't know the name of the shrine or why it was built. I could let it go at that, but figure I had better give some explanation.

This Shio Shrine is a very old one dating from the Nara period and as it had fallen into disrepair, Mr. Shinjiro Torii with the help of villagers restored it. The stopper on the bottle of Suntory Royal 12 Years was modeled on this torii gate. There are a lot of anecdotes about this shrine.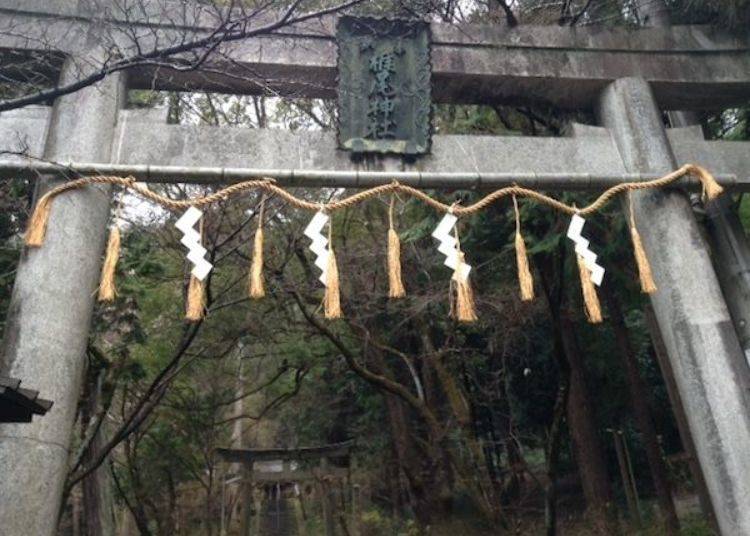 Going back to the starting point after leaving the distillery we came across these statues.

Unexpectedly I muttered, "Go for it, check it out."

Probably the statue on the left is that of Shinjiro Torii and the other one is of Keizo Saji. I didn't get close enough to check, but from the features of the statues I thought that was them.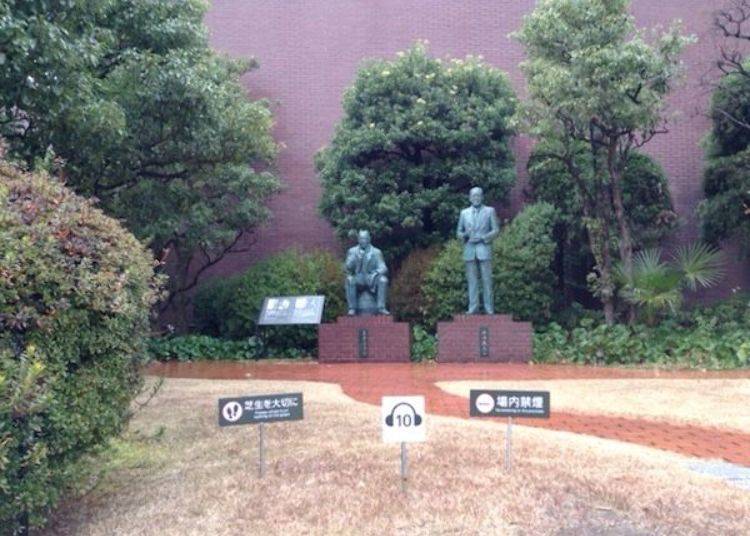 That "Go for it, check it out" was written by Hitomi Yamaguchi and Takeshi Kaiko and is part of the Suntory history, a paperback you can buy. The picture on the cover is of course by Ryohei Yanagihara.

This is really an entertaining book that gives a history of the company and its fine products.
There was a pleasant aroma when we returned to the Whisky Hall
I thought that finally we would now be able to taste some of the whiskies and remembered that it was time for a meal – like a school lunch.

I don't have many recollections of school lunches when I was a kid and I faintly remember not liking the food or when it was my turn to be a server. Actually I wish I could remember more of that.

We were led into a room that had a number of tables that could seat 6 or 8 people each.

And finally we could drink. I had them give me a drink.

That seems brazen, but it was true.

Each of us was led to a seat where a sampling set was waiting. I would like to have gotten right down to the drinking, but resolved to patiently enjoy the lesson.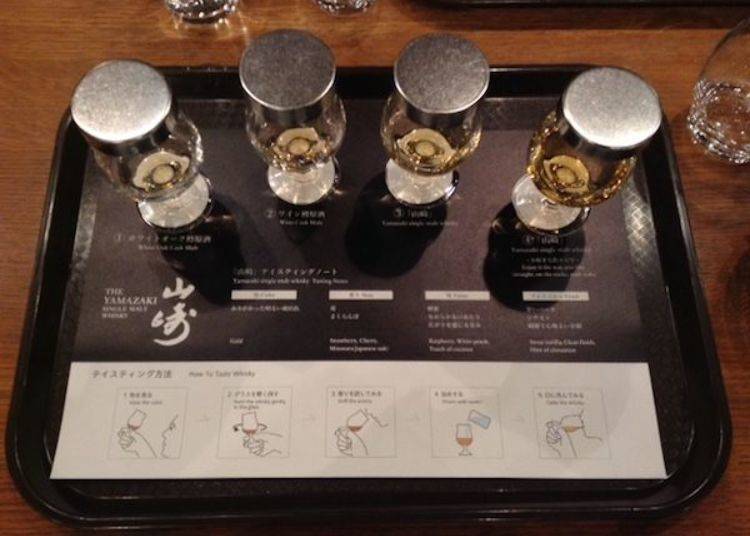 ▲Now for the tasting. I'm not good at this sort of thing
Hey, even chocolate.

I actually said that out loud when I saw it. I love to eat chocolate when I drink whisky, especially bitter chocolate, and when I saw the chocolate with the Yamazaki Distillery label, I was expecting that. Because something should be served to go with the whisky.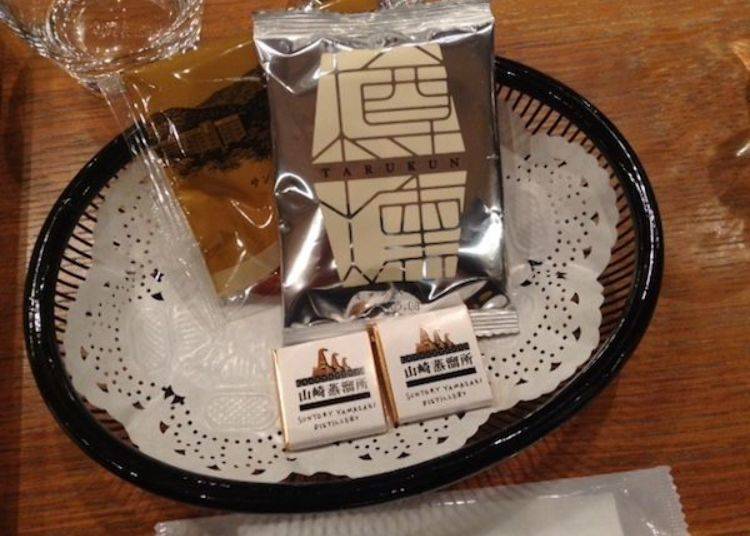 The highball lesson began.

I did not want to drink highballs today because I like mizuwari. That is because there was someone who taught me that along with love.

But I drank as I was told.

I filled a glass with ice. Then poured in the whisky and swirled the glass to let it mix well. As the ice melted, more was added. Then soda was added. Stir only once.

That's it. It's done. I did it faithfully. It was actually delicious.

I thought that from now I'd switch and become a highball drinker.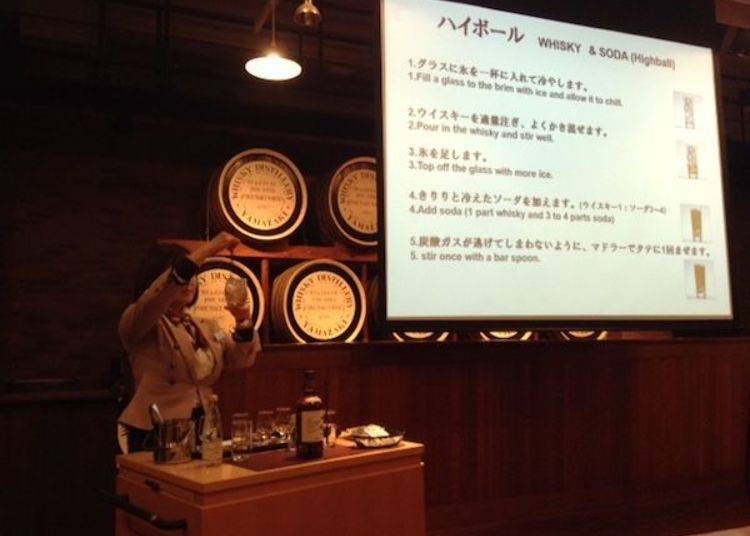 Check out this highball. It looks irresistibly good. And indeed, it was. Even the soda was good. And the ice was good, too. The room took on a pleasant air.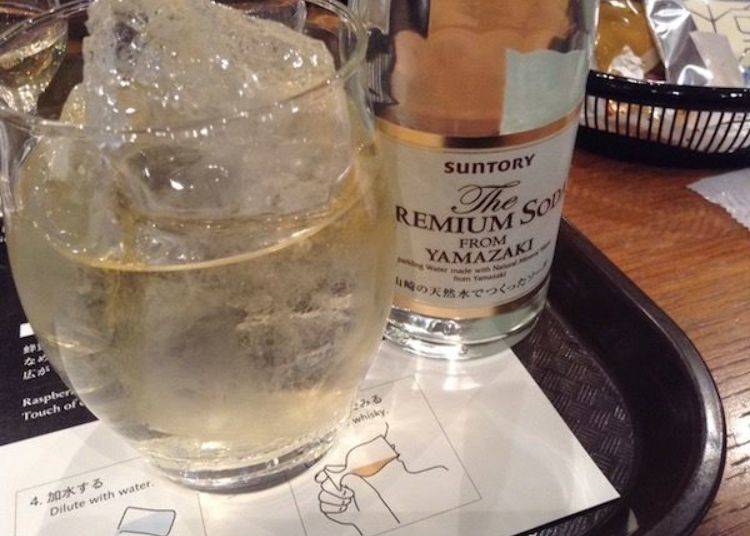 I felt myself mellowing in it. I only drank a little, but felt really mellow.

People who came to the same table did not talk much, but they were all very pleasant.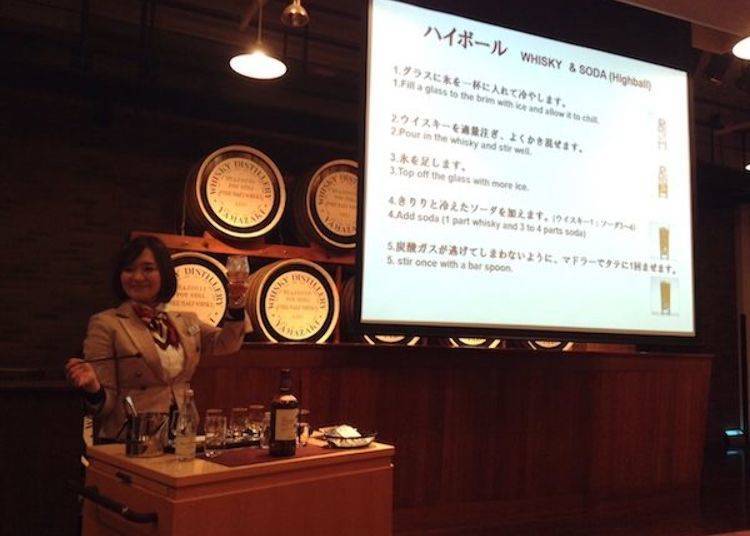 ▲ The guide had a pleasant smile and spoke well.
Eventually I began to fidget.

I wondered whether I should go to Dojima or Dotombori after I left here. Nobody was rushing me and there was no one waiting for me, but I began wondering if it wasn't time for me to go.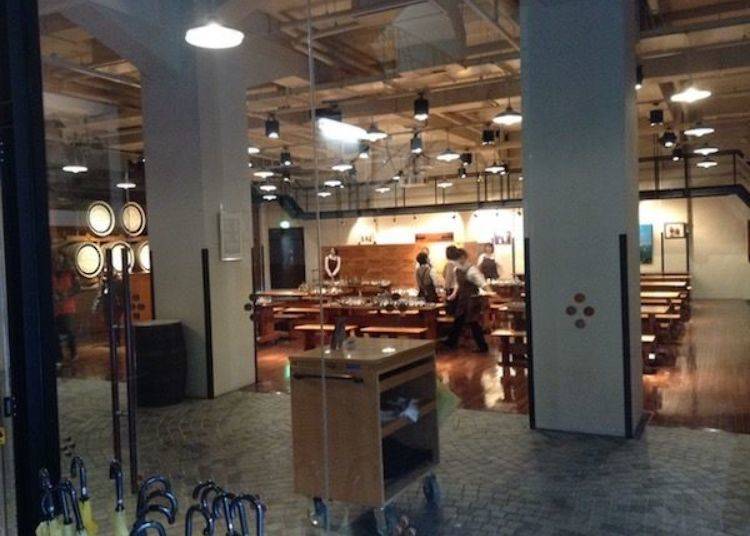 ▲ Wishing that I could drink a bit more, I turned to leave.
Then I withdrew. I silently thanked Suntory.

Then I quickly walked back to the Hankyu station.

That night, it turned into a difficult trip.

I look forward to my next trip.
Address

5-2-1, Yamazaki, Shimamoto-cho, Mishima-gun, Osaka, 618-0001
View Map

Nearest Station

Yamazaki Station (JR Tokaido Line / JR Kyoto Line)
8 minutes on foot


Phone Number

075-962-1423
Text by:140B
*This information is from the time of this article's publication.
*Prices and options mentioned are subject to change.
*Unless stated otherwise, all prices include tax.