Kyoto is home to many famous cherry blossom viewing spots, with the ancient city's temples, shrines, and old-fashioned streetscapes forming splendid scenery beside the dazzling pink flowers.

In this article, LIVE JAPAN international editors Chia-chi and Timothy will introduce two activities to make cherry blossom viewing in Kyoto even better!
Introducing our Kyoto cherry blossom explorers!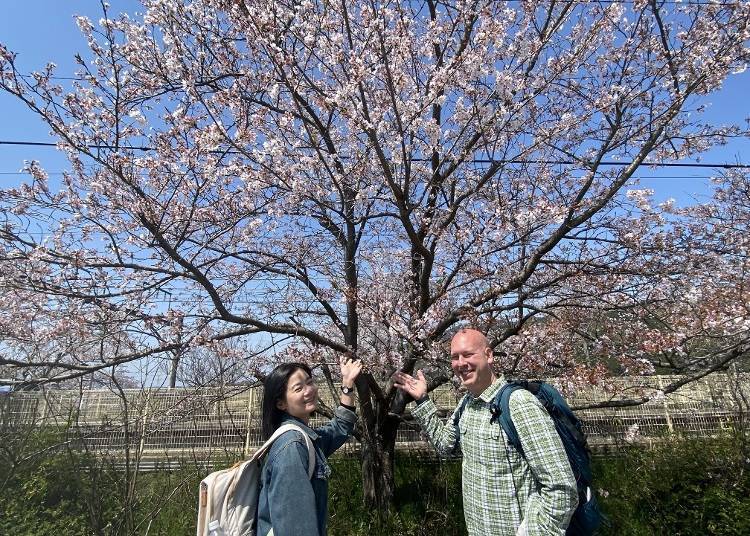 ・Chia-chi (Photo: Left)
Originally from Taipei, Taiwan, Chia-chi has been a resident of Japan for 7 years. She prefers relaxing, indoor trips, often seeking out cafes, charming old buildings, and people-watching while reading books. She also enjoys taking photos of flowers and buildings. Placing great importance on sleep, she always thoroughly checks an accommodation's bedding, room temperature, airflow, and noise levels before settling in.

・Timothy (Photo: Right)
Born and raised in New York, Timothy has lived in Japan for more than 20 years and is an expert in all things Japan. His hobbies include cycling, trekking, and other outdoor activities, and he is always embarking on active, adventurous trips. He also likes cooking and eating, along with sake, beer, wine, and whiskey. He is well-versed in the cuisine of Japan, but prefers everyday, hearty meals over luxury dishes. His smile and carefree personality are his self-proclaimed charms!
Kyoto Cherry Blossom Experience #1: Dash through the streets of Kyoto on a rickshaw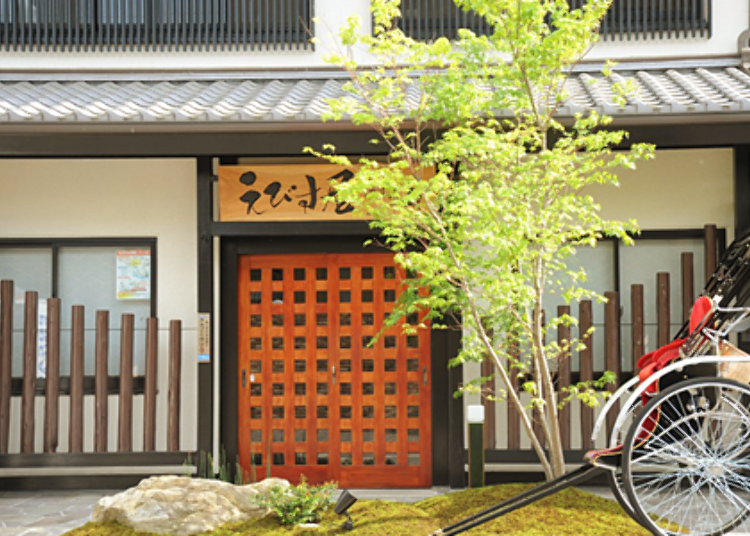 The first experience we'll introduce is the "Rickshaw Cherry Blossom and Town Tour." For this article, we rode with Ebisuya, a sightseeing rickshaw company that has been operating for more than 30 years, founded in Kyoto's Arashiyama.

In addition to Kyoto, they also offer rickshaw rides in many of Japan's famous tourist areas, like Kamakura, Asakusa, and Yufuin.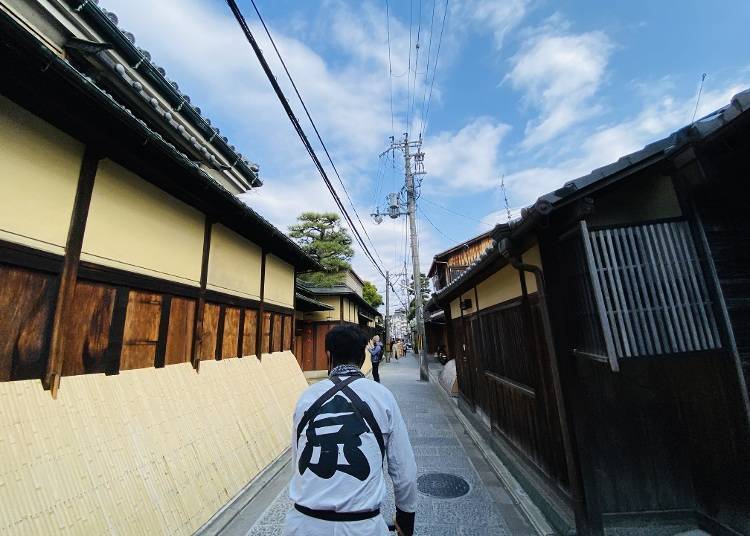 Along with being a surprisingly effective way to get around, rickshaws let you see the local sights from a higher vantage point and at a different speed than a car or on foot.

The rickshaw driver will also provide guidance on each sightseeing spot, and the ones in Kyoto have a deep knowledge of the city, letting you discover more about its history and culture.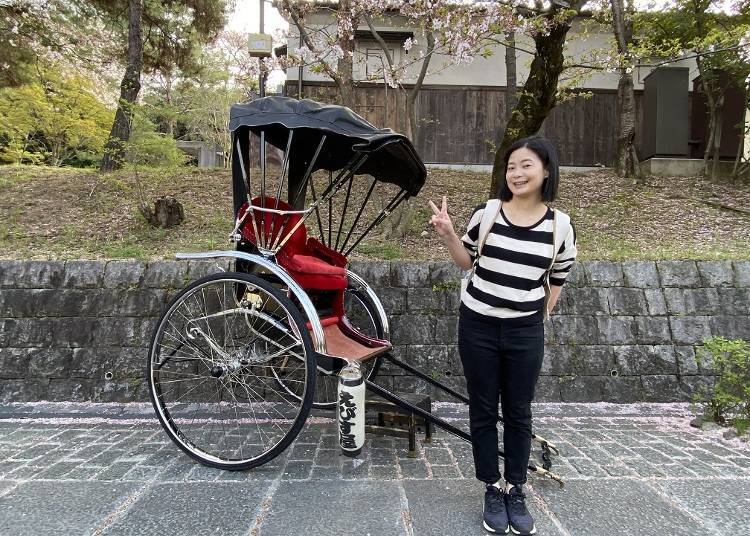 Rickshaws first appeared in Japan during the 1870s and gained particular popularity during the Meiji and Taisho periods as a convenient means of transport.

Nowadays, they are generally used for sightseeing and can be spotted at many well-known tourist destinations across the country.
Our First Experience of an Ebisuya Rickshaw Ride!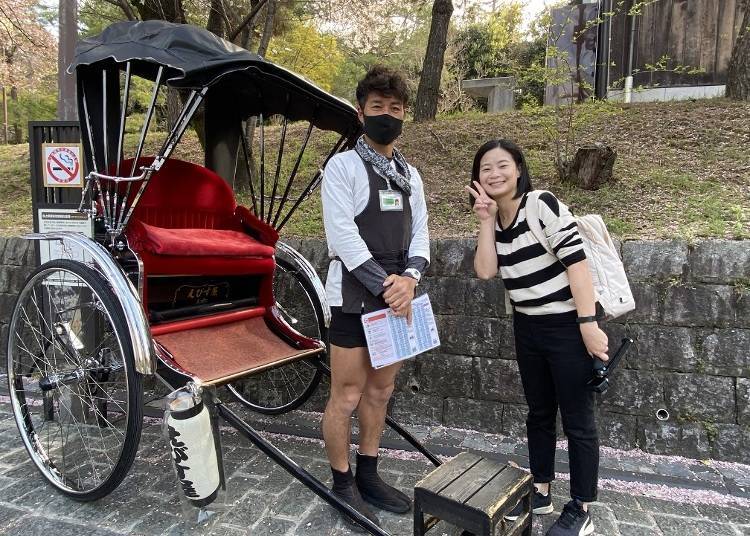 On the day of our booking, we headed to the designated meetup point to find our Ebisuya rickshaw (the meetup point depends on the course, and will be confirmed at the time of reservation).

Our meetup point was in front of Kodaiji Park, which is about 20 minutes by bus from Kyoto Station. We immediately spotted the rickshaw and its driver waiting patiently for our arrival.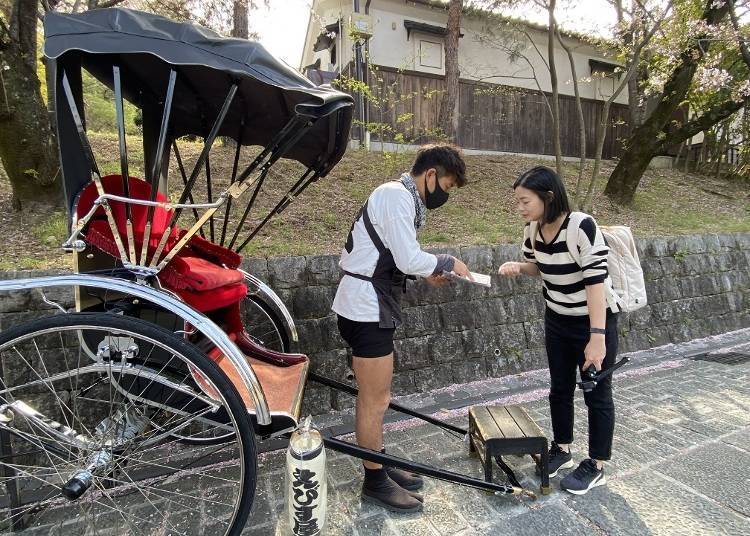 After checking our reservation and route, our driver gave us a quick rundown on how to ride a rickshaw.

For today, we booked the 45-minute course, which will take us through several recommended spots, including two famous for cherry blossoms.

When booking, make sure to let them know what kind of places you want to see, along with your desired time and number of people, and they will design a course based around your needs.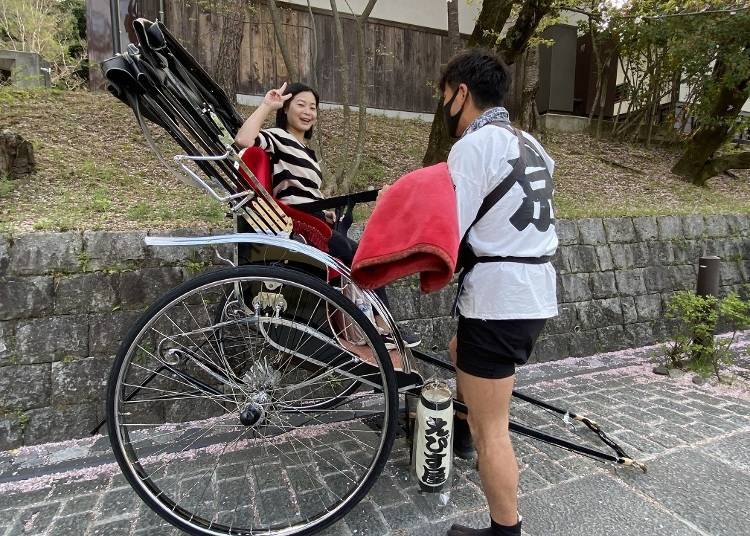 After getting ready, we immediately started our ride! Chia-chi said to the driver, "I love history, especially the Meiji and Taisho periods, so I'm thrilled to be able to ride on something from that era!"
Dashing through cherry blossoms on the Nene-no-Michi Lane!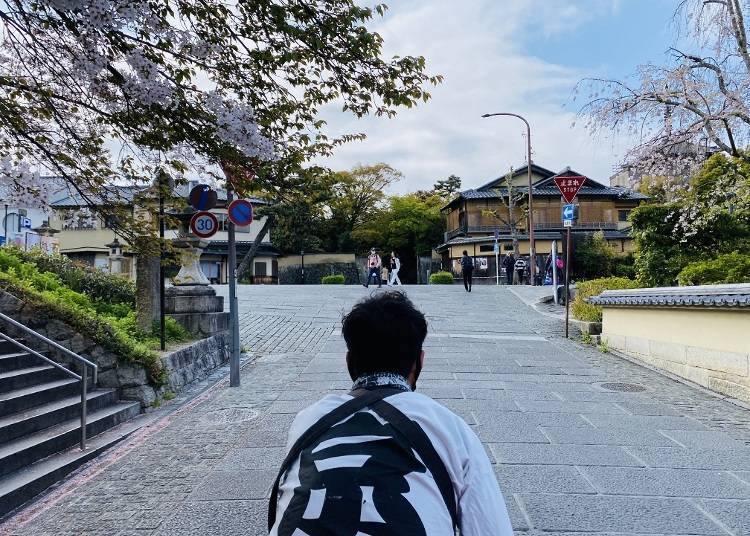 We started our journey at the Nene-No-Michi Lane, which is famous for its rows of cherry blossom trees.
Soon after, the five-story Yasaka Pagoda appeared before us, which is a local landmark also called "Hokan-ji Temple."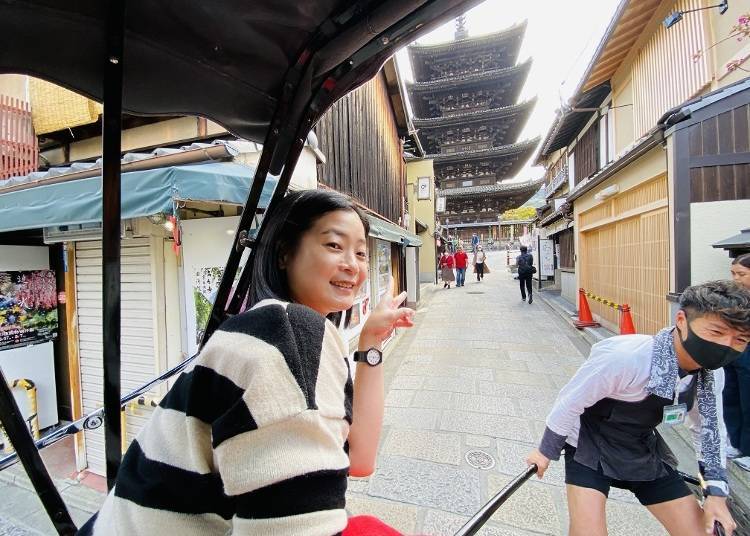 Kyoto is full of thin, narrow laneways, and we wondered, "Can a rickshaw really pass through here?" time and time again. However, the driver was a pro, and he weaved his way through the streets seamlessly - we were thoroughly impressed!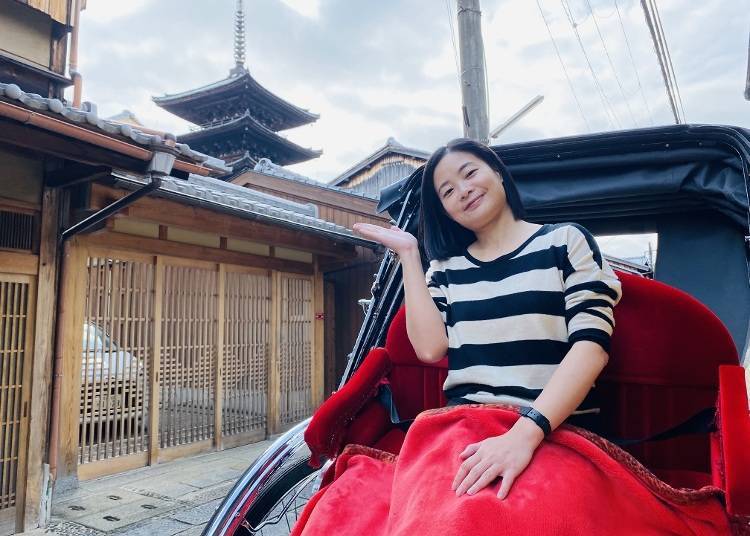 The driver also stopped at each recommended photo spot, kindly taking a photo of us for our memories.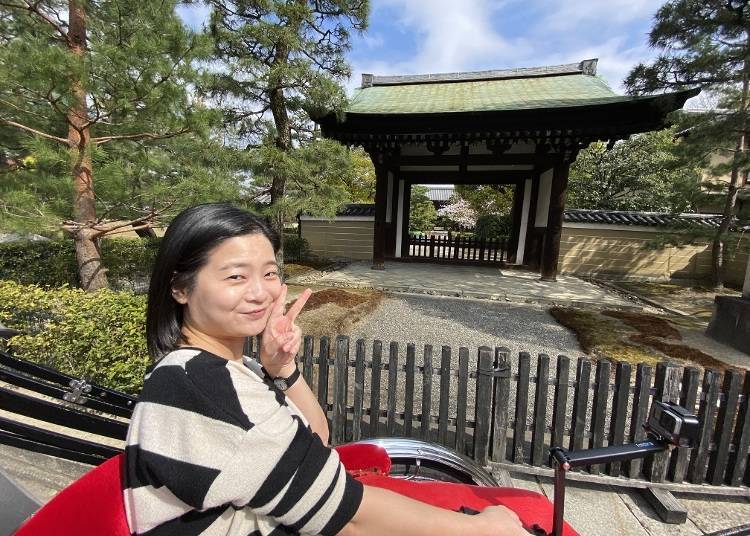 "The paintings on the ceiling of Kennin-ji Temple are so beautiful!" said history buff Chia-chi excitedly. The garden's cherry blossoms also looked amazing from outside the gate.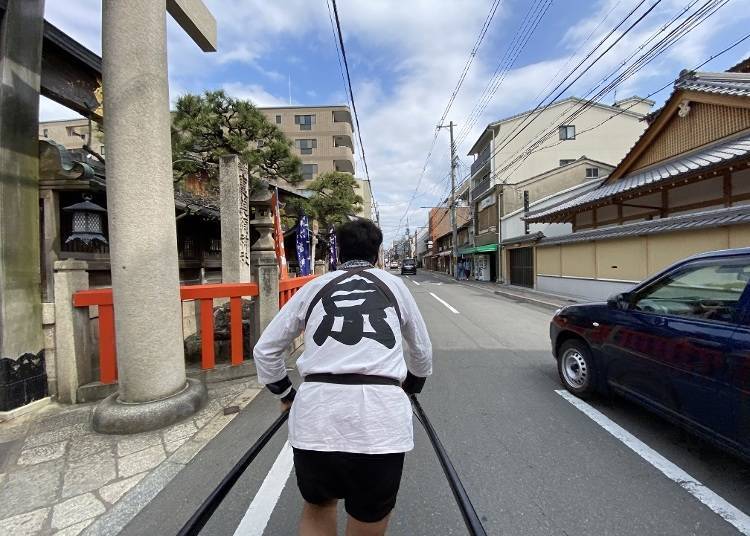 Dashing beside cars and pedestrians on a rickshaw is such an exhilarating thrill. Plus, it didn't shake as much as we expected, making it a very comfortable ride, fit for royalty!

"I felt like a Taisho-era princess," laughed Chia-chi. This kind of fun is something you'll only experience on a rickshaw!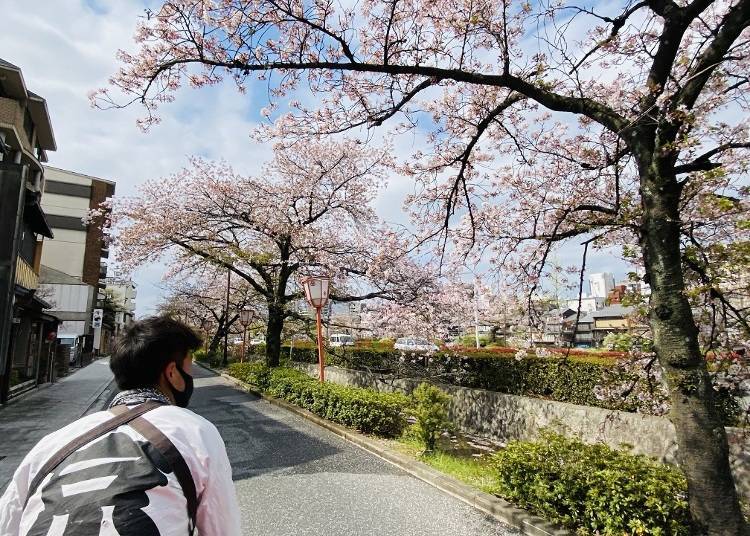 We went all the way to the cherry blossoms lining the Kamo River.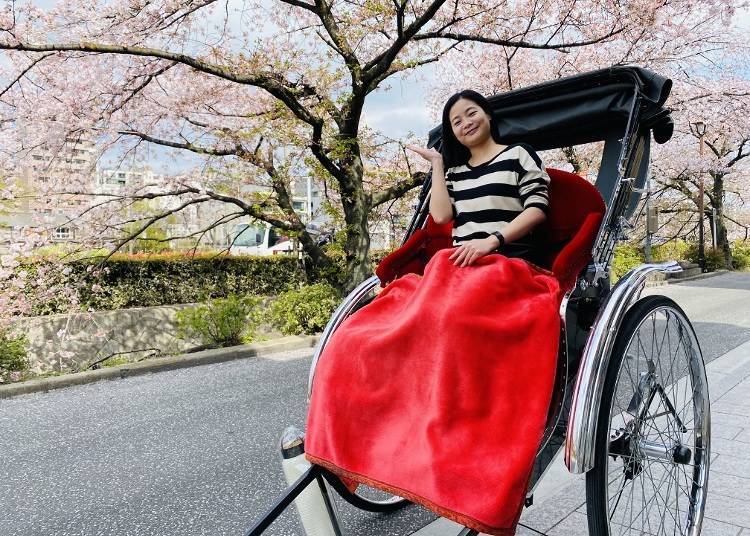 With such a fantastic backdrop, we couldn't help but pull over to take a commemorative photo with our rickshaw beside the sprawling branches of magnificent petals.

"Whenever I found a location I liked, the driver was more than happy to snap a photo of me, and his photography skills were brilliant. There are so many sights you won't want to miss!"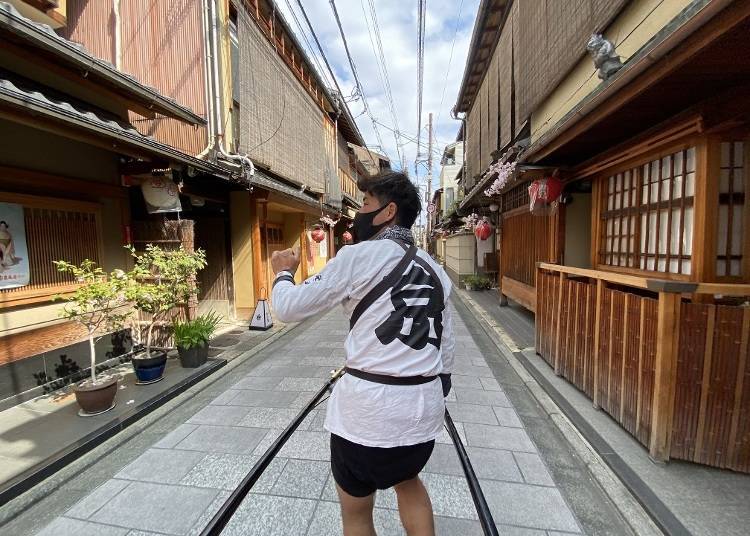 The "hanamachi (Geisha district)" of Gion, imbued with an ancient atmosphere owing to the rows of preserved "machiya" townhouses.

As we continued our ride, the driver pointed out tidbits of fascinating local trivia, like "this area was used to film this movie," and "a maiko lives in this house," giving us a deeper appreciation for the area.

If requested when booking, Ebisuya can also arrange English-speaking drivers, making it perfect for international tourists (extra fee: 1,000 yen per rickshaw).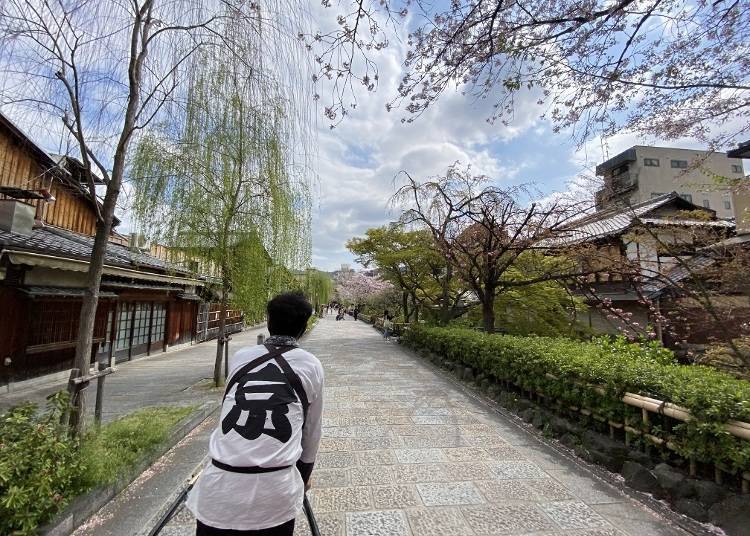 The Gion Shimbashi Bridge is also famous for its cherry blossoms, alongside beautiful weeping willows, weaving together a classic Kyoto scene sure to leave you awestruck.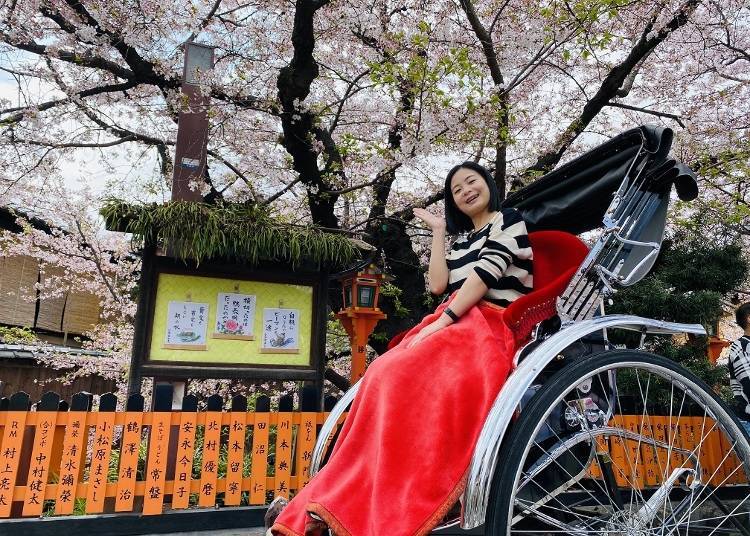 A photo in front of the cherry blossoms at Gion Shimbashi Bridge, which was full of sightseers.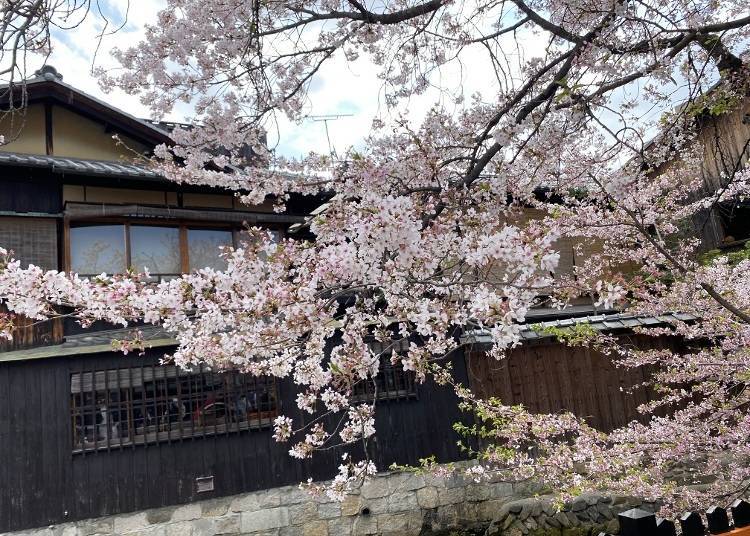 Gorgeous cherry blossoms are truly the essence of Japan.
Finishing the 45-Minute Rickshaw Course - What did our travelers think?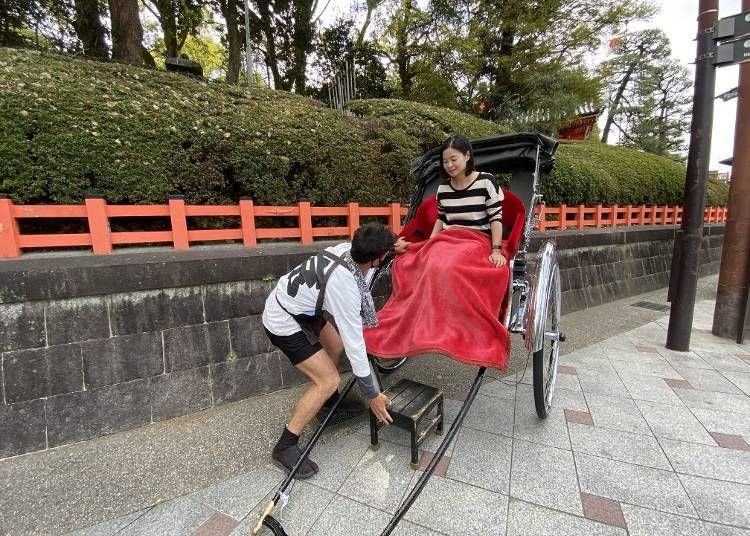 After exploring the laneways and cherry blossoms of Kyoto, we finally reached our end goal of Yasaka Shrine. The driver helped us get on and off, making it a breeze for first-timers like Chia-chi.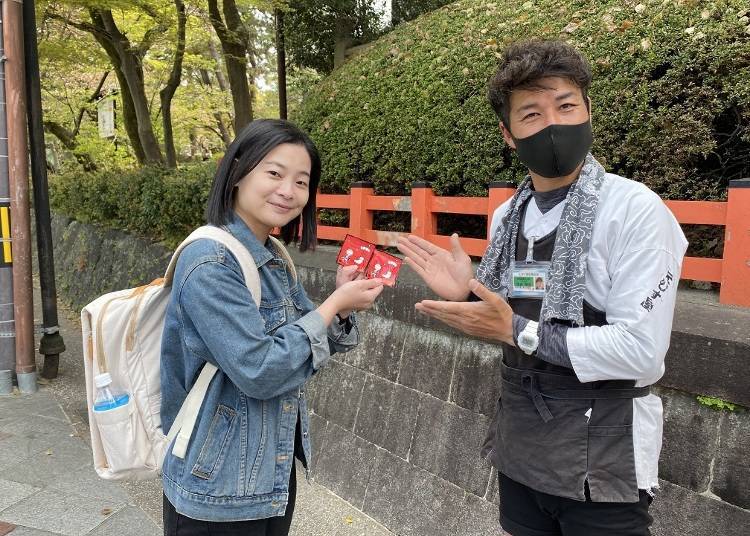 After the ride, you'll pay the fee, which can be done by credit card. As a bonus gift, we also received a commemorative sticker and a discount ticket for the next ride, which is valid for up to three years.

"It was so comfortable and loads of fun, making the 45 minutes go by in a flash. When the driver sped up, I got a thrill even greater than driving a car! Getting to explore Kyoto on the road is usually very difficult, so I'll always cherish this unique experience. And I'll definitely be doing it again!" said Chia-chi, who was very satisfied with her first rickshaw ride.
えびす屋

Address

558-9 Yugyomaecho, Gojobashihigashi, Higashiyama Ward, Kyoto City, Kyoto 605-0864, Japan

Available Languages: Japanese/English
Hours: 10:00 am - sundown (changes depending on the season)
Price: 9,000 yen (1 person, 30 mins), or from 10,000 yen (2 people) (2 people can ride one rickshaw)
*An additional 1,000 yen will be added for foreign-language drivers for each rickshaw
Kyoto Cherry Blossom Experience #2: Ride the Sagano Romantic Train through gorgeous scenery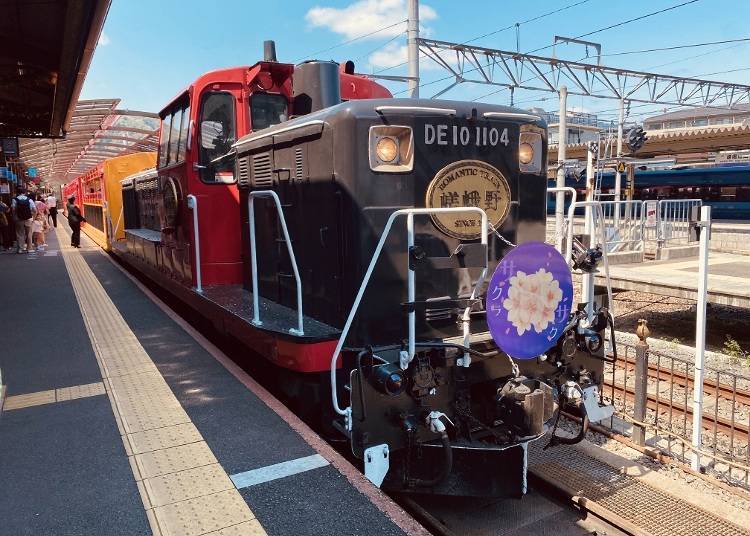 Our second cherry blossom-viewing experience in Kyoto was a ride on the Sagano Romantic Train, which connects Torokko Saga Station, next to JR Saga-Arashiyama Station, with Torokko Kameoka Station in Kameoka over a 25-minute ride (one-way).

The Sagano Romantic Train was originally a trolley train used to transport goods, and goes just a little bit faster than the average bike, letting you soak in the scenery while feeling the rocking of the train.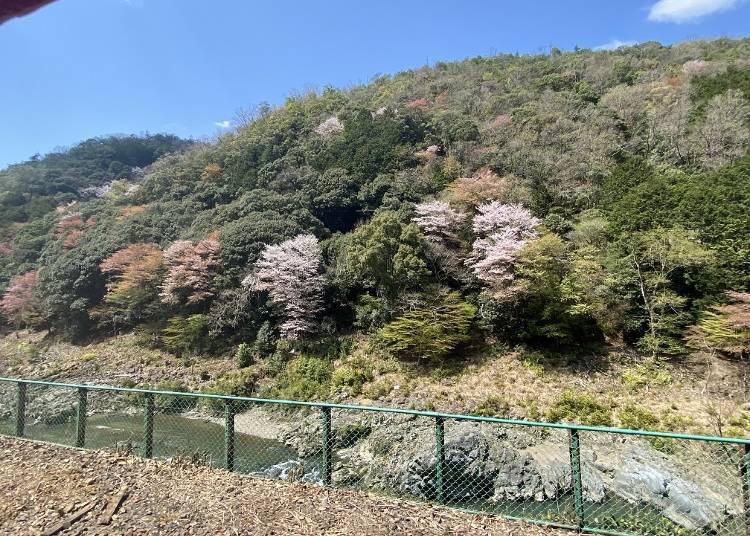 Along the Sagano Romantic Train railway are around 700 planted cherry blossoms, along with wild mountain cherry trees spreading out beside the Hozu River, which runs down below.

From the retro trolley train, you'll see plenty of springtime cherry blossoms, as well as fresh greenery in summer, fall foliage in autumn, and other superb seasonal scenery.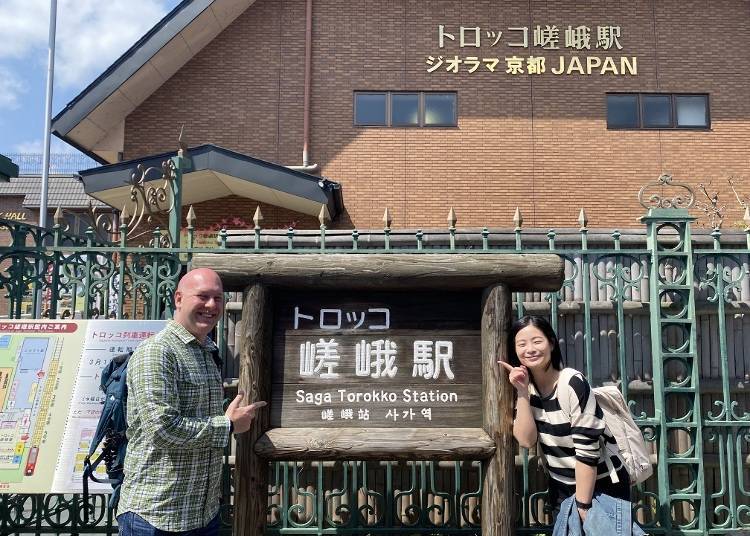 During the blooming period, a ride on the trolley train is a must-do activity for those who want to see the best of Kyoto's cherry blossoms in nature.

With this in mind, we set out for Torokko Saga Station to experience the 25-minute journey for ourselves.

As the station is adjacent to JR Saga-Arashiyama Station, it can be reached from within Kyoto City in around 17 minutes via a local train on the JR Sanin Main Line.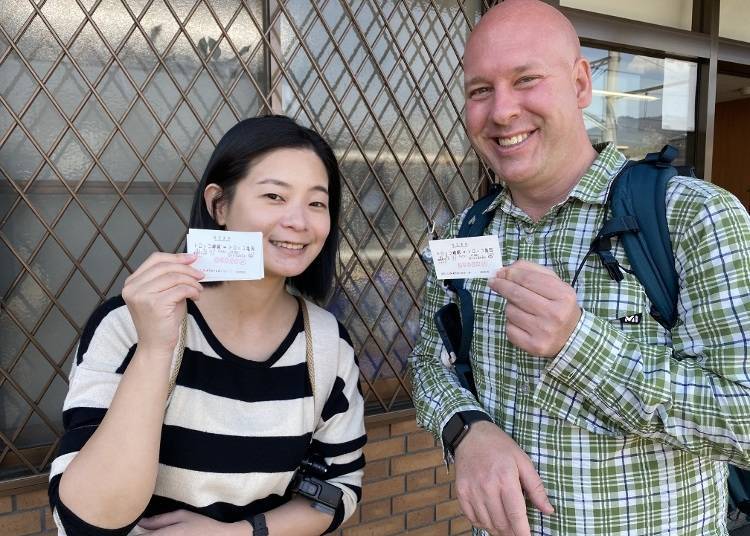 Tickets for the Sagano Romantic Train can be reserved in advance or purchased at the counter of Torokko Saga Station on the day. However, same-day tickets can sell out, so during peak periods like the cherry blossom or fall foliage season, it's essential to book ahead.

"We're here during the peak cherry blossoms, so there was an enormous line at the ticket counter. The Sagano Romantic Train is still popular even during off-periods, so I'd recommend getting tickets in advance no matter the time," suggested Timothy.
Advanced reservations on the Sagano Romantic Train can be made through JR West or major travel agencies across the country.

If you book on the JR WEST Online Train Reservation website, make sure to pick up your ticket from a JR West ticket machine or counter at any JR West station, including Saga-Arashiyama Station. However, the ticket cannot be received at the Torokko Saga Station counter, so don't forget to get it beforehand.
This is the "Sakura Map" made by the Sagano Scenic Railway, which displays all the best cherry blossom spots along the railway (Japanese, English, Korean, Traditional/Simplified Chinese). Pick one up to make sure you don't miss any of the good stuff!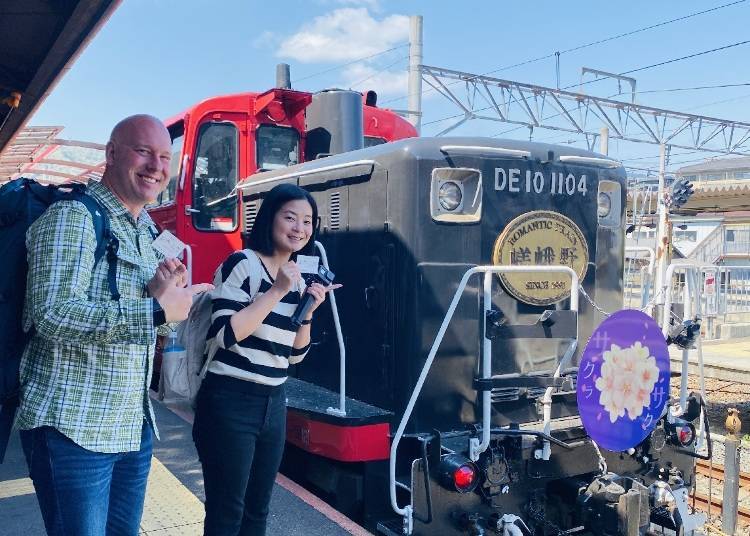 The trolly train appears at the station! Be sure to stay behind the yellow line when photographing.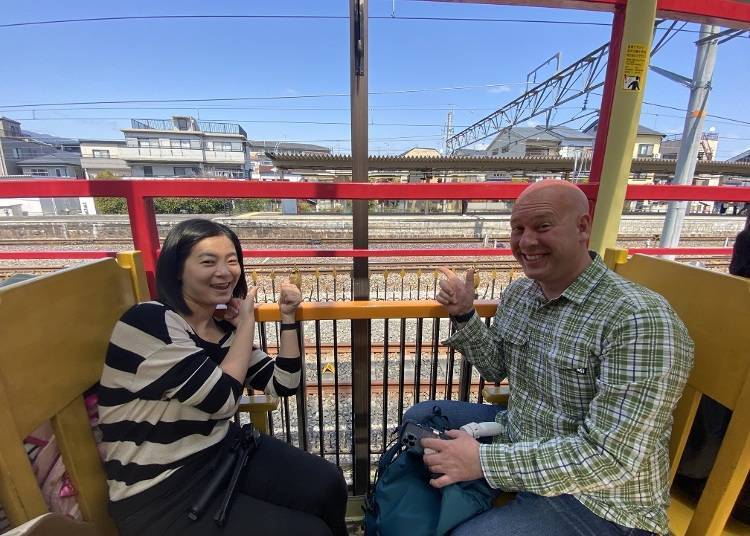 When boarding the Sagano Romantic Train, we recommend opting for a reserved seat on carriage No.5, called "The Rich," which is an open carriage without glass windows.

With only railing on the sides, it offers the best view and most exhilarating ride on the train - just be careful to keep your hands inside!

There is also standing room available, but the seats are better for feeling the relaxed chug of the train and enjoying the scenery to your heart's content, so don't forget to secure one!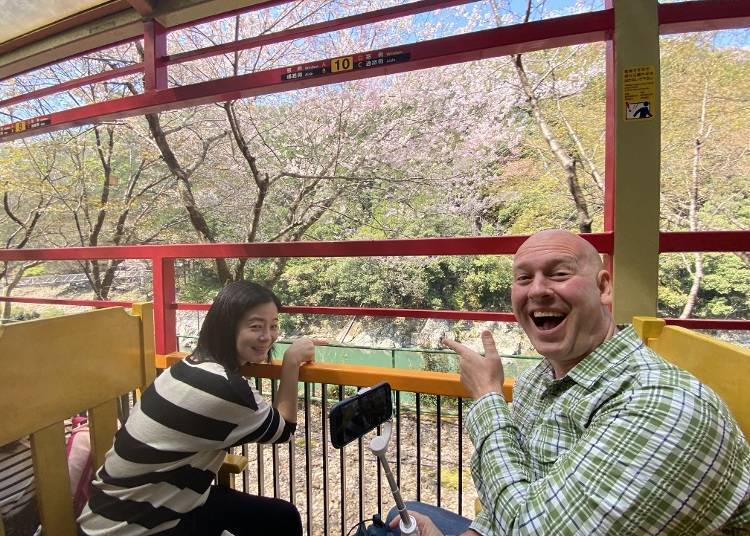 It was Timothy's first ride on the Sagano Romantic Train. "It's a hugely popular attraction for international tourists, so I was curious about what makes it so appealing. I came today to finally experience what everyone has been raving about."

Feeling the speed of the train as it cut through the wind, it was almost like an attraction at a theme park! Chia-chi and Timothy gazed gleefully upon the changing scenery as we moved deeper into the forest.
A group of adorable tanuki statues at one of the stations along the way.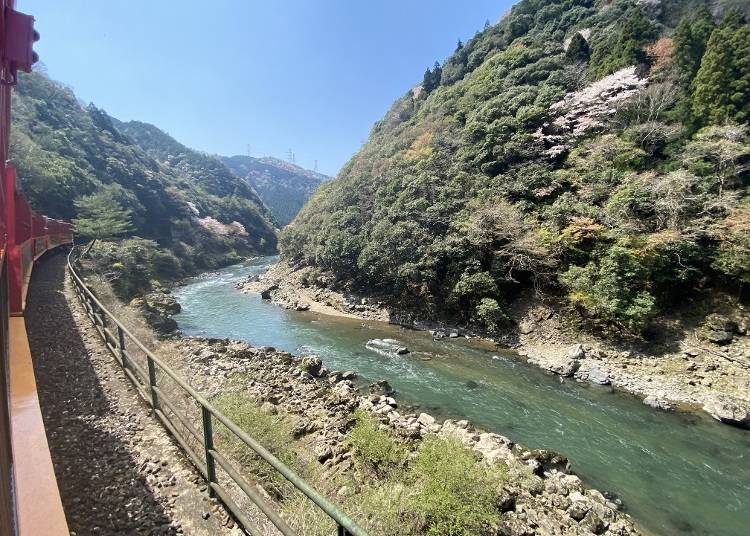 Railway, trains, mountains, and rivers - the refreshing scenery never let up.

"There are lots of beautiful winding rivers in Japan, and the Sagano Romantic Train offers some of the most breathtaking views. You're sure to love it. The natural scenery is lush, and the quiet, rural landscapes are incredibly healing. And the open-air The Rich lets us appreciate the feel of the air and smell of the fresh greenery, making the experience even better!" said Timothy.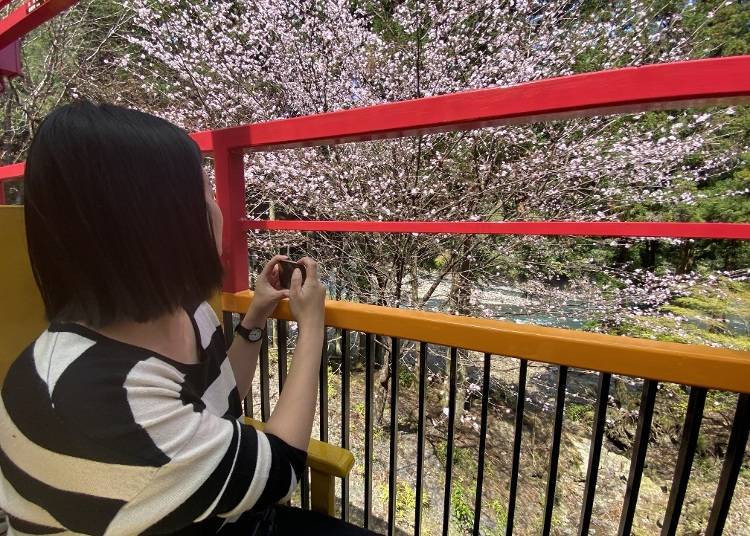 Cherry blossoms appeared right before our eyes in the immersive open-air carriage!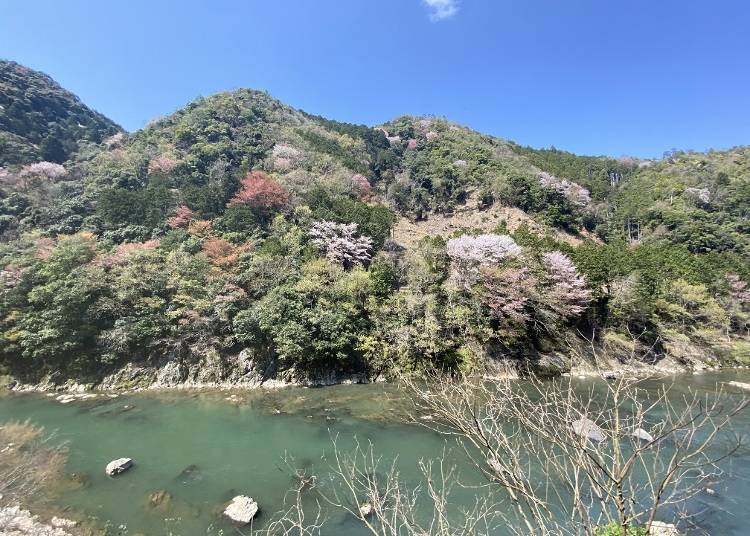 The trees covered in new leaves and the shades of pink from the mountain cherry trees formed a stunning combination, totally different from those you'll find in cities.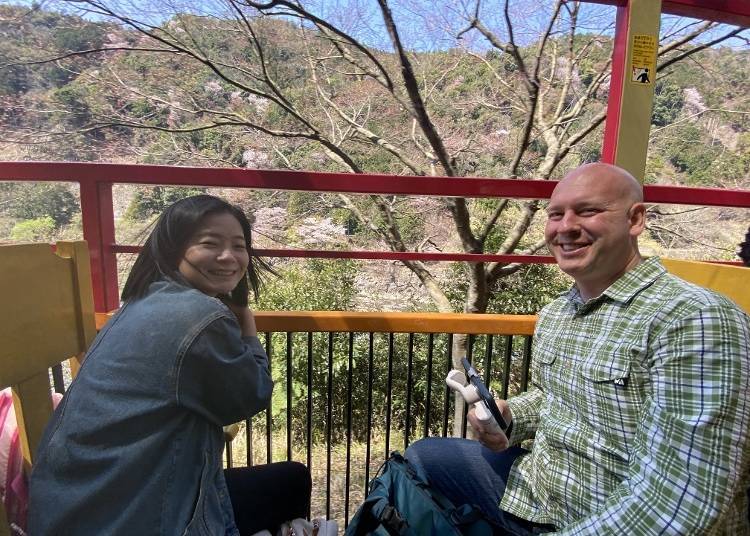 "The views and refreshing feeling are the best! Swaying with the rock of the trolley train, snapping photos of the scenery, and slowly absorbing the surrounding wilderness was all very relaxing. This is a great activity for those wanting to enjoy their time in Kyoto slowly and thoroughly," said Chia-chi.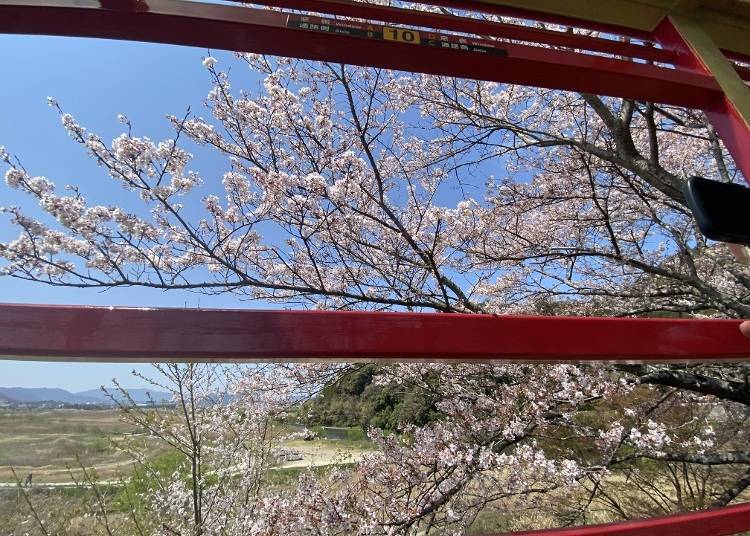 The finale of the 25-minute ride was the cherry blossom tunnel. The train passes between rows of cherry trees planted on both edges of the track, utterly enveloping us in gorgeous pink tones.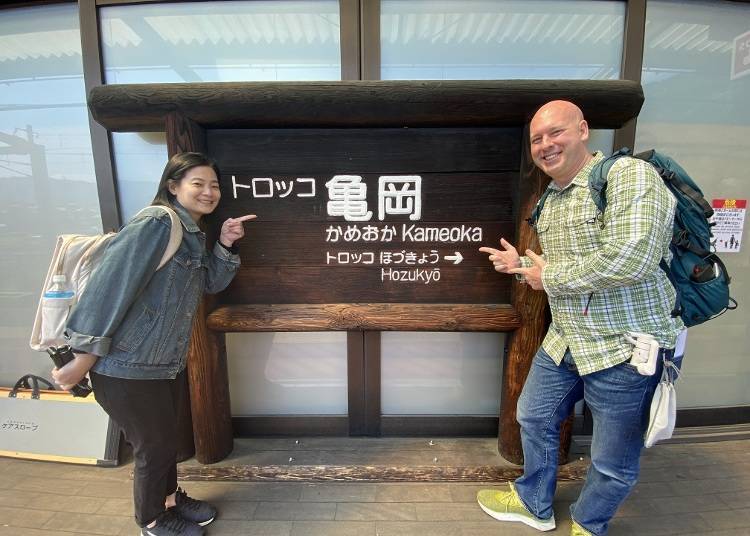 The trolley train rolled into its final destination of Torokko Kameoka Station. Those wanting to go back to Arashiyama or Kyoto City can ride the Sagano Romantic Train again, or take a train from JR Umahori Station, which is just a 10-minute walk away.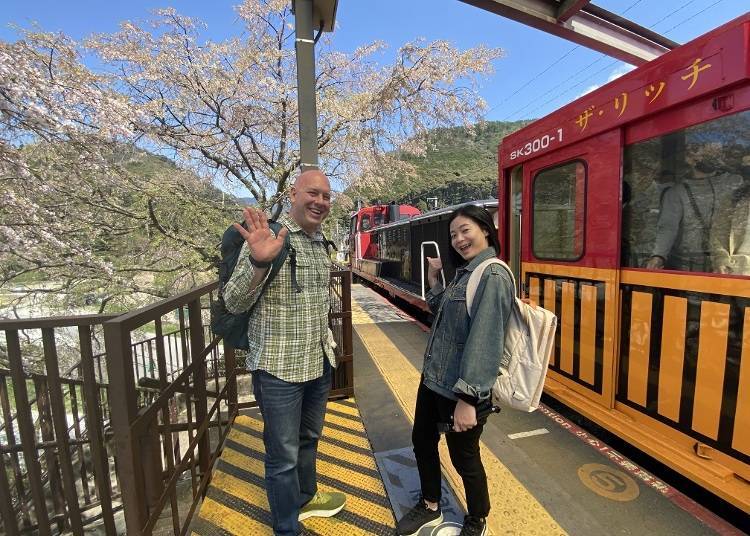 One of the largest diorama museums in West Japan at Torokko Saga Station!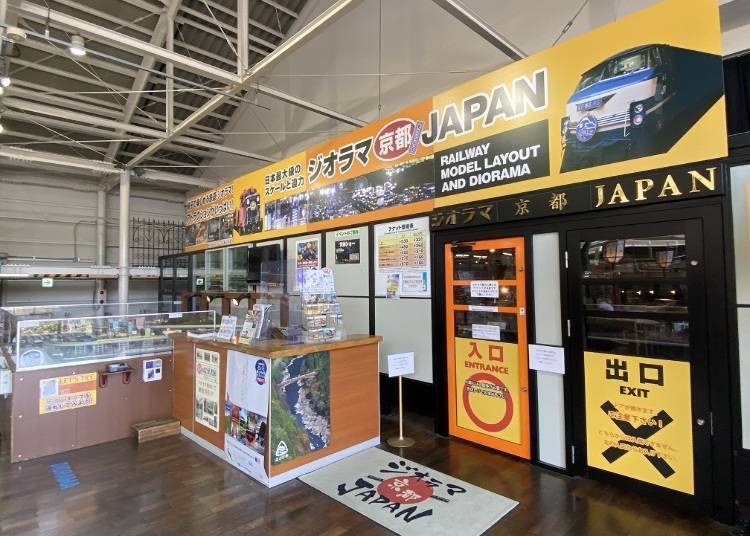 Torokko Saga Station, where the Sagano Romantic Train departs, also hosts Diorama Kyoto JAPAN, one of the largest diorama museums in western Japan. It's a big hit with train fans, and is worth visiting for the exquisite detail and enormous scale of the dioramas.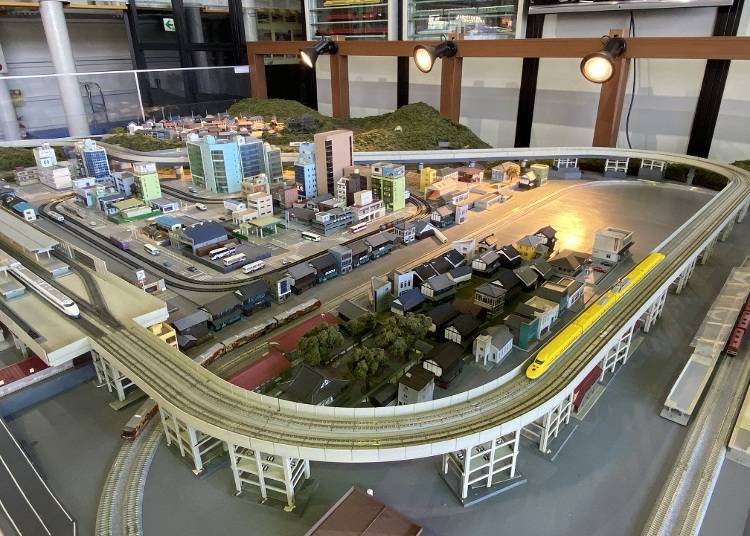 Definitely stop by while waiting for the trolley train to depart, or on your way back home.
Address

Kurumamichicho, Saga Tenryu-ji, Ukyo-ku, Kyoto-shi, Kyoto, 616-0000
View Map

Nearest Station

Torokkosaga Station (Sagano Sight-seeing Tram)
2 minutes on foot


Phone Number

075-861-7444
Let's hear the final thoughts of our cherry blossom explorers!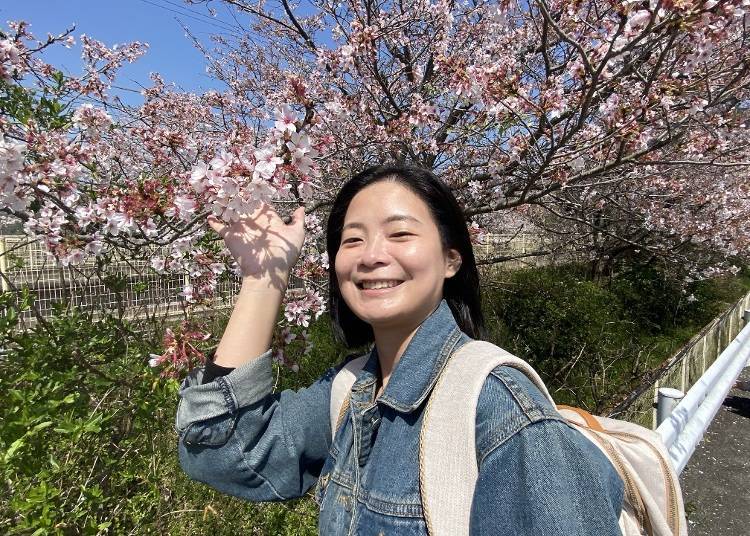 "Kyoto has always been a staple of Japan travel, but this is the first time I've been during cherry blossom season. I'd heard that Kyoto can be pretty crowded during this period, so I thought I should avoid it.

"However, by using the rickshaw, we were able to tour the popular spots without trouble even with the cherry blossom crowds. Plus, seeing the sights from the road offered me a new angle to appreciate Kyoto. I'd definitely recommend it! It was also my first trolley train experience, and it was so pleasant to be amongst such vast nature."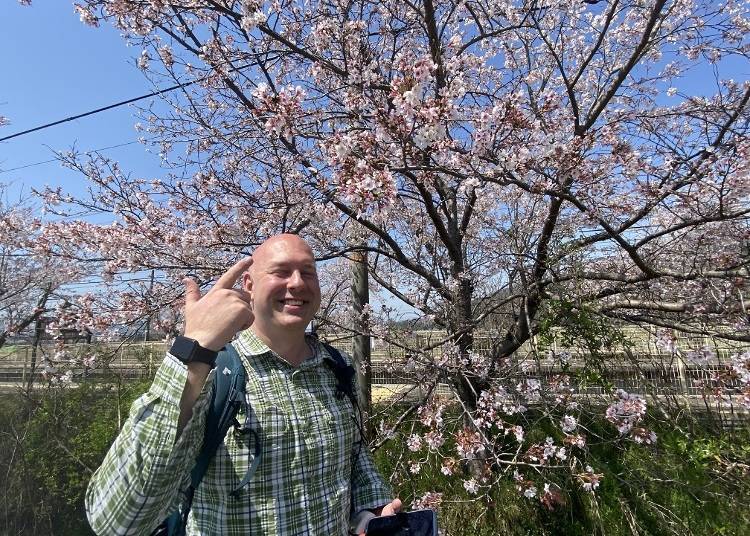 "I've traveled to Kyoto several times for the cherry blossoms, and each time I discover something new and fantastic! There are lots of amazing places to experience the cherry blossoms here, and I really enjoy visiting during this season. For me, the highlight was riding the Sagano Romantic Train. It felt so good to be in deep nature and see the cherry blossoms from inside the train, giving me endless helpings of tranquil Japanese scenery! I think autumn will be just as amazing, so I'll definitely be planning a trip later in the year, too."

For those wishing to venture deeper into Kyoto from Torokko Kameoka Station, we recommend taking the train north to Amanohashidate, a stunning sandbar that cuts across Miyazu Bay.
By joining one of the two experiences introduced in this article, you'll come face-to-face with the best of Kyoto's dazzling landscapes and see cherry blossoms in both urban and natural surroundings.

These breathtaking views attract tourists from across Japan and the world, and while Kyoto may be crowded, a rickshaw or sightseeing train ensures that you can take it all in without worrying about other people.

Make your reservations in advance, and enjoy the cherry blossoms of Kyoto in style through our recommended Kyoto cherry blossom experiences!
Written by:
*The information in this article is current as of April 2023. Please check official websites for the latest information.
*This information is from the time of this article's publication.
*Prices and options mentioned are subject to change.
*Unless stated otherwise, all prices include tax.
Limited time offer: 10% discount coupons available now!