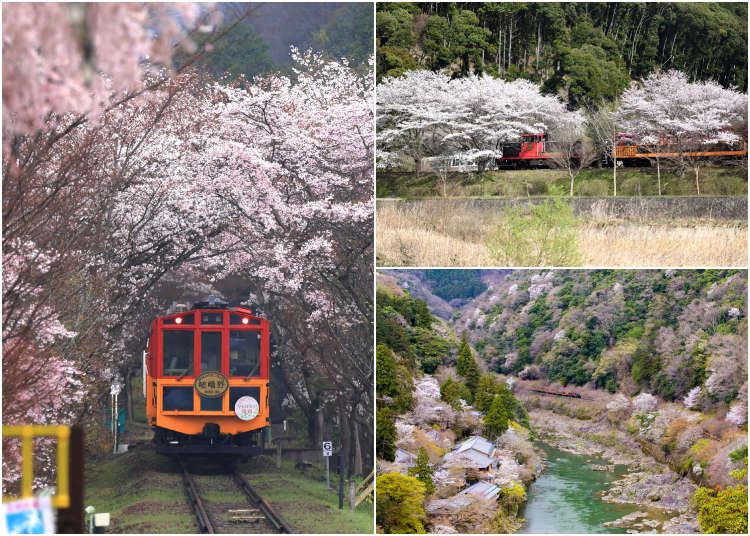 The Sagano Romantic Train in Kyoto is an unforgettable experience that should be at the top of your list of things to do.

You can relax and soak in the stunning natural beauty of Arashiyama and the outskirts of Kyoto City as the slow-moving train takes you on a picturesque journey through the valleys.

In this guide, we'll cover all the essential information you need to know before taking the Sagano Romantic Train, such as how to purchase tickets, timetables, and boarding locations.
What is the Sagano Romantic Train?
These kinds of "truck" trains were originally small freight cars used for transporting luggage. Today, most of them are operated as sightseeing trains. The Sagano Romantic Train (sometimes called the Sagano Torokko Train) is one such example.

One of the best features of the Sagano Romantic Train is that it runs along the Hozu River. Take in the year-round beauty of the gorge as you ride along the edge of the cliffs.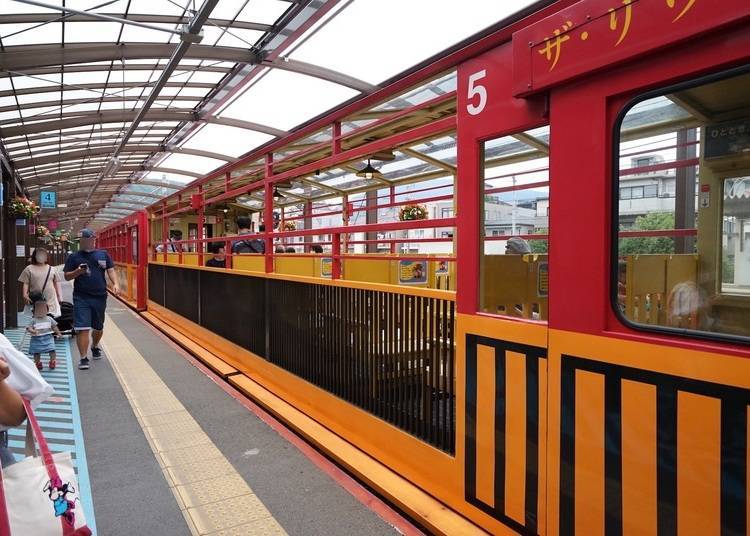 The train sports a charming classical color scheme, and the Art Deco Car No.5 is decorated with wooden chairs and bare light bulbs. Riding this train, you will surely feel as if you've stepped back in time! Car No. 5 is a windowless open vehicle, also known as the 'Rich Car'. This car is especially popular as you can directly take in the sunlight and climate, and enjoy the feeling of the breeze on your face.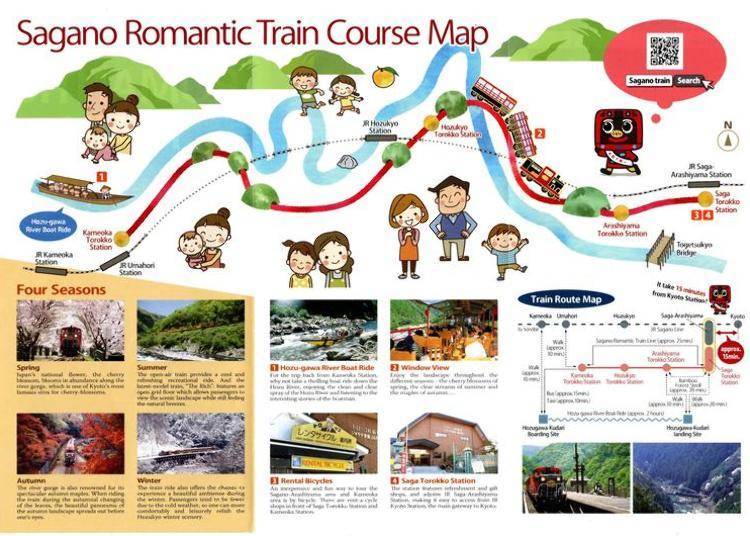 The route is about 7.3km one-way from Torokko Saga Station to Torokko Kameoka Station and takes about 25 minutes to ride. Other stops along the way are Torokko Arashiyama Station and Torokko Hozukyo Station. You can get on or off at either station, however, the fare is the same to all stops. The area near Truck-Hozukyo Station is an especially beautiful scenic natural landmark, designated as Kyoto Prefectural Hozukyo Natural Park.
How to board the Sagano Romantic Train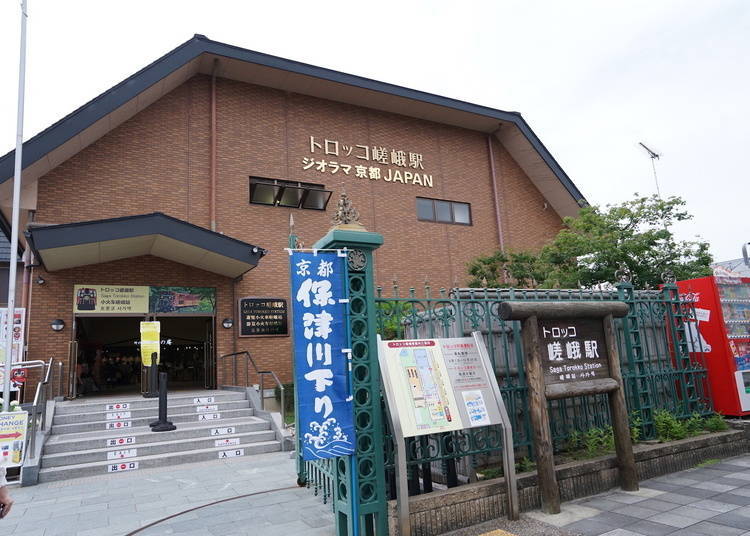 Torokko Saga Station is both the starting and ending point of the Sagano Romantic Train ride. Because it is right next to the JR Saga-Arashiyama Station, it is easy to get to from JR Kyoto Station, so is also the most crowded of the stops.

Access:
・From JR Kyoto Station: Take JR Sagano Line to JR Saga-Arashiyama Station, use South Exit. (240 yen one-way; approx. 17 min)
・From Shijo and Karasuyama: Take Kyoto Municipal Subway from Shijo Station to Kyoto Station; transfer to JR Sagano Line to JR Saga-Arashiyama Station; use South Exit. (460 yen one-way; approx 20 min)
・From JR Osaka Station: Take JR Tokaido Line/New Rapid to JR Kyoto Station; transfer to JR Sagano Line to JR Saga-Arashiyama Station; use South Exit. (990 yen one-way; approx. 45 min).
What's At Torokko Saga Station?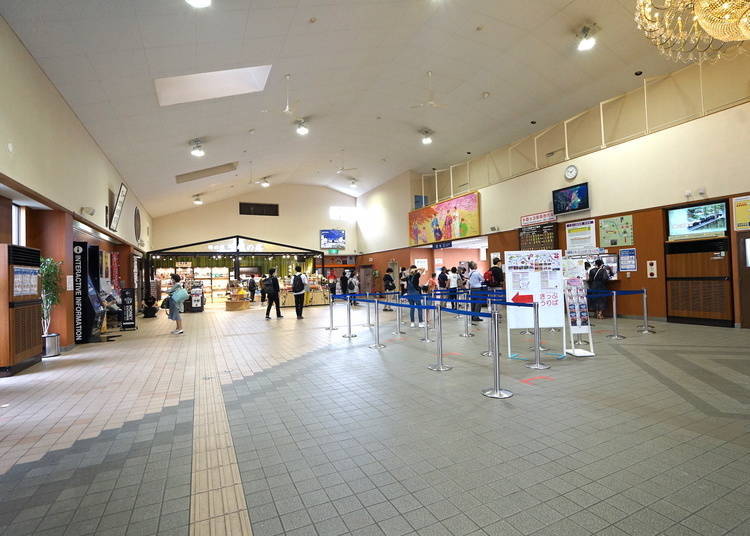 Not only can you buy tickets at Torokko Saga Station, but you can also shop for souvenirs and enjoy a meal while waiting for your train. Kyoto's climate can be pretty hot in the summer and cold in the winter, so it's a great place to take a break!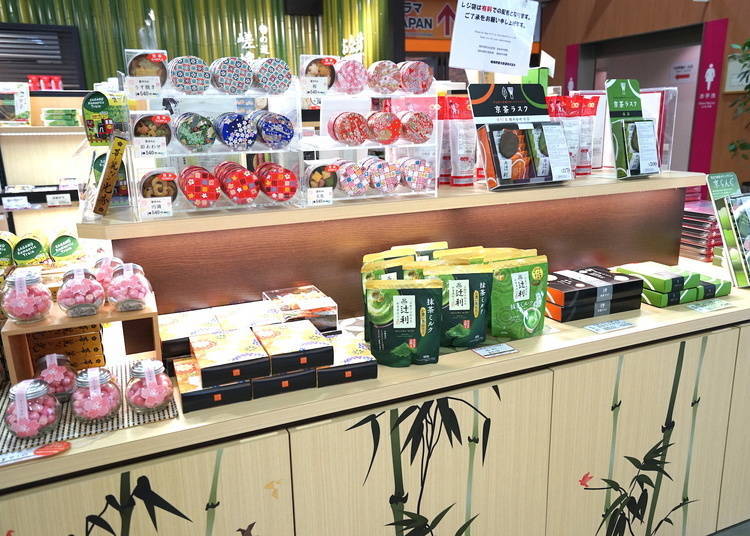 Behind the station, you'll find several shops: one that sells matcha sweets, one with unique Kyoto souvenirs, and one with original Sagano Romantic Train goodies. Why not stop by for a little souvenir shopping?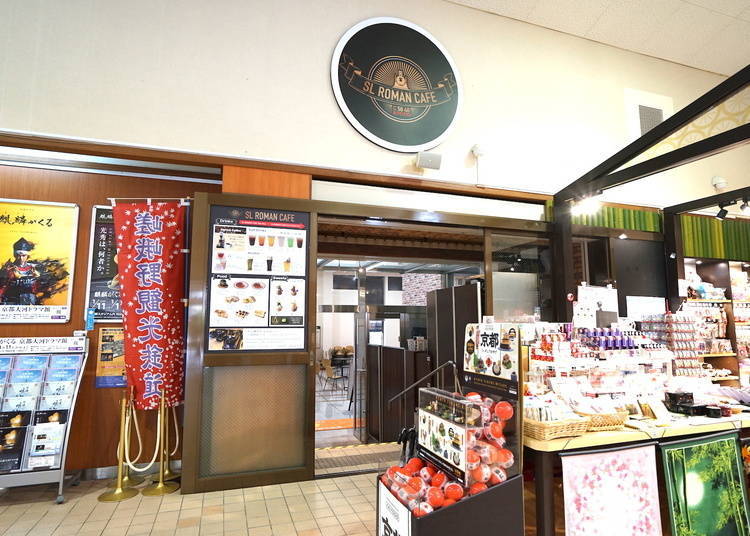 Next to the shop is a cafe called SL ROMAN CAFE, where you can sip coffee, tea, soft drinks, and even alcohol while checking out the steam locomotive display. If you're hungry, try some curry rice, a sandwich, or a parfait!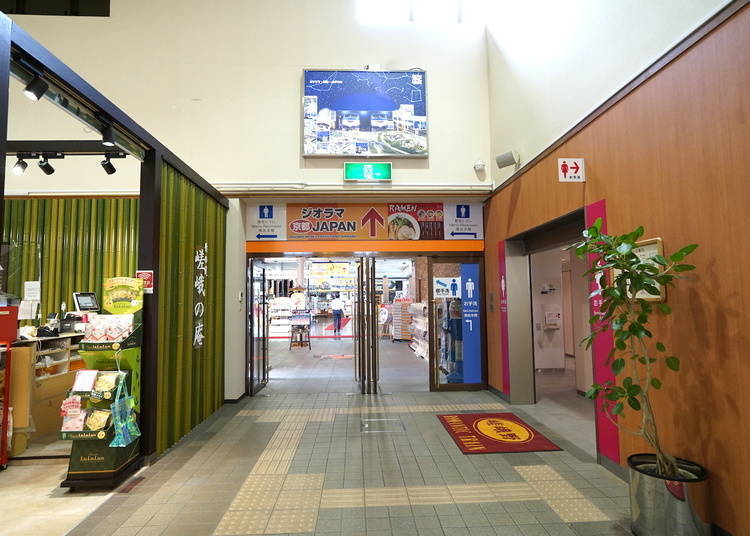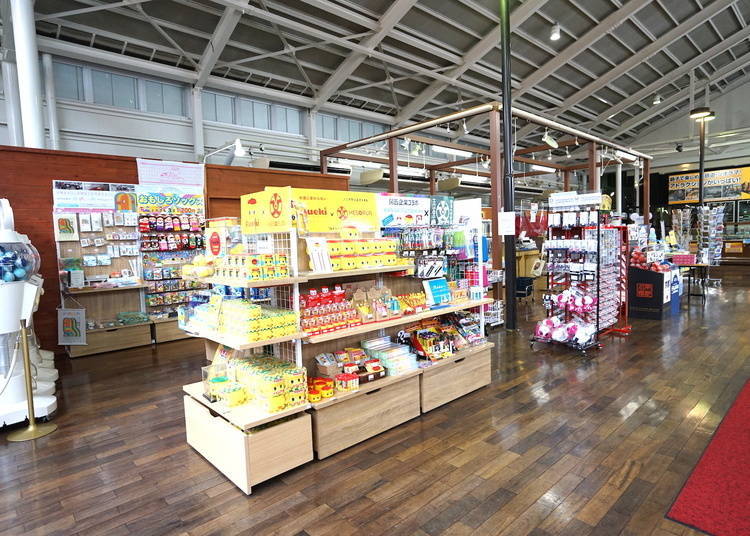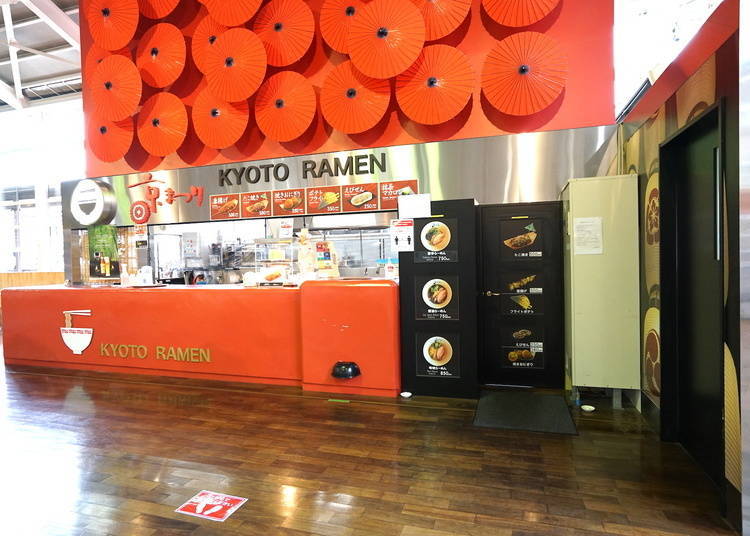 Further past the shop is Diorama Kyoto JAPAN, one of the largest railway dioramas in all of western Japan. There is also a souvenir shop and a food corner serving ramen and light meals. It's a great spot for a break!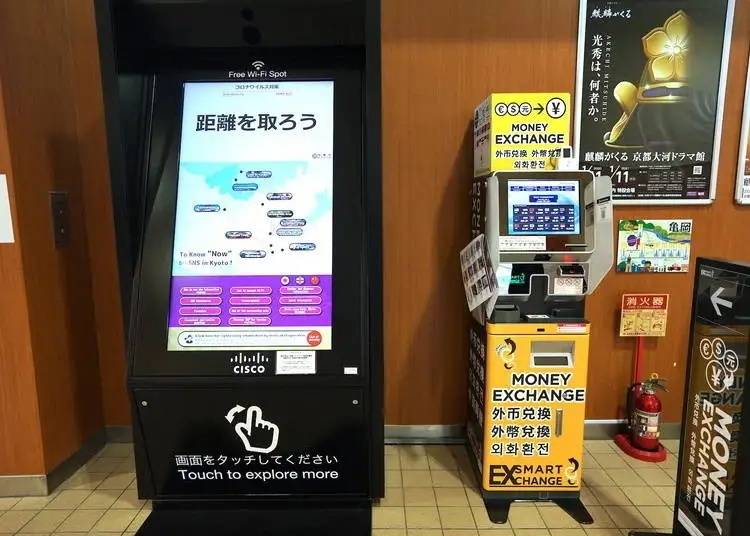 The station building is also equipped with English- and Chinese-speaking touch panels for tourist information and foreign currency exchange machines. Foreigners can use the station with peace of mind.
Tickets: How to Book Sagano Romantic Train Seats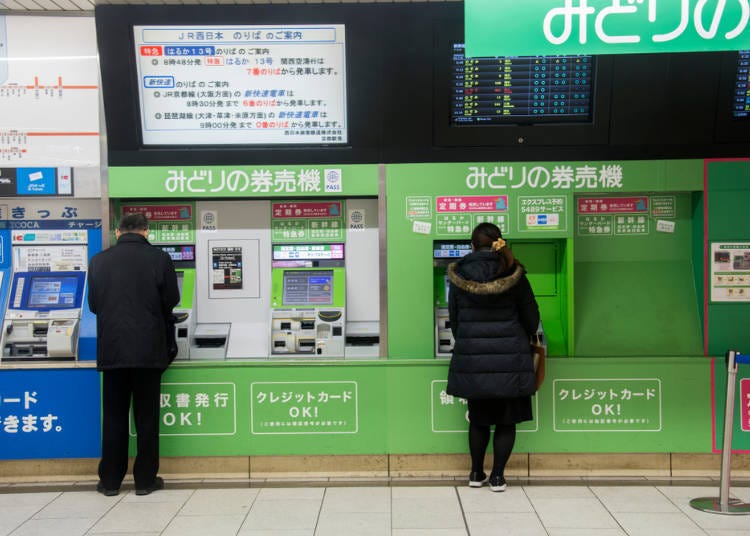 Tang Yan Song / Shutterstock.com
All Sagano Romantic Train tickets are for designated seats and are invalid for getting off at any other stops.

You can purchase tickets in advance or get a same-day ticket. For advance tickets, use the Green Ticket Counter or Green Ticket Vending Machine Plus at any of the following stations: Kyoto Station, Kameoka Station, Nijo Station, Saga-Arashiyama Station, Inari Station, Shin-Osaka Station, Osaka Station, Tsuruhashi Station, Kyobashi Station, Shin-Imamiya Station, JR Namba Station, Tennoji Station, Nara Station, Kansai Airport Station, and Sannomiya Station.

You can also book Sagano Romantic Train tickets are also available at major travel agencies throughout Japan or at the link below. You can buy tickets in advance from as early as 10:00 AM, one month before your boarding date.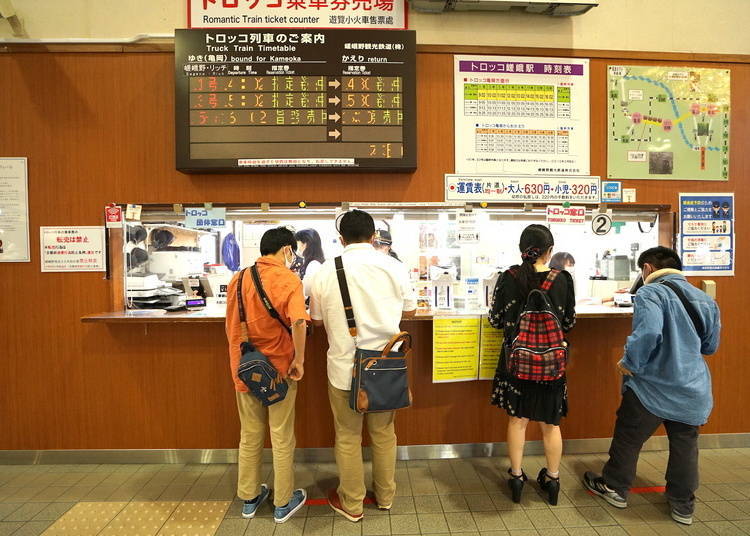 For same-day tickets, purchase at the station window.

You can also purchase advance tickets online and receive them from the JR West Internet reservation machines labeled 'e5489'. However, you will first need to register online as a J-WEST Internet member, which is only available in Japanese. (Note that you cannot register as a member if you live outside of Japan.)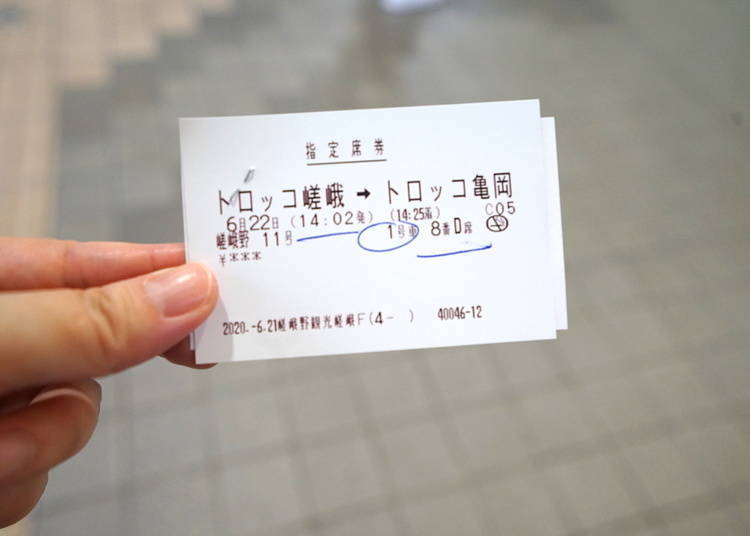 For same-day Sagano Romantic Train tickets, please pay in cash or IC card payment (such as ICOCA or Suica) only.
Valid Cards: ICOCA, Suica, toica, PARUMO
Unusable Cards/Passes: PiTaPa, credit card, debit card, Japan Rail Pass, Seishun 18 Ticket
Sagano Romantic Train Timetable (as of February 2023)
Trains run hourly from 9:00 AM to 4:00 PM, and occasionally until 5:00 PM (or 6 p.m. for special trains; see the Sagano Romantic Train website for details).
The fare is 880 yen for adults and 440 for children. Hop on board and journey through the beautiful countryside!
Scenery You Can See Aboard the Sagano Romantic Train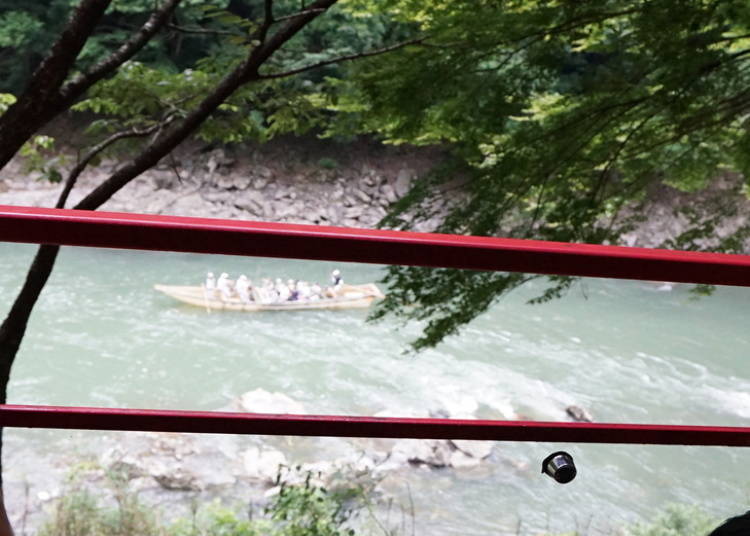 This 25-minute train journey runs along the Hozu River, immersing you in the beautiful surrounding nature.

Don't forget to give a friendly wave as you pass the boats going down the Hozu River - the passengers will be waving at you, too!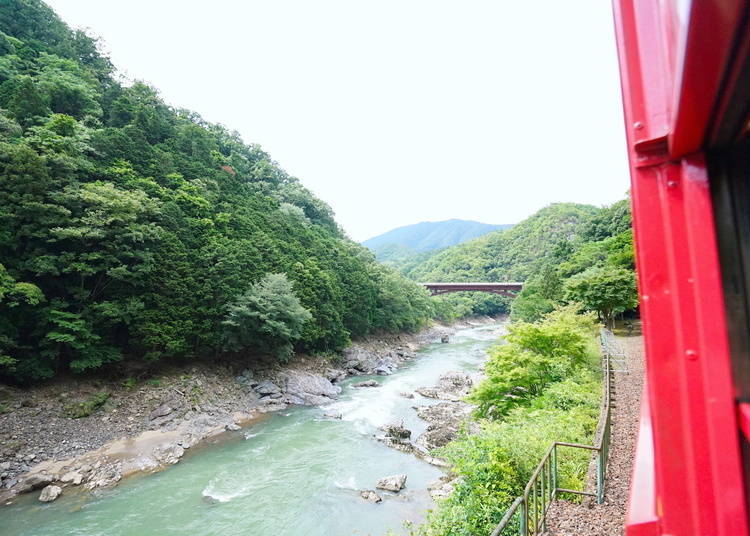 There are eight tunnels along the way. The majestic, natural scenery beyond the dark tunnels invite you to lift your spirits!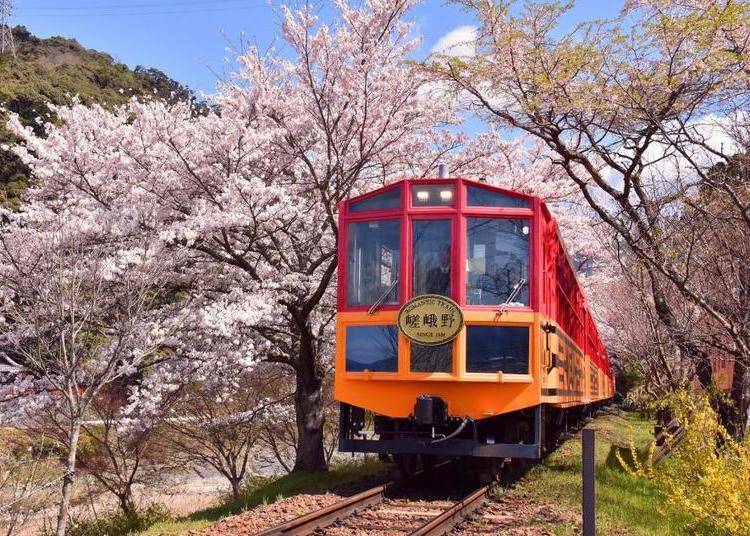 Spring: Gorgeous cherry blossoms in full bloom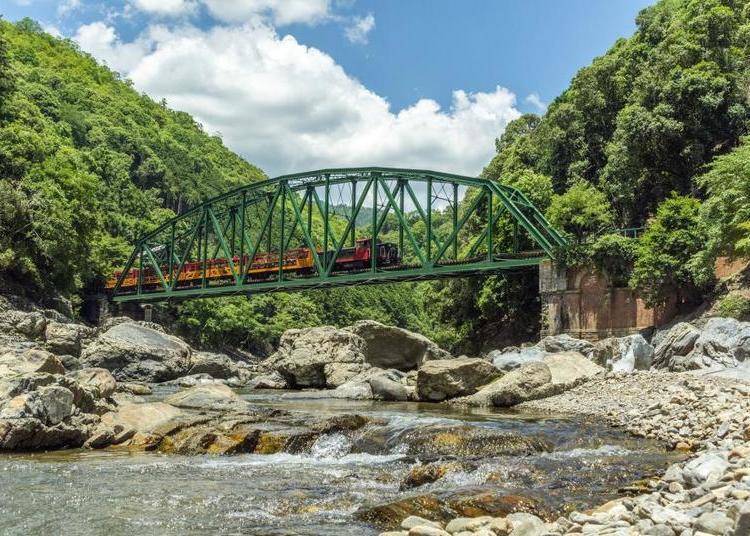 Summer: Rich, lush green forests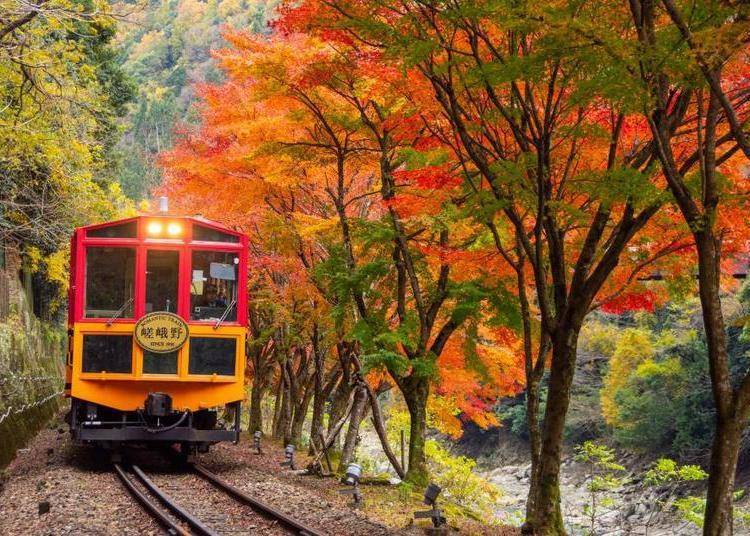 Autumn: Magnificent, vibrant foliage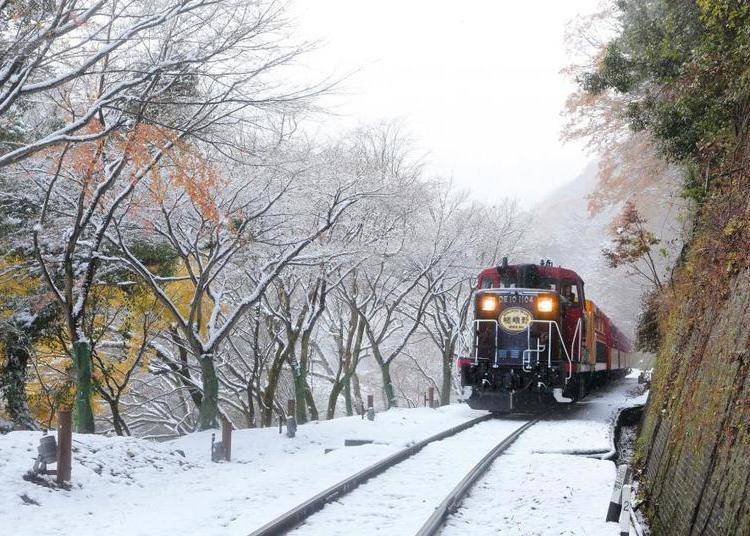 Winter: when harsh cold and nature's beauty coexist
On the Sagano Romantic Train, you can see the different expressions of nature as they change with the seasons. Why not take a ride in each season, and experience each one for yourself?

Cherry blossoms are usually in full bloom from late March to late April, and the autumn foliage peaks from around mid-November to early December. Recent winters have been rather warm, so it doesn't snow very much. However, if you happen to be lucky enough to catch a few flurries during your stay, that's another beautiful winter scenery you won't want to miss!

As a preventative measure against coronavirus, all passengers are asked to wear masks, avoid eating and drinking in the car (with the exception of water to prevent heatstroke), and refrain from talking loudly. The train crew is also required to wear a mask, and the train itself is well ventilated. Sanitizer is also available at the entrances and exits of the station building and ticket gates.
Enjoy a leisurely ride through nature's beauty on the Sagano Romantic Train
Arashiyama was once the prized villa of the royal families living in Kyoto. What remains of that time are the beautiful, rich sceneries of nature, which you can now completely immerse yourself in with a scenic ride on the Sagano Romantic Train.
Address

Kurumamichicho, Saga Tenryu-ji, Ukyo-ku, Kyoto-shi, Kyoto, 616-0000
View Map

Nearest Station

Torokkosaga Station (Sagano Sight-seeing Tram)
2 minutes on foot


Phone Number

075-861-7444
Written by: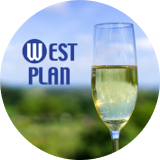 *This information is from the time of this article's publication.
*Prices and options mentioned are subject to change.
*Unless stated otherwise, all prices include tax.