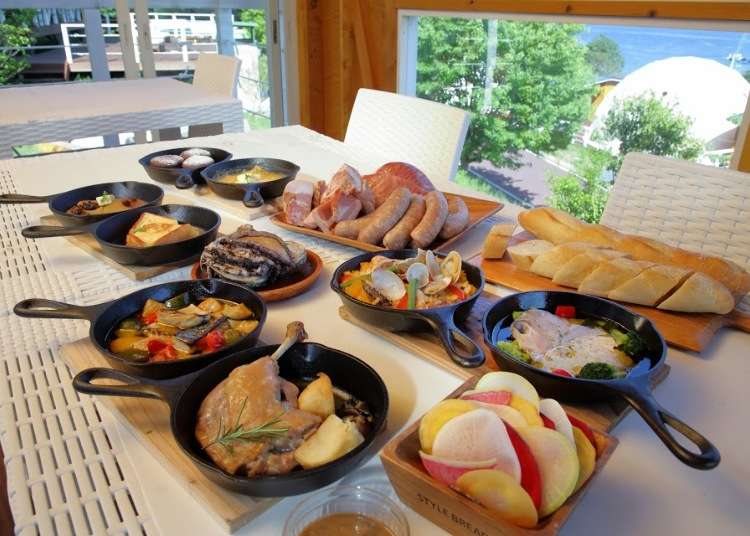 In June 2019, a farming facility called Farm Glamping Kyoto Amanohashidate with the theme of food education opened on a small hill overlooking Miyazu Bay - close to one of three of Japan's most scenic spots.

This facility, which offers a number of experiences related to hands-on harvesting and food, has been garnering much attention from families with children. In this article we will tell you all about it.
A facility offering a glamping experience where thought is given to "food"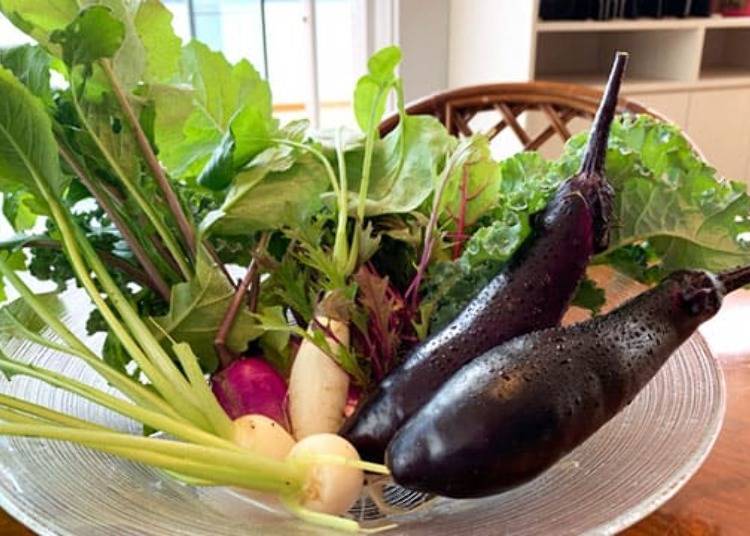 "Glamping" is a portmanteau of "glamorous" and "camping" that refers to a luxurious camping experience. Based on the concept of "food education - fostering children's understanding and appreciation for food", Farm Glamping Kyoto Amanohashidate is a glamping facility that provides educational food experiences using the abundance of superior fresh vegetables and fruit grown in the Miyazu and Amanohashidate region.
Definitely photogenic! 3 kinds of fully-equipped large-scale glamping tents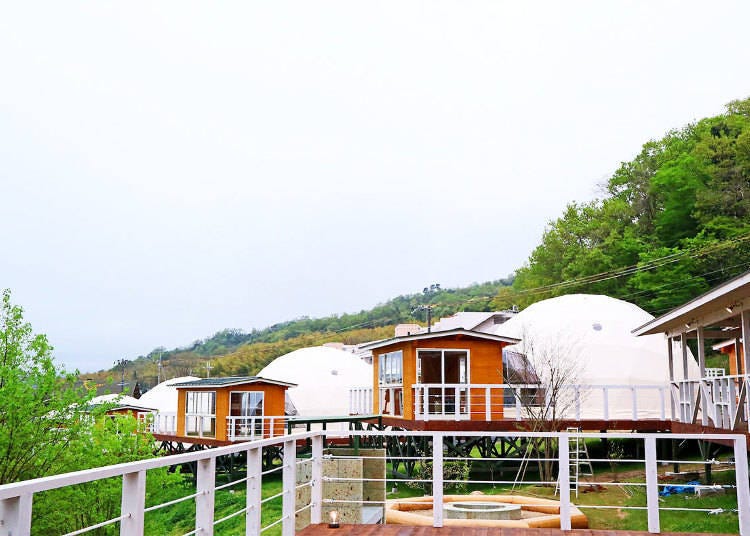 Exterior of Surprise Dome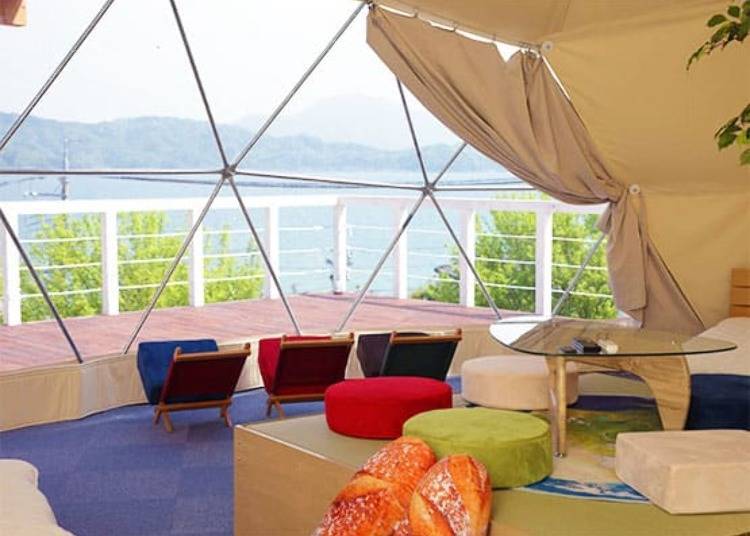 Interior of Surprise Dome
All of the accommodations are dome-style tents. There are three types. The Standard Dome has a diameter of 6 meters and the Twin Dome consists of two Standard Domes lined up together. The Surprise Dome is the largest in the country having a diameter of approximately 10 meters that give it a very spacious feeling. All facilities and accommodations are fully equipped, excluding the groceries, so you don't need to worry about bringing anything with you to casually enjoy a luxuriously special time. All of the tents are supported by metal frames and all offer excellent views of Kyoto Tango. There is a deck in front of each tent on which you can barbecue (there are different plans, for example just spending the night or one which includes having a barbecue).
You can get started the moment you check in!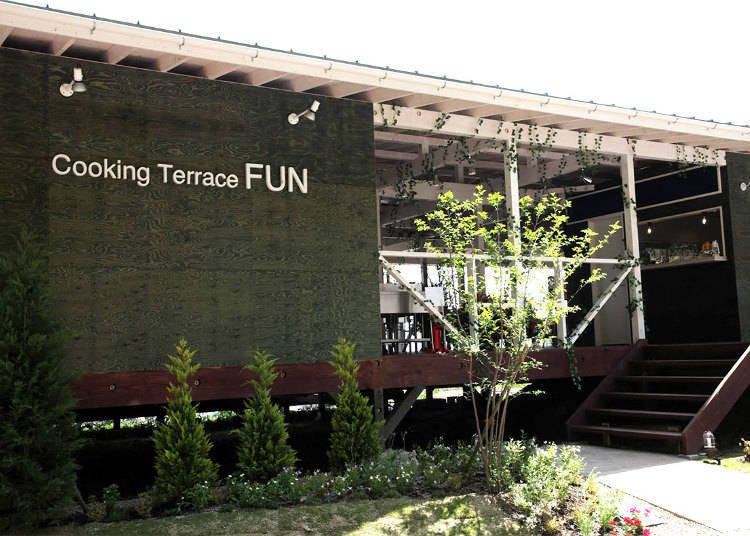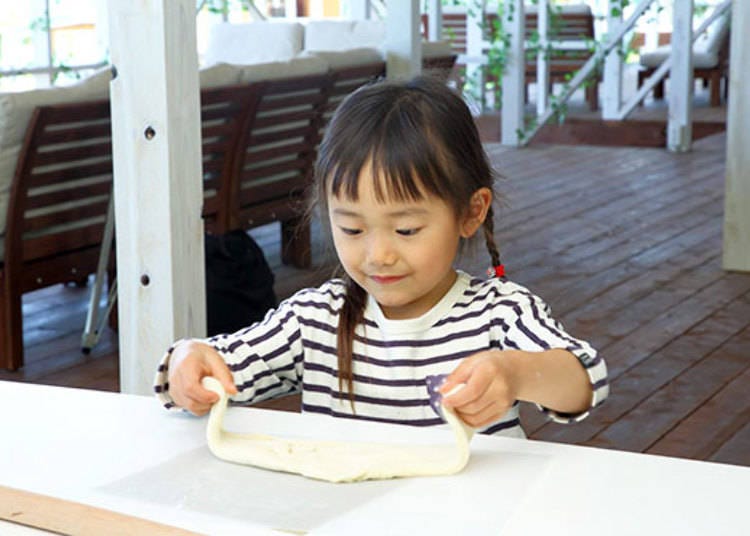 As soon as you arrive go to the Cooking Terrace "FUN" administration building. After you have confirmed in which tent you will be staying, then you can directly have a go at the food education experience. For example, make potato chips or perhaps a pizza. There are all sorts of ingredients that you can use to make something. Fresh vegetables obtained locally and from other regions are plentifully available for your use. You can use these freely during your glamping stay.
Many types of food-themed menus have been prepared.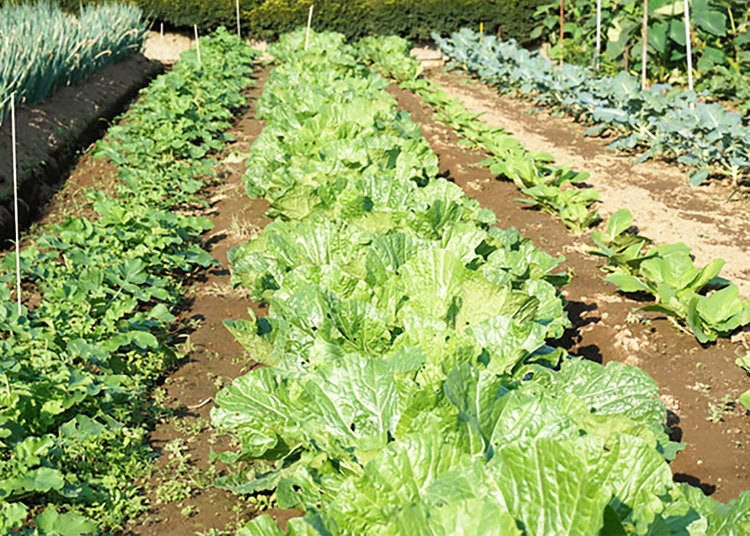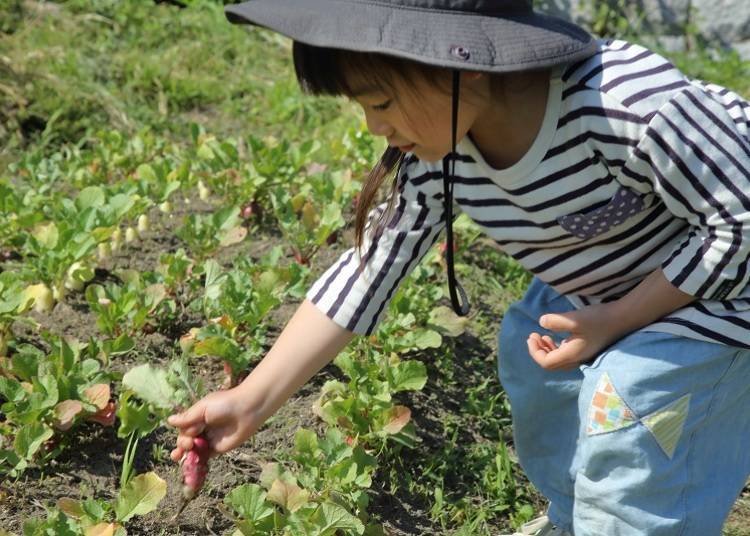 At Amanohashidate Sukusuku Farm, a 5-minute walk from the glamping site, several types of vegetables that are used in outdoor cooking, such as cherry tomatoes, corn, potatoes and herbs, grow quickly here. Groups with children younger than elementary school age can pick the vegetables free of charge. Each group is given a basket for holding the picked vegetables. Using the vegetables that you have picked in salads or other dishes is the epitome of luxury. In addition, feeding and petting the five rabbits at the Fureai Plaza located nearby is also great fun.
Enjoy a drink at the bonfire bar!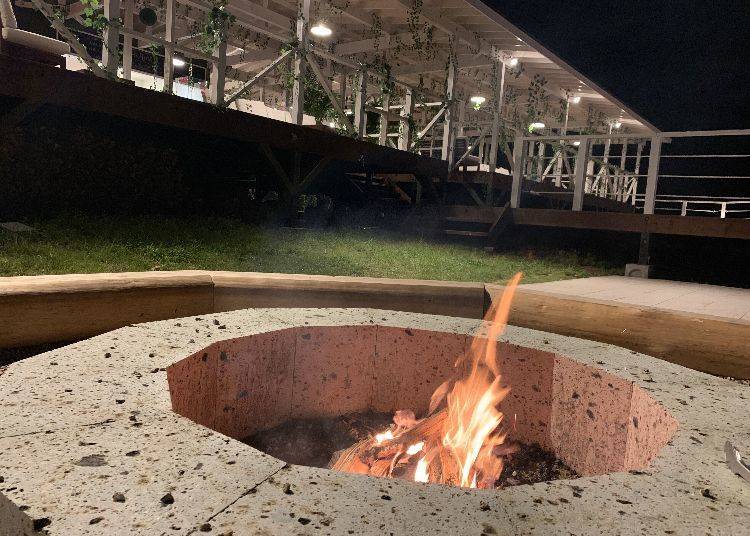 These days there are not many bonfires. Just gathering around a bonfire and talking creates a special feeling of camaraderie. At the Bonfire Bar you can sit around a fire and enjoy drinks and light dishes. Actually the menu contains all sorts of wonderful dishes from such simple ones as buttered potatoes and grilled tomatoes to more fancy ones like shrimp and mushroom Ajillo and spicy cod roe flavored smoked chicken wings. Campfires are also possible, so just ask for more information.
Day-trip glamping and barbecues are also OK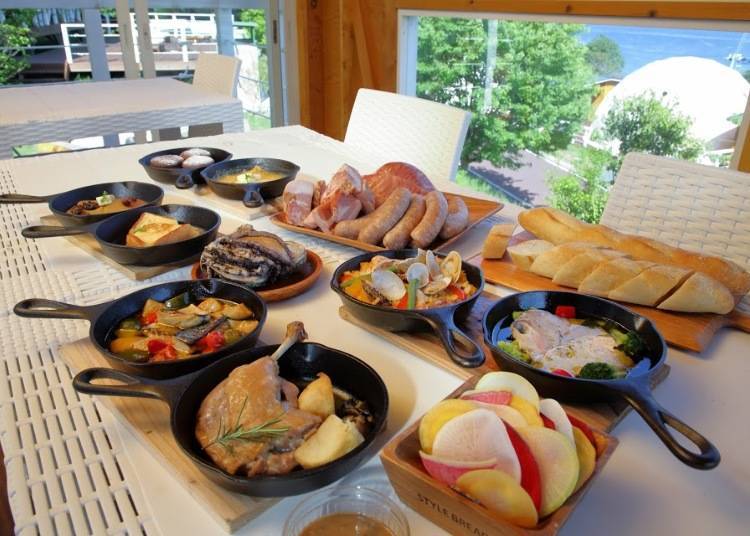 Day-trip glamping and barbecues are also possible at Cooking Terrace "FUN". While enjoying the spectacular view of Miyazu Bay, you can enjoy the bountiful produce of Kyoto and Tango. There are several plans from which to choose, but one that can only be enjoyed here is the day-trip Wagyu barbecue that consists of Kyoto Wagyu and marine products taken from the sea of Kyoto Miyazu. Included are Kyoto Wagyu beef steak, bacon steak, Amanohashidate raw sausage, live abalone, baguette, and a dessert skillet. There is also a children's course consisting of hamburger, frankfurters, two chicken wings, roast ham, corn, and buttered potatoes.* Check In and Check Out: 11:00 a.m. ~ 2:00 p.m.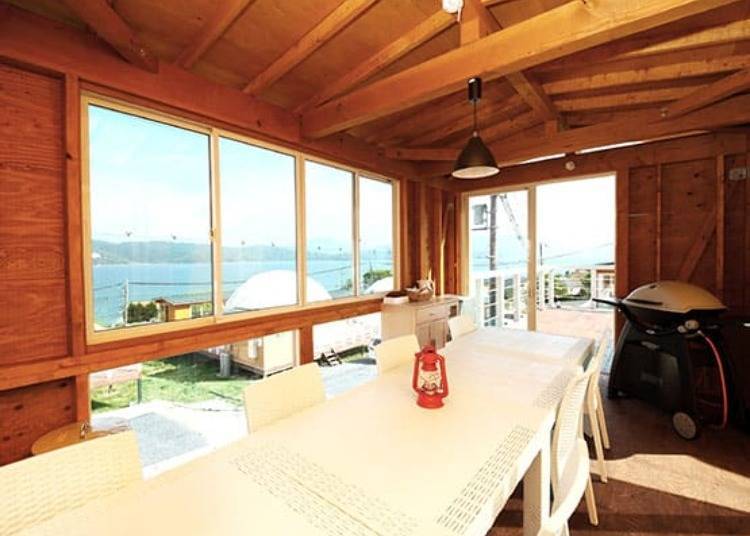 Perfect for first time campers and those not accustomed to the outdoors. The facility is well equipped. Each deck space is equipped with its own shower and bath which women and children find very convenient. Also there is no need to worry about toilet noise. The toilets, equipped with warm water washers, are not inside the tent but attached to it. The barbecue corner is constructed so as to keep out the cold and wind so that it can be used even when the weather is bad.
A facility where parents and children can enjoy the bounties of Miyazu
How did you like it? You can harvest your own vegetables and prepare your own meals with them. By making them yourself, you can know more about the ingredients and background of the meals you usually eat. This is what food education is all about! You can enjoy the delicious land and sea products of Miyazu while enjoying its beautiful scenery. At Farm Glamping Kyoto Amanohashidate you will have a truly memorable experience.
Farm glamping at Kyoto Amanohashidate

ファームグランピング京都天橋立

Address

397-13 Nanbano, Miyazu, Kyoto

Phone Number

0772-45-1073

Hours: Check In is from 3:00 p.m. and Check Out is by 10:00 a.m.; day-trip hours are 11:00 a.m. ~ 2:00 p.m.
Fee: Standard from 14,800 yen (for use by up to 4 people, food and tax separate)
Closed: always open
Text by: WEST PLAN
Explore Japan at Your Pace - Rent an RV!
RV rentals are a great way to see a new side of Japan from the open road! Use LIVE JAPAN's promo code below to get 5% OFF your rental now.
・Promo code: LiveJapan_coupon_03
・On the "Request for a Quote" page, enter the promo code to get your discount.
*This information is from the time of this article's publication.
*Prices and options mentioned are subject to change.
*Unless stated otherwise, all prices include tax.