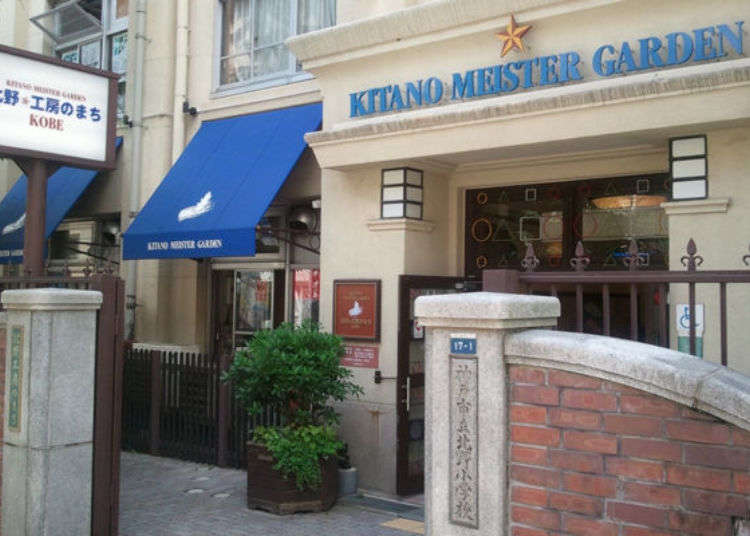 Kitano Meister Garden, located in Kitano, one of Kobe's most popular tourist spots, has several workshops where you can try your hand at making Kobe brand crafts and foods.

Just walking along the nostalgic corridors in this building, which was once an elementary school, will heighten the pleasures of your visit.
Great photo spots all around Kitano Meister Garden!
The Kitano Meister Garden was opened in 1998 to promote Kobe brands and advertise the high skills of local artisans. For that purpose the closed Kobe City Kitano Elementary School was renovated. The concept behind it was to preserve the vestiges of the school to create a retro atmosphere ideal for taking photos.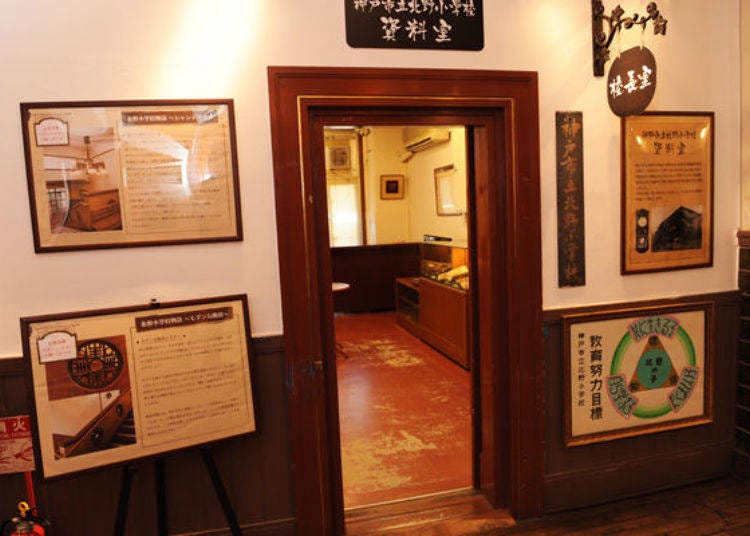 ▲The former Principal's Office is now a reference room. Here there are resource materials about the history of the school which was established in 1908 as the Kitano Common Elementary School that are certain to evoke memories among its alumni.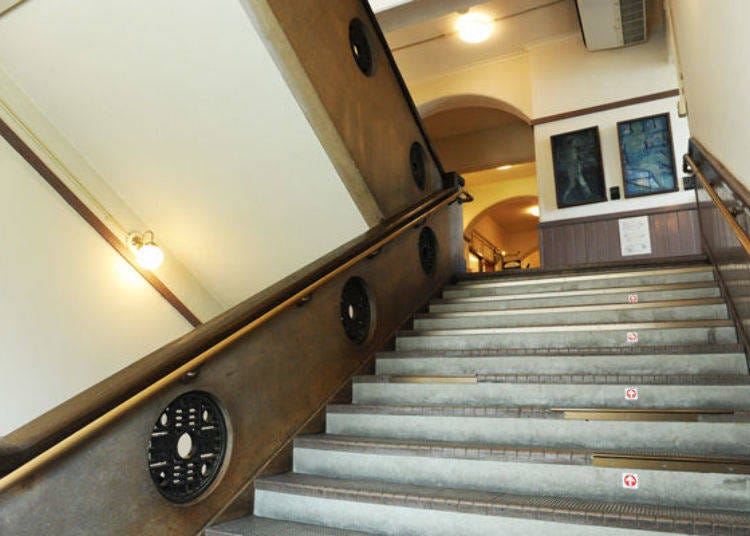 ▲Stairway going up to the second floor. The openwork under the banister, the arches under the ceilings, and other unique architectural designs blending Japanese and Western styles are the same as when they were created in 1931.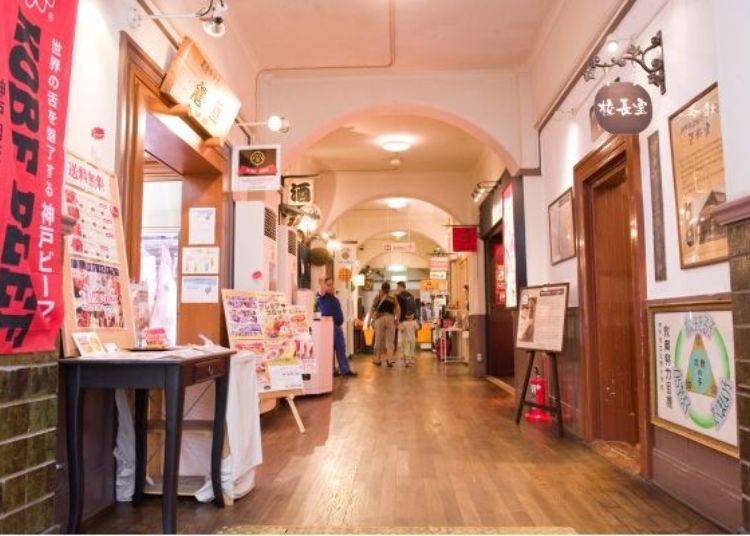 ▲Gourmet Street on the first floor. Here there are 10 shops: one selling Kobe beef, a Nada Liquor Store antenna shop, and shops selling Kobe tea, pudding, and waffles.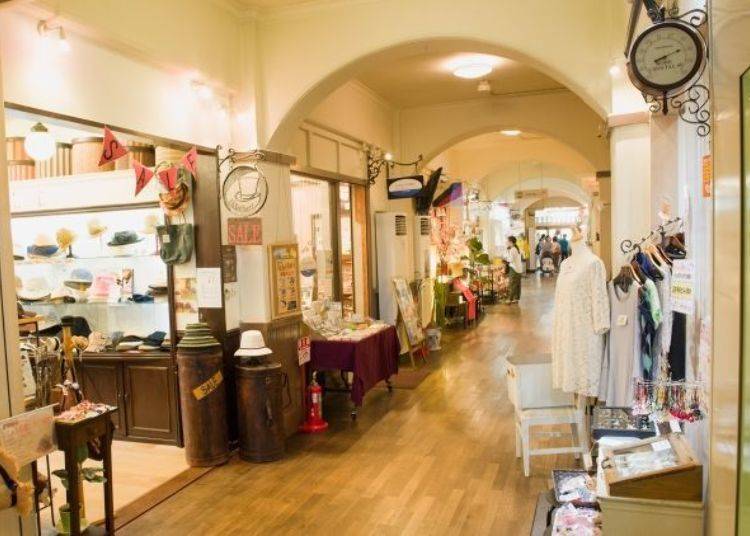 ▲Craft Street on the second floor. Located here are 10 studios including a pearl workshop, hat workshop, and studios for making leather goods.
First try your hand at making pork buns, the Soul Food of Kobe
Of the twenty shops located here, you can try your hand at making things in eleven of them. Pork buns are one of the soul foods of Kobe and popular in Kobe Chinatown. Here you can learn how to make them.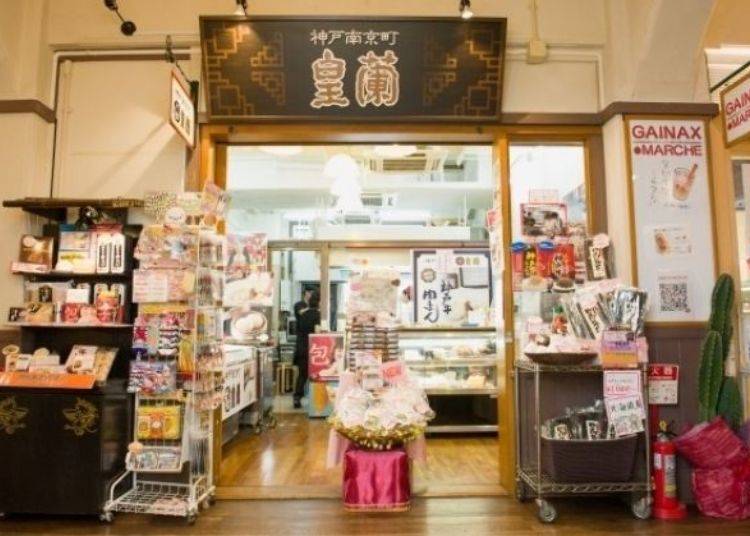 I visited the Kobe Nankin-machi Kouran on the first floor to try my hand at making pork buns. The main store is a Dim Sum shop located in Nankin-machi, Kobe's Chinatown that uses domestically produced pork and onions produced in Hyogo Prefecture and domestic ingredients as much as possible when making the Paoko pork buns by hand (700 yen for a package of three, tax included) which are highly popular.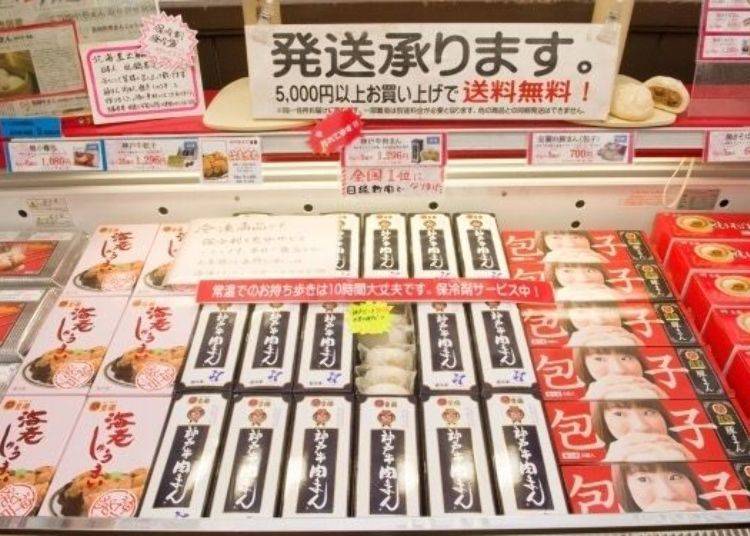 ▲The handmade Paoko pork buns are also sold at shops in the airport and Shinkansen train station. Kobe Beef Buns (1,296 yen, including tax, for a box of five) are a popular Kobe souvenir
The pork buns you can make in the workshop are different from the richly flavored Paoko and have a plainer taste. Part of the fun is being able to eat the specially flavored pork buns that you yourself make. So without further ado, let's begin!

I have often made gyoza [dumplings] but this was the first time for me to try making a pork bun. I didn't have much confidence. First you need to stretch the dough.Place the dough in the palm of your hand and gradually extend it using the base of your thumb. Be careful not to tear the central bottom part and keep it a bit thicker than the rest because the ingredients will be placed here.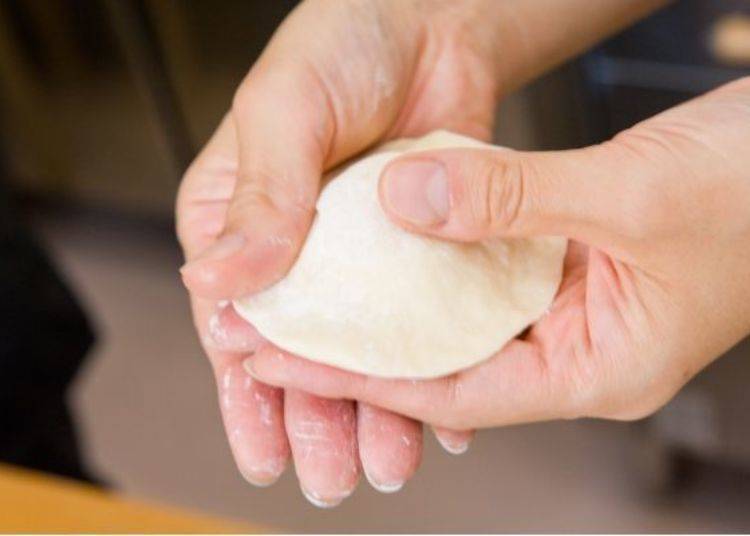 Next place your thumb on top of the ingredients on top of the dough and then use your index finger to fold the dough over the ingredients towards your thumb to envelop them.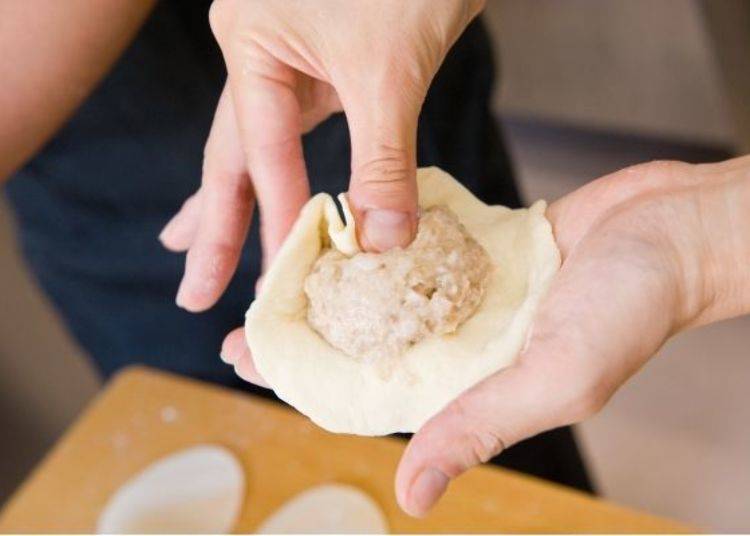 The main point to be careful of is to not move your thumb but to keep it in a fixed position during that. This is different than when making gyoza as only the index finger is used, so this was a bit more difficult!

After the dough has been folded a bit, rotate it in the hand in which you are holding it and at the same time use your index finger to completely envelope the ingredients. If it appears that the ingredients may overflow when doing this, use your thumb to keep them pressed in. The most difficult aspect of the process is doing three things at the same time.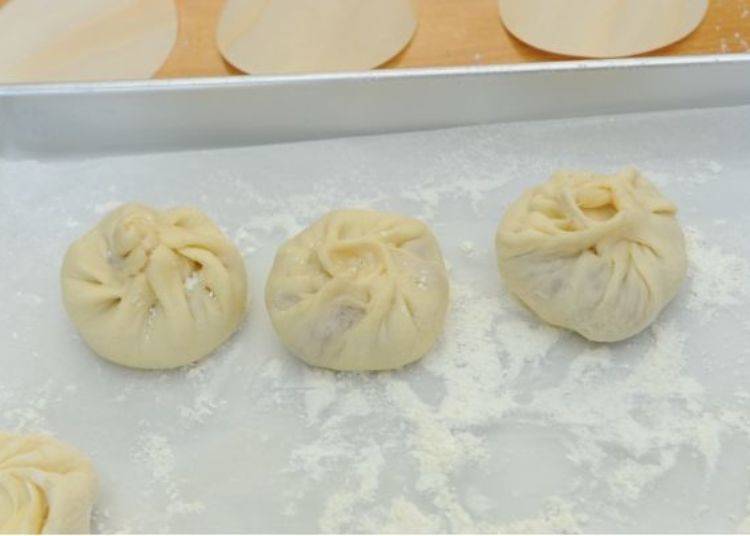 ▲You can make three pork buns in this workshop. The first one I made on the right is distorted; the second one I made, in the middle, looked better. As for the third one I made, on the left, I had stretched the dough too much so it also was less than perfect.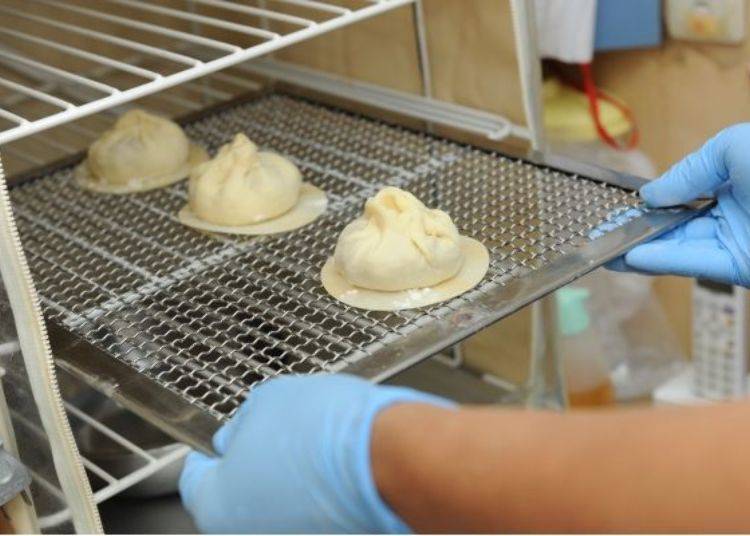 ▲ Once you have finished making them they need to be placed in a fermentation oven for about 30 minutes and then steamed for about 15 minutes after that.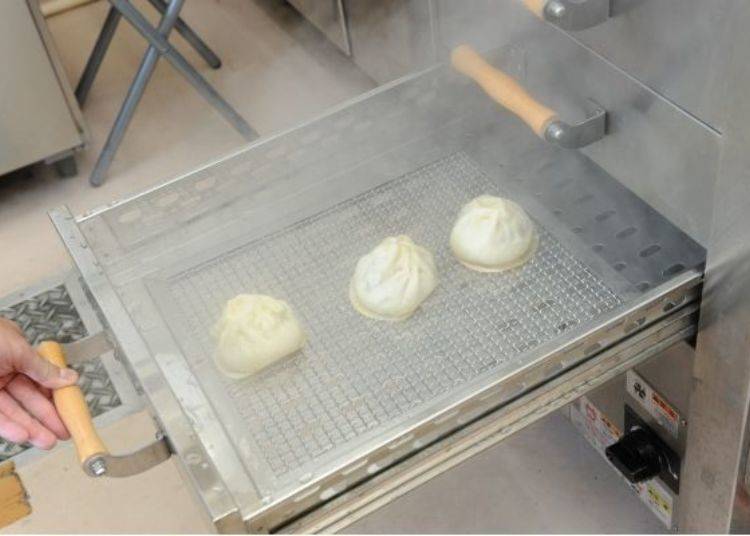 ▲Steam rising from the finished, steamed buns look so delicious!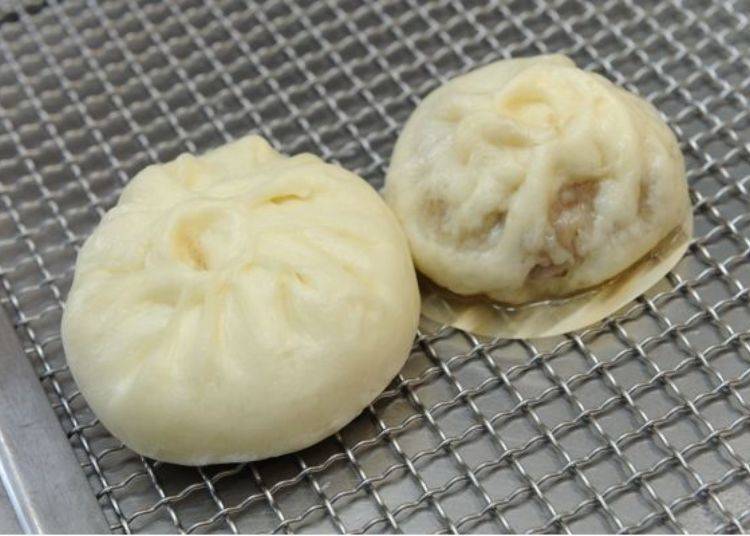 ▲The one I made is on the right next to the actual product. Obviously there is a difference in the size, shape and appearance, but I liked the pork buns I myself made.
I was eager to eat the steaming, hot pork buns I had made with such loving care! Despite its appearance, it was unmistakably delicious! The flavor, only to be tasted in this workshop, was a perfect blend of pork, sweet onions, and secret seasonings. I could eat these all day.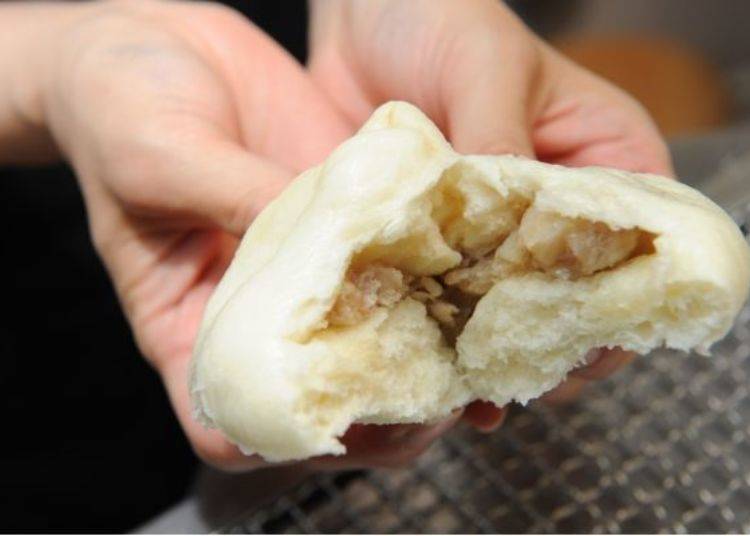 ▲ A view inside the pork bun showing the ingredients.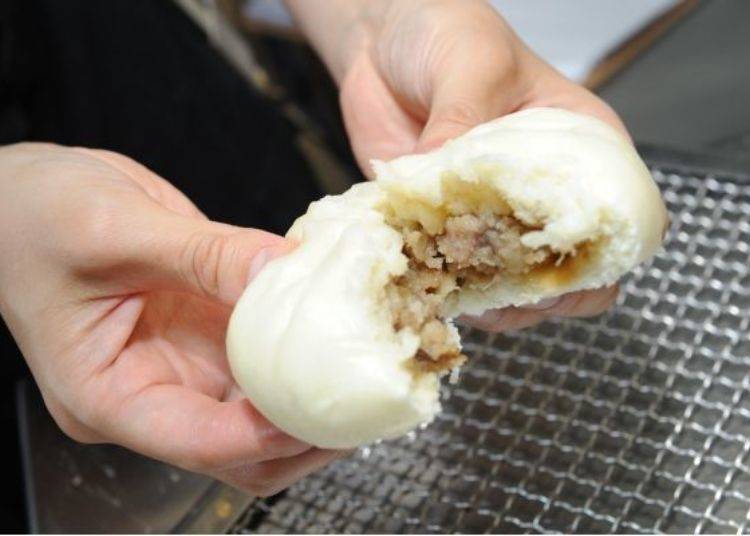 ▲ I also was able to sample the Paoko commercial pork buns. They have a deeper, richer flavor, the ingredients being made with diced pork and sweetly simmered Shiitake mushrooms. You can eat as many as you like (200 yen each, including tax; possible to eat there)
In addition to the Pork Bun Experience Course that I did (30 minutes, 1,380 yen including tax) there is also the Original Pork Bun Experience Course (40 minutes, 1,680 yen including tax) in which you can also put pictures on the pork buns (when there are two or more participants. For a group of 6 or fewer reservation needs to be made by noon the previous day; if there will be 7 or more participants, reservations need to be made a week in advance.)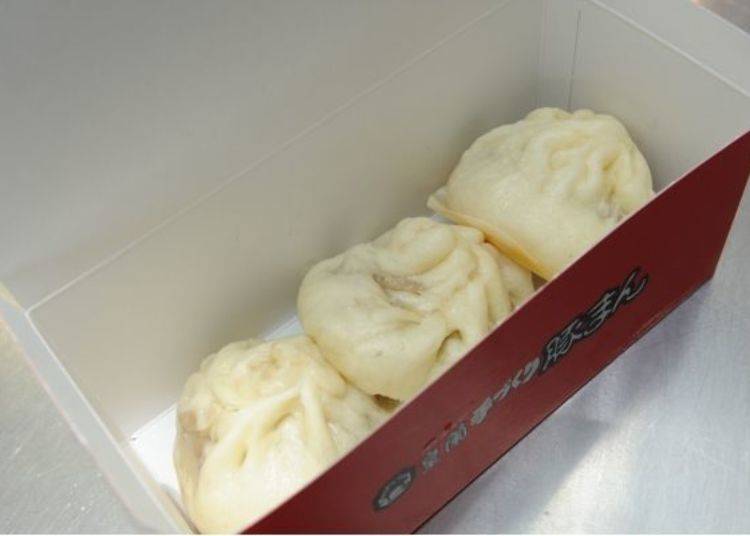 ▲You can also put the pork buns you made in a box to take home with you.
Kobe Nankin-machi Kouran Kitano Meister Garden

神戸南京町 皇蘭 北野工房のまち店

Address

3-17-1 Nakayamatedori, Chuo-ku, Kobe City

Phone Number

078-221-1569

Open: 9:30 a.m. ~ 6:00 p.m.
Closed: unscheduled, end and beginning of year (December 27 ~ January 2)
Traditional Hyogo Prefecture crafts: make beautiful-looking Japanese candles by hand!
Next, in order to experience Japanese candle making, I visited the Warosoku Kobe Matsumoto Store on the second floor.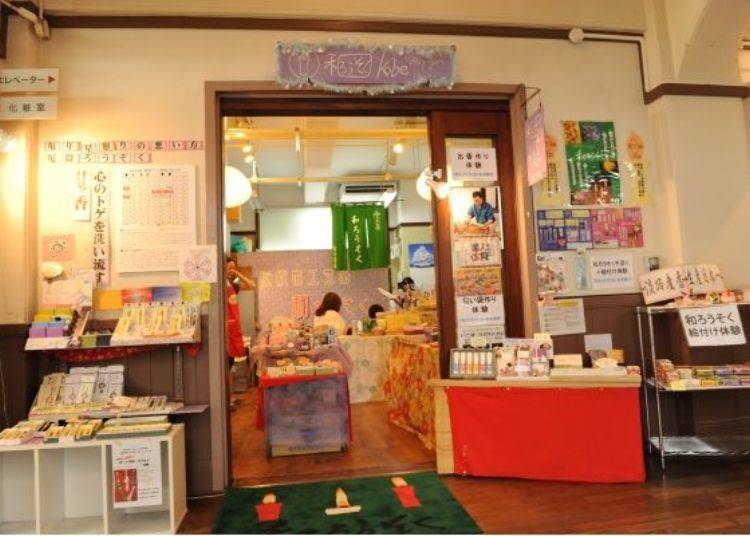 Japanese candles are one of the traditional crafts of Hyogo Prefecture. Matsumoto Shoten, headquartered in Nishinomiya, has been manufacturing and selling Japanese candles mainly using the tallow from the haze [Japanese wax tree] nut in exactly the same way since the Edo era.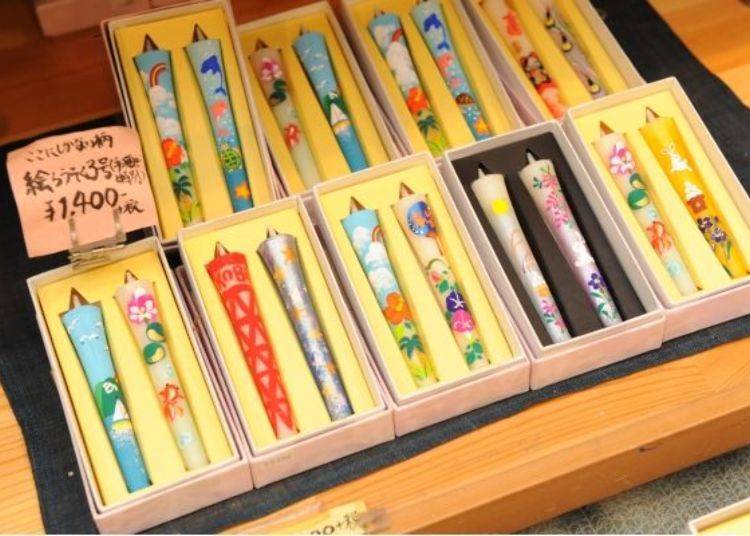 ▲These Japanese candles with Kobe-themed pictures can only be bought here at the Kitano Meister Garden shop (1,512 yen including tax for a set of two candles).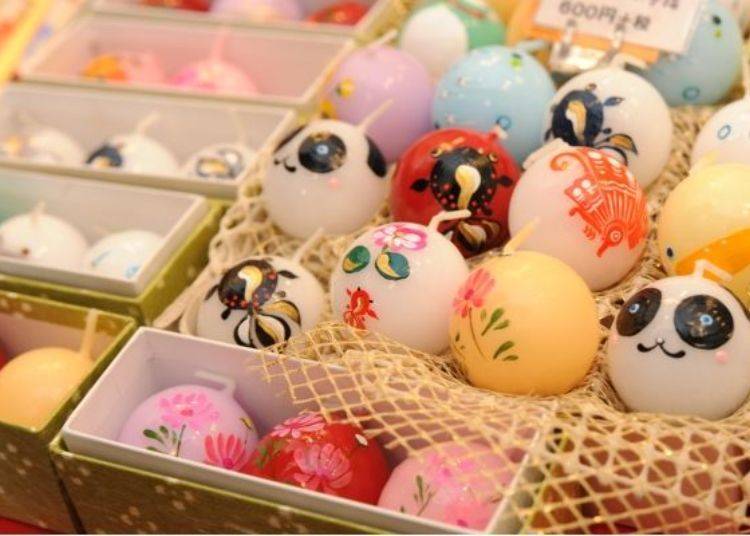 ▲ Charming round floating candles (648 yen each tax included). Three of your choice for only 1,620 yen tax included.
The Making a Japanese Candle by Hand and Painting It Experience (60 minutes, 1,512 yen including tax) begins with the final process and then painting of it. The final process is coating the surface of the prepared candle core with Japan tallow that has been squeezed from Japanese wax tree nuts. The tallow at the time of the finishing is harder than when it was being prepared and as a result, when the candle is lit, there is less melted wax running down it.

Put the wax on the palm of your left hand and then apply it while slowly rotating the skewer with your right hand.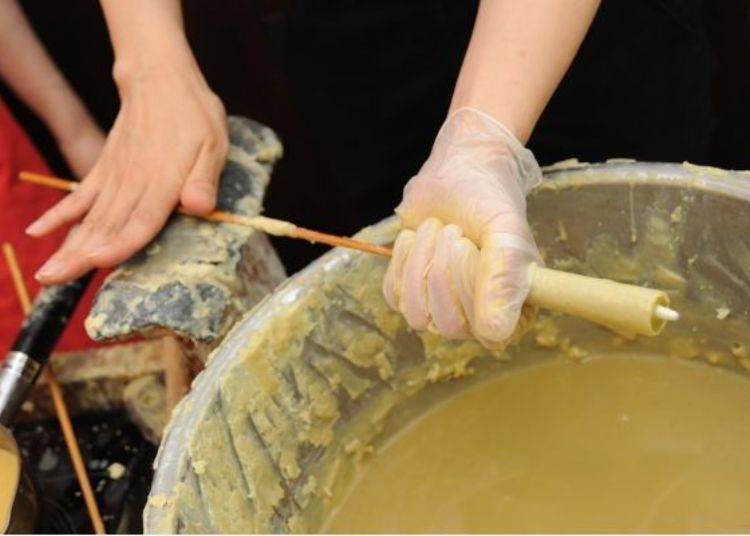 Apply the wax to the entire candle while firmly grasping it with your left hand as you move it back and forth. The temperature of the wax is about 40 degrees. The wax will harden more quickly than you might think, so you will need to work quickly.

Once the candle has been made the next step is to paint it. You can select a candle in the shop to use as a model. I selected the one with the motif of the Kobe Port Tower. You may of course paint your own original design if you like.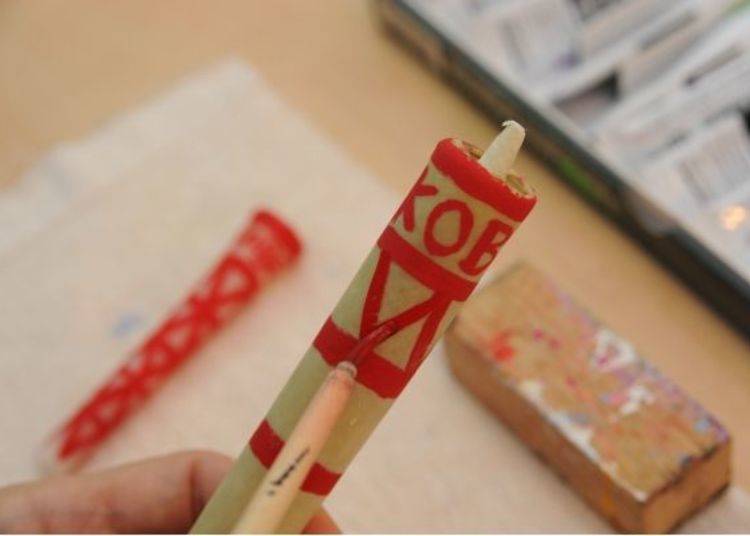 ▲Adding the picture with acrylic paint. The candle wax is a type of hardened oil. If there is too much water in the paint it runs, so the paint should be thick in order for it to stick.
I'm not very good at drawing pictures, but nevertheless I had fun doggedly adding the design. It was a refreshing experience concentrating hard on doing something after a long time of not having to do so.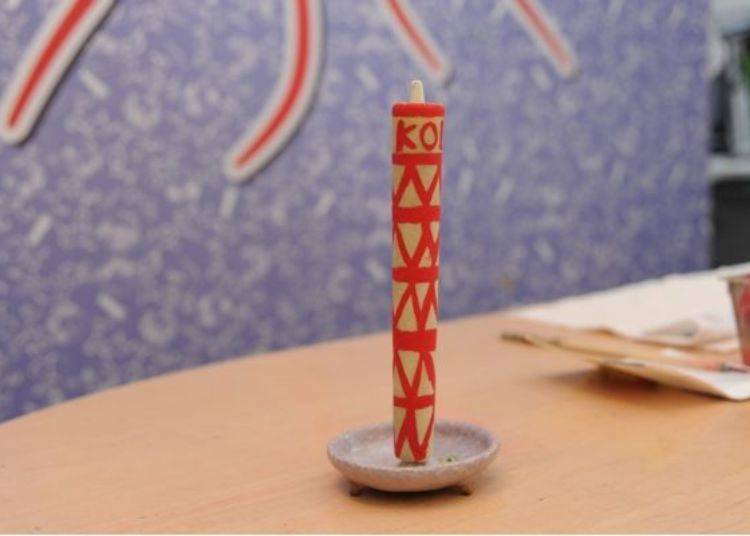 ▲The finished candle. Placed on a stand it looked quite good.
There are ten different types of experiences you can do at this shop, such as the Painting a Japanese Candle and Nioibukuro [sachet] Experience (1 hour, 2,160 yen tax included) and the Painting a Candle that Changes Color Experience (30 minutes, 1,944 yen tax included). When you do one of these experiences you can buy a candle stand that normally costs 1,080 yen (tax included) for only 700 yen (tax included)!

If there is space available you do not need to make a reservation, but at one time the workshop can accommodate up to only 9 people, so it is better to make a reservation in advance (reservations are required for groups of 10 or more).
Warosoku Kobe Matsumoto Store

和ろうそくkobe 松本商店

Address

3-17-1 Nakayamatedori, Chuo-ku, Kobe City, Kitano Meister Garden 2F

Phone Number

078-221-1148

Open: 9:30 a.m. ~ 6:00 p.m.
Closed: unscheduled, end and beginning of year (December 27 ~ January 2)
Check out the Kobe souvenirs on Craft Street
The last thing I did after completing the second experience was to look for Kobe craft souvenirs on the second floor Craft Street. I visited the Kobe INK Monogatari by NAGASAWA, which has a large selection of quality stationery items, and the Matchibo [Match Stick], an antenna shop operated by the Japan Match Manufacturers' Association that has its headquarters in Hyogo Prefecture.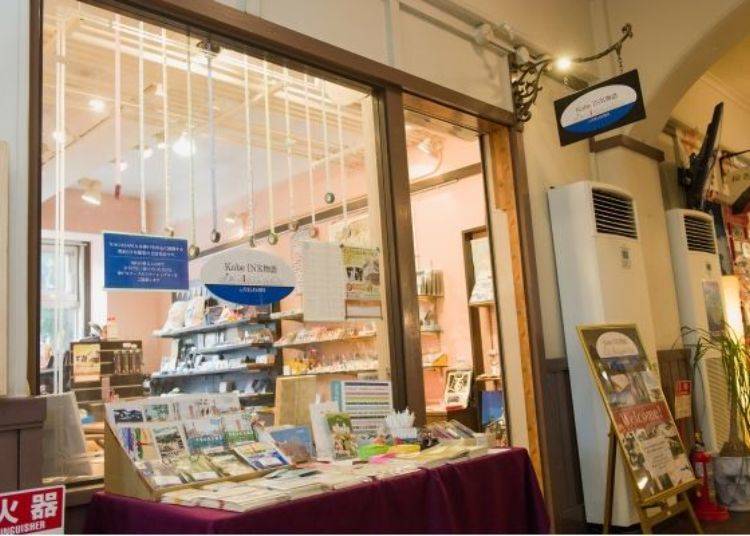 NAGASAWA, with its main shop in the Sannomiya Center Gai Shopping Street, is a well-established stationery shop that also offers original stationery having a Kobe motif. Here you can find a large selection of inks for use in fountain pens and glass pens.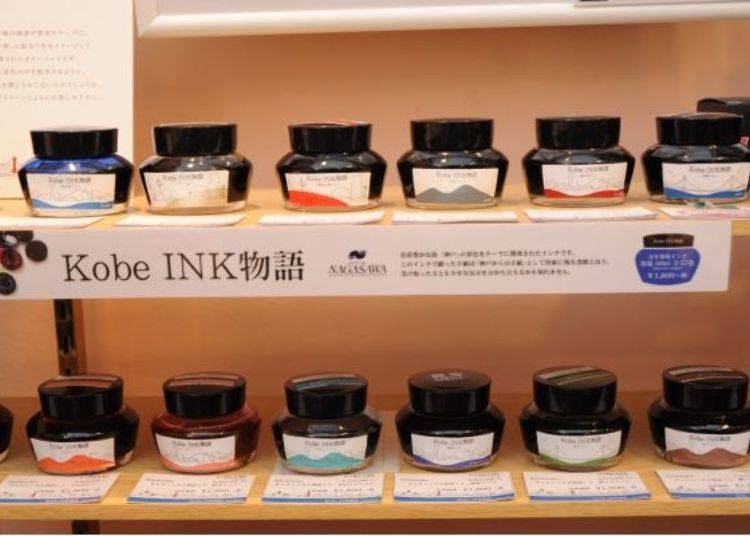 ▲ Colorful inks developed based on Kobe themes. The inks are romantically named after famous areas of Kobe, for example "Kitanozaka Night Blue", "Rokko Green", and "Nankin-machi Fortune Red" (1,944 yen including tax for each).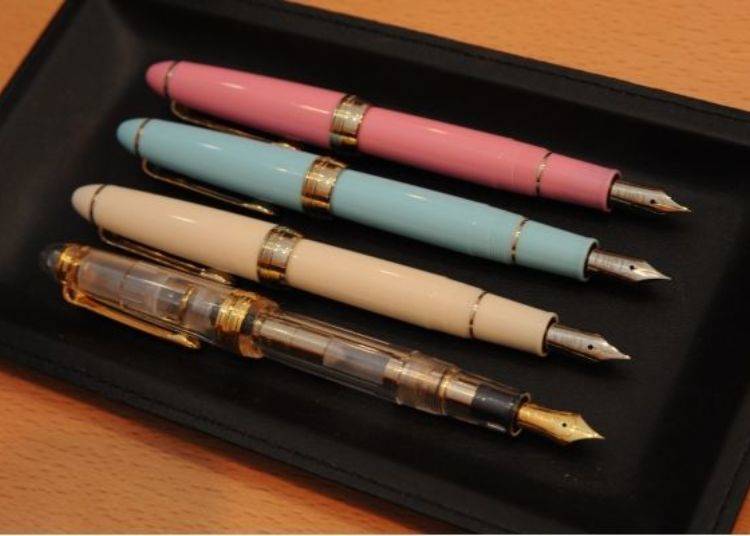 ▲Original Pro Color Fountain Pens, from the top "Oji Cherry", "Kobe Water Blue", and "Sumaura Sand Beige" (750 yen each including tax). At the very bottom is the original fountain pen "Proske" (13,500 yen including tax).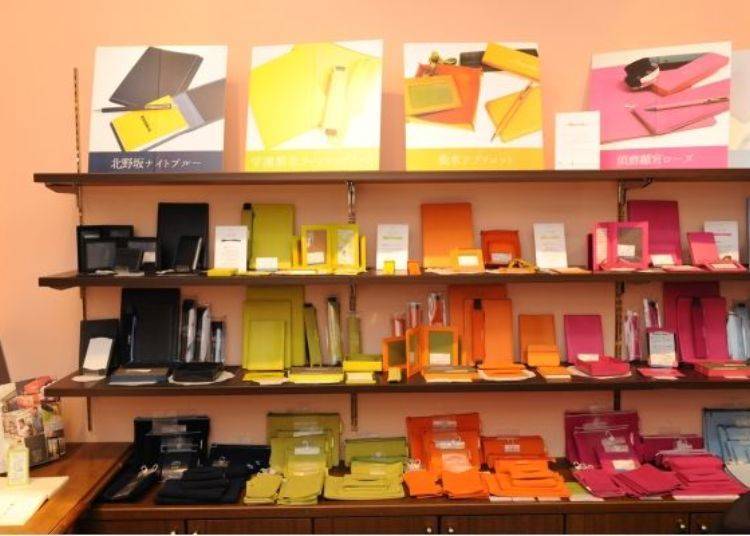 ▲Kobe city color stationery also includes a large selection of leather goods such as card cases and pen cases.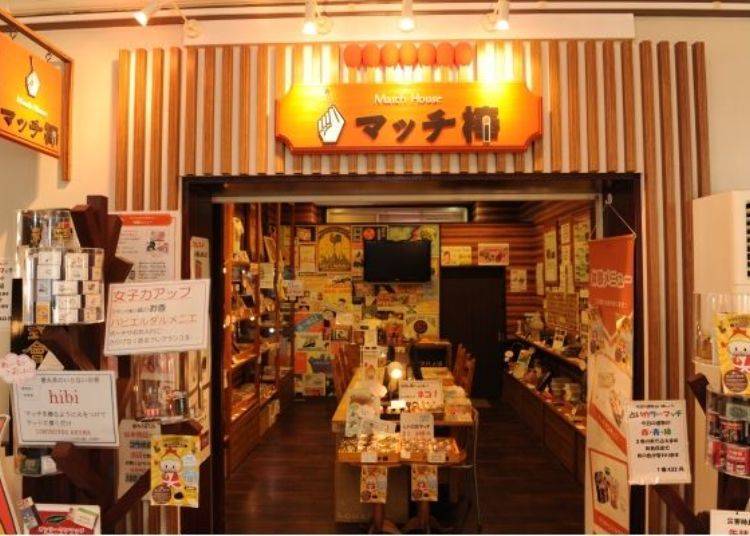 The interior of Matchibo is filled with retro match boxes and original matches and just looking at them is enjoyable. Incidentally, about 90% of the matches distributed throughout Japan are manufactured in Hyogo Prefecture.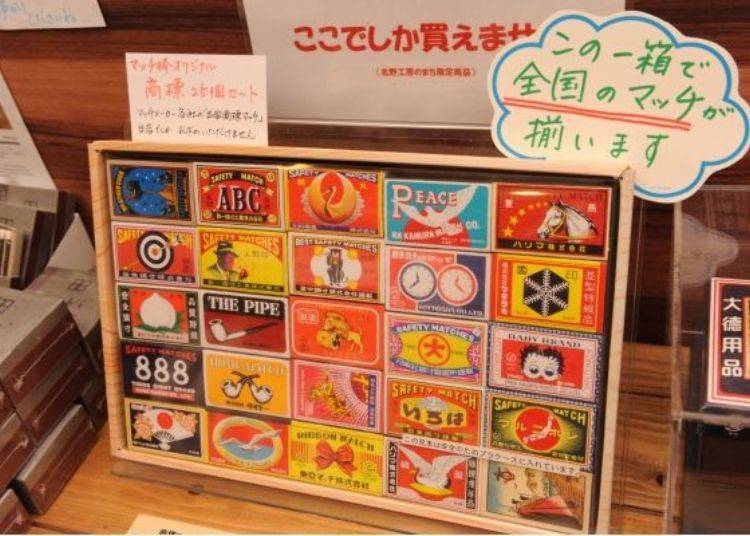 ▲The Original Trademarked 25-piece Set (1,620 yen including tax), only available here, includes 23 boxes having Kobe themes that are sold throughout the country plus two original types.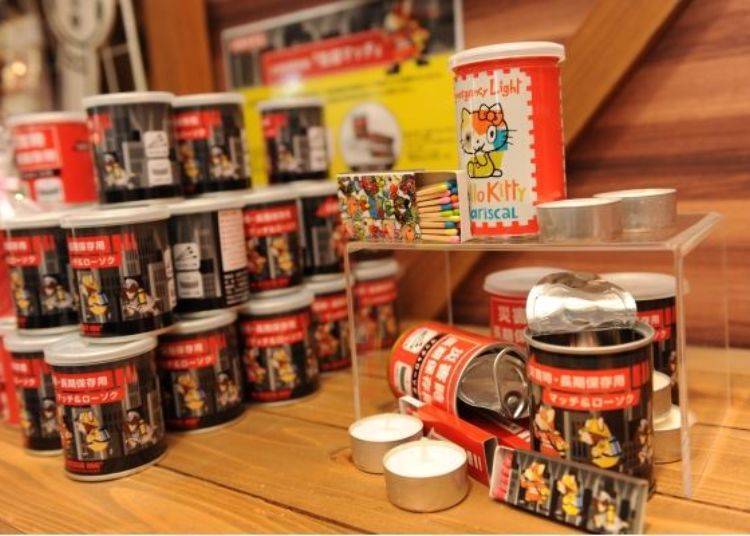 ▲ The Canned Matches for Long-term Preservation for Use in Times of Disaster which were developed from lessons learned from the Great Hanshin-Awaji Earthquake (540 yen including tax). In each can are two candles that will burn for 4 hours straight and two match boxes each containing 10 matches; for long-term preservation.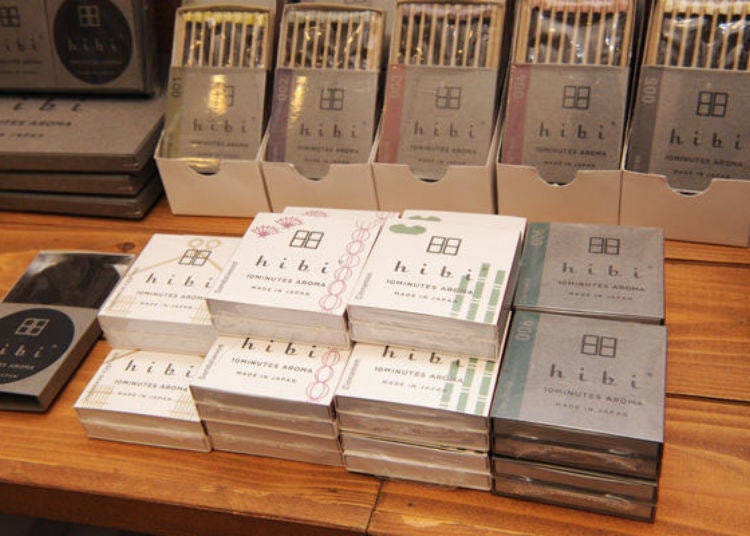 ▲"hibi" are matches that when lit emit a fragrance (702 yen including tax for a package of 8). Includes a mat for placing the incense match after it has been lit.
There are many other shops handling Kobe handicrafts such as the First Picture, a Kobe leather shop famous for its shoes and bags that sells leather accessories, and the popular Pearl A&S that crafts casual pearl accessories.

I had not done any crafts for a long time. These enjoyable experiences of making crafts in the setting of an old elementary school brought back memories of childhood. Buy, eat, and experience. The Kitano Meister Garden is full of Kobe attractions and here you are certain to find Kobe souvenirs perfectly suited to you.
北野工房のまち

Address

3-17-1 Nakayamatedori, Chuo-ku, Kobe City, Hyogo Prefecture

Phone Number

078-221-6868

Open: 9:30 a.m. ~ 6:00 p.m.
Admission fee: free
Closed: unscheduled, end and beginning of year (December 27 ~ January 2)
Text by:kurashisa
*This information is from the time of this article's publication.
*Prices and options mentioned are subject to change.
*Unless stated otherwise, all prices include tax.