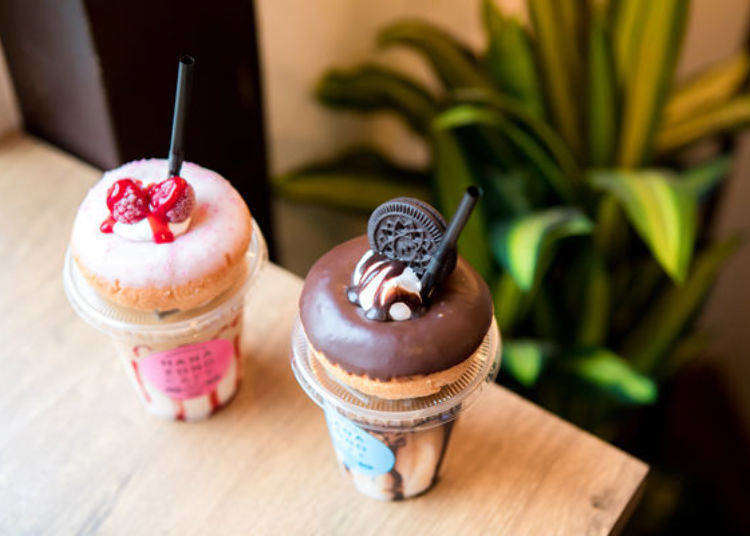 Kobe is well-known as a fashionable port town - and cafes in Kobe are particularly famous. The stylish Sannomiya / Motomachi area, with tourist attractions such as Kitano Ijinkan Gai and Nankinmachi's Chinatown, is home to popular celebrities and media personalities.

Let's go for a walk around to find our top three most Instagrammable Kobe cafes!
1. Hanazono Cafe: Check out the cute Mimi Latte Donuts!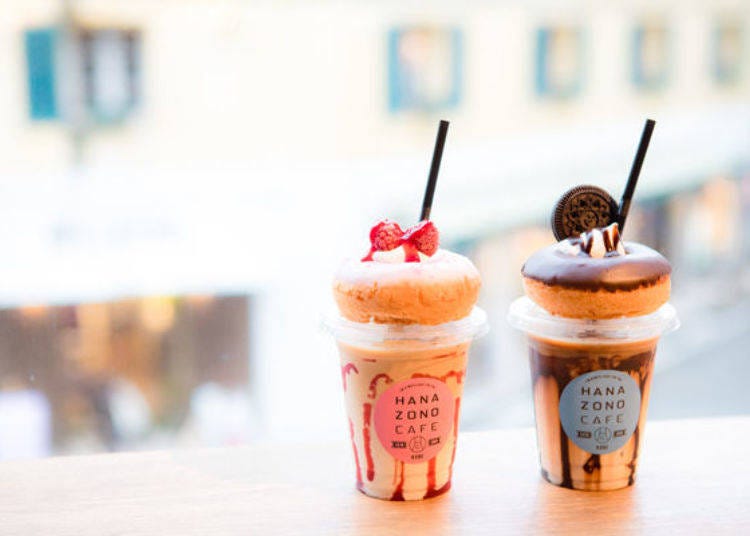 We start with the Hanazono Cafe. The desserts and drinks served here look amazing!
This Kobe cafe is around 5 minutes' walk due north from JR Motomachi Station.
Hanazono Cafe is situated on the second floor of building on a narrow street featuring a variety of exclusive shops and bars.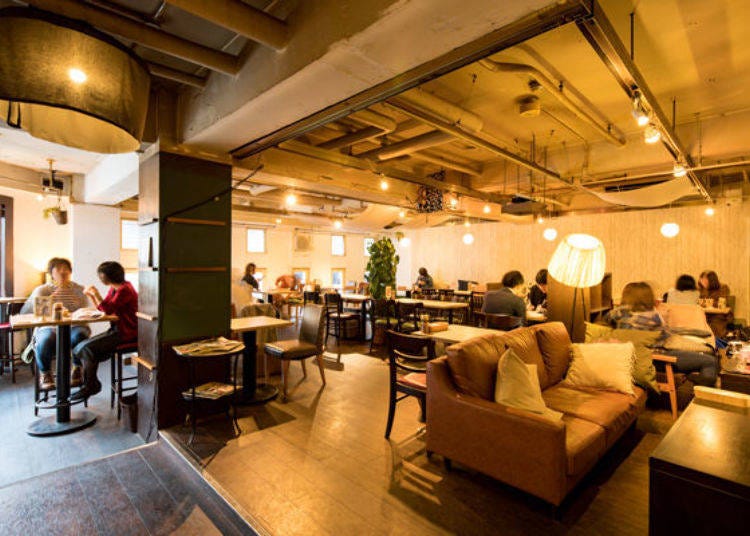 The spacious interior is ideal for relaxing and chilling out. The decor adds to the warm and inviting atmosphere, with the owner's attention to detail obvious in all the little touches - from the sofas through to the lighting.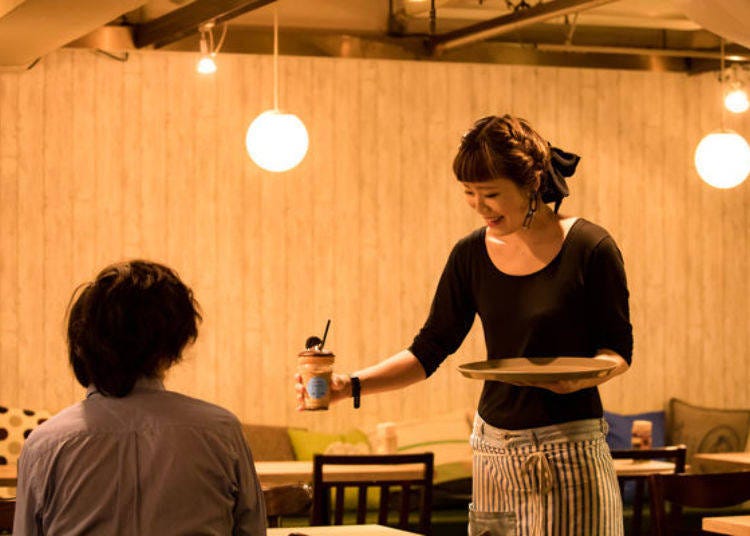 I get straight to the point and order the Kobe cafe's signature drink. "Sorry to keep you waiting! Here is your Mimi Latte Donut."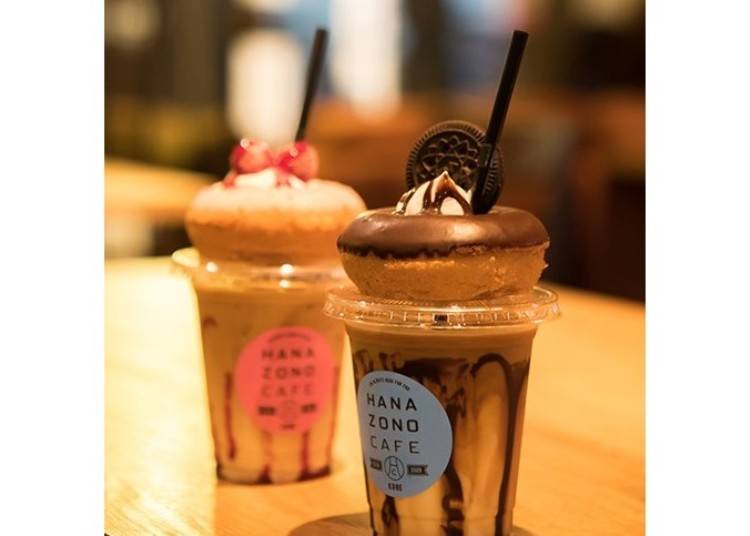 ▲ Mimi Latte Donut (Left: Pink Framboise; Right: Brown Chocolate - 850 yen each, including tax)
How about that for novelty value! What a cute looking drink! Perched on top of the drink is a donut with a straw pushed through it. I can't wait to put this up on Instagram!

Choose from a regular selection of three different flavors - Pink Framboise, Brown Chocolate, or a special which changes every month.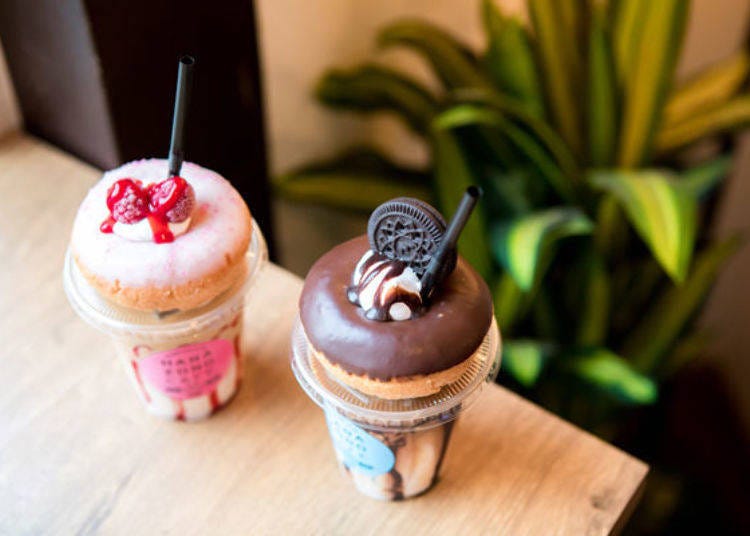 ▲"Mimi" means "cute" in French.
The staff at this cafe in Kobe here are encouraged to come up with their own ideas for additions to the menu. One of the servers here had seen donuts being served with drinks in Taiwan, and this became the inspiration for the Mimi Latte Donut.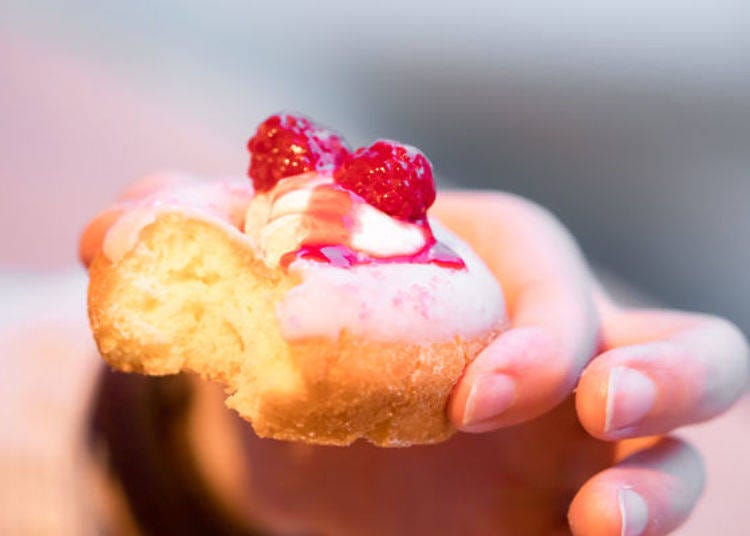 When you eat the donut, remove the straw out and bite in! Then take a sip of the latte mixed with chocolate sauce or framboise to temper the sweetness of the donut. This sets you up nicely for your next bite of the donut. The two complement each other perfectly!
▲ Chouchou Affogato (Photo of Strawberry Milk Flavor: 690 yen, including tax)
Here's another cute-looking treat, the Chouchou Affogato. Girls just love the heart-shaped choux pastry on this dessert.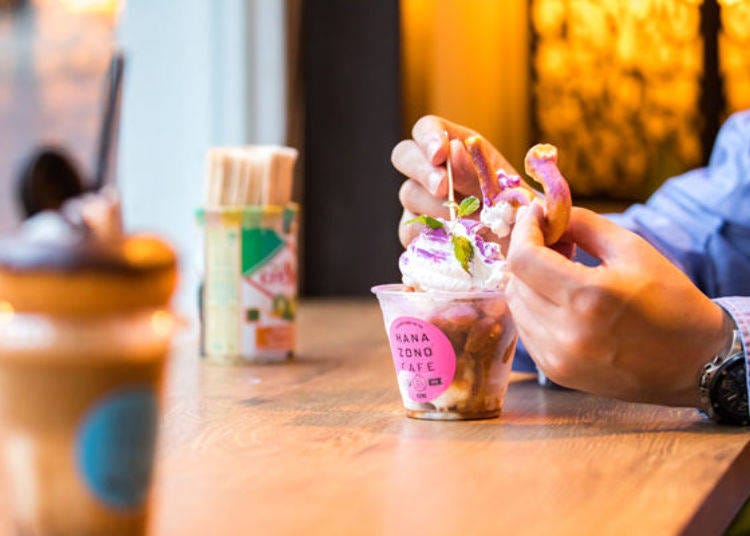 Inside is what looks like a little parfait, made with vanilla ice cream and strawberry sorbet combined with crunchy tea sorbet for an instantly refreshing flavor.

From its appearance, you'd say it was a girls' drink, but boys love it as well because it's refreshing and not too sweet.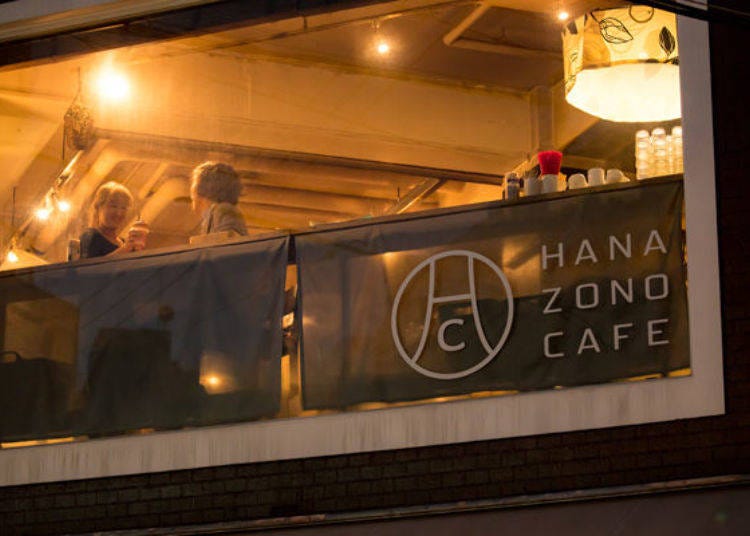 Hanazono Cafe is the perfect place to while away the time chatting with friends and enjoying a delicious sweet treat.

"As you'd expect from a female chef, the menu features some gorgeous looking desserts. We want to create a space where people can relax and feel at home," explains Ms./Mr. Kashiwa, the manager. There are always plenty of female customers here, laughing and smiling together.

There are lots of female staff at this cafe in Kobe as well. It's a fun place to come for women with small children, and there are also good value menu options available for parties and ladies' lunches.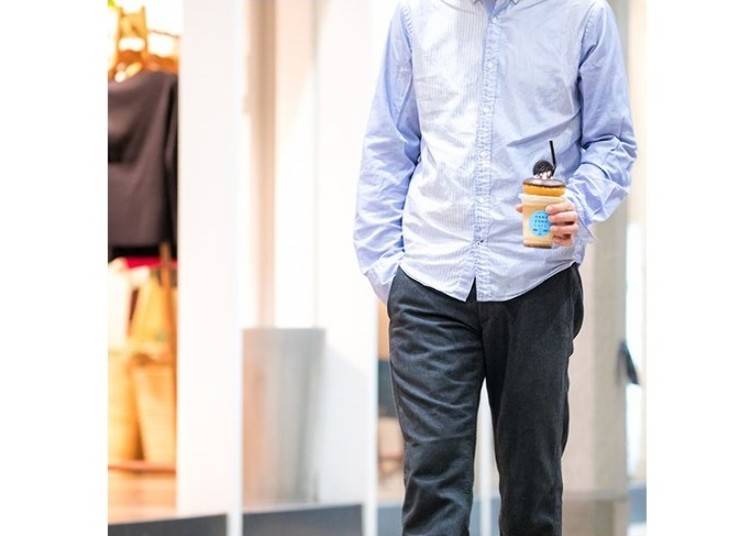 You can order these drinks to take away as well. You'll look pretty cool strolling around Kobe town with a Mimi Latte in hand!
ハナゾノカフェ

Address

Lee Structure Tore West Bldg. 2F, 3-12-3 Kitanagasa-dori chuo-ku, Kobe

Phone Number

078-331-3905

Opening hours: 11:30AM - 9:00 PM (Last orders 8:00PM); open till 11:00Pm on Fridays and Saturdays (Last orders: 10:00PM)
Holidays: Closed for occasional holidays
*Menu is subject to change depending on the season
2. Hysteric Jam: Kobe cafe whose butter crepes are like you've never tasted before!
The next delicious treat we want to tell you about is crepes!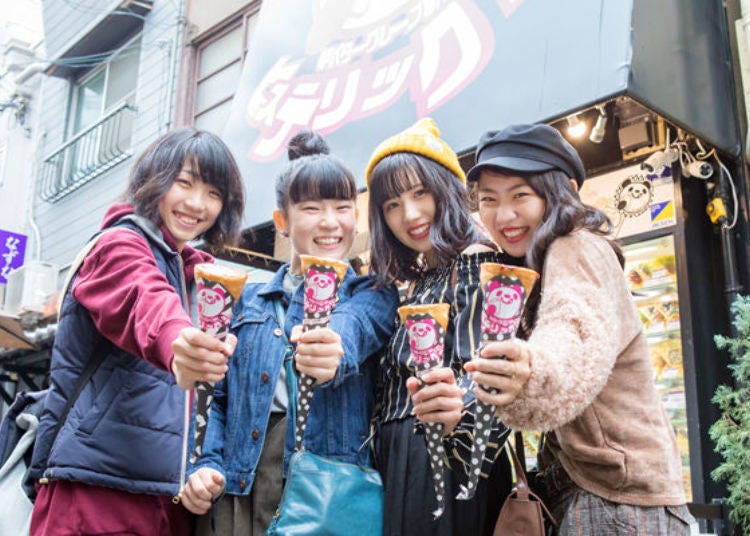 But these aren't just any old crepes! Let's take a look! This Kobe cafe is around 5 minutes' walk south from JR Motomachi Station.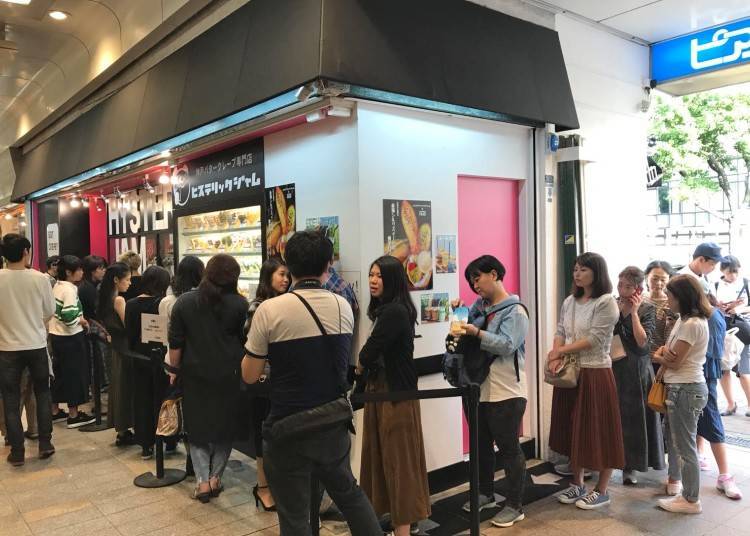 ▲Queueing round the corner!
Hysteric Jam specializes in delicious butter crepes.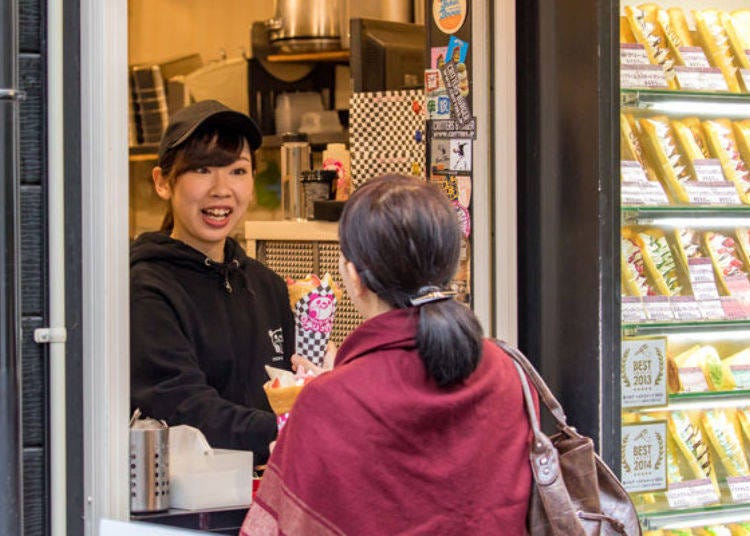 There's a continuous stream of people coming through all day long to buy crepes to go.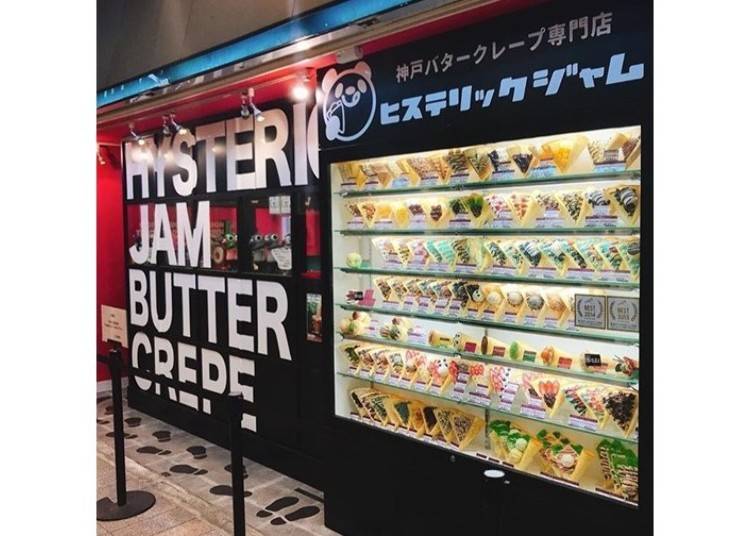 Different varieties of crepes are laid out neatly in the display case. There are so many tasty looking options here, you just won't be able to make up your mind which one to go for.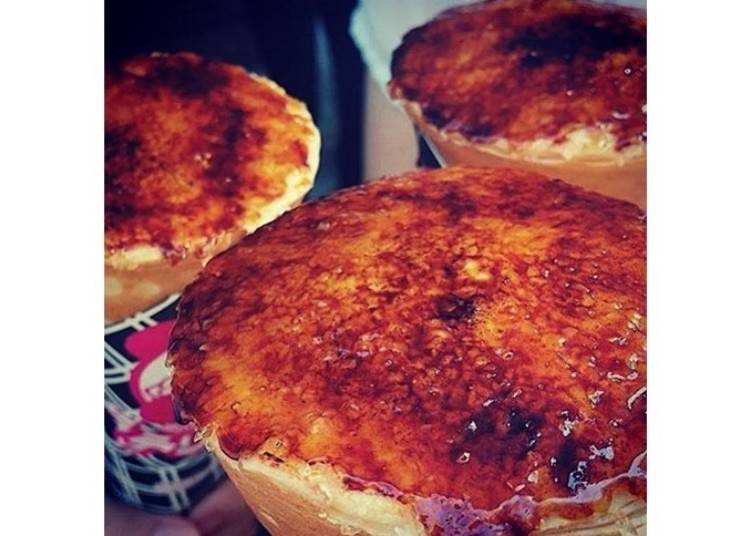 ▲Creme brulee is the most popular crepe on the menu
Let's see what the crème brulee crepe tastes like. It looks so good!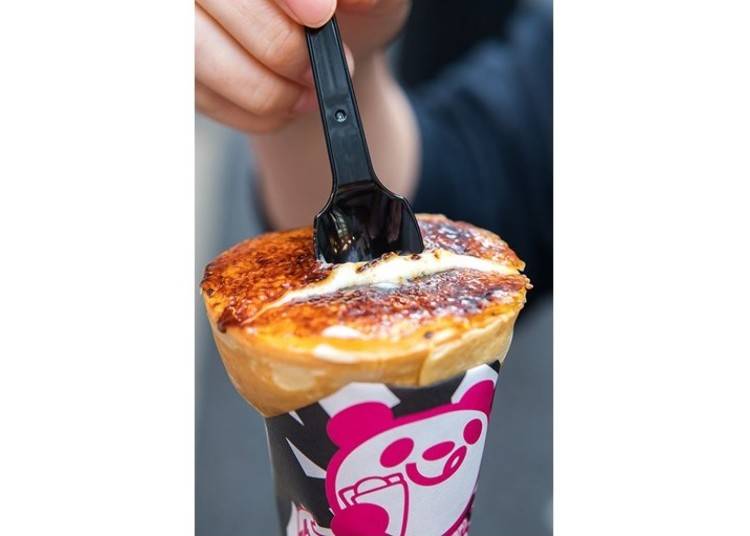 ▲Creme brulee crepe (580 yen, including tax)
Tap on the crispy burned caramel on top with a spoon to break it and then tuck in! As soon as you put your spoon in, the delicious sweet aromas waft up! It smells delicious. Thick cream oozes out slowly from the caramel. The taste is smooth and mellow.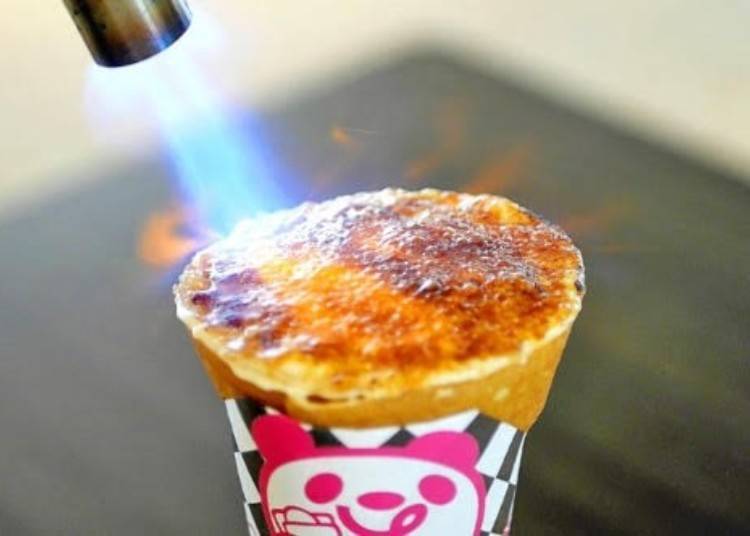 The texture of the actual crepe is amazing. Hysteric Jam uses 100% premium quality Hokkaido milk with full-flavored butter in all its crepes. The top is quickly seared with a blow torch so as not to lose any of its flavor. The texture is divine: crispy, fluffy and meltingly delicious!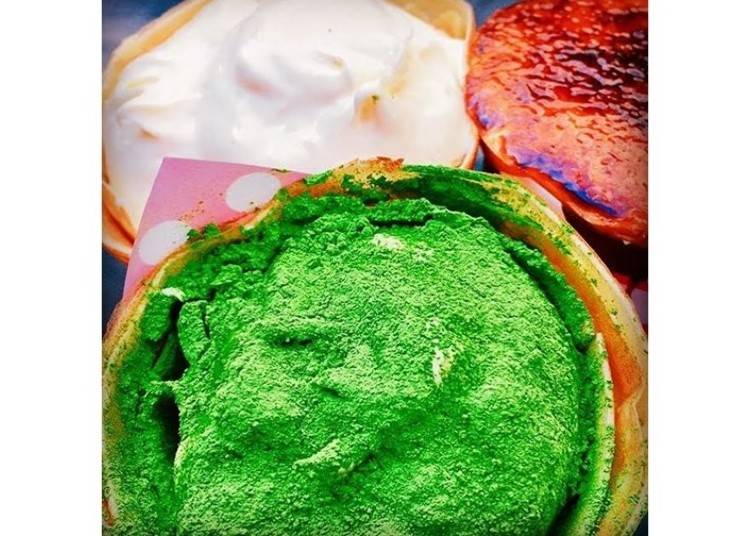 ▲There are so many other wonderful flavors to try!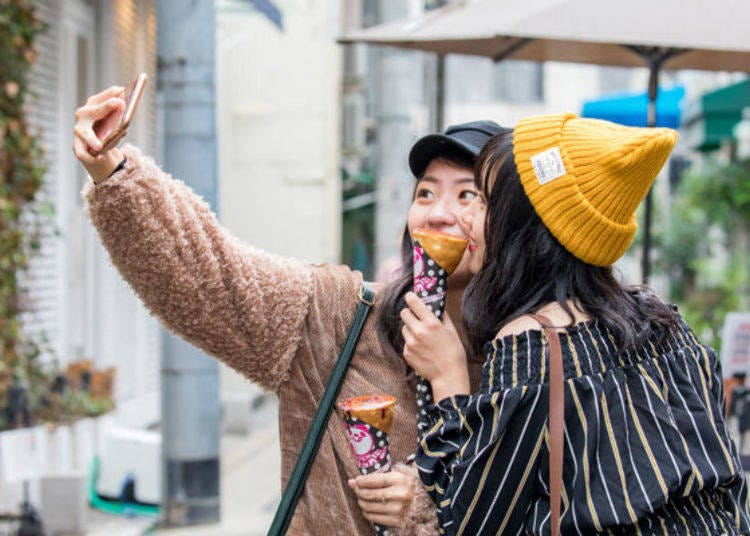 ▲A great place for a selfie!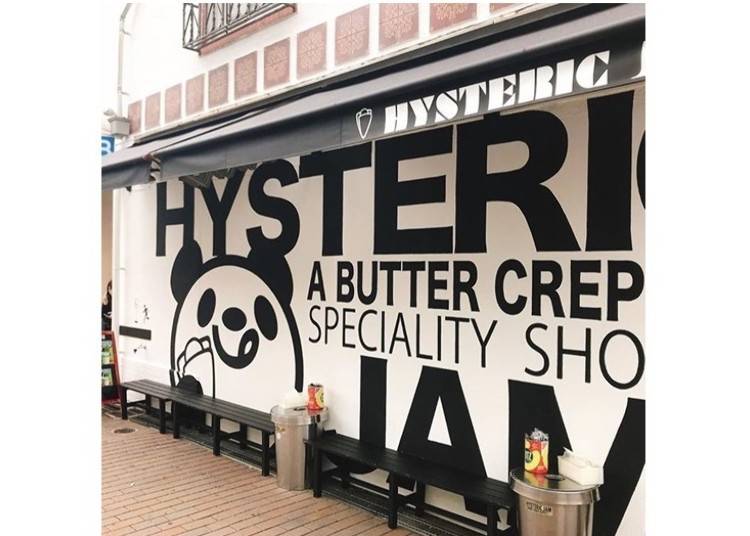 ▲There's also space at the back to sit if you want to eat in. Take a photo of the cute little Panda painted on the wall and there'll be no mistaking where your Instagram is from!
These crepes are so chewy and delicious. Ingredients, interesting combinations and the way the crepes are made. Everything is perfect. You just have to try one!

The name, Hysteric Jam, is a tongue in cheek reference to the fact that eating one of these crepes will make you feel calm and relaxed!
Hysteric Jam Main branch at Motomachi, Kobe

ヒステリックジャム 神戸元町本店

Address

Piazza Kobe 3, Sannomiya Underpass Shopping District, 3-30-77 Kitanagasadori, Chuo Ward, Kobe, Hyogo Prefecture

Phone Number

078-599-5019

Closed: Closed for occasional holidays
3. Patisserie Mont Plus: Beautiful French patisserie that looks like works of art!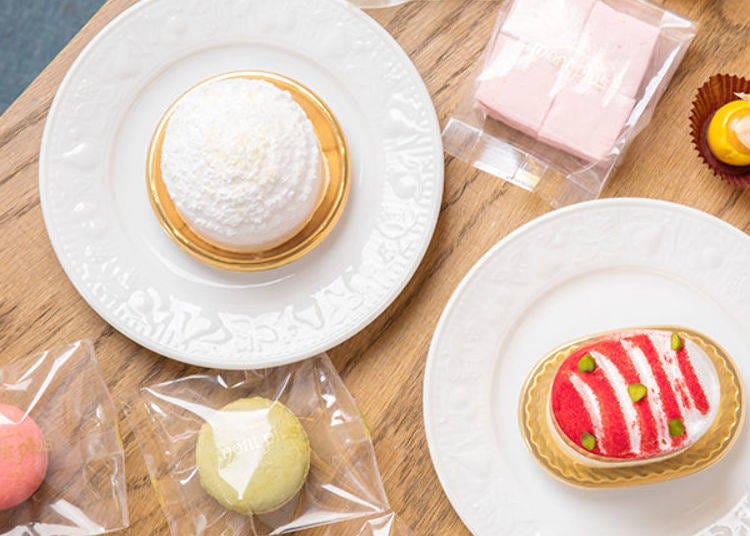 The last place on our list is Patisserie Mont Plus. The cakes here are so gorgeous they look like works of art.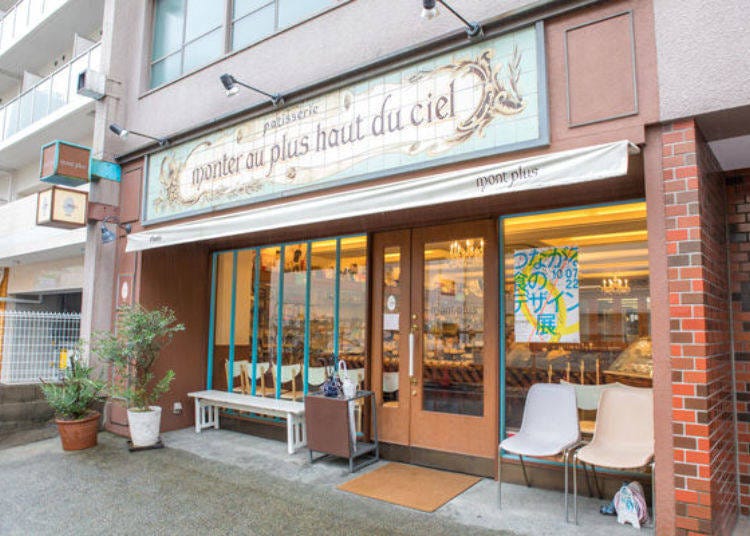 You'll Patisserie Mont Plus if you walk south west from Hysteric Jam. Walk through Ninkinmachi for five minutes or so, and you'll come to a shop with a signboard and chic retro-style brickwork that is reminiscent of a street corner in France.

As you approach you can see cakes and pastries through the glass, and you soon realize that the store is a patisserie. The blue window frames add a pretty touch.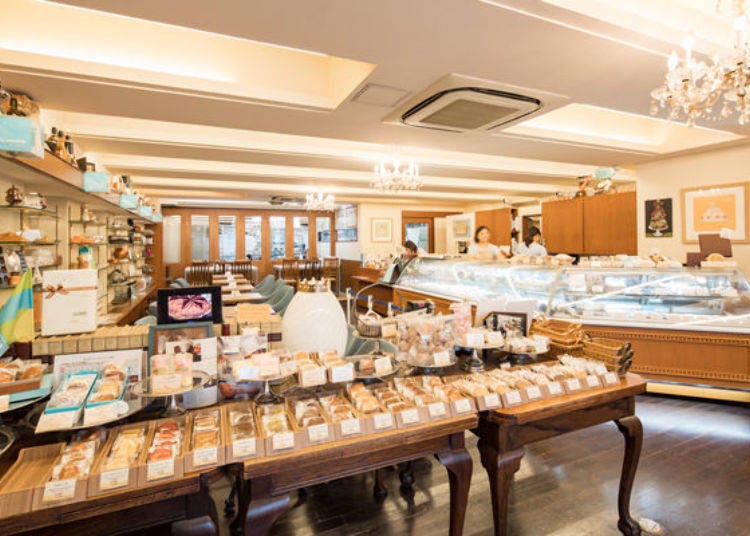 As you enter, the first thing that catches your attention are the bakery items lined up in rows on the table in front of you. It's not just the women who'll be excited by this - the men will love it too! The pretty interior is just what you'd want a Kobe cake shop to look like.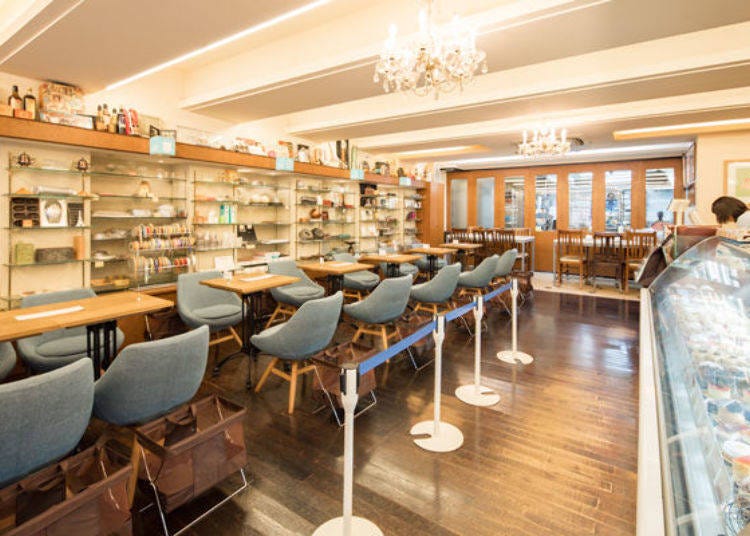 Different adornments line the wall giving this cafe in Kobe the feel of an upmarket variety store. You can feel the love and devotion that has gone into this shop with its friendly relaxed atmosphere.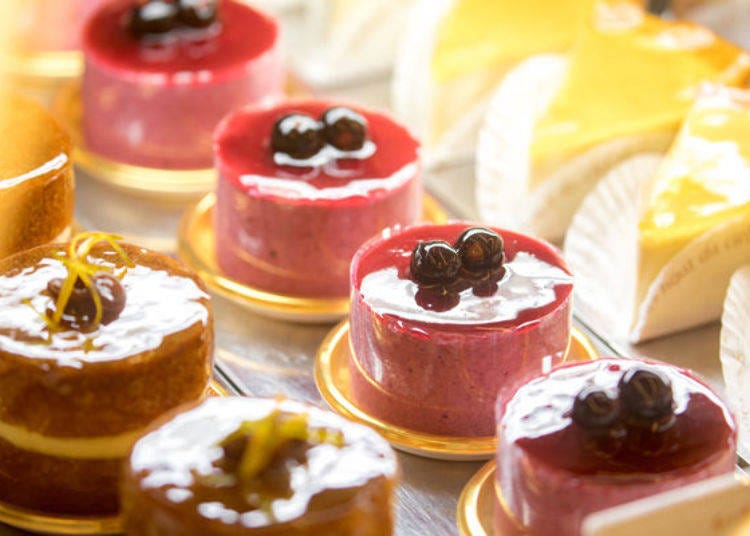 The display cabinet in the middle of the shop contains freshly made beautifully colored cakes, pastries and tarts. Bright and sparkling, it's all so dazzling! A treasure chest of jewels, shining brighter than the twinkling lights of Kobe at night.

At the back of the eat-in area, you can see the master pastry chefs through the glass wall diligently at work making cakes. One of these is the owner of the patisserie, Shuhei Hayashi, a qualified pastry chef.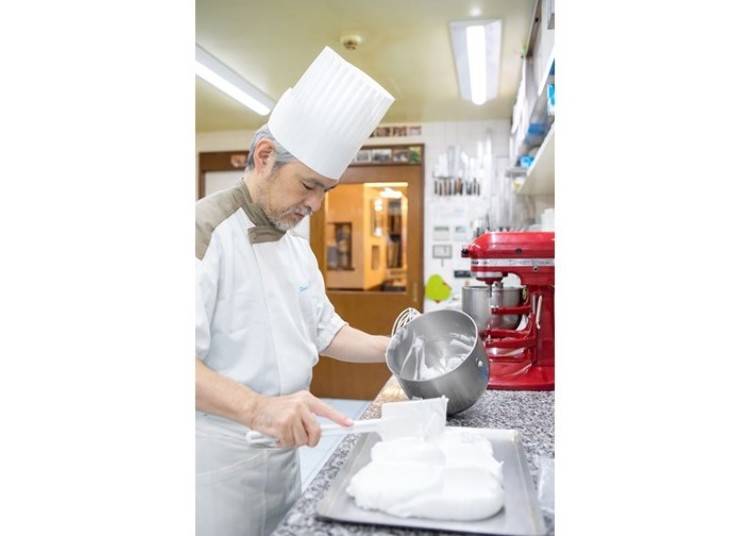 ▲Mr. Hayashi is widely regarded as a meringue magician
Mr. Hayashi tells me, "When we opened this patisserie, there were plenty of cake shops in Japan, but I felt that there was a dearth of authentic French-style patisseries. People tend to think of French cakes and pastries as overly sweet or heavy, but you'd be surprised at how delicate some of these cakes can be, light and subtle on the sweetness. I wanted to introduce people in Japan to the wonders of French patisserie."

Mr. Hayashi started out working in the bread and confectionery section of an Osaka hotel. He then traveled to France in 1989 to study French patisserie. He later returned to Japan and worked as the head patissier at a famous bakery in Kobe before opening his own patisserie in 2005.

His skill and deftness with meringues has earned him the moniker of "meringue magician." His fans come from far and wide to visit the patisserie.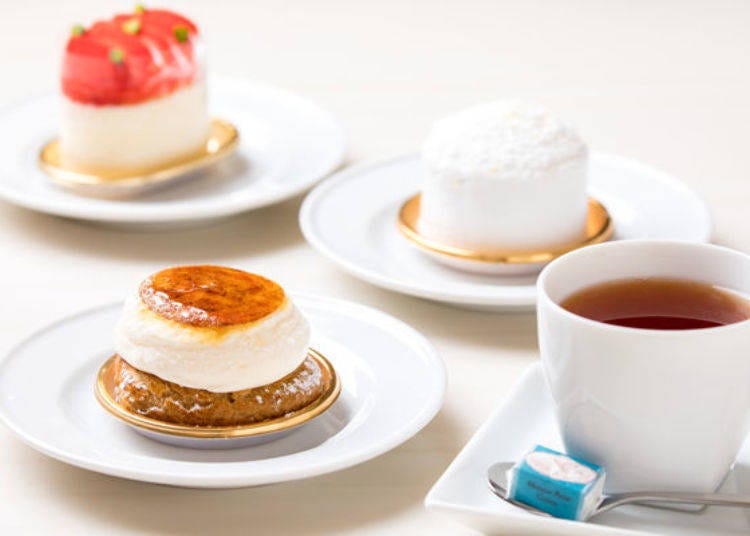 So let's take a look at some of his most creative cakes. They are so beautiful, it's almost a shame to eat them!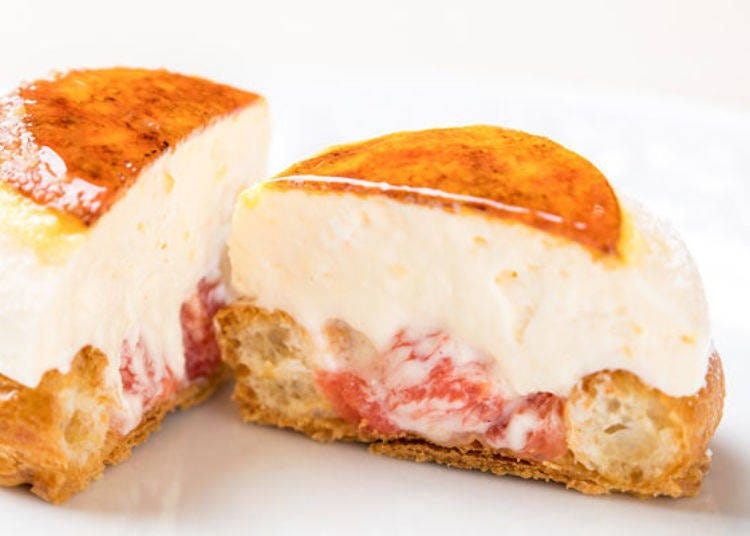 ▲Puits d'Amour (Well of Love) is a classic French pastry (437 yen, tax excluded)
Puits d'Amour is the shop's flagship product. It consists of choux pastry on a pie base with a luxurious mixture of custard and meringue, known as chiboust cream, in the middle.

It's loaded with cream which looks as if it's gushing out from a well! The chef adds pink grapefruit to the cream which brings a refreshing tang to the sweetness of cream. The surface is caramelized, adding a touch or crispness and aroma.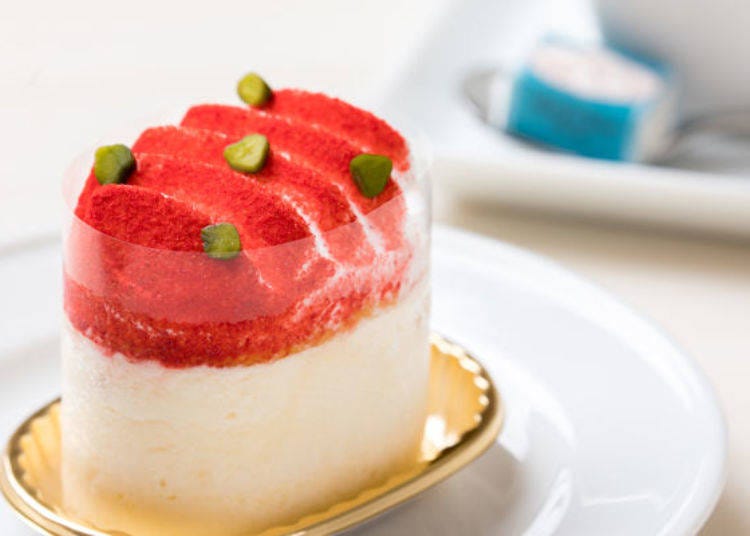 ▲Three: Cute, feminine and very Instagrammable! (466 yen, excluding tax)
Three is a cake made of white wine mousse with a mixture of pineapple, white peach and strawberry, sandwiched between two types of biscuit. You'll be blown away by the delicious contrast between the cold creamy mousse and the warm meringue. It's the kind of cake you might find at the Mad Hatter's tea party in Alice in Wonderland.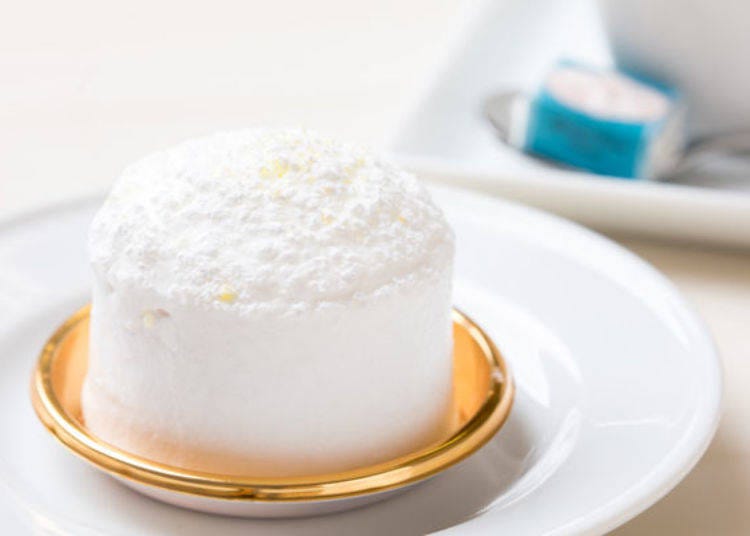 ▲Valencia: Enveloped in fluffy, pure meringue (476 yen, excluding tax)
Valencia is a unique kind of cake which is baked at Christmas time in France. It is made of dough with almonds kneaded into it and orange mousse, and is surrounded by fluffy white meringue. When he was training in France, Mr. Hayashi once ended up eating six portions of this on his own because it tasted so good!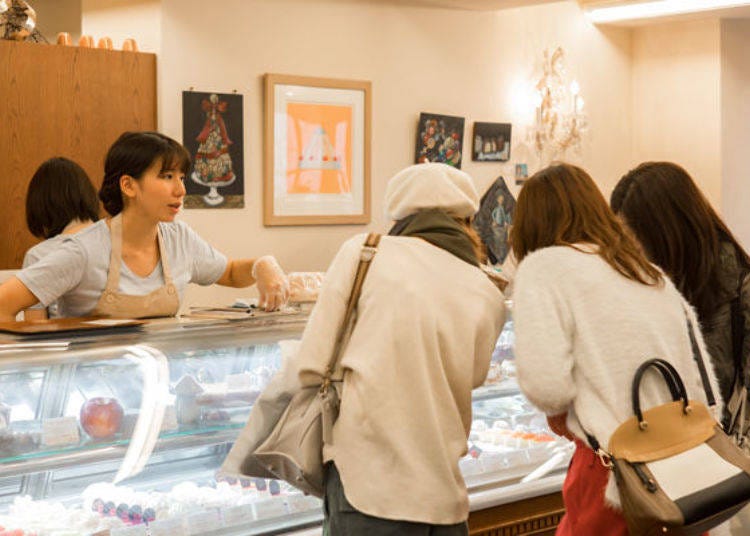 In spite of the rain today, as soon as it opens the shop fills up with customers who have come to sample Mr. Hayashi's ingenious creations.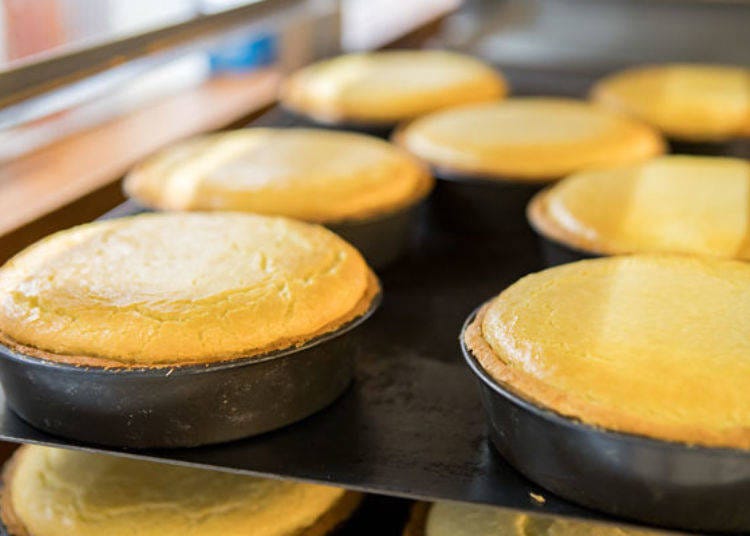 You can either eat in or buy your cake to take out. We've heard that Patisserie Mont Plus now also runs pastry making classes. They're very popular because Mr. Hayashi teaches these himself.

In the future, he wants to expand the menu to include fermented cakes, ice cream and candy. If you come to Kobe, make sure you visit Patisserie Mont Plus!
パティスリー モンプリュ

Address

3-1-17 Kaigandori, Chuo Ward, Kobe, Hyogo Prefecture

Phone Number

078-321-1048

Opening hours: 10:00AM - 7:00PM (Last orders: 6:00PM)
Closed: Tuesday, third Wednesday of the month (If this day is a holiday, the store will be open and will be closed on the following day); end of year/New Year holiday
All the drinks and cakes we've talked about today are a feast for the eyes as well as your tastebuds! If you're sightseeing in Kobe, do make an effort to stop by one or more of these cafes in Kobe and upload a few photos on Instagram!
Text by:Advision
*This information is from the time of this article's publication.
*Prices and options mentioned are subject to change.
*Unless stated otherwise, all prices include tax.