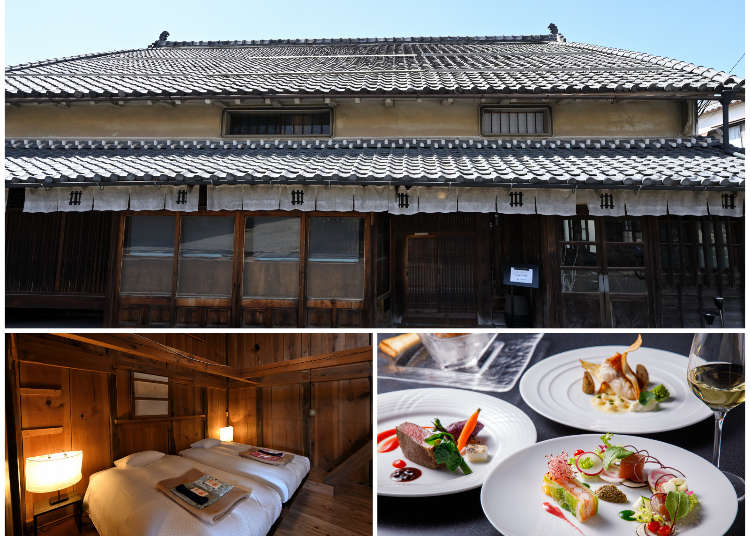 Tamba-Sasayama is a city in Hyogo Prefecture, just an hour away by train or car from Osaka and Kobe. It is a charming castle town with Edo Period vibes centered around Sasayama Castle, and dotted by chic restaurants and shops renovated from 100-year-old merchant houses.

Another big part of Tamba-Sasayama is Sasayama Castle Town Hotel NIPPONIA, who have transformed much of the town into accommodation by tactfully renovating old folkhomes into hotels. While preserving the original look from the Edo to early Showa periods, they have crafted comfortable, stylish spaces attracting adventurous travelers from across the globe. The ONAE building, which serves as reception, also has a French restaurant boasting dishes of local Tamba ingredients like black soybeans and chestnuts.

In this article, we'll show you how to spend a night in the elegant castle town of Tamba-Sasayama, so that you can fully enjoy the historical landscape while tucking into delicious regional delicacies!
Tamba-Sasayama: A City Inspired by Kyoto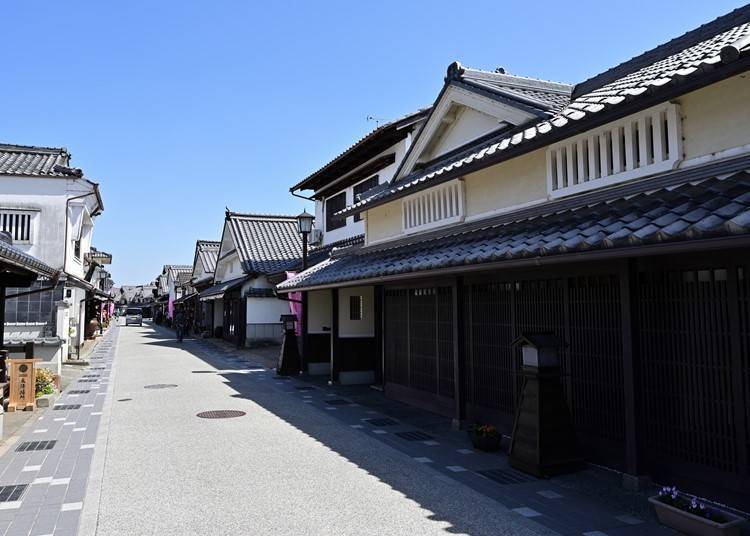 Tamba-Sasayama is located in central-eastern Hyogo Prefecture, right next to Kyoto Prefecture. Because of this, it flourished long ago as an important waypoint leading to Kyoto, and received strong cultural and architectural influence from the ancient capital. The ruins of Sasayama Castle, built by order of Tokugawa Ieyasu in 1609, alongside part of the surrounding castle town, still retain their original Edo Period appearance. Many of the buildings and sights across the area are protected as part of Preservation Districts for Groups of Traditional Buildings and Tangible Cultural Properties of Japan, and the city is also included in the list of 100 Beautiful Historical Landscapes of Japan and Japan Heritages.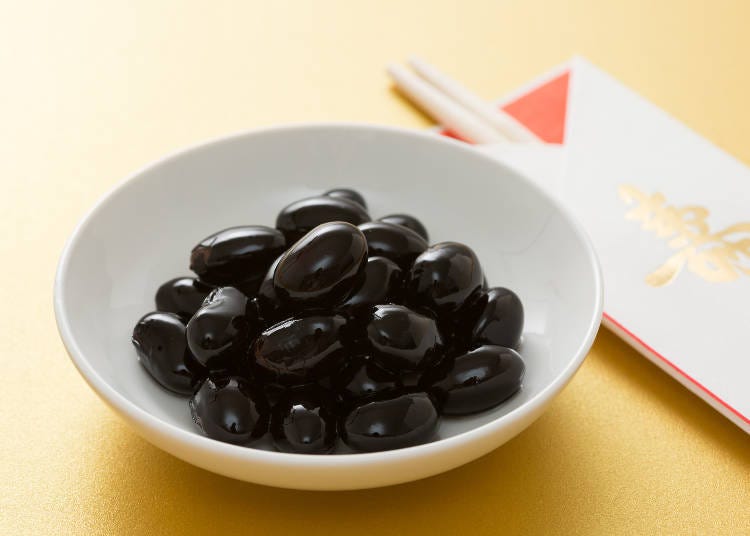 (Image: PIXTA)
Tamba-Sasayama is also famous for its black soybeans, chestnuts, and "botan nabe" boar meat hotpot. Exquisite, high-quality traditional Japanese confections are also made in the area, owing to the influence of Kyoto and the development of the tea ceremony, which was popular with samurai. The local porcelain, called Ojiyama-yaki, has also been gaining attention in recent years. It was originally only produced for around 50 years between the Edo and Meiji periods, but has enjoyed a resurgence 100 years later, adored for its distinctive greenish hue and ridged patterns. Around a 30-minute drive from the castle town is a pottery village that produces Tamba ware, recognized as one of Japan's Six Ancient Kilns, which is also a must-visit.
Sasayama Castle Town Hotel NIPPONIA - An Entire Castle Town Turned Into Accommodation!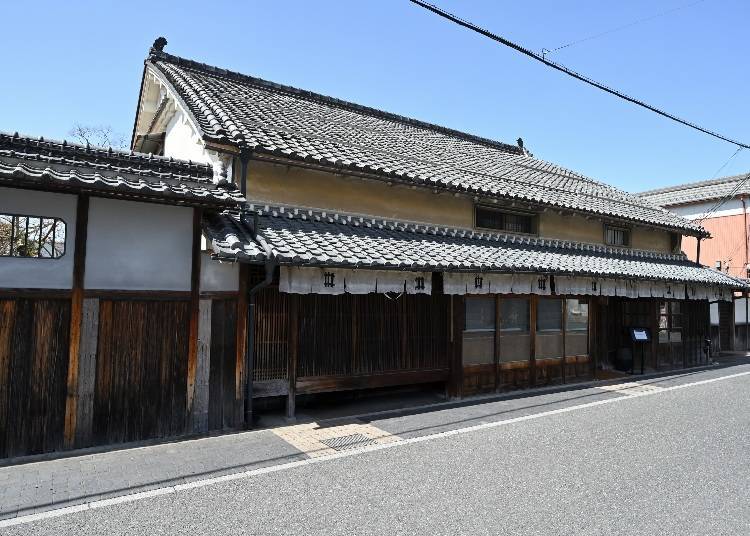 NIPPONIA is a hotel company that aims to restore old folk homes and historical buildings, which are rapidly disappearing in Japan, and reuse them as accommodation intertwined with the preserved history and scenery of the area, allowing guests to experience the ancient landscapes of Japan.

They started in 2009 with the renovation of a 150-year-old folk home in the Shuuraku Maruyama district of Tamba-Sasayama, and are currently expanding across all of Japan.

In this article, we'll be introducing NIPPONIA Sasayama Castle Town, which is located in a residential district of the city.

Eight buildings have been renovated within the area as of May 2023, making it feel as if the entire castle town is part of a hotel. Each building has its own character revealing its history to visitors, tastefully reformed to keep the original atmosphere intact, based on the concept of "returning a building to its peak charm and appearance."

English and Chinese-speaking staff are available, and staff who can only speak Japanese are equipped with translation tools. They are all eager to answer questions and ensure guests a remarkable experience. While most guests are Japanese, the number of international visitors is increasing, with more and more foreign travelers seeking out authentic, off-road Japanese experiences like these.
Getting to NIPPONIA Sasayama from Osaka
From Osaka Station: Take the Tambaji-Rapid on the JR Fukuchiyama Line from JR Osaka Station to Sasayamaguchi Station (approx. 70 min.).
From Sasayamaguchi Station: Take the Shinki Green Bus and get off at the Sasayama Honcho bus stop, and walk for two minutes.
By NIPPONIA Shuttle Bus: NIPPONIA also operates a free shuttle bus service to and from Sasayamaguchi Station (reservations required at least one day in advance).

Station pick-up:

2:30 pm/4:30 pm.

Station drop-off:

10:15 am/2:00 pm.
Recommended rail passes: JR Pass for Whole Japan, JR WEST All Area Pass, JR Osaka-Tokyo Hokuriku Arch Pass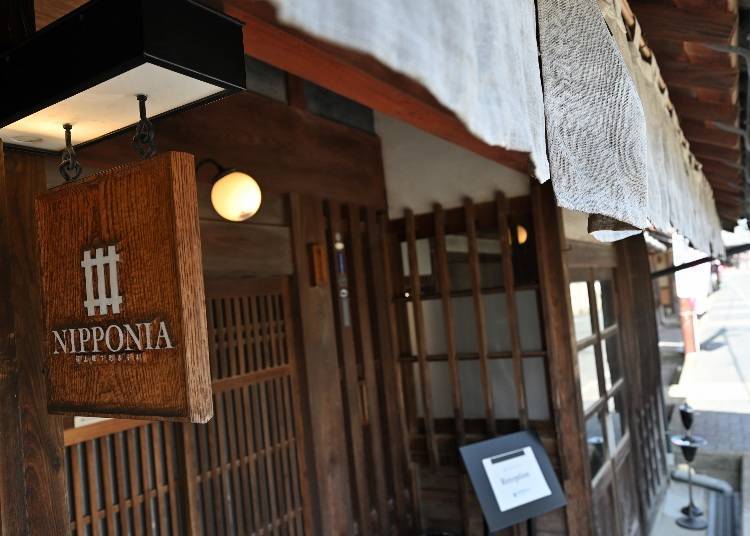 After arriving in Tamba-Sasayama, we headed to ONAE, NIPPONIA's main reception building. It sits on a corner of the historical streetscape of Nishimachi, located northwest of Sasayama Castle.

Inside is the hotel's front desk, where you'll check in, along with the restaurant LE UN, which serves breakfast, lunch, and dinner (in-room check-out is available).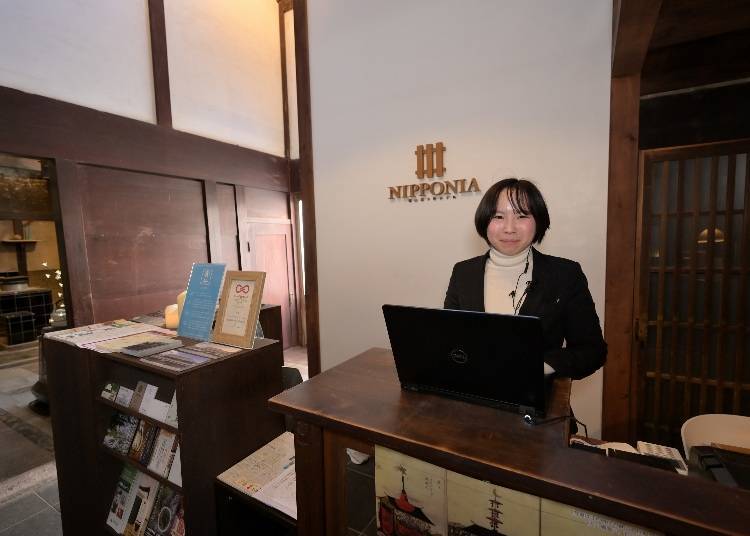 As soon as we entered the building, the rich scent of old wooden architecture filled our senses. As per traditional Japanese design, there was a "doma" space where you can walk in the building with shoes, from where the staff at reception welcomed us with a smile.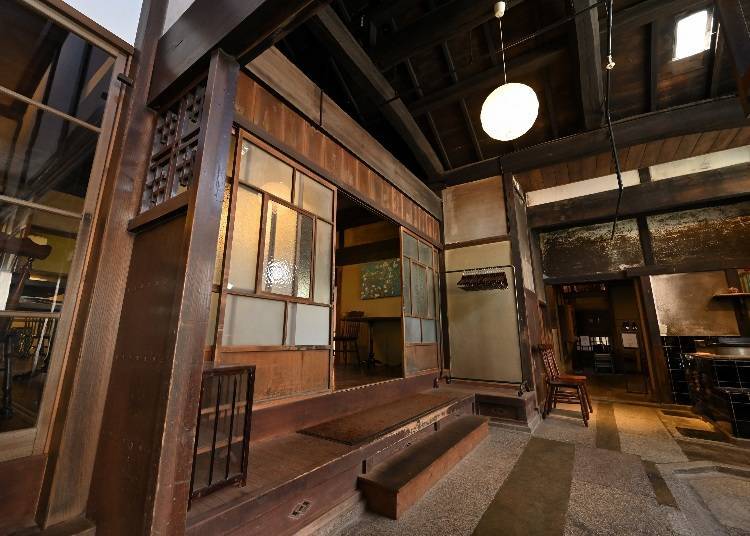 The building was originally constructed in the Meiji Period (1868-1912) and was the home of the Higuchi Family, who ran a bank. It boasts a sturdy design utilizing the incredible building techniques of the time and was clearly well looked after by the family.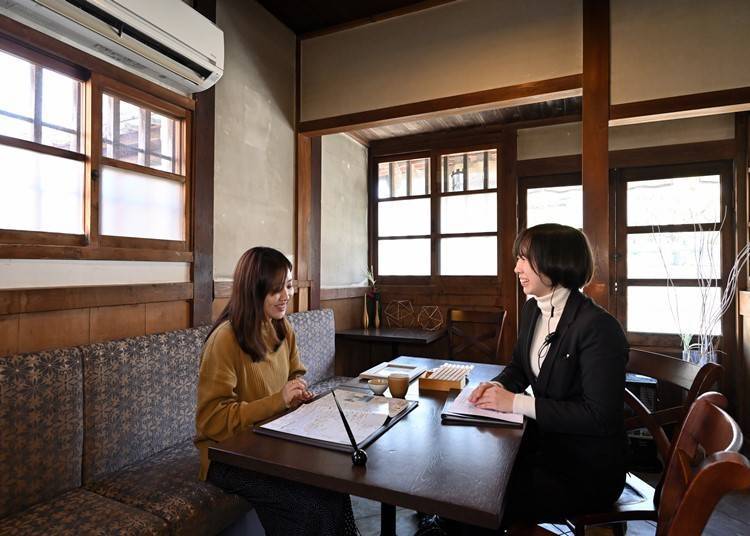 Immediately to the right of the entrance is a spacious waiting room. After greeting the staff at the front desk, they will guide you here to begin the check-in procedures.
As the staff take your details, you can unwind with a cup of Tamba-Sasayama tea or black soybean tea, both specialties of the region. The hotel also provides ample amenities, like lotion made with ingredients used for sake brewing, earplugs, and more. You can freely bring whatever necessary back to your room.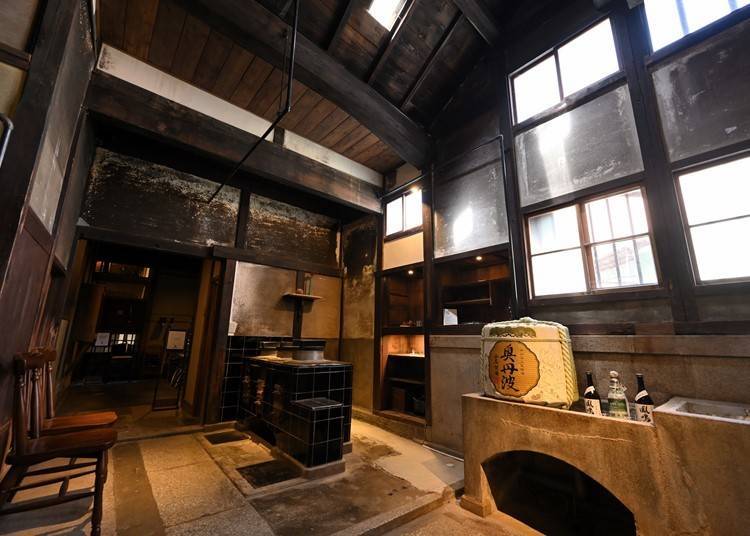 The shared space features an antique "kamado" stove, which was once used for cooking, alongside other kitchen facilities left as is, showcasing daily life in traditional Japan.
The courtyard, which faces the dining room, flaunts a Japanese-style garden with gorgeous ever-changing seasonal greenery.
Must-See #1: The Japanese-Style Guestroom Renovated From an Old Warehouse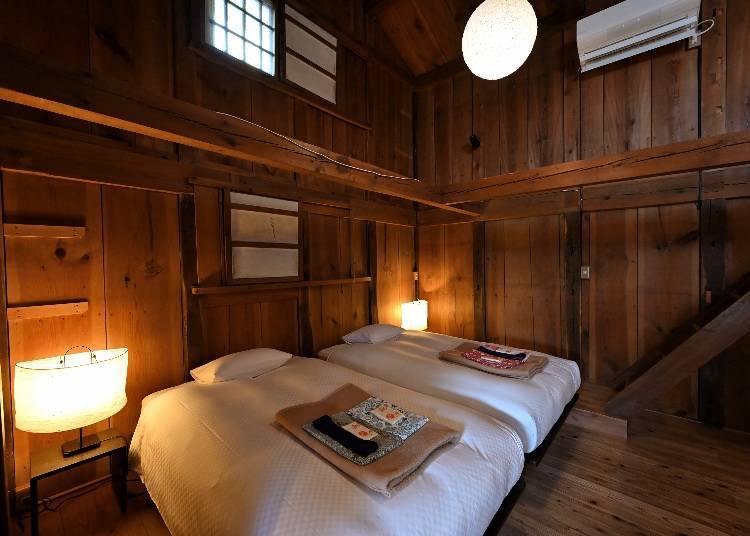 Room 102, conveniently located in ONAE, is made from a renovated "kura" warehouse. It was once used to store items of all kinds, and has been respectfully redesigned with a chic and comfortable interior. Its quiet, relaxing environment and spacious maisonette layout is ideal for families and groups.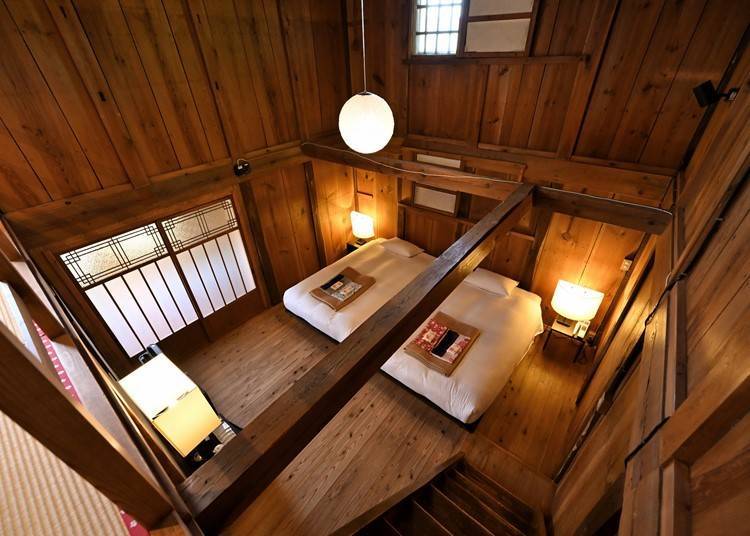 Ample soft sunlight flows in from the tall windows, while the lighting casts a dreamy glow over the wooden walls. The open floorplan exudes a liberating airiness, all contributing to a thoroughly pleasant, satisfying stay.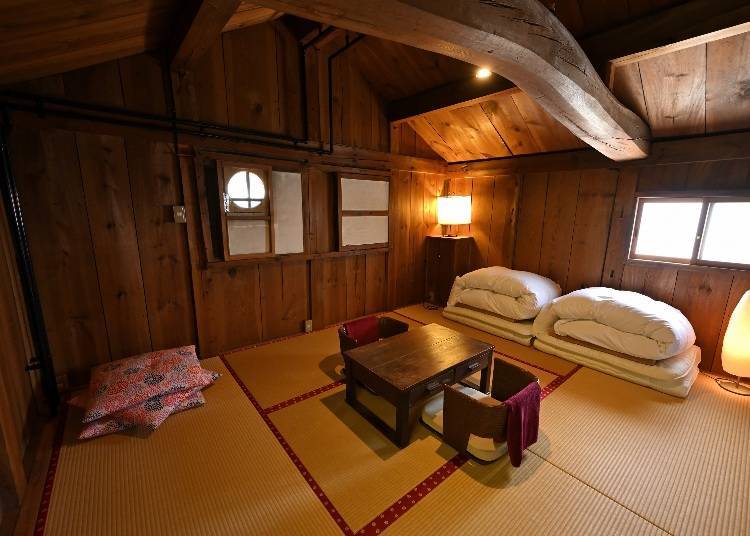 The 2nd floor tatami-matted room is like a cozy, snug attic, and allows you to see the thick "hari" beams up close, which support the entire structure. Each room in ONAE has a similarly unique design, granting a fresh experience with each visit.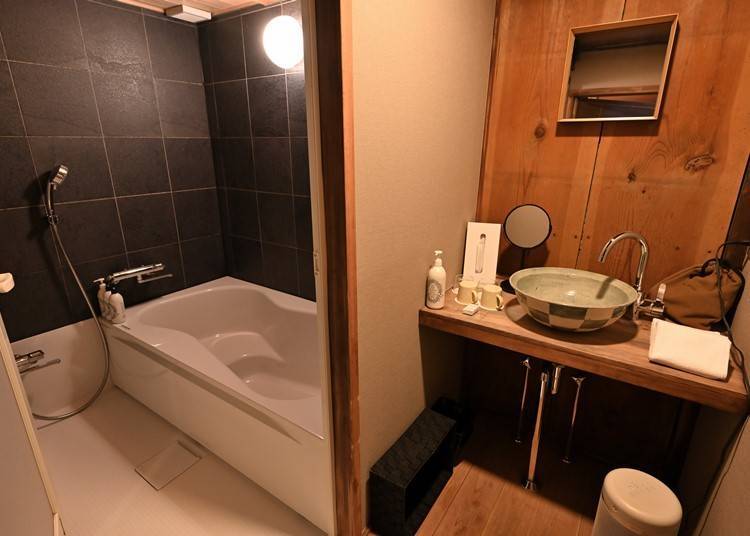 The sink bowl is fashioned from Tamba ware pottery, a traditional craft of the region, and are each hand-made by specialist artisans to have their own look. Rooms lack TVs and clocks, encouraging guests to let go of their hectic everyday lives to fully relax.
Must-See #2: The Private Hotel YOMENA, Built On an Old Shopping Street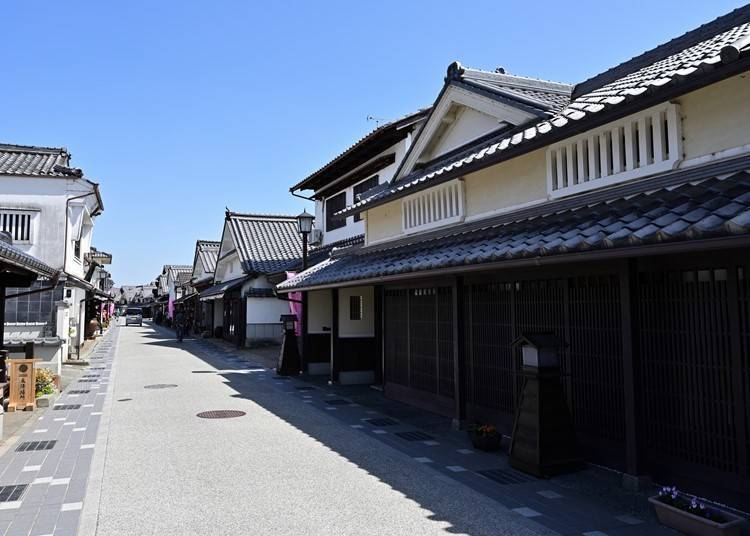 YOMENA sits on the Kawaramachi Tsumairi Merchant Housing District, an old shopping street that remains to this day. Machiya-style townhouses line the roughly 600-meter street, with rows of chic restaurants and shops utilizing the old buildings to fill it with life.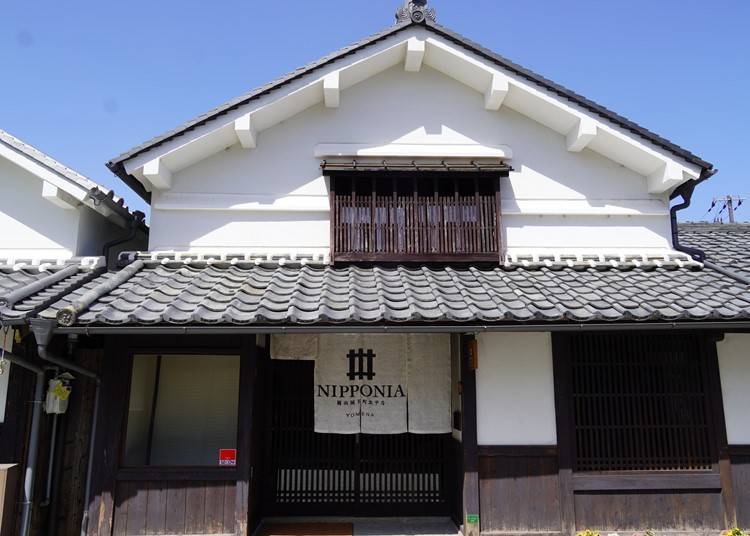 YOMENA is a private accommodation building renovated from a merchant house, originally built over 100 years ago. While the front appears narrow, the interior is long and deep, which is typical of "tsumairi" architecture, making it feel like a hidden base!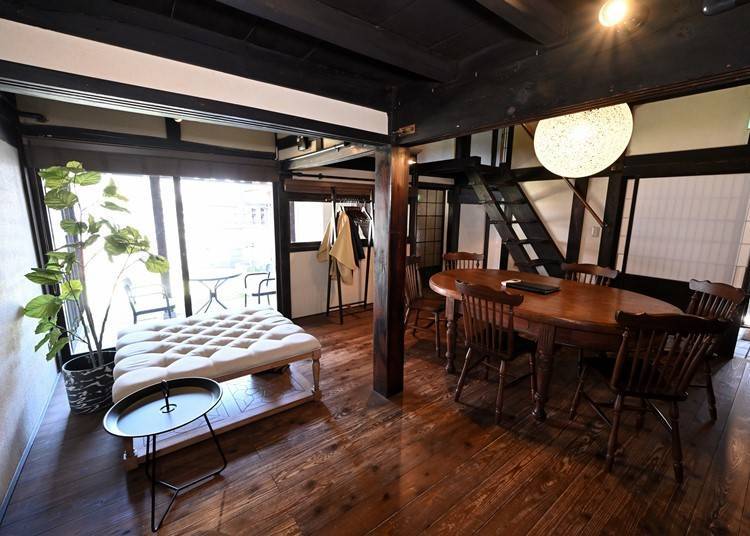 The 1st floor holds a set of spacious connecting living rooms, while the 2nd has two bedrooms with two sets of beds. Up to four guests can stay here, so it's suitable for families and groups of friends.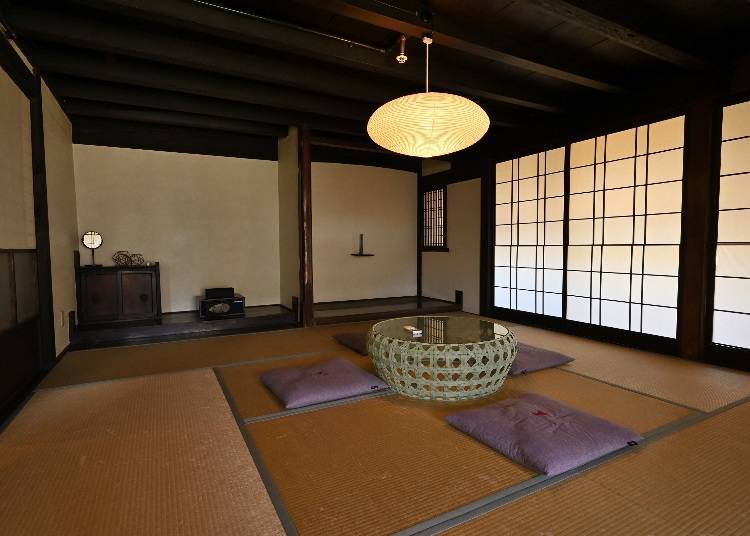 This is the "zashiki" tatami room at the back of the 1st floor, where guests can laze around and nap. It's also a great space for babies and small children.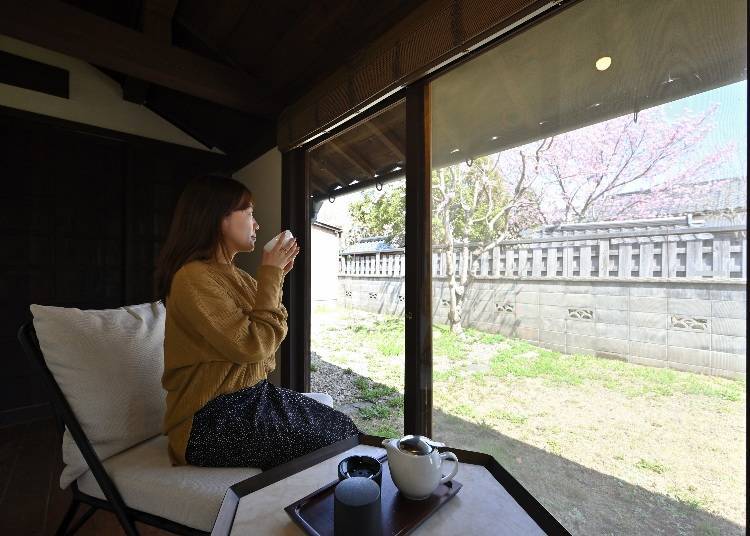 On the "engawa" corridor are tables and chairs, letting you sit down and gaze upon the garden. Open the window for a breath of fresh air, then venture outside to stretch your body. During our visit, we were lucky enough to be greeted by beautiful cherry blossoms.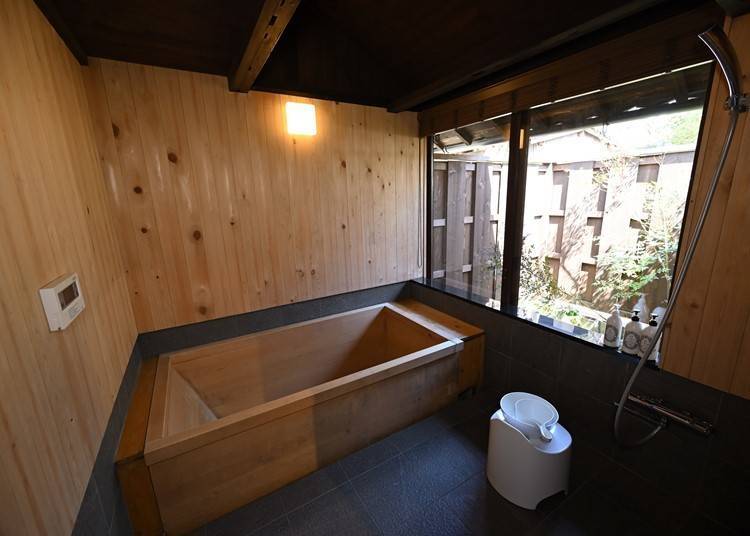 The 1st floor bathroom has a bathtub made of "hinoki" cypress wood, big enough to fully stretch out in and relax. While there is also a shower, nothing beats taking a nice long bath while on holiday, and the wooden aromas are sure to coax you into a state of utter bliss.
Near the entrance is a remodeled antique Japanese-style "Goemon" bath on display, which was originally used by the owners, and illustrates how Japanese people used to bathe in the past.
Must-See #3: Feel the Atmosphere of a 200-Year-Old Merchant House at SAWASIRO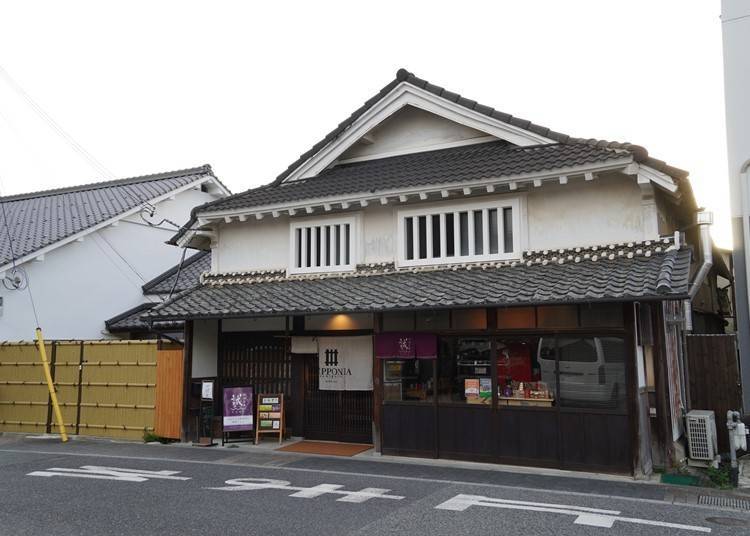 SAWASIRO is a building from the late Edo Period (1750-1850), which served as both a teahouse and residence. The 1st floor now hosts a specialist coffee bean store, which sells takeout coffee freshly brewed from their original blend, which you can sip on in the peace and quiet of your room.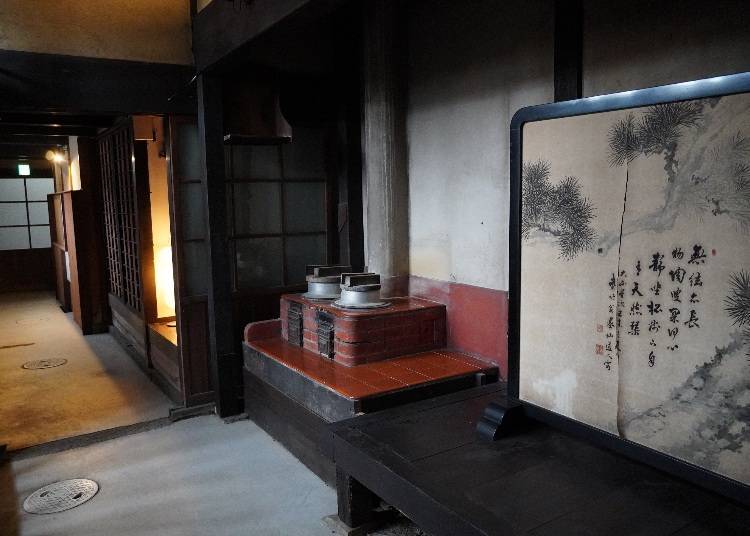 Near the entrance is another antique kamado stove on display.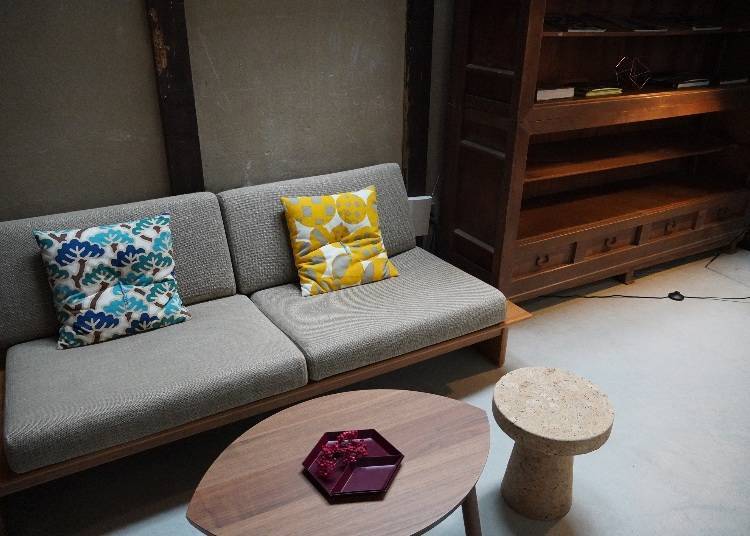 Sit on the sofa on the "doma" in the shared space, and let yourself be enveloped by the rustic, warm tones of this old merchant house.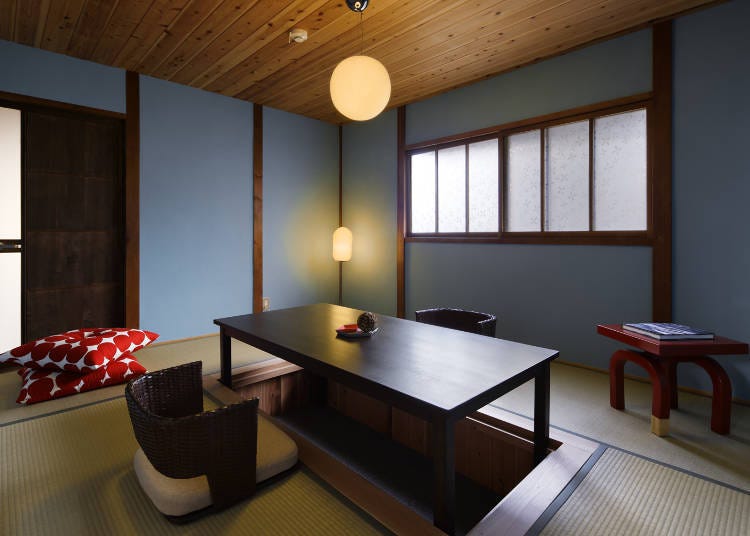 Each guestroom presents a unique design, like the maisonette-style Room 203, which has a striking blue wall with two beds in its Japanese-style room just off from the 1st-floor doma space.

Its 2nd-floor tatami room also has a sunken "kotatsu" table heater, letting guests stretch their legs while sitting and enjoying the warmth. With a generous 61 m² of space, it'll feel like a home away from home.

In addition to the buildings introduced above, there is also NOZI, SYOUZI-AN, NOKON, KAWARANO, and YAMAZINO, each boasting its own one-of-a-kind guestrooms.

Incidentally, the name of ONAE, the reception building, comes from a type of chrysanthemum unique to Tamba-Sasayama, which has been grown since the Edo Period.

Each building likewise has its own chrysanthemum name, which is a flower that holds great significance in Japan. With a sizable assortment of different guestrooms, if you mention your situation and requests when booking, the staff will gladly assist in finding you a suitable room.
French Cuisine With Tamba-Sasayama Ingredients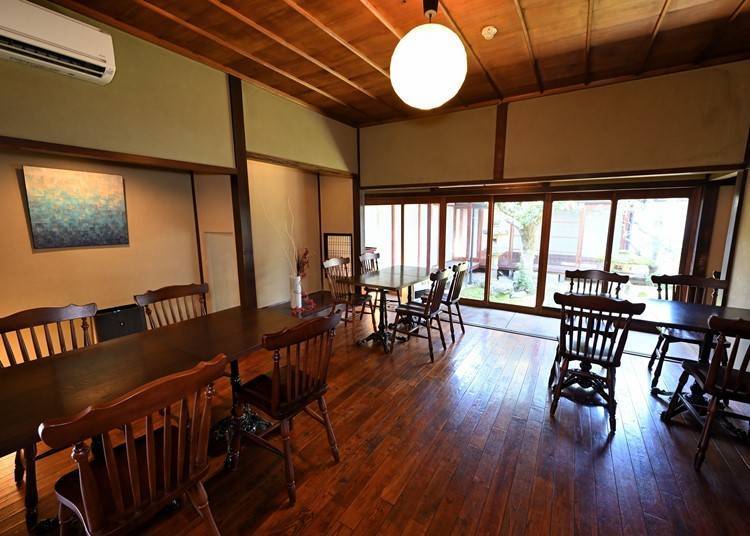 Guests can enjoy breakfast, lunch, or dinner at the French restaurant LE UN, which is also located in ONAE. The spacious dining room faces the courtyard garden, and is fitted with traditional Japanese furnishings, promising a calming space to eat in peace.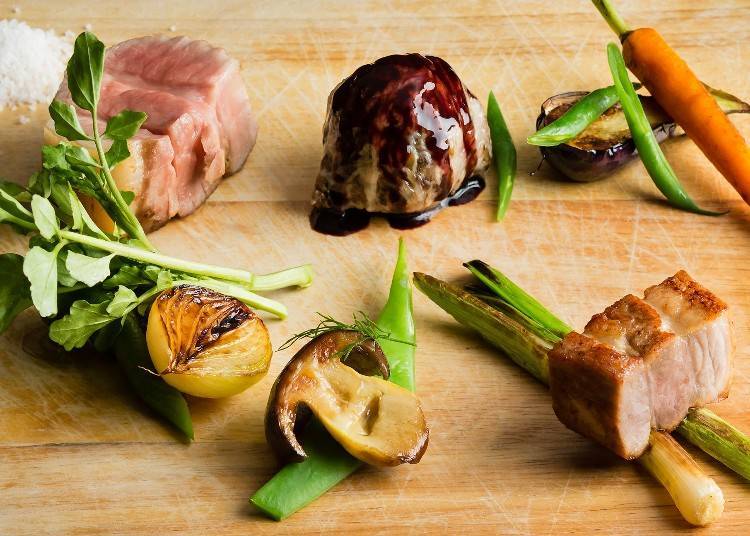 The cooking is based around creative French cuisine made with Tamba-Sasayama ingredients and incorporating Japanese condiments like miso.

The chef, who trained at the La Grande Maison in Switzerland, uses his skills to bring local delicacies like Tajima wagyu, black soybeans, Japanese yams, and more, to their maximum potential, all at peak seasonal freshness.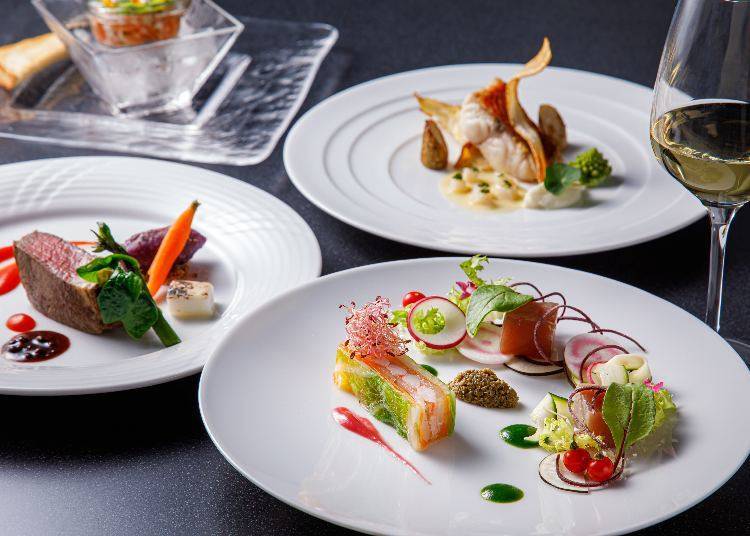 With such painstakingly selected and prepared ingredients, both the flavors and appearance of each dish are remarkable, making the experience even more memorable.

Those staying in NIPPONIA rooms outside of ONAE can also make use of a free shuttle service bringing you to the restaurant from your accommodation. However, as SAWASIRO is very close to ONAE, this service is not provided for guests staying there.

(*Dishes change depending on the season. Photos are for illustrative purposes.)
(*Lunch and dinner can be enjoyed without reservations depending on how busy the restaurant is, however, making a reservation in advance is recommended.)
Seasonal Activities Just For NIPPONIA Guests
NIPPONIA also runs guest-only festival experiences for an additional fee, which need to be booked in advance (may not run depending on the situation).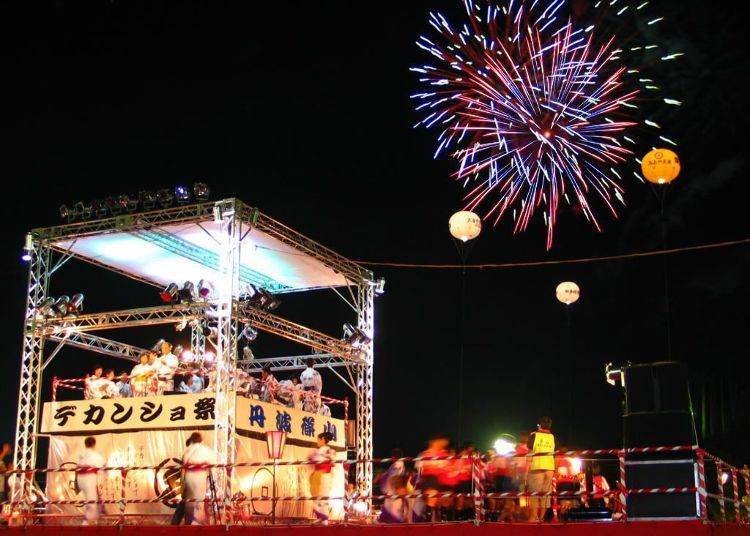 The Dekansho-Bushi is a Tamba-Sasayama folk song that has been sung since the Edo Period, and is a registered Japan Heritage and Intangible Cultural Property of Tamba-Sasayama. It sings of the natural features, people, famous places, and local specialties of each era, and the lyrics now number 300.

The traditional dance festival that accompanies the Dekansho-Bushi is called the Dekansho Matsuri, which is held for two days each August.

Locals and visitors from across Japan come to dance around a "yagura" set up in Sasayama Castle's San-no-Maru square. There are around 70,000 participants, filling the streets with fervent energy, and guests of NIPPONIA can experience its history and culture first-hand on a special program.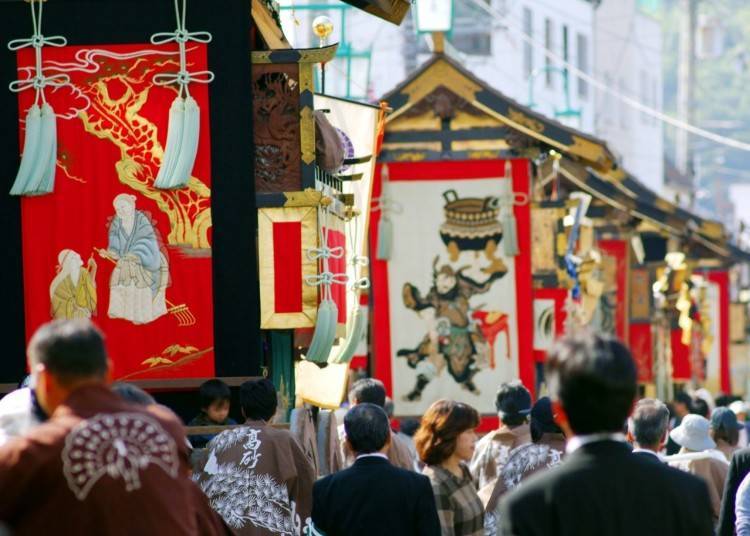 Guests can also experience pulling parade floats at the Autumn Festival of Kasuga Shrine, held in October. This is one of the three big festivals of Tamba-Sasayama, and it boasts a history of more than 350 years.

Seeing the lively streets and magnificently colored "mikoshi" portable shrines being paraded is sure to stir the soul. Participation is first-come-first-served, so make sure to inquire well in advance.

Even just wandering the streets of Tamba-Sasayama will give you a profound sense of history. And by staying at NIPPONIA, you'll directly encounter the lifestyles of those from the Edo to early Showa periods, promising an authentic experience irresistible to history buffs.

The food is also a highlight, with lavish dishes filled with seasonal ingredients, like mountain vegetables in spring, tea in summer, chestnuts and black soybeans in autumn, and wild game meat and Japanese yams in winter. Those seeking out lesser-known, offbeat accommodation in Japan will find it at NIPPONIA in Tamba-Sasayama!
Hotel Information
Guestroom Fixtures:

Bed / Bathroom / High-speed internet access (WiFi) / Refrigerator / Electric kettle / Hair dryer / Toilet with bidet / Safe (except some rooms) / Humidifier

Amenities:

Towels / Yukata / Tabi socks / Slippers / Toothbrush / Shampoo / Conditioner / Body towel / Body soap / Soap / Cotton / Cotton swab / Hair brush / Shower cap / Shaver

Dog Amenities For Pet Rooms:

Dog gate / Crate / 2 food bowls / Dog treats / Dog bath towels / Dog shampoo / Toilet sheets / Walking bags / Wet wipes / Deodorant sterilization insect repellent spray / Deodorant trash can / Adhesive roller

Rental Gear:

Curling iron / Hair straightener / Iron / Ironing board / Kids cups / Kids spoons, forks, chopsticks
Address

Nishimachi 25, Sasayama, Hyogo, 669-2342
View Map

Nearest Station

Sasayamaguchi Station (JR Fukuchiyama Line / JR Takarazuka Line)
57 minutes on foot


Vacancy search, reservation

from

59,400JPY

1room, 2adults

Check with our partner site as the latest rates, rate details, and guest room requirements may vary.
*The information in this article is current as of May 2023. Please check the official website for the latest information.
Written by: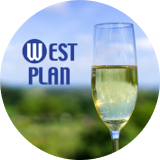 *This information is from the time of this article's publication.
*Prices and options mentioned are subject to change.
*Unless stated otherwise, all prices include tax.
Limited time offer: 10% discount coupons available now!