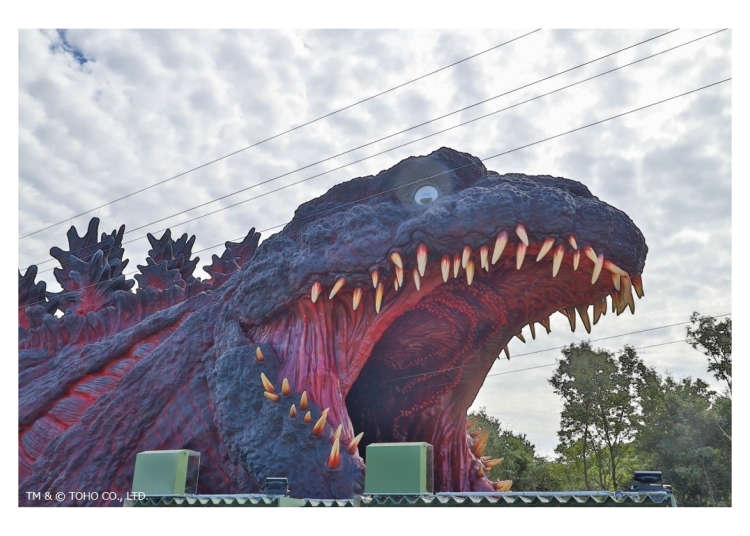 In Japan's Nijigen no Mori, an anime theme park on Awaji Island in Hyogo Prefecture, an insanely cool life-sized Godzilla attraction is now open. At the Godzilla Intercept Operation, you can enjoy a variety of fun themed events, from zip-lining into Godzilla's mouth and shooting games.
Godzilla Intercept Operation: National Godzilla Awajishima Research Center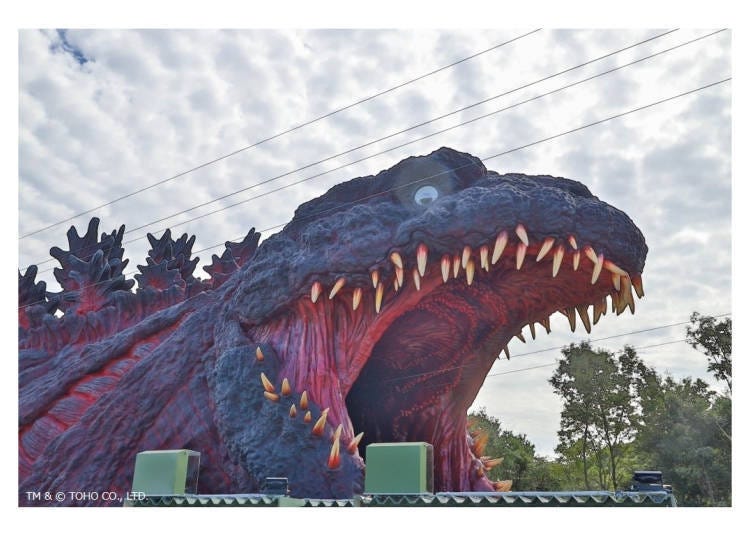 Here at Awaji Island, you'll encounter a 120m real-sized sculpture of Godzilla (the world's largest)! With everything themed entirely around Gozilla, you can participate as a member of the National Godzilla Awajishima Research Center, battle against the beast, check out the original Godzilla Museum - plus chow down on original snacks and more!
Godzilla Theme Park Attraction #1: Theater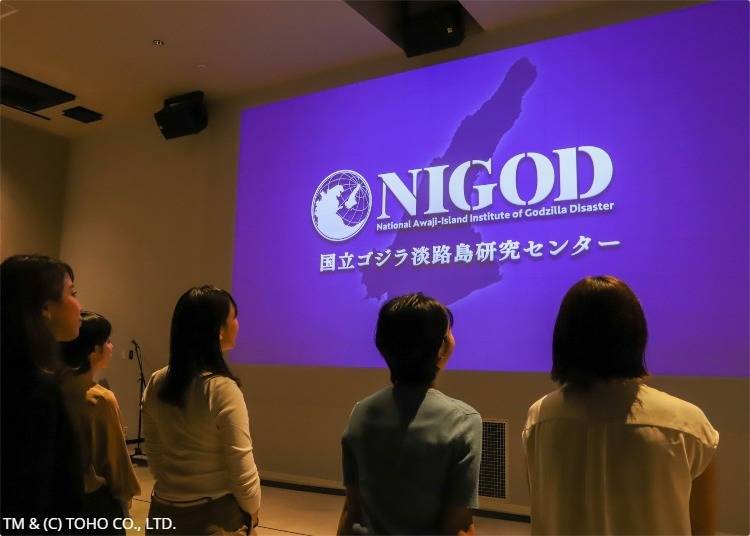 ▲Godzilla Theater, where you can watch original stories
The theme park's theater shows an exclusive original video about Godzilla's arrival on Awaji Island, and the lead-up to your mission. With a cast including Hirona Yamazaki and Satoru Matsuo, and with assistant director Nakagawa Kazuhiro supervising, it's got all the hallmarks of an action flick to get you in the mood for the park.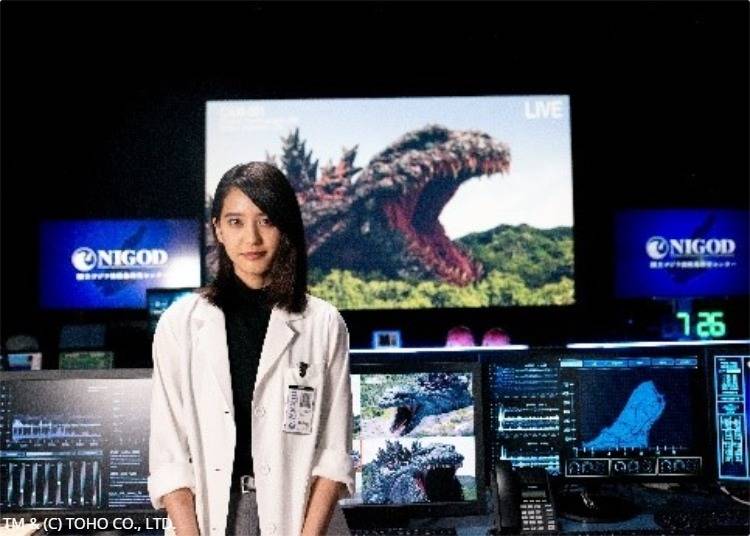 ▲ Hirona Yamazaki (Researcher Saegusa)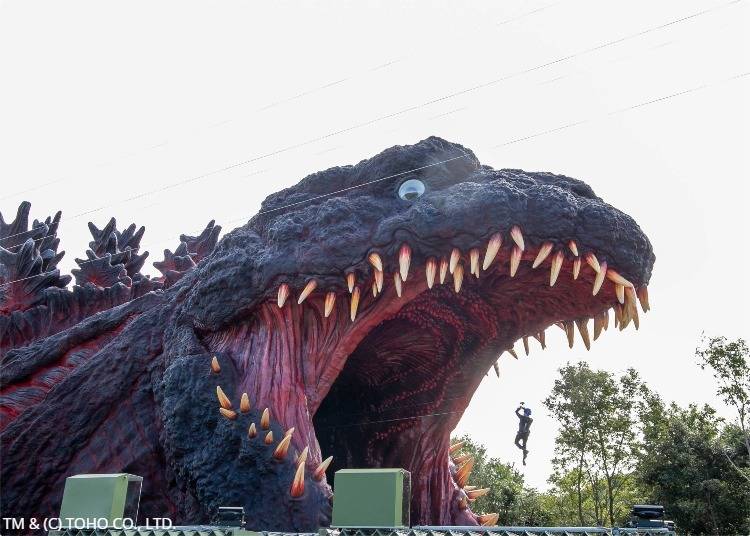 Encounter the life-sized Godzilla! After wearing a safety harness, you can experience two courses. For the first (and fearless), you can zipline straight into Godzilla's mouth and explore inside! For the second, you can study and check Godzilla's body. Gather your courage, feel the realism - and confront Godzilla up close!
In the shooting game, you use special guns to annihilate Godzilla cells. Dodge attacks from the cells and keep attacking to get a high score!
Attraction #4: Godzilla Museum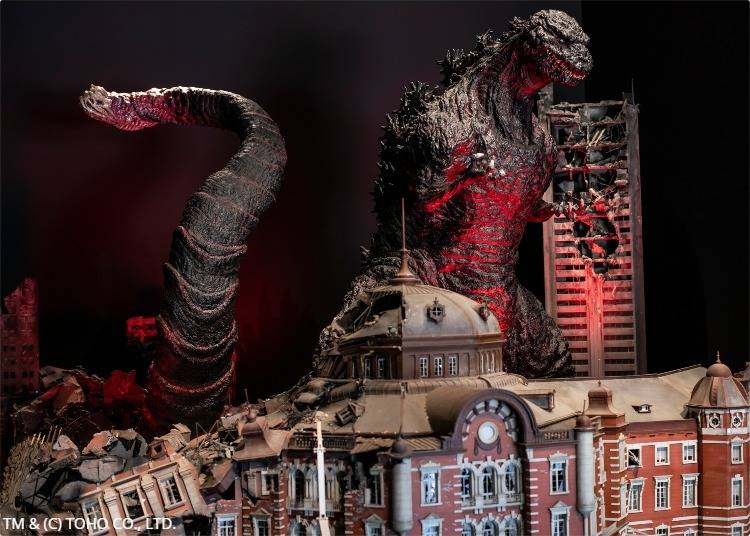 ▲A 3D model from the movie "Shin Godzilla"
The world's first permanent Godzilla Museum! Here you can have a look at the models and buildings used in the filming of the movie "Shin Godzilla."

Also, there are over 100 other models of monsters on display, plus figures and props for the Toho movies and sketches for animation, letting you see the evolution of the series over time.

Another must-see for Godzilla fans is the museum shop, which has over 200 kinds of items, some of which are exclusive to the Godzilla Theme Park.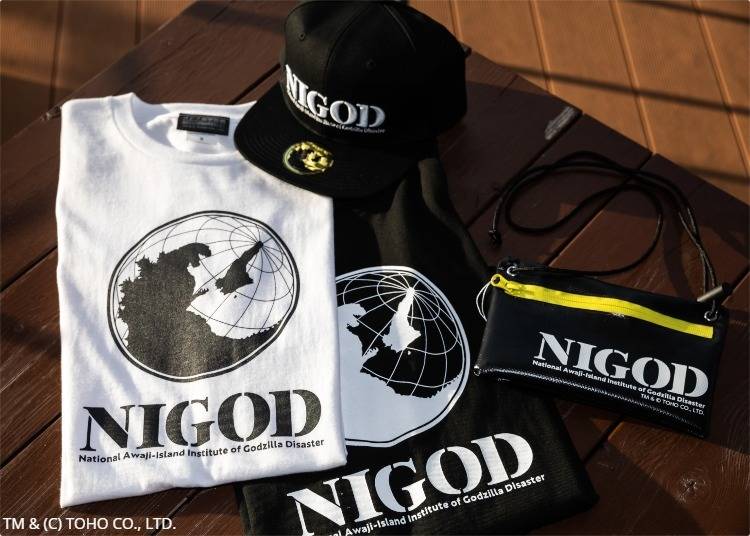 ▲Original products sold in the museum shop
Attraction #5: Original Foods!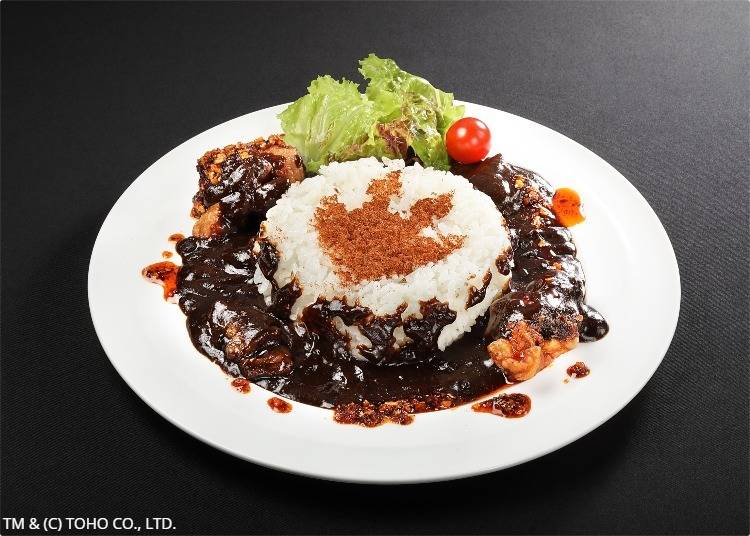 ▲Godzilla Curry
The Godzilla theme park also offers themed food like a spicy Godzilla Curry made using the local onions of Awaji Island; a Godzilla Burger, a hamburger arranged in the form of the monster's tail, plus 12 other dishes and desserts to enjoy.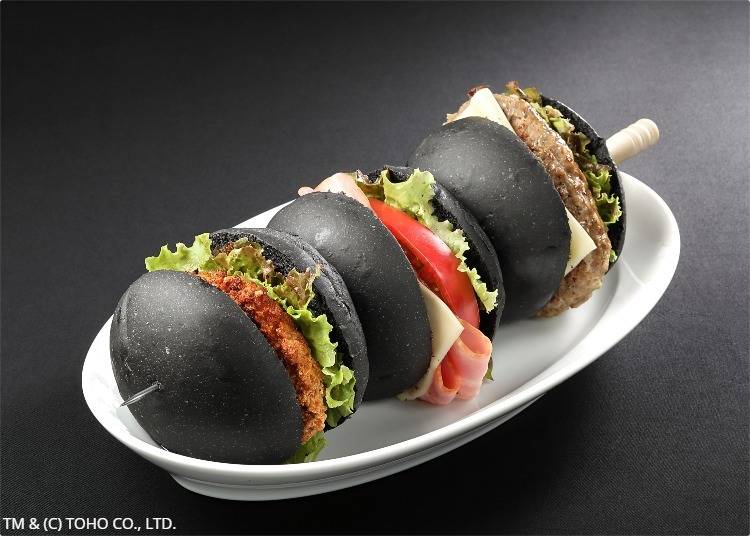 ▲Godzilla Burger
To prevent the spread of the novel coronavirus (COVID-19), Nijigen no Mori prioritizes the health and safety of guests and staff, and implements the following measures, hoping to make tourists feel at ease in the facilities:
・Alcohol sanitizer is installed at the entrance of amusement facilities, and tourists are expected to cooperate in disinfecting their hands
・Non-contact thermometers are set up; visitors are required to check their body temperature before using the amusement facilities
・If you have a cold, fever (above 37.5 degrees), cough, etc., please do not visit the facility
・Indoor facilities ventilated, with air replaced every 30 minutes
・Restrictions on the number of guests are in place
・The staff will measure their body temperature when attending work, wear masks at work, and wear gloves as necessary
Nijigen no Mori (Awaji Island Anime Park)

兵庫県立淡路島公園アニメパーク「ニジゲンノモリ」

Address

2425 Kusumoto, Awaji City, Hyogo Prefecture

Phone Number

0799-64-7061

・Site size: about 5,000sqm
・Hours:
Amusement facilities / 10:00-22:00 (last admission 20:00)
Museum / 10: 00-22: 00
Morinoterasu Food Area / 11:00-20:00 (last order 19:30)

・Tickets:
Adult (over 12 years old) / 3,800 yen
Children (5-11 years old) / 2,200 yen
*Price including tax
*Free for children under 4 years old (play facilities cannot be used, museums are allowed)
*Must be 110cm tall and weigh over 25kg to enter the experience facility
For details, please refer to the official website (Japanese): https://nijigennomori.com/godzilla_awaji
*Remarks:
The content of the article is the information of 2020/10/21. The latest information will be published on the official website above.
Related Articles
*This information is from the time of this article's publication.
*Prices and options mentioned are subject to change.
*Unless stated otherwise, all prices include tax.